In November 2009, Tom Stewart went on a surfing trip in Australia and bought a pair of vintage sunglasses.
Little did he know that, two and a half years later, those sunglasses and his love for the outdoors would inspire him to launch a business selling affordable luxury sunglasses with his friend Michael Charley.
In July 2012, the two friends launched their new company, Sunski, on Kickstarter, with an initial funding goal of $9,800. They reached that goal in two days, and when the campaign ended, they had brought in $157,000—giving Sunski the third-largest fundraising for fashion products at the time. (Source.)
What started out as an idea to revive sunglasses with a vintage design is now a two million dollar brand that's redefined quality sunglasses for outdoor enthusiasts.
But how are they doing it?
That's exactly what I'm going to show you in this post. I've found 9 of Sunski's best marketing strategies you can use to get more customers and encourage repeat purchases.
Sunski Marketing: 9 Engaging Strategies to Increase Your Bottom Line
Part 1: How to Engage New and Returning Visitors
Keeping visitors and customers engaged on your site has always been difficult for e-commerce businesses. With competitors vying for consumers' attention, keeping—and holding—visitors' interest is a tough job for any marketer.
But Sunski has found three clever ways to engage new and returning visitors and create a memorable user experience on their site.
Here's how they're doing it…
1. Create a Virtual "Try-Before-You-Buy" Feature
Many businesses have a wide product range to appeal to larger audiences. And there's no harm in that. But it can make it difficult for website visitors to navigate and find the right product for them.
After all, the more choices we have, the harder it is to decide what we want.
Sunski has devised a clever solution to help visitors narrow down which product to choose based on three filters:
Gender;
Head size; and
Face type.
But it doesn't stop there.

Sunski has also created a virtual "try-before-you-buy" feature where you can take a picture of yourself to see what you look like wearing their sunglasses.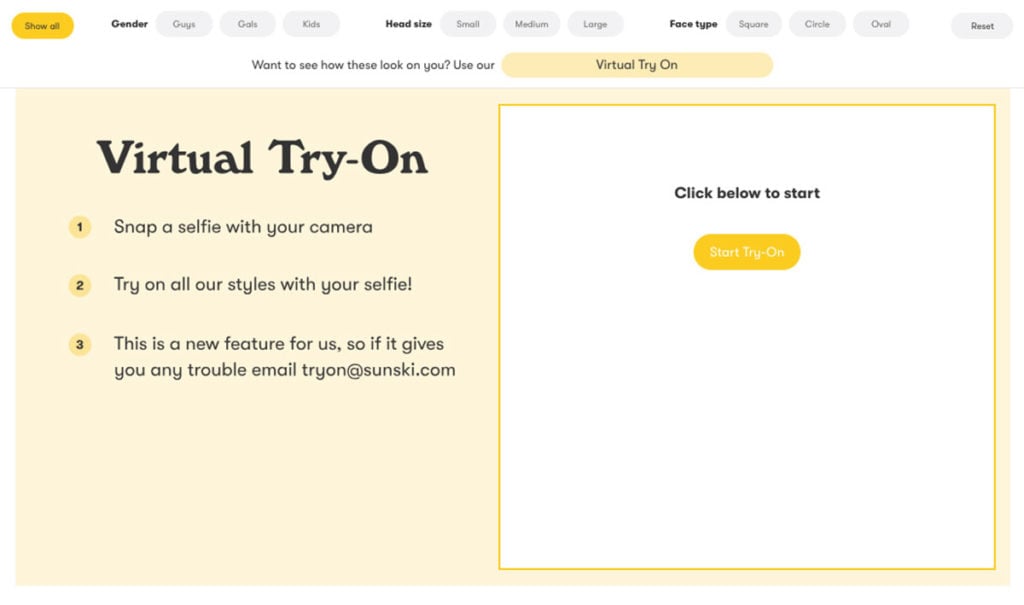 Once you upload your image, you can try on any of the sunglasses with a click of a button.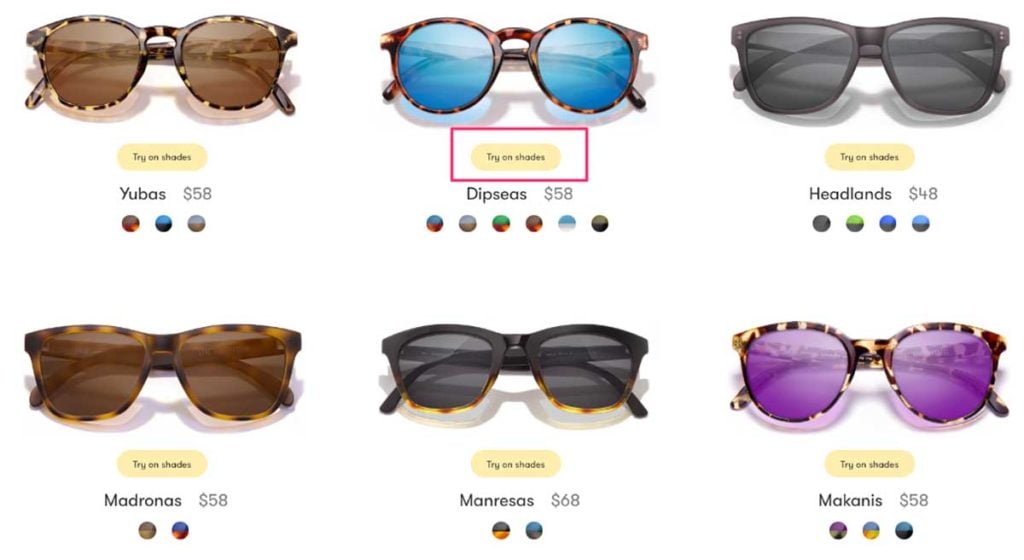 Here's how it looks: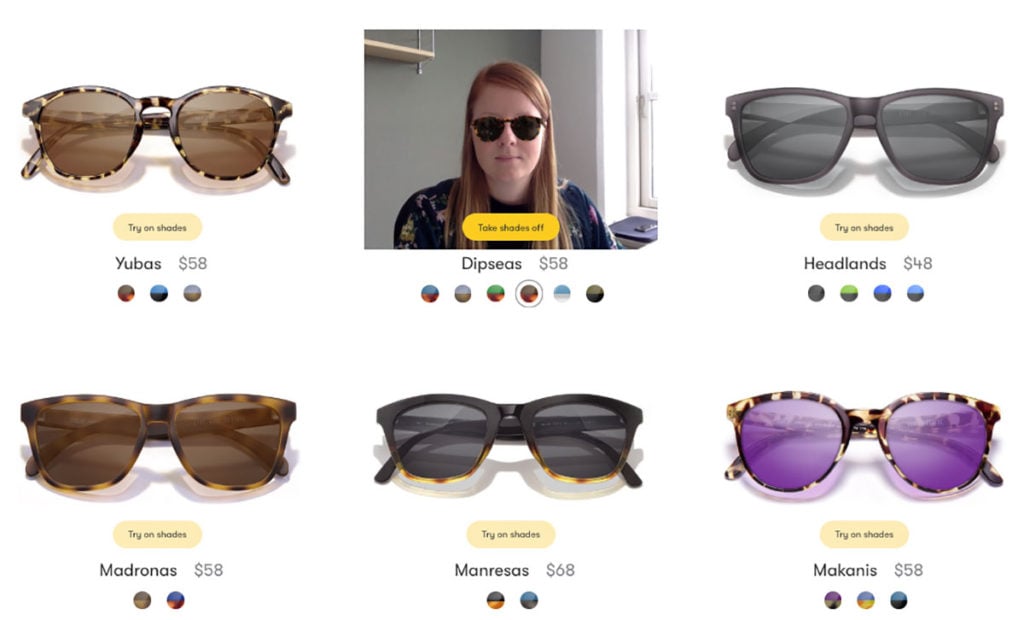 Clever, right?
But it doesn't stop there.
The try-before-you-buy feature applies your picture to ALL of their product pages.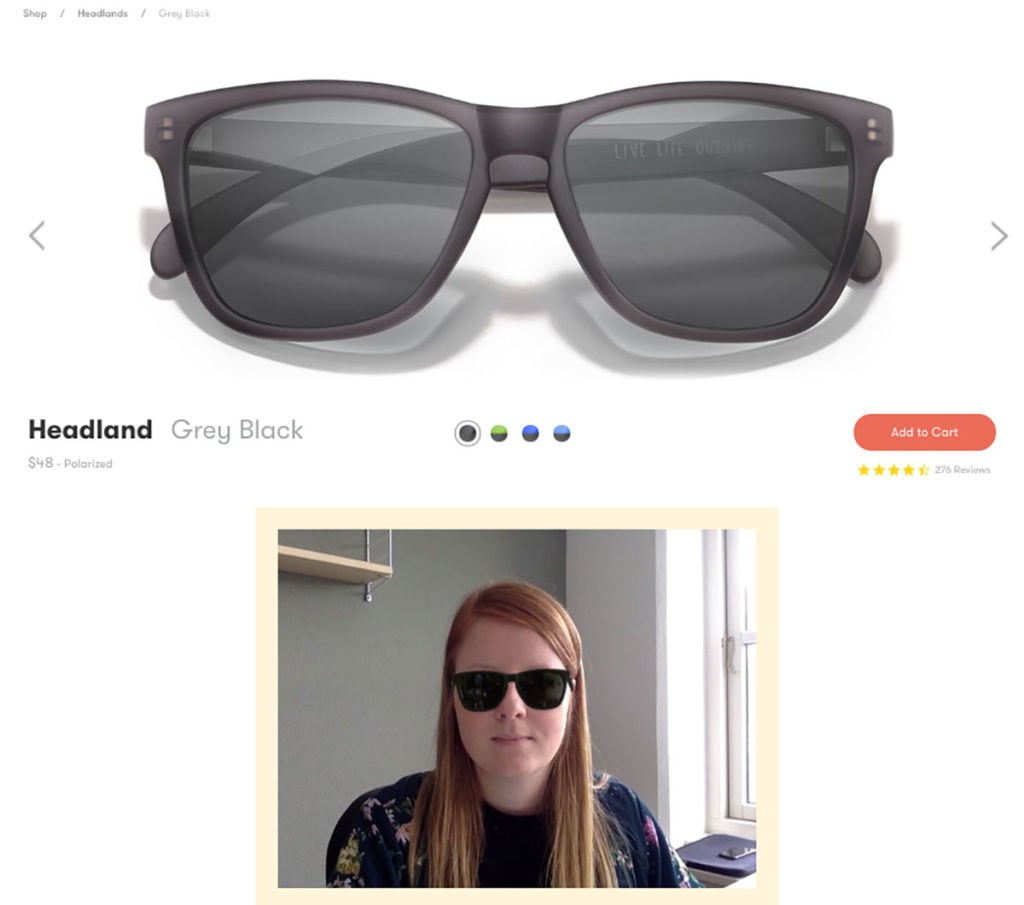 (No comments on the gangster look or lack thereof, please.)
Not only does Sunki's try-before-you-buy feature help visitors find the right product, but it also helps them visualize what the product would look and feel like if they owned it.
A final takeaway, here:
Sunski also recognizes returning visitors.
If you uploaded a picture and leave their site before checking out, it will remain if/when you return to the site … as will the items in your cart if you added any.
Takeaway: Help visitors easily find what they're looking for by offering the chance to filter and sort by preference. Many hosting platforms already have filtering options built in, but they're often basic and don't work as well as many of the extensions available online.
Also, give visitors the chance to visualize owning your products. If you sell home decor products or furniture, you can create a feature where prospects can upload an image of a room and then place your products in it to see what it looks like in their own home. It's both fun and effective. You can find third party tools online that offer virtual try-it-on software for different types of products.
2. The Memorable Video FAQ Strategy
Most online stores have a Frequently Asked Questions (FAQ) page.
The problem, though, is that they're not always easy to locate. And even when they are, they're often too long and boring to read—meaning visitors give up trying to find the information they need.
But it doesn't have to be like that.
Sunski has found a fun and creative way to answer their visitors' most pressing questions, and it involves combining videos with singing.
People love videos. They're not only fun to watch, but when they include singing they're also more memorable.
Sunski has incorporated their FAQ videos on all product pages, making it easy for prospects to find the information they're looking for without leaving the page.
At the bottom of all product pages, there's a drop-down section for their most frequently asked questions covering topics like their return policy, shipping information, and more: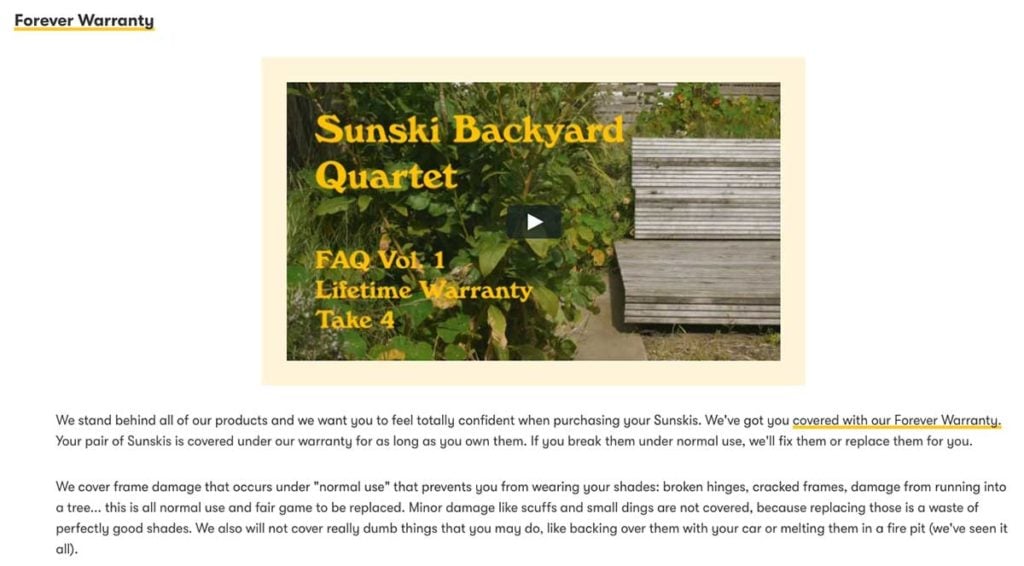 Just take a look at this video on Sunski's return policy:
Or this one about shipping information:
Pretty cool, huh?
You don't need a big video production team to create videos like this. Sometimes, the simpler the video and song, the easier it is to get your message across more easily.
You can create a music video using only a camera and a microphone. Make it personal and fun to watch by writing catchy lyrics and maybe even adding a few dance moves.
Upload your video to a video hosting platform such as YouTube, Vimeo or Wistia and use the embed code to easily add the video to your website.
Takeaway: Brainstorm creative ways of conveying boring information. You can use videos or songs, like Sunski does, but you can also do so using images, cartoons, etc. Choose a style that matches your brand and communication style. Then make it easy for visitors to find the information they're looking for without having to leave important pages like your product pages.
3. Retain Existing Customers with an Admirable Loyalty Club
Any good marketer knows about the importance of customer loyalty. And they know that retaining existing customers is more cost-effective than acquiring new ones. With the right incentives, you can turn one-time buyers into repeat customers and keep your brand top of mind.
But what incentives should you use and how?
The best way to keep customers coming back, again and again, is to create a loyalty program where users are rewarded based on their engagement.
Sunski's loyalty club is based on a simple system: when customers take action, they're rewarded for doing so.
On their customer club page, the call-to-action is clear: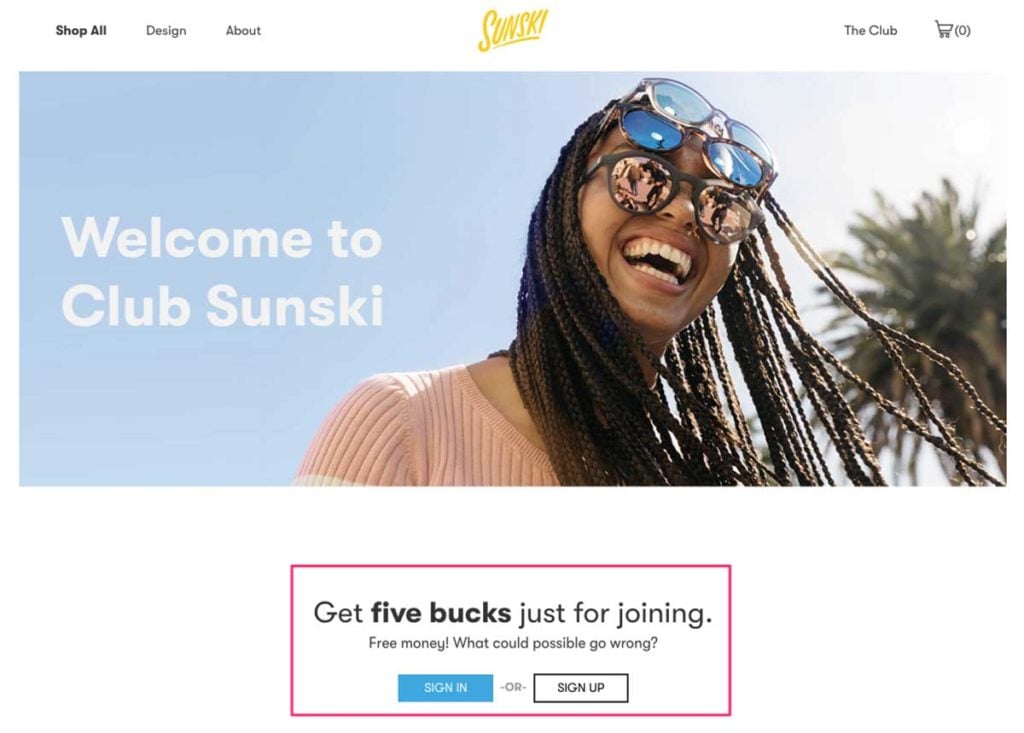 Who says no to free money? No one.
Once you register, Sunski offers multiple ways to earn credit.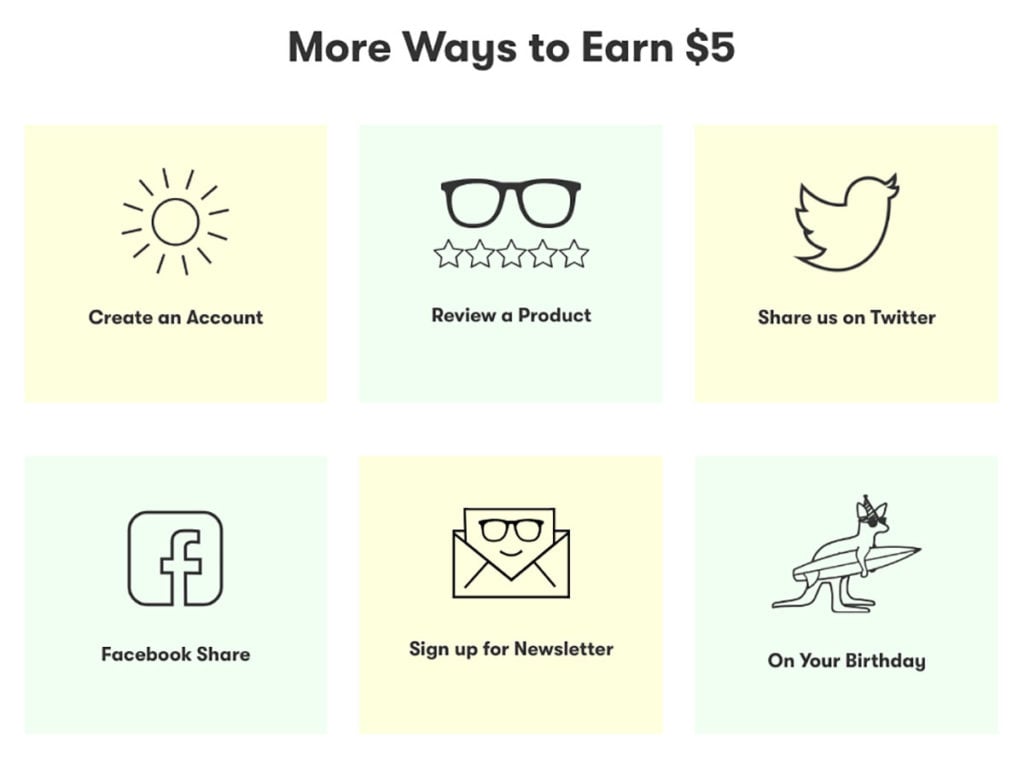 There are many things going on here, including:
Inviting users to share on social channels;
Getting permission for email marketing;
Enriching lead data with personal information; and
Encouraging repeat purchases.
Let's go through each in detail.
1. Invite Users to Share on Social Channels
Inviting users to talk about you on their social channels is an effective way of building awareness and credibility for your brand.
For each social share on Twitter and Facebook, Sunski offer five dollars of credit which you can redeemable on their store. They also offer a pre-written message to simplify the share and remove any friction.

2. Get Permission for Email Marketing
Sunski also invites members to join their newsletter to earn credit. This is a great way to get permission and follow up with potential buyers. (More on Sunski's email marketing strategy in Part 3).
Visitors don't mind parting with their email address as long as they get something valuable in return, which in this case, is five dollars worth of credit.
Remember, when members earn credit towards purchases, they're more likely to actually buy something from you.
3. Enrich Lead Data with Personal Information
It might not seem like much, but asking for your prospects' birthday gives you the possibility to reach out on their birthday with a special offer or a birthday gift.
Many online stores have begun using this strategy because it works.
When you congratulate prospects on their birthday and include a gift like a discount, they're more likely to click-through and take you up on your offer.
4. Encourage Repeat Purchases
Persuading customers to buy from you again can be difficult—especially if you only sell one type of product like Sunski does.
But it's not impossible.
Sunski is great proof of this. In fact, they reward customers based on their buying frequency.

The more you buy, the more valuable the reward gets. I mean, free sunglasses for every ten purchases? Yes, please. (Now I know what to get everyone at Drip for their birthdays.)
The simple progress indicator helps prospects visualize how close they are to reaching their next reward, motivating them to buy again to claim the reward.
Takeaway: Create a rewards program where you encourage different kinds of engagement and incentivize members to buy from you. Make sure to track user engagement and use that data to customize your marketing messages.
Part 2: Create a Unique, Value-Driven Brand
When consumers buy new products, they don't just choose based on price or need. They also see the products they buy as an extension of their self image, and if a product doesn't help them improve their self image, they won't buy it.
That's why it has become important for e-commerce businesses to not only deliver a quality product but also adopt the values of their target audience.
You want your brand to have an impact on your customers' lives so that your brand stays top of mind, and customers keep coming back, over and over again.
Here are three ways Sunski is doing that…
4. Affirm Product Quality with a Lifetime Warranty
Sunski knows that quality products last.
That's why they're not afraid to offer a lifetime warranty for all their products.
It's a smart move because it tells visitors that they have faith in the quality of their products. When you shop online and don't have the ability to touch or feel a product and gauge its quality, it's difficult to assess whether the product justifies its cost.
Creating a lifetime warranty reassures prospects that their product quality is high, and if it turns out that it's not, they can submit a warranty claim anytime.
When offering product warranties, it's important to tell visitors about it.
Sunski, unsurprisingly, does a great job doing this. When you first enter the site, there's a bar at the top that says "Lifetime Warranty."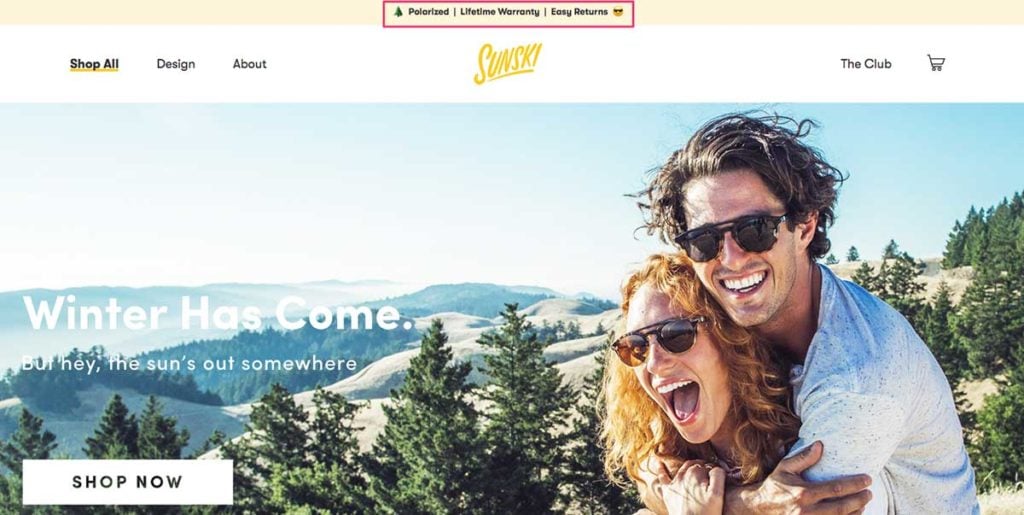 When you go to a product page, the lifetime warranty is included twice. First, as an illustration below the product image…

And again in the FAQ drop-down section.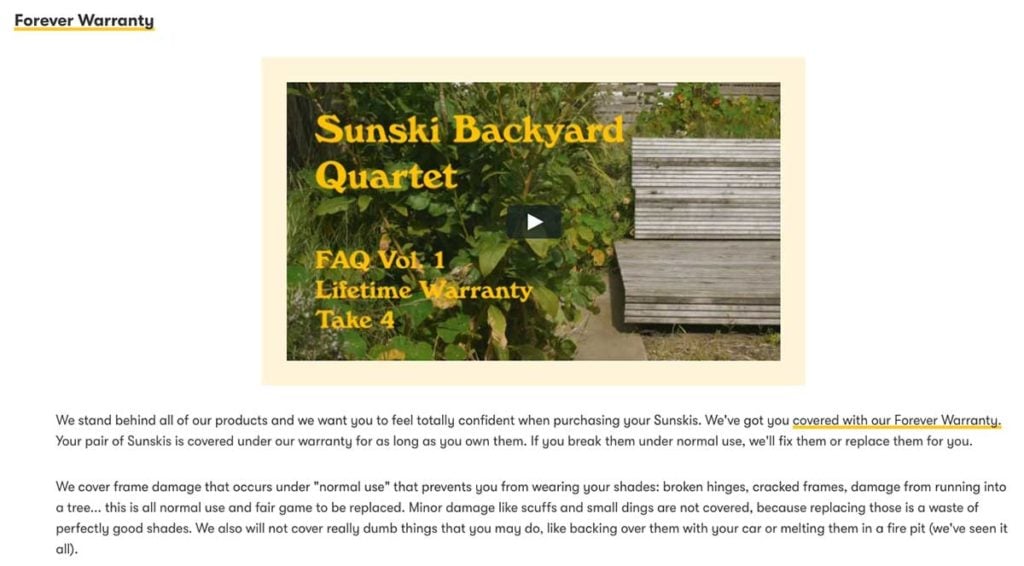 And much like they do with their shipping and returns, Sunski have recorded a fun and catchy song about what the lifetime warranty is and what it covers.
(With a lifetime warranty-ey-ey-ey … Catchy, right?)
If the video isn't enough, Sunski has also created a dedicated landing page for their lifetime warranty that explains it in more detail.
Takeaway: Offering a lifetime or even extended warranty on your products is a proven way of convincing online shoppers that your product is worth buying. Remember to promote your warranty wherever you can to ensure prospects know about it. Also, if you offer lifetime warranties on your products, make sure to honor it.
5. Promote the S*** Out of Your Values
Building a strong brand with great values is something every business should strive for.
And Sunski is a great example of a brand doing that.
One of their core values is environmental responsibility and it's something they've incorporated throughout their website.
From their front page…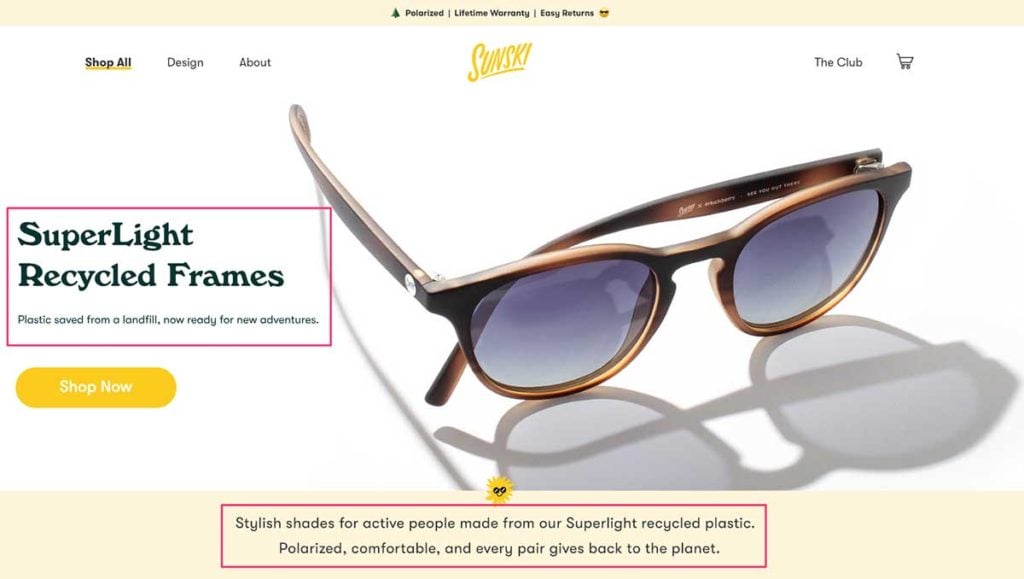 …to the footer of the website;

From their about page…
…to their product pages.
They even use the same message in their paid ads.
I often visit Thesaurus.com when I'm writing and because I had visited Sunski's site to do research for this post, they retargeted me with these ads:
Using the phrase "Every pair gives back," Sunski appeals to one of our biological desires—more specifically, one of The Life Force 8. In his book, Cashvertising, Drew Eric Whitman outlines eight biological desires we all have, and one of them is "Care and protection of loved ones."
We all have a biological desire to protect those we love and care about, and that includes protecting our planet so our children don't suffer from the consequences of our environmental choices.
Sunski carefully selects these sentences to remind the target buyer of these values that they resonate with, making them more likely to click-through.
Takeaway: Identify which values are important to your audience and incorporate that into your brand. There are a LOT of organizations you can potentially partner with.
But it's important that you do it for philanthropic reasons, and not just for marketing purposes. Your audience will see right through you if you're not being real. Make sure to incorporate your brand values into all your marketing efforts; on-site messaging, retargeting ads, commercials, and more.
6. Leverage "Package Marketing" to Increase Customer Engagement
Many brands overlook the packaging of their products.
I can't count the number of times I've bought something online only to receive something that was wrapped in a plastic bag with the brand logo printed on it. It's always disappointing, to say the least.
Your packaging is important, and it needs to reflect your brand's identity. It also works well as a marketing asset if you know how to use it properly.
Let me show you an example.
It's no secret that I like to shop.
So it shouldn't come as a surprise that I actually went ahead and bought a pair of Sunskis. (I went for the Dipseas with the blue lenses.)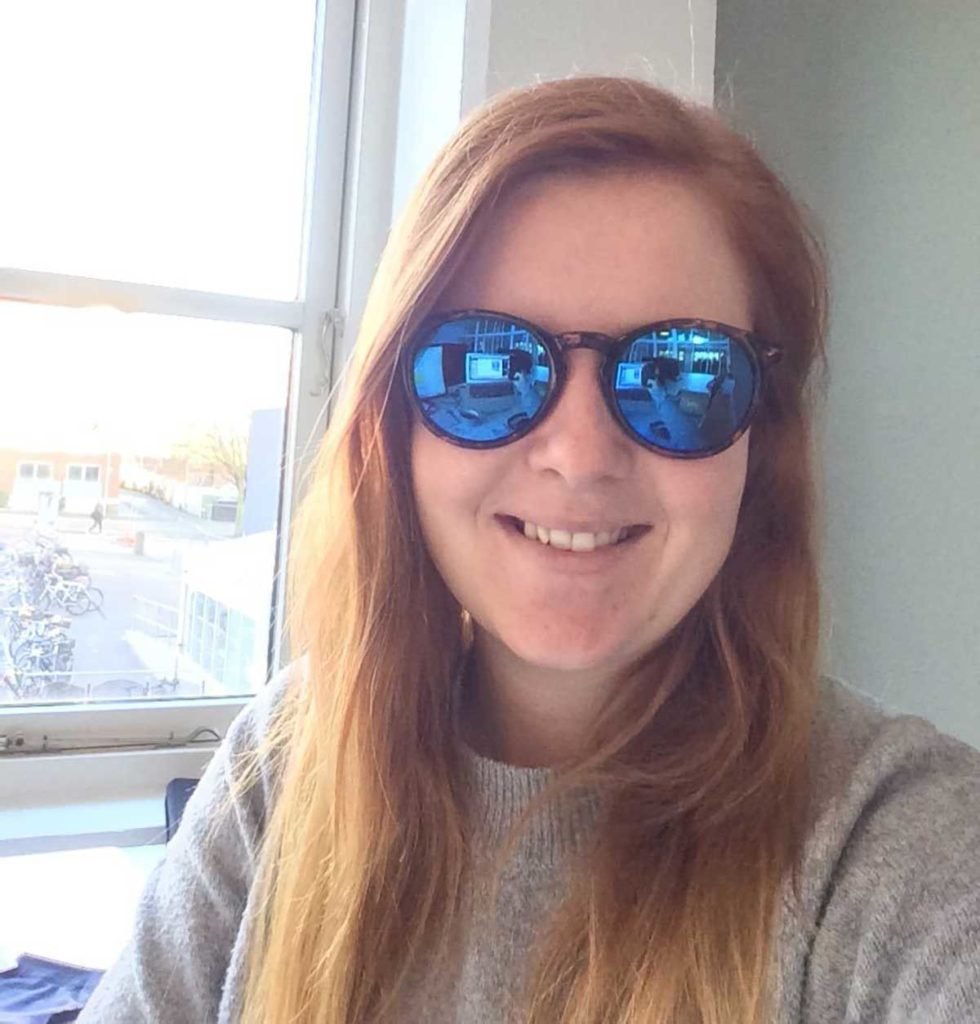 (If you look closely, you can see my selfie arm in the reflection, haha.)
When I received the package, it was clear that Sunski had put a lot of thought into their packaging.
It's a small cardboard box with Sunski's logo on it.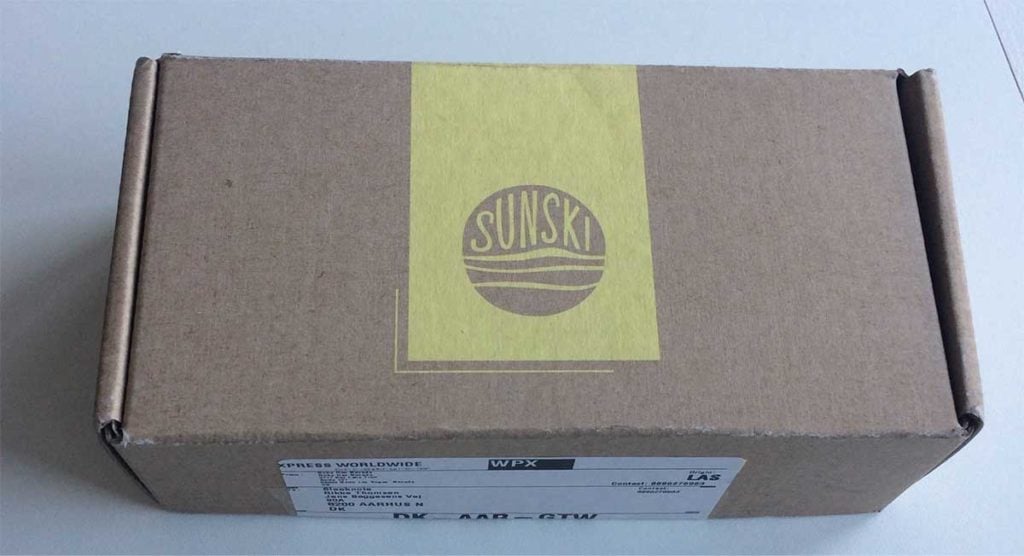 Nothing new there. But when you open the box and remove the contents, you see this message at the bottom of the box:

It's always nice to get a thank you. But what really made me smile was their invitation to recycle the box.
It's another example of how Sunski embraces environmental responsibility and encourages their customers to do the same.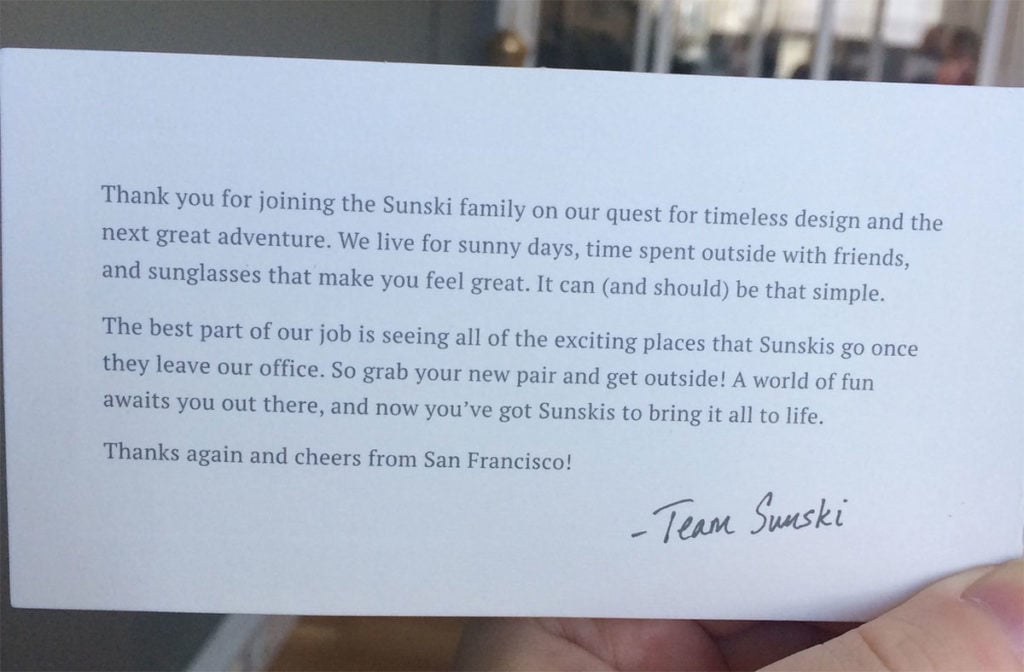 (Notice that, at this point, Sunski has thanked me three times for shopping with them. I like that.)
Inside the box with the sunglasses I found not one, but two, calls-to-action asking me to share my purchase online.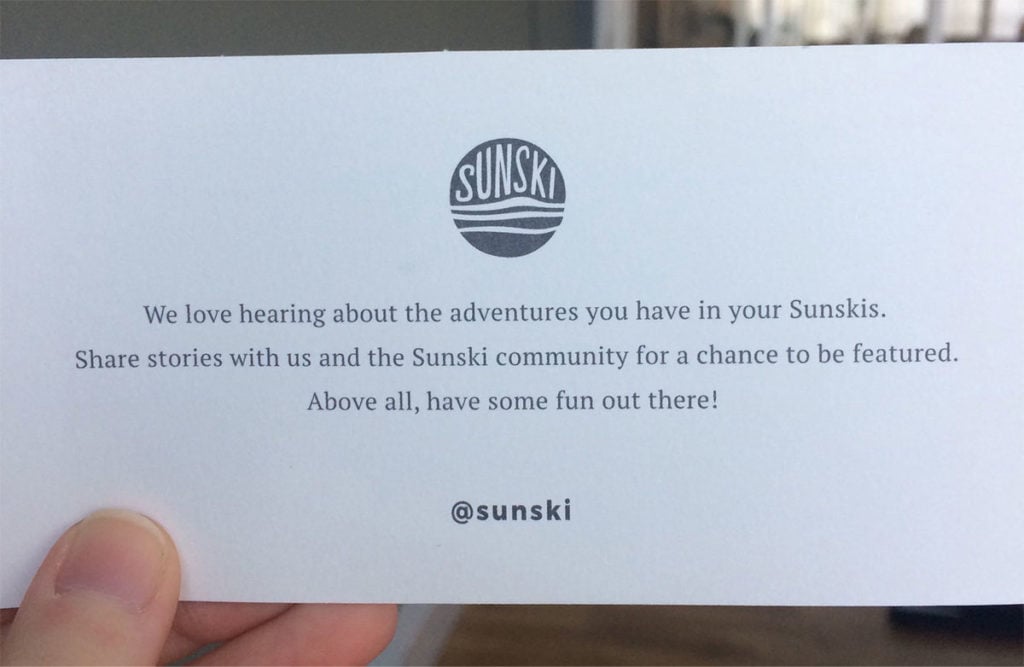 …And…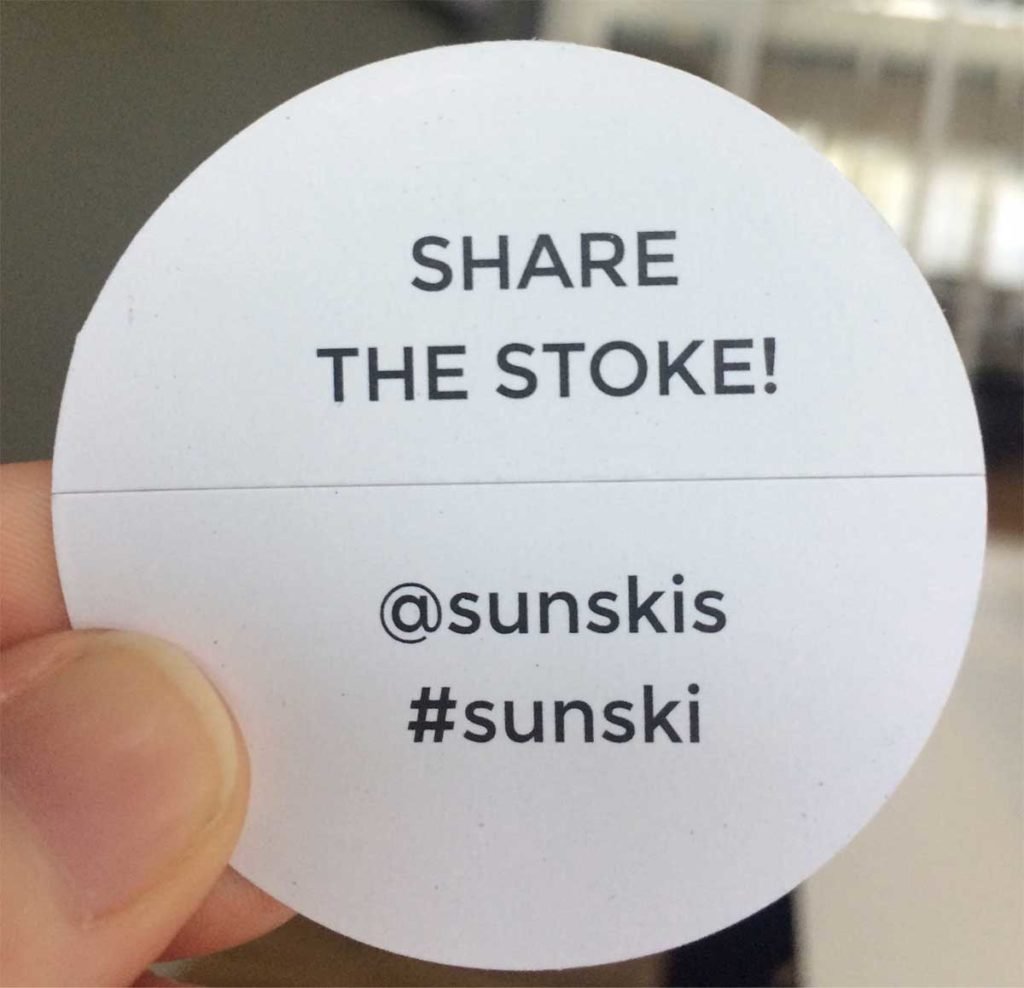 When do you feel most excited about a new purchase? When you receive and hold it in your hands for the first time, right? That's why it's a good idea to ask for shares at this stage in the buyer's journey.
Takeaway: Use your packaging as a marketing asset and include a call-to-action. This could be asking for a social share or a review, or inviting buyers to claim a discount code for their next purchase. Be creative. Lastly, make sure your packaging is consistent with your brand's values and design guidelines.
Part 3: Email Marketing
Like many brands, Sunski knows the importance of email marketing. They send a variety of marketing emails with different purposes depending on previous user engagement.
Below are three great examples that any marketer can learn from.
7. Win Back Lost Revenue with This Simple Email
If you've read our post on abandoned cart emails, you know the importance of following up with abandoned carts to recover lost revenue.
When I first visited Sunski's site, I added a pair of sunglasses to my cart, and then, like 75.6% of all consumers, I abandoned my cart (sorry, Sunski).
Now, because I already signed up to receive emails from Sunski (I wanted the $5 credit from Strategy #3), they already had my email and could reach out.
And that's exactly what they did.
About 15-minutes after abandoning my cart, I received the following email.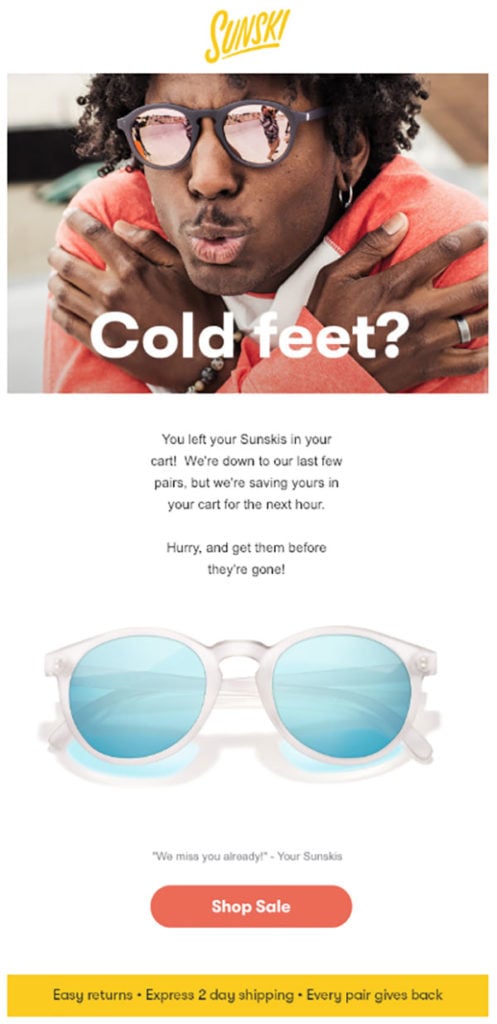 (Notice how they repeat their values in the yellow email footer.)
It has everything a good cart recovery email needs:
An eye-catching image. By capturing the reader's attention with a relevant and fun image, they increase the likelihood that prospects will keep reading.
Scarcity. A cart recovery email should always include scarcity. Why should the reader return to their cart right this moment? Sunski lets you know that there are only a few items left, and that you should hurry if you want them.
The abandoned cart item: The most important thing in this type of email is the item that was left in the cart. Sunski makes it the hero of the email by including a large image of the item in the center of the email, just above the call-to-action button.
It's simple: Sunski doesn't overload the reader with information. They only include what's necessary.
Even the subject line is spot-on:

Informing potential buyers that they forgot something will (almost) always get their attention. Plus, they include scarcity to get readers to take action.
Sunski also includes tracking in the links to identify when prospects click through.
When you click a link, you go directly to your cart with the item already added to it. Plus, Sunski recognizes you as a club member if you already joined their loyalty club.

This makes it easy for prospects to return to their cart and buy with the click of a button or two.
Takeaway: Follow up on abandoned carts to try and win back the lost revenue. Refer to the cart items in your email to remind prospects of what they forgot and give them a reason to come back now. Lastly, to increase sales, make the journey from the email to the final purchase as short as possible.
8. Expand Your Reach with This Replicable Referral Engine
As part of their loyalty program, Sunski encourages club members to spread the word about their brand and products.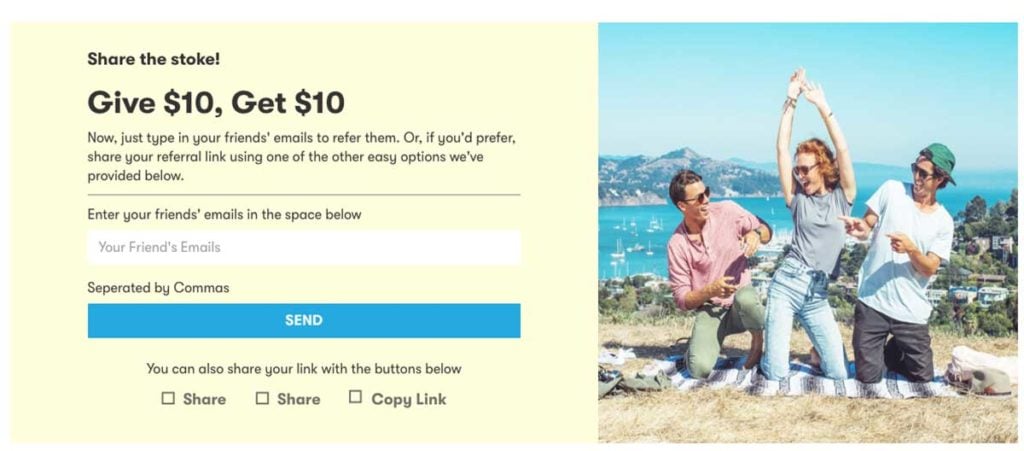 You don't even have to write the email—Sunski has already done that for you. All you need to do is type in your friends' email addresses and click send.
I entered Seray's email and this appeared in her inbox:
They include the name of the referer to make sure the receiver recognizes why they're receiving this email.
Here's the email: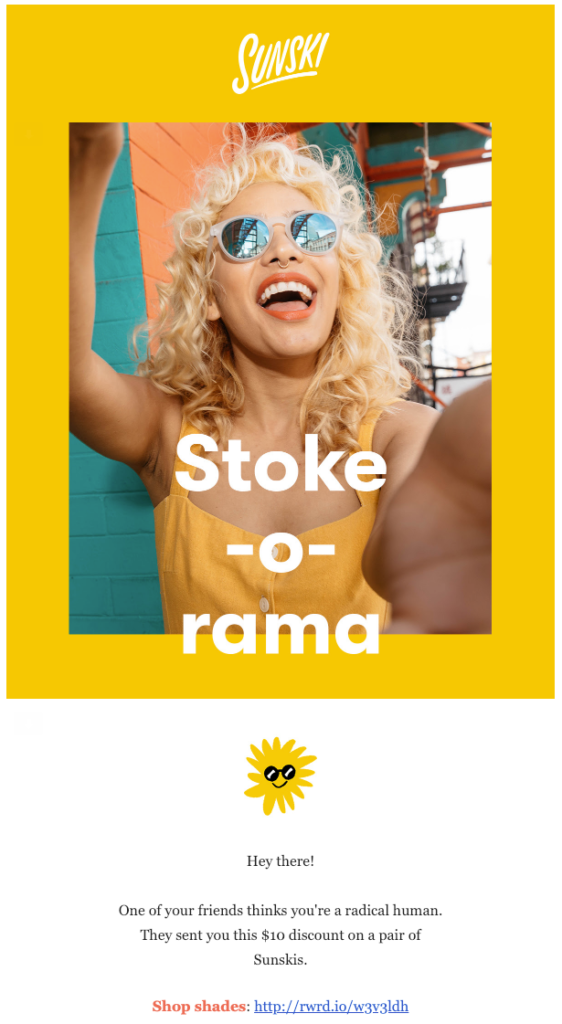 Once again, there's an eye-catching image at the top of the email and the copy and the call-to-action is super simple. No fuss.
The genius part about this strategy comes when you click the link in the email. As with the cart recovery email, Sunski tracks the link.

And when you enter the site, this message shows: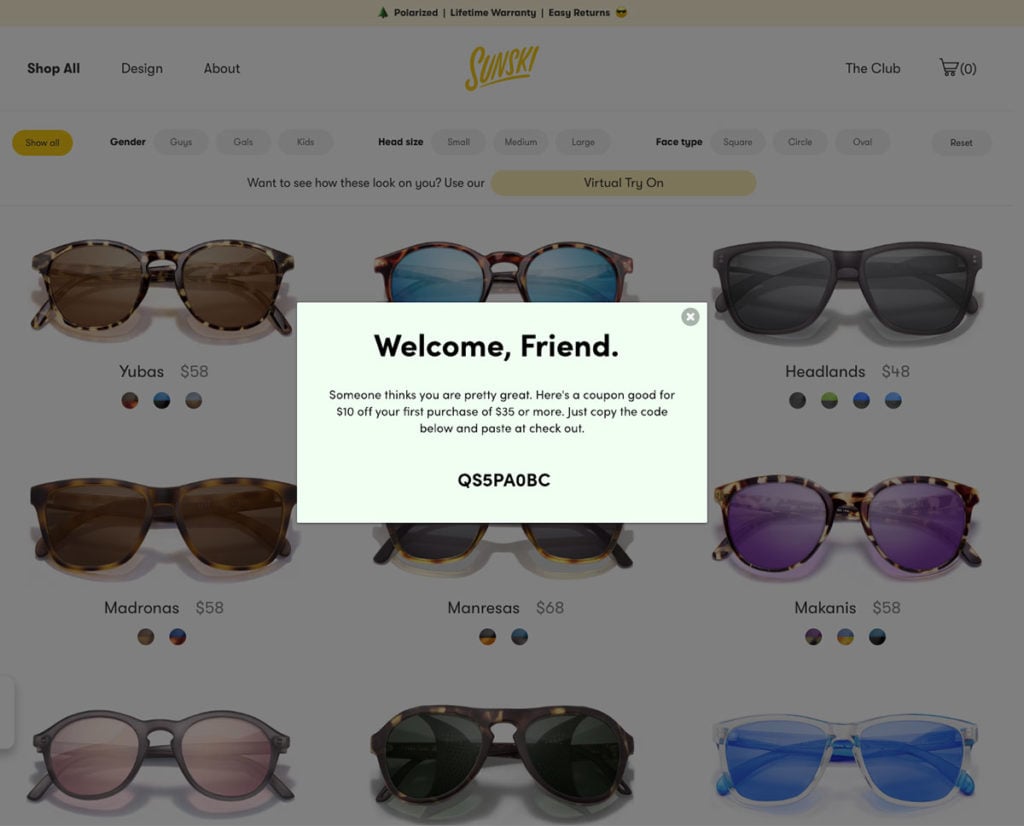 Amazing, right?
Recognizing visitors that come from specific email campaigns is an effective way of reducing friction in the buyer's journey and getting more sales.
And if the friend doesn't buy?
Then you can follow up with a well-timed email and remind them that they still have a chance to redeem their credit.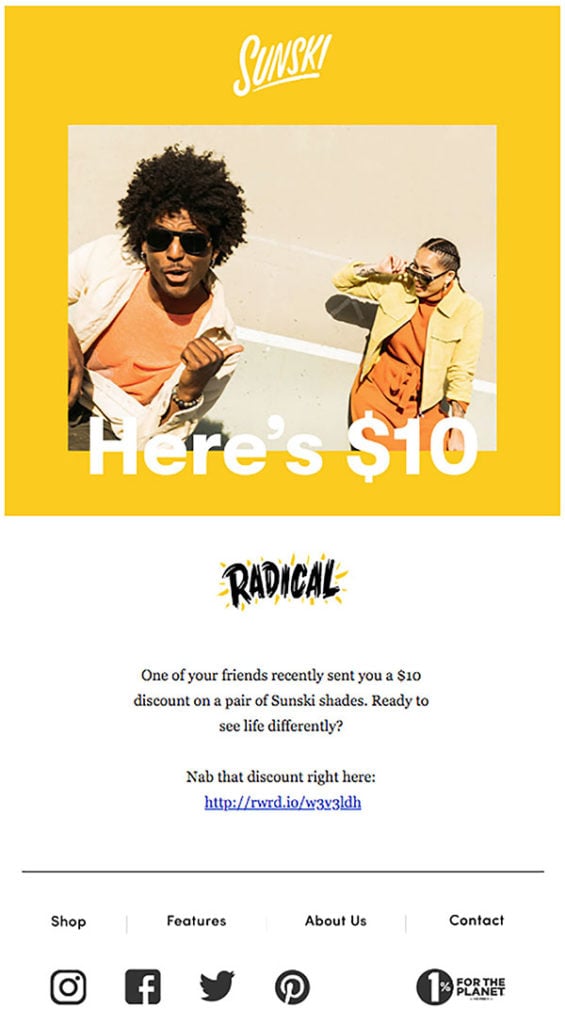 Takeaway: You don't need a loyalty program to get customers to refer friends. Create an incentive for both the referrer and their friend to take action. Make sure to track the links in your referral emails (and all other emails) to create a more personal user experience for both new and returning visitors. Lastly, don't forget to follow up with potential buyers.
9. Enrich Reviews and Increase Credibility with a Multistep Review Sequence
Consumers rely on other people's opinions when they shop online.
In fact, 55% of online shoppers find reviews important for making purchase decisions, and 77% of consumers read product reviews before buying something online.
But to get these valuable reviews, you need to ask for them.
And there's no better time than after a customer has just bought something from you.
As I mentioned in Strategy #6, customers that have just received their order are more likely to act on any request you might have for them.
Schedule an email to go out to recent customers not too long after they've received their product (depending on how long your products take to ship). Doing so gives customers enough time to try the product as their purchase is still fresh in their minds.
One week after I received my order, I got the following email: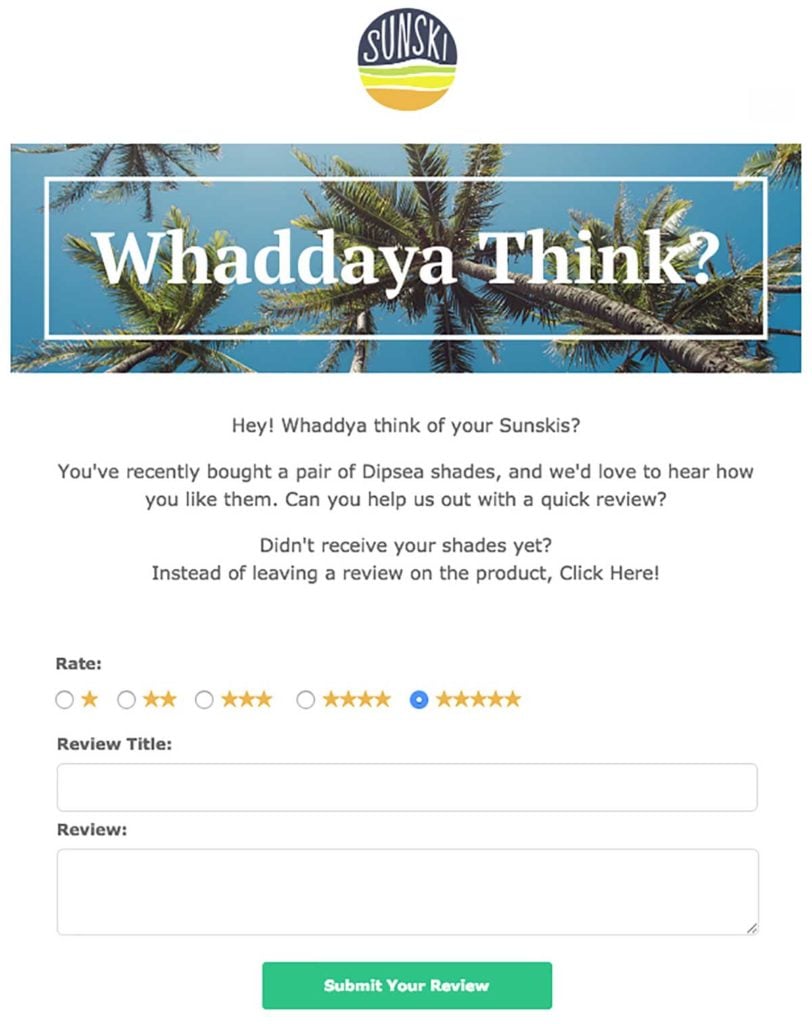 As with all the other emails I got from Sunski, there's an attention-grabbing image at the top and a minimal amount of copy to read.
They also make it easy for customers to review a product by using radio buttons. From there, customers can expand on their rating by writing a review below.
When you submit your review, Sunski does something clever. They send you to a landing page, and ask you to upload a photo to go with your review.
It's no secret that customer reviews with images are more trustworthy than reviews without, and that's why it's a great idea to ask customers to upload photos to accompany their reviews.
Lastly, Sunski offers a 20% discount code in exchange for sharing your review on social media.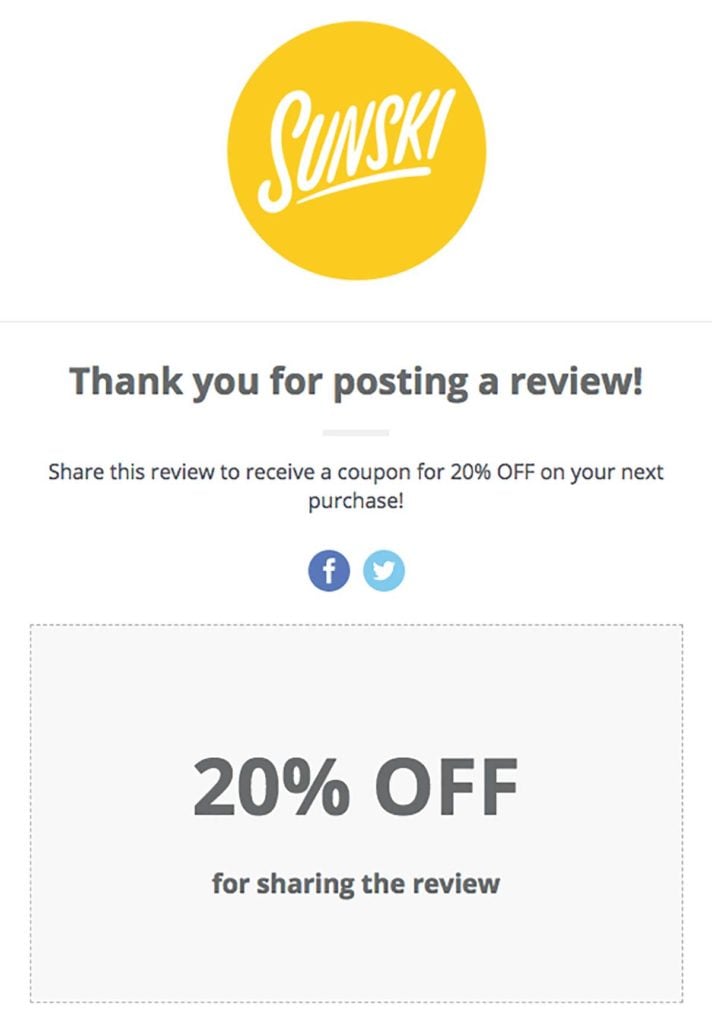 This is a small action for customers to take compared to the value they get (20% off next purchase) and I can only assume Sunski gets a lot of shares from this.
I normally never share reviews on social media, but I shared my Sunski review because I couldn't say no to the 20% discount.
Only two minutes after sharing my review, I received the discount in my inbox, giving me a new incentive to shop again.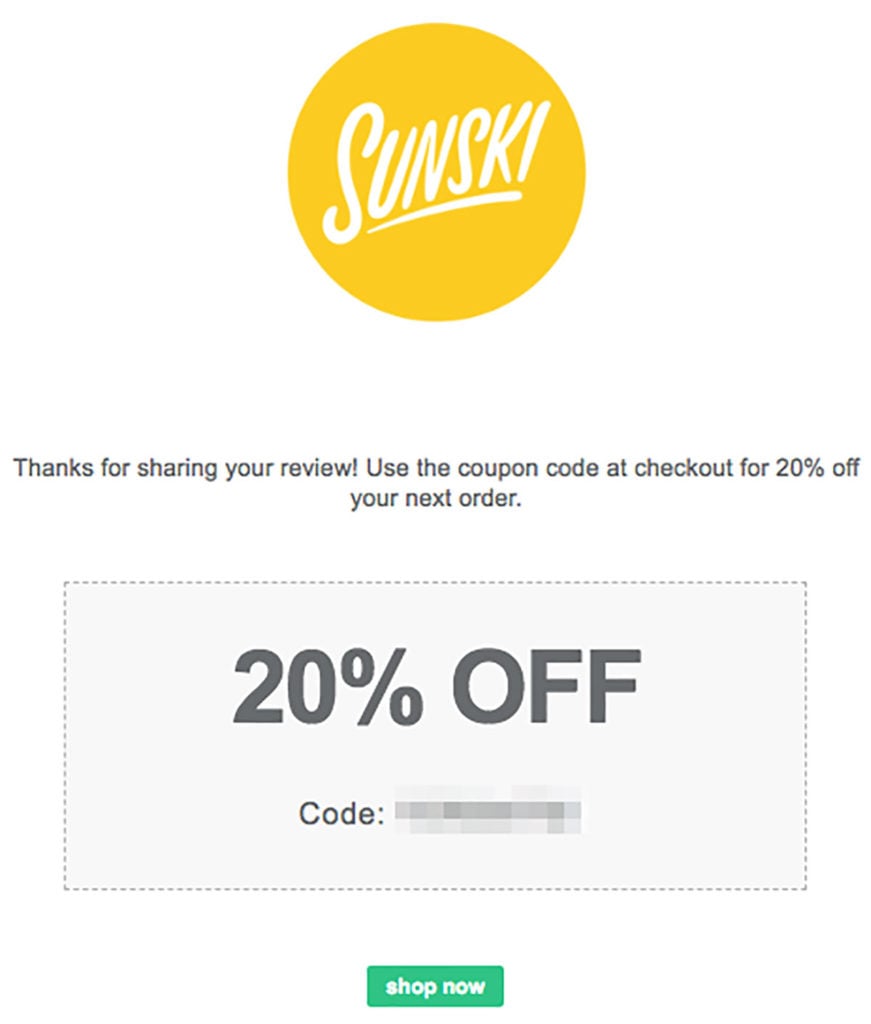 After customers review your products, it's important you use them in your marketing. Avoid leaving them withering away on third-party review sites.
There are two prominent places Sunski repurposes their customer reviews.
On their product pages…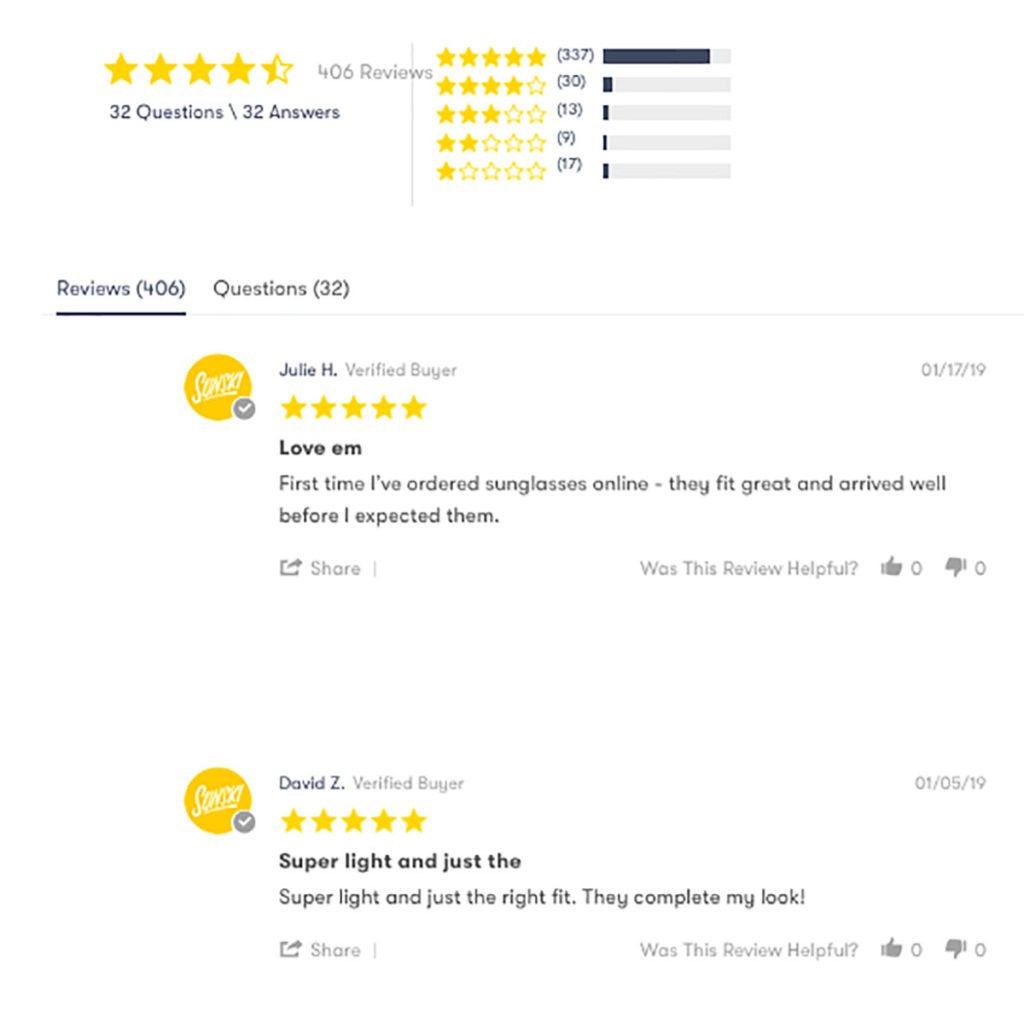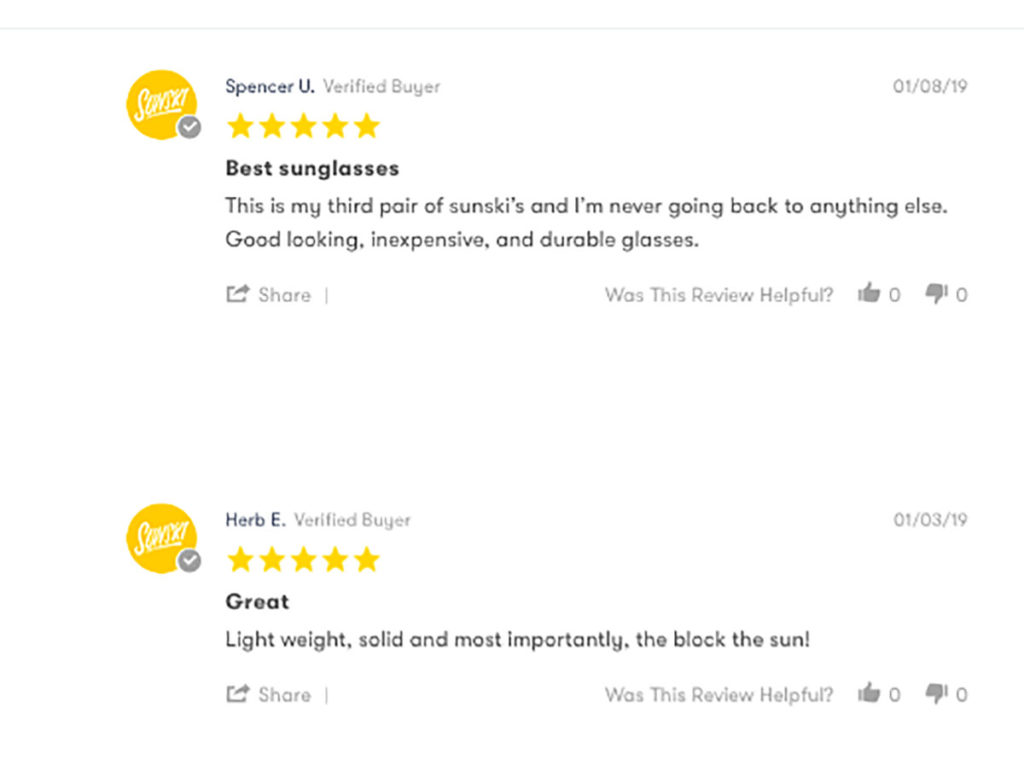 …and in their email marketing: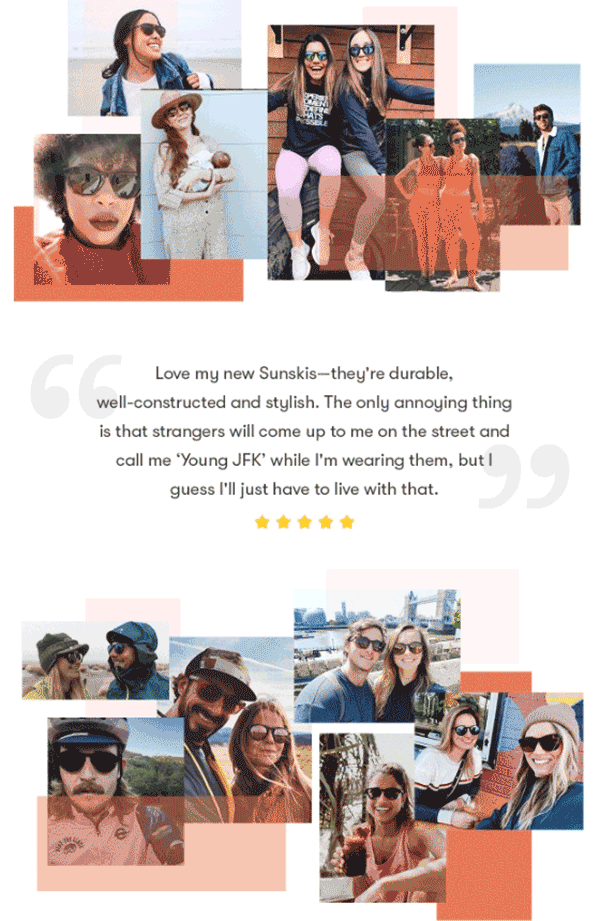 Sunski uses a GIF to showcase more reviews without taking up too much space in the email. This helps catch the reader's attention because your eyes are automatically drawn to things that move.
Takeaway: Make it easy for customers to review your products and remember to ask for additional information and shares for those who are willing. Avoid offering discounts in exchange for reviews to minimize lazy reviews from discount-seekers. Instead, offer the discount after people have written their review in exchange for sharing it. Finally, make sure to use your reviews in your marketing for social proof.
Conclusion
There you have it: nine of Sunski's best marketing strategies to inspire you.
1. Create a Go-To "Try-It-On" Feature
2. The Memorable Video FAQ Strategy
3. Retain Existing Customers with a Loyalty Club
4. Affirm Product Quality with a Lifetime Warranty
5. Promote the S*** Out of Your Values
6. Leverage "Package Marketing" to Increase Customer Engagement
7. Win Back Lost Revenue with This Simple Email
8. Expand Your Reach with This Replicable Referral Engine
9. Enrich Reviews and Increase Credibility with a Multistep Review Sequence