Competition in e-commerce is fierce. And it's only about to get more intense.
With 2.42% of e-commerce visits converting into purchases, marketers are constantly looking for new ways to persuade their visitors and stand out in the crowd.
With endless options to choose from, consumers are wondering what makes your e-commerce brand different.
The answer is hidden in your value proposition.
Your value proposition is the first thing you want your potential customers to learn about you.
With a compelling value proposition, you can convince prospects to take action and move them down your e-commerce sales funnel.
But first things first.
17 E-Commerce Value Proposition to Inspire Your Own
What is a Value Proposition?
In marketing, a value proposition is a statement that clearly identifies clear, measurable, and demonstrable benefits prospects get when buying your product or service.
You'll typically come across an e-commerce value proposition on homepages, product descriptions, Facebook ads, among other places.
If you're having trouble writing a value proposition for your e-commerce site, try answering the following questions first:
What is a common problem among your target audience?
How do your products offer a solution to that problem?
What's the value consumers will get upon buying your products?
What makes you different from your competitors?
After all, you know your brand better than anyone else.
But this doesn't mean that you should be flaunting your products with fancy adjectives.
A slogan where you explain your company's vision or a phrase you use to describe your products is NOT your value proposition.
The name itself suggests that your value proposition should tell about the value you can offer to your potential customers.
Make sure you keep the focus on your consumers, and not your brand.
Without further ado, here are six strategies you can use to write a compelling value proposition for your online store and 17 of the best value proposition examples from top e-commerce brands.
Part 1. Solve an Important Problem
The buyer's journey starts with a small step.
Users go online with a problem in mind and start looking for solutions: What should I wear to my best friend's wedding? Why is my hair so thin? Where can I find the most personal gift for my girlfriend?
Your goal is to convince them that your online store is the best solution to their problem.
Start by raising the problem in consumers' minds and explain how you will solve the problem with your products in your value proposition.
1. Casper: "No More Sleepless Nights"
There are only a few things in life that are worse than having a bad night's sleep.
Casper, the mattress company, knows this well. That's why they position their products as a solution to sleepless nights.

Instead of focusing on their mattresses and writing down how comfortable they are, Casper highlights the value customers will get upon purchasing their products.
And they make it sound like a breakthrough solution to a major problem.
So don't hesitate to agitate the problem and highlight the importance of your solution.
This value proposition also assigns authority to the brand and makes Casper an expert in their field.
The three icons under the image that read "Risk-free trial," "Free shipping & returns," and "Exceptional customer service" also support the value proposition by explaining what makes Casper different from their competitors.
(Their page title "The Best Bed for Better Sleep" also includes a hint of comparison, which we'll return to in Strategy #6.)
The value for customers: A better night's sleep.
2. Herman Miller: "That's Why…"
Not every problem will be as urgent or as dire as sleeping issues.
But once you articulate a problem in your value proposition, there will always be some people who can relate to it.
And those people will become your customers if your webshop is optimized for maximum conversions.
Herman Miller chooses a direct approach in their value proposition, where they simply explain the problem and their solution:

If you've ever bought furniture for your house or your office, you know that things that are useful aren't always pretty (and the other way around.)
After briefly empowering you, the company voices this problem and shows that they understand you. And sometimes, that's all you need as a customer.
Tell the problem you promise to solve in your value proposition and show that you can empathize with your customers.
The value for customers: Well-designed and functional products that will solve your problems.
3. Poo~Pourri: "Tell Bathroom Odor to Buzz Off!"
Some problems are easier to relate to than others.
If you're solving a problem that is regularly experienced by most people, use it to your advantage.
Poo~Pourri, an online store that sells toilet sprays, successfully voices a common problem that is not always easy to talk about.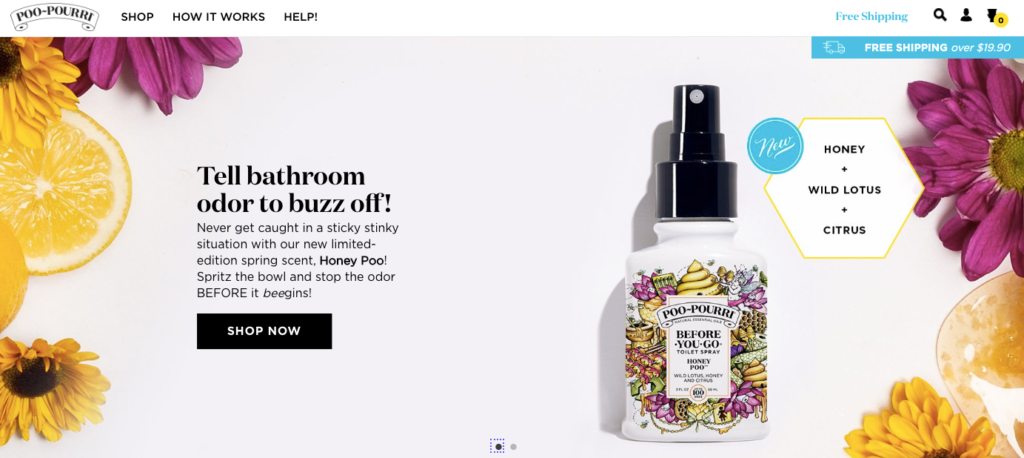 This goes both ways: The company tells bathroom odor to buzz off with their products. And they tell you to do the same, which creates a sense of authority.
Instead of talking about how good their toilet sprays smell, they communicate the value you'll get after using them.
The company frames the same problem in different ways across their site. And they always conclude by offering their products as the ultimate solution.
It's a simple formula: Explain a problem, agitate it, and solve it with your products.
The value for customers: No more bathroom odor.
Part 2. Make Your Customers' Lives Easier
Today's consumers are challenged by two things:
Too many product options to choose from; and
Too little time to spend finding them.
They want to make sure that they invest in the right products without a second thought.
If you can make consumers' lives easier with your products, they'll love and praise your brand.
The good news is, you don't have to invent a groundbreaking product to impress your customers. Chances are, you're already making some people's lives easier with your products or services.
All you need to do is to find out how you're actually doing it.
Think about the use cases of your products. Take a look at your product reviews. Send out customer surveys.
Then, use those insights in your value proposition.
4. Bellroy: "Considered Carry Goods to Enhance Your Everyday"
How you can make your customers' lives easier is highly related to Strategy #1.
This time, you don't only solve a problem for them, but also create a greater value.
Take a look at Bellroy's value proposition to see how they're communicating that value:

Much like in the previous examples, Bellroy starts by explaining a common problem: getting weighed down by carrying too many things.
Then, they give you the good news: "But it doesn't need to be that way."
Finally, they position their products as a solution that'll make your life easier, smarter, and more seamless.
They go beyond the claim of solving a problem and promise that they'll make your everyday life better.
And this value proposition fits perfectly with the product they're selling.
But instead of saying something like "functional wallets that can fit many things," they focus on the value you'll get upon using them.
The value for customers: A simpler and better-organized life.
5. Birchbox: "Beauty for Real Life"
Some brands will help customers save money or space, and some will help them save time.
Birchbox, a beauty subscription service, explains the value they create for customers by focusing on the last one: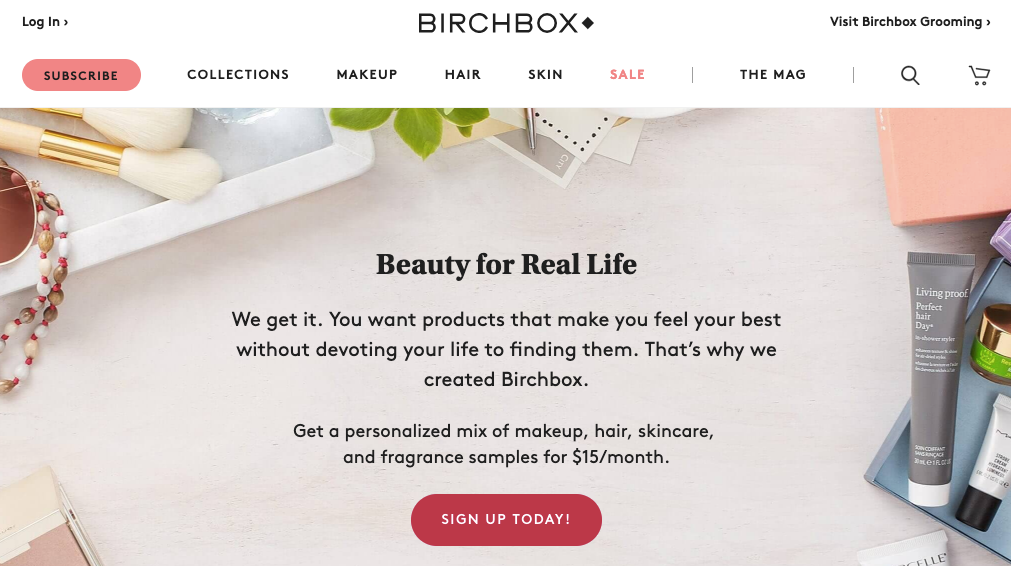 They start their value proposition by expressing that they get you.
They know that you don't want to spend much time trying to find beauty products you'll love. Because, much like Bellroy's target audience, you're a busy person.
Even though this is a non-urgent problem, Birchbox still voices this challenge because that's what their customers are looking for.
It all comes down to finding how your products can create value and what your buyer persona is looking for.
The value for customers: Getting personalized products without spending time finding them.
6. Glossier: "Uncomplicated Makeup That Lives With You"
Taking a direct approach in your value proposition and writing that you make your customers' lives easier is one way to go.
Another path you can follow is to be more subtle about it.
Glossier implicitly describes the value customers will get by using their products: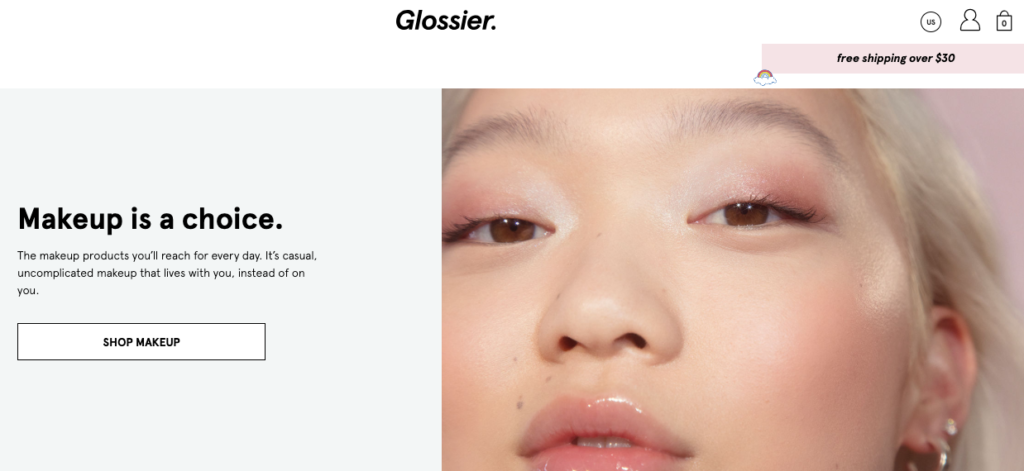 After stating their position towards makeup, the company gives hints about what you should expect from their products.
They use the adjectives casual and uncomplicated to describe their products so that visitors know that Glossier wants to simplify makeup for them.
Upon buying their products, customers can have an uncomplicated skincare and makeup routine with products that live with them, instead of on them.
Everybody claims to make customers' lives easy these days. So you should support your claim and explain how you do it. Otherwise, you'll be just another one in the crowd.
The value for customers: A simple skincare and makeup routine.
Part 4. Focus on the Price
Price is a crucial factor in consumers' purchasing decisions.
In fact, it's one of the top three reasons why Americans choose an e-commerce site for shopping.
Online shoppers constantly look for the most affordable option, knowing that they can easily find a better deal with a click.
If you're offering good deals on your site, make sure your site visitors will know about it in your value proposition.
But if you want to follow the footsteps of exceptional e-commerce brands, focus on how customers can get a high-quality product for a surprisingly good price.
7. Tuft & Needle: "An Exceptional Mattress at a Fair Price"
Even though a lower price can have a positive impact on consumers' purchasing decisions, it can also signal a lower quality.
And the impression of low quality will decrease the perceived value of the brand in consumers' minds.
That's why top e-commerce brands combine price with quality.
Tuft & Needle is one of them:
The company's value proposition has two parts: high product quality and fair price.
Note how they use the adjectives exceptional and fair in their value proposition.
Feel free to play around with words and find out what works best for your brand.
The value for customers: A surprisingly good deal for a high-quality product.
8. Away: "First Class Luggage at a Coach Price"
Another approach you can take in this strategy is finding two contradicting concepts and using them to surprise your prospects.
Check out this brilliant example by Away: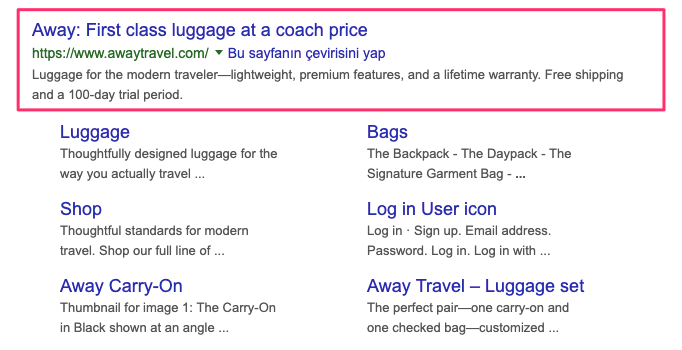 The company that sells luggage and bags finds the perfect metaphor to contrast their high-quality products and affordable prices.
(Or at least, that's the perception they help create.)
Achieving first-class with a coach price is something unexpected. And everybody loves it when that happens.
Thanks to Away's assertive value proposition, visitors know that they can get value for a reasonable price.
The value for customers: A quality upgrade for a good price.
9. Harry's: "You Deserve a Great Shave at a Fair Price"
Taking a similar approach with the previous examples, Harry's highlights the contradiction between their prices and product quality.
But they do it with a twist: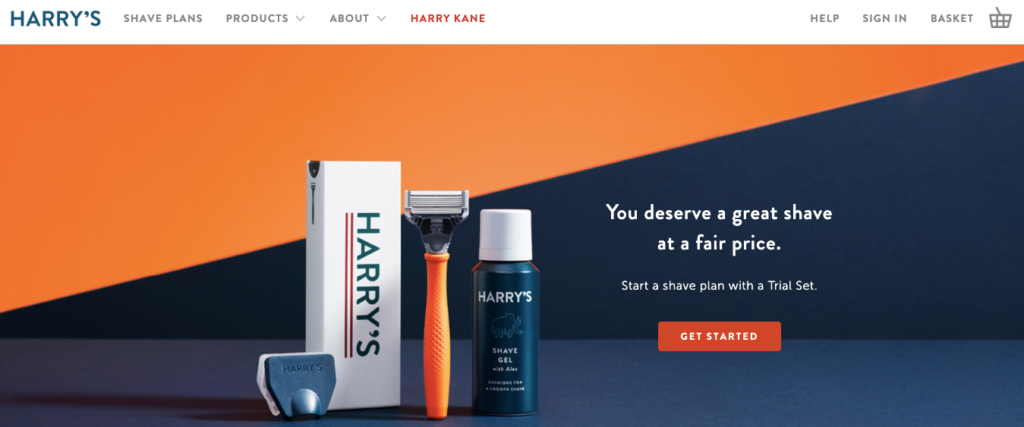 At first sight, there's no direct information about the product or the brand in this sentence.
It looks like a selfless statement that almost empowers the reader.
Their value proposition doesn't talk about how their products are high-quality and fairly priced, but instead, they tell you how much you deserve that.
Notice how they direct the attention to "you" as a potential customer and use a personal tone.
It's a subtle way to communicate your fair pricing without leaving the impression of hard selling.
The value for customers: Getting the quality they deserve by paying a lower price.
4. Make It All About Your Customers
What's the sweetest word you can use to persuade visitors into doing something?
It's "you".
Using the word "you" will assure the readers that they matter.
Plus, it will create a sense of personalization and make your customers feel special.
Value propositions should focus on the value your customers will get, and not on your brand or products.
Why not go all in and build your value proposition around your customers?
That's exactly what some of the best e-commerce brands do.
10. Bean Box: "Give Your Mornings a Fresh Start"
Let's assume that you're selling coffee online.
There are two paths you can follow in your value proposition:
Write that you have good coffee; or
Recreate the feeling of drinking good coffee in the morning.
Choosing the first option might make you a decent brand, but walking the second path would put you among the exceptional e-commerce brands.
Because the second value proposition will appeal to readers' senses, talk about the value instead of the product, and directly speak to the consumers.
Take this example from Bean Box:

What they offer is more than just coffee, it's a fresh start to your mornings.
So the company's focus is not on how good their coffee is, but on making your mornings better.
The value for customers: Better mornings.
11. Dollar Shave Club: "Get Ready to Look, Feel and Smell Your Best"
If you're selling personal products on your e-commerce site that can make visible changes in customers' lives, you have a headstart in this strategy.
Whether it's travel, personal care, or clothing, you can frame your value proposition around how amazing your customers feel upon buying your products.
That's exactly what Dollar Shave Club does: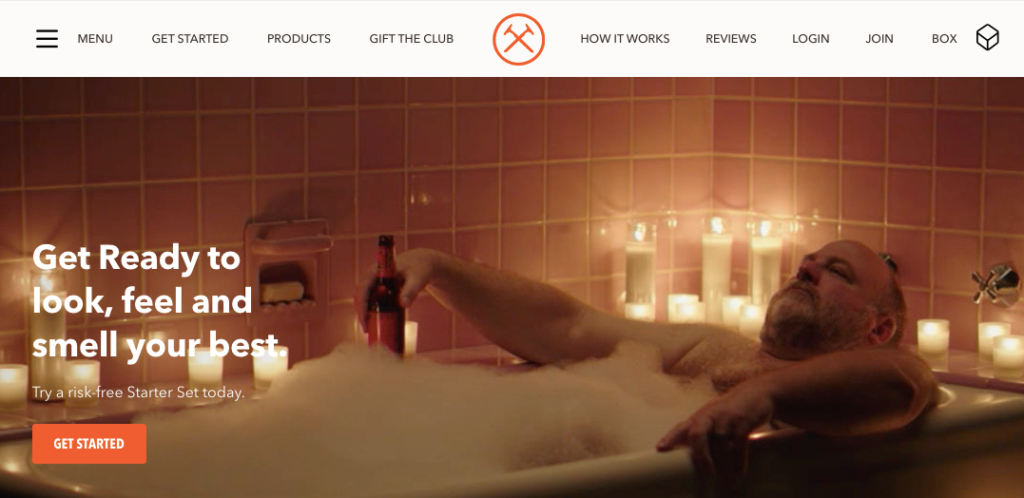 Instead of talking about their grooming products, the company focuses on how you will feel when the products are delivered to your door.
After all, who wouldn't want to look, feel, and smell their best?
This is a great way to set expectations in your value proposition and put your customers in the spotlight.
The value for customers: Feeling their best selves.
12. Saucey: "More Time for Me Time"
Even though your value proposition should be clear and concise, there's no harm in adding more meaning to it.
Check this example by Saucey:

Saucey, the company that offers 30-minute alcohol delivery, uses different versions of the same proposition: More time for "me time," "us time," "spa time," "game time," and "down time."
It works both ways: The value proposition first communicates the message that they make your life easier, so you can have more time to do the things you enjoy.
They also promise to make those free times more enjoyable by their products.
But more importantly, they assure you that it's all about you.
The value for customers: More—and better—time for themselves.
Part 5. Describe Your Buyer Personas
Knowing your target audience is the key to writing a killer value proposition.
You should think about the pain points, wants, and needs of your buyer persona before creating your value proposition.
And if your brand is not for everyone, there's nothing wrong with stating that.
Speaking directly to your buyer persona in your value proposition will help you get their attention more easily so you can attract a highly targeted audience to your e-commerce site.
Plus, it will help your prospects quickly understand what your online store can offer them and what kind of value they should expect.
13. Firebox: "Unusual Gifts for People with Imagination"
Value propositions developed with this strategy often consist of two parts:
The value created by the purchase of products; and
The receiver of the value.
This way, the readers know who you're talking to and if there's something in it for them.
Like in this example by Firebox:

If you come across Firebox on Facebook ads or Google search results, you'll easily understand what they're doing and what type of value you should expect from their online store.
Describing your buyer persona in your value proposition will also make it easier for prospects to relate to it.
See how the company positions their Mother's Day gifts:

In line with their value proposition, Firebox suggests that their products are not for everyone and creates a feeling of exclusivity.
The value for customers: Finding interesting gifts that will stand out among the others.
14. Mack Weldon: "Smart Underwear for Smart Guys"
The value your customers get after buying from you can go beyond the product itself.
Your value proposition can include other benefits customers will get upon purchasing from you, such as an exceptional shopping experience or an exclusive feeling.
This is how Mack Weldon describes their buyer persona and makes them feel special: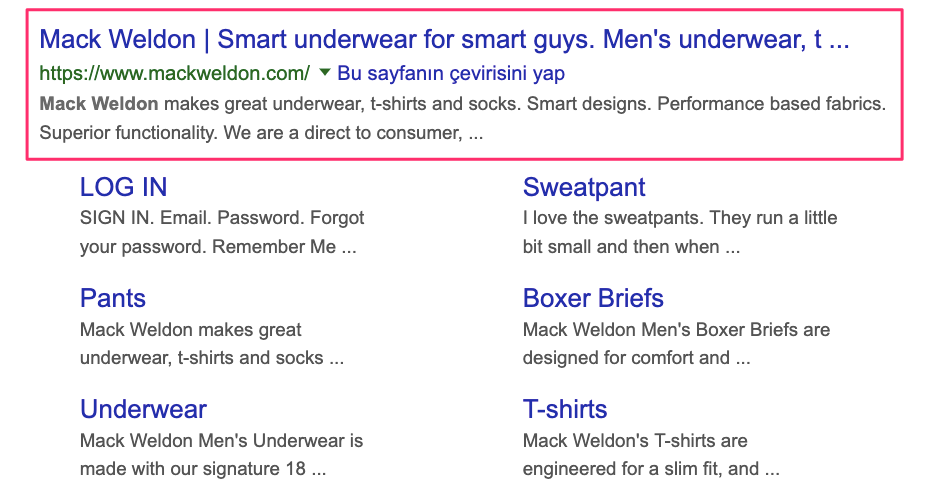 If you think you're a smart guy (and you probably do,) Mack Weldon is for you.
Try describing your ideal buyer with a strong, positive adjective that relates to your brand so that customers will feel better about buying your products.
The value for customers: Smart design and a sense of exclusivity.
15. Man Crates: "Unique Gifts Guys Love"
Similar to the Firebox example above, Man Crates uses their value proposition as an opportunity to explain whom its products are for.
But instead of directly speaking to their target audience (women who buy gifts for men), they focus on whom their gifts will appeal to and what's the value for them.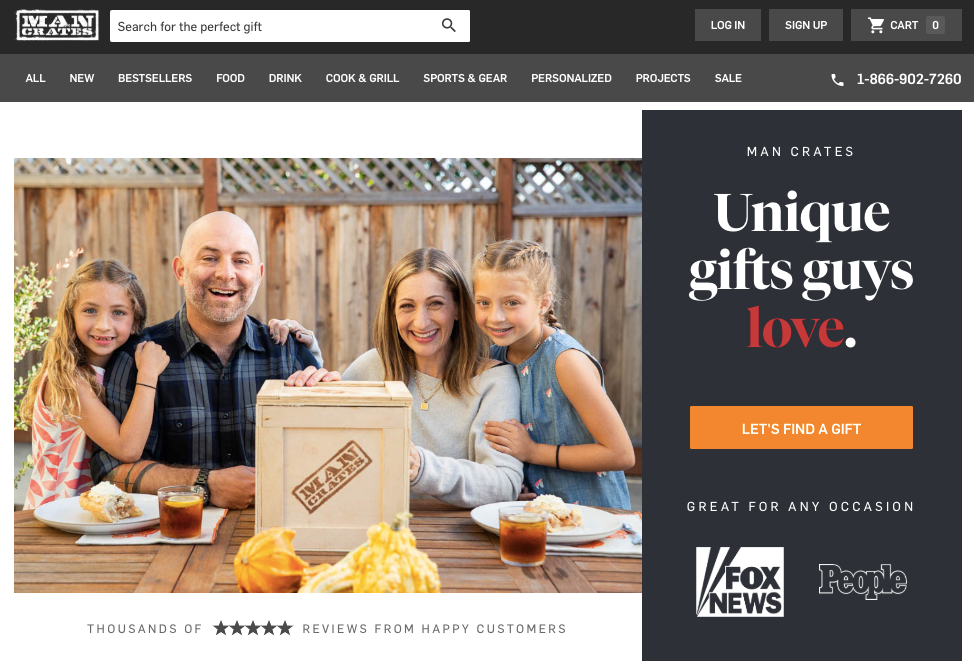 Their target audience is anyone who's shopping for a man and the promise is that men will love the gifts you buy for them.
And that's exactly why we buy gifts, after all.
Describing the ideal receiver of their gifts, the company indirectly speaks to their potential customers and lets them know the value they can get from Man Crates.
The value for customers: Great gifts that the men in their lives will enjoy.
Part 6. Compare Your Brand with Others
One of the main objectives of writing a well-crafted value proposition is to differentiate your brand from your competitors.
And a bulletproof way of positioning your brand as superior is through comparing it with the others.
If you're running a relatively new online store, you don't have to claim to be the best in the industry.
Find a point where you think you're better than most of the competition and be ready to present your reasons to back it up.
16. MeUndies: "The World's Most Comfortable Underwear"
Everybody wants to make sure that they get the best product for the price they're paying.
If that's the value you're offering to your customers, make sure to include it in your value proposition.
Here's an example by MeUndies: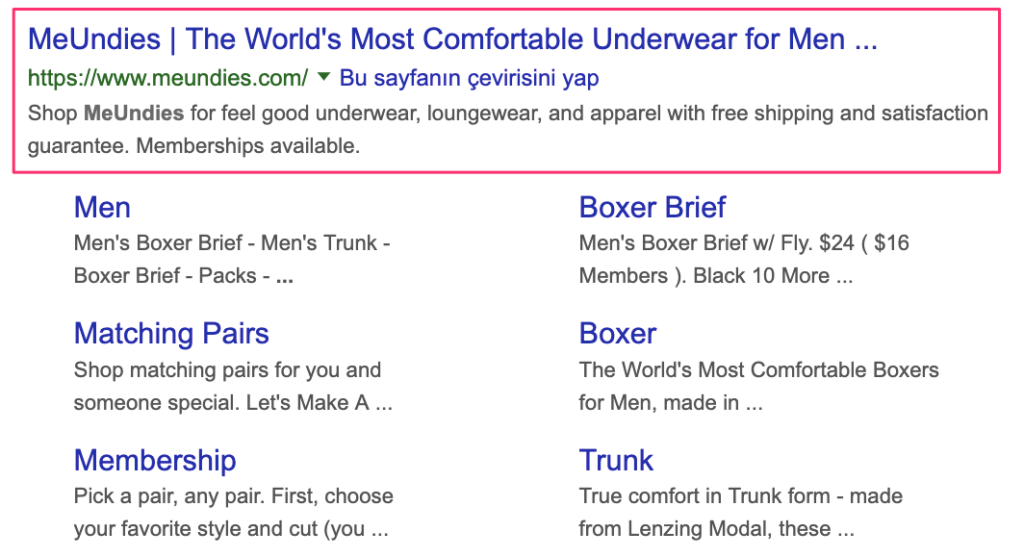 Claiming that they offer the world's most comfortable underwear passes the brand a sense of authority.
Since it's not easy to prove this claim, MeUndies uses social proof and displays the number of customers they have:

They can't ask 9 million customers if MeUndies are really the softest ever but they can use this argument to support their claim.
The value for customers: Having the best underwear they can possibly get.
17. Death Wish Coffee: "The World's Strongest Coffee"
Boosting your products and claiming that they're the best doesn't mean much—unless you're framing it around why it matters to your customers.
Death Wish Coffee Company's tagline "The World's Strongest Coffee" doesn't create an image in the readers' minds by itself.
But this is how they turn it into a value proposition: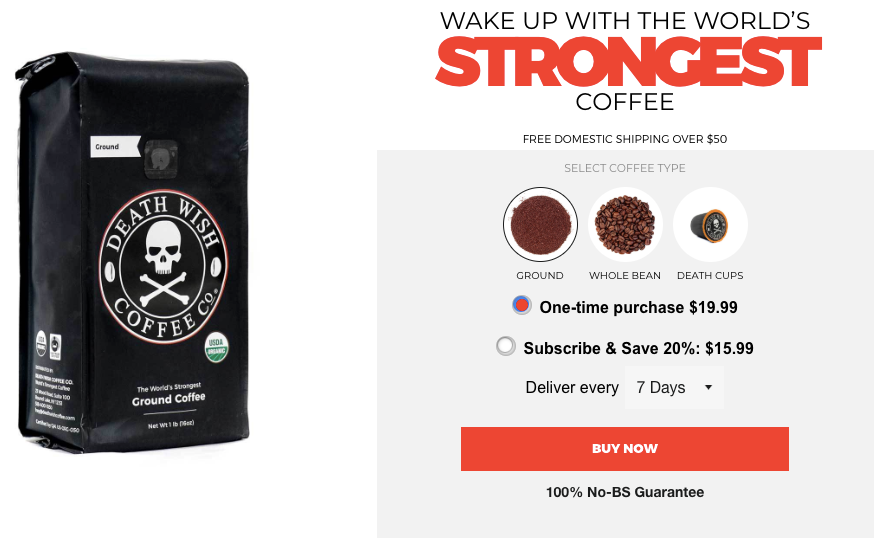 Waking up with the world's strongest coffee paints a picture where you can easily see the value of buying their products.
What's more, the company explains the benefits you can expect further and supports their claim with details about how and why they have the world's strongest coffee:

Plus, they guarantee a full refund, if you don't think that it's the strongest you've ever had.
The value for customers: Having the strongest coffee they can possibly get.
Conclusion
Under all of the e-commerce value proposition examples above, I included a section that explains the value for the customers.
And you saw that the value goes beyond the product itself.
That's exactly what you should aim for.
Take an upside-down approach to write your value proposition and ask yourself this: "What's the value I provide for my customers?"
Brainstorm a few value proposition examples using the six strategies above and combine some of them.
Play around with the words to make it fit your brand voice and use it across your website and paid ads.
Always remember to make it about your customers, and not about your brand.