Here's the scenario. A customer is at your checkout page and ready to buy. You could leave it as is and let them complete their purchase.

Or you could encourage them to buy an alternative product at a higher cost but with more robust features, capabilities, etc.
Although some brands are reluctant to do this out of a fear of sounding overly salesy or greedy, it's simply a practice called upselling. And it works very well.
In fact, product recommendations are responsible for an average of 10-30 percent of gross e-commerce revenues.
That's a number you can't argue with.
In this post, I'd like to discuss some key upselling strategies you can use for your e-commerce store checkout page and provide some examples so you can truly see upselling in action.
But first things first.
Use These Upselling Strategies to Increase Your Average Order Value
This article is quite in-depth. To make life easier, I've broken it down to make it more digestible. Click a link below to jump to a particular section of interest.
The Psychology Behind Upselling
Let's look at each in more detail.
Upselling vs. Cross-Selling
Before we dive in too deep, I feel it's necessary to define the difference between these two techniques that are often used interchangeably.
According to Kissmetrics, "Upselling is when the seller encourages the customer to spend more by recommending a higher priced alternative of the current consideration."
So rather than buying the "The 4X" blade from Dollar Shave Club for $6 per month…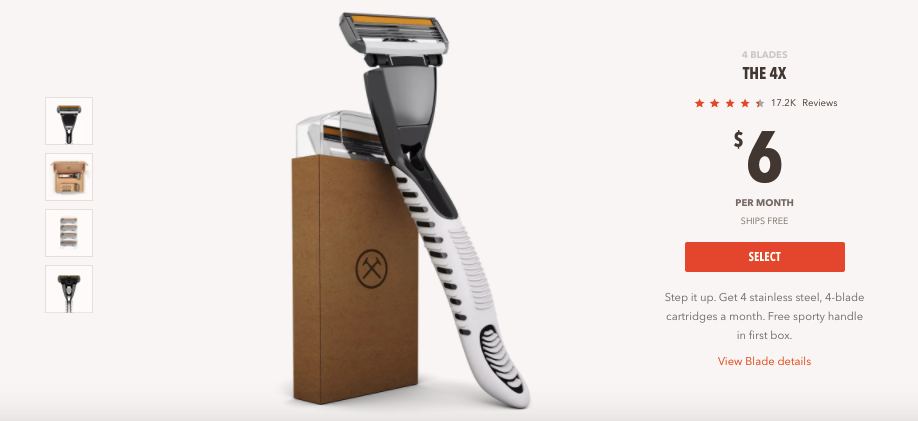 …they might suggest buying "The Executive" for $9 per month instead.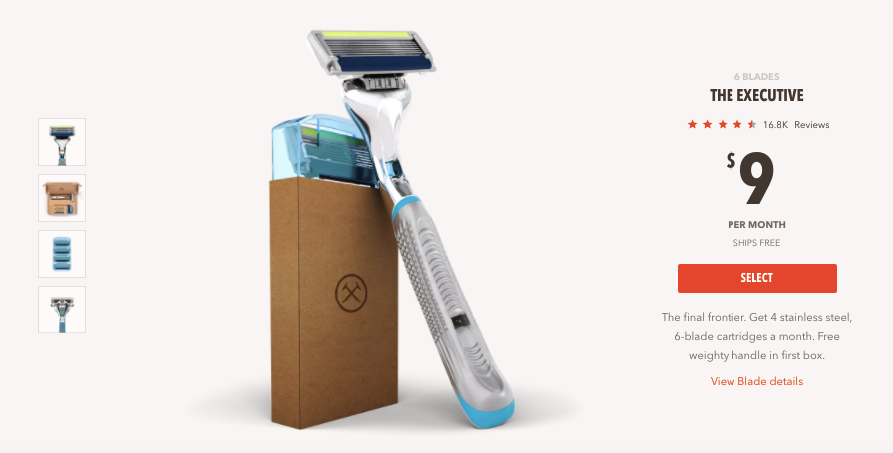 As for cross-selling, this "is when you recommend your customer to buy a product that complements their existing purchase, but is from a different category (or vendor)."
So at the checkout, they might suggest adding the "Smooth Shave Bundle" to complement your razor.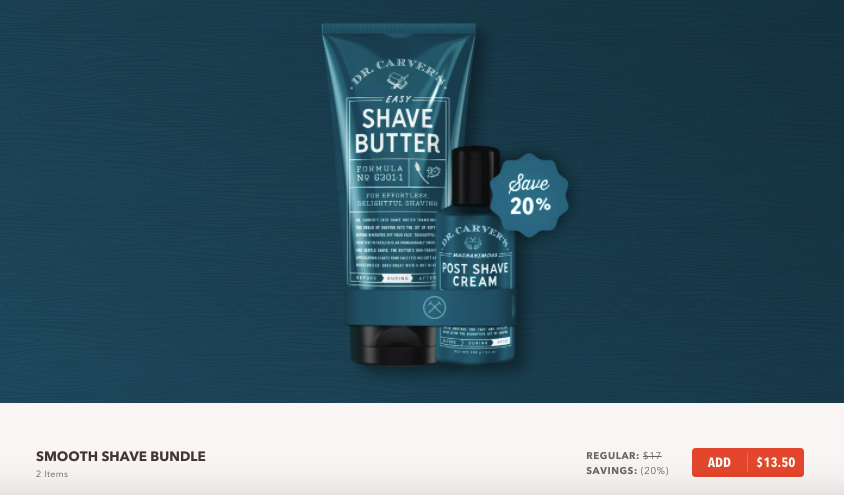 Both techniques revolve around a similar strategy, and some marketers lump cross-selling type add-ons into upselling.
(By the way, on the subject of shaving products, we reverse-engineered Harry's marketing plan. Take a look at what we discovered.)
But for this post, I'm going to focus exclusively on upselling and encouraging customers to buy an alternative, higher-priced product instead of the product they initially planned on purchasing.
Why?
Because research has found upselling to be way more potent than cross-selling.
In fact, a particular study by Econsultancy discovered that cross-selling drives roughly 0.2 percent of sales, while upselling drives over four percent of sales.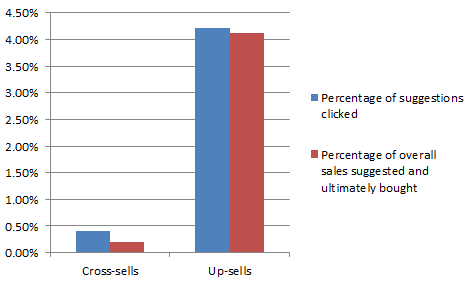 That's about a 2,000 percent difference.
So I'm sure you can see my logic here. It's just more lucrative.
And as Convince and Convert adds,
Cross-selling accessories and the like can only take you so far, but by showing clients similar but more expensive options, it's easier to persuade them to upgrade to a service they're already satisfied with to something even better.
The Psychology Behind Upselling
It's also important to understand why upselling works.
How can something so simple potentially increase sales by as much as four percent?
It's all about striking while the iron is hot.
Just put yourself in your customer's shoes for a moment.
Usually, they've taken the time to:
Perform at least some basic product research
Research your brand
Browse your site
Learn about your product
After which, they've decided that your product is what they're looking for and is likely to fulfill their needs and fix a particular pain point.
They're now at your checkout page and ready to whip out their payment card and make a transaction.
In other words, they're in buying mode.
This is a critical juncture because many customers are open to buying an alternative product even if it's at a higher cost as long as it offers more value than the initial product they planned on purchasing.
Therefore, it's reasonable to pay a bit more for an upgrade, and a portion of your customers won't mind doing so.
On top of this, it's convenient. Opting for an alternative is no biggie because it's right there in front of them.
They don't need to go back and spend any additional time searching for it.
With a single click, they're ready to go.
These are the reasons why upselling works so well.
And as Neil Patel mentions, it's really a win-win for both your company and the consumer.
Your customers get better stuff and you get more cash.
Now that we're clear on exactly what upselling is and why it works, let's get down to the nitty gritty.
Here are some specific strategies you can implement.
Strategy #1: Offer A Side-By-Side Comparison of an Alternative
Let's start with the most basic—a simple comparison of different products.
The purpose here is to succinctly show a customer that an alternative product has better features than the one they were originally interested in.
Spotify does this flawlessly with their breakdown of their free version and premium version.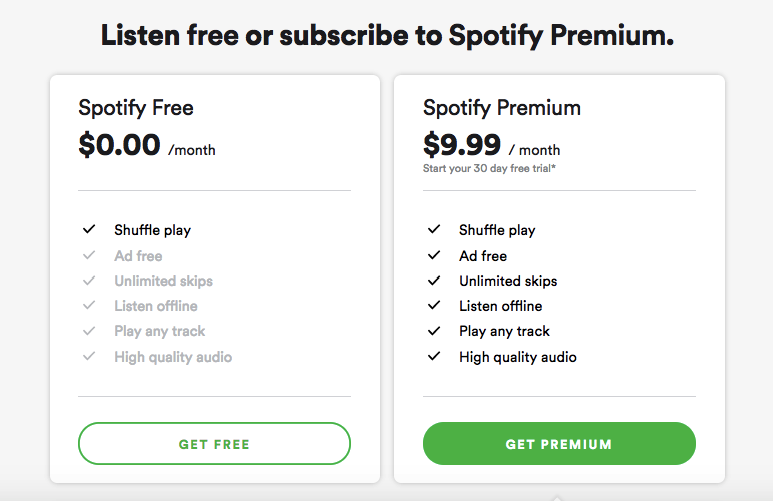 Before going with "Spotify Free," customers are presented with a side-by-side comparison of "Spotify Premium."
With a quick glance, you instantly know about all of the extras that come along with shelling out $9.99 per month for "Spotify Premium."
It's ad free, offers unlimited skips, offline listening and so on.
This no doubt is enough to lure many customers into choosing the premium service over the free one, especially true music junkies.
Apple also does this when they offer two options of the 12 inch MacBook.
If someone was initially interested in buying the 1.2Ghz processor with 256GB of storage, they may very well be interested in upgrading to a 1.3Ghz processor with double the storage for $300 more.
This brings me to a very important point.
Strategy #2: Present Reasonable Alternatives
You need to be realistic when upselling and offer upgrades that actually make sense.
Chuck Cohn nails it perfectly in Forbes by saying,
When upselling, the key is to keep your customer's needs and wants in mind. A person who is looking at a $20,000 sedan may not be interested in a $50,000 sports car. However, that person may be interested in a $23,000 sedan. Be sure to align your upsell with the underlying needs and wants that drew this customer to the original product.

Notice that Apple didn't suggest a 15 inch MacBook Pro with all of the bells and whistles for $2,799.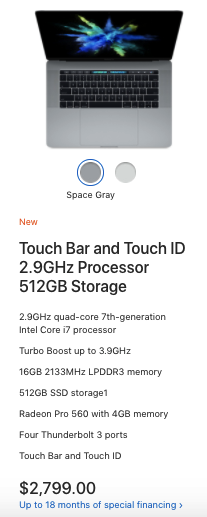 That would be overkill, and the majority (if not all) customers would simply ignore it, which would defeat the entire purpose of upselling in the first place.
So this is definitely something to keep in mind when you're choosing alternatives to promote.
Strategy #3: Display Upgrades
The Garden Office is a UK-based company that sells some amazing "garden" rooms, offices and studios.
These nifty little spaces are highly customizable and come in a variety of different sizes.
Here's what you get when clicking on the garden office that's 3.0m x 2.5m.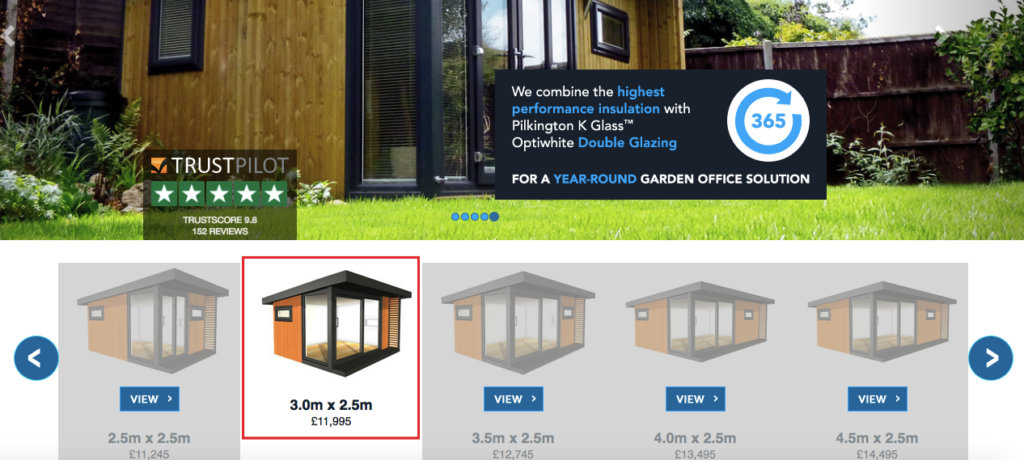 But when you look just to the right of this particular product, you can easily check out three different upgrades that are slightly larger and more expensive.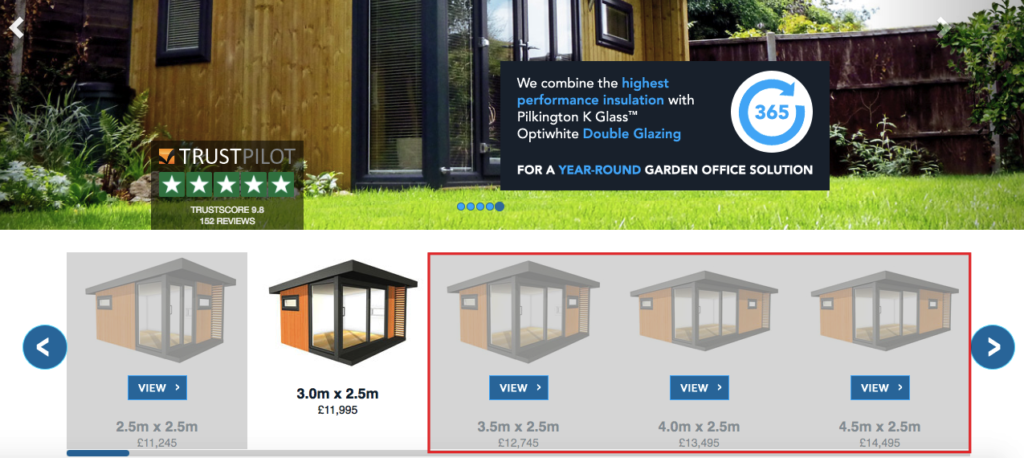 So rather than choosing the initial product for only £13,495 ($18,863 USD), you could just as easily be interested in a larger model and spending up to £14,495 ($20,261 USD).
I like this tactic because it's by no means pushy.
It's simply a matter of letting your customers know about other options they may not have been aware of and providing them with a convenient means of upgrading.
Strategy #4: Subtly Mention Similar Products
Check out this North Face Barstol Aviator Jacket on Nordstrom.

You could simply buy it … or you could opt for a similar jacket that people also viewed that costs a bit more.
The price of the original jacket is $104.25, while the alternatives are $111.75 (a slight upsell) and $149.25 (a significant upsell).
I like this strategy for two reasons.
First, the alternative products are realistic upsells. They're similar to the initial product and within a reasonable price range.
Second, they offer customers multiple options in case they're not interested in a particular one.
In fact, Nordstrom includes two additional products that you see if you scroll down just a bit further.

So customers have four alternative choices in total—all of which are priced higher than the initial product they were interested in.
By offering some variety like this, you can increase the odds of successfully upselling.
While this won't be viable for all e-commerce stores (say you only have two or three products), it can definitely work for others with a larger inventory.
Strategy #5: Offer Alternatives with Better Ratings
You could make the case that Amazon is the master of upselling. And it's a major contributor to their gross revenue.
One way they increase their sales revenues is by featuring alternative products that have better ratings.
Here's a great example.
Let's say that someone interested in buying a pair of Ray-Ban sunglasses— the Ray-Ban RB4033—601S48 Predator Polarized Sunglasses 60mm to be exact.
They look pretty solid, but notice that they only have a three and a half star rating, which isn't ideal.

But scroll down just a bit, and there's a nice selection of other Ray-Ban sunglasses that all have higher ratings.

More specifically, they all have four and half stars, which is considerably better than the three and half on the initial sunglasses I was interested in.
Even better, this one is the number one best seller.

So it really wouldn't be that hard to persuade a shopper to check out some alternatives considering that their ratings are better.
Just like, the size of the sale could increase considerably.
And according to Vendasta, "Star rating is the number one factor used by consumers to judge a business."
So you can't deny the power of showcasing alternatives with higher ratings.
Objective data like this can be very persuasive.
Strategy #6: Show a More Popular Option
This strategy uses a similar psychological element as the number one best seller angle I just mentioned.
I'll use SEO SaaS provider Ahrefs as an example for this one.
Let's say that a customer is interested in buying their cheapest and most basic "Lite" plan.
But before making their purchase, they're provided with some more robust alternative plans.
One of which is their "Standard" plan for $80 more per month.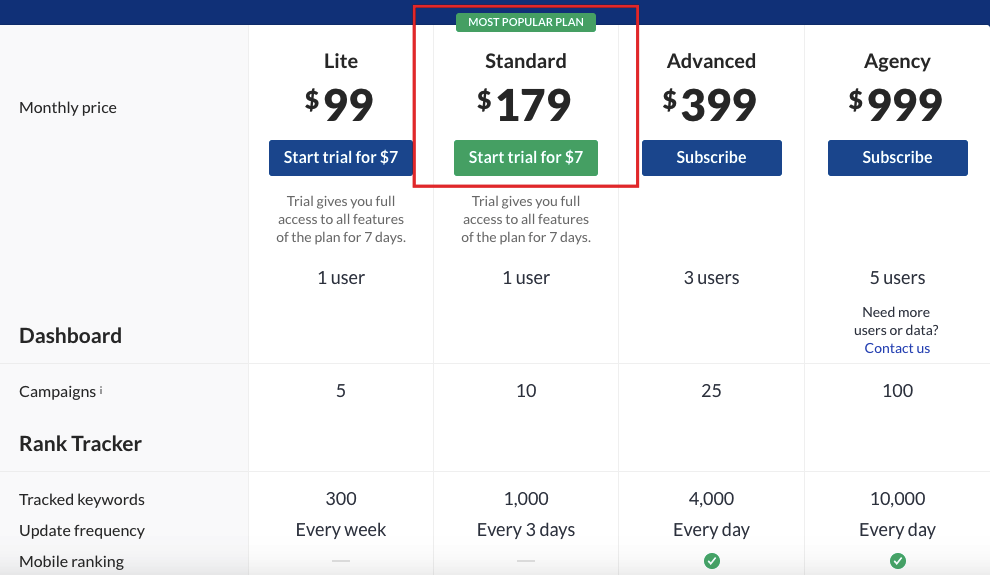 Up until that point, they might not have known which plan was most popular and were simply interested in what was most affordable.
But by clarifying and bringing it to their attention that the "Standard" plan has more features and offers more value pound-for-pound, this could convince them to shell out the extra cash.
This is actually a technique that's used by many companies, and content analysis platform BuzzSumo does something very similar.
The only difference is that they phrase it differently with their top plan being "recommended" rather than "most popular."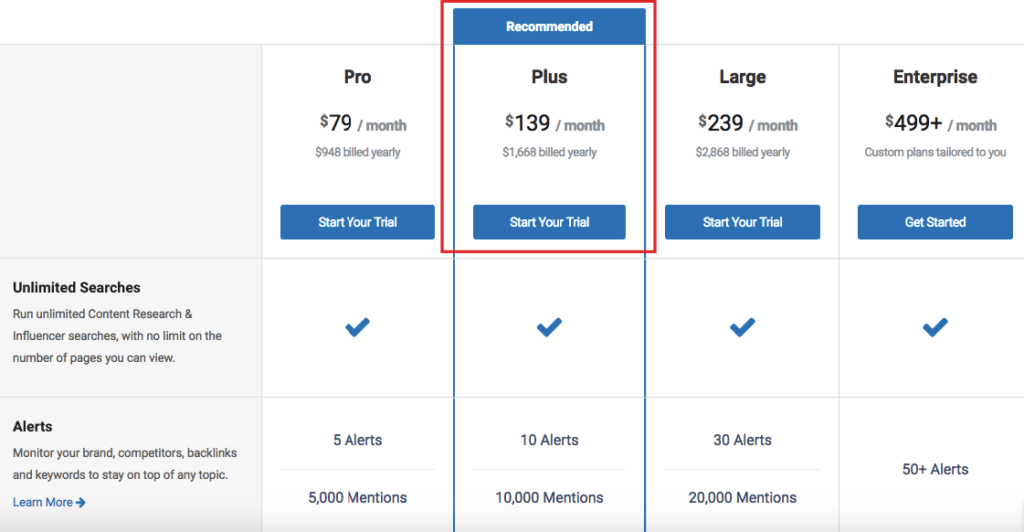 Tools to Automate Your Upselling
At this point, you're probably thinking, "Okay, upselling is great and I understand some of the fundamental strategies. But how do I actually incorporate it into my e-commerce store?"
Fortunately, there are several fantastic tools that will take care of it for you.
Besides saving you loads of time from having to manually configure recommendations, most of these tools will offer personalized recommendations that are optimized based on each customer's unique behavior.
Conclusion
Neil Patel points out, "We shouldn't view upselling as a dirty word, or some underhanded technique to filch extra cash from gullible customers."
It's really not like that at all.
Upselling is simply a way to provide your customers with greater value, while at the same time increasing your revenue.
And when done correctly, it's incredibly potent.
Although only a small number of your customers (roughly 4.25 percent on average) will actually switch and go with the costlier purchase, it can really add up over time.
ConversionXL even offers some theoretical numbers.
"If a single product averages 1,000 customers/month, that means you'd be adding an extra $860-$4,300 to sales every month. By the end of the year, that's an additional $10,320-$51,600 on a single product."
I'd say that's pretty darn good. Wouldn't you?
By utilizing the upselling strategies mentioned here, you should be able to increase and in some cases catapult your sales.