Replenishable products are a marketer's dream. Close the deal once, then enjoy months—or even years—of ongoing revenue with predictable buying frequencies.
That's an attractive business model. Especially as research from University College London shows that the more people purchase a product, the more likely they are to continue buying it in the future.
But we all know you can't afford to leave anything to chance in the world of ecommerce.
You might make a pretty great toothbrush, chocolate bar, or coffee filter. But so too do a bunch of other brands—and those brands are positively itching to get their hands on your customers.
That's why you should absolutely be sending replenishment emails to remind customers that they love your product (and that it's time to restock their supplies).
Unsurprisingly, replenishment emails are extremely effective. According to Listrak, they have the highest conversion of any type of email and also deliver the fourth-highest average revenue per email sent.
Still, there are no guarantees in marketing. In the right hands, selling replenishable products is like having a license to print money, but if you get your marketing wrong, don't expect to generate many repeat purchases.
That's why I've rounded up the high-performing replenishment email examples below.
Replenishment Email Examples 101
Example #1: Analyze Average Purchase Frequencies
The first and most important step in planning an effective replenishment email campaign is to figure out how frequently customers buy your products.
You can get a decent estimate of this by adding up the total number of purchases made during a given time period, then dividing it by the number of unique customers who bought during that period.
For some businesses, a top-level figure will do just fine. If you only sell one specific type of product—toothpaste, for example—it's reasonable to assume there'll be no great variance in purchase frequencies from one product to another.
But if you carry multiple different product lines, it makes sense to calculate the average purchase frequency for each category.
To stick with the example of oral hygiene, your average customer might buy a new tube of toothpaste or bottle of mouthwash once a month but only purchase a new toothbrush once every three months. So having a single, top-level purchase frequency won't mean very much, which will throw off the timings of your replenishment emails.
Want to take things a step further? Use individual customer data to build a personalized replenishment email cadence that matches the frequency of their previous purchases. Do they consistently order on or around the 28th of the month? Reach out a couple of days before to get them in the buying mood.
This isn't being intrusive or pushy; it's giving customers what they want. Indeed, Google research found that three in five consumers expect brands to tailor experiences based on their preferences.
Example #2: Clarify Why You're Reaching Out
Chances are, you send your customers a lot of different types of emails.
You might get in touch when you're promoting a product launch, running a sale, supporting a good cause, amplifying a new piece of content, or celebrating a holiday.
That makes sense. Email marketing drives an average return of $44 for every $1 spent, so why wouldn't you want to reach out at every possible opportunity?
However, there's a potential downside to the "more is more" approach: it risks diluting the impact of your most sales-oriented emails.
As I've already noted, replenishment emails are more likely to convert than any other type of email. So it's in your best interests to ensure they stand out rather than getting lost in the noise.
Okay, so what can you do to give your replenishment emails a fighting chance of cutting through?
Your first port of call should be to write a winning subject line.
If you can add elements of personalization to your subject lines, all the better. Research from Yes Lifestyle Marketing found that consumers are 50 percent more likely to open emails with personalized subject lines.
And with just 2 percent of emails featuring some sort of personalization in the subject line, this can be a key differentiator for your replenishment campaigns.
So your tasks at this step are to ensure that everyone knows this is a replenishment email and, if possible, to tailor the subject line to the customer's buying preferences. Try phrases like:
Time to stock up?
Running low on [product name]?
It's time to buy [product name] again
Example #3: Keep Your Messaging Simple
With replenishment emails, it's important not to over-sell.
This can sound counterintuitive to ecommerce marketers but remember: you're targeting people who've already bought from you.
They know the value of your product and why they might need it.
So don't cram your emails with snappy, sales-oriented messaging that speaks to your features and benefits because you're preaching to the choir.
Instead, focus on the task at hand:
Reminding customers that it's time to buy again
Showcasing the products they bought last time (or new products they might like to buy this time)
Giving them an easy path to conversion
Also, bear in mind that more emails are now opened on mobile than in any other environment.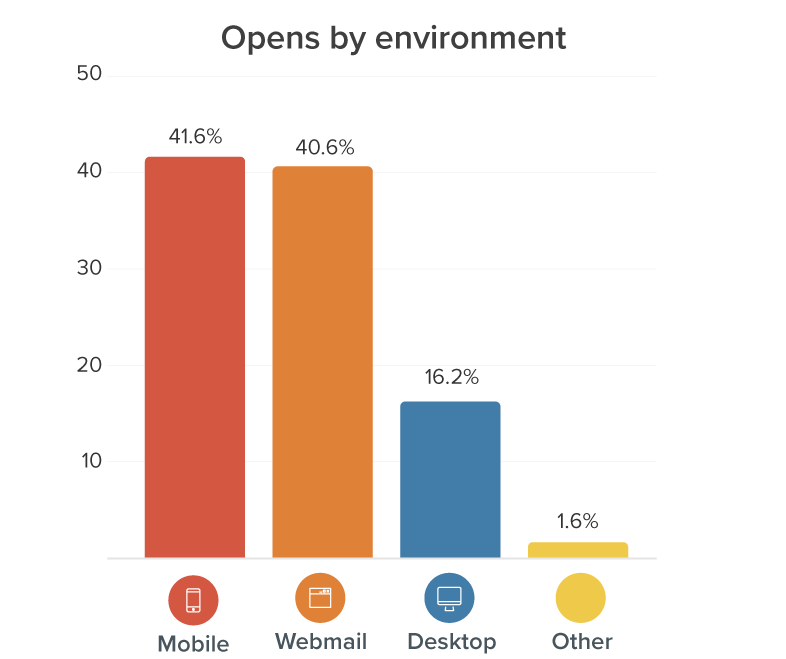 The simpler your messaging and the more succinct your calls to action (CTA), the easier it will be for mobile users to engage with your emails.
Violet Grey shows us how to get it right: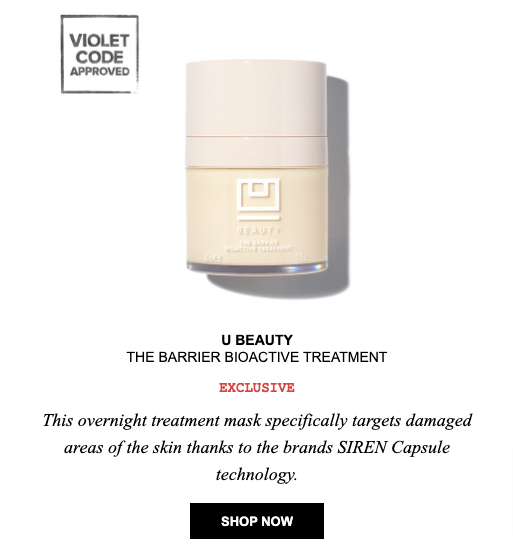 There's nothing too complicated here: just a clear product image, a brief description of why it's relevant to the customer's needs, and a succinct CTA that makes it easy for shoppers to take action.
Example #4: Use Replenishment Emails for Cross-Selling
The primary goal of sending replenishment emails is to drive sales of products your customers have bought before.
That's why they're called replenishment emails, after all.
But that doesn't mean repeat purchases are the only goal here.
Existing customers already have an affinity for your brand and (hopefully) a love of your products, which means they're a fantastic source of upsells and cross-sells.
Indeed, one study discovered that consumers are 50 percent more likely to try a new product from a company they've bought from in the past. Not only that, but they spend 31 percent more than first-time buyers.
So, in short, it makes sense to use your replenishment emails to point loyal customers in the direction of additional products they might want to try.
That's what Bliss does in this replenishment email example: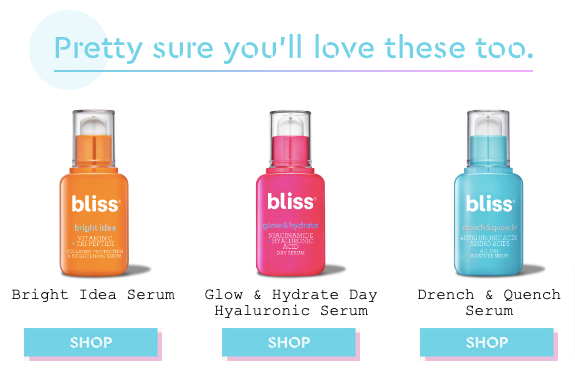 Again, this email works because it's pretty simple. The copy makes it sound like Bliss understands our shopping preferences, while the colorful product imagery and prominent CTAs make this email highly actionable without feeling pushy.
Example #5: Create a Feeling Of Urgency
The whole purpose of a replenishment email campaign is to remind existing customers that if they don't order again now, they're going to run out of a product they love.
That can be a powerful motivator. After all, if you use something every single day, chances are you don't want to go without.
So make sure to gear your copy and CTAs toward creating a sense of urgency in existing customers. Try phrases like:
Running low?
Before you run out
Time to top up
Example #6: Offer Automatic Product Replenishments
One of the most effective ways to drive repeat purchases is to offer automatic replenishment.
That way, the somewhat tedious process of re-ordering our favorite product every month or two is taken out of our hands entirely.
It's convenient for the customer, allowing them to replenish their supplies on a schedule that works for them. And it's great news for brands because it guarantees a repeatable revenue stream.
Automatic product replenishments are one short step away from launching a subscription-based product.
But they're a softer sell than a "full" subscription because you're primarily positioning it on convenience—we'll save you time on ordering a product you already love—rather than persuading new customers to sign up on a monthly basis for something they've never used before.
In other words, the more people you can persuade to auto-replenish, the better, so it's well worth pushing this model in your replenishment emails.
You might even try offering some kind of incentive for customers who sign up for auto-replenishment, like:
A free gift when they sign up
A small discount on each order
Early access to new products
"VIP" customer support
Example #7: Send Seasonal Replenishment Emails
The name "replenishment email" implies an evergreen email campaign, one that you'll re-use time and time again, perhaps at the same time every month.
To an extent, that's true. Once you've hit on a winning formula for driving repeat purchases, you don't want to tinker with it too much.
On the other hand, you don't want your existing customers to get bored of your replenishment emails or to think that you're taking them for granted.
For that reason, it pays to plan regular updates to your replenishment emails. It'll help your campaigns feel fresh and relevant while also giving you an opportunity to trial new strategies and themes. And the more you A/B test, the more likely you are to find what works (and what doesn't).
So how does this work in practice? What should your refreshed replenishment emails look like?
One potential approach is to give your campaigns a regular, seasonal update.
This doesn't need to be anything too complex. It could be as simple as adding a pumpkin to a replenishment email sent in the run-up to Halloween or using a brighter color palette for emails sent in the summer months.
Try combining this tip with my previous point about upsells and cross-sells by recommending seasonal products alongside your customers' regular purchases, like Origin does with this Mother's Day email: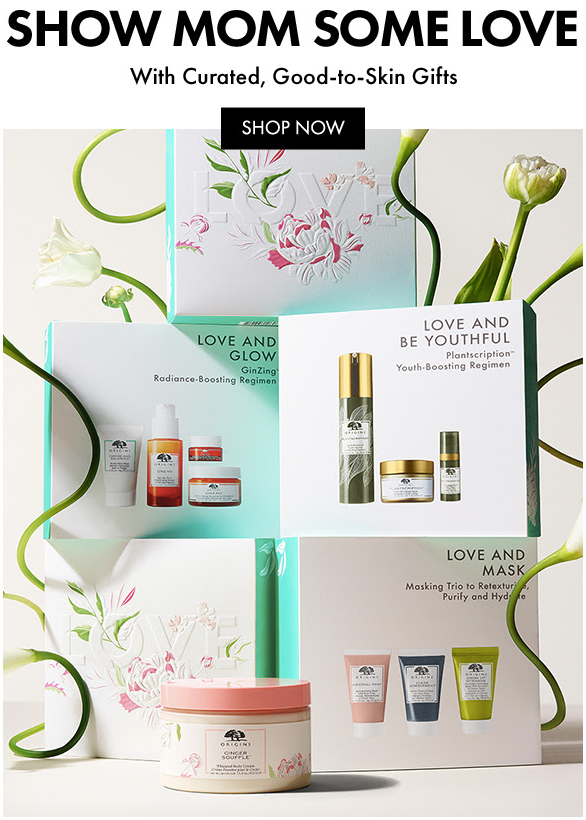 Remember, you're pitching to people who already like you.
So if you've got another product they might be interested in, why not show them?
Send More Impactful Replenishment Emails With Drip
Want to reach existing customers at the point when they're running low on that product they just can't live without?
Wish you could serve them with more relevant upsell and cross-sell recommendations based on their past purchase history?
Crying out for a way to engage repeat shoppers with targeted offers and personalized experiences they simply can't ignore?
You can do all that (and a whole lot more) with Drip.
Our real-time audience segmentation features give you the tools to target existing customers with exactly the right offer at exactly the right time.
Data is the key to our ecommerce powers. By taking it from your marketing tools and online store, we're able to reach each and every customer with highly relevant content based on their buying and browsing habits.
All of which help you build longer customer relationships with higher average lifetime values.
But don't just take my word for it.
See for yourself by trying Drip free for 14 days (no credit card required).