If you want to start a subscription business or add a subscription service to your existing store, now's the time to do it.
The number of consumers that subscribe to an e-commerce service has grown 90 percent year on year since 2016. People love it.
Plus, it's a worthwhile venture.
By offering a recurring option to customers, you have the opportunity to increase their lifetime value. And you're able to create a loyal customer base that engages regularly with your brand.
Here you'll find the seven best e-commerce subscription examples we've seen, along with the advice you can take away and implement yourself.
7 Best E-Commerce Subscription Examples
1. SmartyPits
SmartyPits specializes in natural deodorants. It sells its deodorants as a standalone product and also has a subscribe and save option.
This is an example of the so-called replenishment subscription model. Customers subscribe to receive a discount and regular delivery of products they use and replace often.
The replenishment model especially works well for items, such as toothbrush heads, razor blades, and household cleaning products—anything a customer would buy weekly or monthly.
SmartyPits subscribers get a 10 percent discount and free shipping. This incentivizes would-be one-time customers to become repeat purchasers. This way, the company can secure recurring revenue.
Implementing a replenishment subscription model solved a big problem for SmartyPits. Previously, existing customers would forget to re-order their deodorant from the site before they ran out. So they would seek alternatives. Naturally, that's something you don't want to happen.
Another thing that SmartyPits does really well is educate newbies about its products. The company offers a quiz that leads to customized product recommendations.
This, of course, helps convert potential customers. But also, customization is key in the subscription e-commerce space. Subscribers dig a personalized experience. In fact, 28 percent say that personalization is the most important reason they stay subscribed to a service.
2. Society Socks
Society Socks is a sock subscription service in which subscribers get two randomly-chosen pairs of socks per month.
The company also donates two pairs to the needy on the customer's behalf each month, which gives the increasingly socially-conscious consumer reason to get on board.
Customers can choose to be billed monthly or every three, six, or 12 months. When a customer pays every six months, they get a 10 percent discount, when they pay every 12 months, they get a 20 percent discount.
This is a clever way to incentivize a long-term subscription and increase lifetime value. It could also improve cash flow for the business.
There are lots of other subscription boxes out there like Society Socks. It's important to differentiate your subscription from others on the market. In other words, don't just come out with another sock box. But, there's a fine line to tread here.
You may think your idea for a subscription box sounds genius, but it might be too niche for people to order on a regular basis. So be sure to do the market research and gather feedback before you go all in.
3. TheraBox
TheraBox is a monthly self-care subscription box. Each month, customers receive 6-8 different "therapist-curated" products related to that month's theme.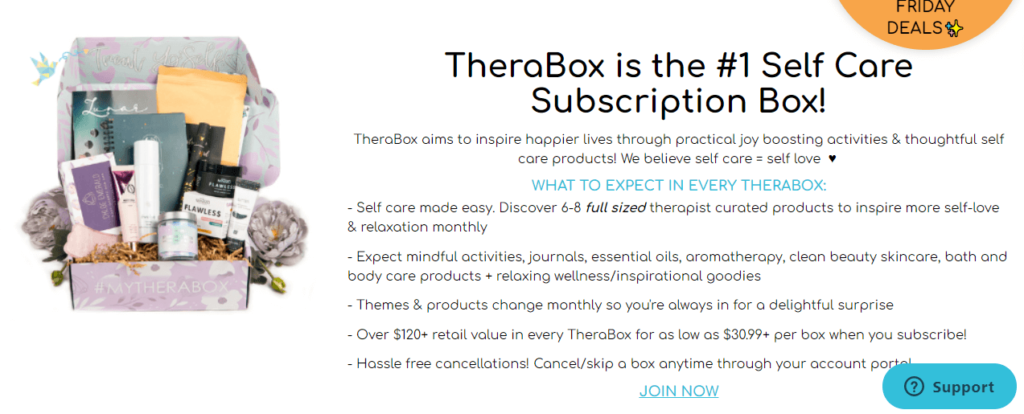 The curated subscription model is extremely popular with e-commerce stores. The beauty, lifestyle, and wellness markets are particularly suited to this model. But, it also works for a range of product categories from snacks to crafts.
Customers love this kind of subscription service as they feel they're getting value for money. Moreover, as they don't know what they'll receive each month, you have the opportunity to surprise and delight them. They're also likely to share their "unboxing" on social media which leads to greater reach and acquisition.
TheraBox also implements some especially effective tactics. One example is that customers are given the option to easily cancel their subscription or skip a month at any time.
These options likely make customers stick around for longer by giving them domain over their purchase as they're not locked into a contract. Thus, customers trust the brand more and have a more positive experience.
4. Homemade Bakers
Subscribers to Homemade Bakers receive all the pre-measured ingredients needed to make a sweet treat every month. The idea is that they take the inconvenient elements out of baking.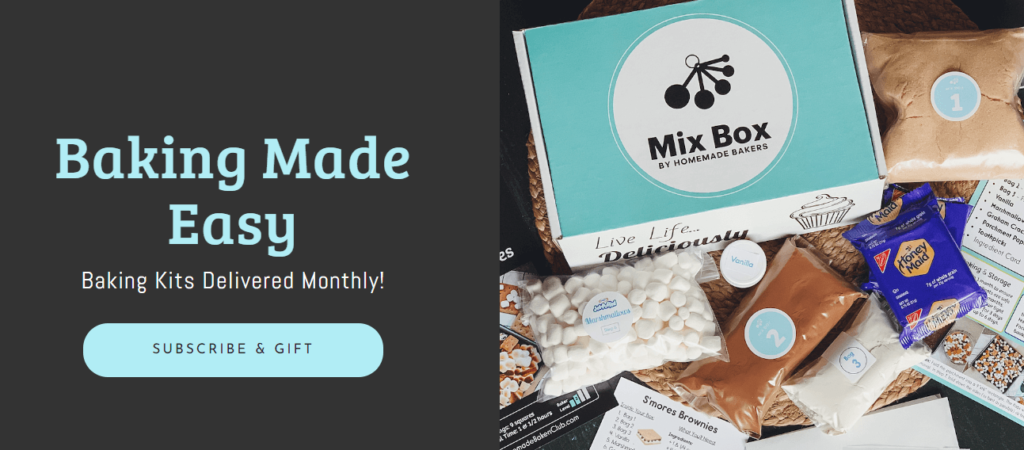 Homemade Bakers' choice of subscription type is a DIY kit. This type of subscription service works exceptionally well, not only in the food and drink category, but also in crafting, design, and hobbies.
Consumers enjoy this type of subscription because they're not purchasing a thing, but an experience. And customers, especially in the millennial and Gen Z categories, crave authentic experiences with brands.
Another aspect that Homemade Bakers does particularly well is providing supporting content. Its YouTube channel, for example, features baking tutorials for each of its baking kits.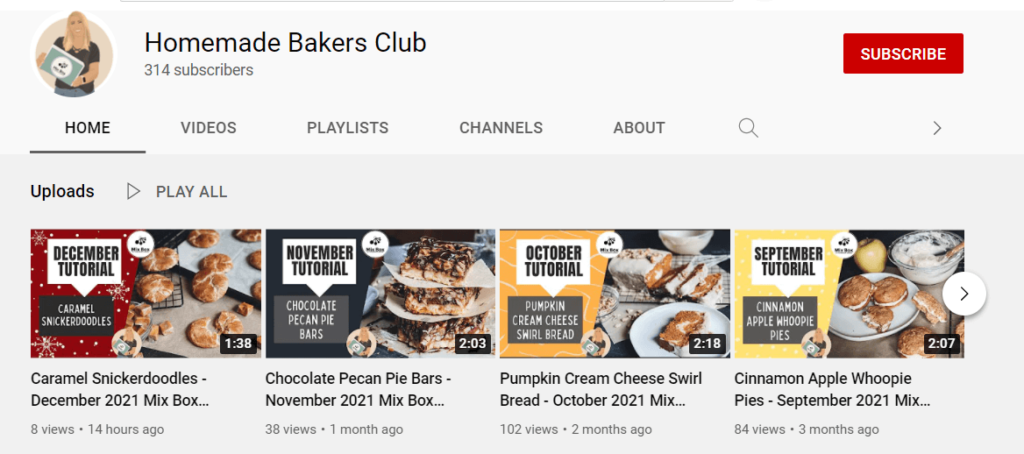 The fact that the channel is called Homemade Bakers Club says it all. Through supplementary content, the company is able to create an engaged community of customers.
5. Savage X Fenty
Savage X Fenty is Rihanna's online lingerie store. It offers up an excellent example of an access subscription model.

This type of e-commerce subscription differs greatly from others. It's a VIP service in which members get access to special benefits, discounts, content, and the like.
Subscribers receive benefits such as up to 25 percent off orders, early access to new products, free returns, and exclusive VIP lingerie sets. The catch is they must spend a minimum of $50 per month with the store.
This is an intelligent way to tie customers to a brand, delighting members with superior perks—all while encouraging repeat purchases. As such, the company can also create a loyal group of brand advocates.
Furthermore, the membership is flexible in that users can skip months, cancel anytime, or simply pay the $50 as member credit that they can spend at a later date. As I mentioned earlier, this kind of flexibility makes subscriptions more appealing for customers.
6. Peloton
Peloton offers a subscription to on-demand and live workouts alongside its main e-commerce offering, exercise equipment. The company has over 2.3 million subscribers.
Peloton has an interesting subscription model. Customers don't reap the full benefits of the product without the connected digital product. An all-access membership costs $39 per month on top of what customers pay for a bike or treadmill.

So not only does the company get revenue from customers when they buy a product, but they've also found a way to keep earning recurring revenue from those customers.
With this approach, Peloton can also track user engagement and behavior over time. This allows them to refine the product and therefore retain customers.
Granted, Peloton has the digital element. But you can track customer behavior with any subscription service. For example, learn what customization options customers choose the most or in what month they're most likely to drop off.
This kind of information is invaluable for improving the product and business strategy. For instance, with this knowledge, you know exactly when you need to re-engage customers before they cancel their subscription.
7. Rent the Runway
Rent the Runway is a designer clothing rental service with plans starting at $135 per month.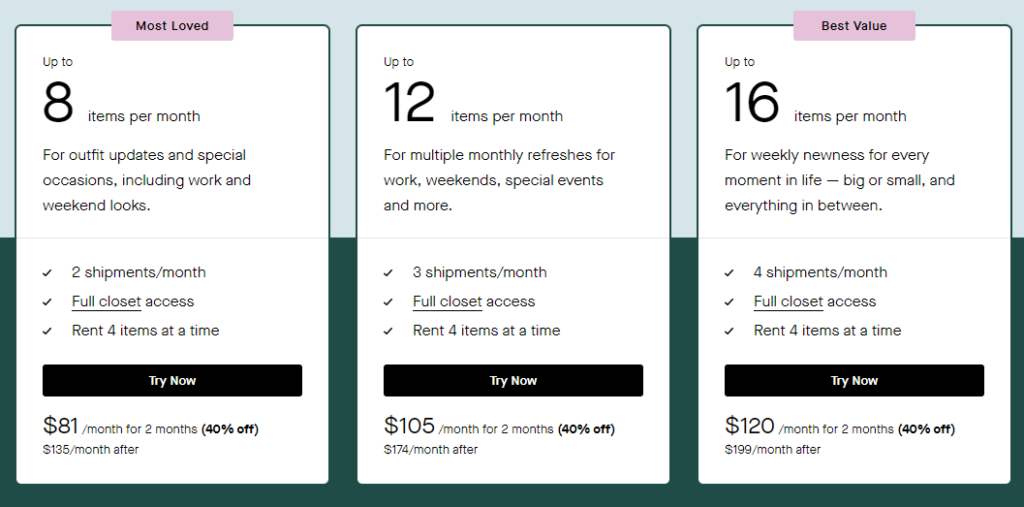 Customers also have the option to buy items from the wardrobe or rent them as a one-off.
The company certainly brings a unique offering to the e-commerce subscription market. With more and more e-commerce stores entering the subscription space, this is vital.
If you decide to start a subscription business or add subscriptions to your store, you'll need to find a way to differentiate your service. You can do this with a unique subscription model like Rent the Runway's.
Or figure out what makes you different from what's already out there. This might be your value proposition or the quality of your products. Incorporate your unique selling points in all of your messaging.
We recently spoke with John Roman of Battlbox, who opened up about how their pricing tiers have changed over the years. John thought that most customers would go for Pro, but it turned out that most customers saw the value of of the Pro Plus box and felt their pricing reflected that value.
Essential Tips for E-Commerce Subscription Services
What do these e-commerce subscription providers have in common that makes them such amazing examples? How can you take their strategies and implement them for your online store? Here are some tips for setting up a successful subscription service.
i. Pick the Right Subscription Model
If you already have an e-commerce store, choose the model that makes the most sense for your products. For instance, if you stock a wide range of different products, a curated box is a good idea. Or perhaps you sell one product with add-ons that would fit the replenishment model, and so on.
If you're starting a dedicated subscription company from scratch, your options are open. Though, bear in mind that some industries lend themselves better to certain types of subscription services.
ii. Personalize Subscriptions
There are many ways to add an element of personalization. Create a quiz or survey to help customers find their ideal product(s). Give subscribers a choice as to the category of products they receive. Or give them the opportunity to provide feedback each month then alter subscriptions based on a segment's or even an individual's needs.
For access subscriptions, you may want to personalize the content you send to different users based on their interests and behaviors, for example via your marketing emails.
iii. Build a Community
As you've seen, e-commerce subscriptions are particularly conducive to building long-term relationships and communities of loyal followers. It's your job to do everything to foster that. For instance, you could provide supplementary content, create social media groups, and encourage user-generated content.
iv. Make Your Offering Flexible
It's difficult for new users to subscribe to a long-term membership right off the bat. They don't know if they'll enjoy the products or service, or if it will be of value yet. So offer flexible options, such as the ability to change, cancel or skip a month at any time.
v. Track and Improve Your Service
Always gather insights about your customers and their behaviors. Decide on the most important key performance indicators (KPIs) for your business, e.g. churn rates, and use the right tools to monitor them. This way, you can implement the most meaningful changes that'll help you retain subscribers.
According to Keta Burke-Williams of Ourside, creating a subscription model that best resonates with her customers hinges on the data she collects and analyzes.
vi. Do Your Research
It's a good start to come up with a novel idea, particularly in this increasingly saturated market. However, you also need to make sure there's enough of a potential customer base out there for you.
One useful test would be to create a landing page where people can learn about your new subscription service and sign up for a waiting list if they want to be part of it. This should help you figure out if your idea is going to fly. Or you can use more traditional market research methods, such as surveys or focus groups.
James Le Compte of To'ak Chocolate recently spoke with us about how To'ak Chocolate is dipping their toes into a subscription model by offering recurring shipments to their customers. This is a great way to test the waters and see if your customers are open to receiving your products on a regular basis, before devoting time and resources into that model.
Conclusion
E-commerce subscriptions are an effective way to secure repeat purchases and increase lifetime value. They encourage long-term relationships between customers and brands.
Find the subscription model that suits you and you could be on to a lucrative venture. Take inspiration from the examples here and emulate their strategies for success.