Brands are obsessed with new customers. That kind of makes sense—after all, acquisition means growth, right?
When you actually dig into the numbers, though, it's hard to justify focusing on new customers at the expense of returning ones.
As a marketer, you have just a 13 percent chance of persuading a prospective buyer to purchase from you. However, when it comes to repeat customers, that figure shoots up to 60–70 percent.
If your products are great, your prices are reasonable, and your customer service is first-rate, it stands to reason that people will buy from you time and again.
But consumers have short memories, so if you're eager to secure plenty of repeat business, it pays to remind them how brilliant you are.
With that in mind, here are nine repeat purchase email examples designed to drive conversions from existing customers.
9 Repeat Purchase Examples to Inspire Your Own
1. Offer a Next-Order Discount
One of the most common ways to generate more repeat purchases is to offer customers a discount on their next order.
Although I've used the word "discount" here, it doesn't literally need to be money off a future purchase. Instead, it could be:
A multi-buy promotion (e.g. buy one, get one half-price)
A free gift
Or anything else, for that matter.
For instance, Baron Fig offers its customers $10 off their next order for every friend they refer: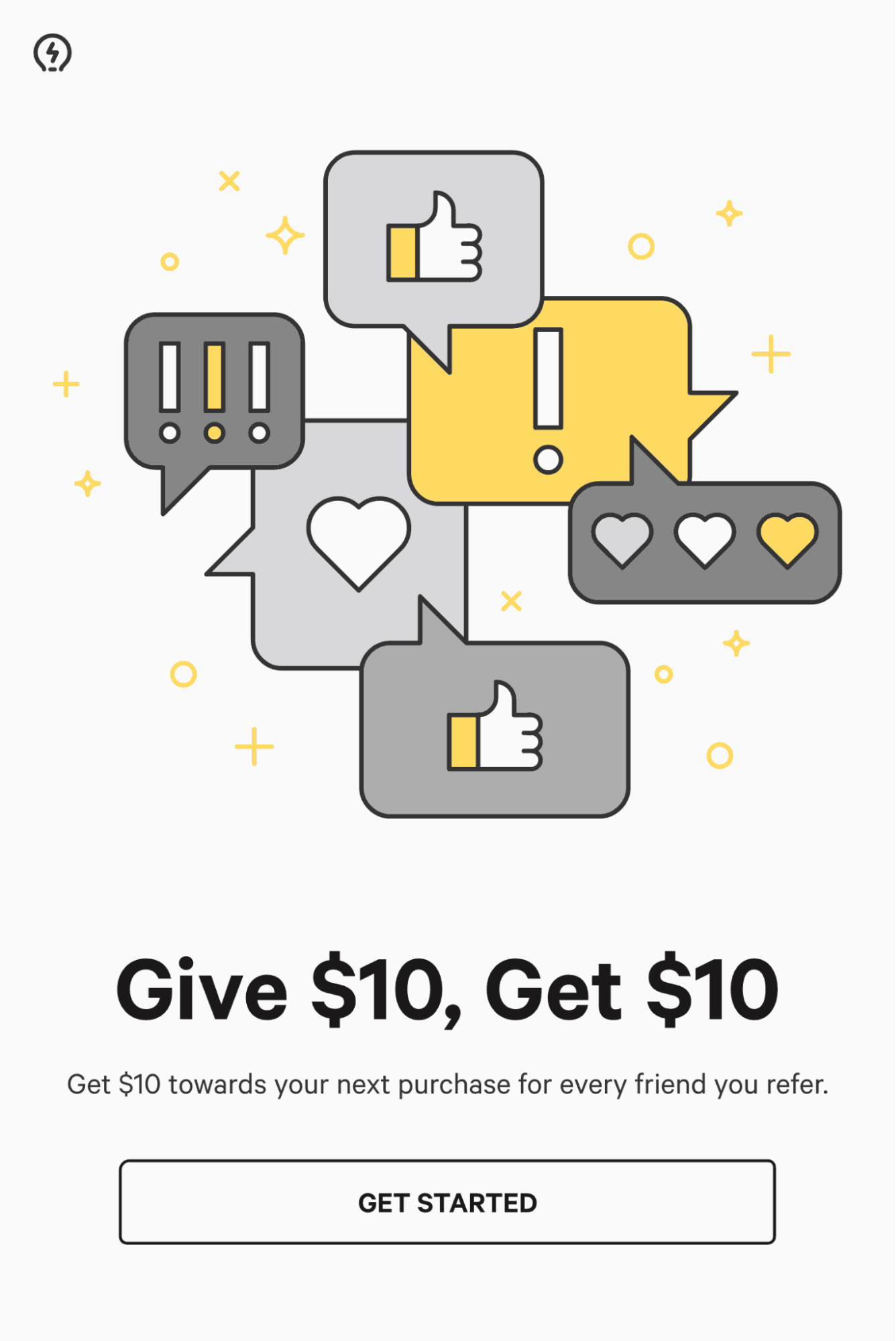 It's easy to see why this sort of promotion works so well. If the customer loved your product enough to buy it in the first place and has (hopefully) enjoyed using it, why wouldn't they buy another if they were incentivized to do so?
What's more, research from RetailMeNot discovered that:
67 percent of consumers have made a purchase they weren't originally planning to make solely based on finding a coupon or discount
93 percent say they would make a repeat purchase with a retailer that offered good discounts
69 percent of millennials say they cannot complete a purchase without first searching for a deal or offer
However, discounting strategies aren't quite as simple as they seem. In particular, it's easy to fall into the trap of over-discounting.
If existing customers start to expect a reduction on their future purchases, you've effectively lowered the perceived value of your product.
That's not only damaging to your bottom line, but it can also hurt your brand.
2. Switch Up Your Repeat Purchase Promotions
Okay, so this is kind of an extension of my previous point. However, it's important enough to mention separately.
While price-based discounts and other types of promotions can be an effective tool in driving repeat purchases, they have diminishing returns.
In other words, if you keep presenting customers with the same offer, sooner or later they're going to get bored and look elsewhere.
That's why it pays to regularly switch up your promotions and incentives.
According to a study from the University of Chicago Booth School of Business, this sort of uncertainty can be an important factor in encouraging repeat behavior. In fact, the researchers found that people are more likely to repeat a task for an uncertain incentive than for a certain one, even when the uncertain incentive is financially worse.
Why does this happen? Are we just stupid?
Well, perhaps.
But the study authors theorized that uncertain incentives are so effective because consumers love transitioning from the unpleasant feeling of uncertainty to the satisfaction of a resolution.
Not only that, but they get a nice reward at the end.
So don't just give repeat purchasers 10 percent off the regular purchase price; try varying the percentage discount, or throwing in other incentives (like free shipping or free gifts).
ColourPop Cosmetics recently took a page out of this playbook by offering free worldwide shipping on everything.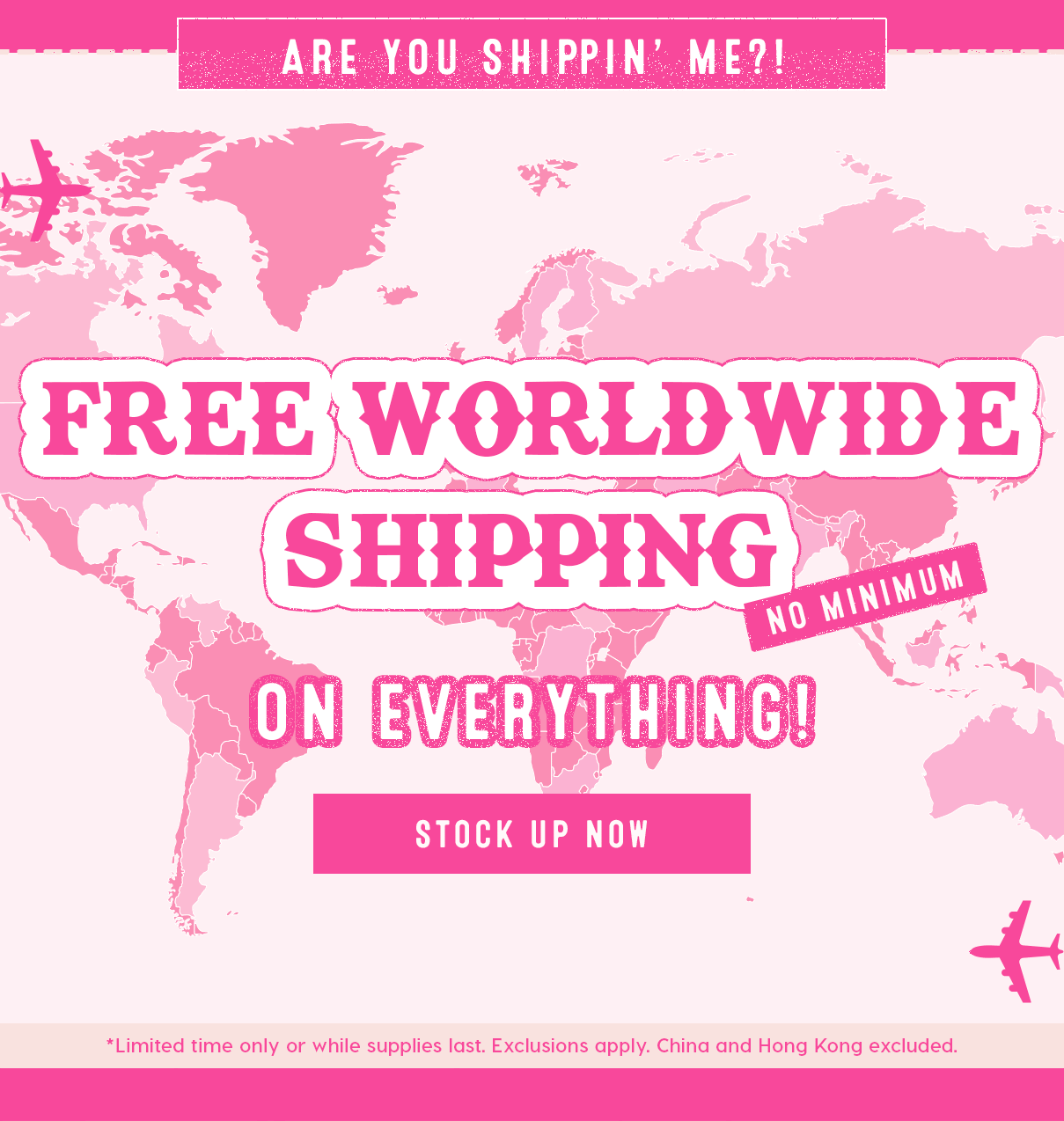 The more you keep customers on their toes, the more likely they are to buy again.
3. Provide Personalized Product Recommendations
Got a favorite cafe or restaurant that you return to time and time again?
I do.
In part, it's because I know the food is fantastic and the service is amazing.
But, after all this time, it's also because they know me.
When they change the menu or wine list, they instantly understand what I'll like.
The upshot is that I go back there even more—plus I bring friends and family with me.
Why am I telling you this?
Because those sorts of personalized recommendations make a big difference in the e-commerce world, too.
According to research from Accenture, 91 percent of consumers are more likely to buy from brands that recognize and remember them and provide them with relevant offers and recommendations.
So make sure to remember your customers' preferences and steer them in the direction of products they'll love.
Uniqlo remembers customers' past purchases by offering "You Might Also Like…" recommendations in its emails.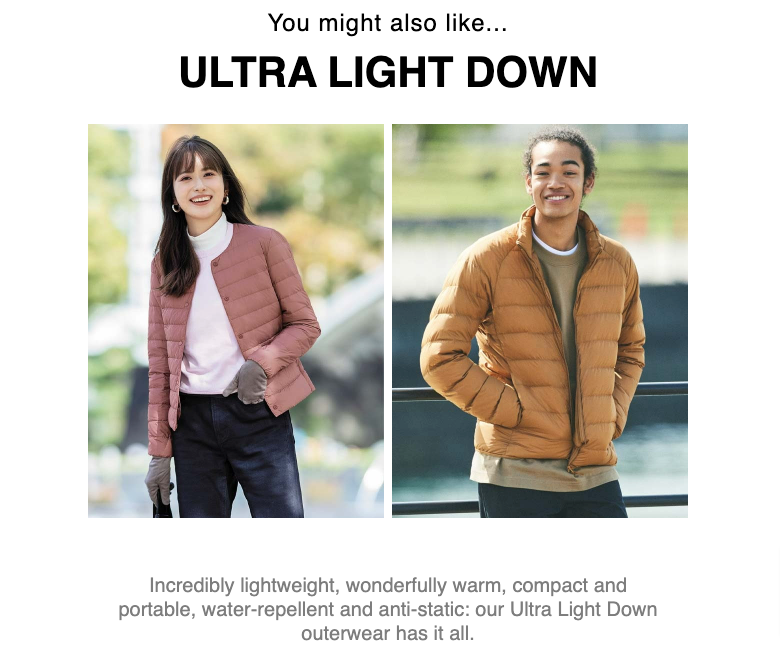 On a basic level, if a shopper only ever buys red dresses from you, it makes sense to show them your latest scarlet A-line.
Taking it to the next level, it also makes sense to recommend complementary products, like shoes and accessories.
4. Ask For Customer Feedback
There are lots of direct ways to encourage repeat purchases.
Follow up with a customer who recently bought a product and ask if they'd like another one… simple, right?
But that approach isn't always going to work.
While an astonishing 77 percent of consumers say they've held relationships with specific brands for 10 or more years, they're not going to stick around indefinitely if you constantly ask them to buy, buy, buy.
That's a decidedly one-sided relationship.
This is why you should also be looking for more subtle methods of driving repeat purchases.
One of my favorite tactics is to ask customers for feedback on the buying process, the support they receive, or how much they loved your product.
According to Salesforce's State of the Connected Customer report, 92 percent of consumers would be more likely to make another purchase after having a positive customer experience.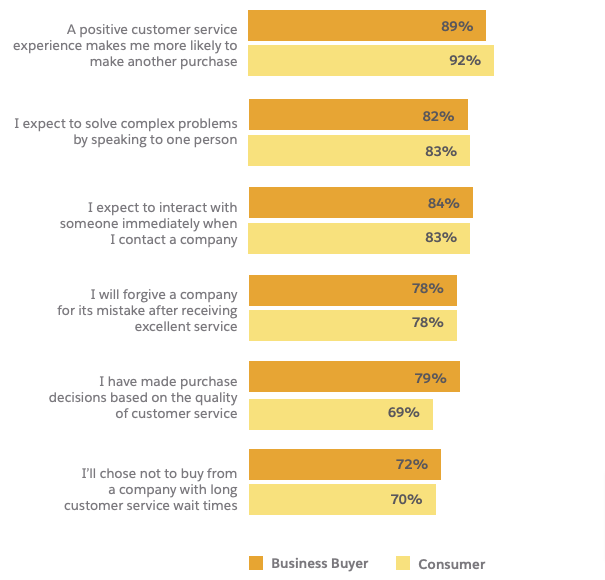 So it's definitely in your best interests to remind customers just how much they enjoy buying from you.
Italic includes a call to action in its email footer asking customers to "Share Feedback."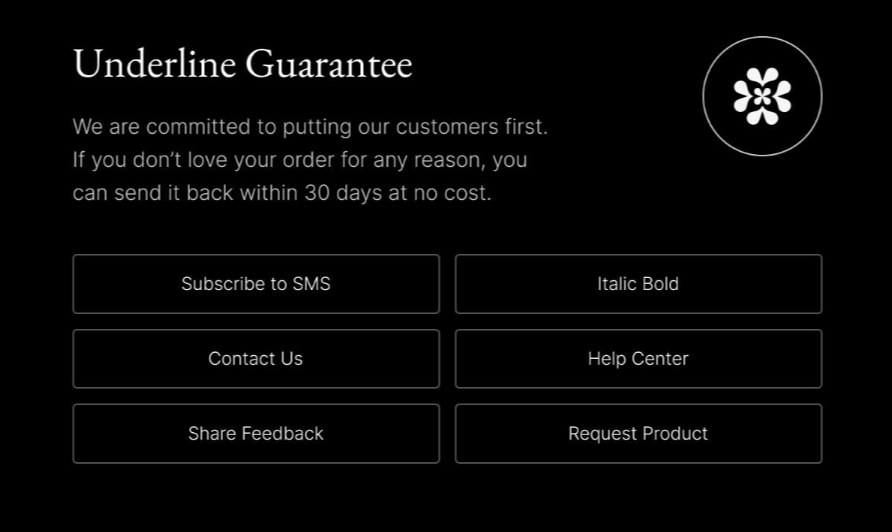 Not only does asking for feedback increase the respondent's chances of buying again, but it also demonstrates that you value their opinion.
5. Start a Loyalty Program
Another smart way to keep people coming back is to run a customer loyalty program.
Estée Lauder, for instance, offers a 15 percent off one online order to customers who join its Estée E-List loyalty program.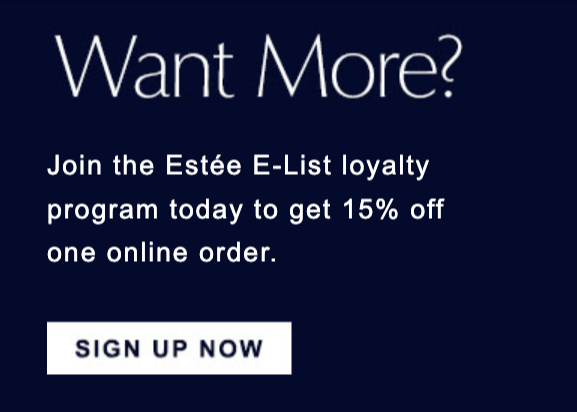 I know what you're thinking.
"There are so many loyalty programs out there. Won't we just get lost in all the noise?"
That's a valid concern, with research from KPMG revealing that one in seven Millennials don't belong to a single loyalty program. Perhaps that's because two-thirds of them find loyalty programs difficult to join and earn rewards from.
However, a separate study found that 52 percent of shoppers are willing to join a loyalty program if they feel loyal to the brand in question.
That's good news because consumers who enroll in free loyalty programs are 30 percent more likely to increase their spending, while those who join paid loyalty programs are 60 percent more likely to spend more.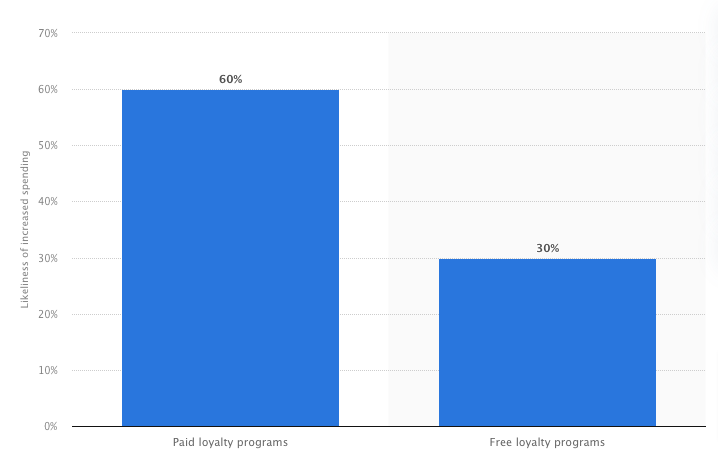 The message here is clear: if customers love your brand and product, there's a fighting chance they'll sign up for your loyalty program.
And when they do, there's a greater chance that they'll make repeat purchases.
6. Remind Customers to Replenish Their Stocks
This repeat purchase strategy isn't relevant to every brand.
If you sell durable or big-ticket products, it's doubtful your customers will feel the need to make another purchase a month or two down the line.
But if you're in the fast-moving consumer goods category and your products naturally "run out" over time, it makes sense to send replenishment emails.
That way, you're not only driving repeat purchases, but you're also performing valuable customer service—because it's frustrating to run out of something you use all the time.
Timing is the key to sending effective replenishment emails.
Figure out when customers are likely to need a new order, then send them a reminder in the days leading up to that date.
If you can base your replenishment email timings on real-world data based on a customer's past purchasing frequency, all the better.
7. Convert Churners Into Loyal Customers
You can't please all the people all the time.
Some customers will naturally be happier (and more likely to place repeat orders) than others.
However, you can definitely use data to turn would-be churners into loyal customers.
Take a look at the buying behavior of your most loyal customers:
What products do they buy?
How often do they place orders?
When do they make their purchases?
Now, try to instill their behavior in your less loyal customers.
If you know that repeat purchasers typically buy a certain type of product at a specific time of month, be sure to recommend those products (and timings) to potential churners.
Flat Tummy Co. is one brand that has a knack for reminding its customers to buy again by linking product replenishment to a particular pain point: getting a flat stomach.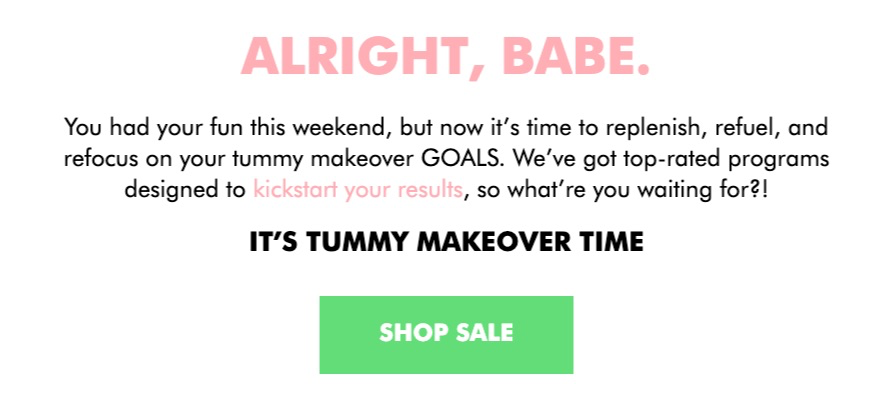 With a bit of luck, setting customers on the "right track" will encourage more customers to become loyal repeat buyers.
8. Keep Your Brand At Front Of Mind With Engaging Content
I've already noted how you can't afford to just keep asking your existing customers to buy over and over again.
It might work for a while, but sooner or later they'll become fatigued with your constant demands.
Just like that, you've talked a potentially loyal customer out of ever reading your emails, visiting your website, or buying from you ever again.
Give customers a break from all the promotional messaging by sharing engaging content that's free from "buy now" CTAs.
For instance, try sharing:
Style guides
Tips on how to make better use of your product
News, features, or opinion pieces that are relevant to your product category
Updates on your

corporate social responsibility

efforts
Seasonality helps too, as Brooklinen recently tested with its Father's Day gift guide:​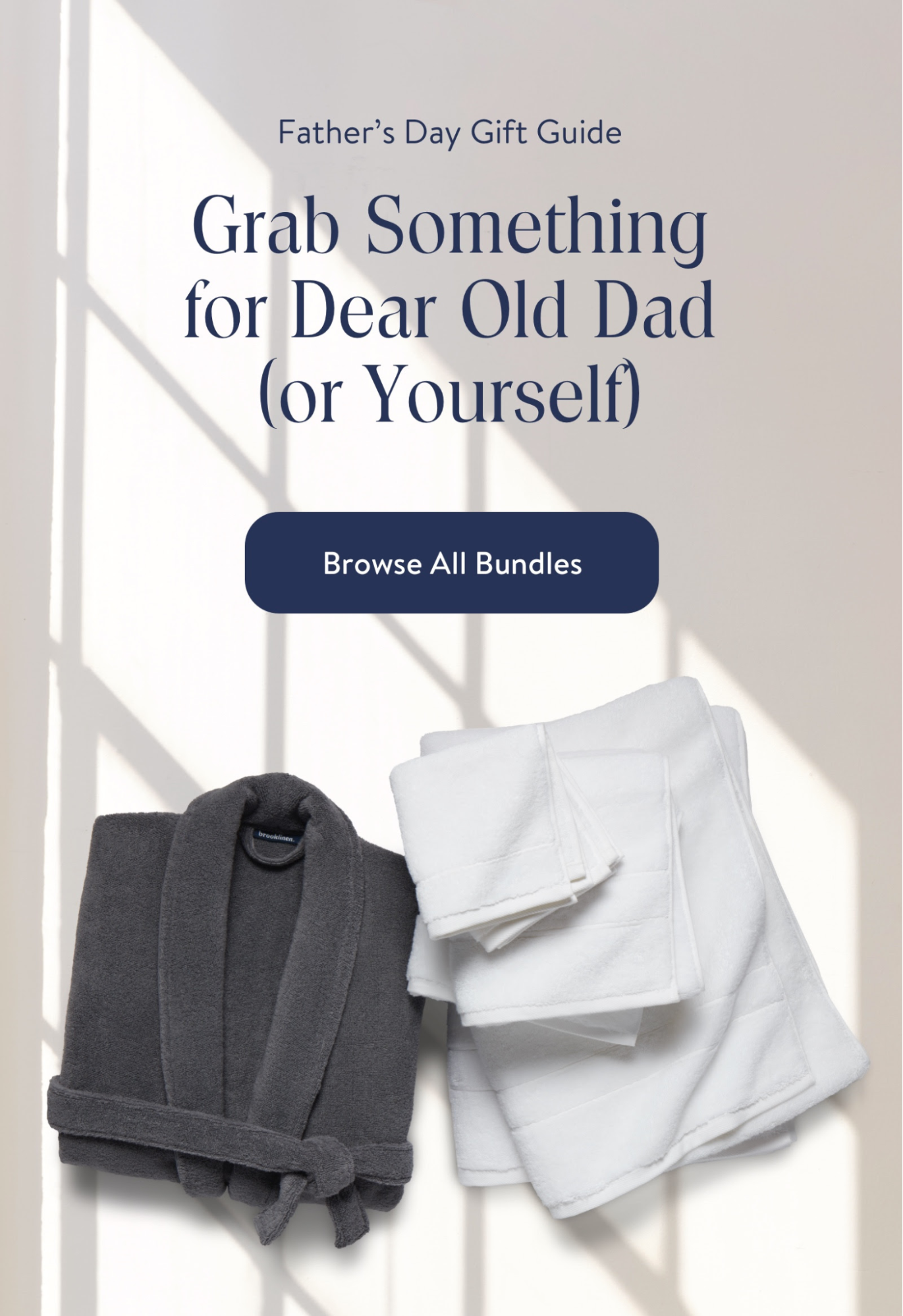 Obviously, you don't want to overwhelm your audience with constant attempts to "engage" them.
But if you're not always demanding some sort of action from your customers, you're less likely to exhaust or annoy them, while still keeping your brand at front of mind when they're next ready to buy.
9. Promote Updated Products
Maybe you sell a single "hero" product (or a small group of products) that's updated over time.
A classic example is an electric toothbrush.
Sure, customers aren't going to buy a new one every week.
But it's perfectly plausible that if you introduce a new version with an enhanced feature set (like maybe it's faster, quieter, or longer-lasting), your previous customers will want to upgrade to the latest model.
The key here is to keep your audience in the loop about product developments.
Don't just send one mass email when your latest model drops.
Instead, tease them by discussing features and benefits before it hits the market, then follow up with a full launch.
Bellroy did that recently with an update to its ECOPAK™ bag. Here's an excerpt from the email: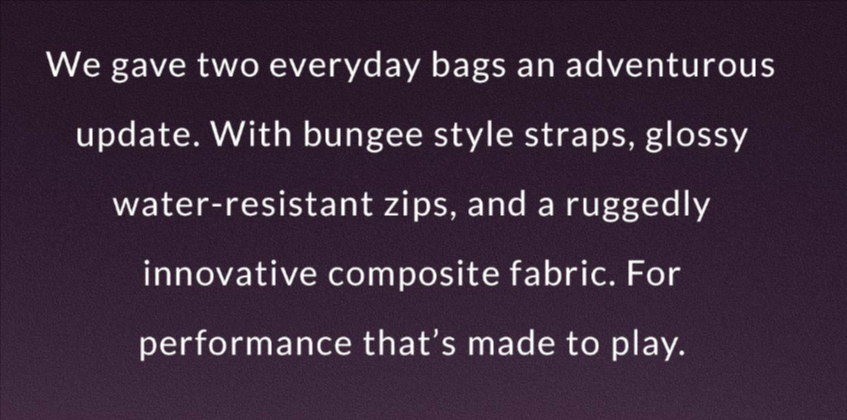 Boost Repeat Purchases With Drip
Want to reach previous customers who purchased a pair of dress shoes six months ago, or bought from you previously and have just started browsing your website for garden shears?
You can with Drip.
Our powerful audience segmentation features allow you to laser-target customers based on how they shop and then reach them with dynamically personalized content that resonates with their specific needs.
Best of all, our audience segments update on the fly, ensuring you hit customers with the right message at the right time.
The upshot? More loyal customers and more repeat purchases.
Find out for yourself by trying Drip free for 14 days (no credit card required).