Veterans Day is a US federal holiday celebrated every November 11 to honor military veterans of the US Armed Forces.
As such, it's often mistaken for Memorial Day, which is actually a whole other event that specifically celebrates those who died in service.
Whether or not they fully understand what it represents, three-quarters of Americans support Veterans Day being a national holiday, while two-thirds planned to celebrate it in some way in 2022. Popular ways to observe the holiday include:
Flying a flag (cited by 31 percent of respondents)
Attending a Veterans Day ceremony or parade (14 percent)
Visiting a veteran friend or relative (12 percent)
Supporting a veteran-owned business (11 percent)
Clearly, Veterans Day is a decidedly big deal. But what does it mean for brands?
It's a tough one. Veteran's Day is far from a traditional ecommerce holiday. On the one hand, you naturally want to join the conversation. But on the flip side, if your only contribution to the Veterans Day discourse is a coupon code, you risk looking pretty cynical.
To make your life easier, I dived into Drip's email marketing swipe file to round up nine of the best Veterans Day email examples from the past couple years.
1. Mugsy: Celebrate Veterans In Your Community
There are about 16.5 million veterans in the US, while more than 1.4 million Americans currently serve in the armed forces. Combined, that's about 8.5 percent of the adult population, so there's a strong chance that current and former military personnel make up a decent chunk of your audience.
So why not celebrate Veterans Day by honoring members of the armed forces from within your own community?
That's precisely what Mugsy Jeans did in my first Veterans Day email example: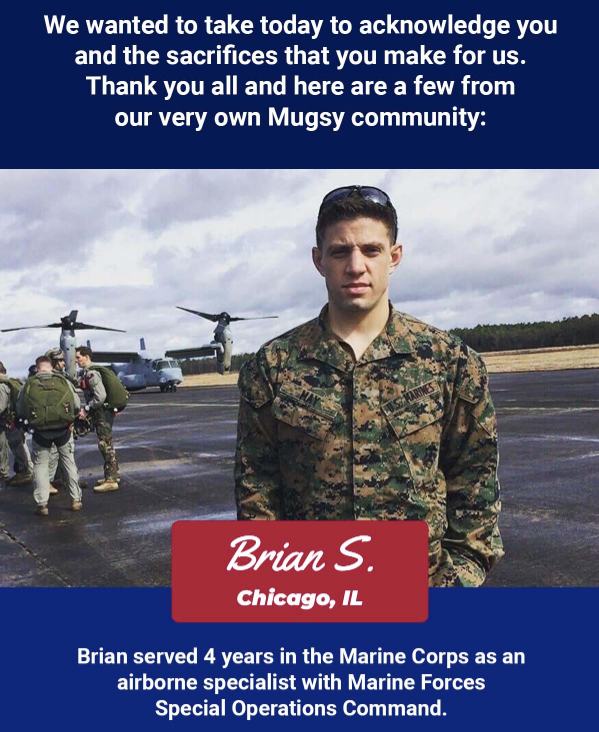 I like this approach because it's not asking for anything. No call to action, no discount code, no limited-time offer. Instead, it demonstrates that Mugsy cares about its customers and recognizes the vital work of the armed forces.
This strategy gives Mugsy a relatively low-effort, low-risk way to join the Veterans Day conversation, because it shifts the focus away from the brand and onto its customers. There's nothing salesy or cynical going on here.
And honestly, sometimes that's the best you can hope for.
2. Brandless: Encourage Coupon Code Sharing
Maybe you don't have the luxury of sending a non-salesy Veterans Day email. Perhaps email marketing is the lifeline of your ecommerce business and you can't afford to ease off the promotional messaging.
In that case, you're probably trying to figure out how to run a revenue-focused campaign without offending anyone (least of all veterans and their families).
Brandless offers one potential solution: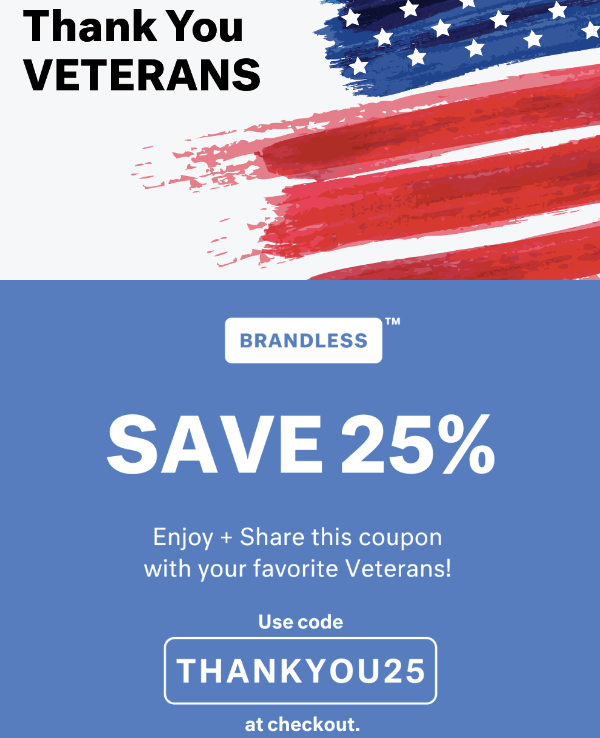 In this example, the health, beauty, and homeware brand centers its special offer on veterans themselves.
I particularly like how this email encourages customers to share the coupon code with veterans, which feeds directly into the whole purpose of the holiday: honoring former armed forces personnel.
It's a smart way for Brandless to drive sales and revenue while still looking like it's giving something back to the veteran community.
Evidence suggests there's a big appetite for this sort of campaign. According to Shopper.com, two-fifths of women and one-third of men have helped friends or family members track down a suitable online discount code, while half of women and a further third of men have shared codes they already possess with someone they know.
3. Huckberry: Target Discounts at Veterans
The whole point of Veterans Day is to make military veterans feel special; to honor their service.
In my view, you're unlikely to nail that particular brief by sharing a special offer or discount code that can be used by anyone, regardless of whether or not they served in the armed forces.
If anything, adding the word "veteran" and a few stars and stripes to a generic coupon code email will make you look calculated and uncaring. That's definitely the wrong tone to strike on Veterans Day.
Instead, take a leaf out of Huckberry's book by running a campaign targeted specifically at veterans (and their families):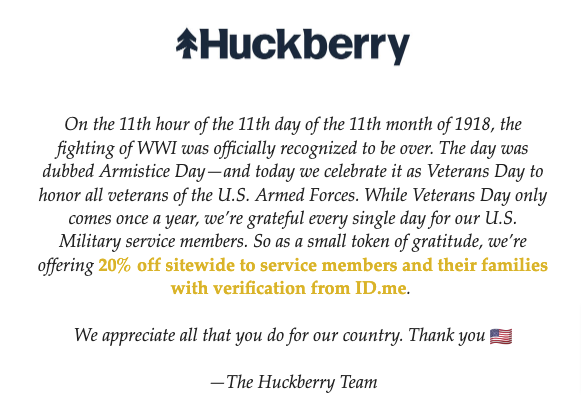 By specifically requiring military ID verification to take advantage of the offer, Huckberry makes it clear that it's giving something back to the military community.
Importantly, the brand isn't just using this promotion to shift a bunch of old, out-of-season stock. Instead, it's running a sitewide sale for veterans and their families, giving them a substantial discount on anything they want.
4. Bombas: Support Veterans In Need
As with any demographic or audience segment, "veterans" aren't a homogenous group. Some have extensive support networks; some are healthy, wealthy, and happy; others are struggling to get by.
According to figures from the US Department of Housing and Urban Development, more than 33,000 veterans were experiencing homelessness during its most recent Point-in-Time count.
Despite accounting for a sizable proportion of the veteran population, these people are easily overlooked—and rarely spoken about—by brands. So why not make a difference in your next Veterans Day email campaign by striving to help these unhoused individuals?
That's precisely what Bombas did in its most recent Veterans Day campaign: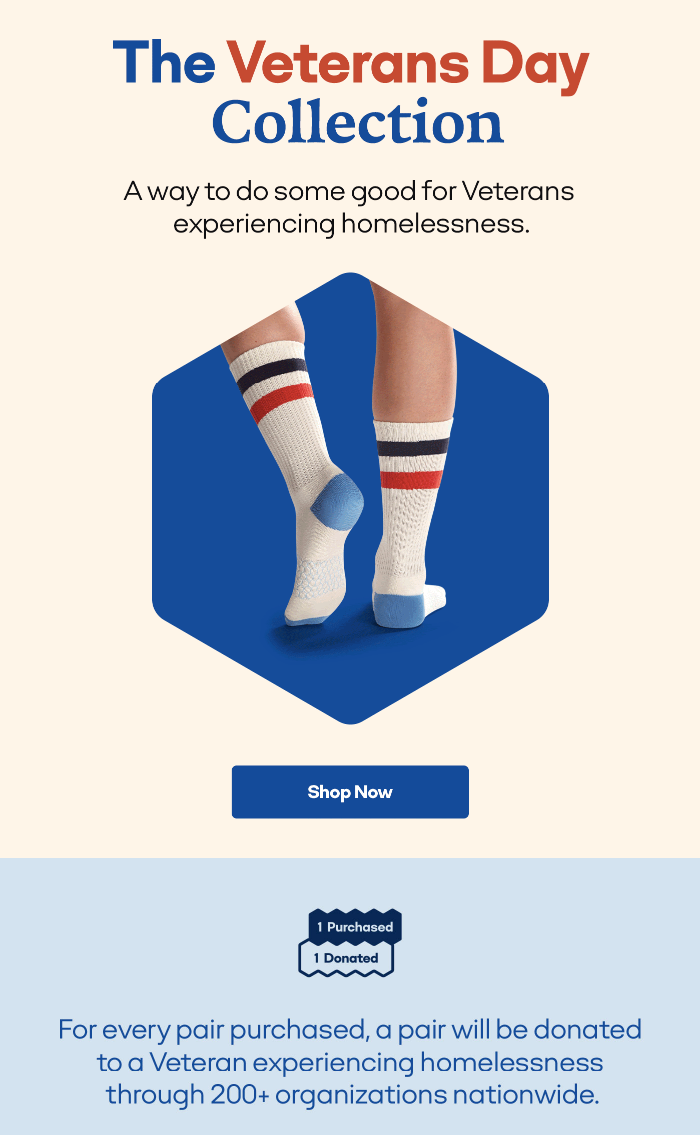 There's a lot to like about this strategy.
First and foremost, Bombas makes it clear that this isn't just another sales promotion; it's clearly eating into its own profit margins by donating a pair of socks for every pair purchased.
I also like how this campaign isn't all about Bombas. Instead, it shifts focus away from the brand and onto the 200+ organizations working to tackle homelessness across the country.
Of course, that's not to say Bombas is doing this for totally altruistic reasons. There's plenty of benefits for brands supporting charities and causes that resonate with their customers.
According to research from Google Cloud, 82 percent of consumers prefer to buy from brands whose values align with their own. What's more, three-quarters of shoppers say they've stopped buying from brands over a conflict in values.
So it definitely pays to put your money where your mouth is and give something back—especially on key dates like Veterans Day, when your audience is already thinking about what they can do to support veterans in need.
5. United By Blue: Go Beyond Veterans Day
We've all become used to brands speaking out and doing good deeds around high-profile events and holidays. But for many consumers, this fleeting approach is no longer enough; they want to see consistent, sustained action.
Pride month is arguably the most obvious example. Every June, brands are quick to drape their websites, social media profiles, and email newsletters in rainbow flags. But few continue discussing LGBTQ+ issues the second July rolls around.
Jean-Marie Navetta, director of learning and inclusion at LGBTQ advocacy organization PFLAG National, has spoken out about this short-term approach to advocacy.
"One of the biggest pitfalls is when we see companies that only want to have this conversation in June," she told Bloomberg Law. "That is problematic because people who are queer are queer every single day and every single month of the year."
Veterans Day is no different. If you truly care about supporting veterans, why confine your efforts and messaging to a single day?
Sustainable apparel and accessories brand United By Blue took a different approach, instead choosing to honor so-called "local heroes"—including veterans, teachers, and medical professionals—every day of the year: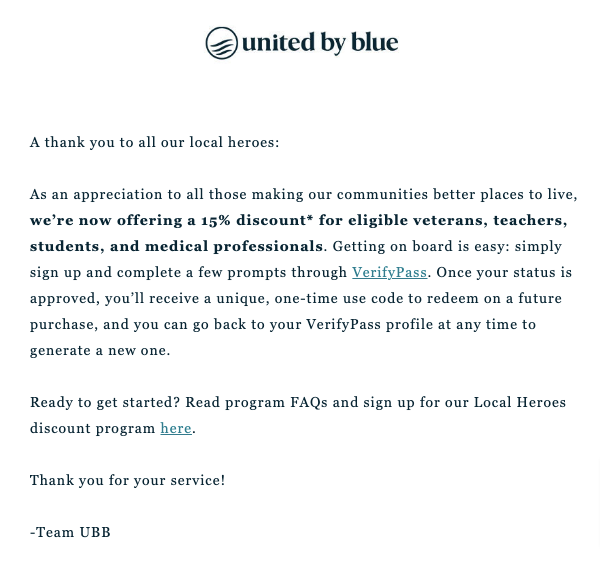 Offering a permanent discount to veterans is a smart strategy—especially if you roll it out on Veterans Day, like United By Blue did. It's a far more meaningful gesture than a simple one-day sale.
6. Chubbies: Level Up Your Existing Offer for Veterans
Okay, so we're agreed: offering a year-round discount to veterans means a lot more than giving them 10 percent off on Veterans Day.
But why can't you do both?
In my next Veterans Day email example, Chubbies doubled its existing, year-round discount for veterans and active duty personnel, giving them a generous 20 percent off for 10 whole days: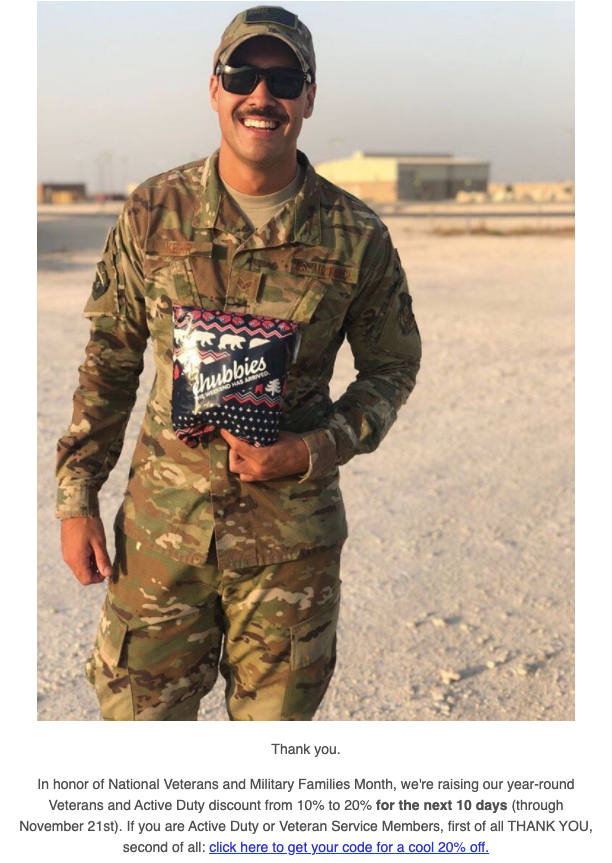 This is a best-of-both-worlds solution. Chubbies gets to boost sales for a limited period with an attractive special offer, while also demonstrating how it supports veterans throughout the year.
7. Death Wish Coffee: Support a Veterans Charity
Never forget that you're a retailer, not a charity.
Sure, you might be looking to do some good for your community and give something back to veterans. That's a good thing. But practically speaking, you probably lack the resources and connections to make a meaningful difference on your own.
For that reason, many brands choose to honor events like Veterans Day by joining forces with charities and non-profit organizations.
Death Wish Coffee is one brand that clearly understands the value of this approach: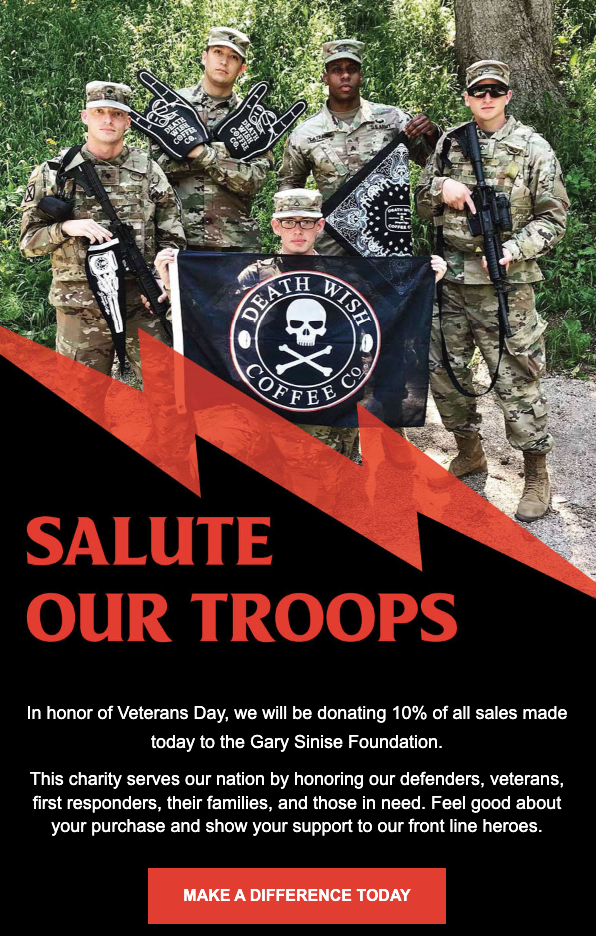 By donating a chunk of all sales to charity and veterans service organization the Gary Sinise Foundation, Death Wish Coffee gets to support veterans—and promote its ESG values—without distracting from its day job: selling coffee.
8. Bed Bath & Beyond: Center Veterans In Your Subject Line
If you're going to send a dedicated Veterans Day email, it makes sense to reference veterans as early—and often—as possible.
Because what's the point in sharing a discount for veterans if it's tucked away below the fold in your email body copy?
As far as I'm concerned, you should definitely mention the holiday in your email subject line. Remember, almost half of email recipients decide to open emails based solely on the subject line, so if you truly want your messaging to cut through, it should be right there in the subject.
Bed Bath & Beyond gets it right here:

There are a couple things I like about this subject line.
First off, it places veterans at the front and center of its offering, leaving no room for confusion about the contents of the email. If you're a veteran who's in the market for some fancy bedding or a new set of kitchen knives, there's a good chance you'd open this email.
Beyond that, I also like the use of relevant emojis here. Admittedly, emojis aren't for everyone, and they should definitely be used sensitively when it comes to occasions like Veterans Day. But Bed Bath & Beyond gets the balance right here.
Used effectively, emojis in subject lines can help your emails stand out amid a crowded inbox, with research from Campaign Monitor showing that brands using emojis enjoy a 56 percent increase in unique open rates.
9. The North Face: Extend Discounts to Family Members
Veterans Day has a distinctly family-oriented feel, with 12 percent of Americans celebrating the occasion by visiting a veteran friend or relative.
So why not lean into this theme by offering your Veterans Day discount to family members as well as veterans themselves?
That's exactly what The North Face did in my final example: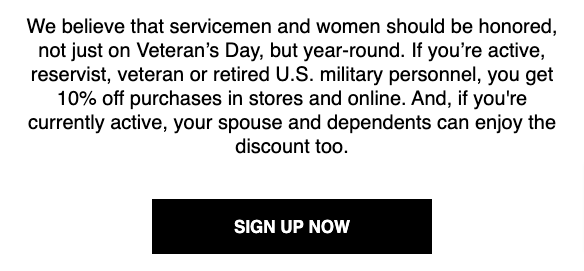 It's a simple but effective tactic. Not only does it demonstrate that The North Face cares about veterans and their families, but it also means more people can take advantage of the offer.
And that means more sales and revenue.
Also, it's worth pointing out that The North Face is another brand to offer a military service discount throughout the year, rather than saving it for special occasions.
Upgrade Your Email Personalization With Drip
Of course, Veterans Day might not be relevant to everyone in your audience.
On a simple level, different countries have their own versions of Veterans Day. So if you serve customers in multiple locations, it pays to segment your list to only include those based in the US.
But that's only scratching the surface of segmentation and personalization. With Drip, you can cut and slice your audience lists however you see fit, giving you the power to send laser-targeted messages to ever-more-niche audience segments.
The more niche your messaging, the more relevant it becomes to individual customers, and the more revenue you'll generate.
See for yourself by signing up for your 14-day free trial.