Corporate social responsibility, or CSR, is no longer a buzzword.
It's a necessity for all brands to carry out—online or offline, small or large, B2B or DTC.
Social responsibility is a brand differentiator in today's e-commerce scene, where the competition is immense and consumers have many options to choose from.
In a recent study, 87 percent of consumers stated that they would purchase a product based on values—simply because the company advocated for an issue they cared about.
In other words, the values you communicate to your prospects as a brand can make or break a sale. And that's where social responsibility comes into play.
Social responsibility emails are the perfect tools to showcase your values, whether you're running a charity campaign, collecting donations, or following environmentally-friendly production practices.
Take a look at these seven social responsibility email examples to see how these brands connect their CSR activities to their products—without showing off or sounding salesy.
7 of the Best Social Responsibility Emails
1. United by Blue
When talking about social responsibility, United by Blue is one of the first brands that come to mind.
Founded in 2010, the company is built on the idea of using the revenue generated from each sale to clean up oceans.

In order to fulfill its mission, United by Blue needs to keep selling products on its website. And to do that, it needs to explain to its subscribers what they are doing and why.
It's no surprise, then, that United by Blue has some of the best social responsibility email examples I've seen.
With its curiosity-triggering subject line, United by Blue makes you wonder what it might be celebrating.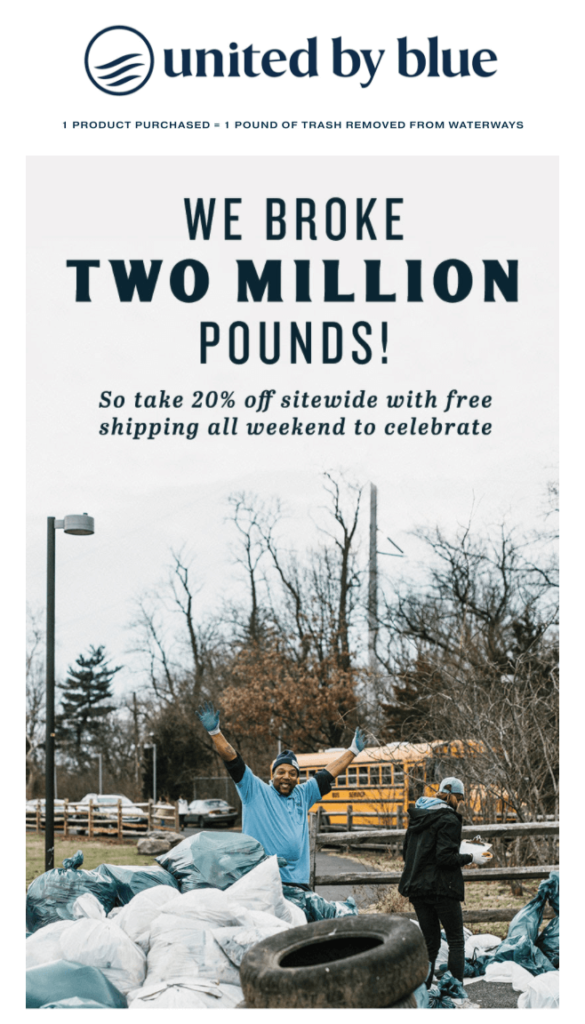 Inside, you learn that the company is celebrating a milestone and sharing the good news. But on top of that, United by Blue also offers you a 20 percent discount and free shipping to celebrate with them.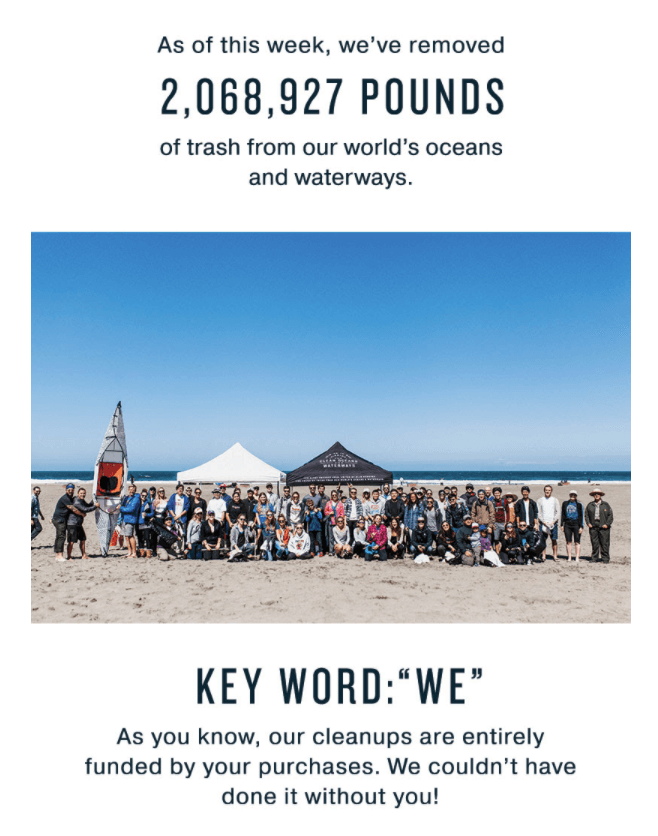 In the next part of the email, the brand gives more context for the celebration. With the use of numbers, they add specificity to their claim of social responsibility.
Notice how the company includes the reader in the conversation by focusing on the "we." This way, United by Blue reminds you that your purchases directly fund these cleanups.
More orders mean more cleanups. So if you are a previous customer, you feel better about your earlier purchase. And if you haven't bought from the company yet, this is a gentle nudge to do so.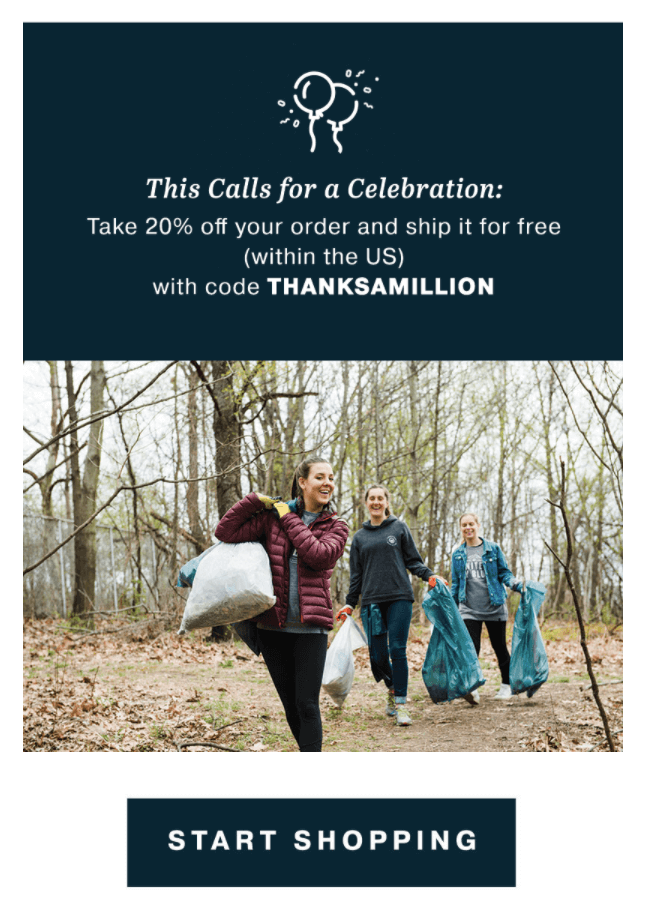 In the final section, United by Blue gives you another reason to shop from its store: a 20 percent discount and free shipping.
This is a genius customer appreciation, sales promotion, and social responsibility email—combined in one.
As a consumer, it's often hard to feel directly involved in CSR activities. But United by Blue makes your contribution obvious in this email by using specific numbers, images, and milestones achieved.
It also invites subscribers to shop more for a good cause—without getting overly promotional.
2. DavidsTea
Unlike United by Blue, your company may not be fully built on social responsibility. Or you may not be cleaning up the waters month after month.
But if you recently picked up an environmentally-conscious business practice, it deserves an announcement email. That's exactly what DavidsTea does here.

Sent with the subject line above, DavidsTea has a clear vision. Even before you open the email, you can tell that it's about a good deed the company made.
This is what the email looks like: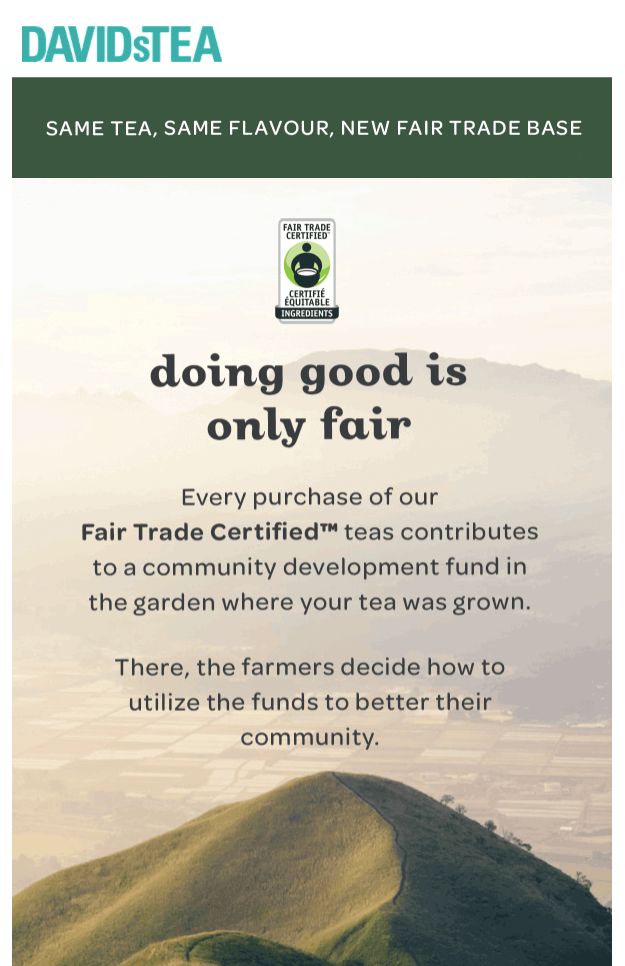 In it, DavidsTea launches its new fair trade certified products, but it does that quite cautiously. Notice how the copy reads "same tea, same flavor," to assure shoppers that this new practice won't change the taste they're used to.
The certification logo at the top of the email almost acts as a trust badge, letting DavidsTea's subscribers know that this is a brand you can shop from in good conscience.
The email copy successfully includes the reader in DavidsTea's decision. With every purchase, you will contribute to a local community where your tea was grown. Now, the responsibility is partly on your shoulders, too.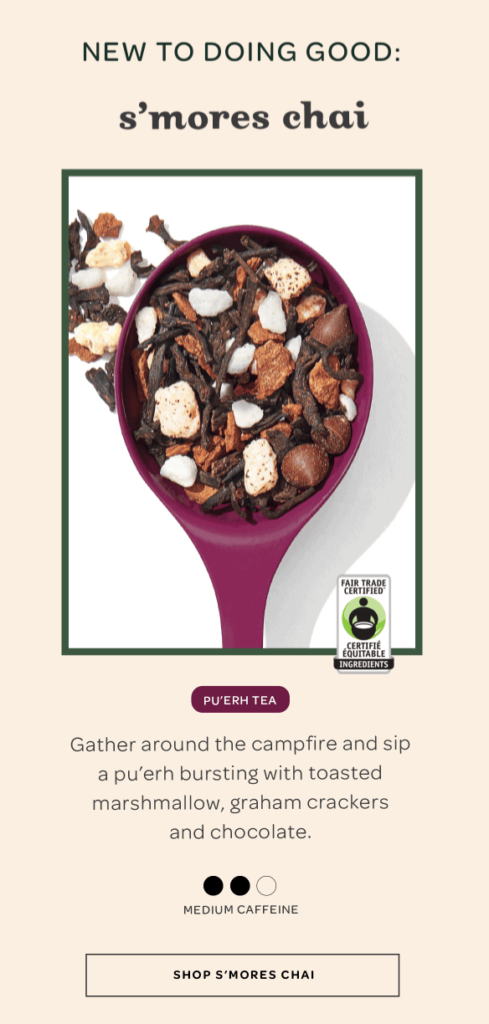 The second part of the email promotes its new fair trade-based products, but rather than write "New Blends" or "New Fair Trade Teas," the company reiterates on "doing good."
The email ends with a call to action (CTA) to read more about how DavidsTea's products are making a difference—which refers back to its subject line.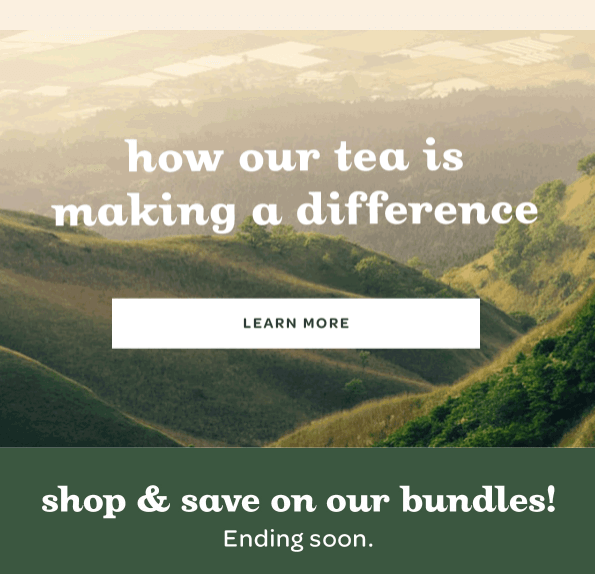 Clicking the link takes you to DavidsTea's sustainability page—a long, detailed landing page explaining what the company is doing for the planet and how you can help.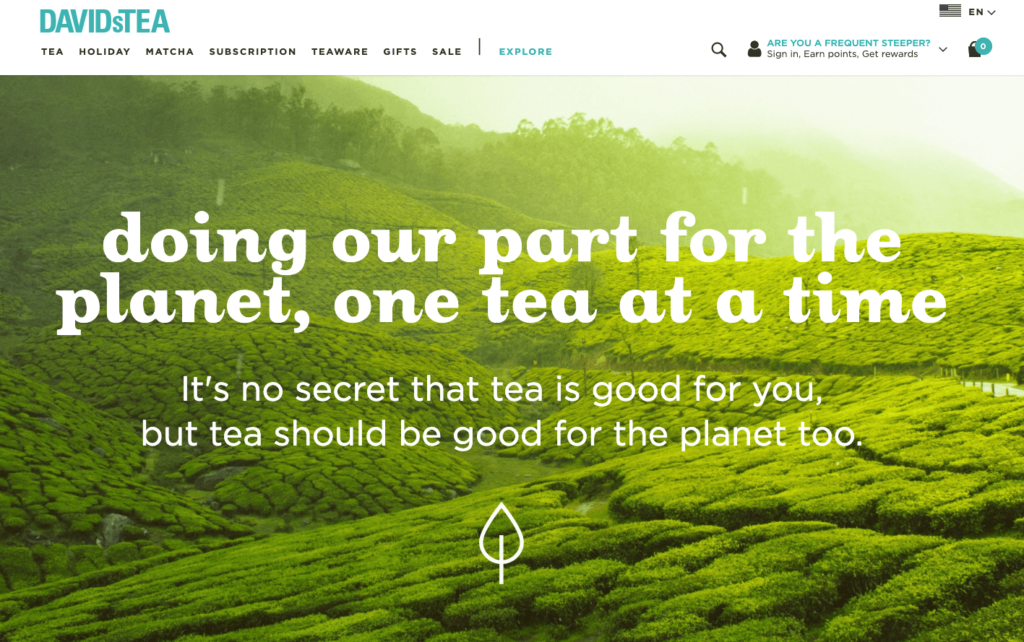 DavidsTea's social responsibility email isn't a one-off campaign. From its email marketing to its website, they're all integrated.
It's also a great example of including the reader in your email copy and promoting your new products from a different angle.
3. Aerie
Not every social responsibility email is about environmental practices.
Aerie, one of American Eagle's sub-brands, focuses on the social part of the responsibility. It's easy to see how from this subject line:

Sent on November 13th, or "World Kindness Day," Aerie's email invites its subscribers to be kind towards each other—including people we don't know: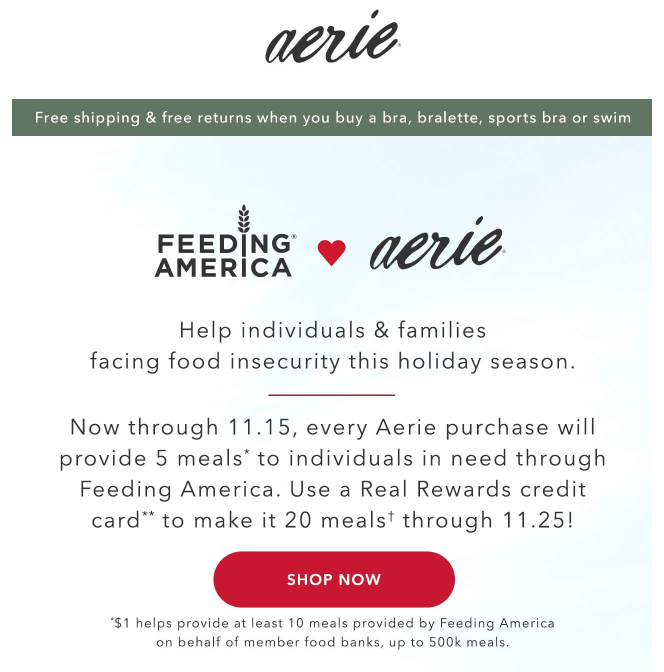 Inside the email, Aerie asks you to help people facing food insecurity as an act of kindness on this day, in the spirit of the holiday season.
Teaming up with the nonprofit, Feeding America, the company employs a CSR approach commonly used by online brands: Aerie makes a contribution to the NGO each time you place an order.
This is a great way of involving customers in your social responsibility activities, helping them connect more with your brand. Plus, shoppers can buy your products in good conscience.
4. Bobbi Brown
Humor, wordplay, and persuasion trigger surely help increase your email opens.
But when it comes to serious matters, it's often better to be direct in your subject lines, as Bobbi Brown does.

This email landed in my inbox in June 2020, in the midst of the Coronavirus outbreak, right when the medical staff all around the world were under enormous pressure.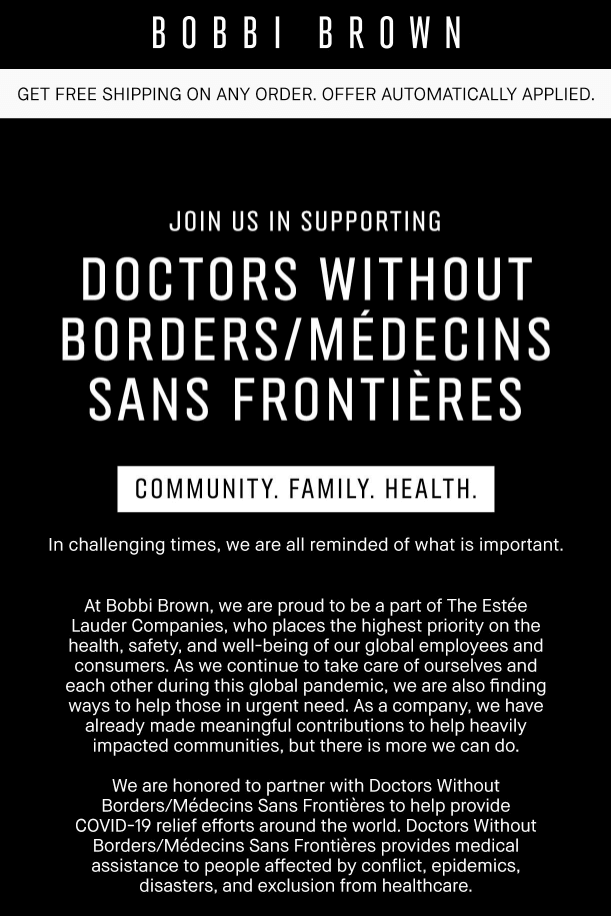 In the email, Bobbi Brown explains why and how the company helps provide Covid-19 relief around the world by partnering with Doctors Without Borders.
After pointing out that the company already made meaningful contributions to impacted communities, it invites you to do the same.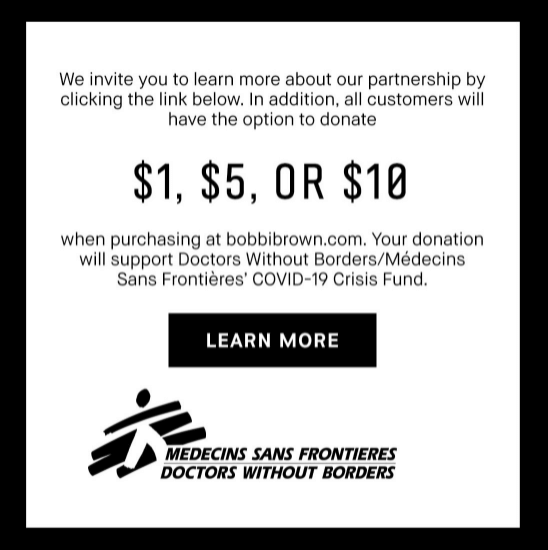 Here, you can click the learn more button to read a detailed FAQ entry or contribute to the NGO in the form of small donations while shopping on the Bobbi Brown website.
There are no complicated rules as to how much Bobbi Brown will donate if you fulfill specific requirements. It's quite straightforward: you can simply add a donation of $1, $5, or $10 to your cart during checkout.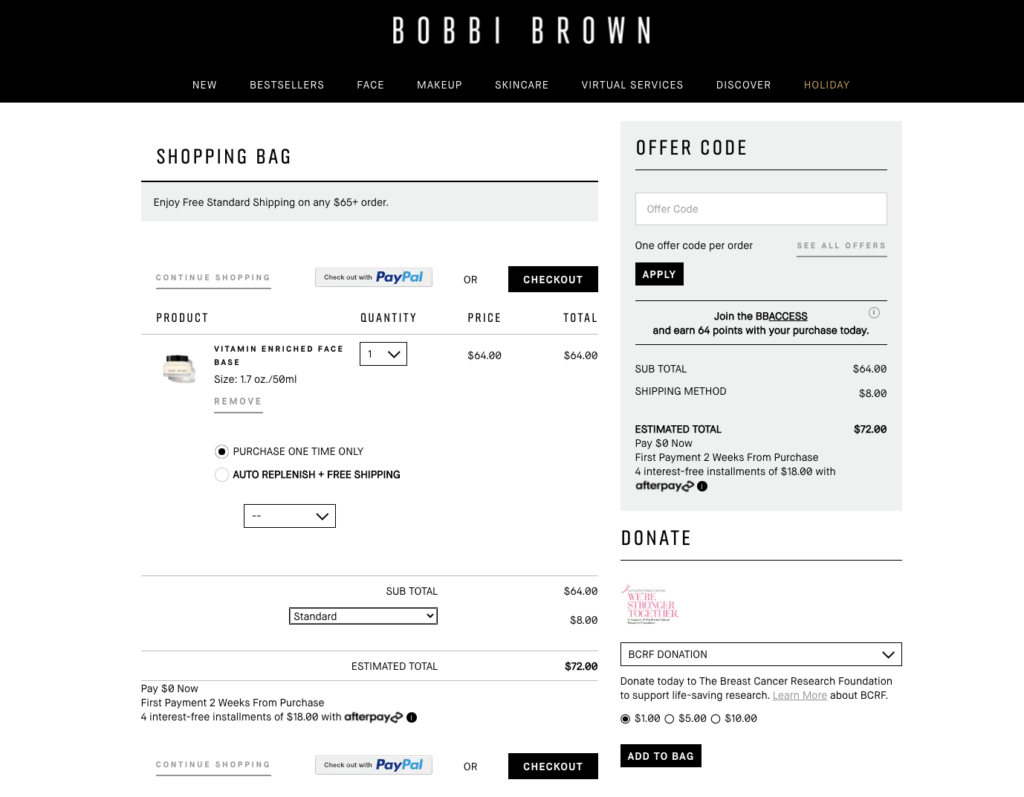 This is the donation part of Bobbi Brown's checkout, close-up: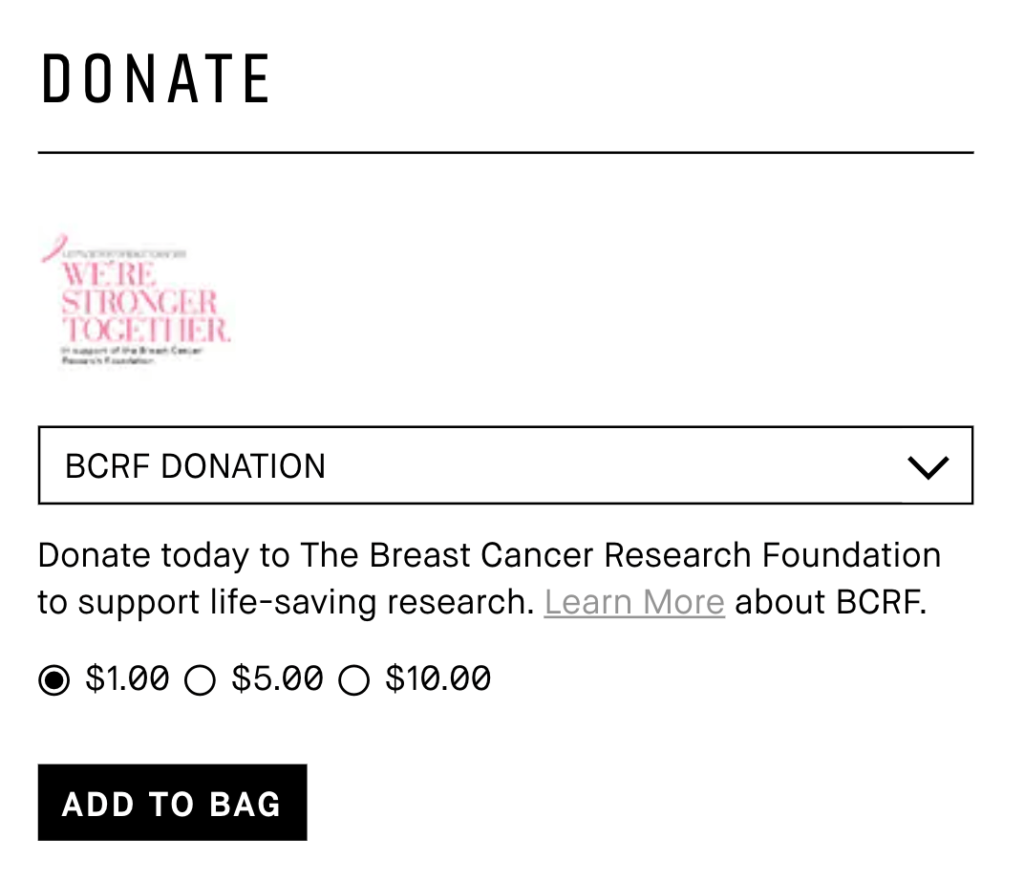 As of writing this post, the possibility of donating to Doctors Without Borders is no longer available (at least in my location) but the functionality is still here.
Before completing your order, you can select an organization to donate to, such as The Breast Cancer Research Foundation or She's The First.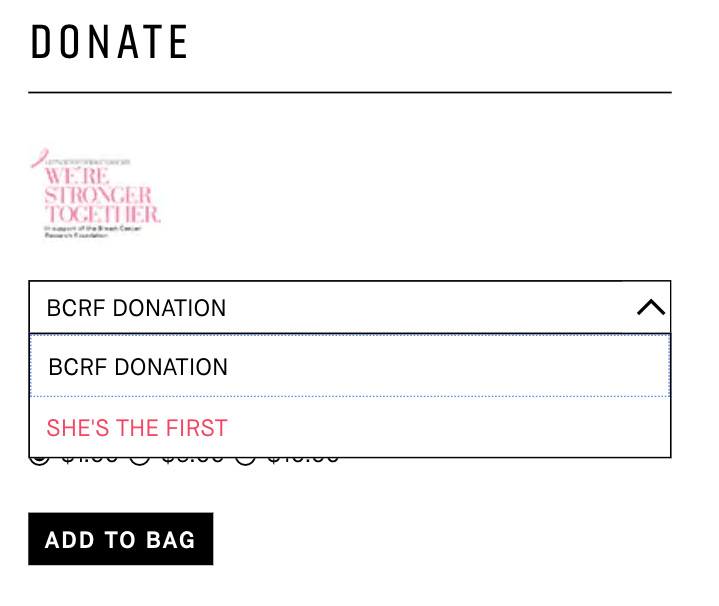 By hovering over a link, you can learn more about each NGO and select the amount you'd like to donate.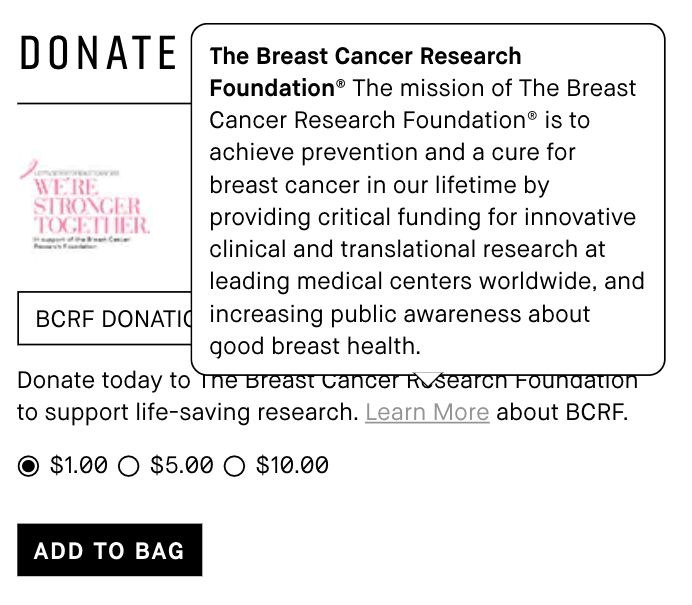 Your donation is automatically added to your cart and processed with your order. As simple as that.
Bobbi Brown's commitment to social responsibility goes beyond one email. The company makes it ridiculously easy for its customers to make a contribution on the go.
The placement of the donation option is also genius. Why not donate a dollar or two while you already have your wallet out and likely are about to treat yourself with a high-end makeup product?
5. Sunski
Asking for monetary contributions in the form of orders or donations is only one way to involve your customers in your CSR activities.
Sunski, the popular eyewear brand, finds another way to allow its subscribers to contribute to the cause the company is supporting—without necessarily asking for purchases.
Carrying the subject line "Reminder: We need your help," Sunski recently sent this email to its subscribers: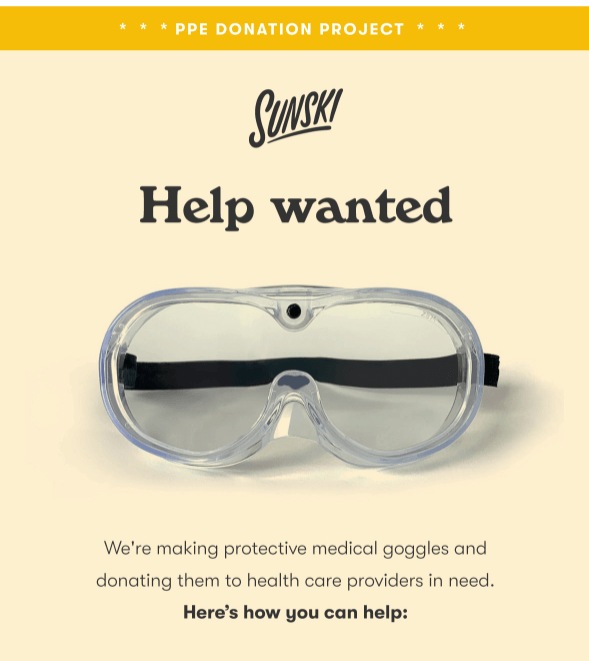 Similar to Bobbi Brown, Sunski runs a donation campaign to help healthcare providers in need. But the sunglasses company aims to help by doing what they know best: producing eyewear.
In a short, to-the-point manner, Sunski's email explains three different ways you can contribute to this project: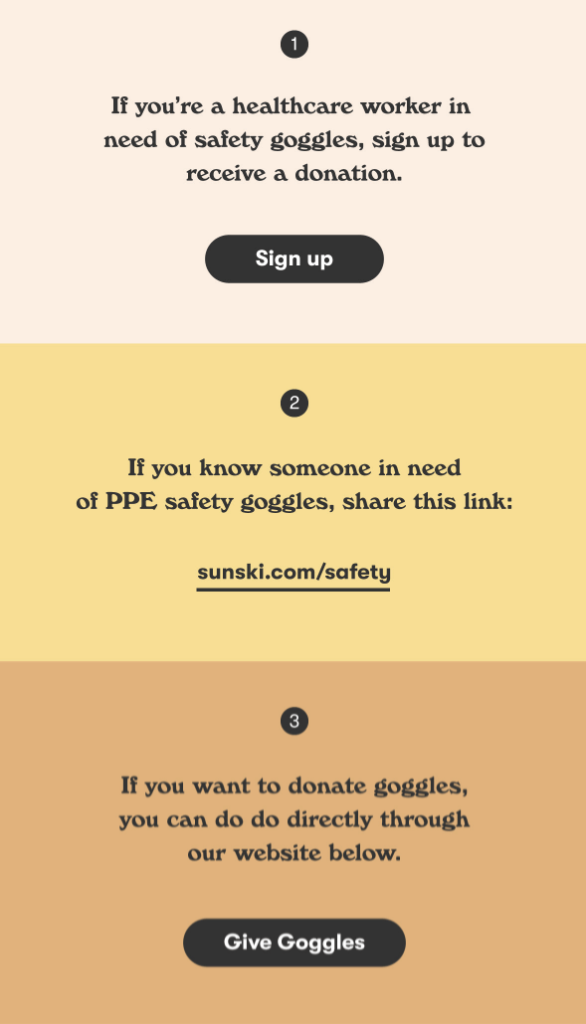 You can (1) receive a donation, (2) help someone sign up for a donation, or (3) donate medical goggles.
No fluffy, lengthy explanations. Just the three actionable ways you can help healthcare professionals without sending money or buying products from the company.
In the last part of the email, you also see real-life photos of Sunski's donations and the team working hard on delivering packages.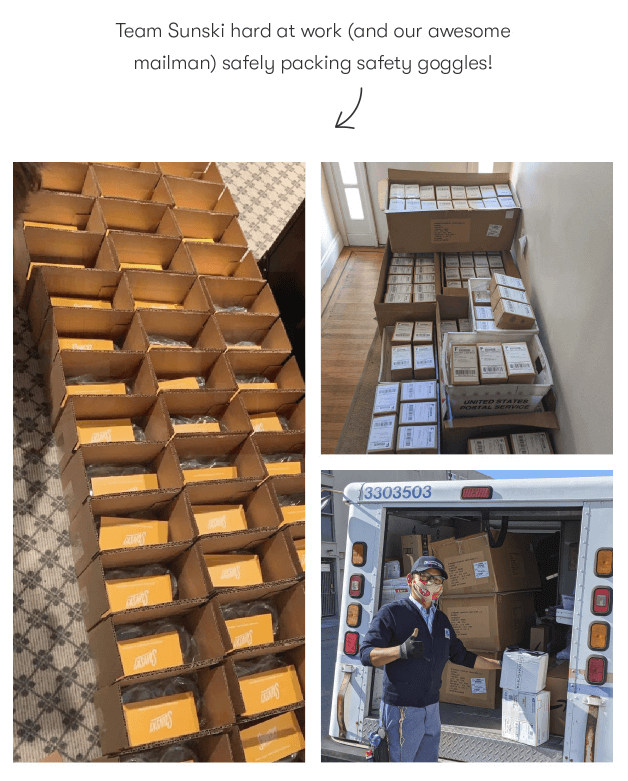 It's a nice addition to the email for the sake of transparency. It also adds a human face to the brand that you're about to cooperate with on a social responsibility project.
6. Care/of
Corporate social responsibility isn't always about a one-off project where you collect contributions or donate a good sum to an NGO.
More often, it's about the daily socially-responsible practices your company carries out and how you communicate that to your audience.
Care/of, a personalized vitamin subscription service, knows this well. That's why you get an email from the company on Earth Day with this subject line:

Using Earth Day as an anchor, in the email, Care/of promotes its products that come in compostable packaging.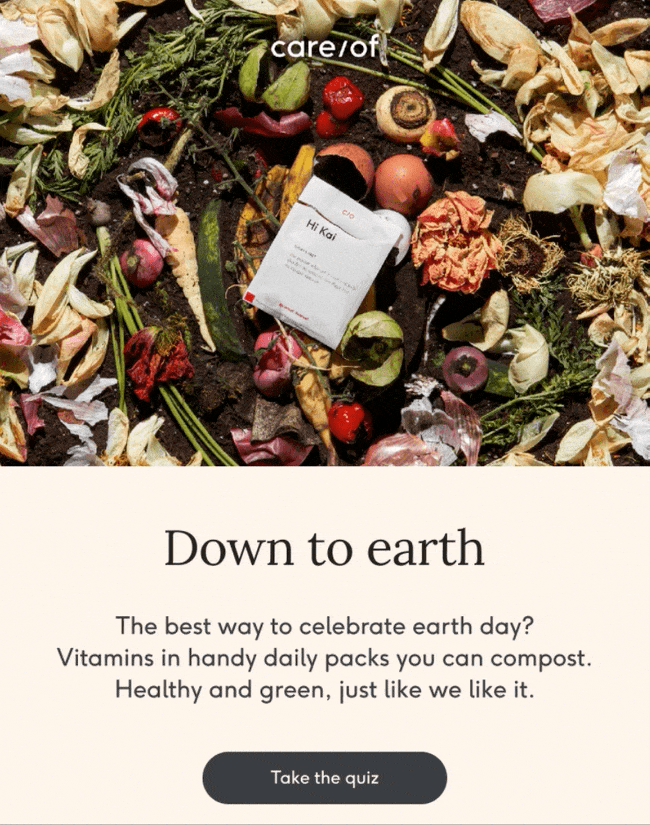 While most companies could easily end the email here and go on to promote their bestsellers, Care/of goes one step further and educates you on how to compost at home.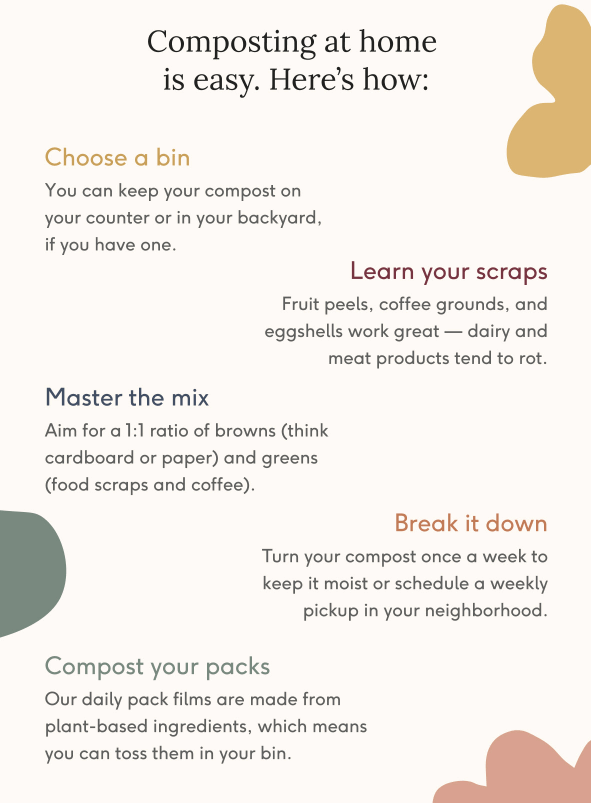 Care/of's social responsibility email does the job for at least a few reasons:
The email content is highly relevant for Earth Day;
The company helps subscribers with step-by-step, useful content; and
It educates (potential) customers about Care/of's environmentally friendly practices.
Care/of doesn't stop there either.
Readers find a link at the bottom of the email that takes them to a landing page where they can read more about the initiatives Care/of is taking.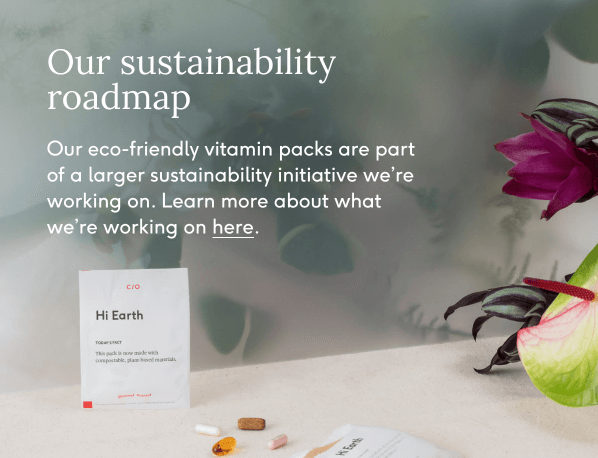 What's even more interesting is, Care/of offers customers a roadmap on this page, showing what to expect from the company in the near future in terms of sustainability.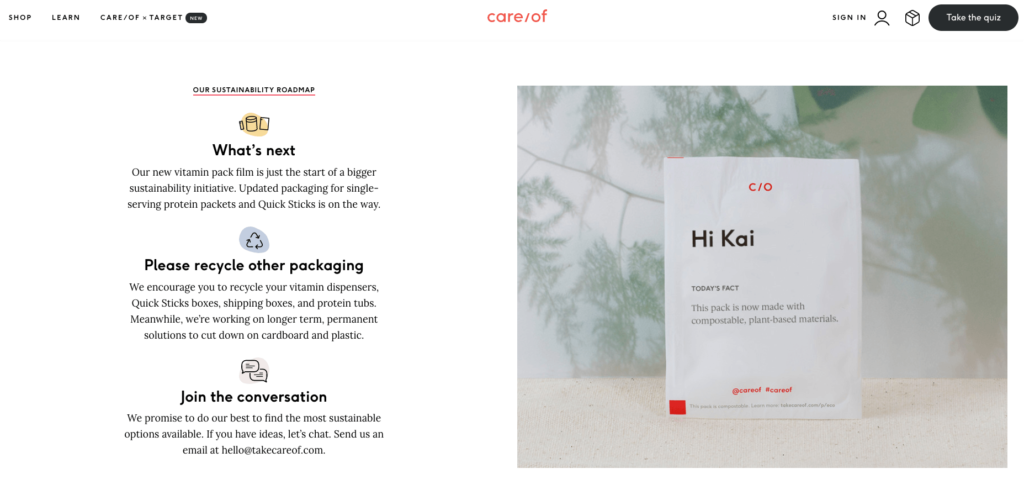 Roadmaps are a rare sight in e-commerce. If you're running a single-product company or operating in a service niche, as Care/of does, share what's next in your plans with your customers.
It's a brilliant way to reduce customer churn and keep your subscribers excited about your brand.
7. Lush
Speaking of a company that educates its audience on being responsible…
Lush does its fair share there, especially when it comes to topics of recycling, ethical buying, and fighting animal testing.
The handmade cosmetics brand not only internalizes these practices itself but also communicates their importance to its subscribers regularly.
Take this email, for example: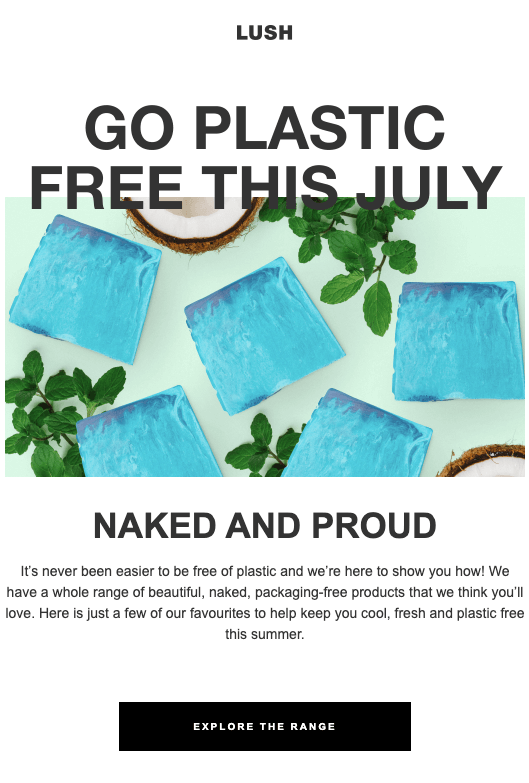 The big headline invites you to go plastic-free once more, but it's more than simply a call for eco-friendliness. If you've been trying to cut plastic out of your life, Lush gives you the opportunity to do just that.
Clicking the button "Explore the Range" takes you to a category page dedicated to the company's special range of packaging-free (or "naked") products.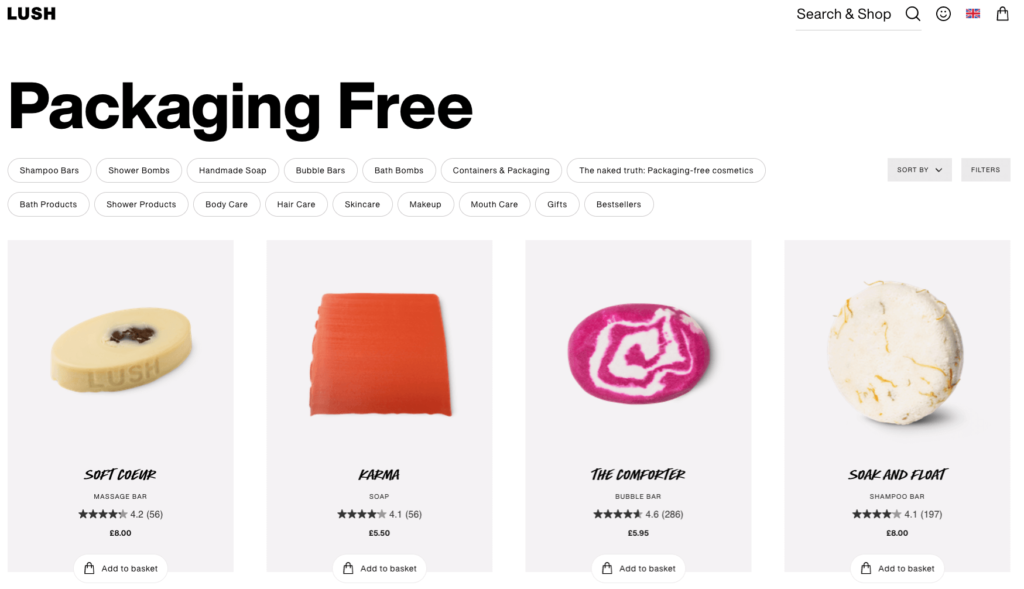 This isn't the only time Lush encourages plastic-free purchases in its email marketing.

With subject lines like the above, the company owns the area of packaging-free cosmetics, and they make sure to remind prospects of that.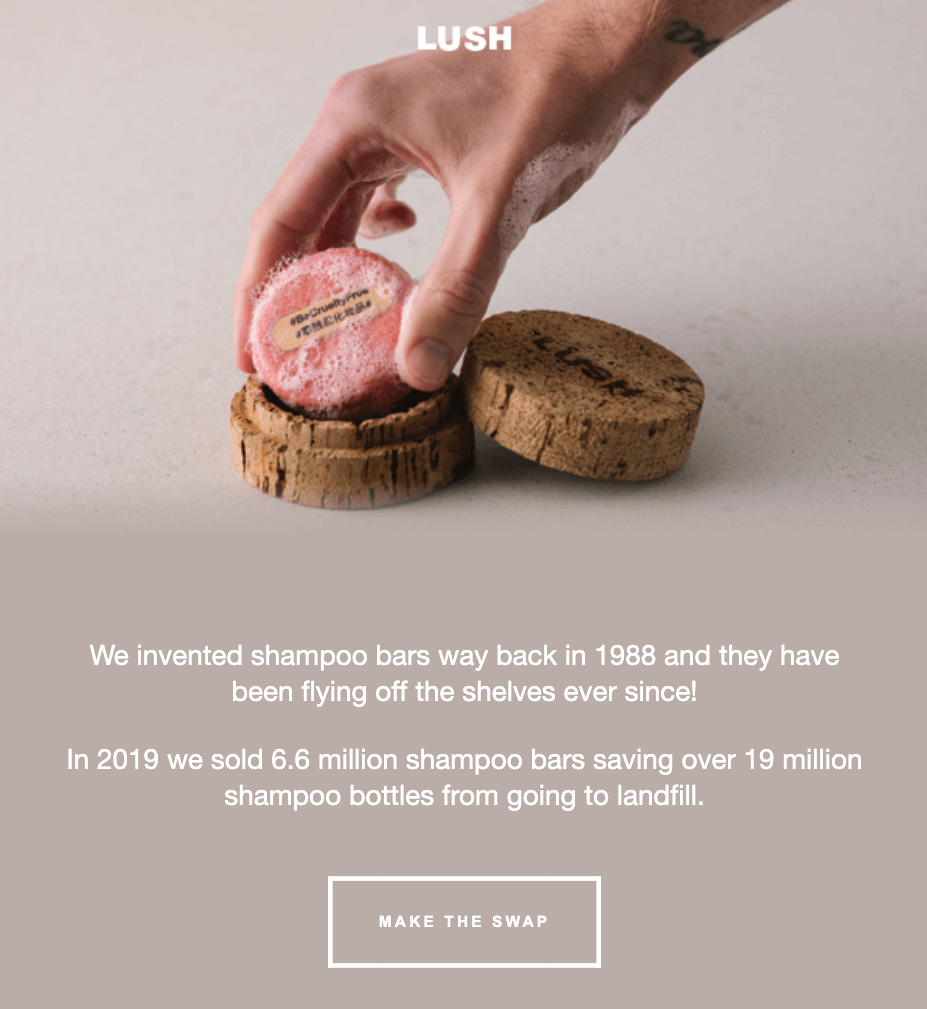 The numbers here not only act as social proof to Lush's claims to popularity, but they also demonstrate how many people already made the switch from shampoo bottles to bars, and why you should too.
Granted, you don't have to invent groundbreaking products today. But if there's a way for customers to recycle, upcycle, or compost your products, keep educating people with your emails.
Or go bold and invite subscribers to make a big lifestyle change for the environment, such as going plastic-free, as Lush does every day.
Conclusion
Whether your CSR strategy consists of one-off donation campaigns or ongoing green production practices, remember to inform your customers about what you're doing and why you're doing that.
Use these seven social responsibility emails as inspiration and think about how you can educate your subscribers about the values and socially responsible actions your brand is carrying out.
Take especially note of how these seven brands promote their products in social responsibility emails—without coming off as salesy or ill-intentioned.