The e-commerce customer journey is a pretty complex one nowadays.
Shoppers expect a lot from companies in terms of the customer experience, since there are a ton of touchpoints where they may come into contact with your brand.
All the while you have to make it a smooth experience, stay on-brand on every platform, make sales through various channels… And that's barely scratching the surface.
E-commerce tools can help you navigate the increasingly complex customer journey. They allow you to gain a better understanding of your customers, target them at the various touchpoints, and help you meet their expectations, which, in return, will help you increase revenue.
So let's take a look at some of the best e-commerce tools on the market that'll increase your bottom line.
15 Best E-Commerce Tools You Need
Part 1: Sales Tools
1. JungleScout
It's no secret that Amazon dominates the market. It was estimated that 40.4 percent of all e-commerce sales would be made through the marketplace in 2021.
Why not get in on that action?
JungleScout is a product research and sales platform for Amazon sellers. The tool caters to Amazon newbies and existing brands that want to start selling on the channel.
You can use it to research the top-performing and most profitable products in your category, as well as track their performance over time.

This way, you can always stay on top of what's going to make you the most revenue, plus discover new items that are likely to bring in the big bucks.
2. Veeqo
One key way to increase revenue is to sell on multiple channels. That way, you expand your reach to new potential customers where they prefer to make their online purchases.
However, it's not easy for a small to medium business to manage multichannel selling efficiently. At the same time, you also need to provide the same great customer experience on each channel.
That's where Veeqo comes in. It's an all-in-one inventory and fulfillment management tool that brings all of your sales channels under one roof.
It integrates with all the top channels, such as eBay, Amazon, WooCommerce, Shopify, Etsy, and more.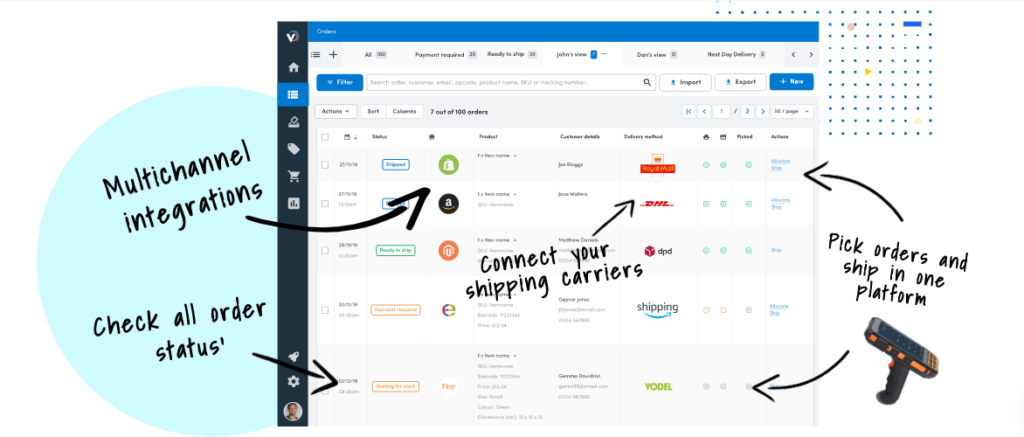 With this tool, you can also sync inventory across platforms and set up workflows to save time while you're selling on multiple channels.
All in all, you can use Veeqo to manage a multichannel sales strategy more efficiently and maintain the customer experience across those channels.
3. Recharge Payments
Subscription services are all over the place nowadays. But you don't need to be a solely subscription-based company to offer subscriptions to customers.
Any items that customers replenish often from razor blades to toilet papers can be put on repeat orders. Naturally, the great thing about offering subscriptions or repeat orders is that you get predictable, recurring revenue.
Recharge Payments is a fantastic tool you can use to set up subscriptions and recurring payments on your e-commerce site.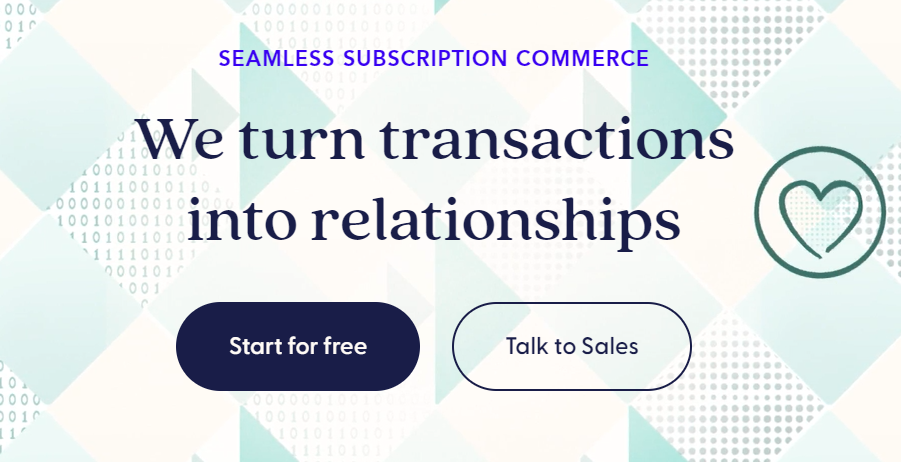 It's quick to install and integrates with major software providers and payment processors.
It also offers a positive experience to customers who can easily manage their subscriptions via text or a customer portal which is a key selling point for potential subscribers.
Part 2: Conversion Rate Optimization Tools
4. Yieldify
Personalization drives sales. When you make a super relevant offer to a customer, they're more likely to make a purchase. It's that simple.
What's more, customers expect a certain level of personalization from companies these days. 66 percent say they expect brands to understand their needs and expectations.
One way to achieve this is using a tool such as Yieldify—an AI-powered personalization platform that tracks user behaviors in real-time. Thus you're able to create a personalized experience for customers based on their on-site behaviors.

The tool also offers A/B testing and industry benchmarking. This ensures the customer experience is optimized to maximize sales and further key performance indicators.
5. Optimizely
When it comes to conversion rate optimization (CRO), you don't always need to make big changes to have a big impact. When you make small tweaks to refine your sales funnel, you'll have the same number of browsers, but more of them will convert.
Optimizely is a web experimentation platform that will help you convert more customers. It provides A/B, server-side, and multivariate testing to allow you to optimize your store.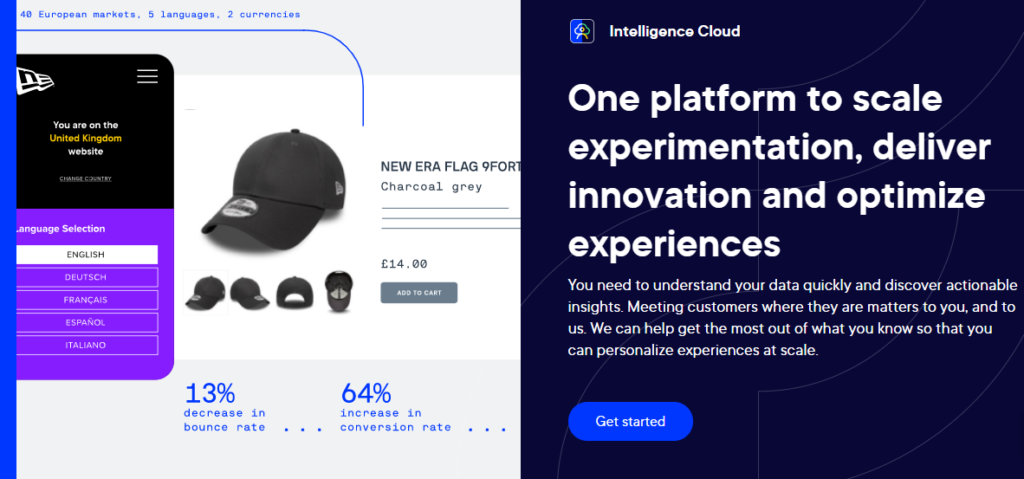 For e-commerce sites, it also automates customer segmentation and offers real-time targeting. You can use these features to boost upsells, cross-sells, and conversions.
6. Drip
The right message at the right time saves a lost purchase. This is what popups can do for your e-commerce store, along with generating leads and gathering customer information for retargeting, of course.
We'd be remiss not to include Drip here as an e-commerce conversion tool that's slicker than your average.
With Drip, you can create personalized popups, forms, slide-ins, and floating bars to grow your email list, promote your products and offers, reduce cart abandonment, and much more.

E-commerce brands also use the popups they build with Drip to upsell or cross-sell items, and to highlight best sellers or new arrivals at the most pertinent moment.
7. Mixpanel
With customer data and in-depth insights, you can make changes to your store that increase revenue at the macro and micro levels.
Mixpanel is a product analytics tool that you can use to better understand customers and their behaviors.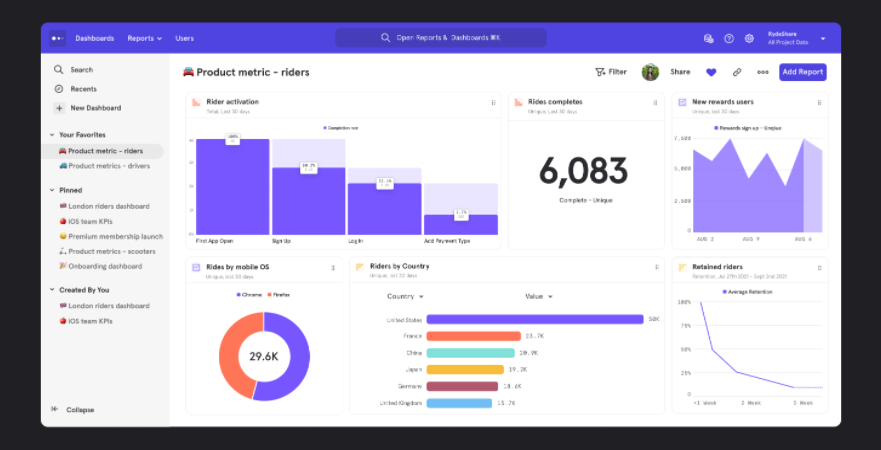 You can find which paths or funnels lead to the most conversions so you can keep doing more of what works. You can also refine your target audience by discovering which user attributes lead to the most conversions.
Last but not least, you can analyze where users drop off and why. This allows you to make the changes that result in greater conversions. For instance, you can locate at what point exactly you can re-engage shoppers to ensure they complete their purchase.
Part 3: Marketing Tools
8. Dotdigital
From email to social, there are dozens of marketing channels for e-commerce marketers to cover on a weekly, if not daily basis.
This is what makes marketing automation tools a necessity for small to medium-sized businesses. Dotdigital is a great one that offers AI-powered cross-channel marketing automation.

Dotdigital helps you create marketing segments and personas that you can use to create campaigns and experiences across channels. This way, you can reach the right people where they spend their time.
With the right communications, such as personalized email campaigns and dynamic content, you'll be able to target and convert many more customers.
9. Buffer
Social media is a vital marketing channel for e-commerce stores as 42 percent of shoppers use social media for product research. In other words, it's where a lot of people are going to discover your products.
Buffer is a social media management and scheduling tool that can help you stay on top of the various social media platforms. It's a suite of products that enable publishing, analytics, engagement, and collaboration.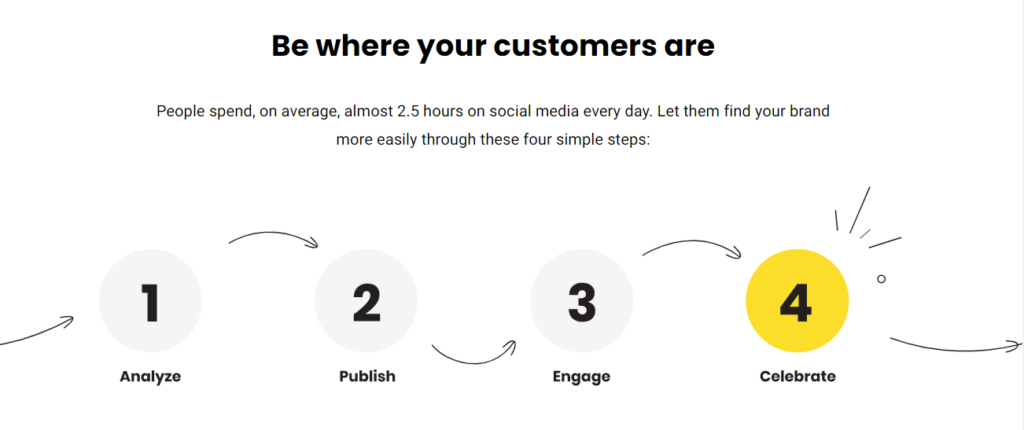 You can use it to expand your reach, build a following, and target customers where they spend their time, whether that's on Facebook or TikTok. And, naturally, drive traffic to your product pages to increase sales.
10. Bazaarvoice
Social commerce is on the rise. Customers relish the convenience of making purchases directly on the platforms they're browsing. In fact, eight out of 10 businesses predict they'll make sales on social media within the next few years.
Bazaarvoice is a software with a number of useful tools that handle user-generated content, reviews, content syndication, publishing, and social selling.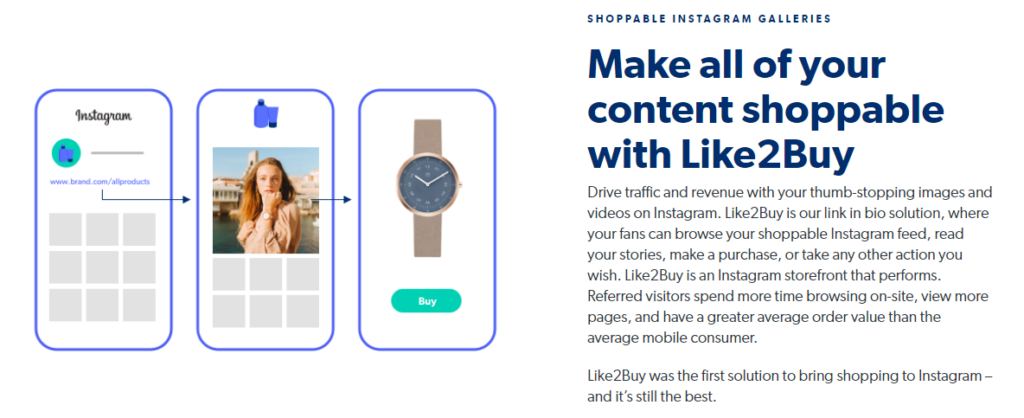 You can use the tool to create shoppable storefronts on social media and take advantage of the customers who prefer to buy on social. It also gives you the option to retarget customers that engage with your social storefront, and thus increase revenue.
11. Aspire
Influencer marketing is another vital e-commerce marketing strategy you can use to add social proof to your brand and tap into relevant audiences.
Aspire is more than just another marketplace where you can find influencers to work with. As well as discovery, you can use the platform to manage and analyze your influencer campaigns.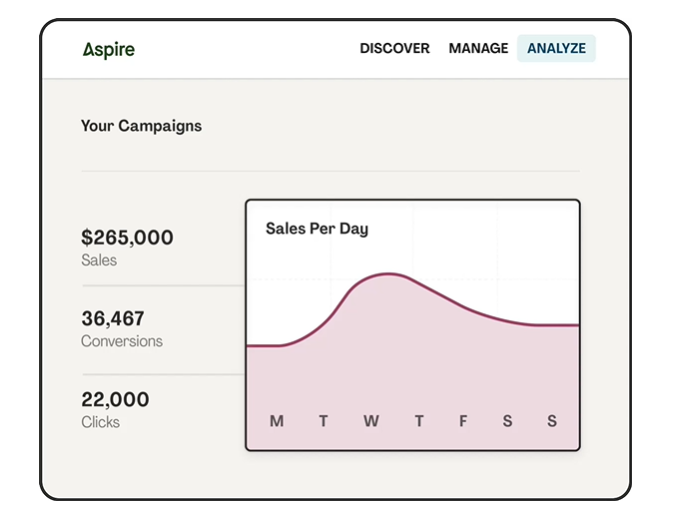 This means you can gain meaningful insights and optimize campaigns to get the best return on your investment.
Part 4: Customer Engagement and Loyalty Tools
12. Drip
Trigger-based email campaigns typically have higher open rates than other types of email, such as newsletters and email blasts for good reason. When somebody receives a relevant email after they've taken an action, they're more likely to open it and react.
Drip is a powerful email and SMS marketing platform you can use to create targeted campaigns and automation, either from scratch or using its many pre-built workflows.

With Drip, you can set up automated campaigns across email, SMS, social, and onsite to drive more revenue in your store from all channels.
Drip also collects customer data from your e-commerce platform, be it Shopify, BigCommerce, or WooCommerce, and allows you to personalize and optimize your messaging to make more sales.
13. Gorgias
Live chat is another brilliant way to boost revenue.
Say a customer finds a smart speaker on your site but they're not sure if it's compatible with their other devices. They head to your live chat, get their answer, and you've got a sale.
Gorgias is an e-commerce help desk that enables live chat and customer service for Magento, Shopify, and BigCommerce stores.

Gorgias makes it easy to respond to messages quickly by bringing all messaging platforms under one roof, such as Facebook Messenger, Instagram, email, and live chat.
But what's really exciting is you can set useful messages to trigger when customers visit key pages on your site such as your checkout.
14. Feefo
In a world where there are tons of e-commerce stores offering similar products, it's the customer experience that's going to set you apart.
73 percent of shoppers say it influences their purchasing decisions and 42 percent say they would pay more for a friendly, welcoming experience.
Feefo is a platform that allows you to collect genuine customer reviews and use them to enhance the customer experience.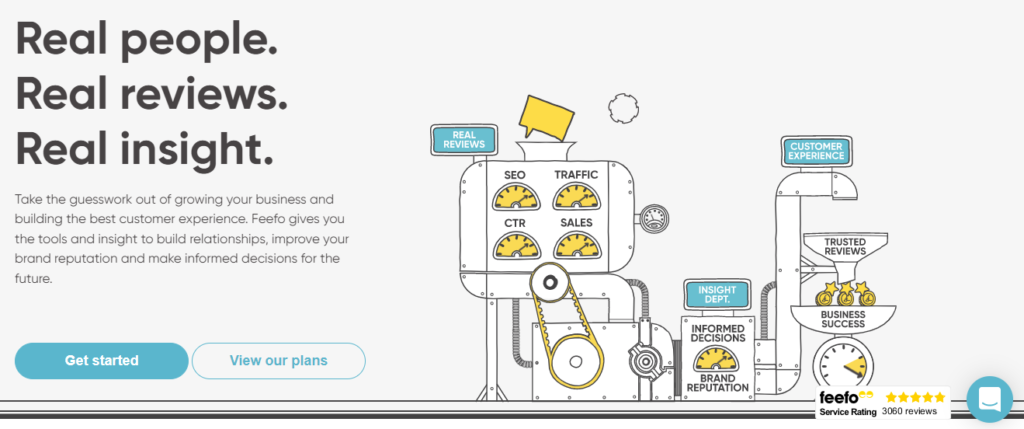 It offers unique, useful products such as the performance profiling tool. This uses AI to analyze feedback and pick out recurring themes. It also helps you generate more feedback with its campaign manager tool.
All in all, you can use the insights you gather to make the appropriate changes that'll generate more revenue from new and existing customers.
15. Yotpo
Customer loyalty programs encourage repeat purchases and ongoing relationships with customers. Referral programs drive acquisition and speedy growth.
Yotpo is my favorite tool for creating e-commerce loyalty and referral programs. You can create your own custom programs or make use of Yotpo's out-of-the-box campaigns.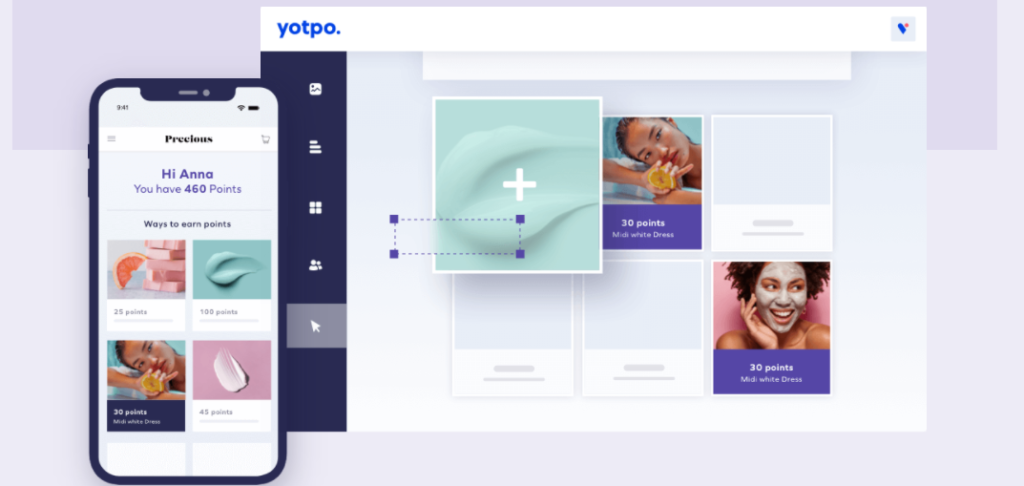 With loyalty programs, you can reward customers when they take certain actions such as reviews, social media follows, and, of course, purchases. That means lots of potential revenue and new brand advocates on autopilot.
Final Word
If you've been struggling to grow or get your e-commerce store off the ground, it's worth introducing one or more of the tools on this list. You may just discover the revenue driver you've been missing.
Some of these 15 best e-commerce tools will certainly help you acquire, win back, and retain customers. They'll help you target the right people with the right messages, make impactful changes that increase conversions, and so much more.