Memorial Day, held annually on the last Monday in May, was originally created to honor the men and women who have died serving the US armed forces.
That means it's got a distinctly patriotic feel—think stars, stripes, hot dogs, hamburgers, and bald eagles.
But Memorial Day is also a big occasion for retailers.
According to Coresight Research, 17 percent of Americans planned to buy physical goods online across the 2021 Memorial Day weekend, while 21 percent intended to do the same in-store.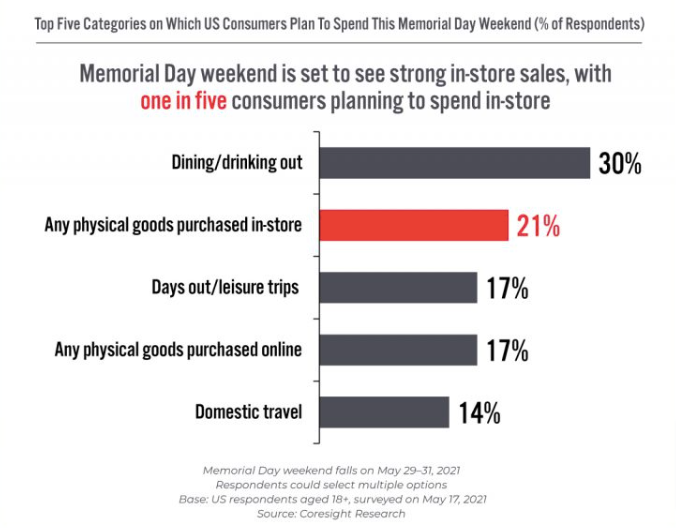 Historically, Memorial Day spending has been focused on big-ticket household items like kitchen appliances and mattresses.
However, there are signs the pandemic has changed these traditional spending patterns. For instance, in 2021, retail experts were predicting an upturn in apparel purchases as consumers looked forward to more post-lockdown socializing.
In other words, Memorial Day offers opportunities for retailers across a wide range of verticals.
Want to capitalize on this ecommerce holiday? Check out our pick of the very best Memorial Day email examples…
9 Memorial Day Email Examples You Need to See
1. Wayfair: Highlight the Size Of Your Sale (Where Relevant)
Do consumers like choice?
The opinion is divided.
Some retail gurus insist that too much choice is a bad thing; that it leaves us confused and unable (or unwilling) to make a decision.
Others say it's brilliant: the more options you offer, the more likely buyers are to find exactly what they've been looking for.
As with so much in life, the truth is somewhere between those two extremes.
Indeed, research from Stanford Graduate School of Business revealed that offering lots of choices might be good—it just depends on where your customers are in the buying journey.
If your customer starts the buying process unsure whether to buy at all, they're likely to be encouraged by a broad product selection. On the flip side, if they start by picking their favorite item from a wealth of options and only then deciding whether or not to buy, being presented with a lot of choices makes their decision harder, thereby lowering the chance they'll convert.
This brings us to Wayfair's Memorial Day email example.
It incorporates links to no fewer than 29 different product categories—that's a staggering amount of choice.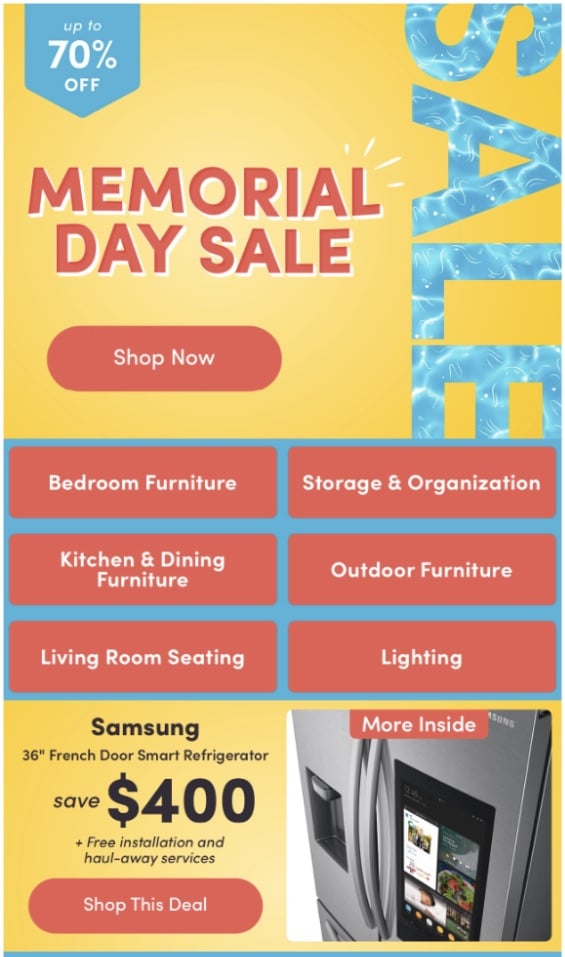 So should you take the same approach as Wayfair?
It depends.
If your customers are already planning to buy this Memorial Day, your best bet is to highlight a handful of core products or key deals.
But if they're undecided, it makes sense to let them browse in the hope that they find something—or lots of things—that they simply must buy right now.
2. Michael Kors: Align Your Messaging To Memorial Day
Sure, the Memorial Day weekend offers plenty of opportunities for retailers.
But it's not a sure thing. This isn't Christmas; people aren't guaranteed to buy.
So it makes sense to build your messaging with Memorial Day in mind.
What might that look like?
Well, that Coresight Research survey I mentioned earlier gives us some insight into the types of products that may be worth promoting ahead of Memorial Day.
For instance, it reveals that 17 percent of Americans were planning to spend money on leisure trips and days out across the 2021 Memorial Day weekend, while 14 percent had domestic travel plans.
In other words, there'll be a lot of people hitting the road.
Realizing this, Michael Kors themed the following Memorial Day email example around sales of travel bags: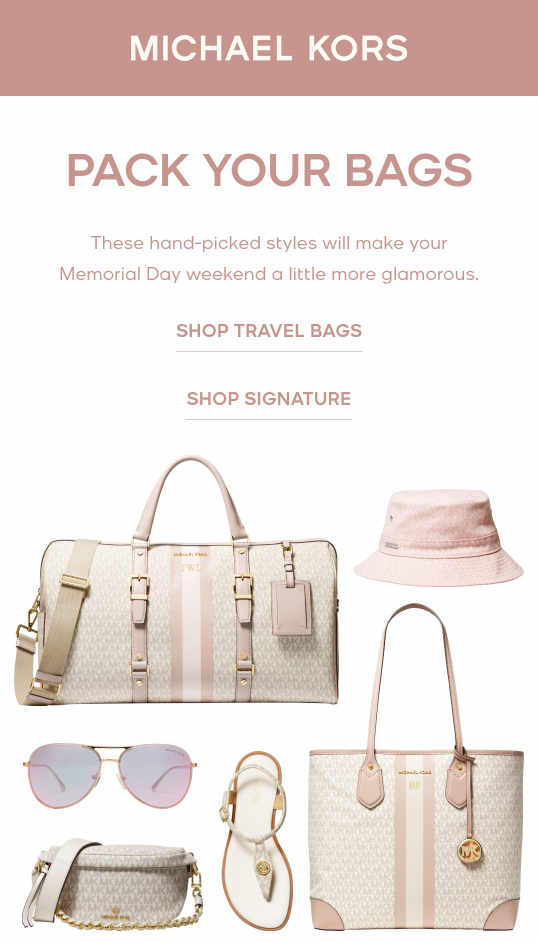 Smart choice, right?
The message here is clear: if you have one product line that's especially relevant to Memorial Day, it should be front and center in your email marketing.
3. Team Man Crates: Make Your Messaging Topical
As I've already noted, while Memorial Day is a big opportunity for retailers, it's far from ranking among the year's top shopping days.
It's no Cyber Monday.
That means a lot of consumers won't have any particular plans to spend more than usual during the weekend.
So it might not be appropriate to use Memorial Day as the sole "hook" for your email marketing, especially if your product range isn't especially relevant to the occasion.
Team Man Crates is evidently aware that Memorial Day gifting isn't really a thing.
So it takes a slightly different tack by promoting a sale that just happens to coincide with Memorial Day.
Not only that but the brand's messaging is themed around a key consumer concern: inflation.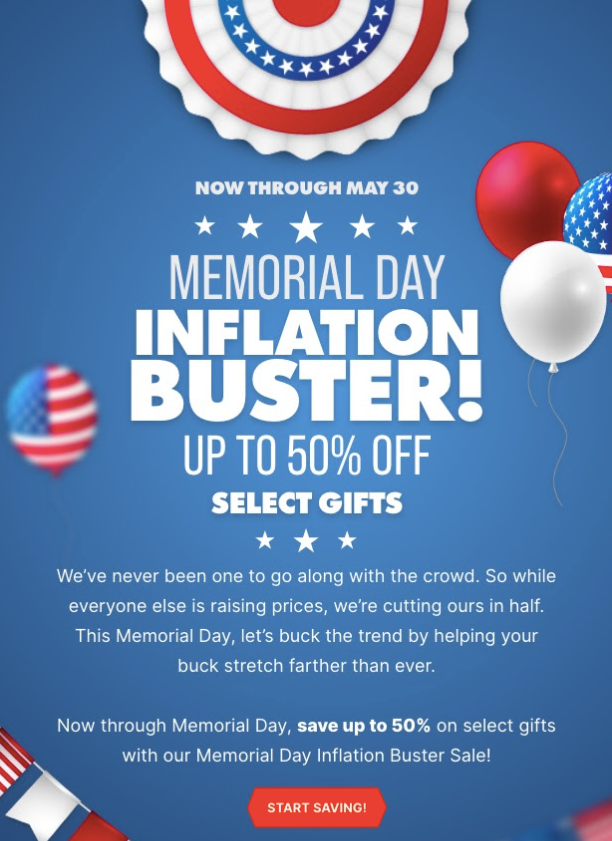 This is an intelligent piece of topical marketing.
According to Transunion's latest Consumer Pulse Study, inflation is the biggest issue for US households right now, with 64 percent saying they're "very" or "extremely" concerned about it, and an overwhelming 93 percent admitting they're at least slightly concerned.
So it's a smart move on Team Man Crates' part to position this as an inflation-busting sale.
It's effectively saying: if you do need to buy a gift this Memorial Day, we're here to help.
4. Crate & Barrel: Use Reviews To Drive Consumer Spending
We've spoken before about the benefits of using customer testimonials and reviews in email marketing.
They're a proven way to drive sales, with 89 percent of consumers saying they read reviews before making a purchase, according to research from Trustpilot and Canvas8.
So if you're fortunate (and smart) enough to have gathered a bunch of glowing customer testimonials, why not use them in your Memorial Day email marketing?
That's exactly what Crate & Barrel does here: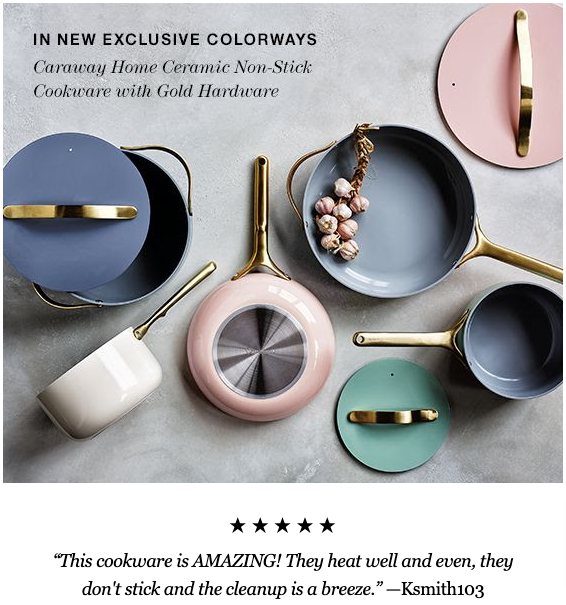 It's an especially wise tactic if your products carry comparatively high price points. That's certainly the case for Crate & Barrel, where a set of pans will set you back hundreds of dollars.
If you're going to convince shoppers to fork over that kind of cash, you need to persuade them that the expense is justified.
And customer reviews and testimonials are one of the most effective ways to convince them.
5. Buffy: Create a Sense Of Urgency
FOMO can be a powerful driver of consumer behavior.
Indeed, a split test performed by WhichTestWon discovered that the simple act of adding a countdown timer to a product page increased conversions by almost nine percent.
In short, as consumers, we're more likely to take action now if we genuinely believe that we'll lose out otherwise. We simply can't stand to miss a fantastic promotion.
So what better way to boost sales this Memorial Day than to launch a limited-time offer?
That's exactly what Buffy does here: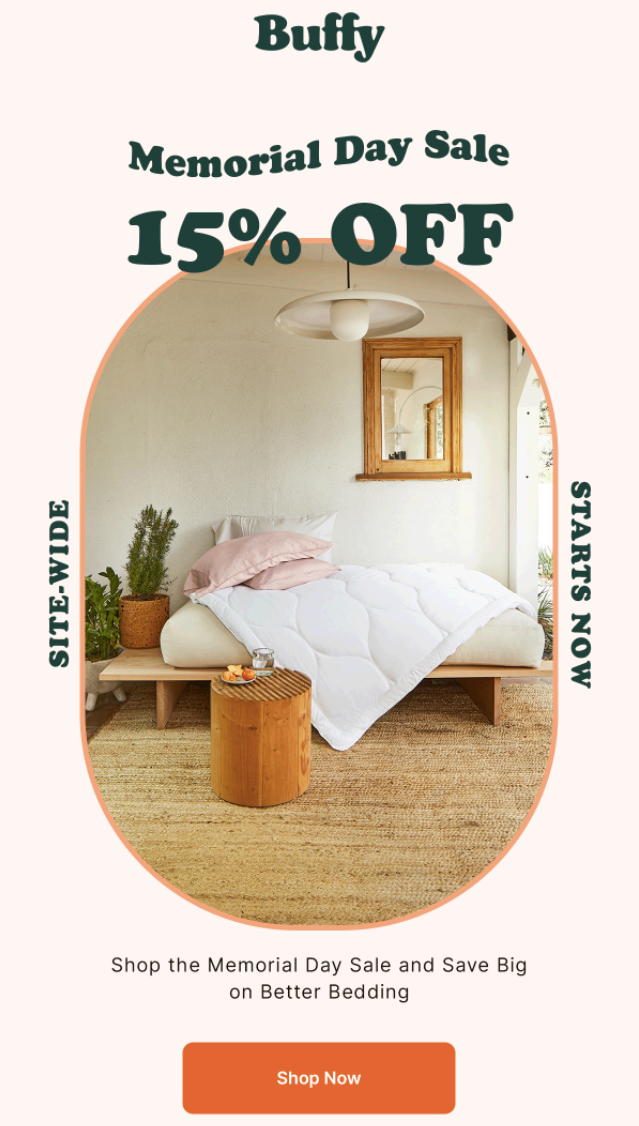 This Memorial Day email example works so well because of its fundamental simplicity.
There are no complex terms and conditions here; just an attractive 15 percent reduction on all products across the site.
That gives customers plenty of reason to click through and check out the discounts on offer.
6. Mugsy: Go For the Soft Sell
It's important to be realistic about Memorial Day.
Sure, if you get your messaging right and your product fits, there's real scope to drive a bunch of extra sales.
But it's extremely unlikely to make or break your financial year.
For a lot of consumers, spending money in time for the Memorial Day weekend simply isn't on their radar.
So rather than trying to force the issue, your best bet could be to take a more softly-softly approach, as Mugsy does here: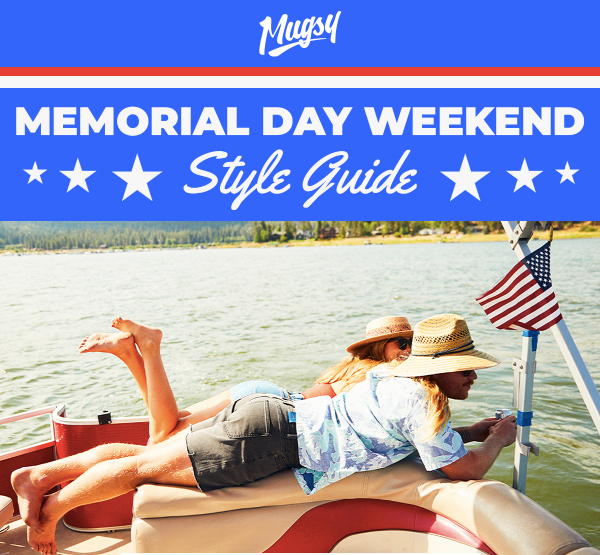 Rather than forcing lots of buy now-type messaging on consumers, it positions this Memorial Day email example as a style guide.
This kind of disarming messaging can be highly effective because it gives us more scope to convert ourselves.
We feel that we're not being sold to, so we let our defenses down. We scroll through the email, see something we like… and the next thing we know, we're adding to cart.
7. Joybird: Ramp Up the Patriotism
Chances are, you've noticed a common thread running through a lot of these Memorial Day email examples: patriotism.
There's an obvious reason for that.
Memorial Day is one of America's major patriotic holidays, hence all the stars and red-and-white stripes dotted throughout many of these emails.
Fact is, while it's sometimes smart to stand out from the crowd by trying something different with your design and branding, Memorial Day—which is all about respecting the troops—might not be the best time to put that to the test.
Consumers expect to see lots of patriotic messaging at this time of year, so don't be afraid to go with the flow and give them what they want, just like Joybird does here: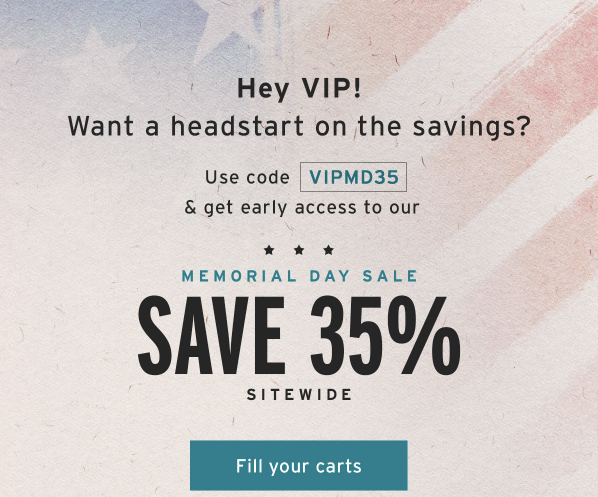 In short, this is one of those rare occasions when blending in might be more effective than making a splash.
8. Recess: Push the Angle That Resonates With Your Audience
Okay, so Memorial Day is a distinctly military-themed holiday.
After the Civil War, back when the holiday was still known as Decoration Day, it was typically marked by visiting gravesites.
But that's just not the case anymore.
Today, only nine percent of Americans visit gravesites over the Memorial Day weekend, and just five percent plan to attend a Memorial Day parade or event, according to research from the Economist and YouGov.
Even in military households—where a current family member is in the armed forces—only 13 percent plan to visit gravesites or attend official events.
So if Memorial Day is no longer about honoring the fallen, what is it about?
To an extent, that's up to you.
As a marketer, you have an opportunity to leverage the "element" of Memorial Day that best aligns with your brand, product, or audience.
Hence, Recess chooses to barely mention the actual holiday in this Memorial Day email example, instead of focusing on the fact that it's a long weekend—and therefore an opportunity for socializing: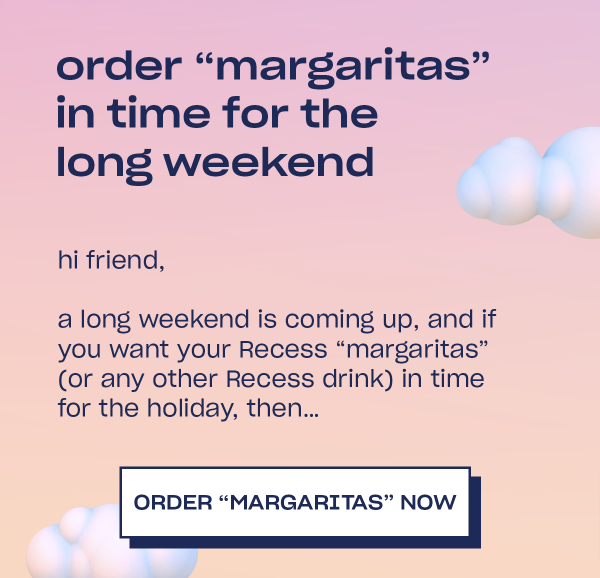 The lesson here is that it pays to figure out what aspect of Memorial Day is most relevant to the people on your email marketing list.
Whatever you come up with, use it as the main "hook" for your Memorial Day email.
9. Blue Apron: Use Memorial Day To Jump Start Summer Sales
Memorial Day doesn't exist in isolation.
With its late May timeslot, it's often seen as the unofficial start of the summer—hence all the messaging about barbecues, pools, and frosty beverages.
As such, the Memorial Day weekend could be the perfect time to unveil your summer product range, just like Blue Apron does here: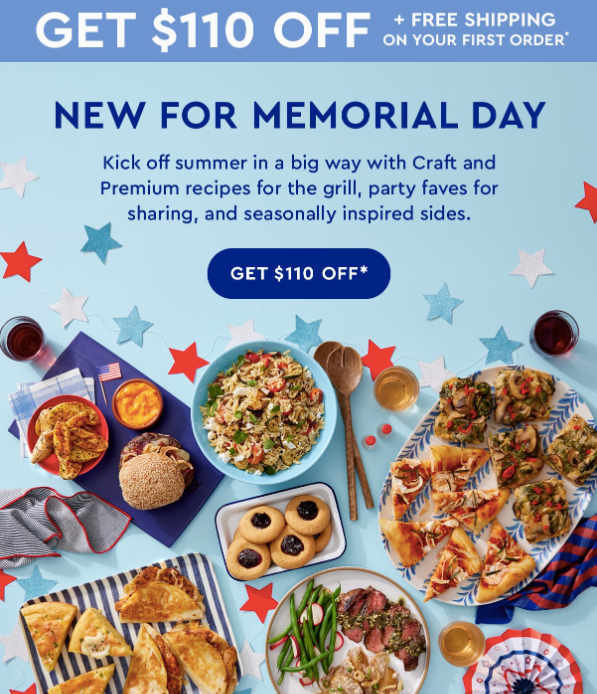 It's a smart tactic for a food-related brand like Blue Apron because it offers an opportunity to introduce their summer collection at a time when people are actively looking to buy those sorts of products.
Indeed, one study found that 84 percent of consumers cite summer snacks as a staple of the season, while 80 percent describe snacks as being "essential to moments they enjoy".
Who knew pizza and chips were so important?
Build More Impactful Memorial Day Email Marketing Campaigns With Drip
As you can see, there is a number of ways to build an impactful Memorial Day email marketing campaign.
You can promote dozens of categories or hone in on a handful of key products; lean into the patriotic angle or make it all about your audience; create a sense of urgency or favor the soft sell.
Whatever approach makes sense for your brand and customers, Drip can help you bring it to life.
Our point-and-click editor and library of prebuilt email templates make it simple to craft on-brand emails in just a few clicks, while our powerful email segmentation and personalization functionality give you all the tools to boost engagement and revenue.
But don't take our word for it. Put us to the test by trying Drip free for 14 days—we won't even ask for your credit card details.