If you're like most small business owners, you're on the constant lookout for new marketing strategies to help you grow your brand's online presence.
In this article, I'll share seven small business marketing ideas to grow your business online. Yes, many of these ideas come from big brands, but there's no reason why you can't tweak them for your small business.
I've tried mapping the ideas to the many stages a buyer goes through on their journey—from finding your brand through organic search to landing on your website, all the way to making a purchase and after.
7 Small Business Marketing Strategies (That Work)
1. Learn How to Create Killer ToFu Content
One of the best ways to drive visitors to your website is by creating content that targets top-of-the-funnel, informational keywords specific to your market.
Men's grooming company Beardbrand illustrates the power of leveraging content to grow its business. In fact, according to Ahrefs, the company drives over 117,000 visitors a month from organic alone.

To do that, the brand solves how-to-based search queries. For instance, if you google "how to grow a beard," you will see Beardbrand's guide ranked position #2.

And when you click the link, it's not hard to see why. At 7,906 words in length, it's an outstanding article, offering thorough advice on how to grow a beard.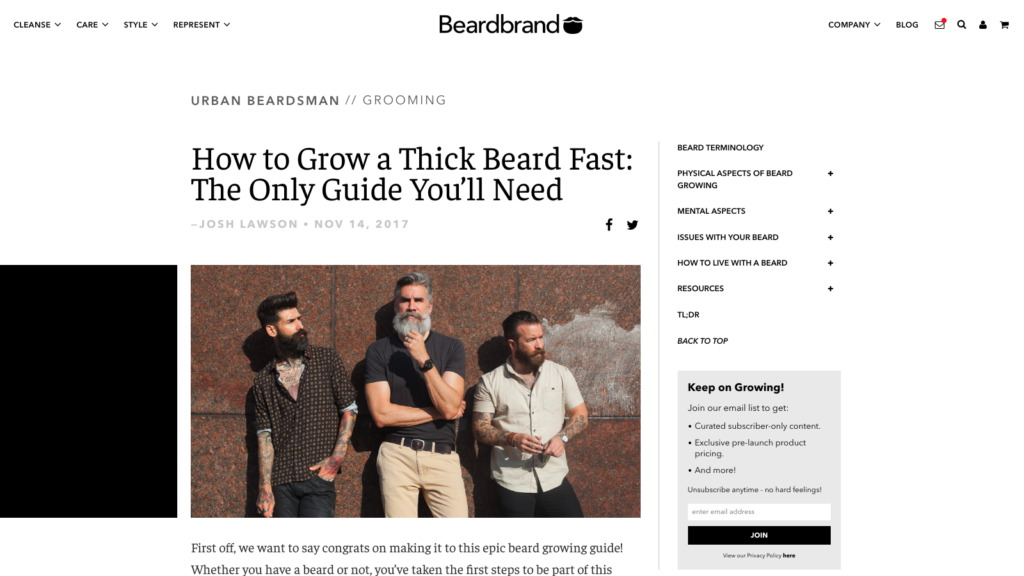 But the post also ranks for 3,329 other keywords. In other words, it ranks for similar keywords like "how to grow facial hair" and "what makes a beard grow."

Beardbrand's goal isn't to convert these visitors into customers upon their first visit (although a small percentage will likely buy on a whim if interested).
Instead, its goal is to raise brand awareness and invite visitors to join its email list for the brand to market to later. This leads me to small business strategy #2.
2. A Data-Driven Way to Capture More Emails
If you want to collect more emails on your website, you need an email popup. With a popup, you can capture the visitor's email and market to them later in your email marketing.
There are many ways to capture the visitor's email with a popup, but the easiest is to offer a discount on a future purchase. In fact, this is precisely what Calvin Klein does.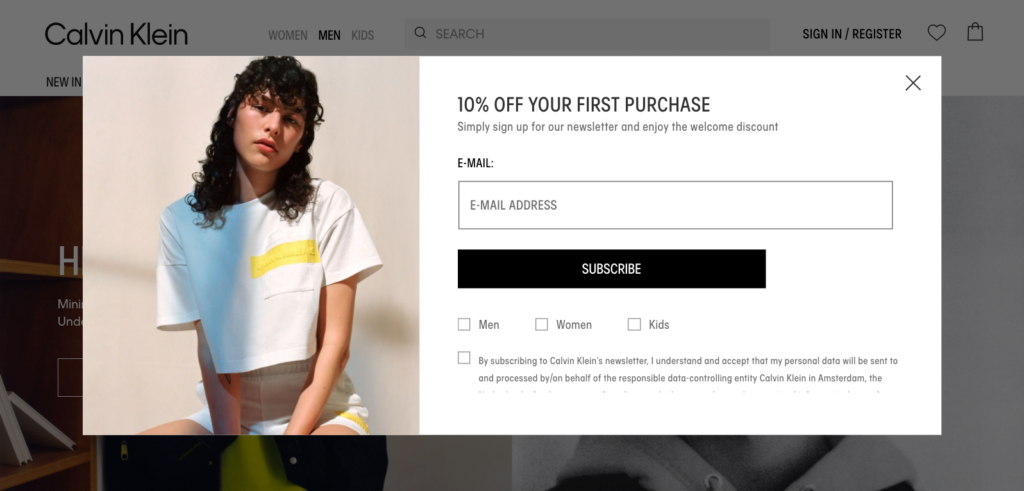 The brand offers "10 percent off your first purchase" before asking the visitor to enter their email and choose a gender. (You can use this information to send better-targeted email campaigns later.)
If you don't want to discount your products and services, another incentive is entry into a giveaway, as Danish brand Ny Form tried with its recent popup.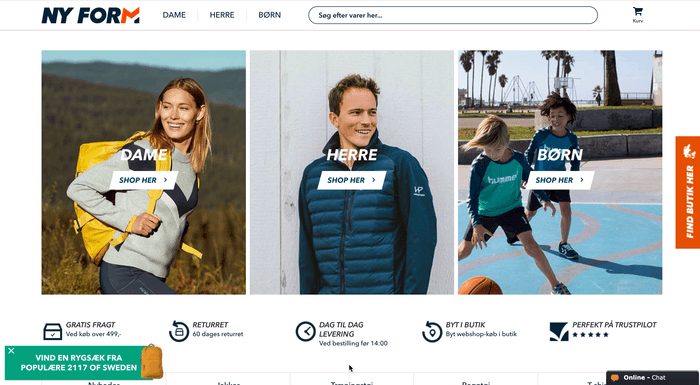 The brand first used a teaser to bait the visitor into clicking before showing a popup promoting a giveaway to win a free backpack in a preferred color.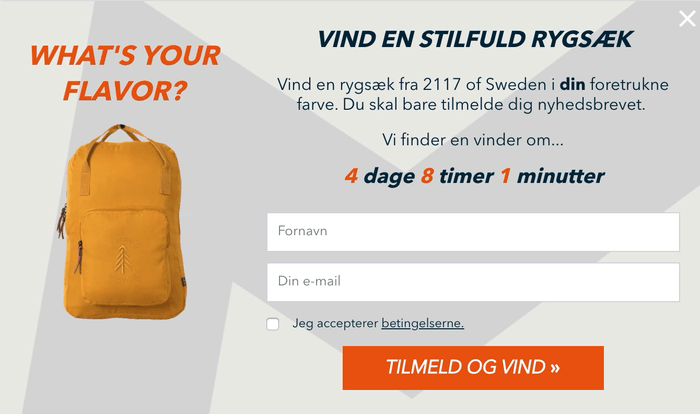 By using GIFs in its teaser and popup, Ny Form differentiated itself from other brands using popups, driving more engagement and optins in the process.
Of course, if you wanted to go a step further and enrich your email leads without losing conversions, you could create a multistep popup to collect more information in a follow-up step, like this: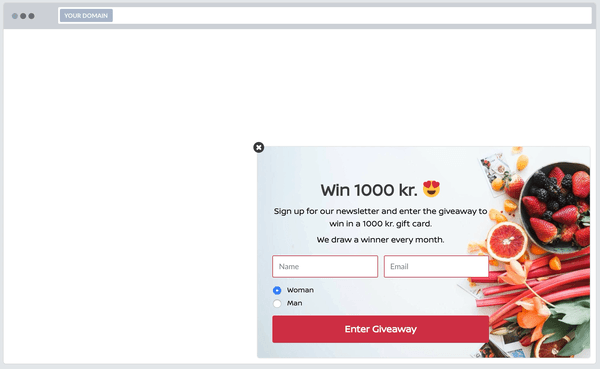 In our research of 1+ billion popup views, we found that popups with a second step see 76 percent of its subscribers input further details.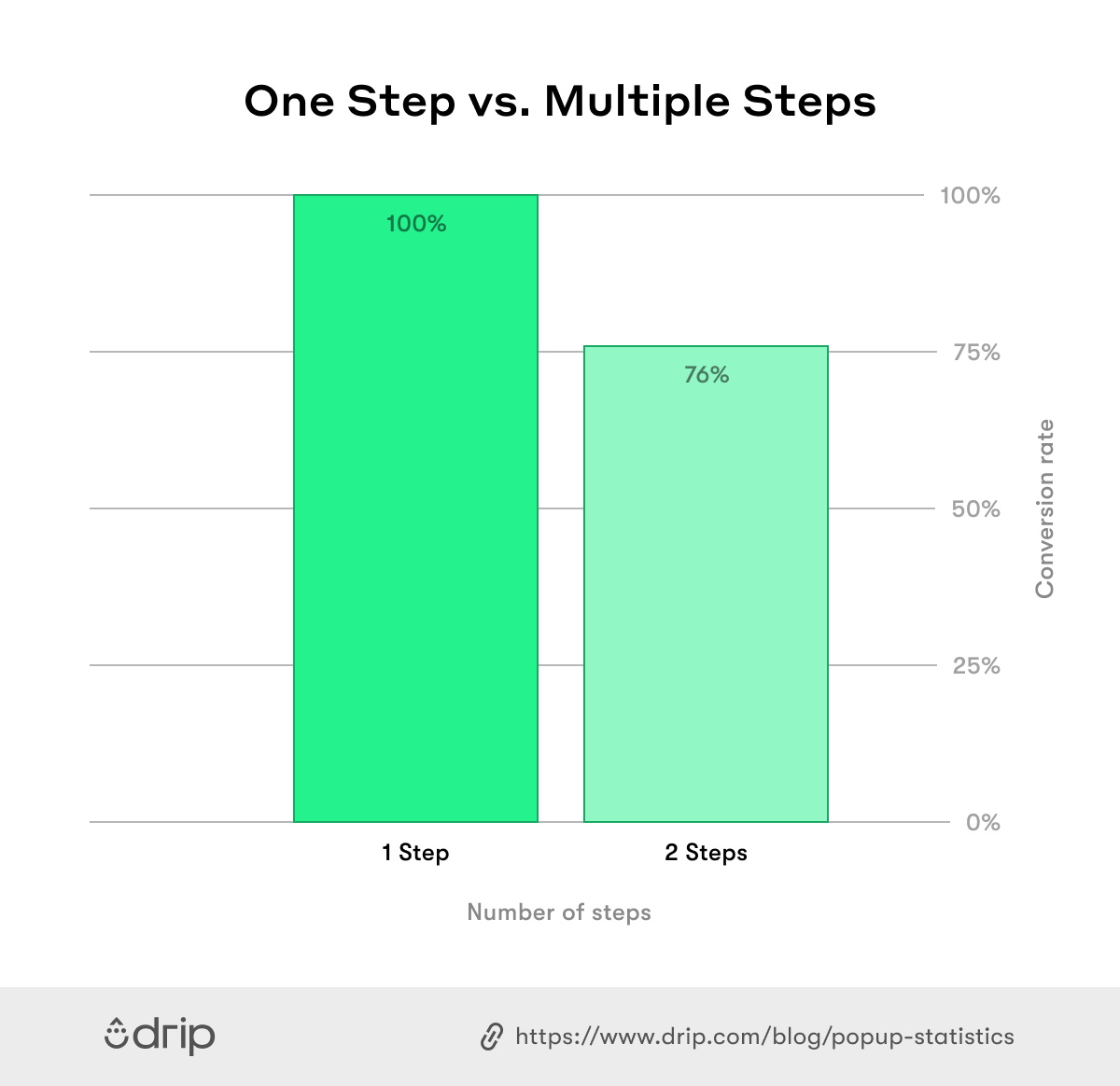 Given that we're a popup company, Seray and I have written ad nauseam about popups and how to optimize them for each stage of your marketing funnel. If you're interested in learning more, browse our resources on Website Popups.
3. Leverage The Power of Email to Sell More
Once you have the visitor's email address, you will want to email them a welcome email, followed by any relevant emails that pertain to your marketing goal.
If you're in e-commerce, you will likely want to notify your audience of your bestselling products, and especially any promotions that you're running for them.
One brand that recently did that is Banana Republic. The brand first caught attention with a clear and specific subject line, "40% off is happening now!"

Within the email, Banana Republic used a GIF to justify the offer ("Colder Days Ahead") as well as animate "Featuring 400+ New Arrivals" to draw the reader's attention further.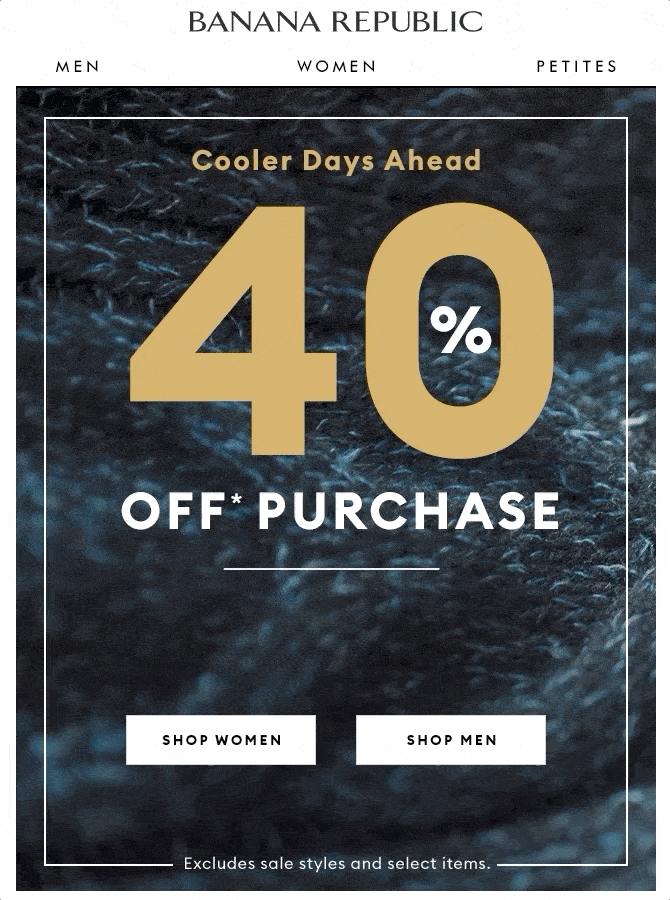 Of course, there's more to email than promoting existing products. Other brands, such as Casper, use email to introduce potential buyers to new products.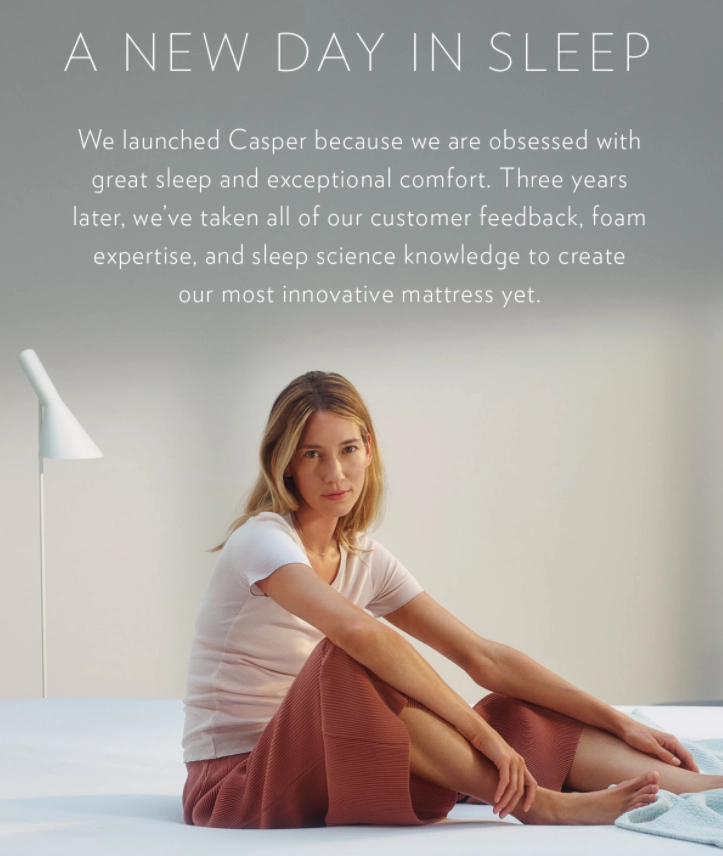 Prefaced with the subject, "They said we couldn't do it…" Casper used an email to introduce a new mattress, complete with a GIF illustrating its construction.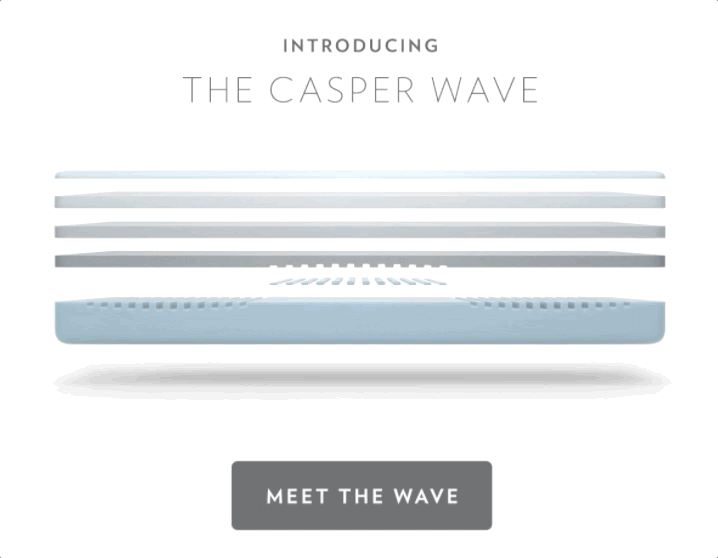 We've written at length about the many different types of email campaigns to use in your marketing. To get more inspiration, read our in-depth guide.
4. Steal Two Tactics to Optimize Your Product Page
An average of only 2.42 percent of e-commerce visitors converts into buyers, according to research. And in many cases, the reason is a poorly optimized product page.
One common reason visitors leave a product page without converting is not understanding which product is right for them. In fact, this is the very reason why Away offers guidance on its product pages.
For instance, when you visit the product page for "The Bigger Carry-On," there's an option to "Compare to The Carry On," the product's alternative.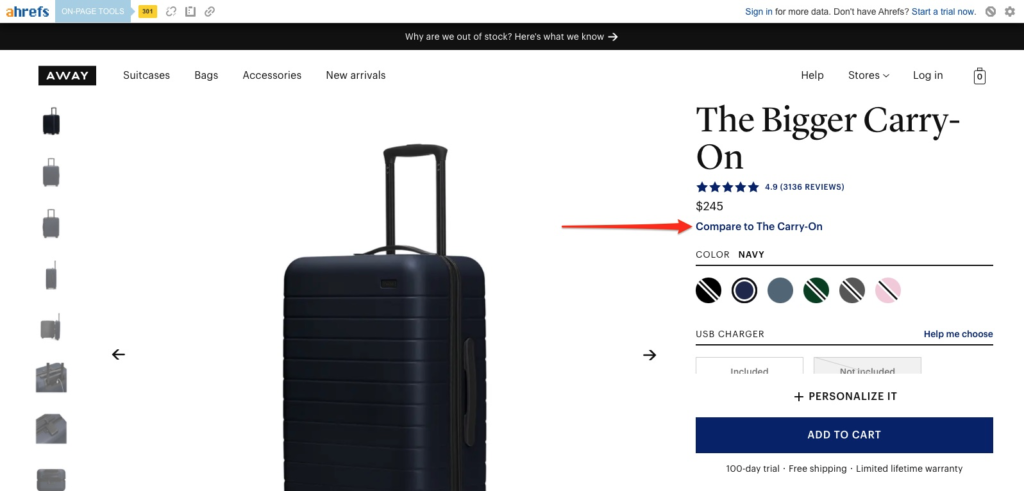 When clicked, Away uses a popup to compare the two products based on dimensions and other details, including price, sizes, and length of stay.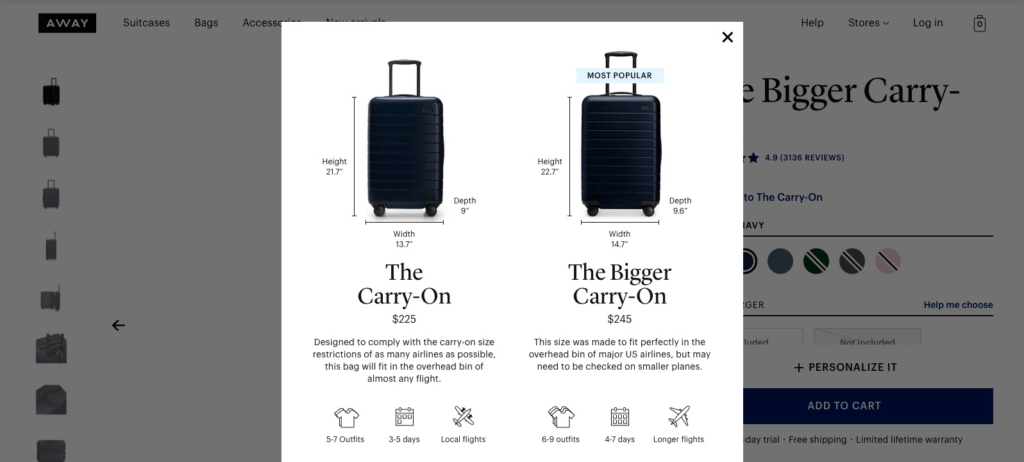 What's more, to eliminate any risk of analysis paralysis, Away annotates its larger, more expensive option as "Most Popular," assuring the prospect in the process.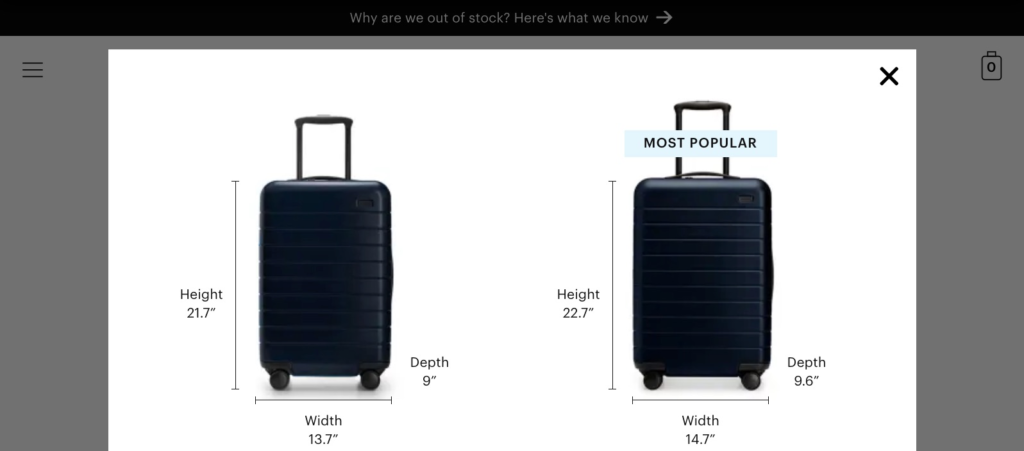 Another brand worth praising for optimizing its product pages is Fabletics, which prides itself on "affordable, high quality and stylish workout clothes for women & men."
When you visit a product page as a new visitor, the brand invites you to become a VIP (i.e., loyalty club member) by asking which new VIP offer you want.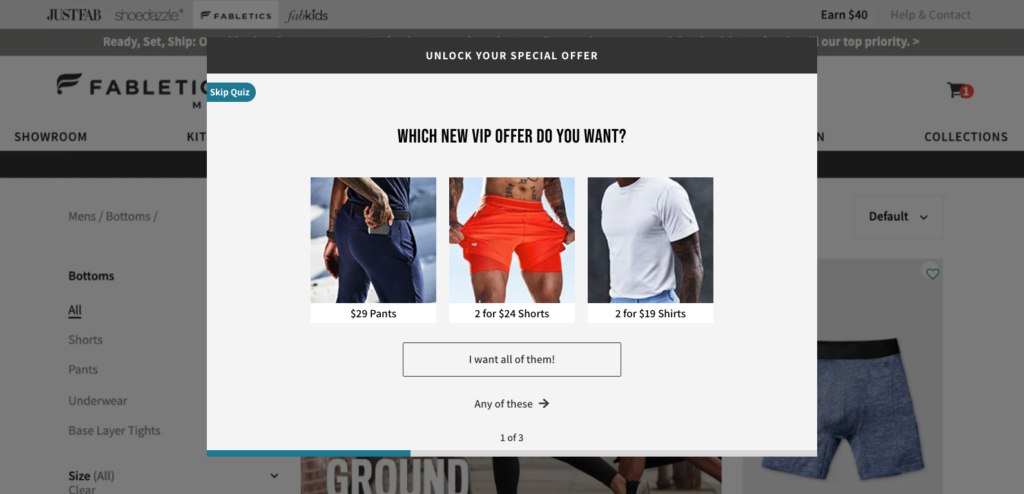 After playing the part of an ambivalent browser and choosing "Any of these," Fabletics asks you to "Create Your Profile" with the option to add your birthday (presumingly, to send a happy birthday email.)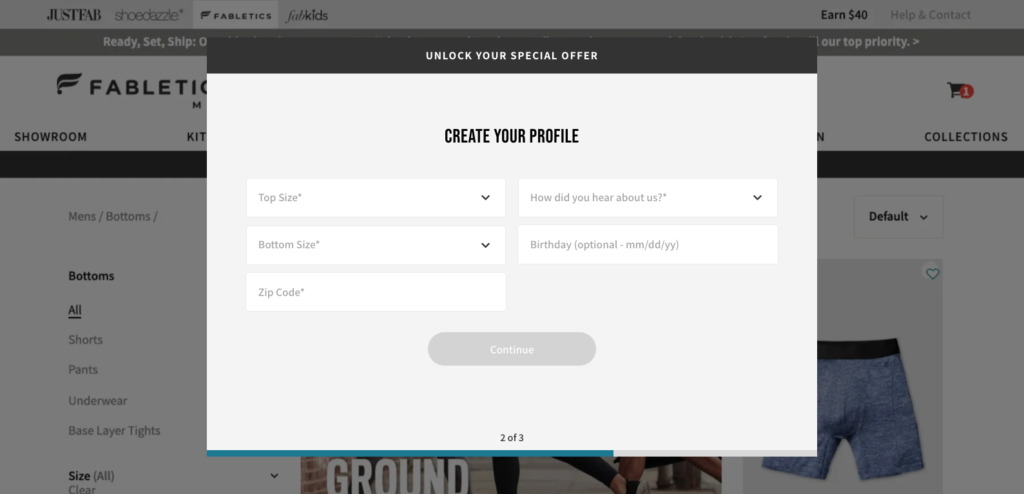 After entering your details, the brand asked me to create a username and password to become a VIP member and unlock my special deal promised in the first step.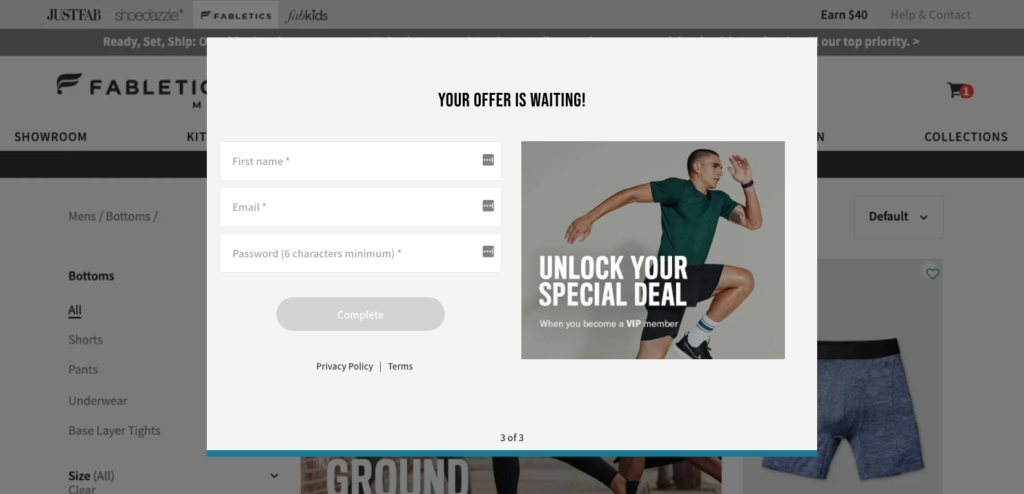 After creating an account, Fabletics employs a countdown timer in the bottom right corner of the page to drive urgency and nudge me to make my first purchase.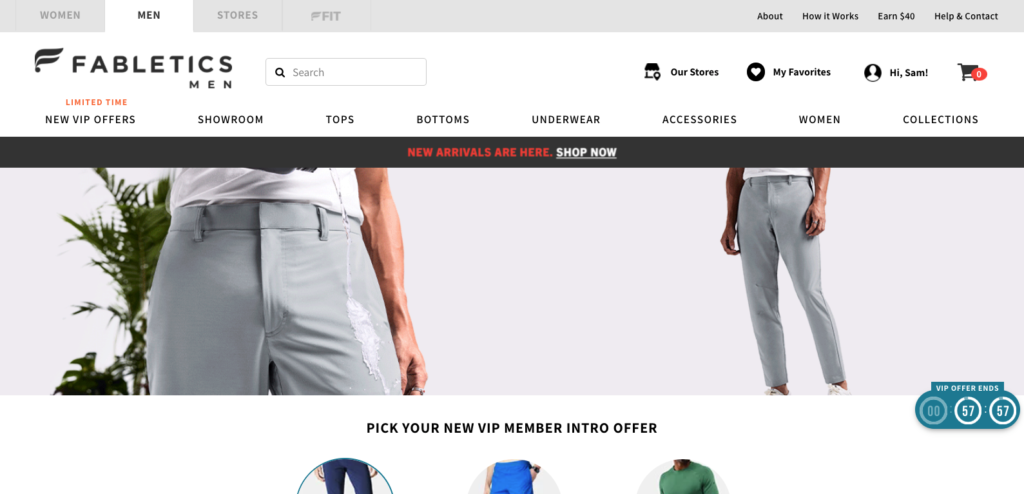 Away and Fabletics' examples contrast the importance of doing everything you can to optimize your pages. For the former, it's removing friction. For the latter, it's doing more to nudge visitors to buy. For you, however, it might be the best of both.
5. Simplify Your Checkout Page
There are many reasons shoppers abandon their carts during checkout. But the most common, according to research by Baymard Institute, is unexpected shipping costs.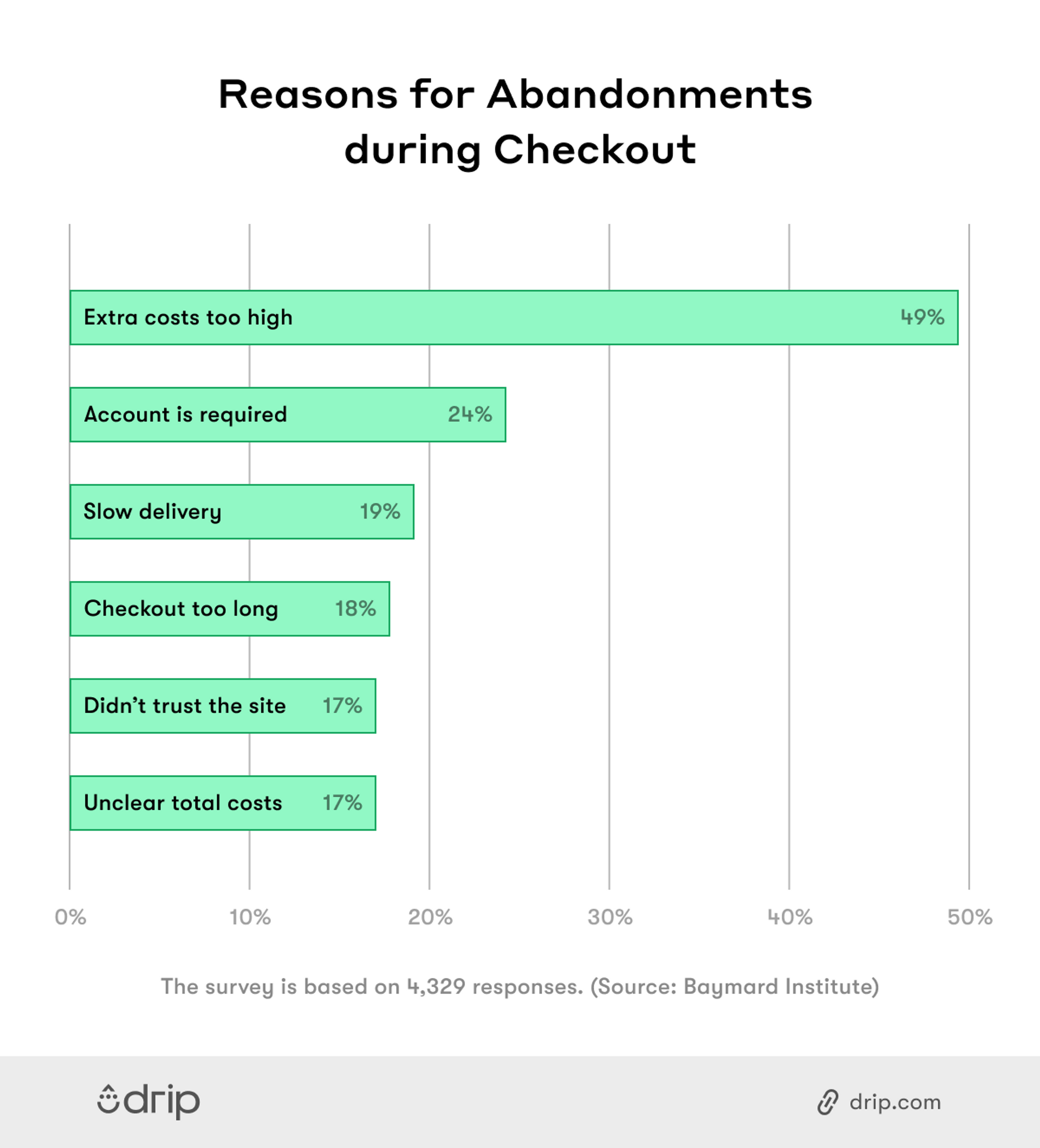 Does that mean you need to offer free shipping? Not necessarily. Many brands, including David's Tea, are now inviting buyers to add more to their cart before checking out to avoid shipping cost surprises later.
After visiting one of its product pages, I added an item to my cart, and the brand invited me to add an extra $4 worth of items to qualify for free delivery.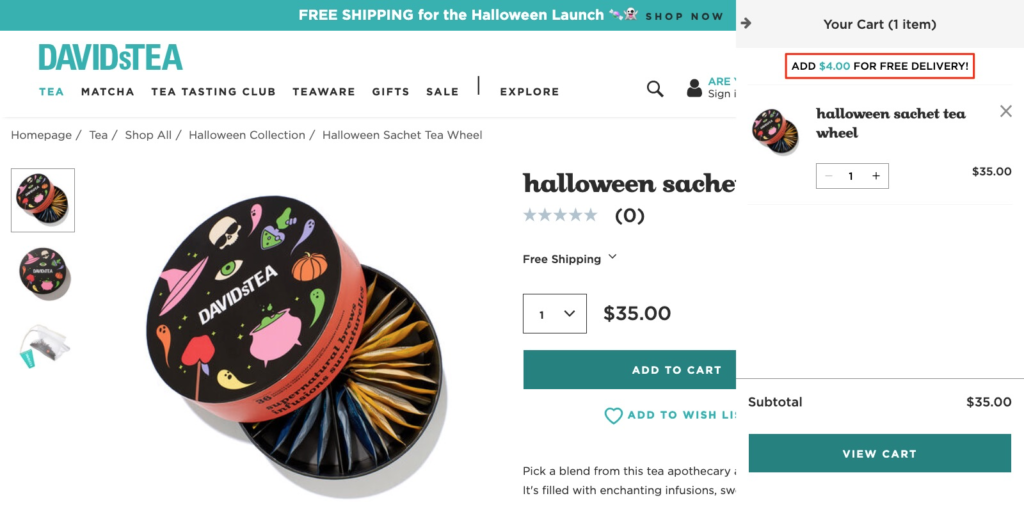 Another way to optimize your checkout, addressing the above "account is required" reason for cart abandonment, is to give buyers multiple ways to pay.
Suppose you're using Shopify, like direct-to-consumer fashion company, Rothy's. In that case, you can offer an "Express Checkout," with the option to buy via PayPal, as well as other payment processing services.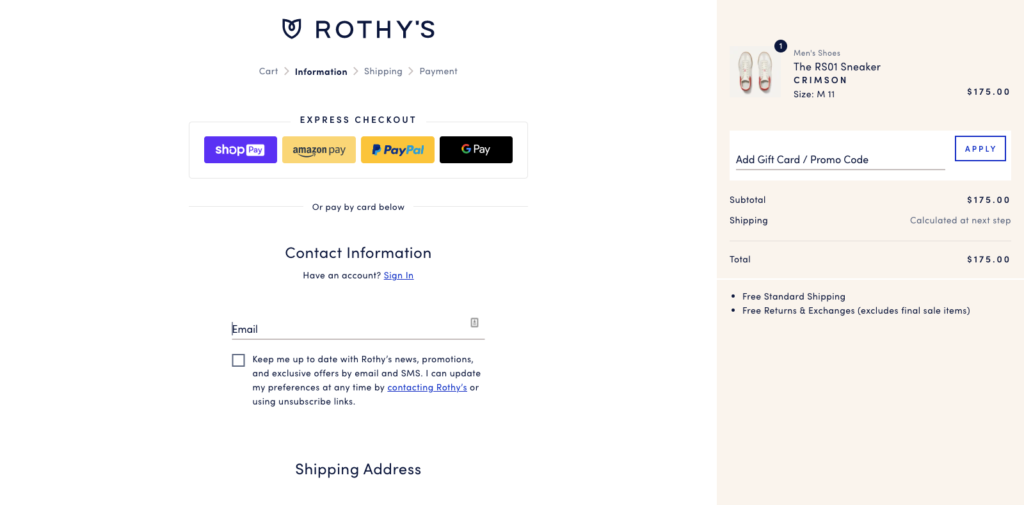 I would be remiss if I wrote about checkout optimization and didn't mention using a cart abandonment popup (a topic that deserves an article of its own). Fortunately, Seray's written about it at length here.
6. Use This Underused Email to Drive More Sales
Many online retailers make the mistake of thinking that its order confirmation email is nothing but a means to, well, confirm a buyer's order.
But to the more experienced retailer, it's a prime opportunity to engage the buyer and perhaps even nudge them to buy more, which makes perfect sense after making a purchase moments earlier.
After buying from Zalando recently, I got an email confirming my order, as expected.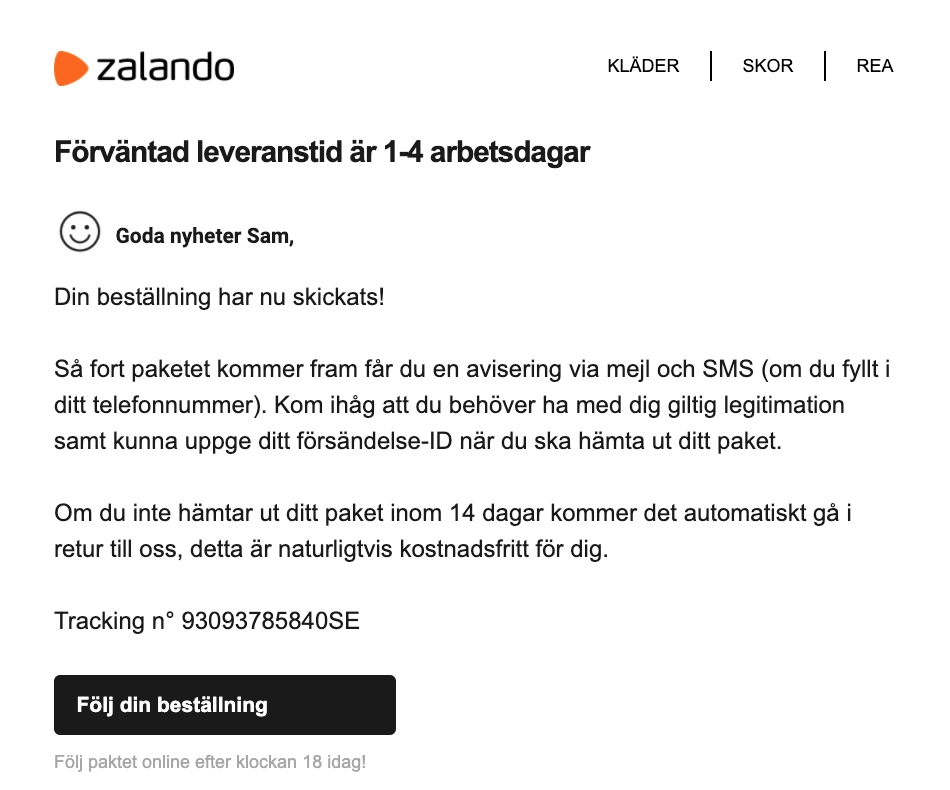 However, after scrolling further down the email, I noticed that Zalando recommended similar items based on my purchase. (Translation: You Might Also Like…)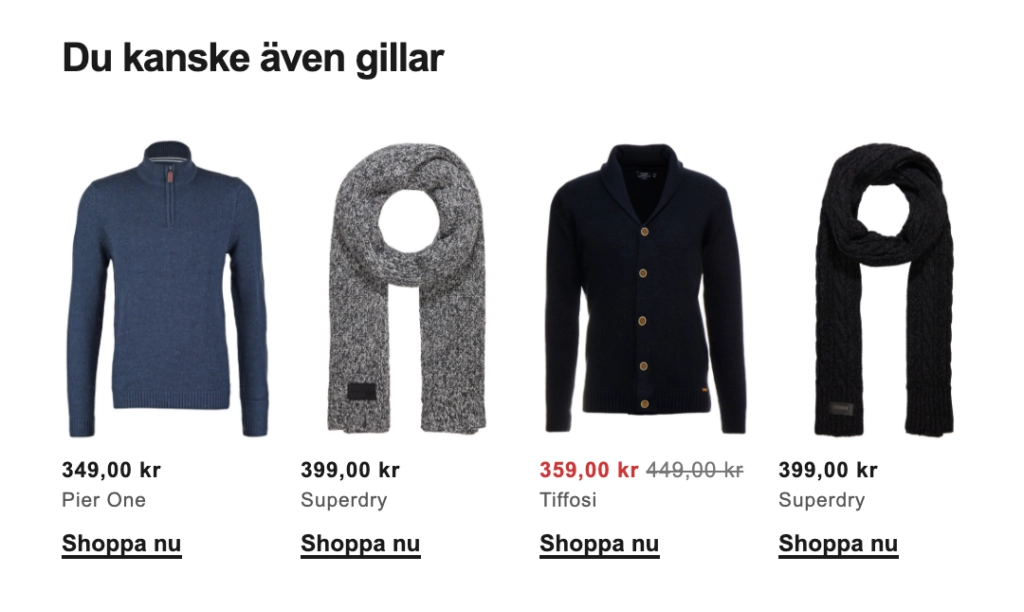 Of course, it's not always possible to deliver a buyer's goods on time—things come up that can delay shipping. That's why it's a good idea to use your order confirmation email to set clear expectations.
Glossier illustrated this lesson nicely in its recent email to Seray. After placing an order, the brand used humor to address the higher than normal processing times.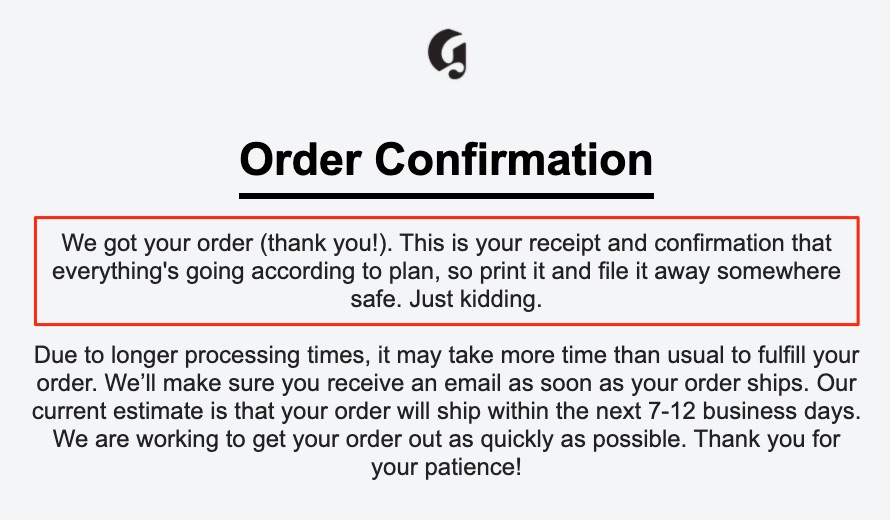 The copy sets a very clear expectation and goes a long way in building trust with the buyer. Monki, meanwhile, goes a step further, promising to email when it ships the item.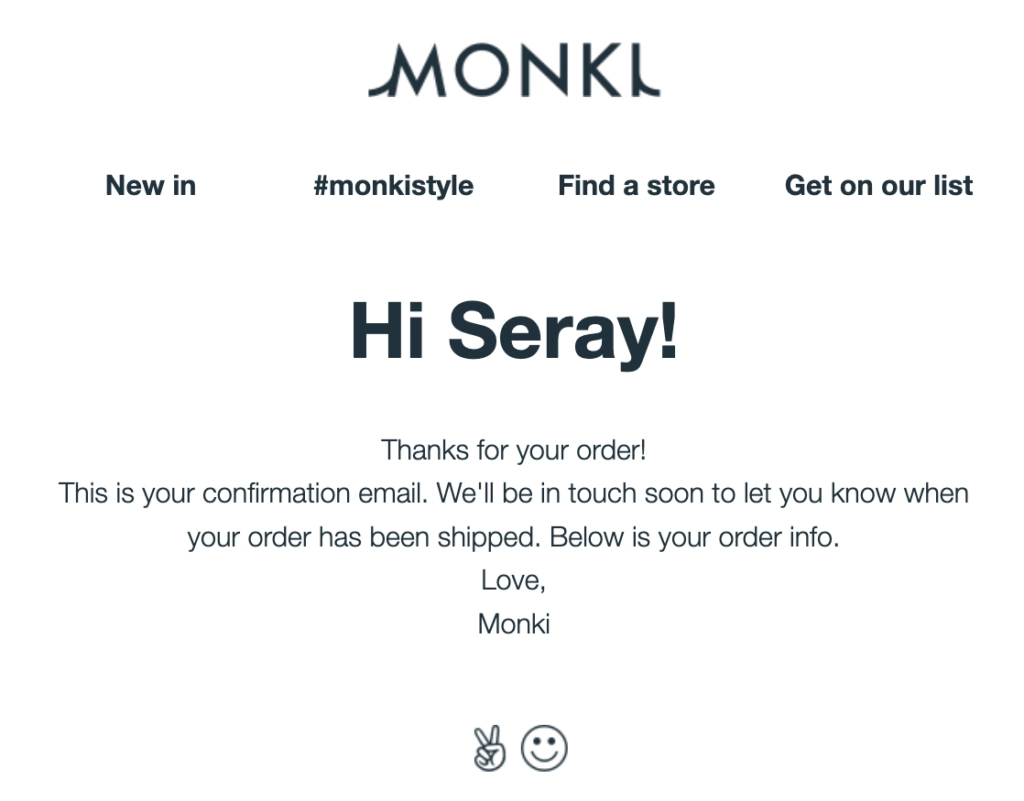 Getting more mileage out of your order confirmation emails isn't always about driving more orders; sometimes, it's enough to reassure new buyers they made the right decision buying from you over a competitor.
7. Continue Nurturing Prospects Over Time
Not all new visitors will buy the first time they land on your website. And that's only to be expected. Capturing their email is crucial for that very reason: with it, you can remarket to on-the-fence buyers.
One of my favorite examples of a brand nailing their remarketing comes from Casper.
While writing about them for another article, I saw a curiosity-evoking Facebook ad with the headline, "This Startup is Leading a Sleep Revolution."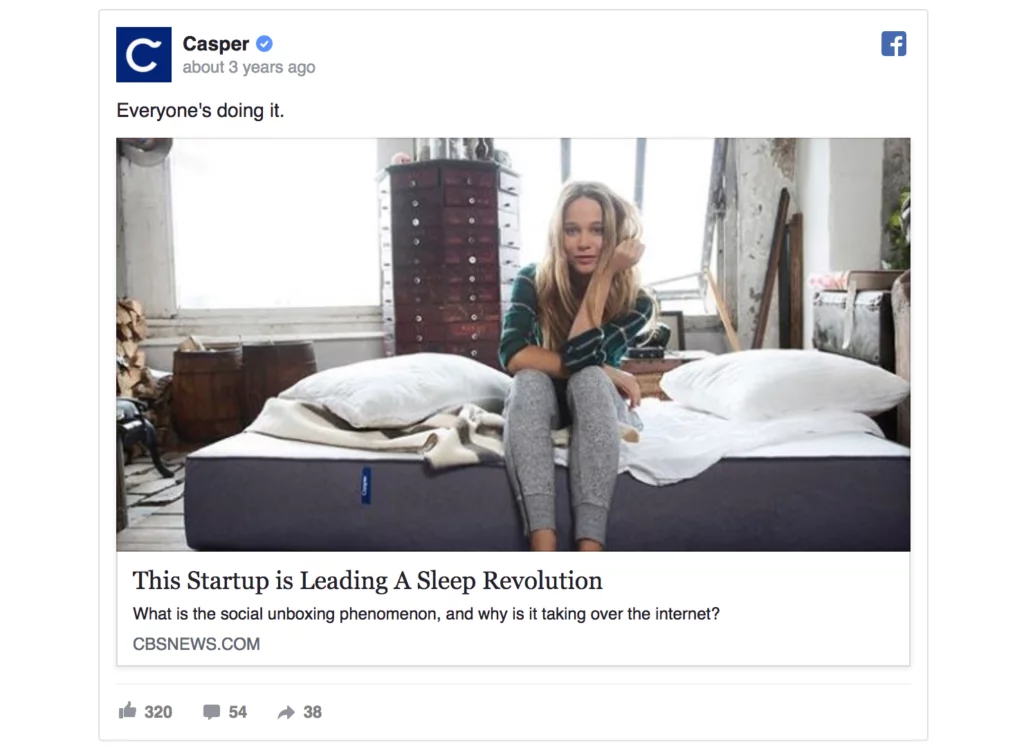 Nothing new there. That is until I scrolled to the bottom of the page and saw a native ad linking back to Casper's product page.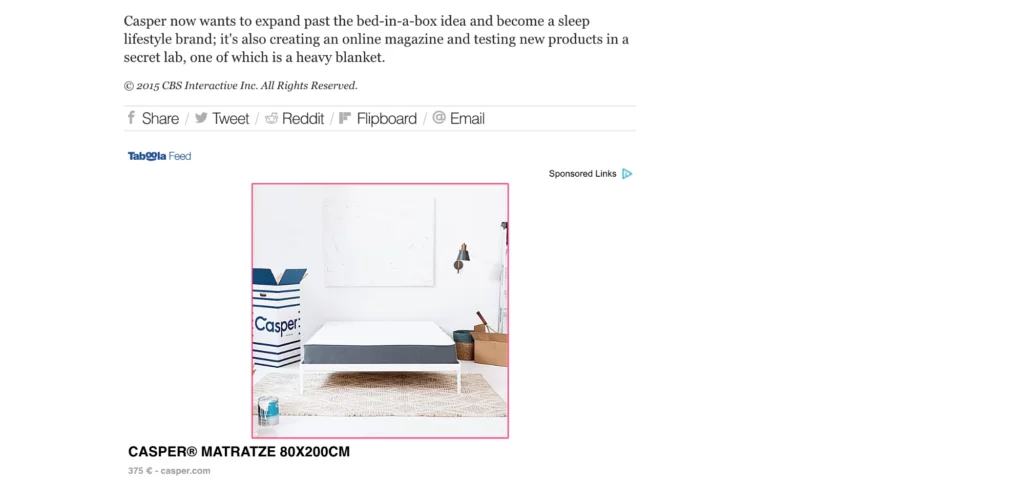 Native ads might not be within your budget, especially if you're a small business. But you could easily copy the strategy by driving traffic to a review page on your website and then remarketing with Facebook ads.
Conclusion
There are countless small business marketing ideas to choose from, but seven will help optimize each marketing funnel stage.
Is your conversion rate from a new visitor to an email subscriber low? Can you do more to turn buyers into repeat buyers? Look at where you're currently underperforming and test one of the above strategies.
Not all of these strategies will be relevant to you, but those that have the potential to make an immediate and noticeable difference on your brand's bottom line now and moving forward.