Sometimes, email marketing feels like a game of Battleships. You send out something and hope that it lands.
But it doesn't have to be this way. Understand what works at each stage of the customer lifecycle, and you'll hit your target.
In this post, you'll find email marketing ideas for every customer touchpoint, from customers needing a little nudge to make that purchase to the times they simply need to be nurtured.
Email Marketing Ideas for Each Funnel Stage
Part 1. Awareness Email Ideas
1. Welcome Email
Welcome new subscribers and make a great first impression. Use the email to introduce people to your brand and what you're all about. This type of email also provides an excellent marketing opportunity as it has a high open-rate compared to other types of email.
In this example, Baron Fig utilizes the opportunity to briefly tell its brand story and introduce one of its top products: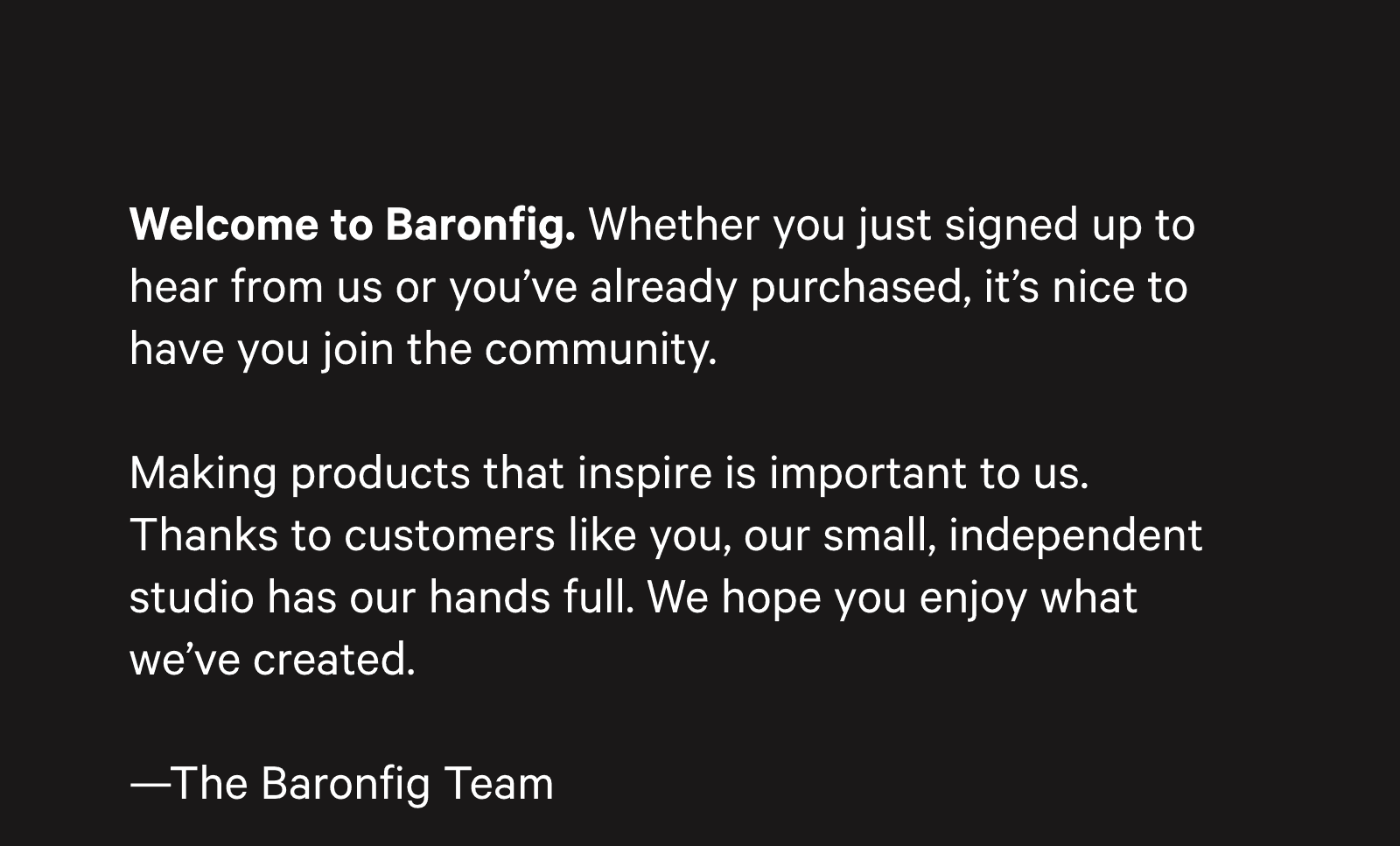 2. Email Newsletter
An email newsletter is a staple for every brand, and for good reason. It contains relevant content and information that raises brand awareness and drives subscribers to your e-commerce store.
In the following example, Tuft & Needle positions itself as an expert in the sleep space with an email newsletter that includes sleep tips and directs the subscriber to even more useful content:
3. Reminder Email
You may need to send out reminder emails as part of your introduction sequence. For instance, a reminder for subscribers to finish setting up their profile on your site. It's just a little nudge to encourage users to start getting involved with your brand and/or enter your marketing funnel.
In this example, Glossier reminds users to update their settings on its app:
4. Social Proof Email
Social proof changes the consumer's perception of a brand. If you can show that others are fans of your company and its products, the customer is more likely to jump on the bandwagon.
In the following example, Barkbox shares the huge number of happy customers it has. This makes recipients think that if that many people are using Barkbox, maybe I should too.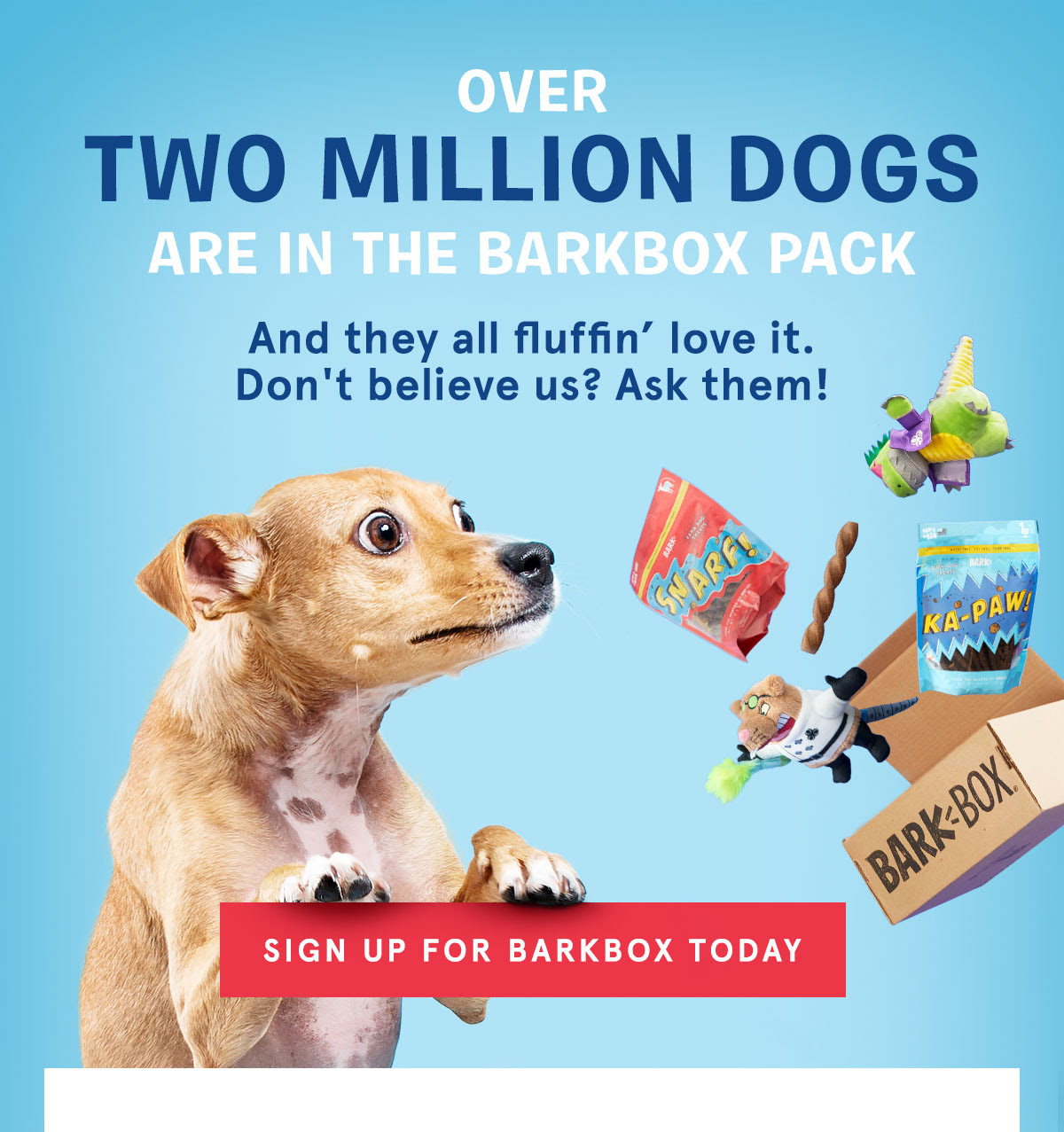 5. Curated Email
In the awareness stage, it's a good idea to introduce subscribers to your products in a not-too-salesy way. Sending a list of products curated around a particular theme is a more natural way to pique interest. It's like a newsletter but for products rather than content.
For instance, you could make the theme seasonal, related to an event, or group your best sellers, as in this example from Too Faced Cosmetics: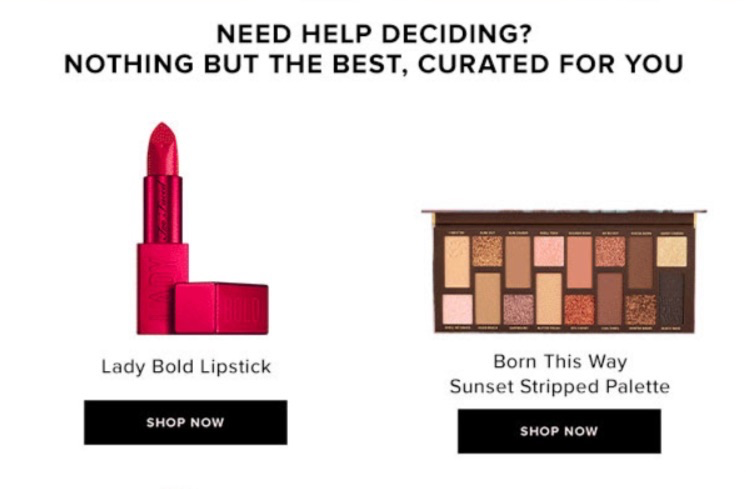 Part 2. Consideration Email Ideas
Casual browsers still have some level of buying intent, even if it's not as much as those who abandon their carts. Get perusers back on board with a well-timed email.
In this example, Mavi encourages the user to "take another look" and shows that if the product isn't quite right, there are other options (so that they don't lose a sale):
7. Abandoned Cart Email
Over 69 percent of carts are abandoned before the user checks out. Use this email marketing staple to encourage interested customers to follow through with their purchases.
Here, Ayr uses an incentive in the form of a 10% discount to win the customer back. Plus, the brand captures attention with its fun sense of humor:
8. Back-in-Stock Email
Remind customers that an item they were interested in is now back in stock. This type of email is effective as customers are more likely to rush to make a purchase before the product sells out again.
Use your email to emphasize the idea of scarcity. Tarte does it in this email by saying the item's back "but not for long":
9. Last Chance Email
An email like this gives customers that are in two minds about buying a product that extra little nudge. Again, it's the FOMO factor that encourages consumers to make a purchase before the item is gone.
Here, Good Pair Days emphasize the fact that it's not just the customer's last chance to bag an offer but also their only chance:
10. Customer Testimonial Email
Customers will inevitably look at reviews as part of the product research phase. It helps them make a final decision.
So, why not encourage this step along the way by including customer testimonials in an email?
Here, Michael Kors includes convincing testimonials that show potential buyers how the product could change their lives:
11. Engagement Email
In the consideration stage, you want to develop a relationship with customers. Engage them by offering something useful. Turn them from somebody who is casually aware of your brand to somebody that's truly interested.
There are tons of ways to achieve this. But, in this example, Levi's guides users to its online jeans guide, an interactive tool that helps users find the best fit for them: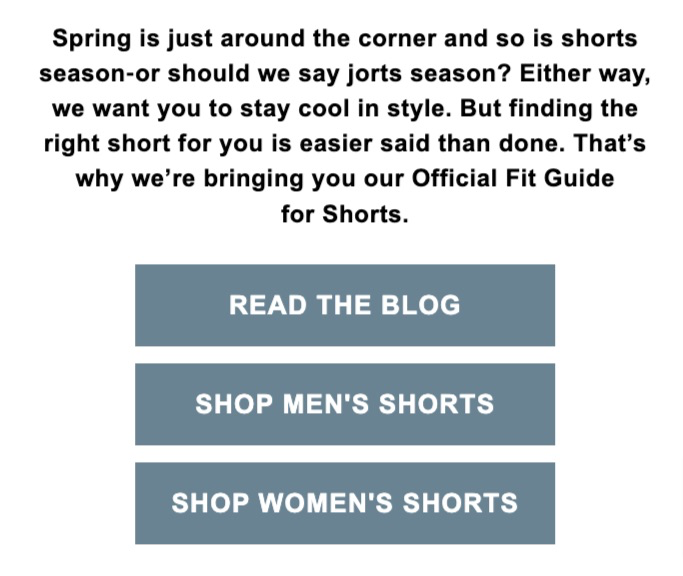 12. New Arrival Email
This type of email introduces subscribers to new lines or products and encourages them to dig deeper. Ultimately, the goal is to increase demand for your new item.
In this example from Violet Grey, the company shares useful information about the new product and, more importantly, outlines its unique selling points:
13. Informational Email
It's a good idea to send an email during the consideration stage that explains how your product works. This gives subscribers a better understanding of how it will benefit them and may answer any remaining questions that are preventing them from making a purchase.
For some products, e.g., tech, an explainer email may be more straightforward. But you can do it for any product, really, as shown in this email about the nuances of tea from Death Wish Coffee:
Part 3. Conversion Email Ideas
14. Discount Email
Discounts are one of the simplest yet most effective ways to bag a sale. Consumers crave discounts. Fifty-nine percent search for a promo code before they buy something online.
There are lots of ways to offer discounts. But, in the following example, Old Navy encourages customers to buy more by placing a spend threshold on the discount. This kind of thing increases the average order value (AOV).

15. Holiday Email
Holidays are a major opportunity for e-commerce stores to make a ton of sales. It's a time when consumers buy more than usual. Remember that holiday emails involve more than just adding a theme to your regular emails. Use them to send targeted emails that drive conversions.
Here, for example, 4Ocean targets last-minute shoppers with last-minute gift ideas:
16. Product Recommendation Email
Guide consumers towards a purchase by sending them relevant product recommendations. Personalize items based on a user's previous behaviors, such as previously bought or browsed products, and they're more likely to convert.
Here, Brooklinen couples an incentive with product recommendations. This makes the purchase decision quick and easy for the customer.
17. Countdown Timer Email
Take the idea of FOMO to the next level by including a countdown timer in your next email campaign.
There are a few effective ways to implement this tactic. Use a countdown timer to encourage customers to buy in time to get their items delivered for the holiday season, for example.
Generate buzz for a sale with a countdown timer or even encourage urgency by counting down to the end of a sale, as in this example from Sunski: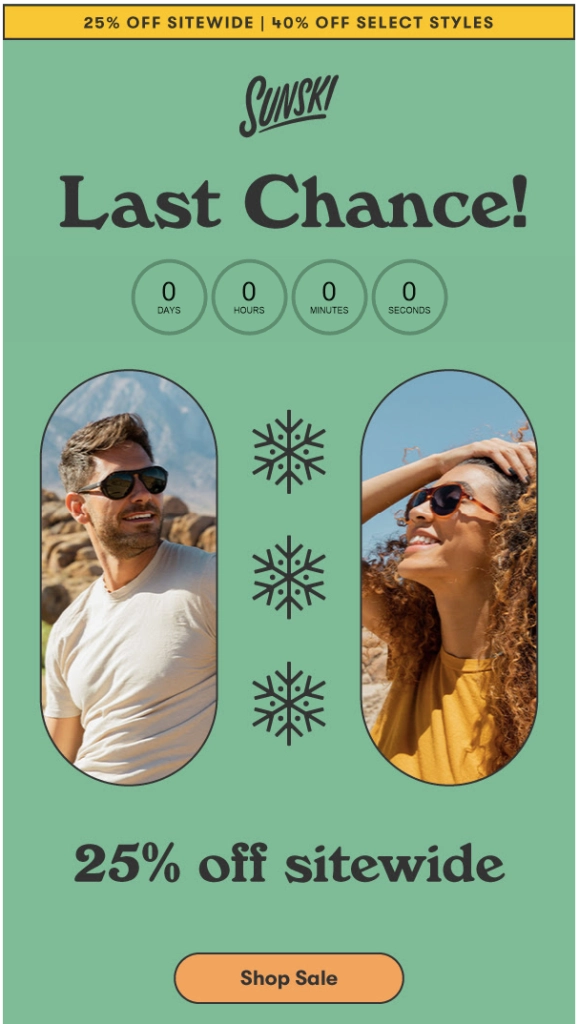 18. Sale Email
One of the most obvious promotional email ideas is to advertise an upcoming sale. But how do you stand out among the tens of other similar emails?
You don't need bells and whistles or shady tactics. Get creative like Chubbies does here, generating excitement with a teaser for its Black Friday sale: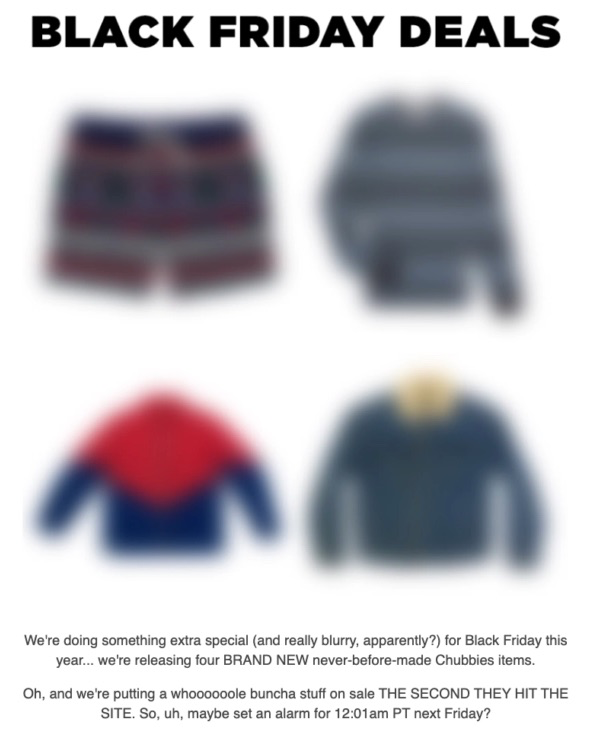 Part 4. Retention Email Ideas
19. Thank You Email
Show customers that you appreciate them by sending a thank you note when they complete an action such as making a purchase. Customers are more likely to return to a brand they know cares about them.
The following is a perfect example from Asics, in which they express their gratitude to nurses and teachers. They don't ask for anything else from the customer; it's a "just 'cause" email.
20. Giveaway Email
Giveaways are a good way to regularly engage and reward email subscribers. It keeps them from hitting the unsubscribe button and keeps your brand at the forefront of their minds.
To do it well, make sure the giveaway is relevant to your brand, and something customers are likely to want. You can even use a giveaway to encourage purchases as Prose does here: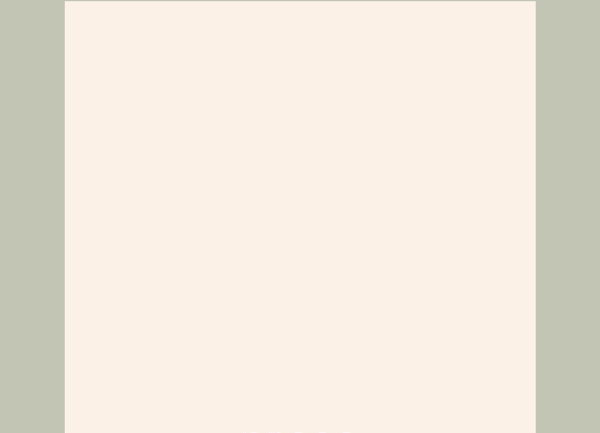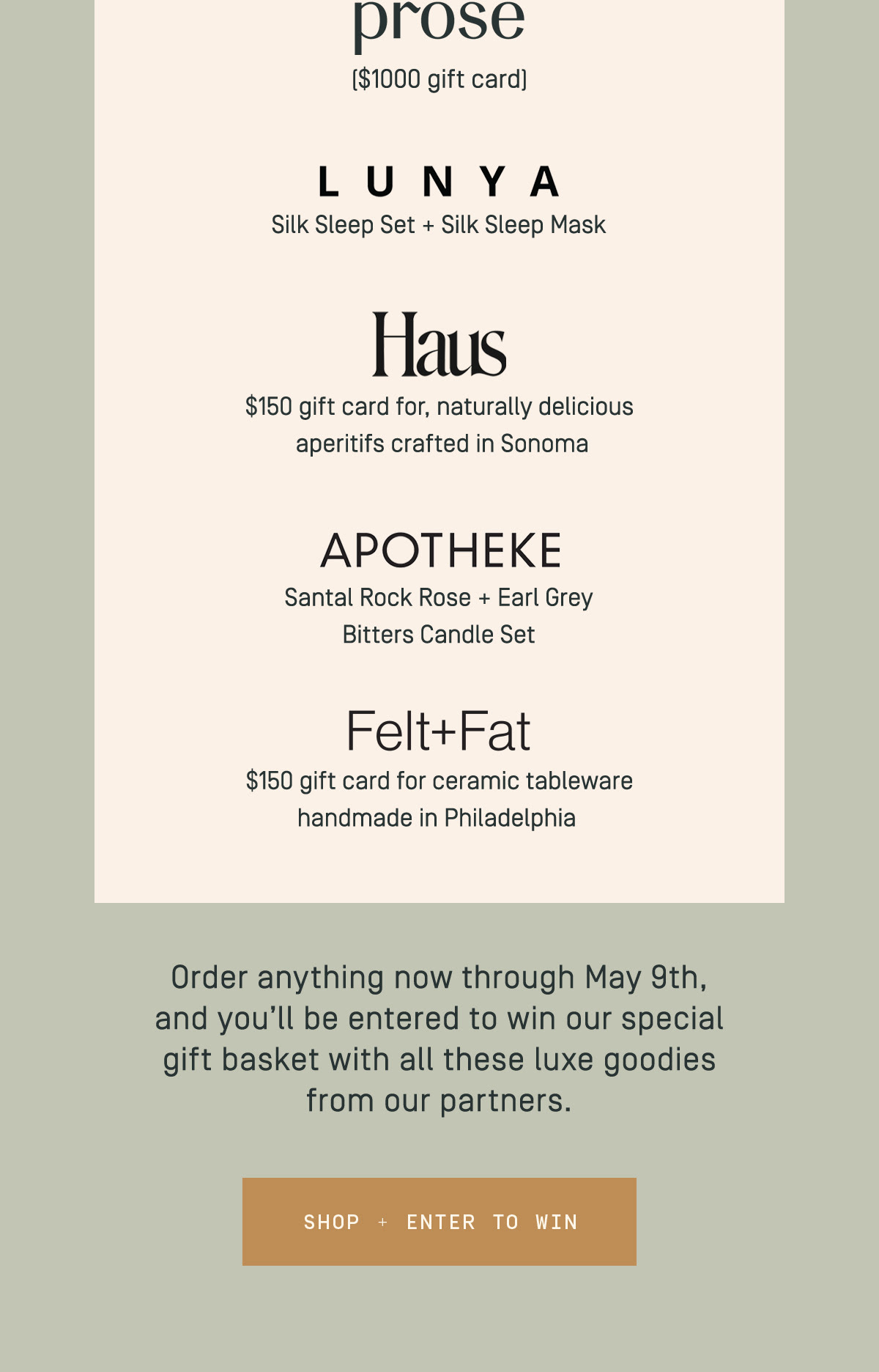 Use this type of email to increase the average order value for returning customers. Encourage recipients to upgrade their purchase to a more expensive item or higher quantity next time.
You can time the email strategically, e.g., when the customer is due a refill. Or upsell the customer from the get-go by advertising your subscription program as MeUndies does here:
22. Order Confirmation Email
Order confirmation emails have one of the highest open rates. This is because customers are keen to see that their purchase went through correctly. So you should use this email for more than just a notification as you have the customer's attention.
At the end of its confirmation email, ASOS takes the opportunity to direct the customer to its mobile app, related content, and newsletter preferences page: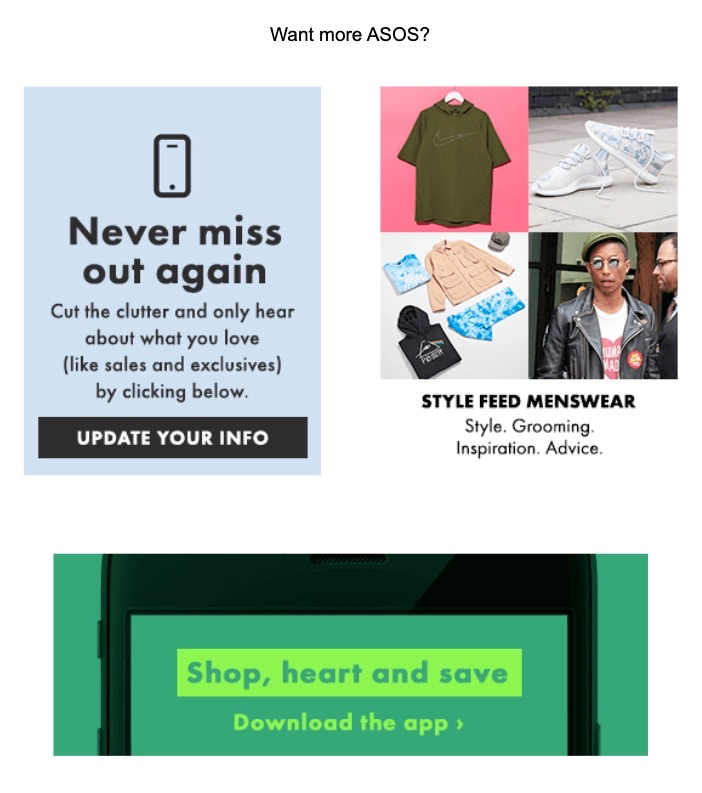 23. Customer Appreciation Email
Encourage customer loyalty and create brand evangelists by showing your customers that you appreciate them. For instance, you can offer perks, such as early access to a new product line for your most loyal subscribers.
Or simply say thank you for being a great subscriber as Brooklinen does in this example: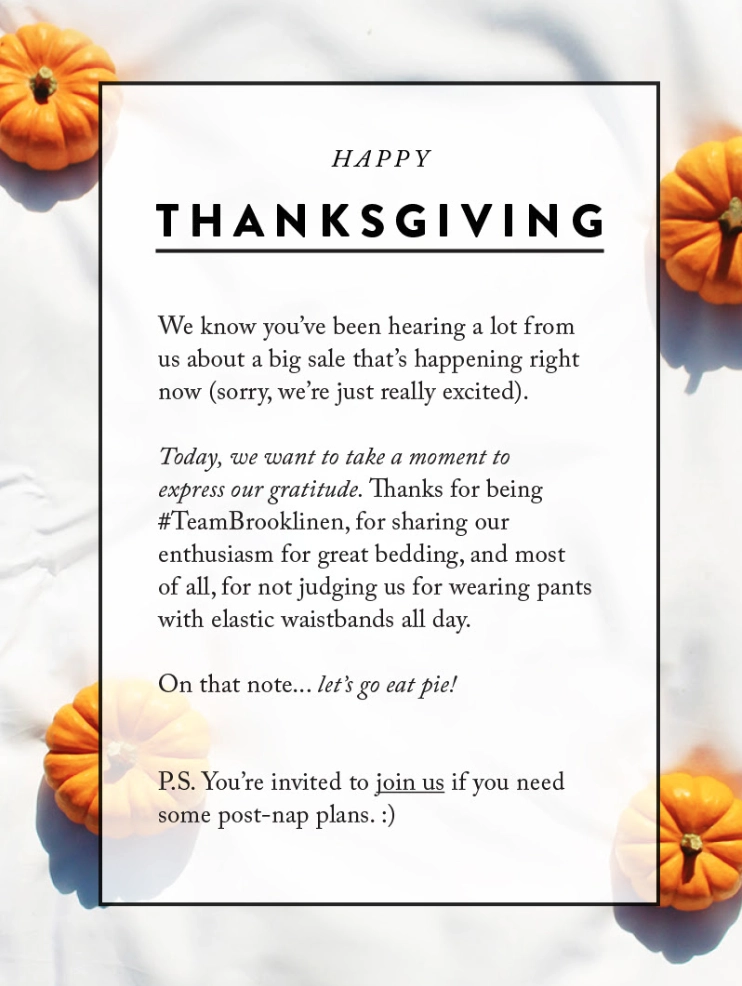 24. Referral Email
Word-of-mouth marketing is effective. Many consumers appreciate a recommendation from a family member or friend more than an influencer endorsement. They trust their nearest and dearest more. So, it's worth asking your loyal customers to make a referral.
Here, Taylor Stich uses an incentive to encourage referrals. The dollars you spend on a program like this have a great ROI in the long run: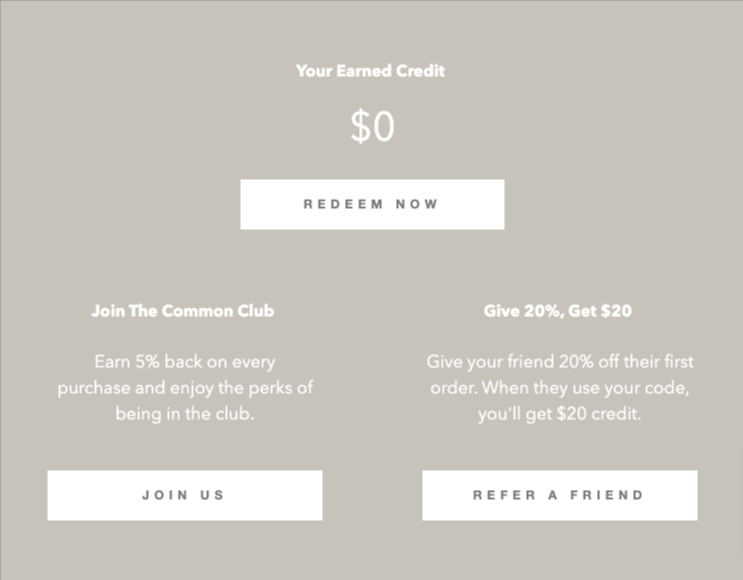 25. Birthday Email
Wish your email subscribers a happy birthday and delight them with a reward or offer. It's another form of appreciation email that helps create loyal customers.
In the following example, Birchbox rewards users with $10 off their next order of $50 or more. This is likely to increase the average order value. Not only that, they encourage users to act quickly to redeem the reward.
26. Funny Email
The old maxim of "Always be selling" isn't a thing anymore. Consumers don't want to receive promotional emails that sell sell sell all the time. They want to see authentic and entertaining content from brands, too. So be sure to express your personality in emails.
Here, Function of Beauty creates a lol fest by sharing a hilarious tweet with a pop culture reference that its target audience will understand:
27. Social Responsibility Email
Your brand's values are a major differentiating factor. Nowadays, they have a huge impact on whether a customer will continue to shop with you or not. The modern consumer expects brands to do and be more than just an online shop.
Share the actions you take and causes you care about in a so-called social responsibility email, as in this example from United by Blue: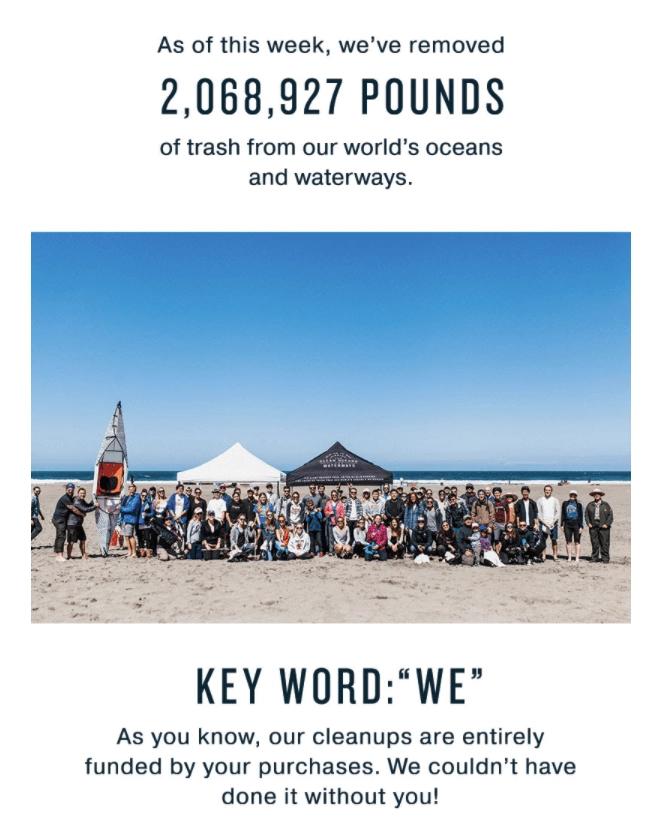 28. Survey Email
To retain more customers, you need to know their thoughts and opinions on your products and the customer experience. That way, you can fix any issues that cause people to switch brands.
Here, Poo~Pourri encourages subscribers to take part in its survey by promising 25 percent on a future purchase and entry into a free prize draw:

Final Word
As you've seen, different kinds of emails are more effective at different stages of the customer lifecycle. Awareness emails are all about making introductions, while retention emails are for delighting and rewarding customers, for instance.
There are some fantastic email ideas that you can emulate here. But, first, you should map out the customer journey to see where you can fit these emails in. Be strategic in your approach and target customers with the right kind of message at the right time.