If you're like most email marketers, you spend hours trying to get subscribers and customers to read and act on your emails. After all, no one wants to see their emails wither away in their subscribers' inboxes. It's a waste of money, and it doesn't offer a return on the time—or money—you invested in them.

While there are endless reasons why your emails aren't as effective as they could be, there is one bullet-proof solution that will guarantee higher engagement from your recipients.
Email segmentation.
Segmenting your audience and sending targeted email campaigns is one of the most effective ways to increase engagement and drive more sales.
And if that's not enough, you should consider implementing a lead scoring system in combination with your segmentation. This will not only help you define which emails to send but also which prospects to prioritize.
In this article, I'll show you how some of the biggest players in e-commerce use email segmentation to drive more engagement. Plus, I'll give you concrete lead scoring strategies you can implement today.
9 Email Segmentation Strategies for Each Stage of Your Funnel
When users opt in to receive your newsletter, they've taken the first step towards becoming a customer.
You won't convert all new subscribers into customers, but you will convert a considerable amount with the right email segmentation strategy.
Segmenting your audience doesn't necessarily entail long and complex surveys. Rather, it involves asking a simple question such as: What is your occupation? How old are you? What are your interests?
Any questions you have that will help you determine what type of content you need to push subscribers further down your sales funnel.
Once you've identified the metrics for your email segmentation, you can implement a lead scoring system that will help you prioritize hot prospects over cold leads.
To implement lead scoring, you simply add a numerical value to the actions subscribers take in your emails and on your website.
Once a subscriber has reached a certain point value, you'll know that they're ready to buy and all you have to do is give them that final push.
Part 1: How to Segment Top-of-Funnel (ToFu) Subscribers to Drive More Clicks
To-Fu subscribers are users that opt in to join your email list but haven't taken any steps towards making a purchase yet.
Here are three ways to segment your ToFu leads:
Demographics
Signup source
Engagement
Let's go through each in more detail.
i. How to Segment by Demographic
Demographic examples include characteristics such as age, gender, location, and more.
Of course, you shouldn't ask your subscribers for all this information at once. What information you ask for depends on the product you're trying to sell.
E-commerce businesses that sell clothes would benefit from knowing the gender of their subscribers so they know if they should send offers on dresses or suits for instance.
You can also send an email after signup, asking for more information.
Here's an example from SSense: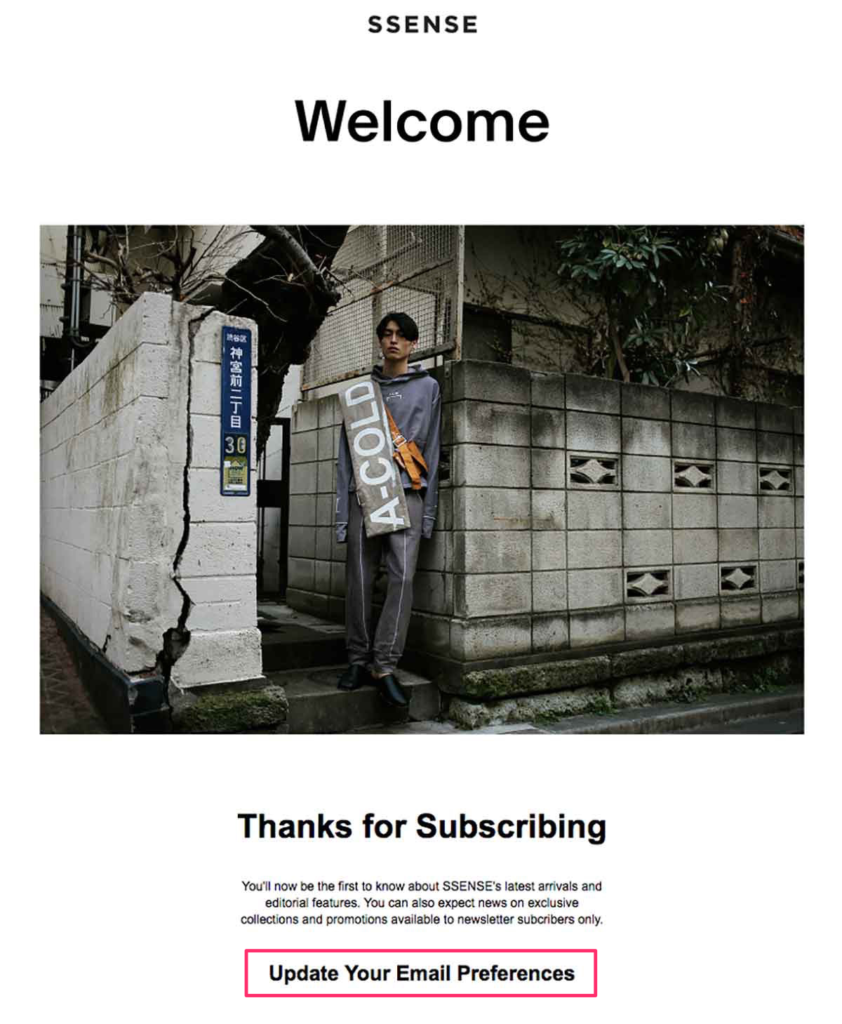 They include a link in their welcome email where you can update your email preferences. Then you're directed to this page, where you're asked for your gender.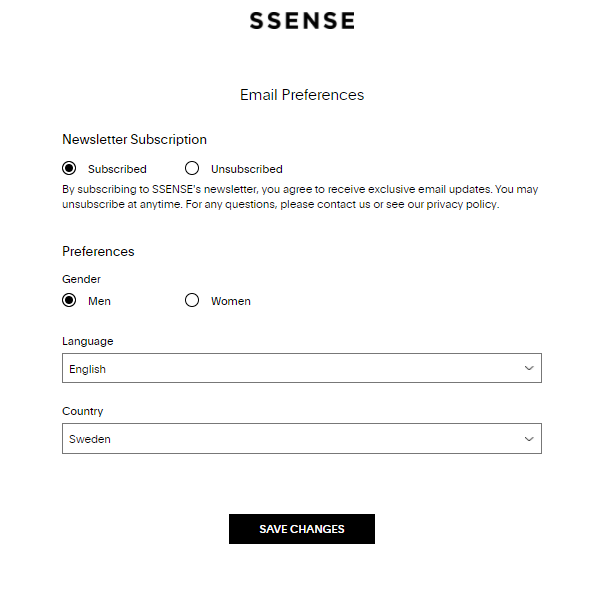 That way, they can send gender-specific offers.
One best practice to follow is to avoid an unsubscribe option on the same page as the interests. Instead, you could send readers to a "my profile" page where they can edit their interests and personal information.
Demographic segmentation is perfect for developing buyer personas that will help you send highly targeted email campaigns.
A great example of an e-commerce business that makes use of buyer personas is Barkbox.
Barkbox knows their audience comprises dog lovers, but segment one step further by asking about your dog's size.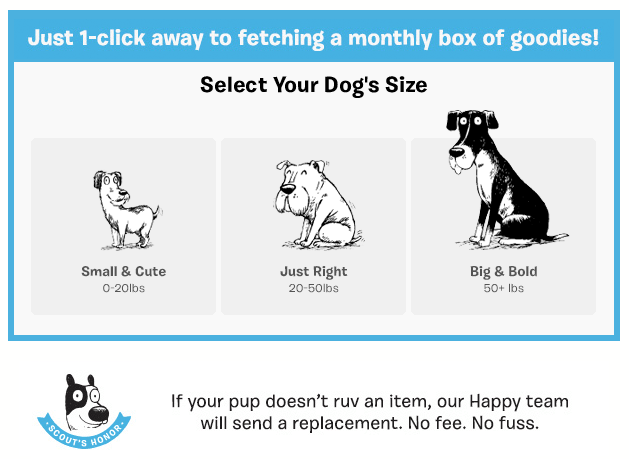 They make segmentation as simple as one click while collecting valuable information about their subscribers.
The easier it is for your subscribers to answer your question, the more likely they are to follow through and opt in.
How to Set up Lead Scoring Based on Demographics
Setting up a lead scoring system will help you determine where in the funnel each of your subscribers are, and how you should approach them to push them further down.
Let's say you run an online store that sells beauty products for women. You only ship within the U.S. and the majority of your customers are millennials.
You know your ideal customer is a millennial woman living in the U.S. So, anyone that matches this criterion should get a higher lead score than those who don't.
Here's how you can lead score based on the above scenario:
Gender: Women (20 points), Men (5 points)
Age: 18-30 (15 points), 31-50 (7 points), 51-99 (0 points)
Location: U.S. (10 points), all other locations (-50 points)
You can easily adjust the points and the demographic criterion to match your store. Just think about who your ideal buyer persona is (you can have more than one) and then set up your lead scoring based on that.
ii. How to Segment by Signup Source
Segmenting subscribers based on how they were added to your list, is an uncommon but effective strategy.
You probably have multiple signup options on your site, right?
(If not, you should get to work).
You might even be experimenting with different calls-to-action (CTAs) and incentives.
If you are, there's even more reason to segment your subscribers by signup source.
For example, if a user signs up for a coupon code, it's fair to say that they've got high purchase intent.
You can then use your email campaigns as a way to keep these subscribers engaged and drive them to make that final purchase.
Here's an example from AYR who offers a 10% discount on first orders through a popup on their website: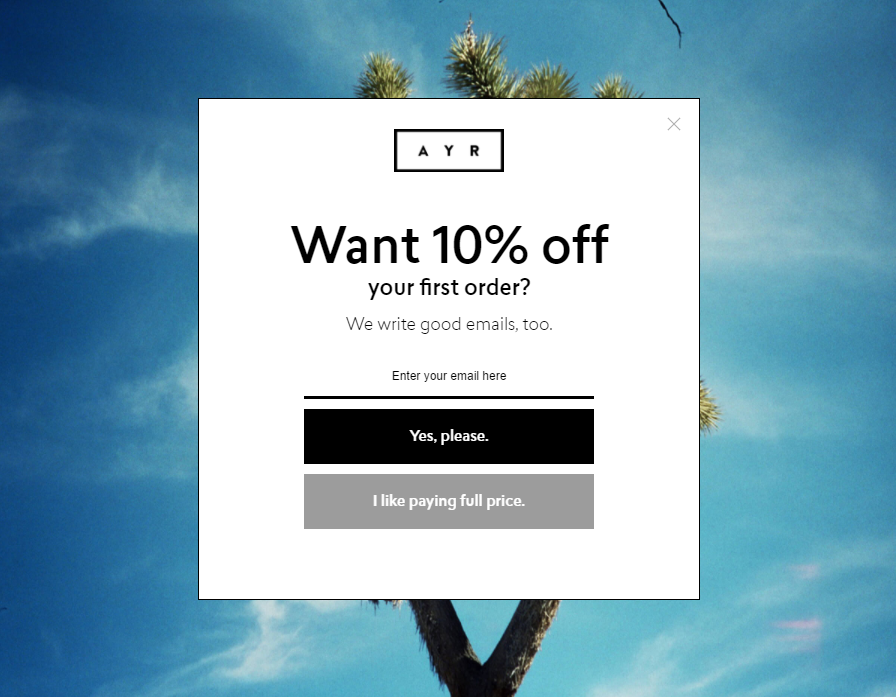 When I signed up to get the discount, I immediately received this email: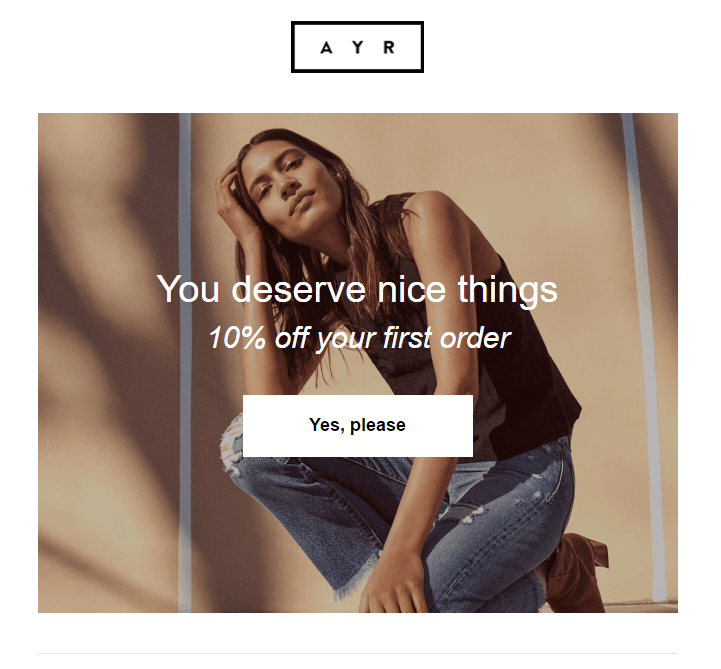 They promise me a discount and include a simple CTA linking back to their website so I can make my first purchase and get the discount.
This is a great way to engage new subscribers and convert them into customers—fast (especially if you need to recoup your spends from paid traffic).
There is, however, one disadvantage with discounts:
Offer too many too often, and your subscribers and customers will grow accustomed to them and never pay full price again.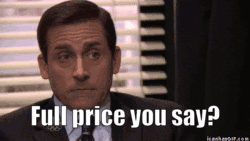 There's a fine balance when it comes to discounting, and you're the only one who can figure out what that balance is.
Another example can be if a user signs up for a lead magnet. It's safe to say that there's no immediate commercial intent.
This subscriber is still at the informational stage of the buyer's cycle.
For example, if someone opts in for a recipe, you know that they're interested in cooking and you can send them more recipes and cooking tips, along with offers on cooking equipment.
If subscribers opt in for a training program, you know they're interested in fitness, and you can send them content on how to optimize their workout, and offers on products to help them do so.
Take this example from Intelligent Change: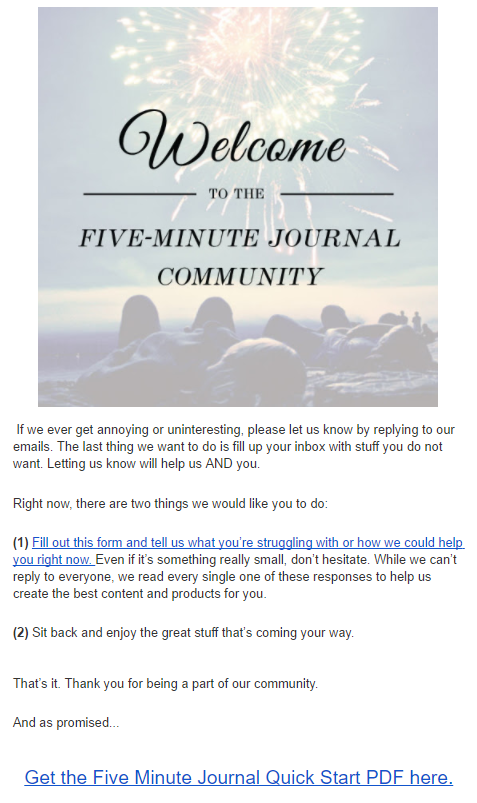 I opted in to get the Five Minute Journal Quick Start guide, and they make sure to include it in the welcome email.
When you offer a resource to new subscribers it should be included in the first email you send them.
Can you imagine if you were to expose this type of subscriber to the same email sequence as the subscriber who opted in for a coupon code?
It would likely lead to them to unsubscribe from your list.
No one wants that.
How to Set up Lead Scoring by Signup Source
Lead scoring based on signup source is simple.
Identify the different signup options on your site, and think about what the incentive in each option says about those who signup.
Let's take the example with the content upgrades and discounts.
We assumed that people who opt in for discounts have higher purchase intent, so they should, of course, get a higher lead score.
Here's an example:
Signed up for a discount (20 points)
Signed up for a content upgrade (10 points)
Signed up to a enter competition (5 points)
Signed up for updates on new products (15 points)
iii. How to Segment by Engagement
This is perhaps one of the most effective ways of segmenting your list.
Looking at how subscribers' have engaged with your brand previously will indicate how to approach them in the future.
This way, they'll receive emails that are aligned with their past actions.
The result?
They'll be more likely to engage and follow through on your CTAs in future emails.
You should always look at engagement across channels and not just focus on how they engage with your emails.
How subscribers behave on your website can tell you a lot about their purchase intent as well.
For example, if a subscriber visits the same product page more than three times within two weeks, you can assume they're interested in that specific product. This person should get a higher lead score than people who only visited a product page once.
Then it's up to you to figure out what's holding them back and address that in an email. Maybe it's shipping costs, price, or maybe the size they want is out of stock.
How to Set up Lead Scoring by Engagement
There are many ways to segment based on engagement, but the most effective is when a user:
Visits the same product page more than three times in two weeks (20 points)
Clicks-through in the last three emails you sent (10 points)
Unsubscribes from emails (-10 points)
Spends more than two minutes on one product page (15 points)
Downloads a content upgrade for a specific product (20 points)
Visits your contact page (10 points)
Hasn't opened any of your last ten emails (-5 points)
Visits more than five pages in one session (5 points)
Part 2: How to Segment MoFu Leads and Turn Them into Customers
Middle-of-funnel prospects are those that have taken certain actions that indicate they might be interested in buying but haven't bought anything yet.
The three segmentation strategies for MoFu are:
Interests and preferences
Recommended products
Cart abandonment
Let's go through each more thoroughly.
i. How to Segment by Interests and Preferences
Sounds basic, right?
In truth, this is one of the highest impact segmentation strategies.
Why?
Because subscribers won't engage with emails that don't interest them.
But the great news is, segmentation by interests is simple to implement.
If you get your subscribers to define their interests (within your area of expertise, of course), you can send highly targeted email campaigns to those segments.
Here's an example from Chairish: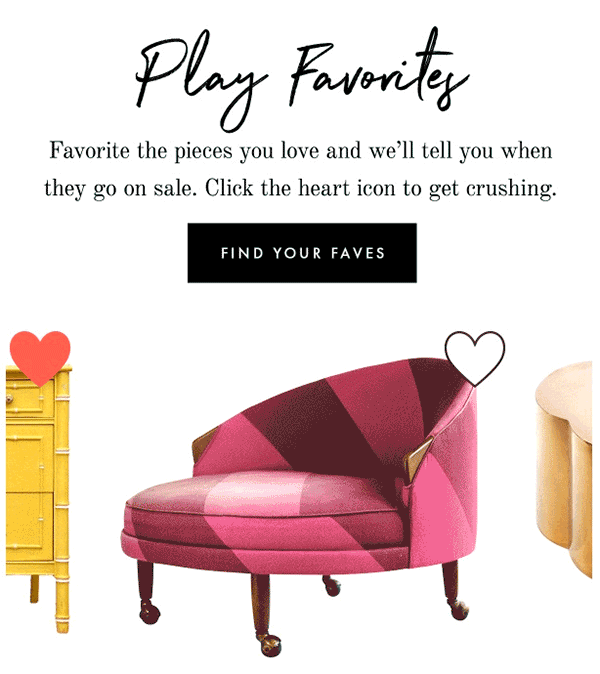 They ask you to add items to your favorites on their website. Then, you get an email when any of your saved items go on sale.
The more items you add to the list, the more likely one or more will go on sale at some point.
The benefit of this type of email marketing is its simplicity. Customers will browse your site and fall in love which specific items—which increases the likelihood they'll purchase them when they go on sale.
Speaking from personal experience, impatience is a powerful advantage for businesses.
Once I've fallen in love with an item, I want to have it—and I want to have it now!
How many times have you gone out after your Birthday and purchased items from your wishlist that you didn't get?
More than once, right?
The tactic that Chairish uses is basically the same—they get customers to create a wishlist, and increase engagement and eventually sales.
You can also use surveys to ask subscribers about their preferences.
Ask your subscribers what types of emails they prefer. Don't forget that preference also includes email frequency.
If you send out lots of emails, it's a good practice to ask your list when they'd like to hear from you.
How to Lead Score Based on Interests and Preferences
To lead score based on interests and preferences, you need to define which product categories drive the most revenue.
Let say you run an online store selling furniture. Then you can implement the following lead scoring system based on the average price of the product categories:
Updated preferences to sofas (20 points)
Updated preferences to tables (15 points)
Updated preferences to chairs (7 points)
Updated preferences to lamps (5 points)
Updated preferences to vases (2 points)
And so on…
ii. How to Segment by Engagement with Recommended Products
Another great way to segment your subscribers is by how they engage with recommended products.
If you haven't implemented recommending products in your emails, you should.
Research shows that 37% of shoppers who click a recommendation during their first visit return to the site, compared to just 19% for shoppers that don't click a recommendation during their first visit.
And the per-visit spend of a shopper who clicks a recommendation is five times higher than those who don't click a recommendation.
When you send emails that include recommended products you should track which products (if any), your subscribers click.
Here's an example from Poo Pourri: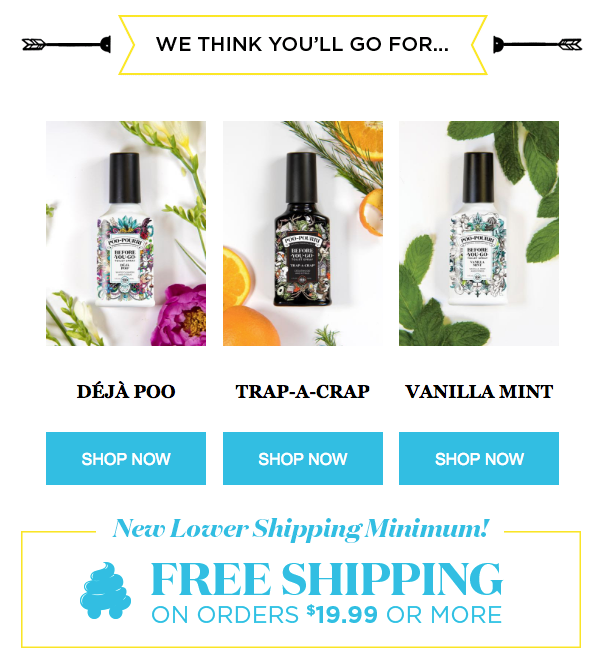 Let's imagine I click the Vanilla Mint spray, but don't buy it.
Poo Pourri will now know that I'm interested in this product. And the next time they send me an email, they should include a CTA to buy this specific product.
Also, if I don't click any of the products, they should try pitching other products in the next email, or try a different angle to get me to make a purchase.
How to Lead Score Based on Engagement with Recommended Products
When you track engagement on your recommended product sections, it's easy to set up a lead scoring system.
Here's an example:
Clicked a recommended product (10 points)
Clicked more than one recommended product in the same session (15 points)
Didn't click any recommended products (-5 points)
Clicked recommended product and added to cart but didn't buy (20 points)
iii. How to Segment by Cart Abandonment
With cart abandonment rates hovering around 67%, it's crucial businesses segment customers who abandon their carts.
An abandoned cart email is all about timing and good copy.
Here's an example from Casper: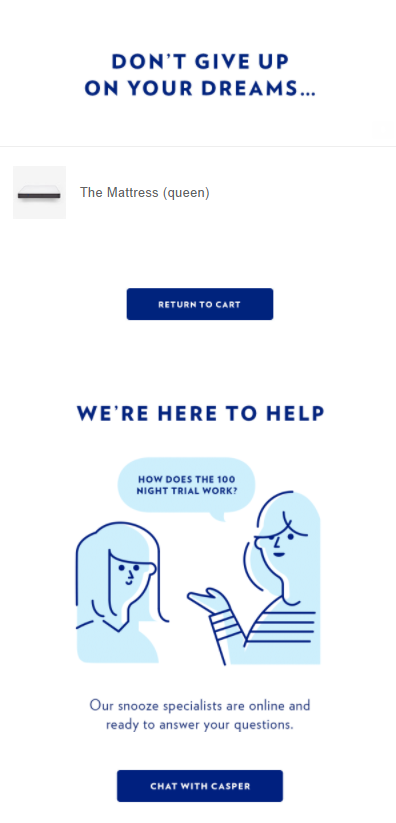 This email is simple and includes the most important elements of a great abandoned cart email.
They've included the specific item that I left in my cart which convinces me that this email was sent specifically to me.
They include a soft CTA that tells me to return to my cart instead of a hard CTA such as "Buy Now!" which can, in some cases, scare off potential customers.
Casper knows visitors abandon their carts for different reasons, so instead of assuming users didn't have the time or the money to finish their purchase, they offer customers to chat with them to answer any questions that might have had about the checkout process.
Having a dialogue will give you valuable insights into why people are abandoning their carts, which can help you make your emails more targeted.
How to Lead Score Based on Cart Abandonment
There are many reasons people abandon their carts, and while you may not know all of them, your lead scoring will give you an indication of how high their purchase intent is.
Here are a few examples of when a visitor:
Adds an item to their cart (30 points)
Abandons their cart (-5 points)
Opens abandoned cart email (5 points)
Clicks through to cart in abandoned cart email (15 points)
Replies to abandoned cart email (5 points)
Returns to cart not through email (20 points)
Part 3: How to Segment BoFu Leads to Increase Brand Loyalty and Boost Revenue
People who are in your bottom funnel are your existing customers. Those who have already bought from you. The goal here is to get them to buy again and turn them into brand advocates.
Here are the three segmentation strategies for BoFu:
Purchase history
Purchase amount and basket size
Inactive customers
Let's have a look at each in detail.
i. How to Segment by Purchase History
The one thing every repeat customer has in common is they've bought from you before.
That previous purchase gives you exactly what you need to send a segmented email encouraging another purchase.
Look at your customers' purchase history to see what type of products they're interested in, and promote related products in your emails.
It's no secret that I love to shop. And thus I get a lot of promotional emails from online stores I've bought from before.
But few use my data as well as ASOS does.
Here's a recent email I got. First they segment based on my location:

Next, they segment based on my purchase history in more than one way. They know I mostly shop dresses, so that's the focus of the email: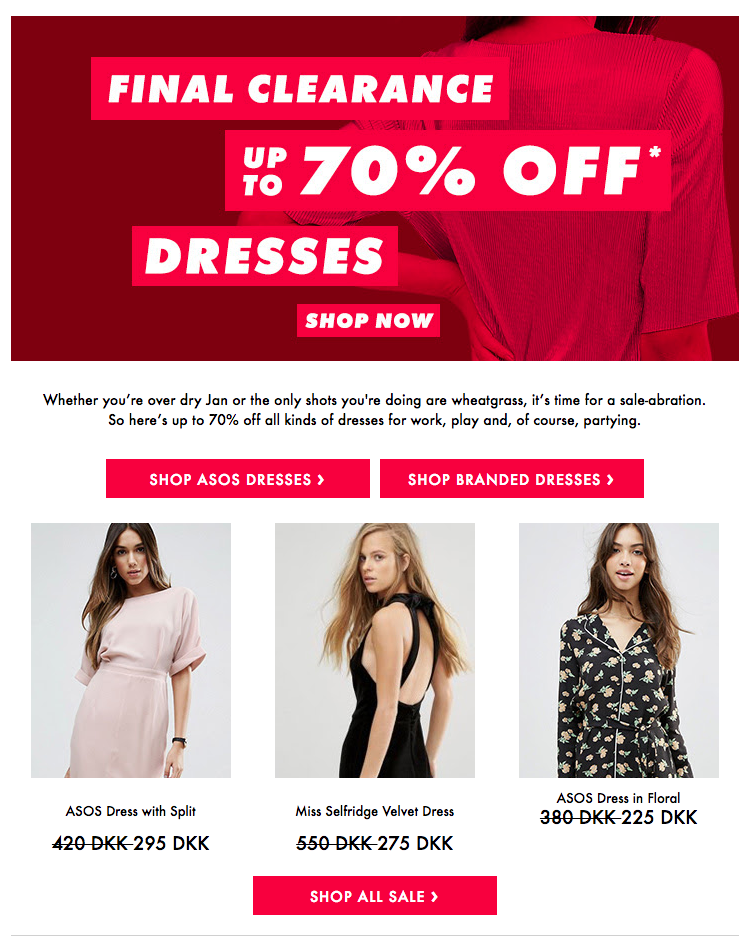 The email promotes a 70% clearance sale on dresses, which is highly relevant as the majority of my previous ASOS purchases have been dresses (and many of them!)
ASOS has a broad selection of dresses. So to make the choice easier for me, they've selected the top ten dresses for me to check out: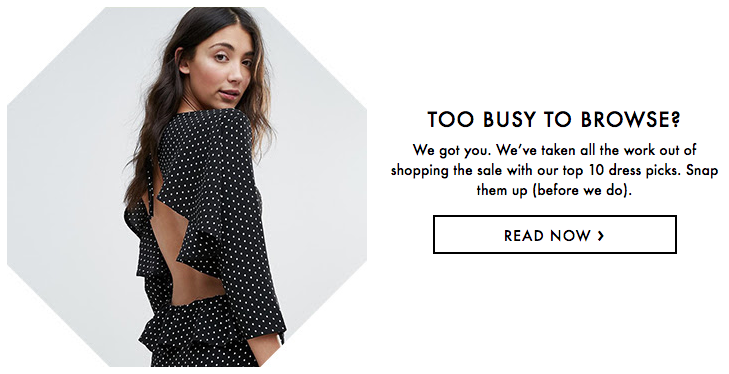 (Notice how they also include scarcity)
Lastly, they know what brands I typically buy, so they've included those in the email as well:

This email is highly relevant because the content is based on my purchase history. (Needless to say, I bought another dress).
The best part, is this segmentation can be applied by all e-commerce stores.
If you run a gaming store, you can segment repeat customers based on what type of game they've purchased before (fantasy games, racing games, simulation games, etc.)
An online fitness store could segment on the type of training equipment their customers have bought (running, weightlifting, climbing, cycling, etc.).
Keeping your email campaigns relevant will also reduce your unsubscribe rate and churn rate.
Another way to segment by purchase history is to offer refills on previously bought items such as shampoo, dog food, carbonators (sodastream), diapers, and more.
Calculate the approximate time it takes for a customer to use the product, and send them a friendly reminder to restock when they're about to run out.
How to Lead Score Based on Purchase History
A subscriber's purchase history will not only help you define what type of products to promote. If you add lead scoring to their purchase history, it also tells you how "salesly" you can be.
The higher the lead score, the more you can push for a sale.
Here are a few examples:
Purchased between 2-3 products within two months (15 points)
Purchased more than 3 products within two months (20 points)
Has not purchased in six months (-10 points)
Has purchased more than two high-profit products within three months (20 points)
Has returned two latest purchases (-5 points)
ii. How to Segment by Purchase Amount and Basket Size
Use customer purchase history to determine which customers are most interested in buying higher priced items, and which are more likely to buy lower priced items.
If you have customers who only buy items on sale, it won't make any sense to send emails promoting your newest and more expensive items.
Also, if customers typically buy your newest items, it might be effective to send them an email every time you launch a new product or product line (of course, depending on how often you do so).
Here's Huckberry promoting their new sunglasses: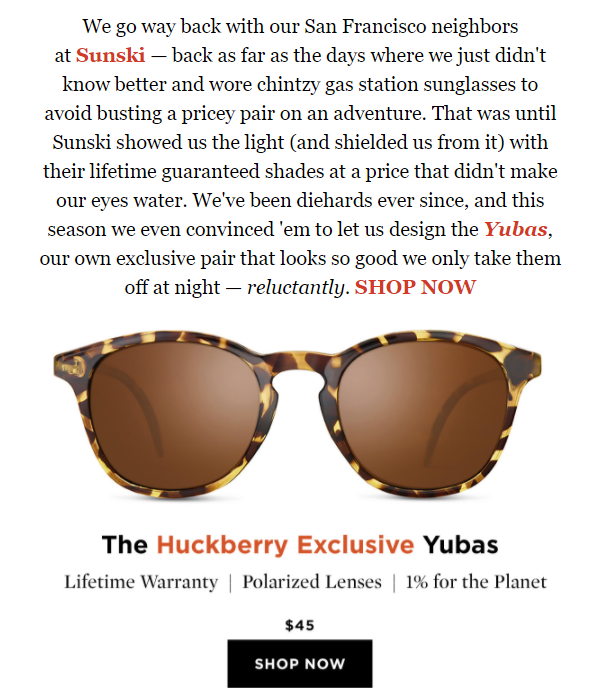 They start telling a story and then lead up to the introduction of their new exclusive product.
The hard CTA "Shop now" is relevant because they know the customers they're targeting are interested in the newest arrivals because they've previously bought their newest items.
Your loyalty program is another great source for user segmentation.
Whenever a customer has spent a certain amount of money on your site, you can send them an email with a gift or another type of reward.
You can also create a loyalty program where customers collect points every time they make a purchase (the more money spent, the more points). These points can then be used to redeem rewards, discounts, etc.
H&M is a great example of this:

Every time I make a purchase I get a certain amount of points depending on how much I spend.
Then H&M sends an email once in awhile telling me how many points I have, and what those points can get me. These include mostly discounts and free shipping.
How to Lead Score Based on Purchase Amount and Basket Size
Your lead scoring here, will vary depending on the price range of your products.
It's no secret that your business' goal is to make money. Therefore, customers who buy high priced items should get a higher lead score than those who buy low priced items.
Average purchase amount is greater than $100 (15 points)
Average purchase amount is between $51-99 (10 points)
Average purchase amount is between $21-50 (7 points)
Average purchase amount is lower than $20 (5 points)
Average basket size is greater than two (10 points)
Average basket size is greater than three (15 points)
iii. How to Segment Inactive Customers
It's important you don't forget about inactive customers.
If your repeat customers haven't made a purchase in a long time, you need to try and re-engage them.
First, try to figure out why they've been inactive.
Have they opened your emails but not clicked any of them?
This could mean that they were interested in the content, but your CTA wasn't convincing enough.
In this instance, you could try the same type of content but with different CTA's.
If they haven't opened any of your emails in a long time, you should remove them from your list and add them to an email retention flow instead.
Here, you don't to sell to them; you need to re-engage them in other ways such as browse your website, read a blog post, make a wish list, and so on.
This is another example from Huckberry: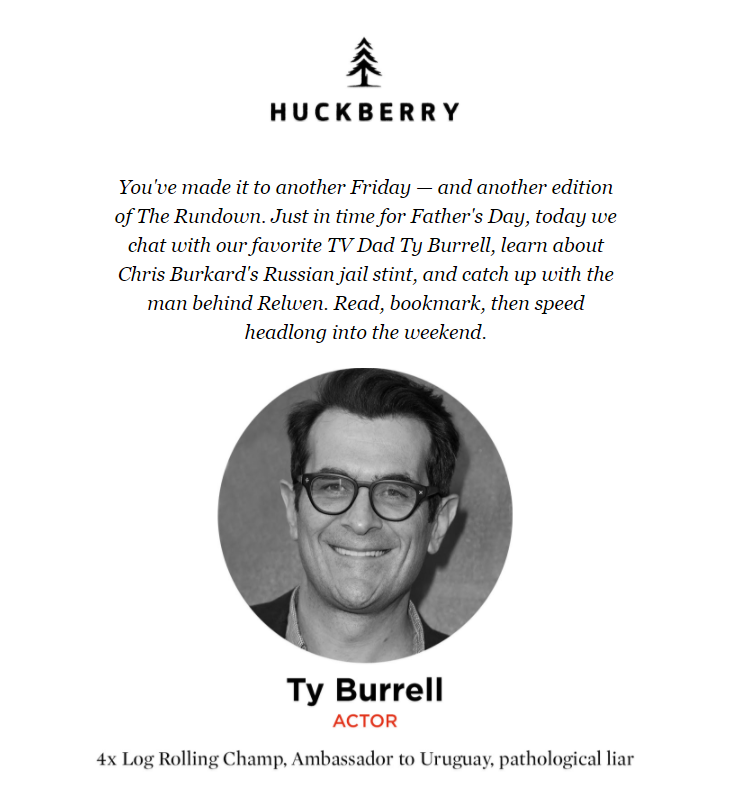 This email is all about getting subscribers to read the featured interviews with three famous men and staying top-of-mind with customers by sharing information without selling.
How to Lead Score Based on Disengagement
Inactive customers should not be rewarded, meaning you should add negative scores to customers who have been disengaged for a long time.
Here are a few examples:
Unsubscribed from all emails (-10 points)
Has not visited website in the past six months (-20 points)
Has not opened any of your last 10 emails (-5 points)
Conclusion
Email segmentation will not only increase overall engagement on your campaigns and reduce unsubscribes. It will also help you build a stronger relationship with your subscribers and customers.
And when you combine with lead scoring, you'll always know which prospects to prioritize to increase sales.
Implementing email segmentation and lead scoring can be a time consuming task. It requires a bit of leg work to figure out what to base your segmentation and scores on.
But once you've set it up, it'll run on autopilot 24/7 and save you time in the long run—and drive more revenue.