With each promotional email you send, you're likely aiming for high open rates because more opens means more clicks and successful promotion campaigns.
However, your subscribers are receiving hundreds of marketing emails every day. Their inboxes are full of unread messages and they often feel overwhelmed.
That's why they only look at the subject lines in their inboxes and make split-second decisions on which emails to open and what to ignore.
Whether you're sending holiday emails or running sales promotions all year round, you need well-crafted subject lines to accompany your email campaigns.
To help you with that, I'll share the best promotional subject lines I've seen, and why you're likely to open these emails once they land in your inbox.
Let's get started.
Table of Contents
1. "Choose Snooze"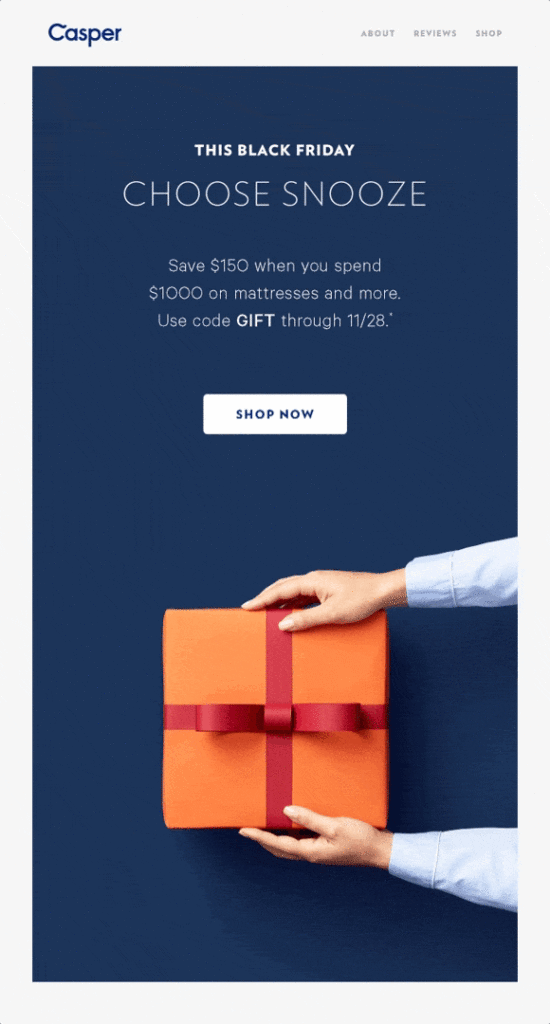 Source: MailBakery
Hitting the snooze button gives you a few extra minutes of sleep in the morning. Since this is a hard habit to break, you cover your bases by having several alarms lined up just in case your hand slides out of your warm duvet, hits the snooze button and you end up sleeping all morning.
Casper is well aware that their subscribers aren't always ready to let go of a good night's sleep, and they choose a subject line that focuses on this. After all, who looks forward to getting out of bed unless they have a bad mattress?
This subject line leaves Casper's subscribers thinking, Why should I choose snooze? How will this affect my sleep? Now that they're curious, they'll more likely open Casper's email. The best part is that even though this is a Black Friday promotion, the email doesn't feel too promotional. It goes straight to the point, telling the subscriber what they need to do to get a better night's sleep.
Takeaway: When running a promotion campaign during holidays, stand out in your subscriber's inbox by avoiding the hype around the holiday. Think of your subscribers' habits that are tied to your product, then craft a subject line that doesn't give all the details they are looking for.
2. "Cooking As Easy As Eating"

Source: Emma
Eating home-cooked meals every day is hard. Cooking can be hectic and time-consuming, and after a long day at work, the temptation to order takeout and zone out on the sofa is irresistible.
So, the claim that cooking could be as easy as eating sounds too good to be true, but HelloFresh takes a stab at this provocative idea.
They know that their subscribers want to eat more home-cooked meals, but buying groceries is the last thing they want to do. Yet, they use this idea to pique their subscribers' curiosity and, then, to deliver a pleasant surprise—easy-to-cooked meals delivered to your door with a discount.
Takeaway: Your subscribers want to use your products or services to improve their lives. Consider the ways you can help them solve their problems and use these in your promotional subject lines.
3. "You Never Call Anymore"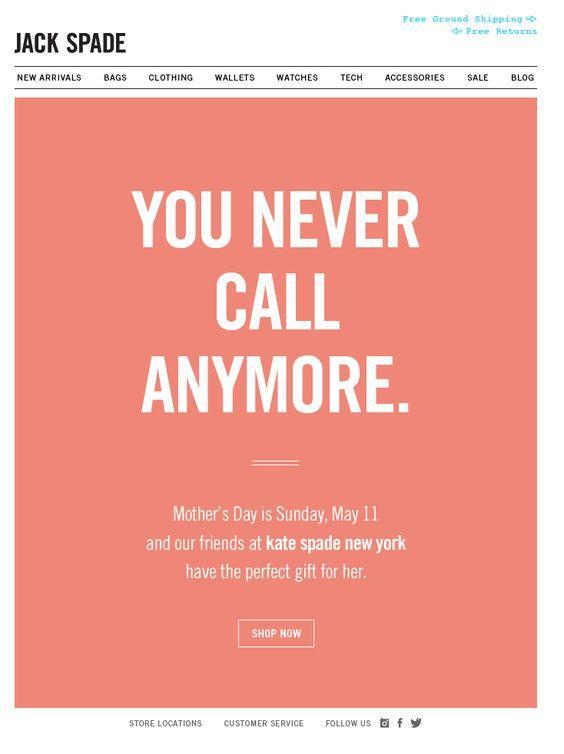 Source: Business2Community
With the challenges of building a career, raising a family, and barely having time for yourself, you're likely to forget to call your mom as often as you want to.
Thinking about this might make you feel guilty but someone else calling you out for that in your inbox will make you pay attention.
Jack Spade uses this to their advantage with a friendly reminder about the upcoming Mother's Day. With this subject line, the company subtly invites you to buy the perfect gift for your mom to make up for all the times you haven't called her.
Takeaway: There are things your subscribers want to do but can't find the time for it. Use a friendly tone in your subject lines and gently remind them that your products can help them achieve what they often forget to do.
4. "Ground Shipping Included"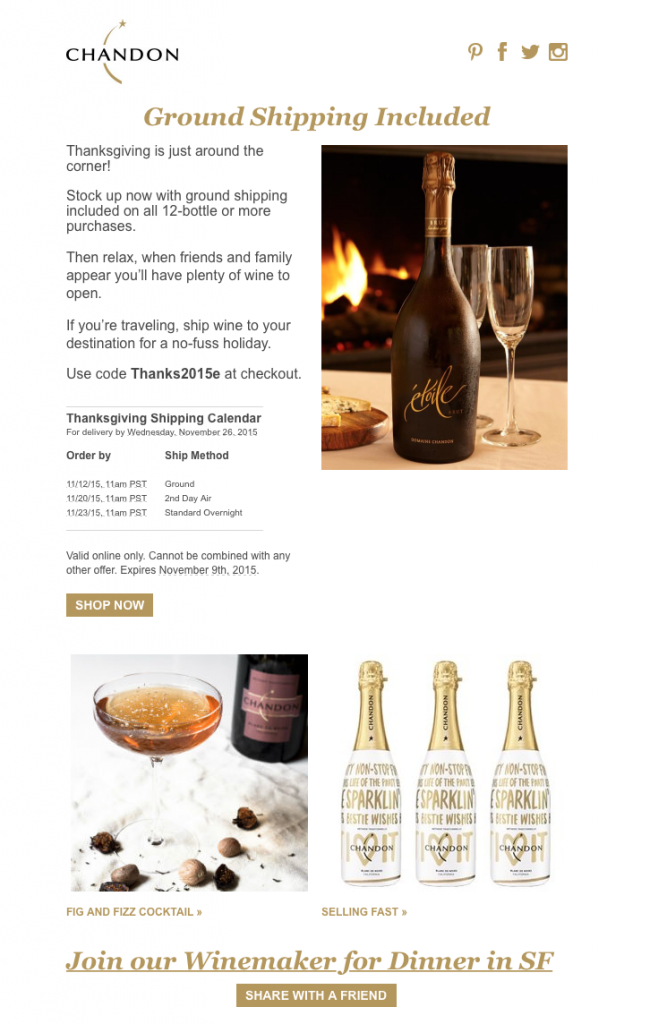 Source: Campaign Monitor
E-commerce cart abandonment rates stand at 69.57 percent and extra costs lead the way in explaining why shoppers leave their carts.
After opening your email and proceeding to checkout with their products, shoppers feel cheated when they realize they'll have to pay more to get their items delivered.
Chandon decides to confront this objection in advance by answering a common question in their subject line: "Will I pay for shipping?"
Their promise puts the brand on the line, but the subject line guarantees a higher open rate and their subscribers will go on to buy their wine for Thanksgiving.
Takeaway: What objections do your buyers often have? Use that in your promotional email subject line and address these objections in your emails.
5. "Based on Your #HairGoals, We Recommend…"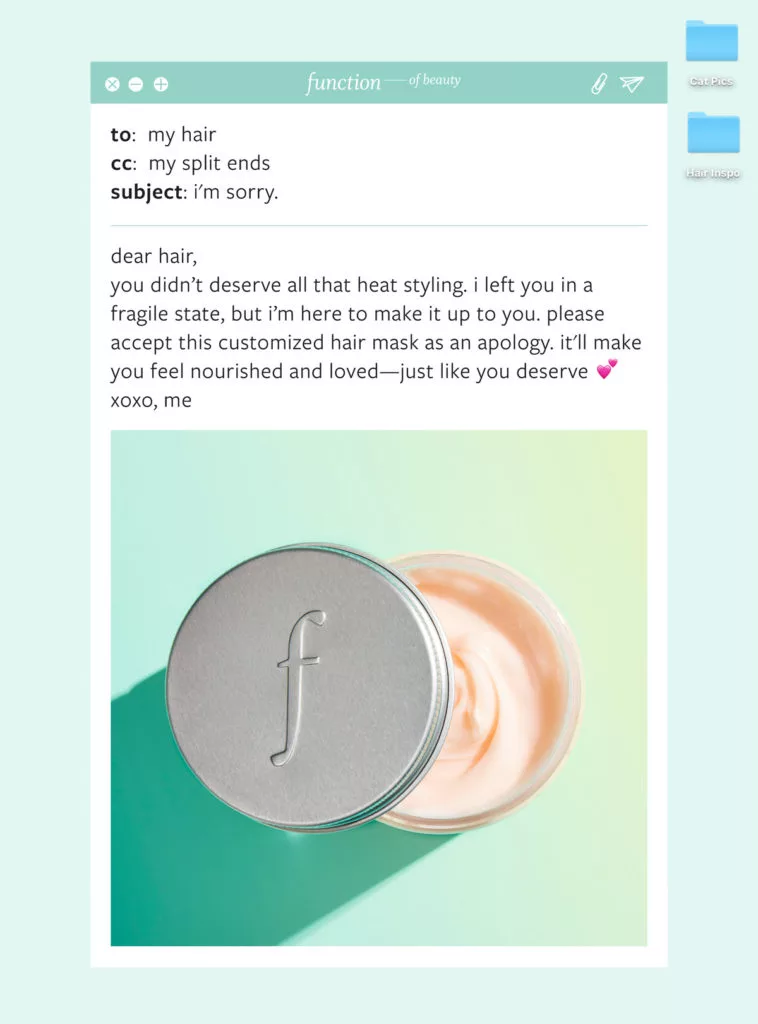 Wouldn't life be easier if someone read your mind and gave you exactly what you needed to solve a pressing problem?
That might not happen as often as you wish, but Function of Beauty seems to know their subscribers' #hairgoals.
In its subject line, Function of Beauty mirrors back this aspiration to its subscribers with a language that its subscribers might be familiar with.
Using a mirroring approach like the above can help you to get into your customers' world and creates a smoother sales process by speaking the same language with your audience.
Takeaway: Listen to customer conversations on social media, customer support, or survey responses to identify their goals and frustrations. Recreate the language they use in your subject lines while promoting the products they need to achieve their goals.
6. "Is Your WI-FI Okay?"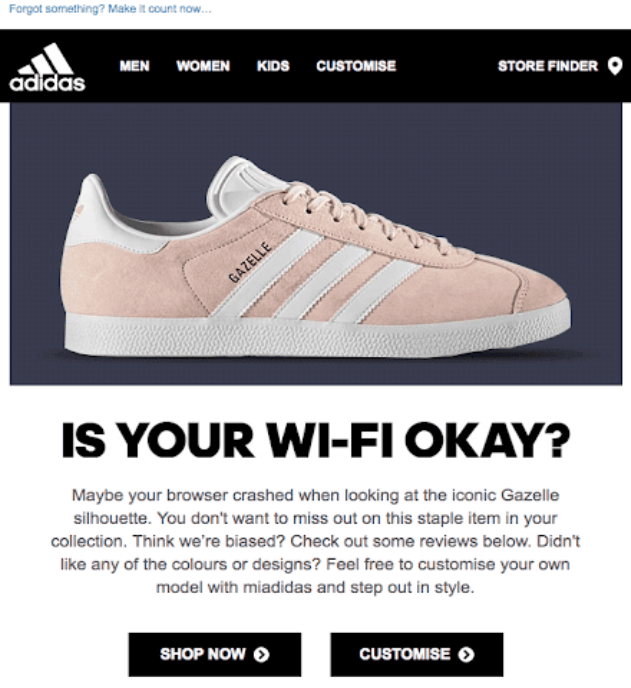 Source: Growcode
Instead of using a standard abandoned cart reminder such as "You forgot to complete your purchase" or "Your product is waiting for you", Adidas starts a conversation with this subject line.
Since shoppers often abandon their carts during checkout, Adidas takes a radical approach and assumes this must have happened due to a bad connection problem. Otherwise, why would anyone leave Adidas products in their basket?
The subject line sounds like a great conversation starter and it evokes your curiosity by posing a question about your Wi-Fi.
Takeaway: Think of your email as a conversation with your subscriber. How would you start that conversation? What would you say to them to establish a common ground and ease into the conversation without scaring them away?
7. "Settled in Yet?"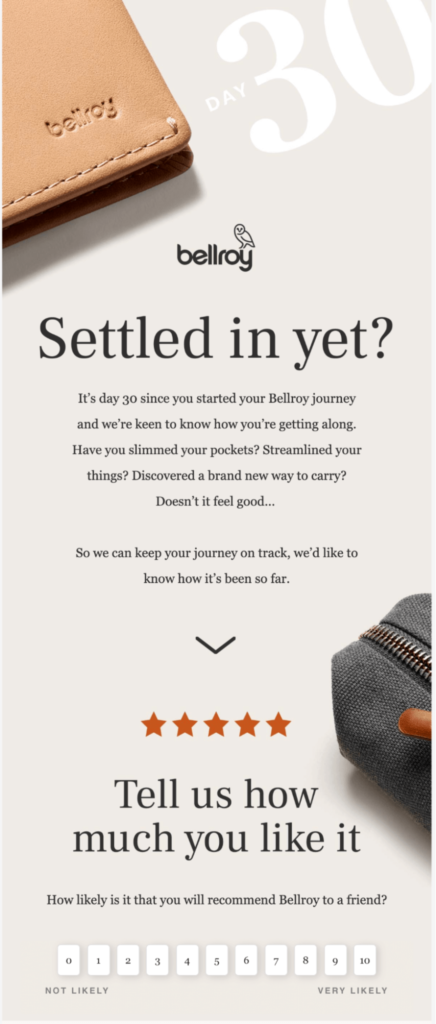 Source: Sendinblue
The end of your promotion campaigns is equally important as the beginning of them. After all, you'll keep sending customers promotional emails inviting them to buy more from your store.
A post-purchase follow-up email is a great way to check-in with your customers to hear if the product they bought from you is working for them.
That's exactly what Bellroy does with this email. The company knows that buying a high-quality wallet is a big decision so they frame their subject line to reflect that.
It's an angle you can use at the end of your promotions, as well as all year round.
Takeaway: If you want to start a conversation with your customers after the end of a promotion, ask about their experiences with your product. This is also a great chance to recommend similar items and cross-sell without sounding salesy in your emails.
Conclusion
Your subject lines are just as important as your email copy—if not more. Without a good promotional subject line, your emails will go unnoticed in busy inboxes.
Take inspiration from these seven promotional subject lines and try the different approaches these brands have taken to craft their subject lines.
You'll get more opens and better results in no time.