While most e-commerce marketers focus heavily on abandoned cart emails, welcome series, and order confirmations, they often overlook a simple yet effective type of email that can bring in lots of additional revenue.
Driving high email opens, back-in-stock emails are a goldmine waiting to be tapped.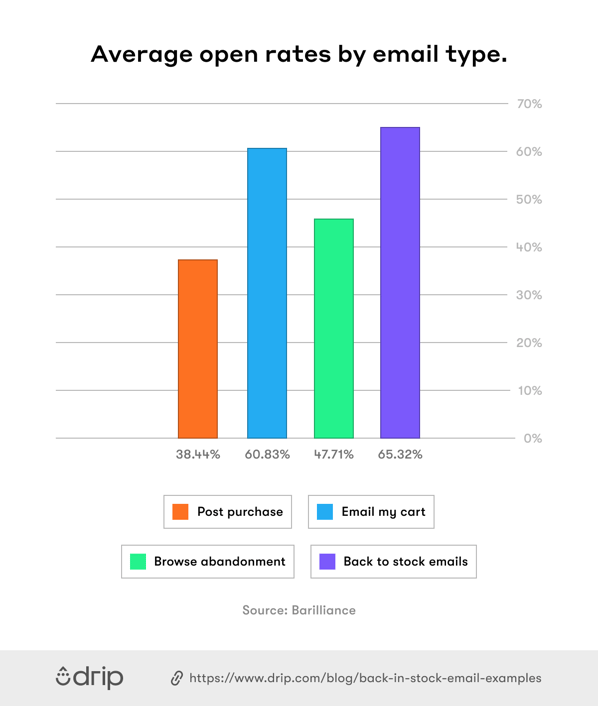 The idea is simple.
When an item is sold out once, we think that it will likely sell out again. This also means that the product is highly popular and liked by many others.
By focusing on the above-mentioned scarcity and social proof, you can drive even more demand for your restocked items with email marketing, and today, I'll show you how.
Here are seven of the best back-in-stock email examples from my inbox and why they work so well in turning subscribers into buyers.
Table of Contents
1. Anthropologie
When it comes to design and copywriting, most back-in-stock emails lack creativity. Many of them carry the subject line—you guessed it—"Back in Stock."
Although there's nothing wrong with being straightforward in your subject lines, you need to think of all the similar emails your subscribers are getting every day. How does yours compare to others in their inboxes?
Anthropologie has the answer. Sent with the subject line "we call this feeling Déjà Oooh", Anthropologie's back-in-stock email looks like this: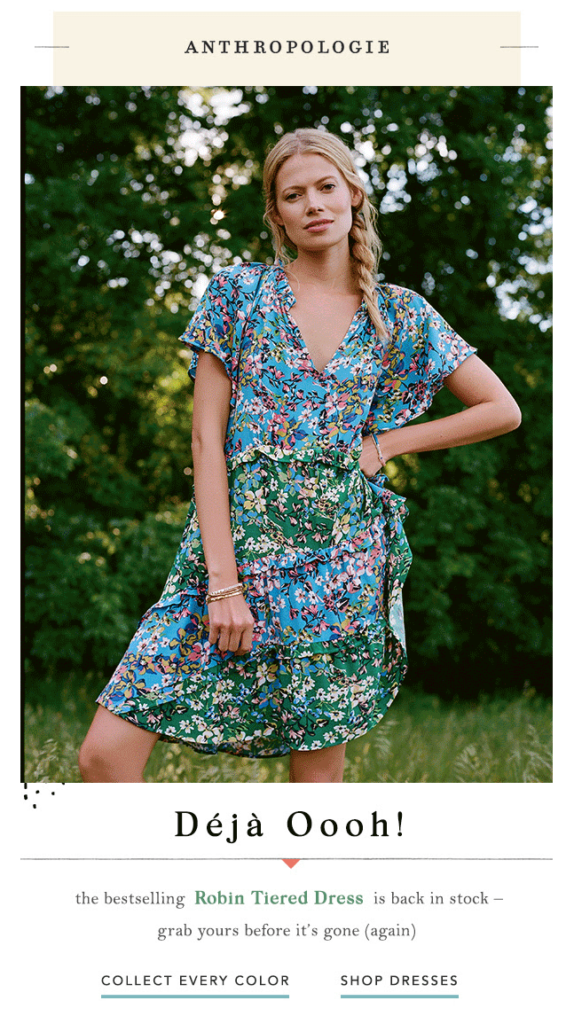 First of all, the wordplay in the subject line grabs your attention and makes you wonder what feeling they call "déjà oooh".
In the email, the company focuses on a single product: its bestselling dress that's now back in stock. The word bestselling adds even more social proof to this email. And the two call to action (CTA) buttons make it easy for you to click through and buy the product.
When you click to do so, Anthropologie cleverly displays how many people are viewing the product at the moment to increase urgency: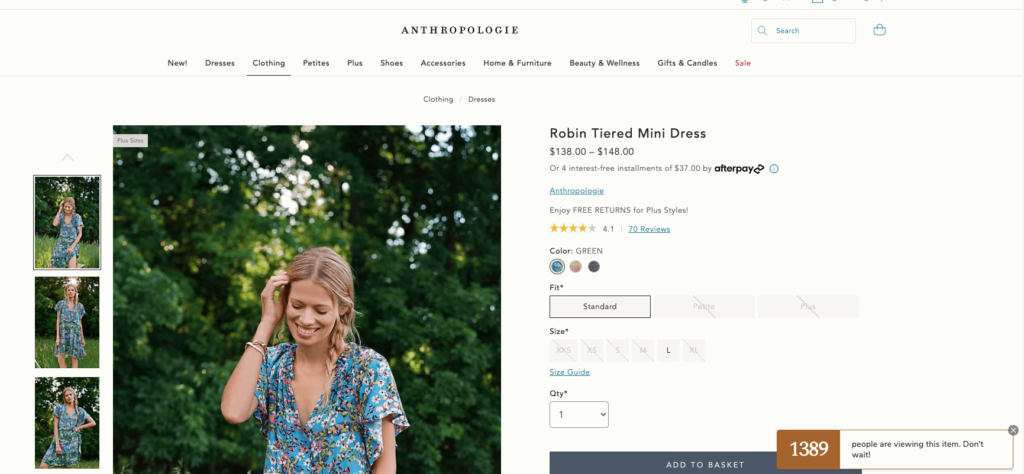 In the remainder of the email, Anthropologie recommends another product that goes well with the restocked dress: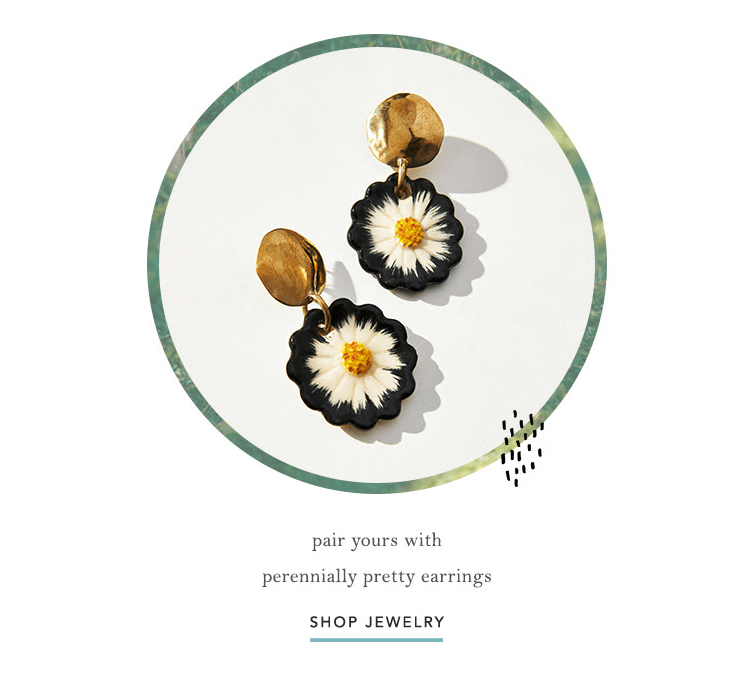 Notice how the company invites you to pair your dress with these earrings, assuming you're going to buy the dress, rather than write unexciting copy like "frequently bought together". This way, the company can sell more products to you in one order and increase its revenue.
All in all, Anthropologie's back-in-stock email is a great example to follow if you have a single top-selling product you want to promote.
2. AYR
When I think of back-in-stock emails, AYR is one of the first brands that come to my mind.
It's not only because AYR is a big fan of using scarcity in its email marketing, but also because they often send back-in-stock emails.
Maybe even too often.
But the company is aware of that. Check out this email I recently got with the subject line "BACK IN STOCK":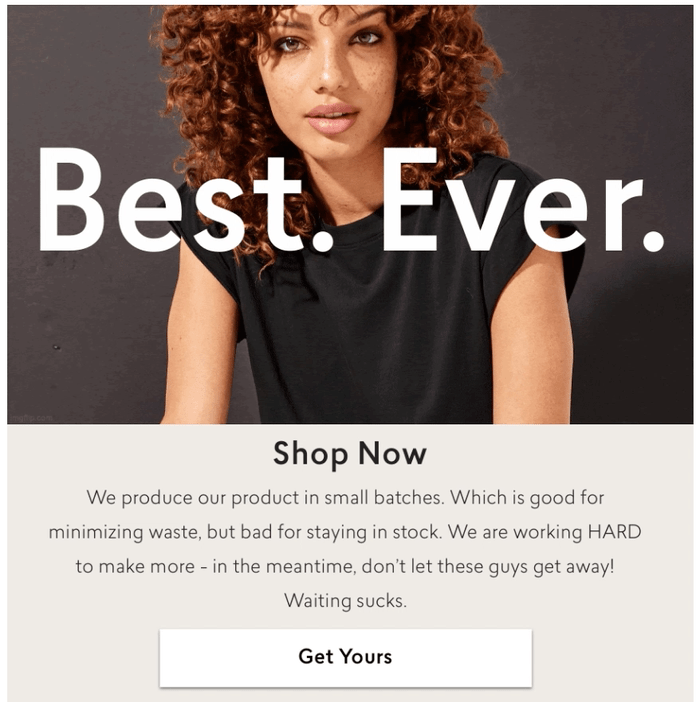 This is a unique back-in-stock email example because, in it, AYR explains why its products often sell out. By doing that, the company reframes a frustrating consumer experience into an environmentally responsible corporate action.
Now that you know AYR produces in small batches, you better not miss out on this restock, because "waiting sucks."
In another back-to-stock email, AYR uses the social proof-infused subject line "3,000 person waitlist":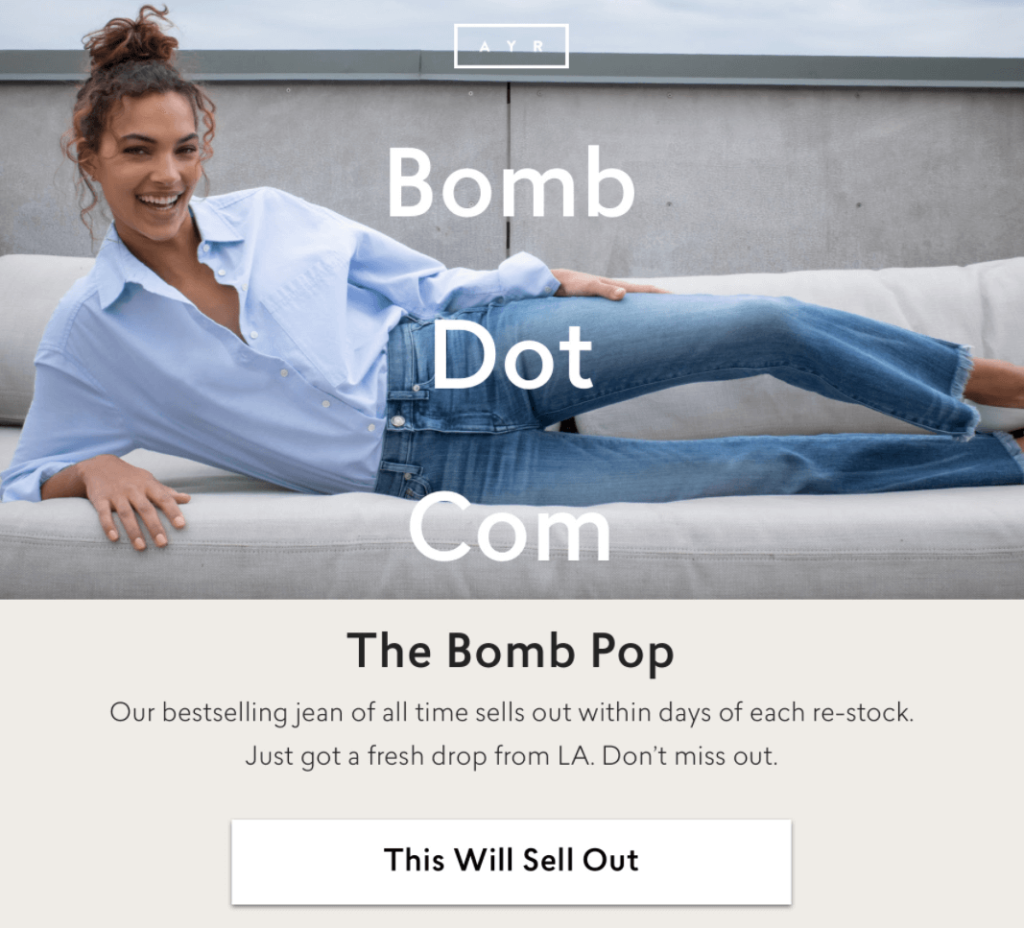 This time, the company informs you how fast these jeans sell out each time. Since it happened a few times before, it will likely sell out again—just as the CTA button suggests.
AYR's example is ideal to follow if you're producing in small batches or selling handmade or limited edition products. Be honest in your emails and explain what people should expect from your store.
3. Frank And Oak
It's one thing to have your favorite product return to shelves, and another thing when it comes back with a discount.
Frank And Oak doubles the excitement in this back-in-stock email where they announce a customer favorite is back, and it's on sale.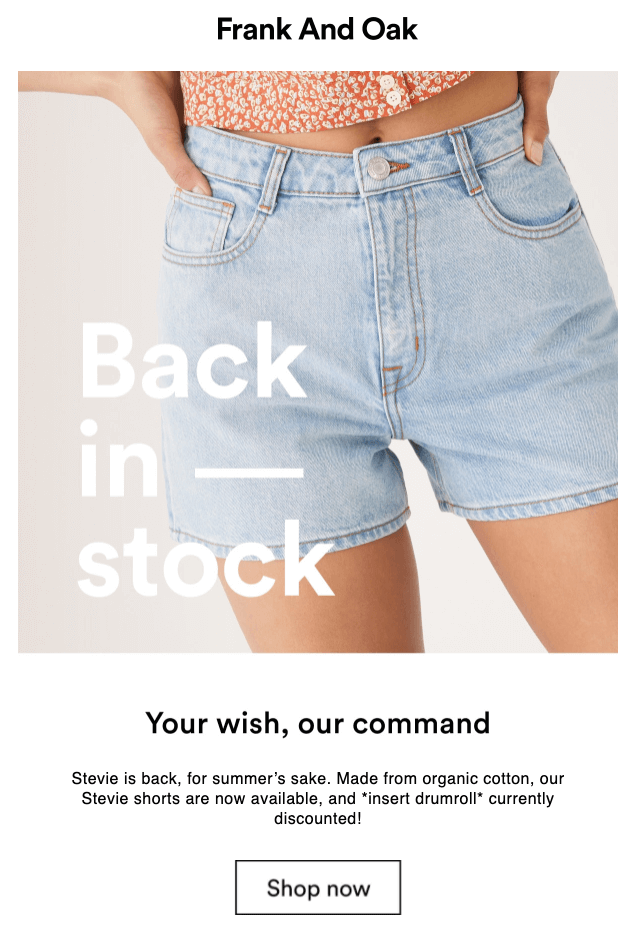 All the more reasons to purchase the company's bestselling shorts.
If you're not convinced yet, you can read the short, compact product description in the remainder of the email and learn that the product comes in two colors and at a discounted price: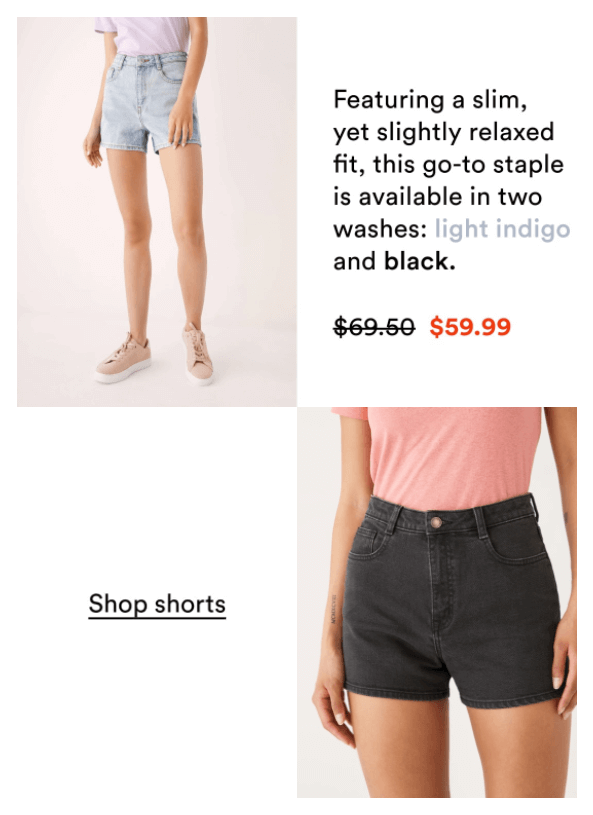 Frank And Oak doesn't stop here. Next, the company recommends a top you can pair your shorts with, and it comes in different colors too: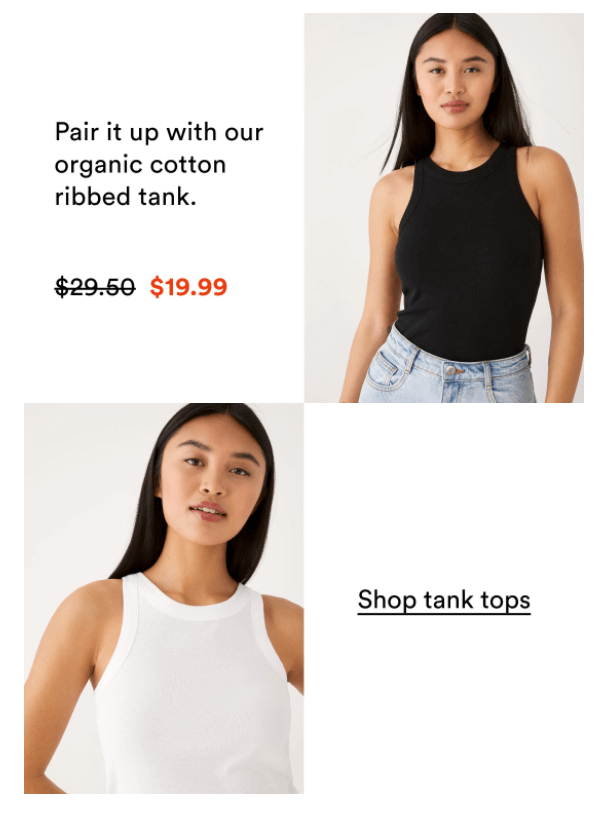 In this part of the email, Frank And Oak gives you ideas for how to wear your (future) new shorts while subtly cross-selling at the same time.
Even if you're promoting a single item in your back-to-stock emails, you can still sell other products, as you've seen in this example. Follow Frank And Oak's path to make relevant product recommendations in your back-in-stock emails without sounding too salesy.
4. Tarte
Cross-selling is only one way to enhance your back-in-stock emails.
Tarte, on the other hand, has a whole other approach to this type of email.

Its all-caps subject line with the sidenote "for now" hints at scarcity and it almost reads as a limited-edition restock.
In the email, the company brilliantly uses a GIF showing the product in context, instead of a simple image: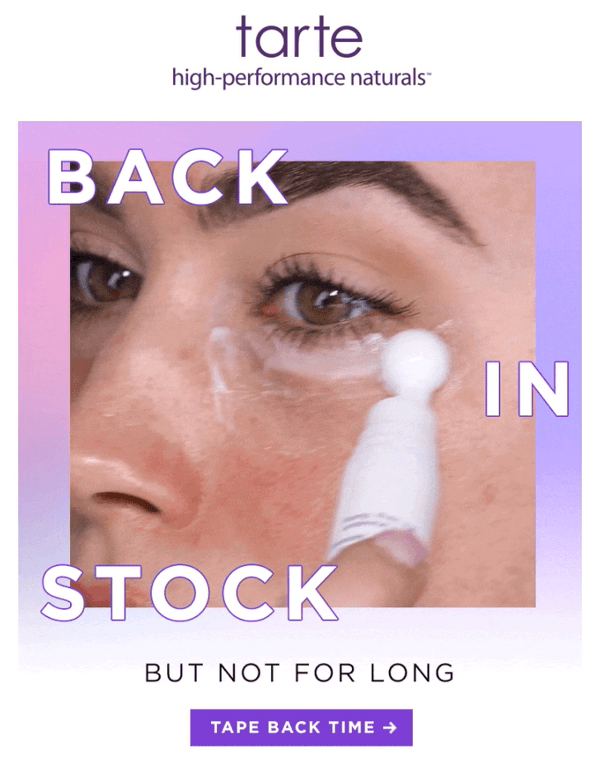 This helps Tarte's subscribers visualize the product that once sold out. It also acts as a reminder of what it exactly is and what it does.
To highlight scarcity once more, Tarte says that the item is back in stock—but not for long.
What's better, the CTA button "Tape Back Time" underlines the benefit of using the product rather than ask you to shop.
In the rest of the email, Tarte features a customer review, together with a claim to the product's effectiveness:
The testimonial and the clinical study add further persuasiveness and social proof to Tarte's email. And it certainly isn't a tactic used by most e-commerce brands.
The bottom line: remind subscribers of the capabilities and benefits of using the restocked product, and support it with a review when possible.
5. Violet Grey
All the examples I've featured so far promoted an item that returned to the shelves, be it a popular dress or a bestselling eye cream.
While that works well for large e-commerce companies with multiple product categories or single-product brands, it's not the only way to go in your back-in-stock emails.
Take inspiration from Violet Grey, a brand that specializes in high-end makeup and skincare: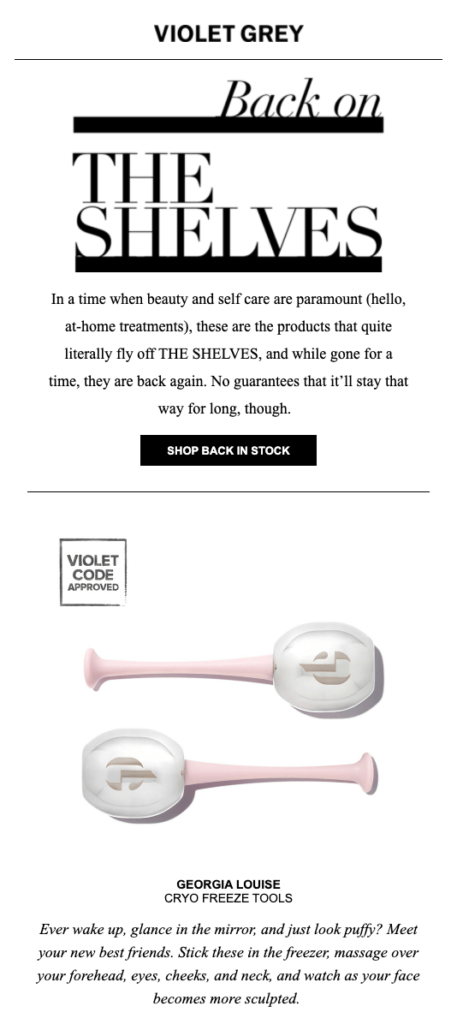 Sent with the subject line "Try Again?", in this email, Violet Grey puts together all its back-in-stock items, rather than highlighting one product or category.
In the remainder of the email, they also feature a few restocked products with images and descriptions.
But what I like the most about this email is its short and crisp body copy.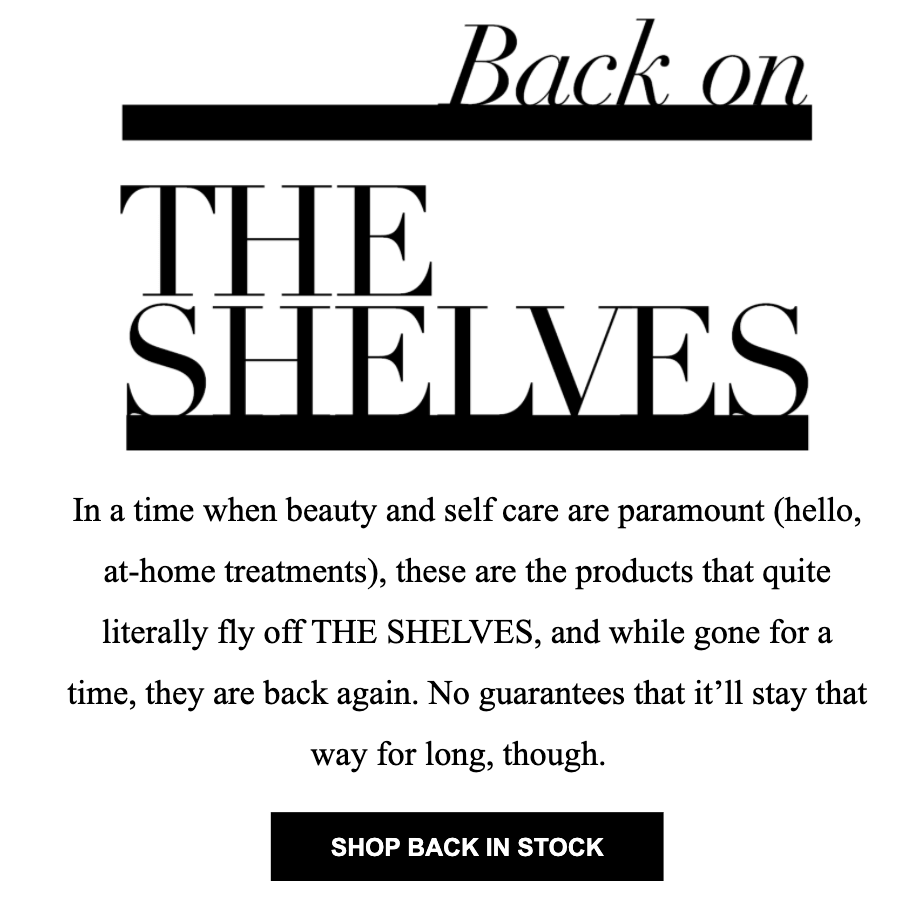 Similar to AYR, Violet Grey, first, explains why these products often "fly off the shelves". As people spend more time at home due to the pandemic, at-home treatments are becoming more popular and causing Violet Grey's products to sell out.
Notice how the company adds that there are "no guarantees" they'll stay in stock for a long time. You better hurry and click that CTA button.
And when you do that, Violet Grey takes you to a dedicated landing page with all its back-in-stock items: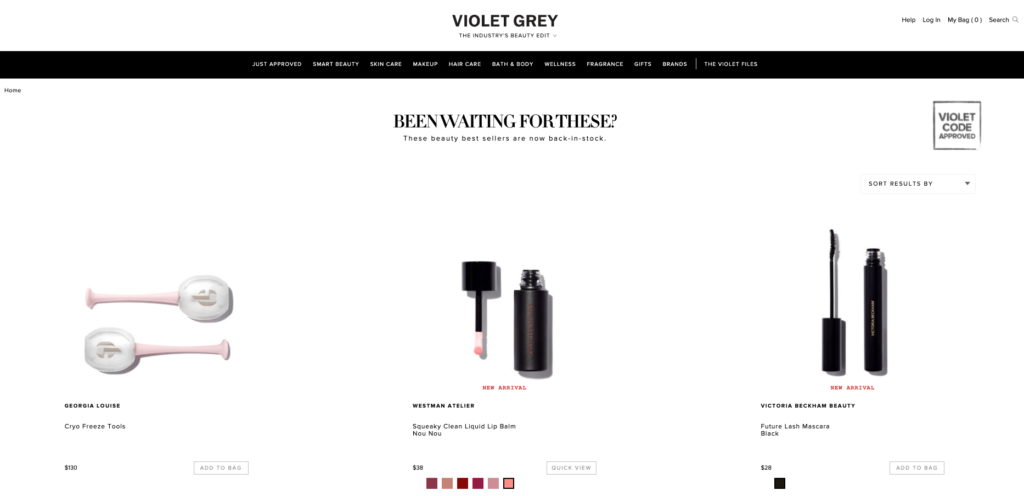 Whether you've really "been waiting for these" or not, Violet Grey cleverly takes you to this page with its popular products and aims to turn you into a customer.
Replicate Violet Grey's email strategy if you typically restock multiple items from the same category or brand.
6. Beauty Bay
As I mentioned in the beginning, back-in-stock emails typically enjoy high open rates, but that doesn't always translate to high clicks and orders.
A clean email design, a compelling CTA, and persuasive copywriting can help you achieve just that—and Beauty Bay knows this well.
I recently got this back-in-stock email from the company with the subject line "Look who's FINALLY 🔙":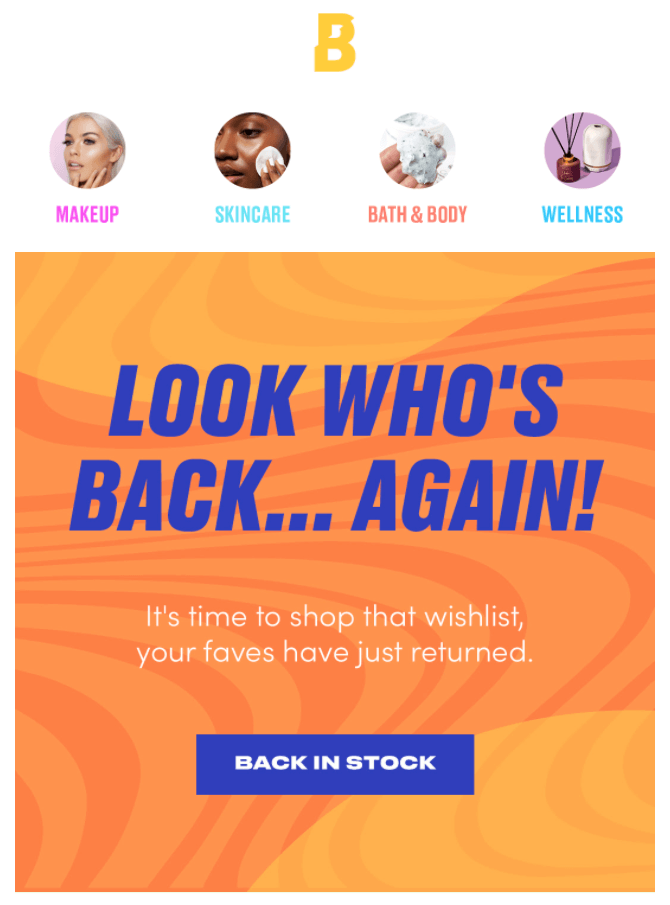 Its appealing color scheme, lighthearted copy, and the tempting CTA "shop that wishlist" make you want to read the rest of the email. And that's where things get interesting.
Similar to the previous example, Beauty Bay curates all its restocked items in one email—with a twist: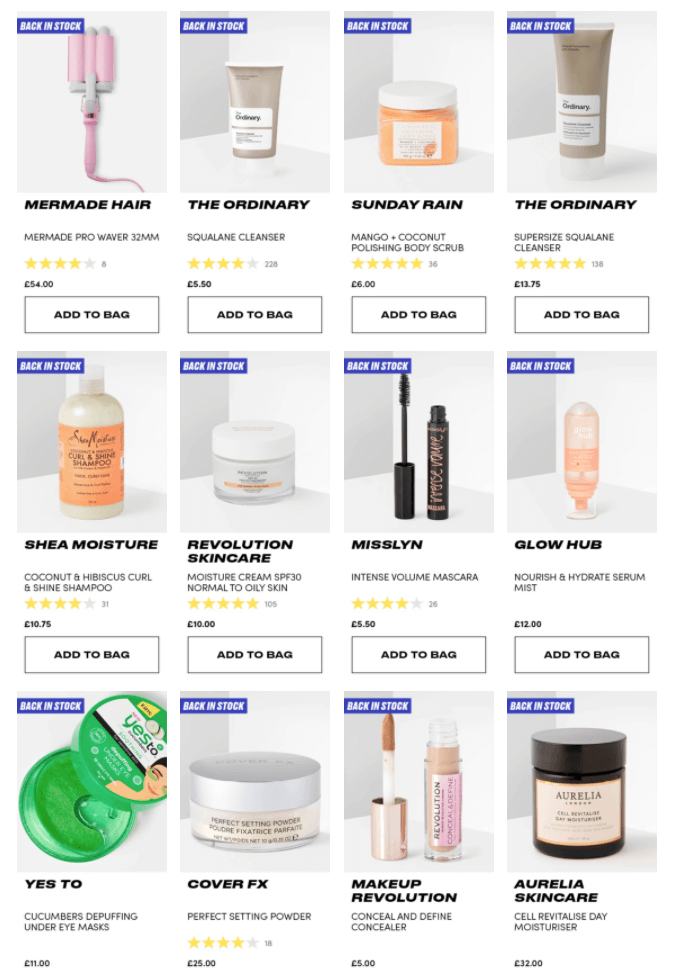 Beauty Bay doesn't just throw in a few popular products; they design the entire email to look like a product listing page. You can see all the restocked products and their price and rating information in the email, without clicking the CTA or jumping to a landing page.
If something catches your eye, you can simply click through the email and buy the product. It's a brilliant way to reduce friction and increase conversions from your back-to-stock emails.
7. Apothékary
All the examples I've covered so far were safe picks.
They're the best—but cautious—approaches to back-in-stock emails. They get the opens, clicks, and conversions on the spot.
But if you're up to something bigger, like relaunching a limited edition collection as Apothékary does, you need to save this email in your swipe file.
Check out this short email the company recently sent: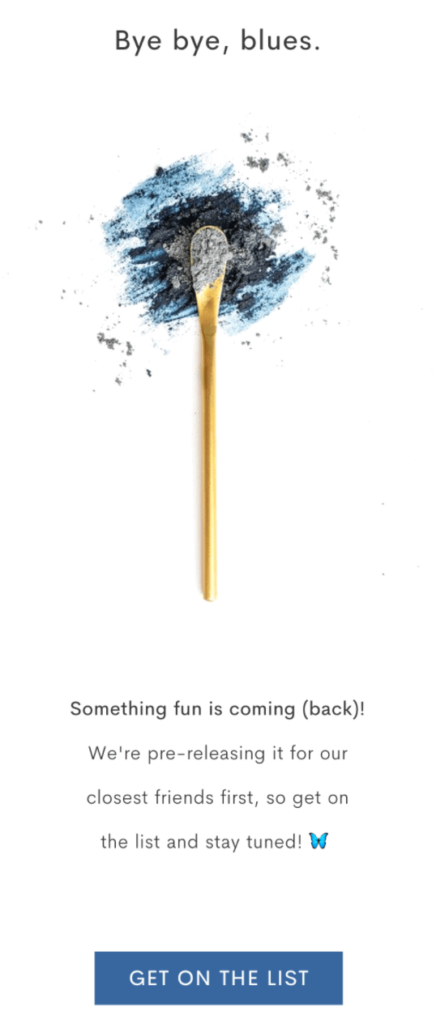 It's a back-in-stock pre-launch email—something I've never seen before.
In the email, sent with the subject "We blue you away once. 🦋", Apothékary teases the return of an old product in a mysterious way, which evokes curiosity.
The company also shows its appreciation to you for being on its list by calling you a "close friend" and promising an early product release.
With this email, Apothékary aims to get you to commit to its product launch. Because if you get on the list and make a commitment to yourself today, you'll more likely want to stay consistent and buy the product when it launches.
It's an outstanding example of Robert Cialdini's "Commitment and Consistency" principle in action.
When Apothékary finally launches the product, you find out that it's a formerly limited edition item—back by popular demand.

What Apothékary does is simply restocking an old product. But the way they announce that the item is back-in-stock is remarkable.
It's an awe-inspiring example of not only back-in-stock emails, but also product launches and announcements.
Conclusion
Back-in-stock emails are like a goldmine waiting to be tapped.
When used right, they can go beyond being simple transactional emails and drive clicks to your product pages that end up in purchases.
Take inspiration from these seven creative examples and you'll improve your back-to-stock emails in no time.