If you're an online marketer, you're likely spending valuable time and resources capitalizing on email marketing's infamous 4,400% ROI.
While the ROI of email marketing is high, the competition is far higher.
In 2023 and beyond, it's only getting harder to capture the attention of consumers who are receiving tens of promotional emails every day.
That being the case, email marketing success doesn't only depend on what you send anymore—it's also highly related to when you send your emails.
To help you with that, we've gathered the most recent data on the best time to send emails and added our insights. Read on to find out what the data says and get a headstart on your next email campaign.
When Should You Send Email?
1. What's the Best Day of the Week to Send Emails?
The short answer: Tuesday and Thursday.
The long answer: It depends.
If you've ever googled "what's the best time to send emails," you've probably seen contradictory data and got confused.
Granted, the data email service providers (ESPs) collect differ to an extent because they serve customers from different industries or locations.
Yet, today, I'll introduce you to four reliable studies that analyzed billions of emails to determine the best day of the week to send emails. Don't take their word as gospel, but use their data as a starting point for your experiments.
The first study, conducted by Omnisend, discovered that the best day to send promotional emails, such as weekly newsletters, is Thursday, followed closely by Tuesday.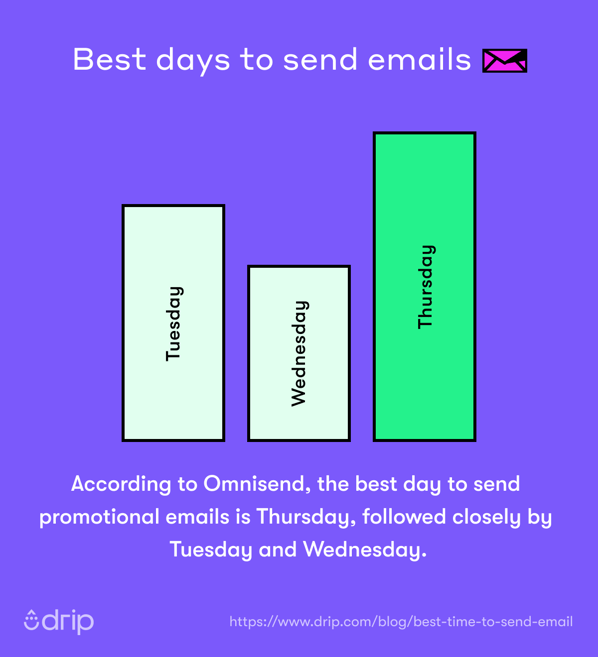 While their research mainly focuses on the best time to send emails, Omnisend also found that Monday and Saturday are the worst days to send promotional emails.
In agreement with Omnisend, GetResponse's research shows that Tuesday is the best day to send out your newsletters if you're aiming for high open rates.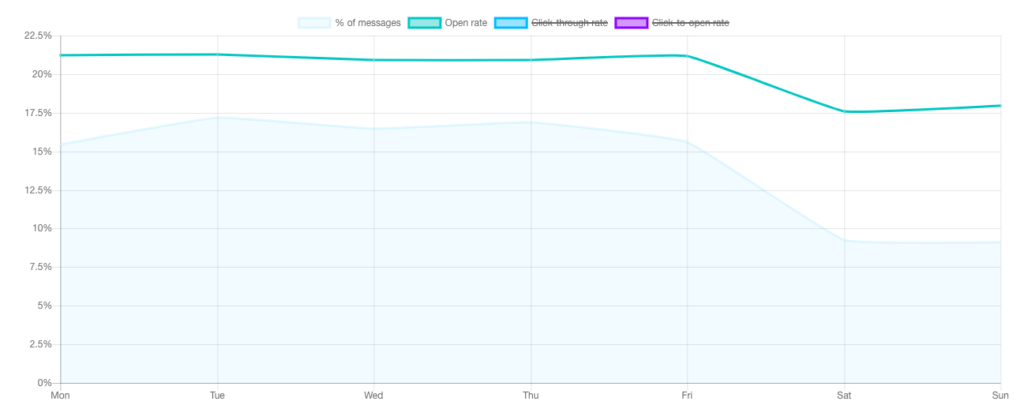 Source: GetResponse
But here's where it gets interesting.
As opposed to Omnisend's data, GetResponse's analysis shows that Monday is a close second when it comes to getting high open rates.
While Saturday and Sunday seem to be the worst days in terms of email opens, the company's research demonstrates that the number of emails sent during the weekend is significantly lower than the weekdays.
Although weekends may not be suitable for B2B companies, it's worth a try for online stores. So if you want to experiment with your timing, give weekends a chance, when there's much less competition.
Campaign Monitor's data agrees with the two studies above in giving the first place to Thursday and Tuesday.
While doing so, Campaign Monitor differentiates the two days between conversion goals.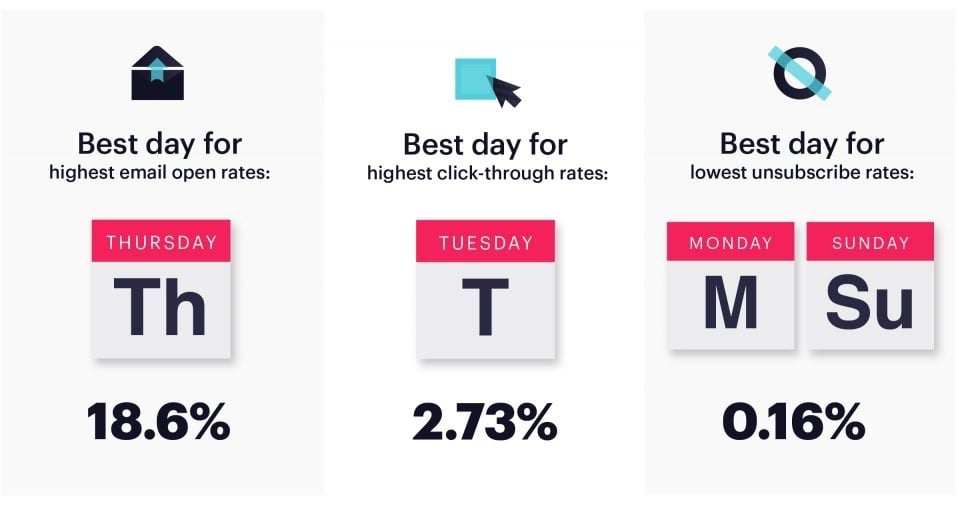 Source: Campaign Monitor
In other words, Campaign Monitor's research shows that Thursday is the best day for high open rates, while Tuesday is the winner for high click-through rates (CTR.)
Although marketers always aim for higher open rates, this is a critical reminder that finding the best time also depends on which email marketing metrics you're measuring.
If you aim to make your subscribers interact with your emails, such as by clicking your call-to-action (CTA) buttons, try sending your promotional emails on Tuesdays.
Similar to other research studies, Campaign Monitor found that Sunday, unsurprisingly, is the worst day to send emails, both for your open rate and CTR.
Last but not least, the data provided by Klaviyo concurs that Tuesday is the best day of the week to send emails.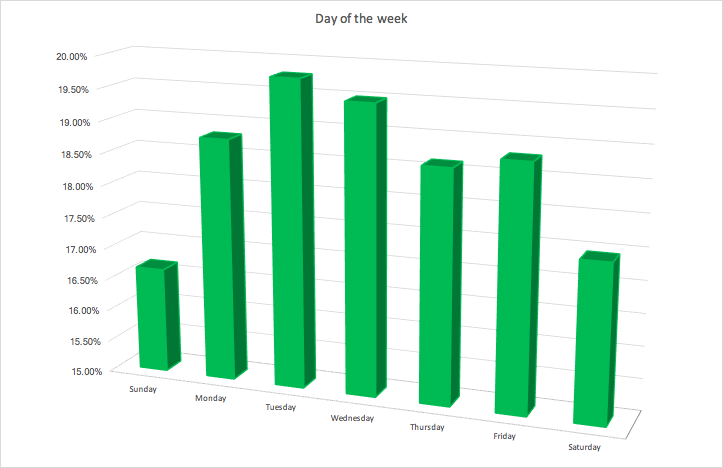 Source: Klaviyo
But that's not the entire story.
Although emails sent on a Tuesday have slightly higher open rates, Klaviyo found out that this doesn't correspond with how much money they bring to businesses.
Now take a look at this second graph: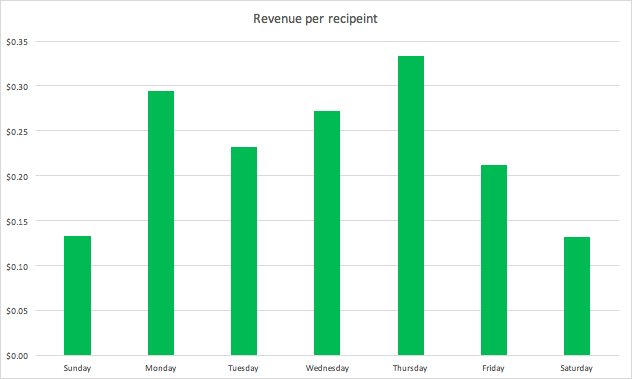 Source: Klaviyo
Even though Tuesday is the winner of open rates, emails sent on Thursdays bring the most revenue per recipient.
All in all, the data suggest that Tuesday and Thursday are the two best days to send promotional emails and weekly newsletters.
However, it's clear that the day that performs the best for one metric doesn't necessarily work well for another. That's why the decision depends heavily on your conversion goals and the most important email marketing metrics.
Finally, keep in mind that your competition also wants to leverage the peak times to send their emails. Remember to test out different days to find what works best for your subscribers.
Now you have an idea about what day of the week may perform well for your emails, but the story doesn't end here. What time of the day you send your emails also has an impact on your conversions.
Let's see what the data says.
Takeaways
Tuesday and Thursday are the best days in terms of open and click-through rates.
Avoid sending emails during the weekend (unless you have to give time-sensitive information.)
Give Wednesday a chance if you're looking for an alternative day to test out.
2. What's the Best Time of the Day to Send Emails?
The time of day you send promotional emails can make or break the relationship with your subscribers.
Send your emails at the wrong time, and your unsubscribe rates will skyrocket. But send them at the right time, and you'll convert subscribers into paying customers and first-time buyers into repeat customers.
A word of warning, though: the key to finding the best time for your emails is getting to know your buyer personas.
Try and answer the following questions for your target audience if you haven't already:
What do they do for a living?
What's a typical day in their life look like?
What are their main problems?
How can they solve these problems with our products?
When and how might they see triggers that remind them of our products?
Once you have an idea about the answers, you can paint a better picture of your customers' daily routines and find the perfect points to infiltrate into their lives with your marketing emails.
But first, hear the data to get a starting point.
In that same study, Omnisend discovered that the newsletters sent during typical work breaks bring the best results in terms of opens and clicks.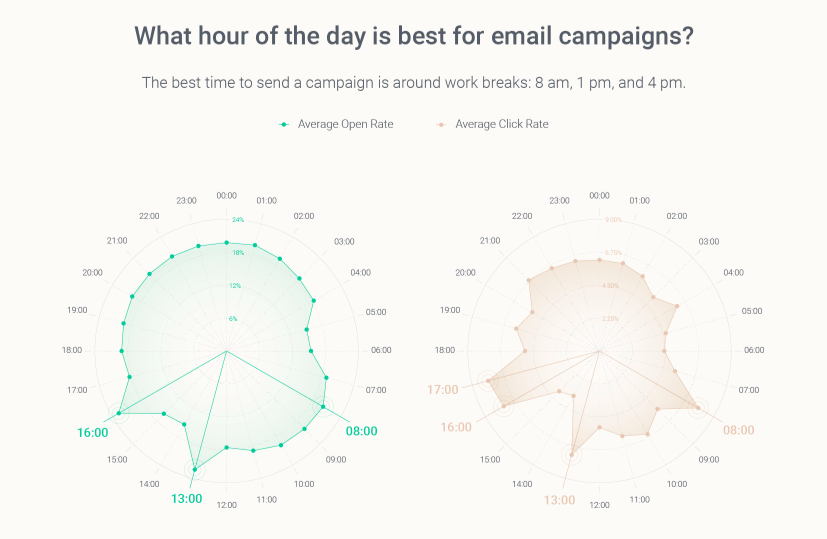 Source: Omnisend
In Omnisend's research, email open rates peaked at 8 AM, with an average of 20.32%. However, the company recommends sending promotional emails at 5 PM since this is the top-performing time for CTR.
According to GetResponse's data, emails sent around 1 PM brings the best results, followed by typical commute hours both in the morning and afternoon.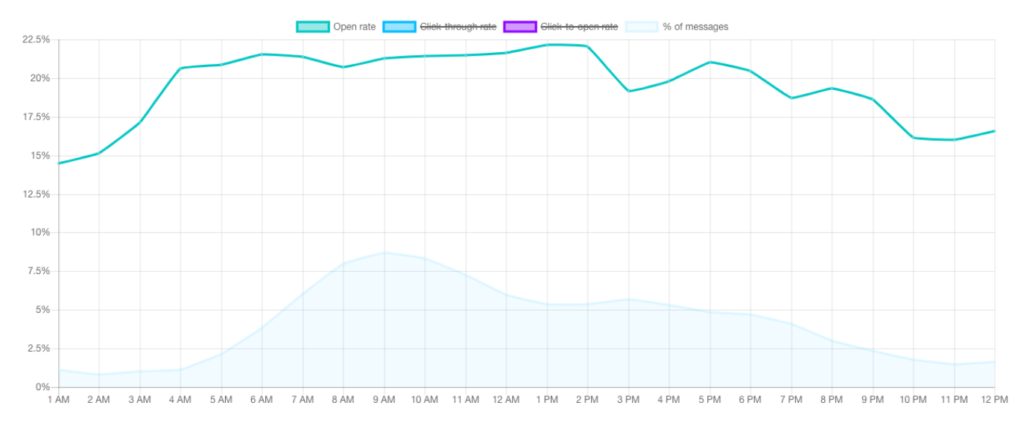 Source: GetResponse
Notice the volume of emails sent during the morning hours. While sending out your newsletters in the morning may result in high open rates, they might also get lost in the crowd.
Simply put, try to capture the times:
While prospects check their emails before work;
While they have a few minutes to kill after lunch;
While commuting back home; or
Around the time they get home in the afternoon.
Although the data from various research agree on the best time to send emails, Klaviyo has an interesting suggestion worth mentioning.

Source: Klaviyo
While their research doesn't demonstrate a big difference between the AM and PM hours in open rate, click rate, or revenue, Klaviyo discovered something interesting about emails that their customers send at midnight.
According to Klaviyo's data, emails sent at 12 AM had a 7% higher open rate and a 66% higher revenue per recipient, compared to the average.
Since many consumers start the day by checking their emails, this strategy can help you become the first thing users will see in the morning.
But be warned—you may also risk annoying your subscribers and losing them forever.
If you have a customer base that lives in different time zones, the situation gets even trickier. In that case, you have two options:
Find the midpoint when most of your subscribers can engage with your emails; or
Send emails based on the recipient's timezone, if you're using a marketing automation platform like Drip.
Finally, remember to consider your industry, target audience, and habits. No matter what the data says, your audience (and your willingness to experiment) will determine the best hour to send your emails.
Takeaways
Emails sent at 8 AM, 1 PM, and 5 PM perform the best. Use these time slots as a departure point.
Consider sending emails based on each recipient's timezone.
Describe a typical day in the life of your ideal buyer and send emails during the times you can catch their attention, such as commute hours and work breaks.
Editor's Note
Track Opens by Hour
Keep an eye on your Analytics to track email open rates by the hour.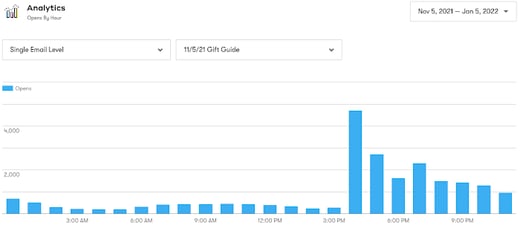 Seray Keskin
Product Marketing Manager, Drip
3. What Does Our Data Say?
Although we're not an ecommerce business, we send out weekly newsletters to our blog subscribers, mid-funnel leads, and customers.
At Drip, we schedule our emails to go live every Thursday, based on the recipient's timezone. This way, for example, we avoid emailing our American customers in the middle of the night since we're based in Denmark.
In those emails, we typically guide the recipient back to our website, whether it's a blog post, a feature page, or our product dashboard.
Since email marketing is one of our strongest communication channels, it's important we keep an eye on our email referrals in Google Analytics.
And this is what our data says:
After excluding our automated flows, such as welcome emails, our data shows that most of our email referrals happen on Thursday.
The results aren't quite surprising since we send our newsletters on that day. However, notice that Thursdays bring almost three times more users to our site when compared to the next day.
In short, Thursdays perform well for us, and we simply keep doing more of what works.
Takeaway
Visit your Analytics to determine which days and hours bring the most traffic to your site. If there's a particular day shining through, try sending your newsletters on that day.
Run split tests to discover the day and hour that work the best for your subscribers.
Conclusion
The timing of your emails is irrelevant by itself—unless you constantly optimize your emails for higher conversions.
With minor improvements, you can write more compelling email subject lines, engage more subscribers with storytelling, and craft higher-converting email CTAs.
Remember to analyze your audience and run A/B tests to find what works best for them. While doing that, don't forget to use these data as a starting point.