As more and more brands jump on the bandwagon to Collaboration Station, the number of partnerships you see will only rise.
It's easy to understand why. Brand partnerships are one of the best ways to achieve revenue growth.
One survey showed that 52 percent of companies get at least 20 percent of their revenue through partnerships. And the average partnership results in 17.5 percent revenue growth.
Along with bringing in the bucks, brand partnerships benefit companies in many ways, from helping them expand into new markets to creating immense value for a shared target audience.
So, if you want to get in on the action, here are some A+ examples of brand partnerships that'll show you how to do it right.
10 Brand Partnership Examples to Inspire You
1. FatFace x Raleigh
It's essential to partner with a brand that's the milk to your cereal. In other words, it complements your brand beautifully.
FatFace is an apparel company for the sporty and outdoorsy. Raleigh is a long-standing bicycle manufacturer and seller.
According to Lisa Bray, Buying Manager at FatFace, "Raleigh is a great brand that aligns with our values, so it feels like the perfect partnership."
In Spring 2022, the brands collaborated on a spring collection of apparel for men, women, and children, plus homewares and accessories. There's FatFace clothing covered with excellent designs and classic bicycles to boot.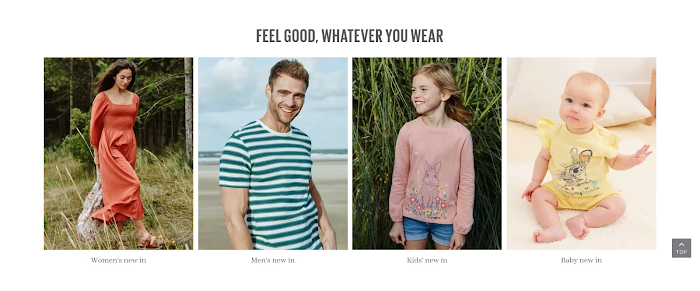 The alignment of brand values especially shines through with the collection's tagline, "Grab life by the handlebars."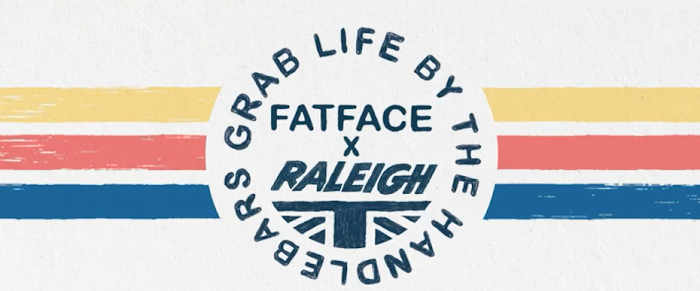 To find the perfect partner for your brand, select a few of your core values and look for non-competing brands that share your ideals. FatFace and Raleigh don't sell the same products, of course, but both care about having fun in the great outdoors.
2. JBL x 100 Thieves
Brand partnerships are helpful when launching new products outside of your wheelhouse.
JBL is an audio hardware company that's been going since 1946. When they wanted to branch out into a newer space, gaming headphones, they partnered with one of the top esports and gaming lifestyle brands 100 Thieves.
In March 2022, JBL launched a gaming headset with the 100 Thieves signature and geo-print design.

Naturally, it makes sense to collab with a brand that already has credibility and a large following in the area you want to expand into.
It gives you immediate gravitas even though it's a new product line. Plus, you have the chance to raise brand awareness with a super relevant audience.
You can, of course, do something similar if you're looking to expand your offering. One way to find the Romy to your Michelle in this instance would be to survey customers to find out which brands they follow or which products they purchase in the industry you want to target.
3. Smeg x Dolce & Gabbana
Successful partnerships can also add depth to the identity of a brand. They tell a compelling story and enforce the brand's values.
This is undoubtedly the case for the partnership between refrigerator company Smeg and fashion house Dolce & Gabbana.
The collaboration started as a limited range of fridges adorned with D&G style artwork from Sicilian painters. Since then, Smeg has offered a wide range of small and large appliances as part of the "Sicily is my love" collection in collaboration with the fashion brand.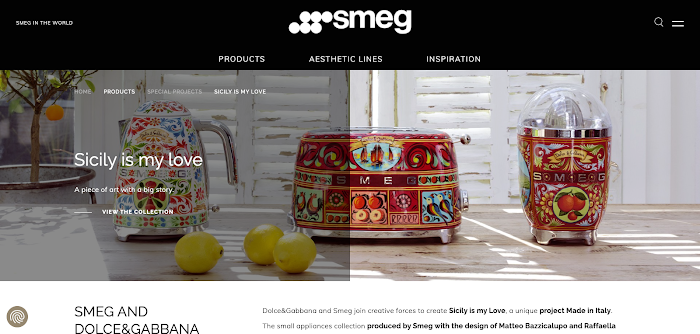 For Smeg, this partnership is all about embracing its Italian origins. As John Davies, Head of Marketing for Smeg in the UK, puts it,
It's about a family connection, a long-standing partnership, an outstanding creative idea, or a truly excellent brand fit. It has to tell a story and help communicate our brand, values, and heritage.
The cool thing is even smaller brands can accomplish such by partnering with other local businesses and emphasizing the "shop local" factor.
4. Adidas x Allbirds
Some brand partnerships revolve around getting behind a social cause together. This makes the partnership meaningful to both brands and customers.
Allbirds is an ec0-friendly shoe and clothing company focusing on natural materials. Adidas is, as you probably know, a sportswear and sneaker giant.
The pair collaborated to launch FUTURECRAFT.FOOTPRINT, a low-carbon sneaker. After an initial drop in late 2021, the sneakers were more widely released in spring 2022.

Even though the two are competitors, they got together to message the footwear industry that creating low-carbon sportswear is possible even at scale.
This is also a great example of how two brands can get together to push forward technical innovation.
All in all, it goes to show that collaborating with a competitor is possible. Even McDonald's and Burger King collaborated for charity once.
It's not for every brand but can work when there are the right circumstances, and it's for a good cause.
5. New Balance x Casablanca
Some partnerships scream gimmicky, like Disney x Every Brand Under the Sun. And to be fair, it can be challenging to make a collaboration authentic rather than cheesier than a pack of Cheetos.
New Balance, however, has a fascinating and frankly fantastic approach to collaborations as the brand uses collabs as "a springboard for creatives."
Its collaboration with Parisian fashion house Casablanca is among many examples (JJJJound, Tokyo Design Studio, etc.)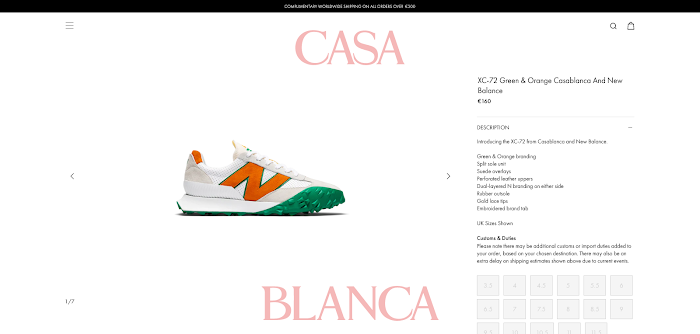 New Balance's Global Collaborations Manager Joe Grondin saw Casablanca's patterns on a poster at Paris Fashion Week. He hadn't heard of the brand previously but got in touch via an Instagram DM to see if they wished to partner.
According to Grondin, New Balance takes this approach because they're "just trying to occupy as many subcultures as possible, and picking the most authentic brands to do that."
If you have a more down-to-earth brand, you may wish to follow suit by working with lesser-known designers. This has the bonus of extending your reach into interesting niches you may have previously thought uncrackable.
6. Beyond Meat x McDonald's
You might want to partner with another brand that can help you adapt to cultural and societal shifts. Beyond Meat x McDonald's is an example that epitomizes this idea.
Did you know that the number of vegans in the US increased by 3000 percent in 15 years? We've all gone mad for broccoli, it seems…
In all seriousness, it was a smart business move for McDonald's to team up with vegan meat company Beyond Meat to add a plant-based patty to its menu.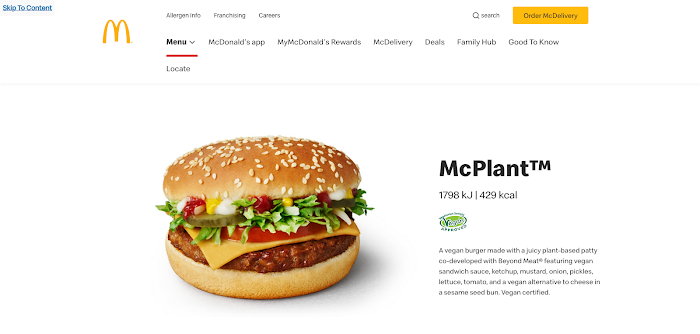 In February 2021, McD's announced a three-year partnership that would make Beyond its preferred supplier for vegan products.
The McPlant seems to have gained good momentum in the US among younger customers. Depending on the continued success of the McPlant, there could be other vegan treats on the cards, such as plant-based nuggets.
It's crucial to stay on top of cultural trends. So if your business is waning, it could be a sign that you're behind the times. And it may be that you need a collab to bring your brand out of the dark ages.
7. Vans x International Women's Day
It's a great idea to collaborate with another brand, designer, charity, etc., for an event or occasion.
The products you create will likely be one-off, special edition pieces. This adds to the idea of exclusivity, which makes people want to buy. Plus, it puts a time limit on the item's availability, which urges consumers to act quickly.
Skateboard shoe company Vans has put together several partnerships for International Women's Day. In 2022, they put together several events in the UK in collaboration with the charity Sisterhood.

For International Women's Day 2022, they also collaborated with fashion business legend Sarah Andelman on a Vault by Vans collection. To design shoes and garments, Andelman selected four female-identifying artists, Julia Chiang, Sindiso Khumalo, Fumiko Imano, and Soko.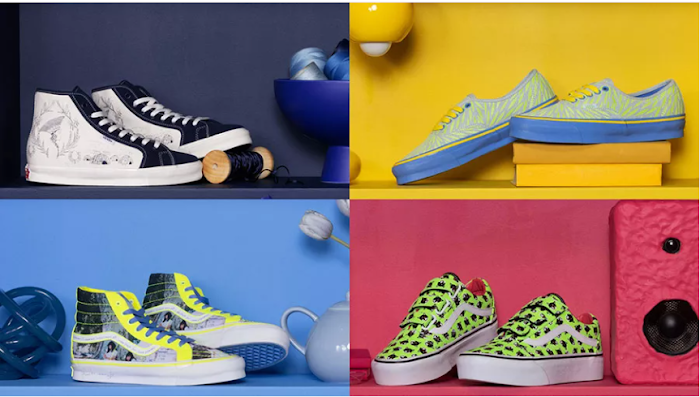 Consider an occasion that speaks to your brand's core values. For instance, if you're all about sustainability, you could team up with another eco-friendly brand for Earth Day.
8. Whole Foods x Headspace
Think out of the box when it comes to collaborations. As you've seen, you don't necessarily need to collaborate with another retailer.
The most important thing is that you delight your customers with something unique and valuable which Whole Foods achieved through their collaboration with the meditation app, Headspace.
Together they developed a wellness series on Whole Foods' Instagram that featured mood-enhancing recipes from experts.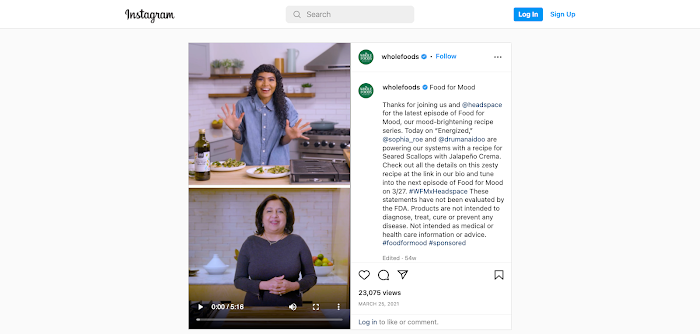 Customers could also access three new meditations on mindful shopping, cooking, and eating on the Headspace app. So both brands' channels were used, and customers on both sides benefited.
In 2021 Whole Foods commissioned a survey and found that its customers were keen to develop a connection with food, eat more mindfully, and improve their overall wellbeing. This is what inspired the collaboration with Headspace.
What we can learn here? You can develop a more meaningful and valuable brand partnership by doing your research and understanding what matters to your customers. And, like Whole Foods, you can run a survey to discover this information.
9. Chipotle x e.l.f Cosmetics
It's a good idea to partner with another brand with a similar audience to you. Your products or services may be very different, but you can give them an ace experience by joining forces if you're marketing to the same crowd.
Chipotle is a popular Mexican food joint, while e.l.f Cosmetics does affordable cosmetics. You might think this wouldn't be a great pair.
But the truth is, the brands have a lot in common. Namely, it's the fact that a Gen Z audience loves both Chipotle and e.l.f, and they both have a great social media presence on channels such as TikTok.
In March 2021, e.l.f Cosmetics created a limited edition range of Chipotle-themed makeup. This included fun items like an avocado-shaped makeup sponge set entitled "Extra Guac."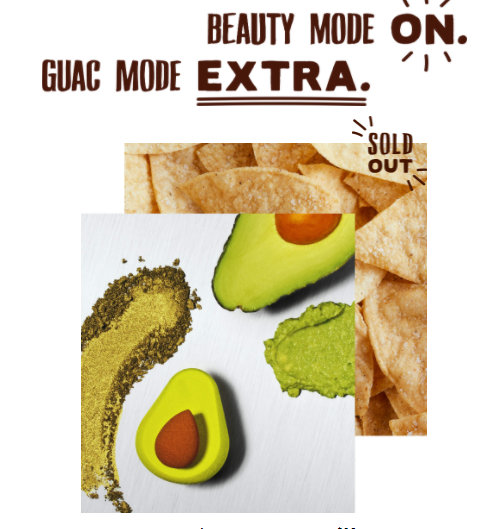 If you know your audience well enough, you can also seek out brands that cater to a similar demographic.
One tactic could be to see where your social media following intersects with another brand's. For instance, you can perform a search on Facebook by typing in "pages liked by people who like (your Page name)."
10. Apple x Target
Though a digital partnership tends to get better results, you can also have a successful offline partnership. A good example is the collaboration between tech giant Apple and popular big-box retailer Target.
Target created a shop within a shop experience with Apple, increasing the number of shop-in-shops for the 2021 holiday season. Target's mini versions of Apple come equipped with special displays, lighting, and an Apple tech consultant. In other words, it's a similar experience to what you would expect when you go into the Apple store.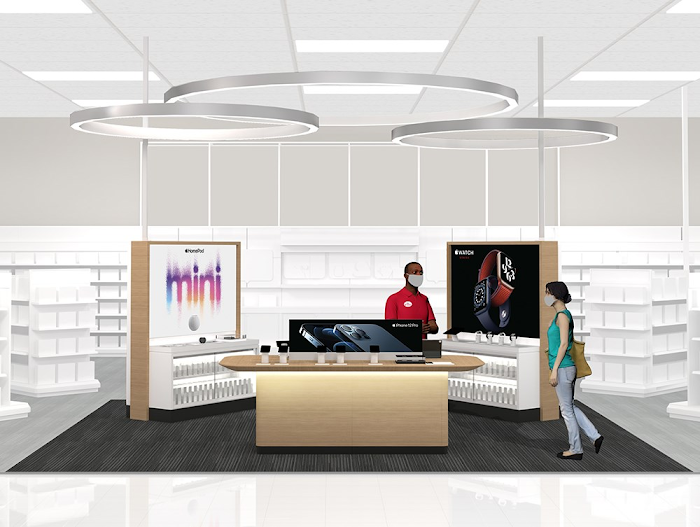 The mini store stocks all the latest Apple tech, such as the iPhone 13, Apple Watch Series 7, Apple TV, and so on.
But it's worth noting here that the shop within a shop is still only available in 34 of Target's 1900 locations. In a sense, it's in its experimental stage.
Yet, it's still something worth considering for your brand. Smaller brands, for instance, may be able to partner with larger retailers for this purpose (e.g., create a pop-up shop).
Final Word
As these examples show, brand partnerships can be hugely beneficial to all types of companies. That is, as long as you partner with a complementary brand. For instance, one that shares the same values or a similar audience.
If you're going to partake, you need to do it in a way that makes sense. Savvy consumers can spot a gimmick or marketing ploy miles off these days.
What's the next step for you? Do your research.
What kind of partnership would your customers want to see? And what kind of partnership would be valuable to your customers and your business?