An e-commerce giveaway, simply put, is a promotion where a prize is randomly given away to participants who enter and win a contest.
In order to enter, a participant must first complete a required action like providing their email address or mentioning an e-commerce brand on social media.
If they win, they get the prize. It's that simple.
When done right, an e-commerce giveaway can help your brand pull in a ton of new leads, crank up your social media following, and generally increase your exposure.
And because participants have the chance to win products, most are more than happy to comply with the requirements to enter.
It's the ultimate win-win.
To give you a better idea of how this type of promotion works, and to inspire your future giveaway campaigns, here are some of the best e-commerce giveaway examples I've seen.
5 Giveaway Examples from Real Brands
1. Melted Soapery
Melted Soapery is a brand that sells handcrafted soaps made in small batches "using palm-free vegan oils, luxurious butter, and responsibly sourced ingredients."
The company runs its e-commerce giveaway on Instagram where the prize is eight full-sized products, featuring shower smoothies, sugar scrubs, and body butter. In total, the products add up to $92 in value.
To enter, all participants have to do is:
Follow Melted Soapery on Instagram (if they weren't doing so already);
Share the post to their social media accounts; and
Tag a friend (the more tags, the more entries).
Five days later, Melted Soapery will select and contact a winner so they can redeem their prize. Here's what the promotion looks like: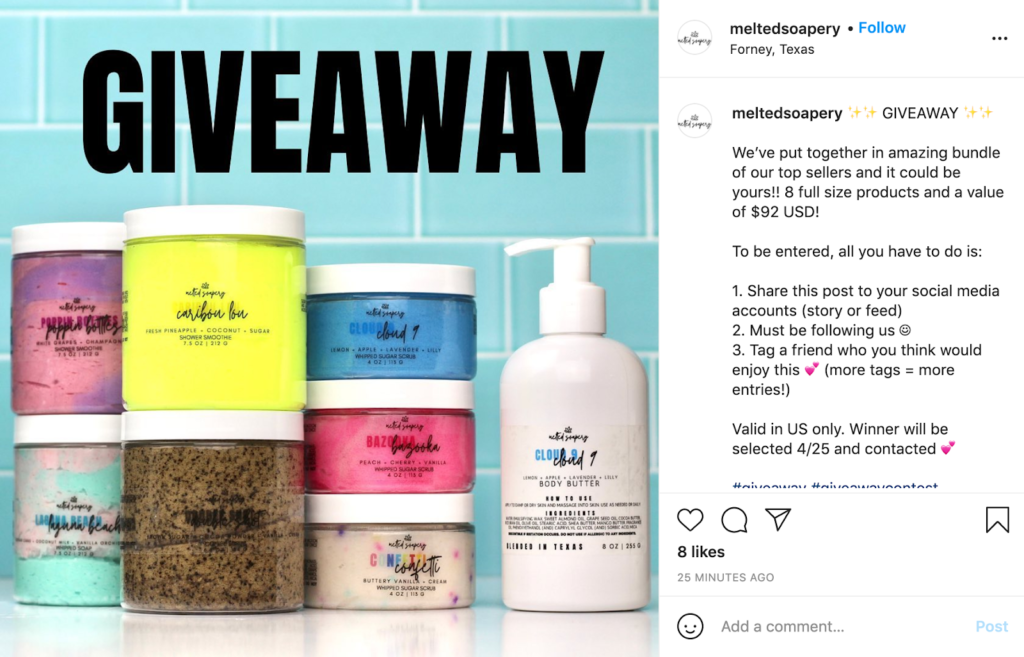 One of the main reasons I love this example is because it's so straightforward.
The first thing that captures a potential participant's attention is the eye-popping image of the products being offered. There's a striking contrast with products in the foreground against the blue background, which really makes the image pop.
What's more, writing "GIVEAWAY" in bold, capital letters in the header lets Instagram users know exactly what's up. Then, Melted Soapery breaks down exactly what users need to do to enter step-by-step to eliminate any guesswork.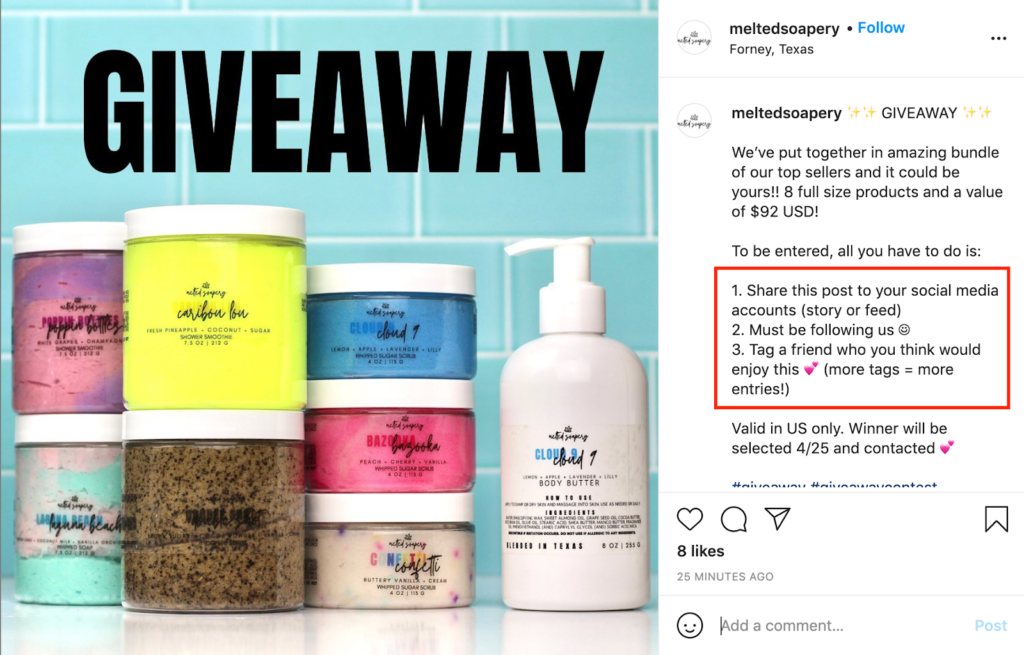 I also like how transparent they are with their giveaway, saying exactly what the winner will receive, mentioning the number of products, total value, and the date they'll be selected.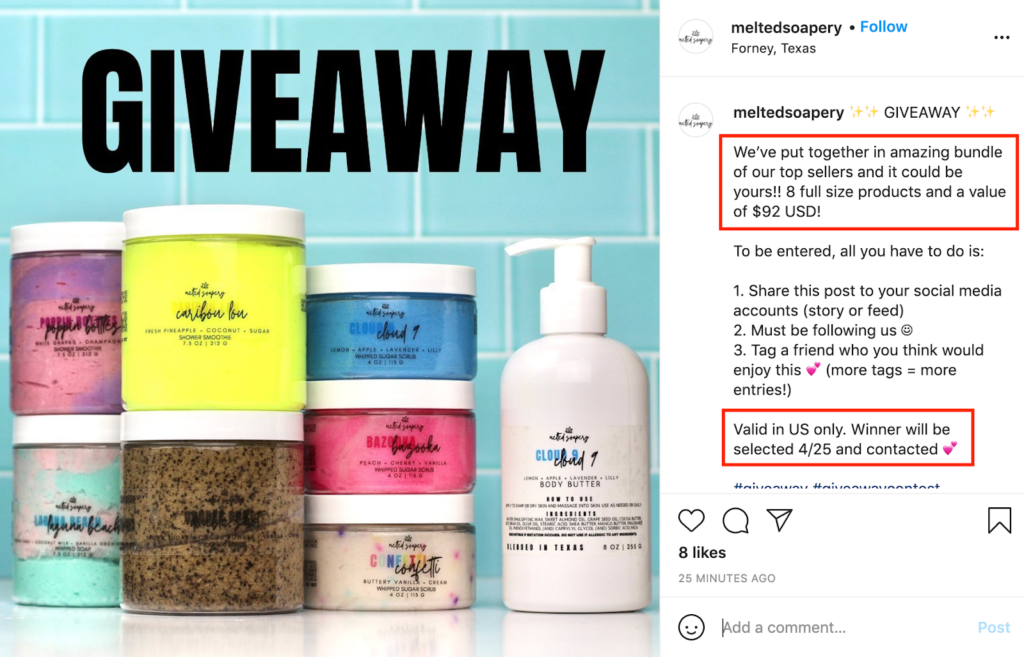 This shows that you don't need to offer up a massive prize to have an impact. By giving away just $92 in product value (the average value is $369 if you're wondering), Melted Soapery can bring in a ton of new leads and build its Instagram following.
If you're looking for a simple yet insanely effective template to borrow from, this is it. Plus, according to Tailwind, "an Instagram contest or giveaway can help you grow your followers 70% faster in three months than if you didn't host a contest at all."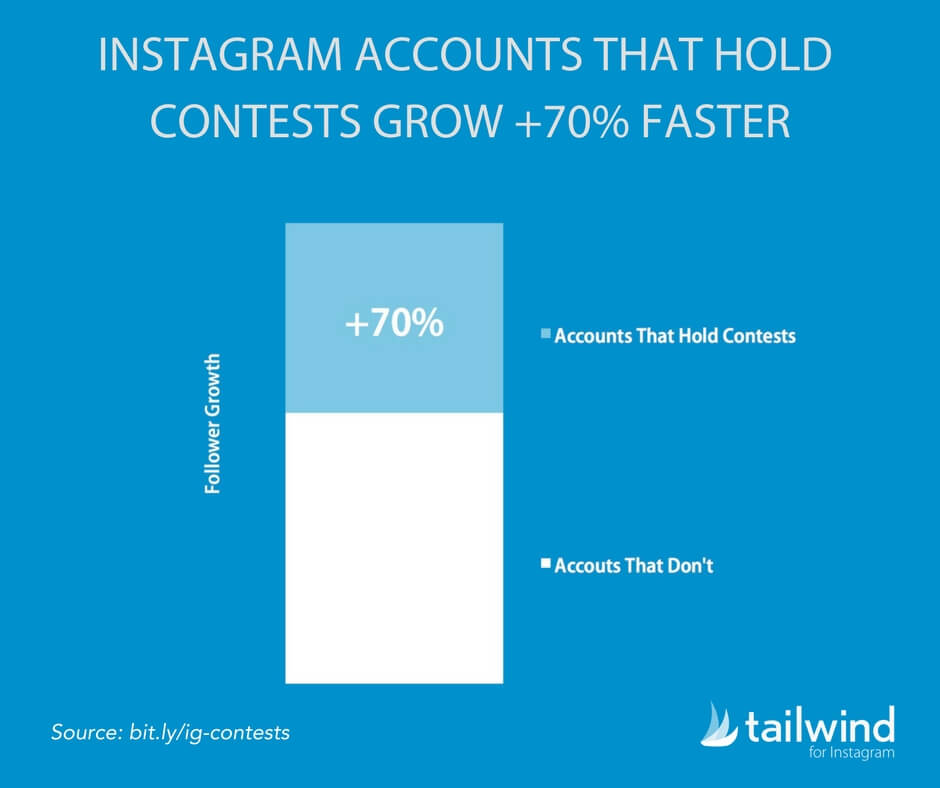 Further, "they get 3.5 times as many likes and 64 times more comments on average than regular posts." That's why Instagram is one of the best platforms for getting the word out.
2. Airmid Beauty Secrets
Next up is organic skincare company Airmid Beauty Secrets. Like Melted Soapery, they run their e-commerce giveaway on Instagram and use an eye-catching photo to grab the attention of potential participants.
Check it out:
Users can't help but notice this post with "GIVEAWAY" being written in bold, pink caps three times on three sides. And the images of the four products let users know exactly what's up for grabs if they enter.
I also like that they feature their website URL in the image.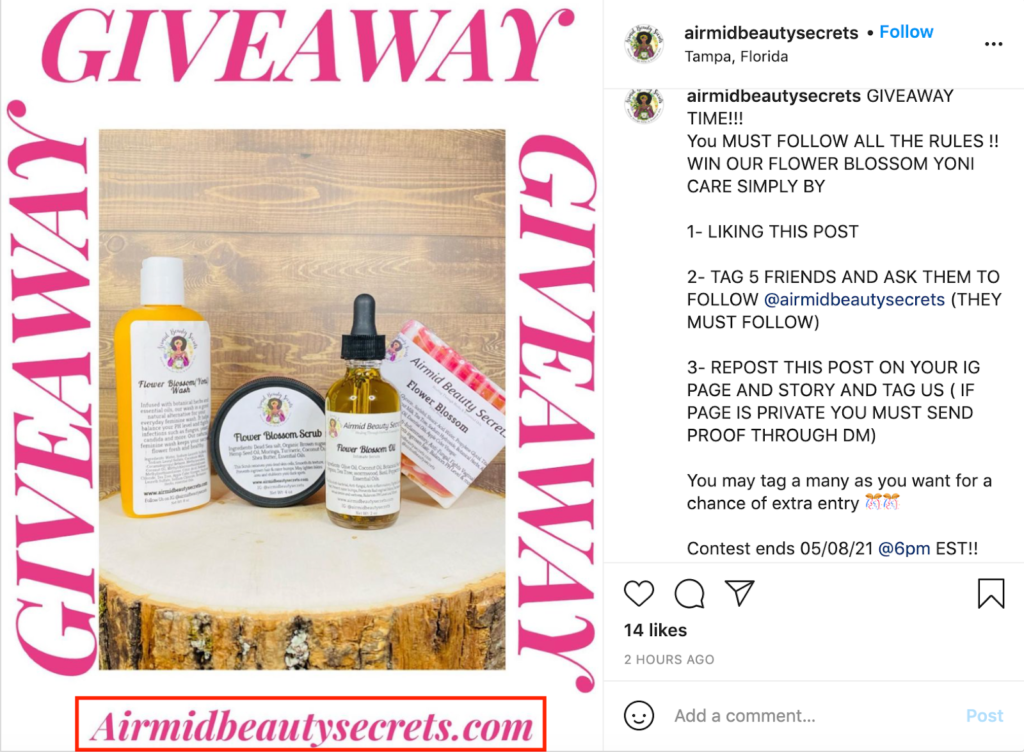 Although Instagram users can't actually click on it directly, it's nice to put the URL on their radar, and they can either enter it into their address bar or click over to the brand's Instagram profile page to visit. Either way, this leads to a spike in their website traffic.
In terms of entering this e-commerce giveaway, Airmid Beauty Secrets makes it super simple and spells out the process right here.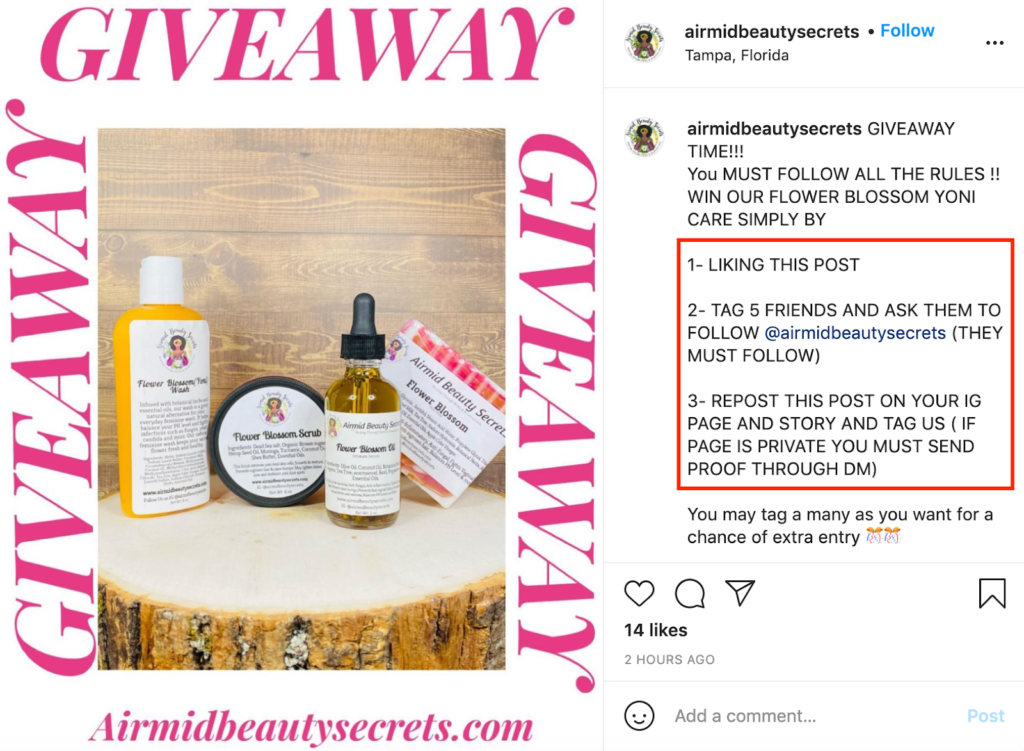 Users have to like the post on Instagram, tag five friends and ask them to follow, and then repost the post on their Instagram page and story.
And just below that, the brand includes other key details, noting that participants can tag additional people for a chance of an extra entry, when the contest ends, and when the winner will be announced.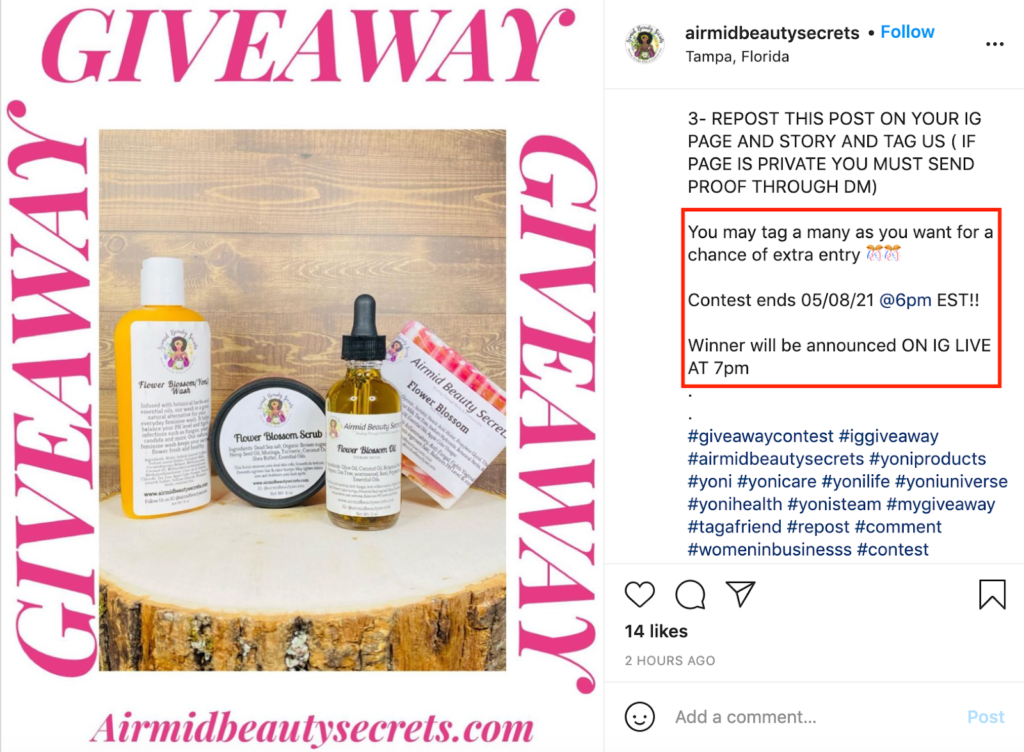 The way Airmid Beauty Secrets announces the winner on Instagram Live is smart. This encourages people to tune in live to see who won, which gives the brand another way to boost engagement and build even stronger rapport with their audience.
Again, this e-commerce giveaway doesn't involve a massive prize worth hundreds of dollars (the collection retails for just $46), but it's enough to get people interested.
So, running this type of promotion doesn't have to break the bank. It just boils down to offering products that participants are receptive to and that get them to take action.
3. Colorful Natalie
Influencer marketing is blazing hot right now.
Just under half of the consumers depend on influencer recommendations for product purchases, and influencer campaigns earn an average of $6.50 for every dollar spent.
One of the best ways to maximize the impact of an e-commerce giveaway is to have an influencer promote it. Case in point, e-commerce fashion brand Colorful Natalie.
They collaborate with Instagram influencers Syd + Ash—two South Florida twins who have amassed a respectable following that's currently at 37.5k.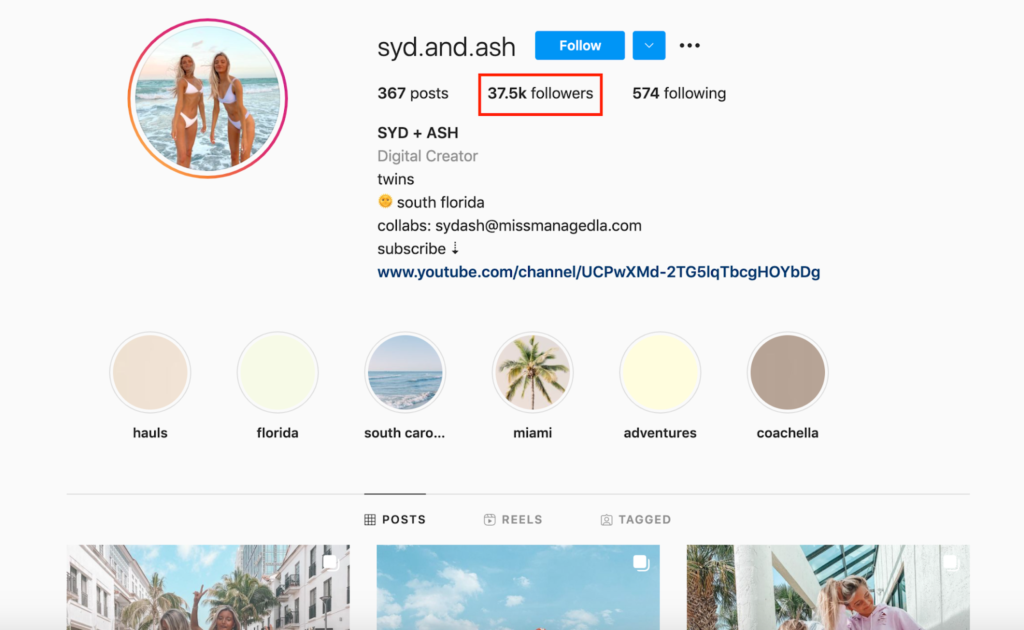 Here's the post featuring the contest.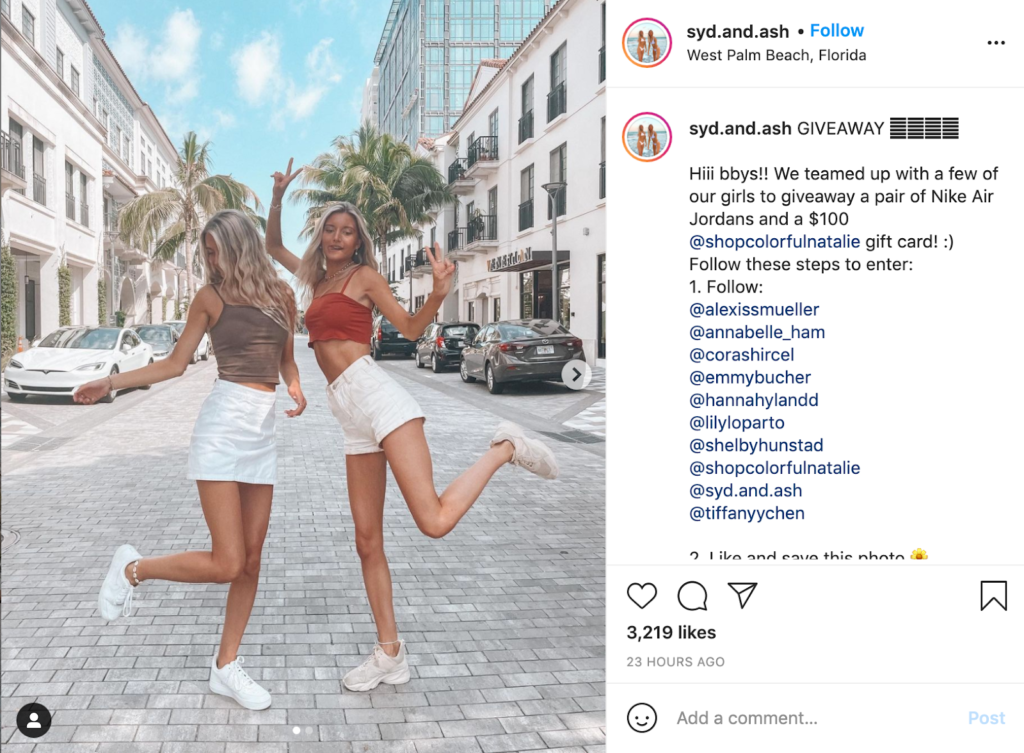 In it, participants can enter to win a $100, along with a sweet pair of Nike Air Jordans, which are also featured in the post.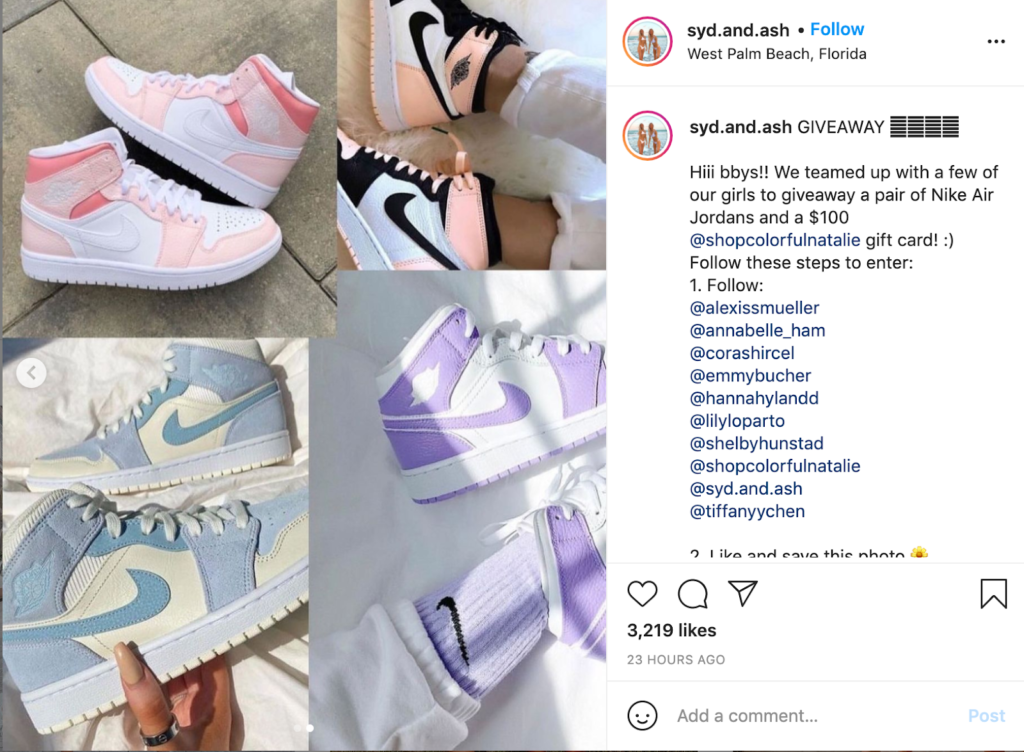 The prizes are clearly stated in the description…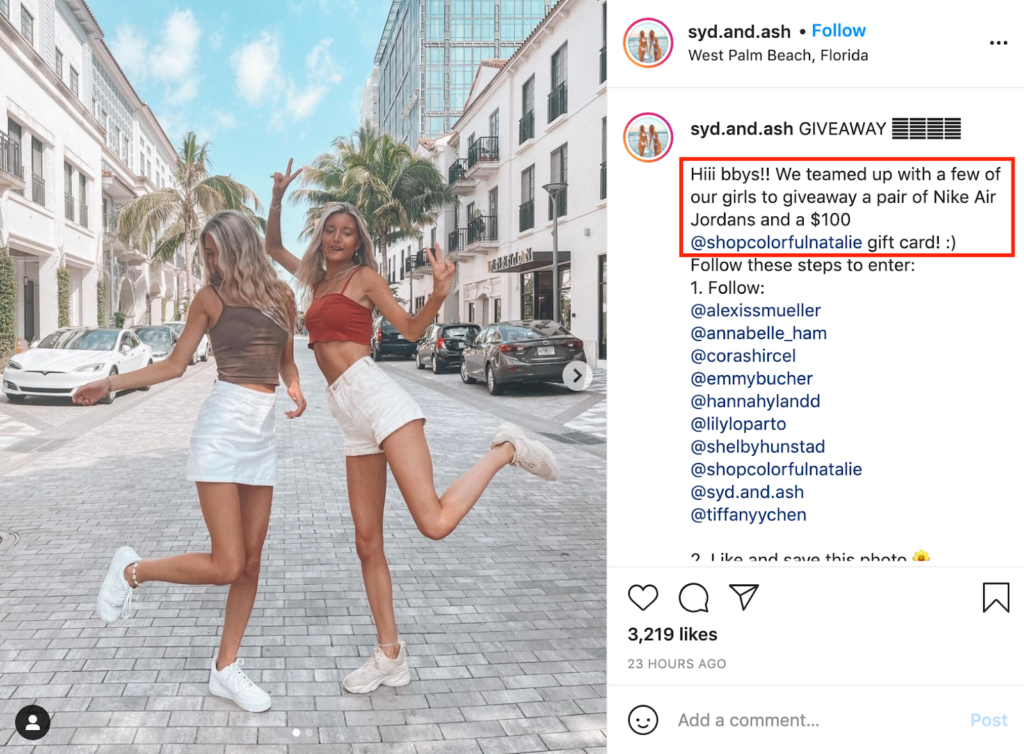 …and the steps to enter are explicitly outlined just below that.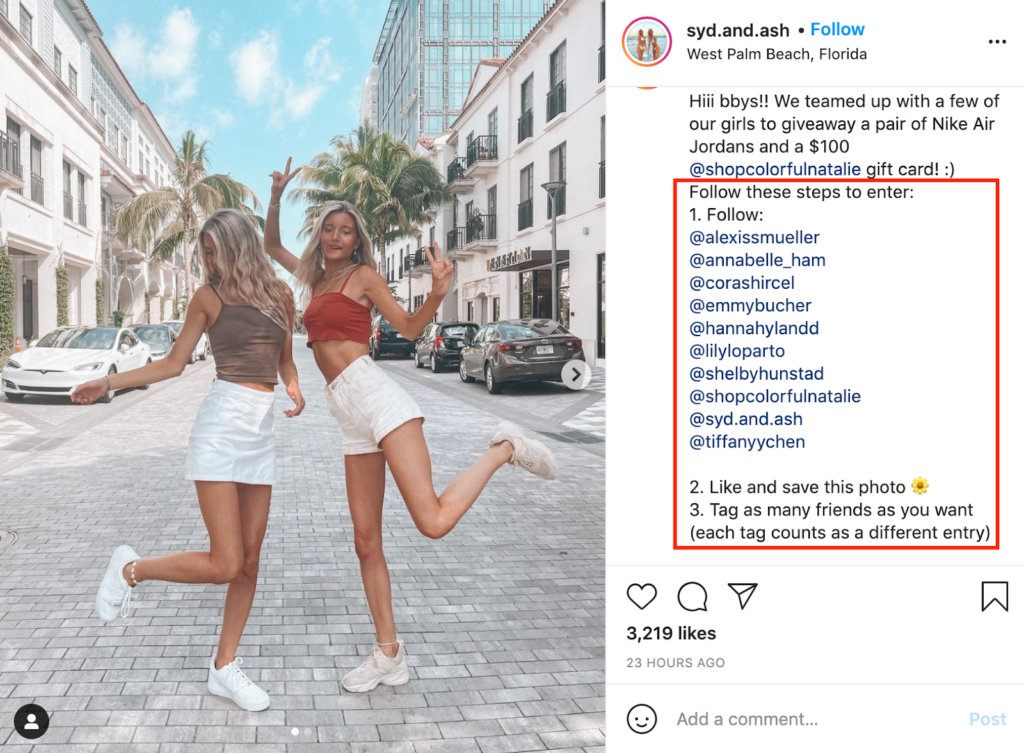 Follow some specific accounts, like and save the photo, and tag friends (with each tag counting as a different entry).
And at the bottom, there are details on when the winner will be announced.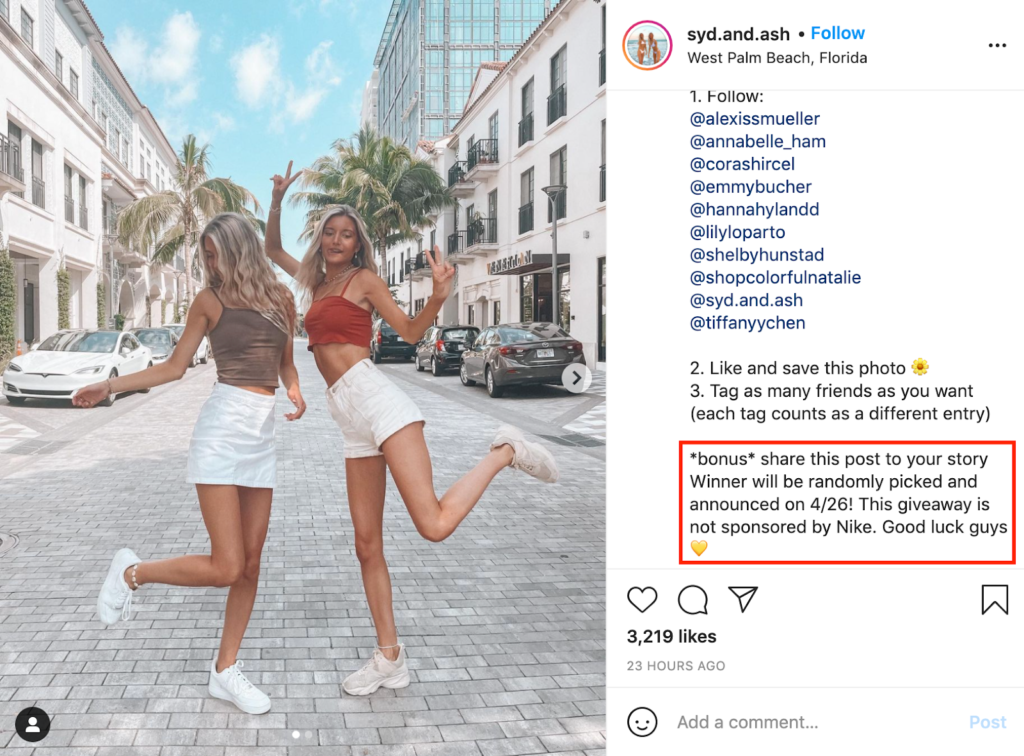 I think this is one of the more brilliant e-commerce giveaway examples for the simple fact that it leverages influencers with a strong following.
Rather than running the promotion on their own, Colorful Natalie is able to expand their reach by collaborating with Syd and Ash. And judging by the fact that the post had over 3,200 likes in less than 24 hours, it obviously hit its mark.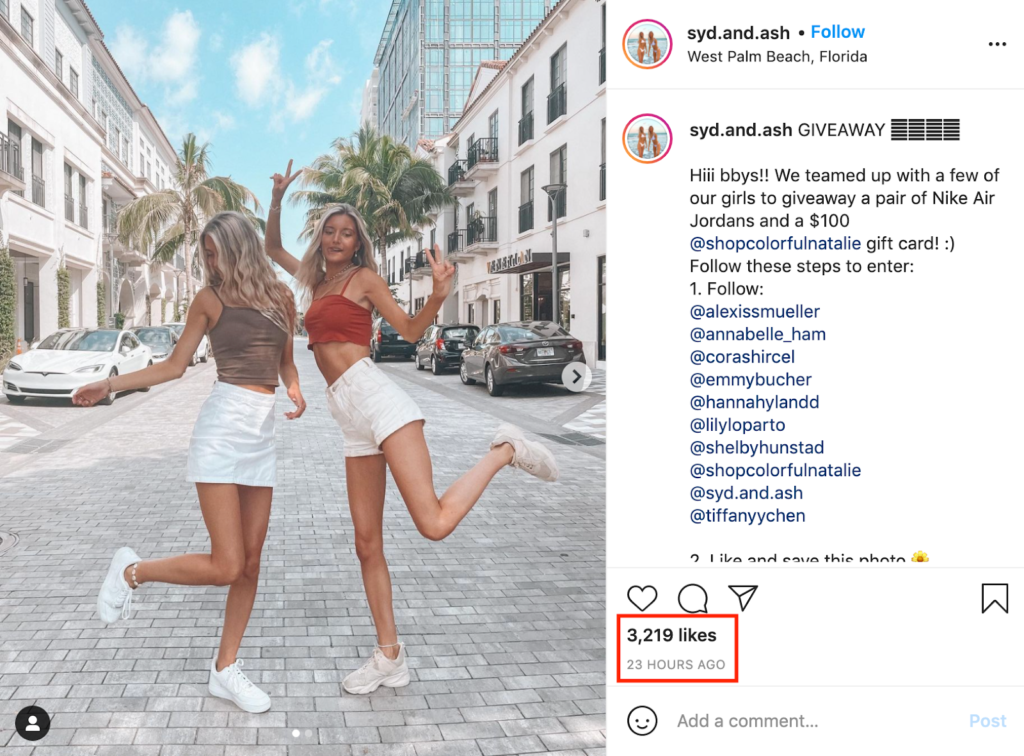 So, if you're looking for a ridiculously effective way to get more eyeballs on your e-commerce giveaway, this is a great way to go about it. And it's not hard to collaborate with influencers. Many are open to it, and you can DM them with an inquiry.
4. TOMS
Sorry if I sound like a broken record for using TOMS in many of my blog posts. But with their ridiculously high level of digital marketing acumen, it's hard not to. They're on point in so many areas, and e-commerce giveaways are no exception.
Unlike my first three examples that use Instagram to promote their giveaway, TOMS does it directly through their website and it's about as straightforward as it gets.
When shoppers land on TOMS' website, they see this popup.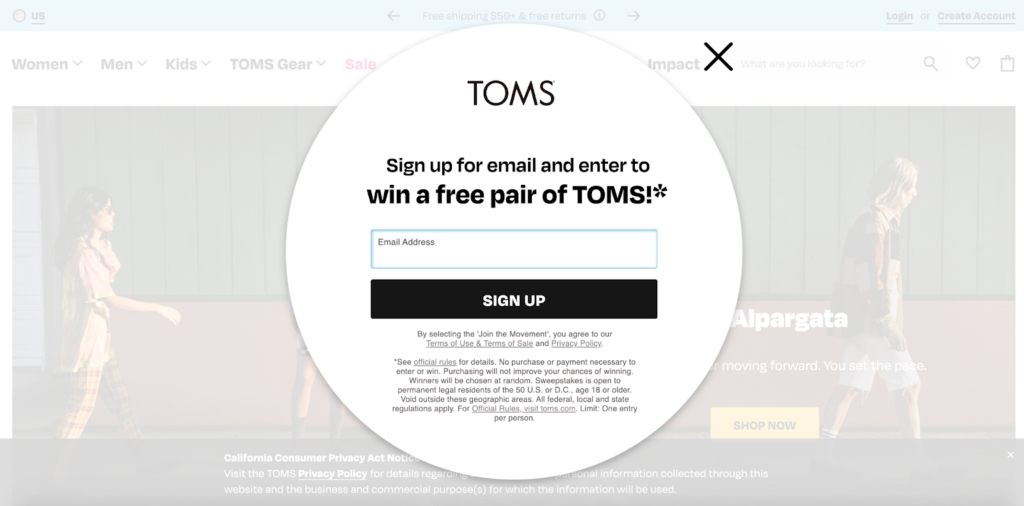 In it, there's a bold header letting shoppers know that by signing up for their email list, they'll be entered to win a free pair of TOMS.
If they're interested, all they have to do is provide their email address. If not, they can easily exit the popup and continue browsing.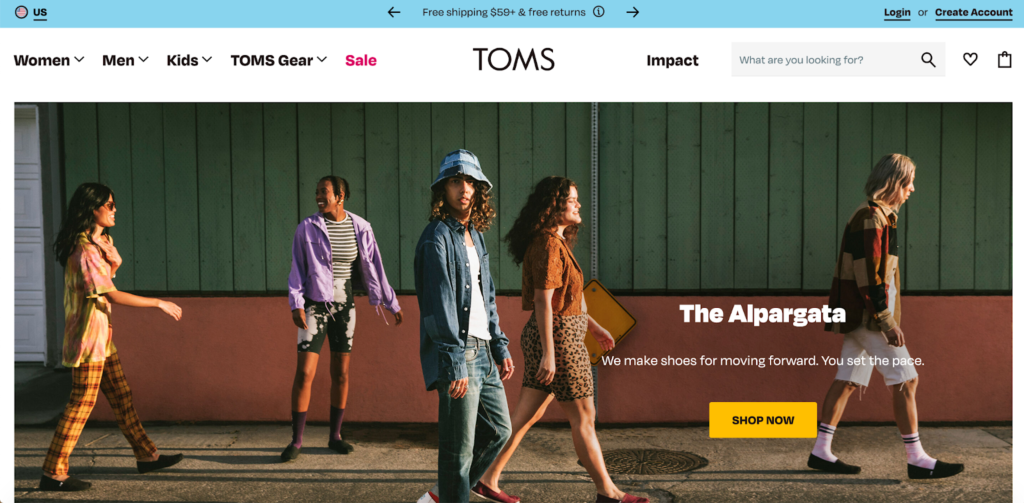 No sweat.
And if a participant wants to know the details like official rules and if they need to buy anything to sign up (which they don't), TOMS provides links to everything they need to know in these two small blocks of text.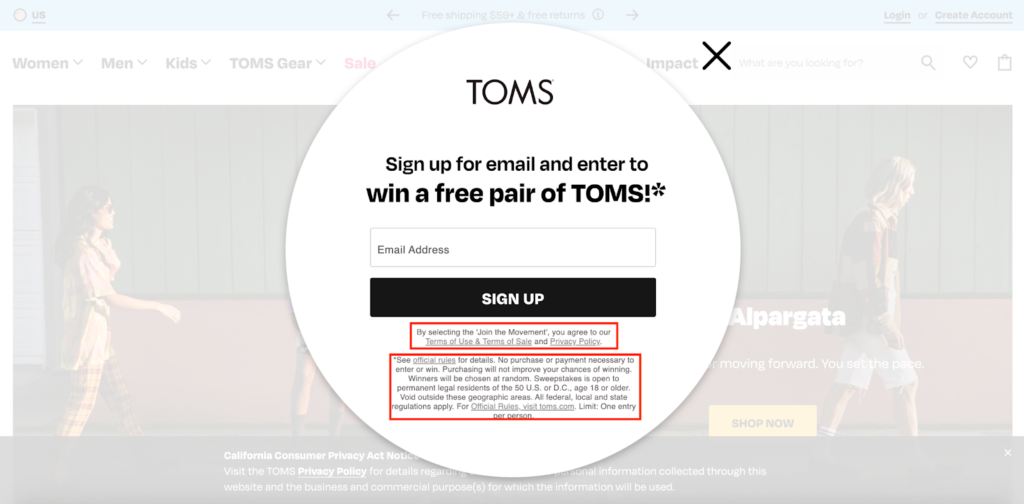 If visitors click on the official rules, for example, they're taken to this page for a full rundown.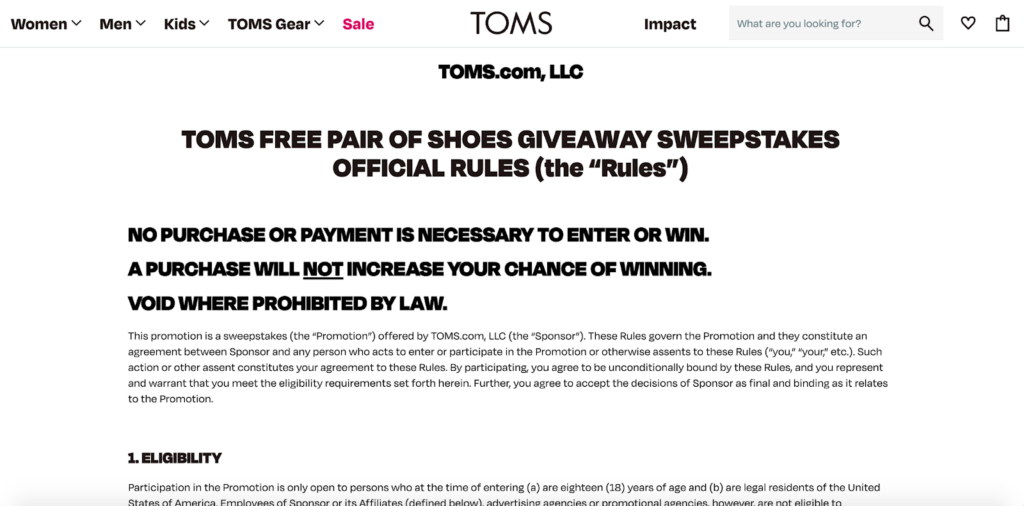 That way the focus is directed toward the offer, but participants don't have to do a ton of searching to find the details.
Like most things TOMS does, they keep their e-commerce giveaway simple, giving anyone who's interested all the information they need but without weighing it down with anything extraneous.
The popup uses minimalist aesthetics, and with zero "cognitive lifting" shoppers knew what's up.
And given that TOMS is simply giving away a pair of shoes, this e-commerce giveaway doesn't take a huge chunk out of their profit margins. So, there's a lot to be learned from this example.
5. Revelry
Like TOMS, bridal dress company Revelry runs its e-commerce giveaway directly through its website.
But rather than having it be a one-off promotion, they run a monthly giveaway where they hand out a $200 gift card every month to the winner.
So even if a participant doesn't get it the first month, they still have a chance to still win in subsequent months. Here's what Revelry's e-commerce giveaway looks like: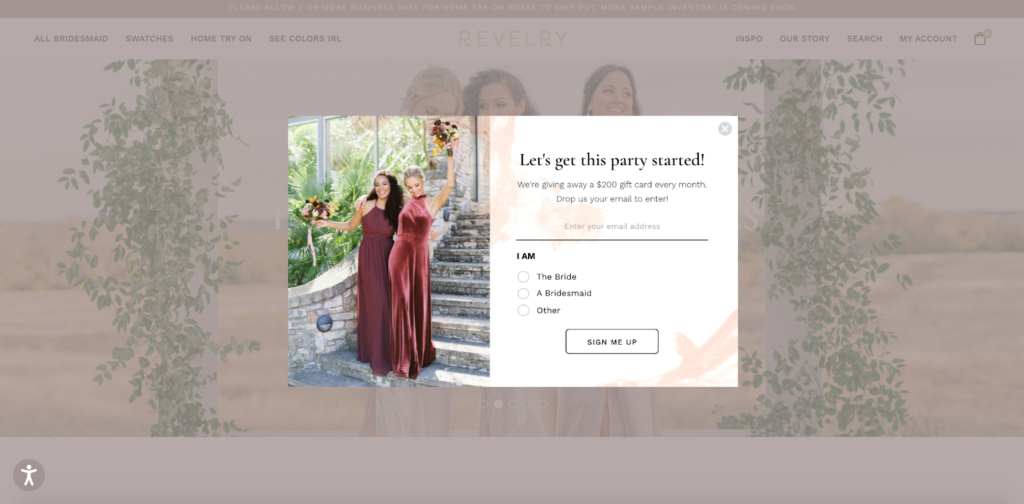 It's a popup that features a great-looking image along with a clear popup copy saying, "We're giving away a $200 gift card every month. Drop us your email to enter!"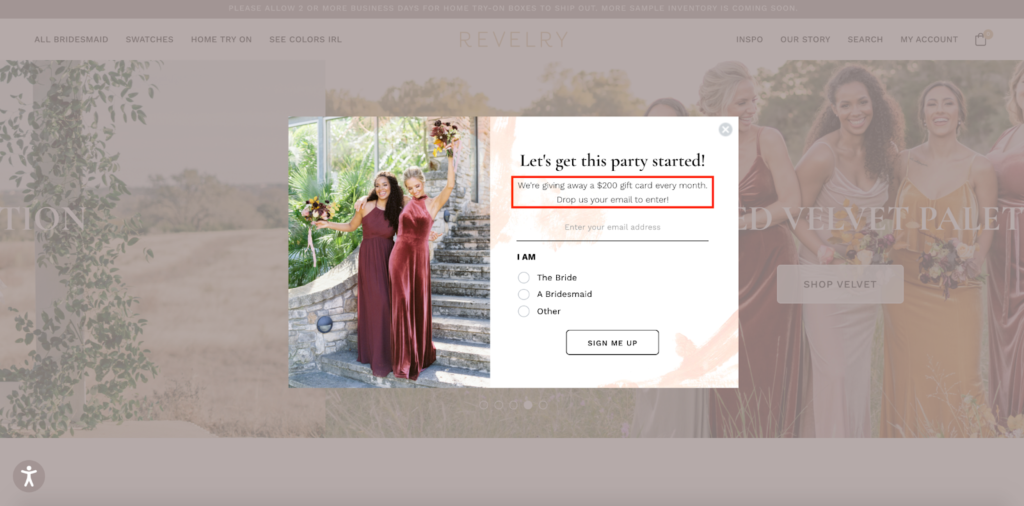 All a shopper has to do is enter their email address and choose whether they're the bride, a bridesmaid, or other…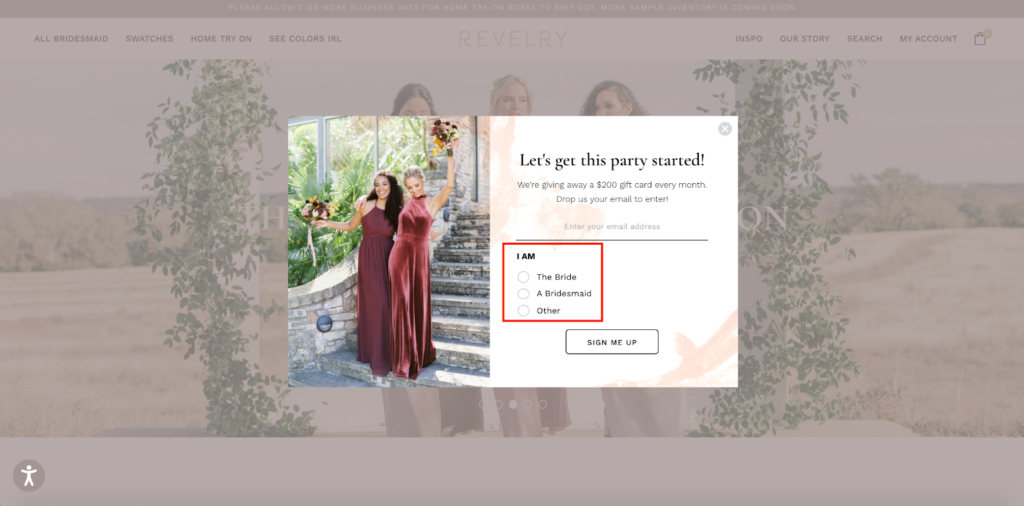 …and click "Sign Me Up" and they're good to go.
Revelry is s fairly popular brand in the bridal fashion niche, and in March 2021 alone they received over 292,000 visits. That means nearly 300,000 people saw their e-commerce giveaway offer that month.
Considering that email popups convert at around 3.5 percent, this giveaway campaign likely translated into a significant number of signups, which in turn generated a ton of leads for Revelry.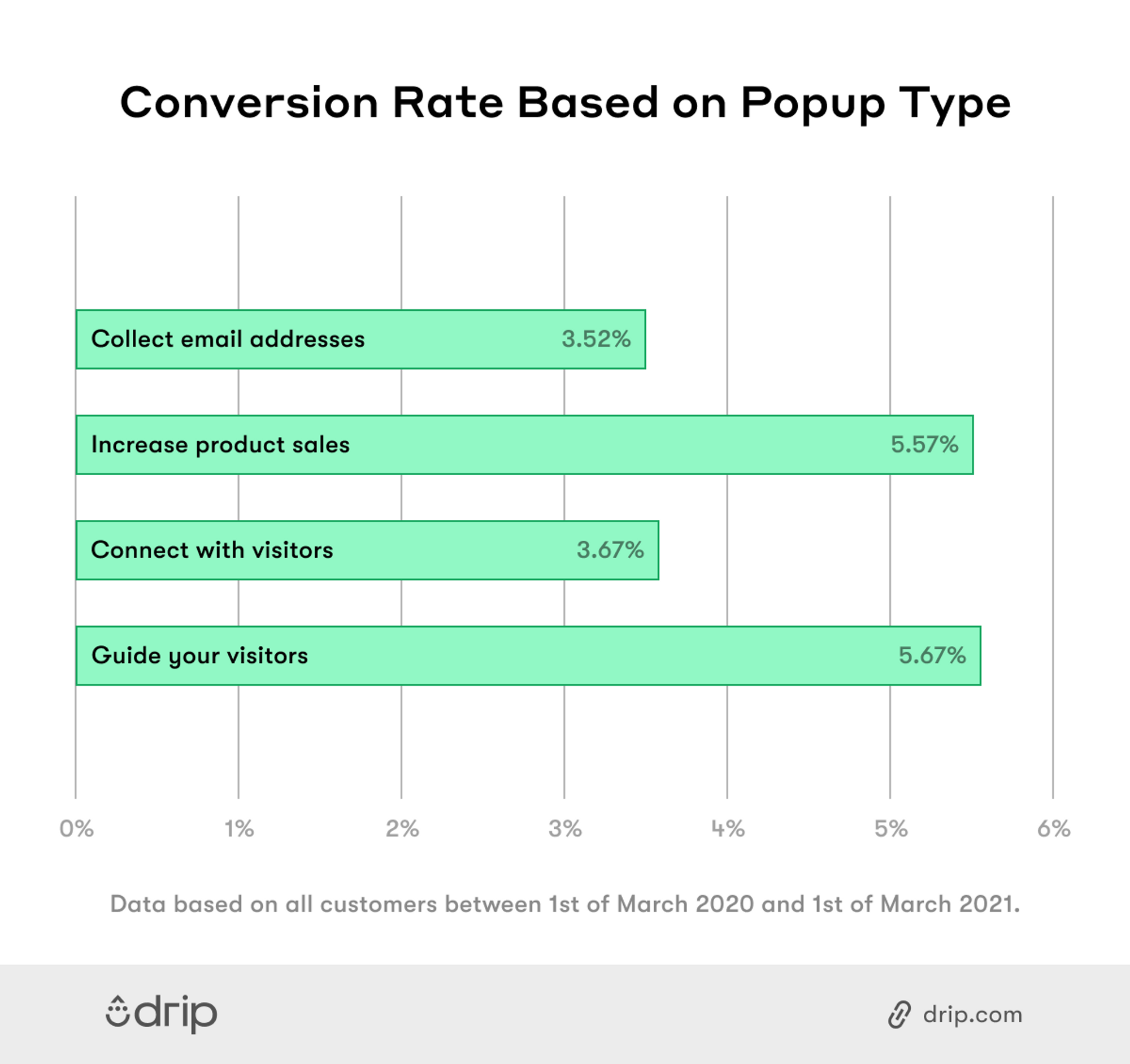 If a shopper isn't interested, it's not a big deal. They can simply exit out of the popup and go about their business without it creating any friction.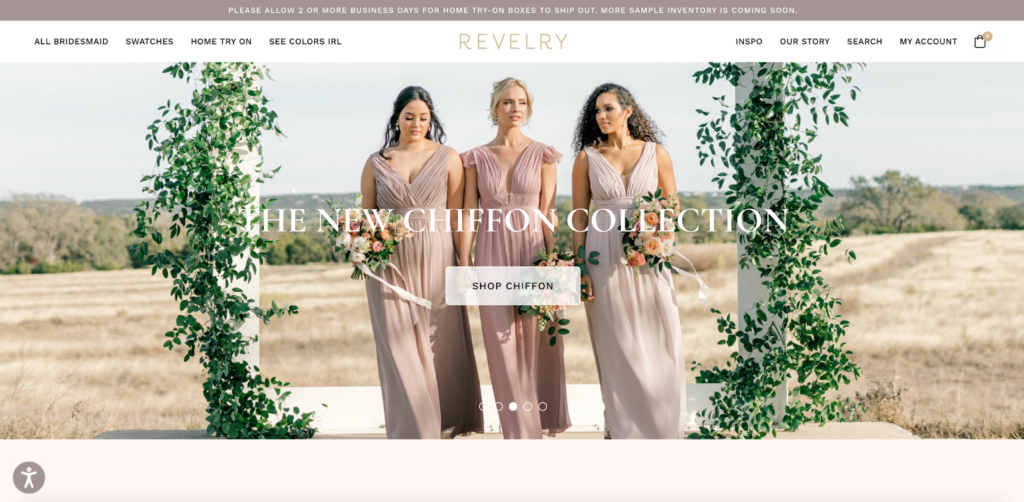 Revelry's offer is also a generous one. $200 is nothing to scoff at, and it should be plenty of incentive to get shoppers to take action.
As I've said before, it doesn't have to cost an arm and leg to run an e-commerce giveaway, and many brands shell out less than $100 to do it. But if you can sweeten the deal by raising the stakes a little, you can expect even bigger results.
I'd bet that the $200 Revelry shells out each month to run this promotion is only a drop in the bucket compared to the increased sales they get.
Finally, it's smart to ask participants to choose whether they're the bride, a bridesmaid, or others with a multistep popup. This allows them to segment their email list so they could send readers highly targeted content.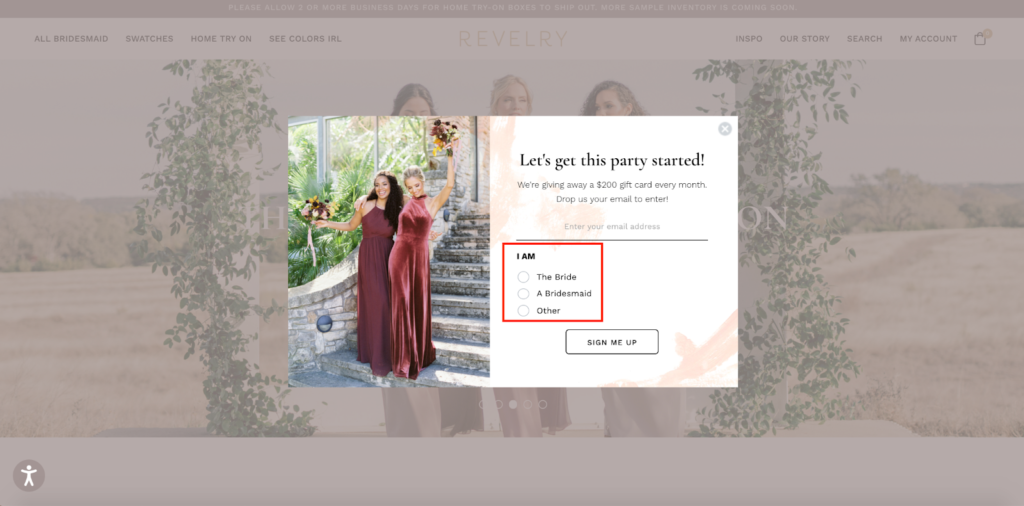 The more segmented a list is, the higher the open-rate, click-through, and sales should be.
If you're thinking about running an ongoing promotion to keep a steady stream of leads coming in, this example from Revelry provides an excellent template to borrow from.
Conclusion
Let's recap.
E-commerce giveaways are an extremely cost-effective way to generate an influx of leads. They're also a lot of fun.
There's something infinitely appealing about the idea of potentially winning something for free that strikes a chord with most e-commerce shoppers.
After all, by doing something simple like providing their email address or sharing their brand on social media, they can win some amazing loot. That's why so many people are receptive to it.
Having success is just a matter of following the right formula, offering an attractive prize, and using smart promotional tactics, which can include creating a post about it on social media, collaborating with influencers, or displaying it as a popup on your website.
The e-commerce giveaway examples I've highlighted here show how you can base your approach and some of the specific angles you can take.