Ever wonder why email segmentation is so effective? Let me demonstrate through the power of analogy.
Imagine you're running a brick-and-mortar hardware store employing two sales reps.
The first rep—let's call them Jesse—has worked there for years. They know your loyal customers like the back of your hand, so they're able to point shoppers in the right direction the second they enter your store. They tell tradespeople about your latest wholesale promotion and give helpful tips to hobbyists and DIY enthusiasts.
The other, who goes by Kingsley, offers the same generic service to each and every customer.
I'm guessing Jesse is going to sell a whole lot more tools, saws, and power drills than Kingsley. Why? Because they're creating customer segments on the fly and serving individuals with relevant, personalized information.
The same thing is true in the world of email marketing. According to Mailchimp, segmented email campaigns achieve:
14 percent higher open rates
11 percent more unique opens
101 percent more clicks than non-segmented campaigns
That's because segmentation is the first step toward crafting laser-targeted email campaigns.
Want to know the best thing about personalization (and, by extension, segmentation)? Consumers love personalized email content.
According to Dynamic Yield, 62 percent of consumers respond positively to personalized emails. Yet just 25 percent feel most email content is personalized to them.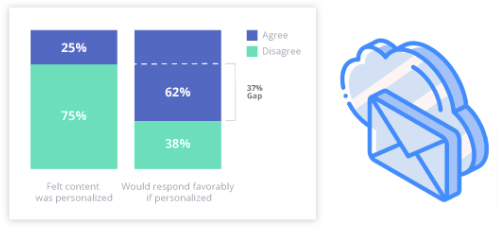 Clearly, we marketers have a long way to go to satisfy our audiences' desire for personalized content. With that in mind, I've rounded up seven highly impactful email segmentation ideas you can start using right now…
7 Email Segmentation Ideas
New Email Subscriber Segmentation
Ever started streaming a new show midway through a series?
You can't figure out what's going on because you don't know any of the characters.
That's (kind of) what it's like if you add new prospects to your marketing list without first reaching out with a welcome email series. Sure, they might like the look of your products. But they have no real concept of who you are and what you stand for.
Once you've segmented new subscribers, reach out with a welcome email.
Start by saying "Hi" in your email subject line, like this example from sustainable women's clothing and accessories brand Reformation:

Your task in the email body is to detail your value proposition—in other words, why someone should buy from you rather than a competitor. Reformation does this by highlighting the frequency and exclusivity of its collections…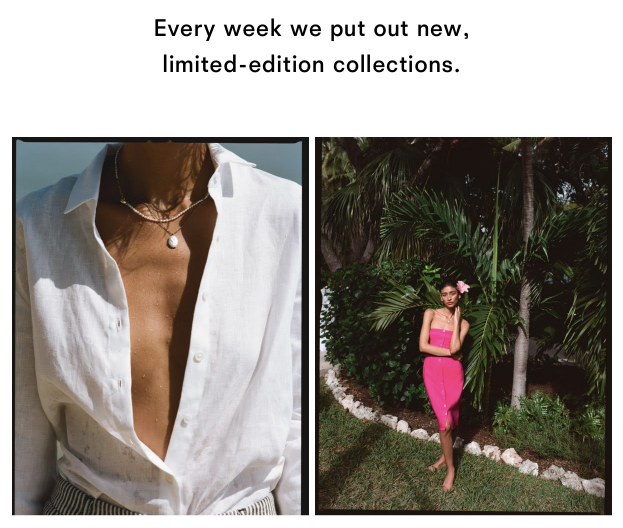 …and by outlining its commitment to sustainability: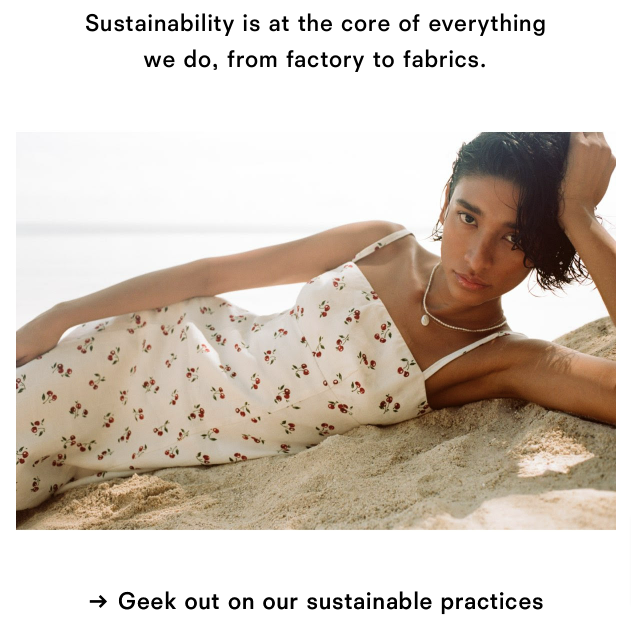 That's a smart move, with 75 percent of consumers saying they expect brands to help them make greener choices, according to research from Zurich.
Finally, Reformation adds CTAs to three product categories, alongside a message that sustainable purchases qualify for free shipping: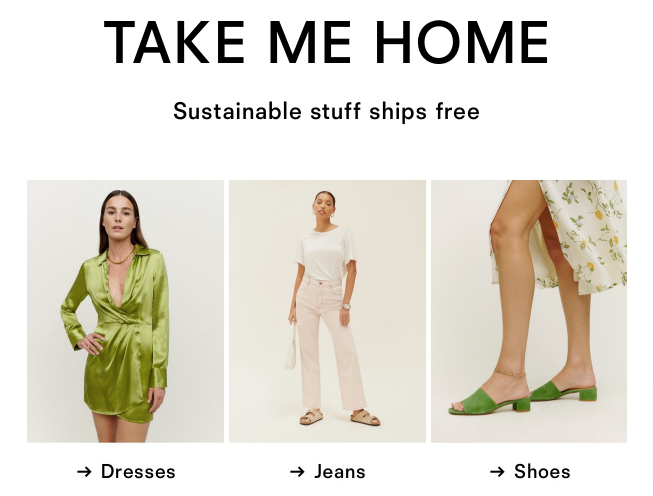 Again, that's intelligent marketing, as shoppers are twice as likely to respond to free shipping offers than price discounts.
Once you've digested all that information, you've got plenty of incentive to make your first purchase from Reformation.
Cold Email Subscriber Segmentation
I've already discussed the benefits of segmenting prospects who've just signed up to your marketing list.
Now I'm going to talk about the other side of the email marketing spectrum: customers who have been on your mailing list for months (or years) and have stopped engaging altogether.
These so-called "cold subscribers" are people who haven't opened or clicked one of your emails for a given period, typically around two months. They liked you enough to sign up in the first place, but somewhere along the line, they lost interest—and now they've totally checked out.
This is a big problem for email marketers. If people stop opening your emails, your future messages are more likely to end up in the spam folder. Eventually, that's going to hurt your sender score.
So rather than shrugging your shoulders, try segmenting cold subscribers and targeting them with re-engagement campaigns.
Here's an example of a re-engagement email subject line from plus-size fashion brand Torrid:

I like this approach, because it addresses the elephant in the room: the recipient hasn't been opening your emails.
Torrid's email body contains a 30 percent discount offer. While it might seem counterintuitive to create a special offer for your least-engaged subscribers, remember: it's a lot cheaper to retain an existing customer than attract a new one. If a discount is all it takes to transform a cold subscriber into an engaged one, it's worth the hit to your margins.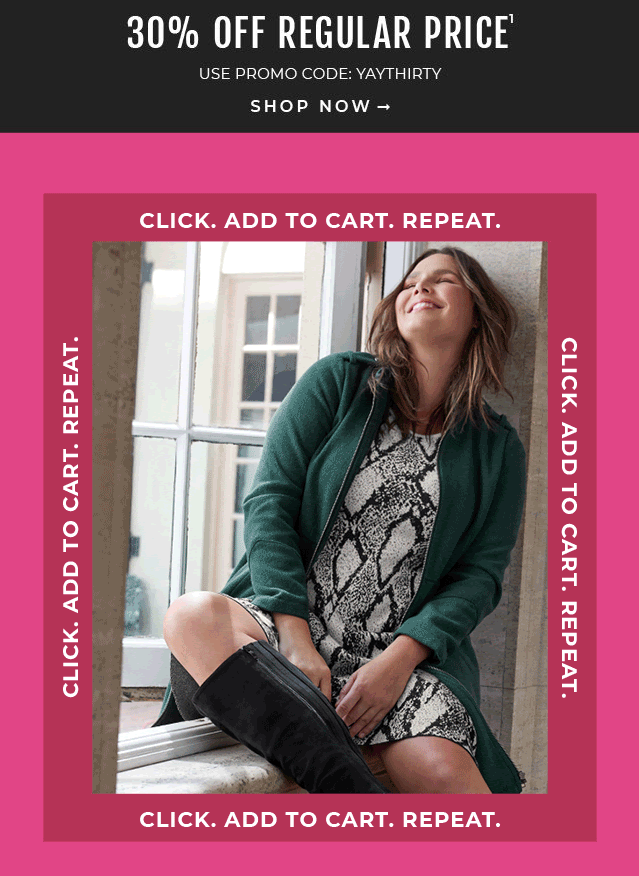 Importantly, re-engagement emails shouldn't be a one-and-done exercise.
Because if someone hasn't opened a single one of your emails for two months, the smart money's on them also ignoring your first re-engagement email.
Give yourself a fighting chance by creating a dedicated re-engagement email series containing multiple emails. You don't want to spam disengaged subscribers, but at the same time, you shouldn't give up without doing everything you can to win them back.
In fact, a small-scale survey from ActiveCampaign found that almost three-quarters of marketers send 3+ re-engagement emails before removing subscribers from their mailing lists.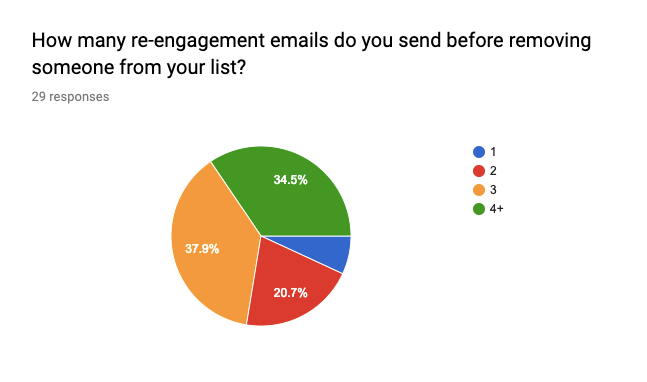 Existing Customer Segmentation
Naturally, a lot of your email marketing efforts will focus on converting prospects into paying customers.
But don't forget the people who've already made that journey: your existing customers.
They like you enough to have bought from you in the past. Provided they were satisfied with their purchase, there's no reason they won't buy again—you just need to reach them at the right time, with the right messaging.
Beauty Bay does this by targeting its existing customer segment with regular back-in-stock emails related to previous orders: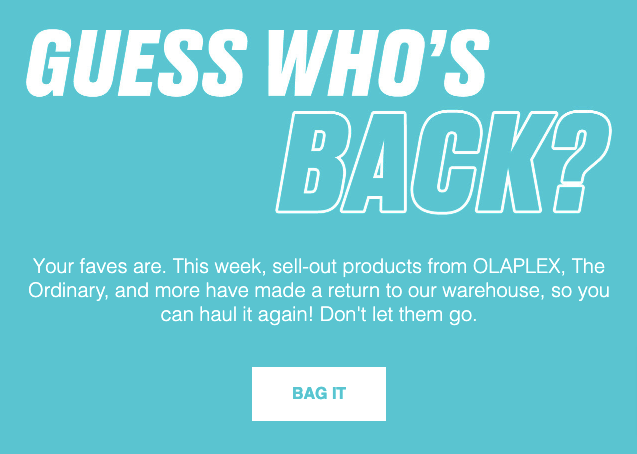 This approach works well for FMCG goods—the type of stuff customers will buy over and over again.
But what if your products are one-off (or long-term) purchases? No one needs to know that the mattress they purchased six months ago is back in stock again; they're unlikely to order another one.
In that case, consider a twist on the tactic by targeting existing customers with products related to their previous purchases that have just come back in stock.
Those reminders don't always have to be an email. A great example comes from Lindsay Dreyer from Haute Hijab, who explains how they tailor their messaging around where the customer is in their purchase journey. In our recent episode of Beyond the Inbox, she highlights how important getting that second purchase is, and how she uses SMS to keep Haute Hijab top-of-mind.
Loyal Customer Segmentation
Loyal customers are worth their weight in gold, with research from KPMG revealing:
86 percent of loyal customers will recommend a company to friends and family
66 percent will write a positive online review after a good experience
46 percent will remain loyal

even after a bad experience
So why not segment your most loyal customers and thank them for their commitment?
Chairish does this by sending customers a discount code as a reward for being on their email marketing list for five years: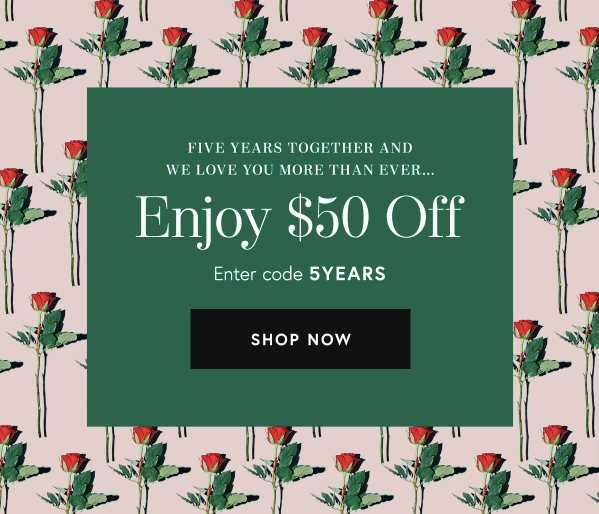 Of course, measuring loyalty by the length of time someone has been receiving (and engaging with) your emails isn't the only way to define customer loyalty. You could use various other metrics, such as:
Purchase frequency
Average order value
However you define loyalty, the goal here is to make your longest-standing, highest-spending customers feel special. A targeted discount is a great way to achieve this.
Loyalty Program Segmentation
While we're on the subject of loyal customers, it seems like a smart time to discuss loyalty and rewards programs.
According to McKinsey & Company, top-performing loyalty programs can boost annual revenue from customers who redeem points by 15 to 25 percent by increasing their purchase frequency, basket size, or both.
If you're running one—or thinking of launching one in the near future—it makes sense to build an audience segment comprising program members. That way, you can target them with:
Exclusive offers
Early access to sales
Updates on the rewards they've earned
In other words, the kind of stuff that makes them glad to have joined your program in the first place.
J.Crew understands this, routinely sharing special deals with loyalty program subscribers: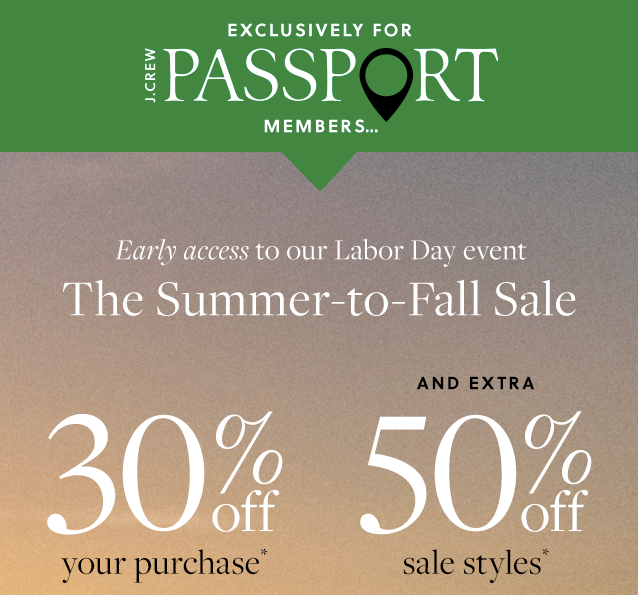 Cart Abandonment Segmentation
You've worked hard to attract a customer to your website and persuade them to add a product or two to their shopping cart. Then, with the sale seemingly in the bag, they up and leave.
Cart abandonment is a fact of life for ecommerce businesses. And it's a bigger issue than you might imagine, with a meta analysis from the Baymard Institute revealing an average cart abandonment rate of 69.99 percent.
To put that another way, more than two in three online shopping carts are abandoned before an order is placed.
There are any number of reasons for consumers to abandon their shopping carts. Some can be fixed, but others—like high taxes and declined credit cards—are out of your control.
But it's not all bad news.
Just because someone ditches their cart midway through the checkout process, that doesn't mean they'll never buy from you. They just need a gentle nudge.
That's why abandoned cart segmentation is so effective.
According to Barilliance, cart abandonment emails consistently deliver average open rates of 43+ percent: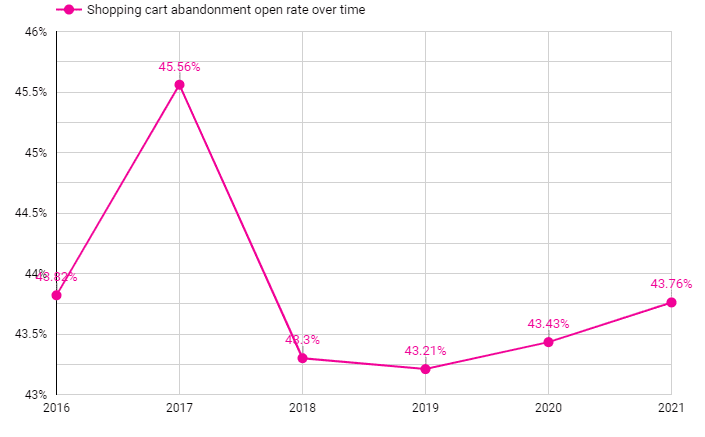 Not only that, but they're also highly persuasive, with Barilliance reporting the average conversion rate for shopping cart abandonment emails stands at 18.64 percent.
So you can essentially win back almost one-fifth of your "lost" conversions through cart abandonment segmentation.
When it comes to crafting an impactful cart abandonment email, your best bet is to keep things simple.
If a customer liked your product enough to add it to their shopping cart in the first place, you likely don't need to go overboard in selling its benefits. Instead, your job is to remind them of the product (and make it easy for them to convert).
Let's look at an example from cosmetics company Anastasia Beverly Hills, which added a little time pressure to the email subject line to convince cart abandoners to complete their transactions:

The email body is pretty simple, incorporating a list of abandoned products alongside the price tag and a star rating designed to persuade customers that they're missing out on a high-quality purchase: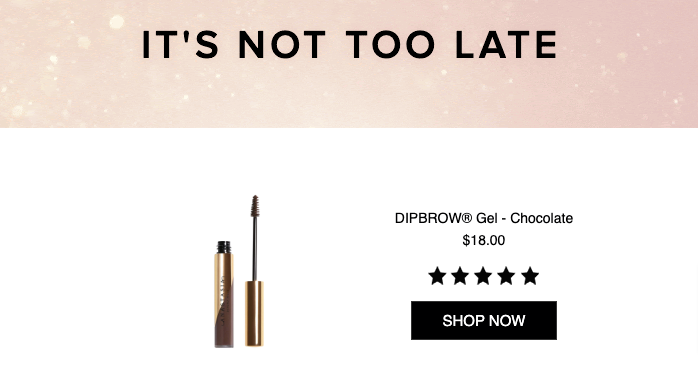 Add a CTA to the product page—or, even better, to the abandoned shopping cart—and you've got a recipe for recouping a healthy proportion of sales lost through cart abandonment.
Browse Abandonment Segmentation
Of course, cart abandonment isn't the only form of ecommerce abandonment.
For every person who abandons a shopping cart, many more will leave your site before even starting the checkout process.
Some of those shoppers may have clicked around a product page or two, but they didn't find exactly what they were looking for. Or if they did, they didn't feel compelled to buy straight away.
Maybe they were just shopping around. Maybe they're waiting for payday. Maybe they simply got distracted.
According to Brooks Hitzfield from Seven Sons Farm, segmenting based on where a customer is in their purchase journey is your best bet for targeting. So if someone has browsed your site recently, they've shown interest and intent (even if that's not as much intent as cart abandonment).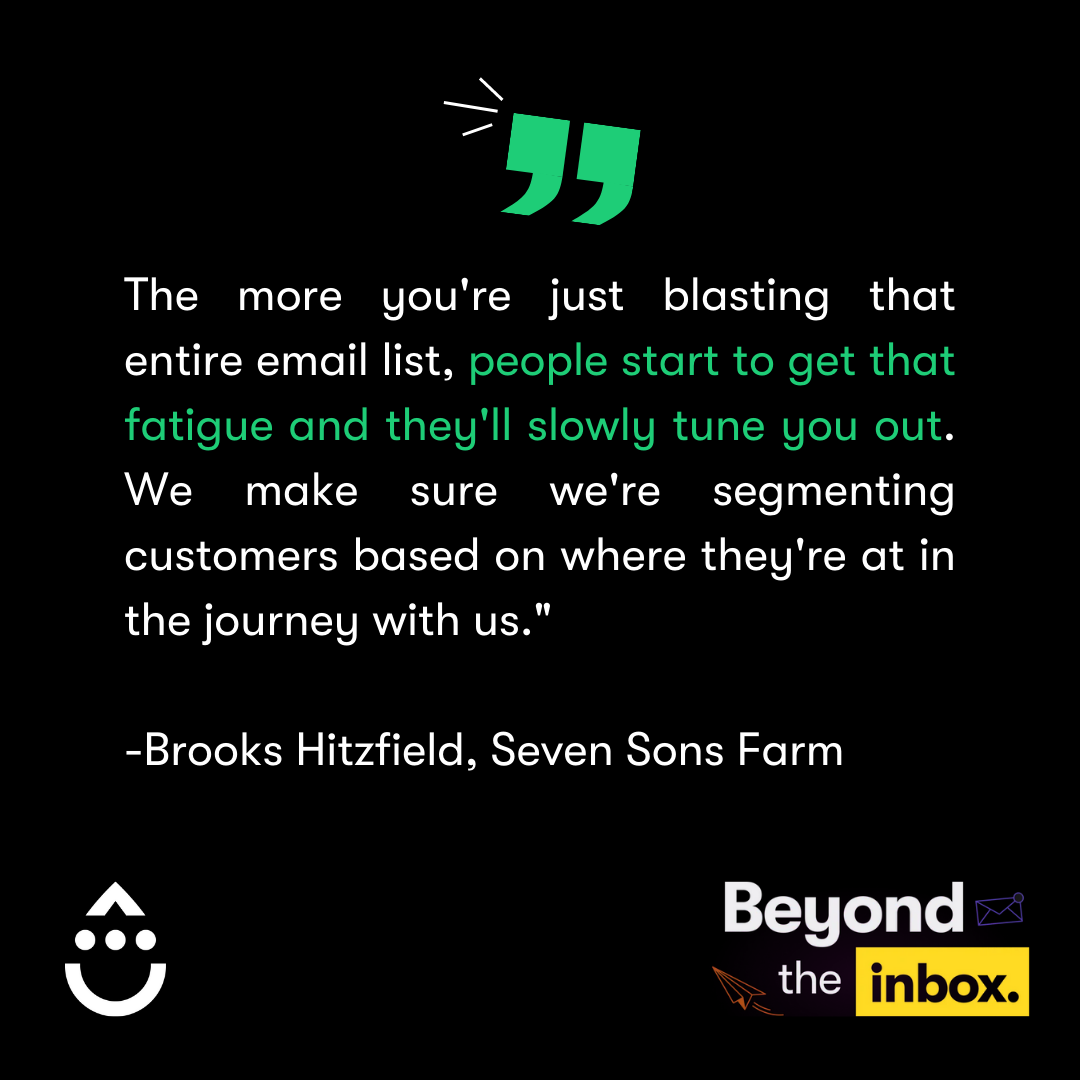 Either way, if those shoppers were existing customers—and were signed into their accounts while browsing your site—you should definitely use browse abandonment segmentation to follow up (and, hopefully, convince them to buy).
Again, simplicity is the key to an effective browse abandonment email. In this example, footwear brand The Frye Company reaches out with an email that reminds customers of the item(s) they were looking at: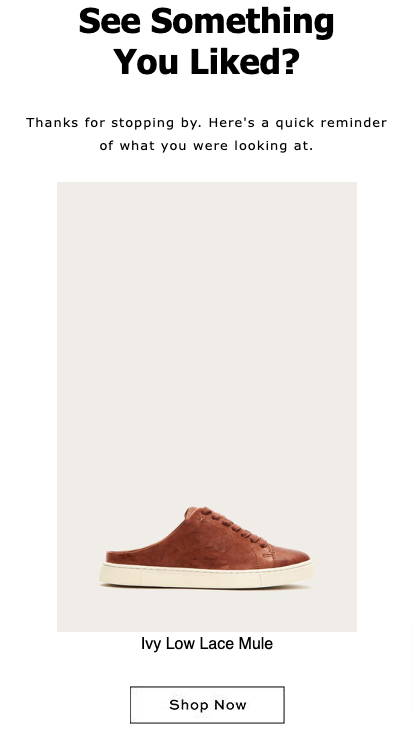 But what if the customer in question wasn't totally won over by those tasteful low lace mules? After all, there's a good chance that's why they didn't buy in the first place.
The Frye Company has the answer—add a bunch of related products to the email: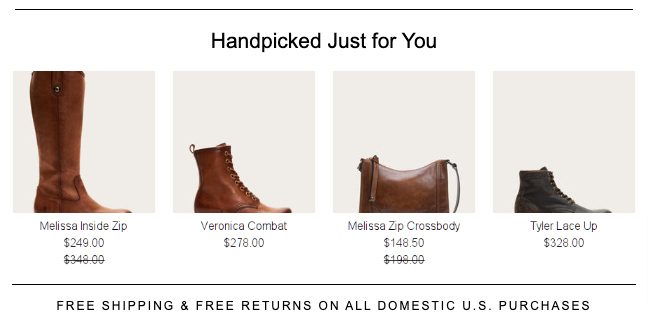 And, as you'll notice, it also gives the recipient an incentive to buy, in the form of free domestic shipping and returns.
Boost Revenue With Dynamic Segmentation From Drip
Hopefully, you can see the value of effective email segmentation.
Unfortunately, not all ecommerce marketing platforms are up to the task.
Drip is different. We make it easy to build dynamic customer segments that update in real time.
Want to reach shoppers who've just browsed lip gloss or abandoned a shopping cart full of fitted sheets? You can with Drip.
Find out how dynamic audience segmentation can turbocharge your email marketing campaigns by signing up for your 14-day free trial today.