It's a troublesome problem to have… You're aware email marketing is your number one asset. You worked tirelessly to build your email list.

From high-value lead magnets to persuasive email capture forms, you went the whole nine yards.
And it paid off.
Subscribers came swarming in.
But then, you neglected your email list. Or perhaps, your subscribers lost energy on their own accord.
Either way, you've got a massive problem on your hands.
Your email list is dead.
What do you do now?
I'll tell you what, it's hard to keep subscribers engaged.
But there is some encouraging news:
It's infinitely easier to re-energize people who already have an affinity for your brand.
Today, I'll show you exactly how to get your email list fired up again. And while we're at it, let's generate some sales, shall we?
Let's begin.
Table of Contents
Why Should You Reactivate a Dead Email List?
Have you ever heard the saying, "Let the truly dead things go?"
Great advice, but not in this case.
Email marketing is potentially the most significant profit generating channel there is.
Many people agree. For 85% of marketers, lead generation is the most crucial goal.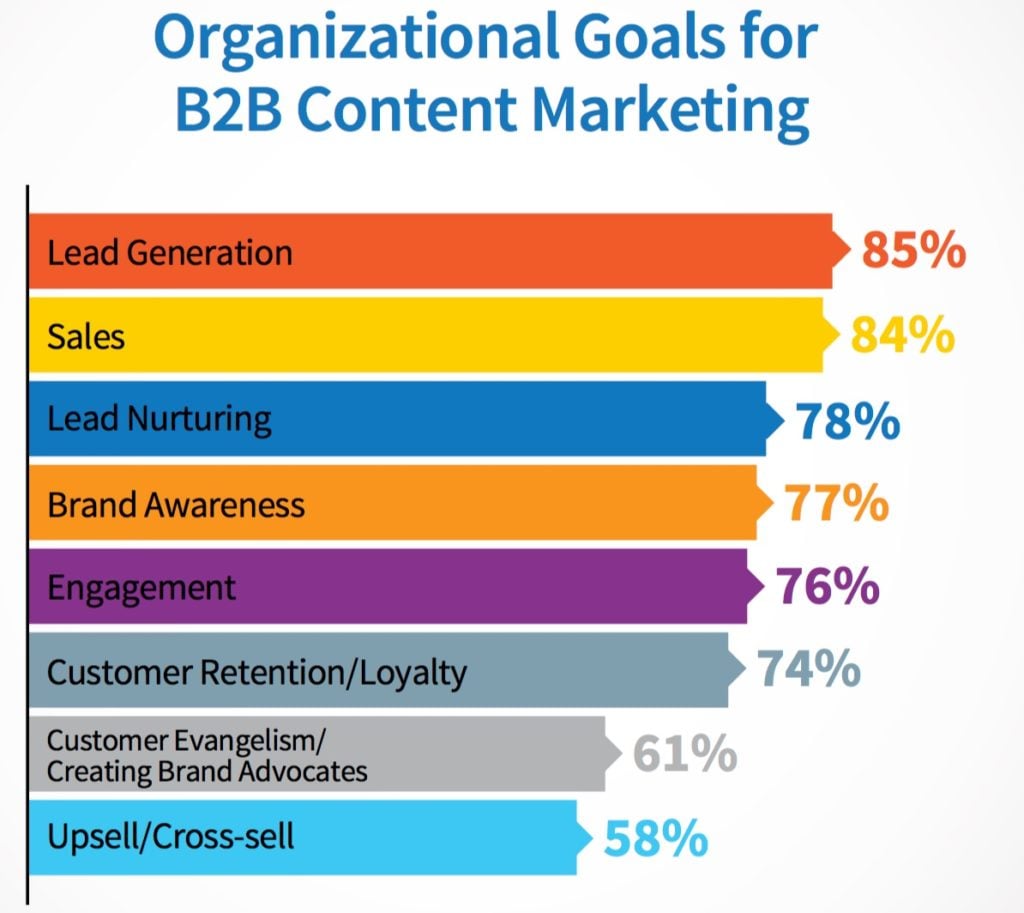 The consensus is clear.
It's worth your while to not only re-engage but to win back your subscribers.
Here's why.
1. Your subscribers joined your email list for a reason.
Your value proposition and your message resonated.
If you take their interest for granted, you're cutting your business short.
2. Re-engaging your email list is the wise thing to do.
Smart marketers measure, optimize, and reiterate their marketing strategies.
It's just good marketing.
3. Each subscriber represents a profit pool.
If you don't try to win them back, you're leaving a TON of revenue on the table.
And that is terrible business.
Now that you get why you should re-engage your list, it's time to evaluate what went wrong in the first place.
Understanding Why Email Lists Go Dormant
It's important that you take a step back.
What caused your subscribers to disengage?
What could you have done differently?
While there isn't a universal reason, there are a few likely culprits.
1. There was a disconnect somewhere in your email capture process.
It's likely that you did not collect targeted, high-quality leads.
Perhaps your lead magnet offer wasn't properly aligned with your business.
This means that you may have attracted people who only wanted your freebie, but held no interest in your brand.
2. Your email content strategy is a miss.
Most people don't even have a strategy for their email content. They simply send out occasional emails.
Here's the thing:
You can't send every email subscriber the same content.
They don't have the same needs. They all came into contact with your business via a different path.
It means you need to segment your audience based on their past interactions with your business and deliver tailored content to each segment.
You also need to optimize the frequency of your emails, so you don't overwhelm your list with too much contact.
If you haven't done any of these, it's likely the reason for disengagement.
3. Your emails are not getting delivered.
The issue may very well be technical.
Emails go to spam folders. Email addresses change. Or emails don't get delivered at all.
There's a lot that can go wrong, so you need to ensure that the back end of your email management is robust.
4. You haven't been authentic and transparent with your subscribers.
This is about being consistent in the way that you show up to add value to your subscribers.
Inconsistency erodes trust, and trust is critical to a healthy email list.
After all, you're showing up in people's inboxes.
That's intimate, and you can't take it for granted.
With that out of the way, it's time to get to the real problem.
How do you re-energize your subscribers?
Here are ten powerful strategies that will make all the difference.
1. Define what you consider to be inactive and segment your email list accordingly
Chances are, there are varying degrees of disengagement within your list.
You need to segment your list accordingly.
Why?
It's critical that you create custom engagement sequences for different subsets of your list.
You can't do that without first defining what these segments are.
How do you go about it?
Here are some segments you might consider.
Subscribers who have never purchased a product but visit your website and consume your content. These are spectators. You already have their attention so they shouldn't be difficult to convert.
Customers who've purchased from you in the past but have not engaged with your site or your content ever since.
Users who simply submitted their email addresses, collected your free resource, and pulled a disappearing act. They aren't the least bit engaged.
These segments will present their individual challenges. As such, you need to have a separate re-engagement strategy for each.
2. Re-energize dormant subscribers with a targeted email series
After you've divided your subscribers, it's time to target them with appropriate email sequences.
The nature of each segment will tell you how to approach your emails.
Let's draw up a scenario.
You decide to target people who've been spectators. They are relatively engaged but haven't converted to your offers.
These subscribers are the low-hanging fruit.
You simply have to check their engagement history.
What type of content have they been drawn to? What do they have the most visceral response to?
You can then tap into their content preferences and go for the conversion that way.
Something has been preventing these subscribers from becoming buyers.
Find out what these blockers are and destroy them in the email sequences that you expose them to.
The same process goes for your other email segments.
Analyze their past behavior and tailor your emails accordingly.
3. Personalize all communication
This is an extension of segmentation.
When you break down your email list, you're better able to provide a personalized experience to each subset.
Bear in mind that personalization is not just about referring to subscribers by their name.
That's a small part of it.
More importantly, it's about considering the entire history of your subscribers.
Where did they first come into contact with your business?
What other contact points have they had since then?
What path did they take when they entered your permission marketing funnel?
It's a lot to consider, but it is imperative that your subscribers have a rich, personalized experience with your business.
Want proof?
It's been reported that 77% of consumers have chosen or paid more for a brand that offers them a personalized experience.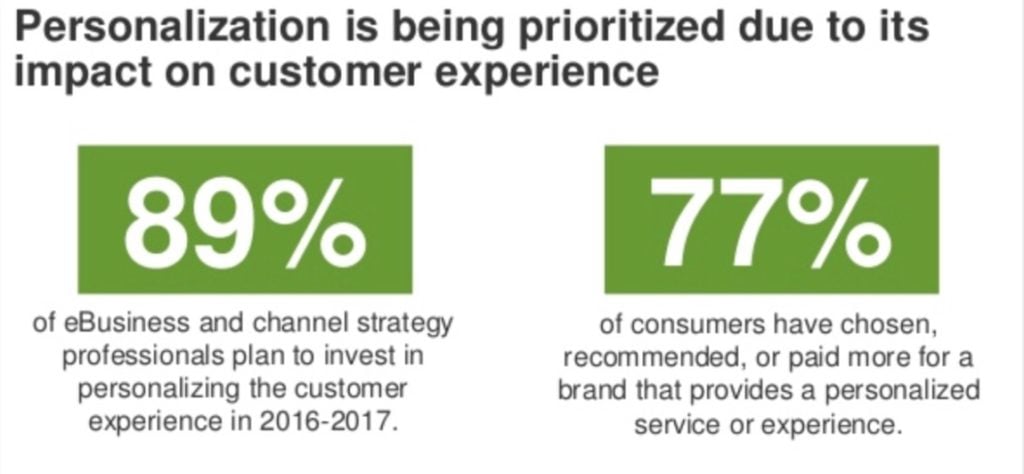 4. Use retargeting campaigns to re-indoctrinate and win back inactive subscribers
This is one of the most effective strategies that you have at your disposal.
Facebook is by far the best platform for quickly setting a retargeting campaign in motion.
You can target your email subscribers with ads so you can win them over again.
Here's how to do it.
Go to your "Adverts Manager" or "Power Editor" on Facebook.
Create an ad, and set your ad objective as "Engagement."

Name your ad and click "Continue."
Refine the details of your ad.
This is where the retargeting comes into play.
You want to create a custom audience.
Click "Create new" and select "Custom audience" in the drop down menu.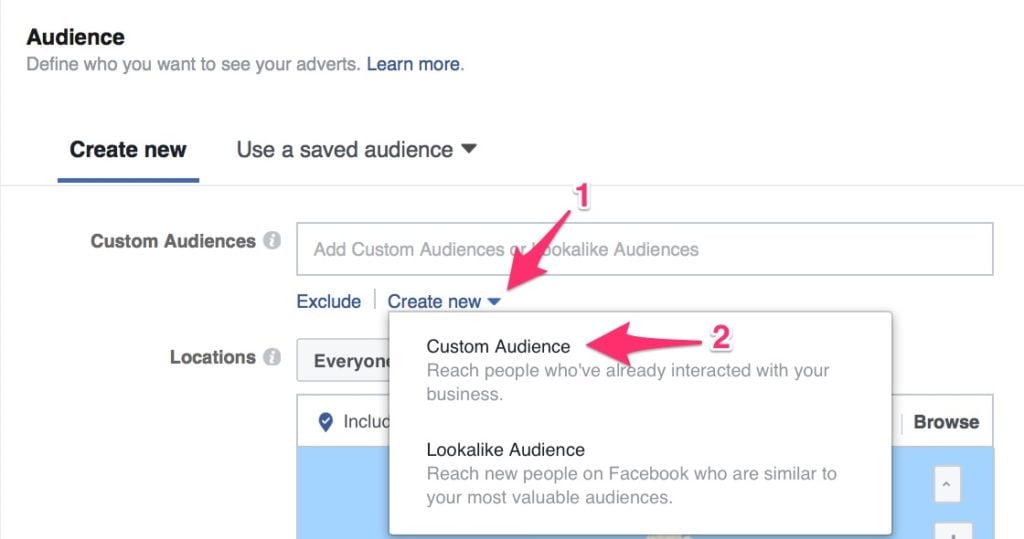 You'll be prompted with a few options. Select "customer file."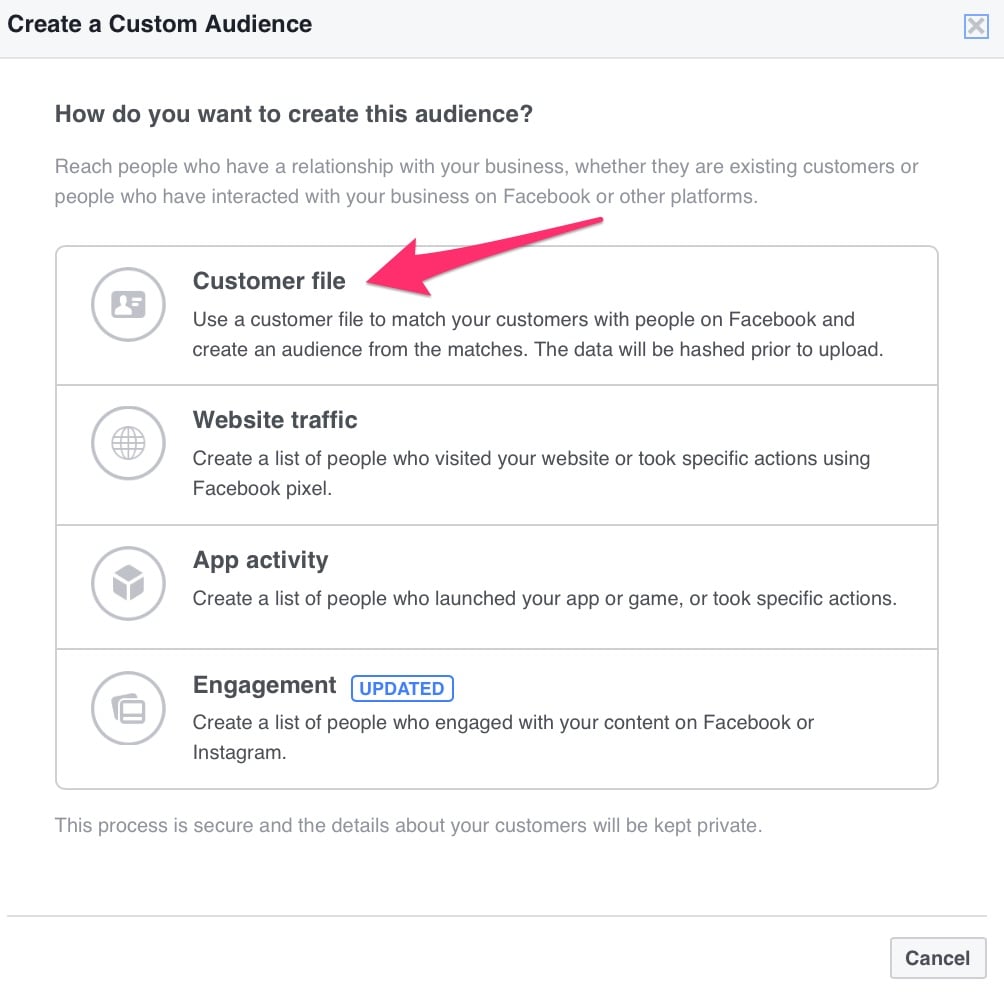 You can then import your email list data to define your custom audience.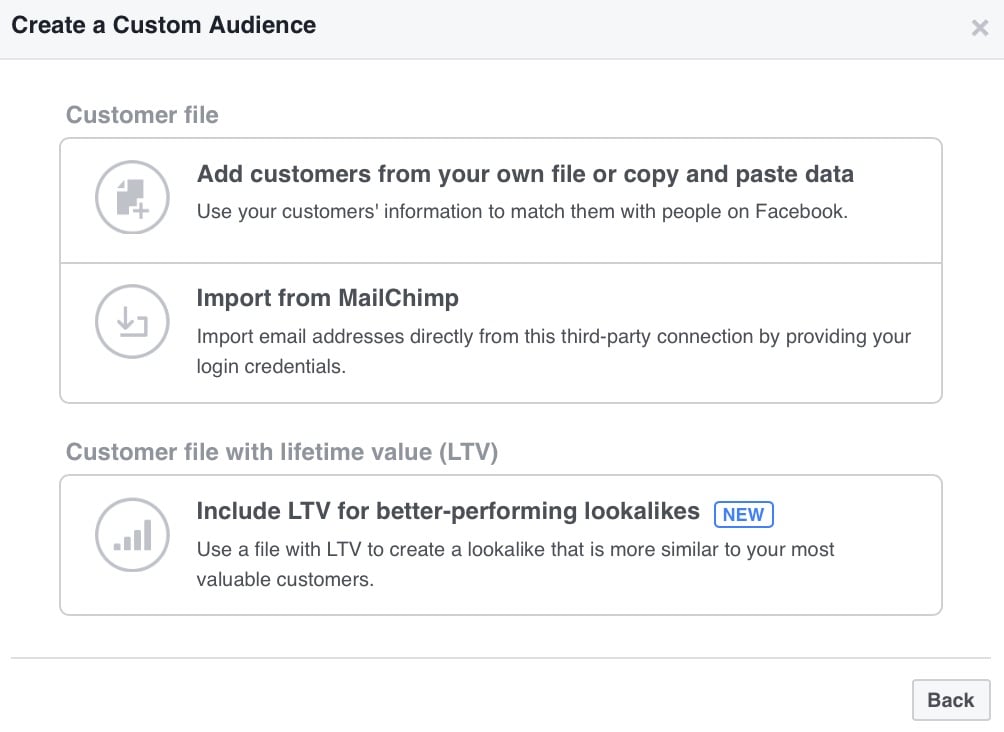 And that's it!
The rest is a matter of optimizing your ad creative to win back your dormant subscribers.
Remember that you shouldn't import your entire email list to create your custom audience.
Use the segments that you defined earlier. This way, you can also personalize your ad sets for maximum impact.
5. Have a series of re-engagement events
Why not turn this process into an event?
You're on a mission to re-energize your subscribers, so make it known.
Be transparent with your audience.
Let them know that you want to build an active community and you're hosting a series of online events for them.
Between your website and social media channels, you are not short of options.
Here are some ideas:
Webinars
Facebook Live
Q&As
Interviews
Features
Coaching sessions
Workshops and online classes
Themed days
I recommend that you create an official event on Facebook when you host these sessions.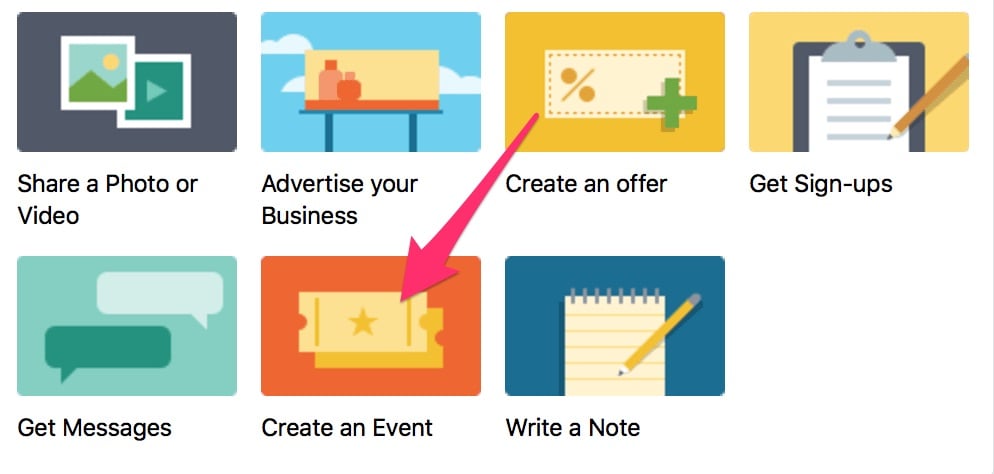 It will bring more visibility and amp up your reach.
6. Survey subscribers and ask them to refine their email preferences
This is a simple yet effective way to reconnect with your subscribers.
Create a custom survey and ask them a few key questions.
I must warn you though. It will be a challenge to get a disengaged email list to fill out a long form.
The solution?
Create a one question survey.
This is where you shoot your subscribers an email asking them one targeted question.
Your response rate would be way higher than if you were to direct them to a form with several questions.
The tricky part is, you only have one question, so you have to get clever.
Alternatively, you can go ahead with an in-depth survey. You may have to incentivize subscribers to respond.
7. Start an engagement campaign
Engagement campaigns are where you focus solely on getting your subscribers to interact with you.
The first thing you want to do is come up with an objective for your campaign.
Consider these questions.
What qualifies as engagement to you? Some options include email open rates, email responses, or traffic generated from email. You decide.
How much engagement would you like to drive? Be sure to quantify it in measurable terms. For example, you may decide that you want one out of every ten subscribers to respond to your emails.
What other channels would you like to integrate with email for your campaign?
These give you a few ideas as to what your objective should look like.
After you've defined a quantifiable goal, you can decide what type of campaign will be best to get you there.
Promotions, contests, crowdsourcing, and user generated content campaigns all come into play here.
8. Offer a tripwire to turn subscribers into buyers
You're likely wondering, "When do we get to generating sales?"
This is your opportunity right here.
After you've sufficiently engaged your email list segments, it's time to convert them into customers.
The simplest way is to offer a low-ticket product or service. I recommend keeping the price point under $47.
This is known as tripwire marketing.
Why such a low offer?
It's an easier sell.
The objective isn't necessarily to generate revenue. Instead, your focus is on building a list of buyers.
Once you've successfully converted your subscribers, they'll be even easier to convert to higher ticket offers.
In fact, there's a 60-70% probability of selling to an existing customer. This is a far cry from the 5-20% chance of selling to a new customer.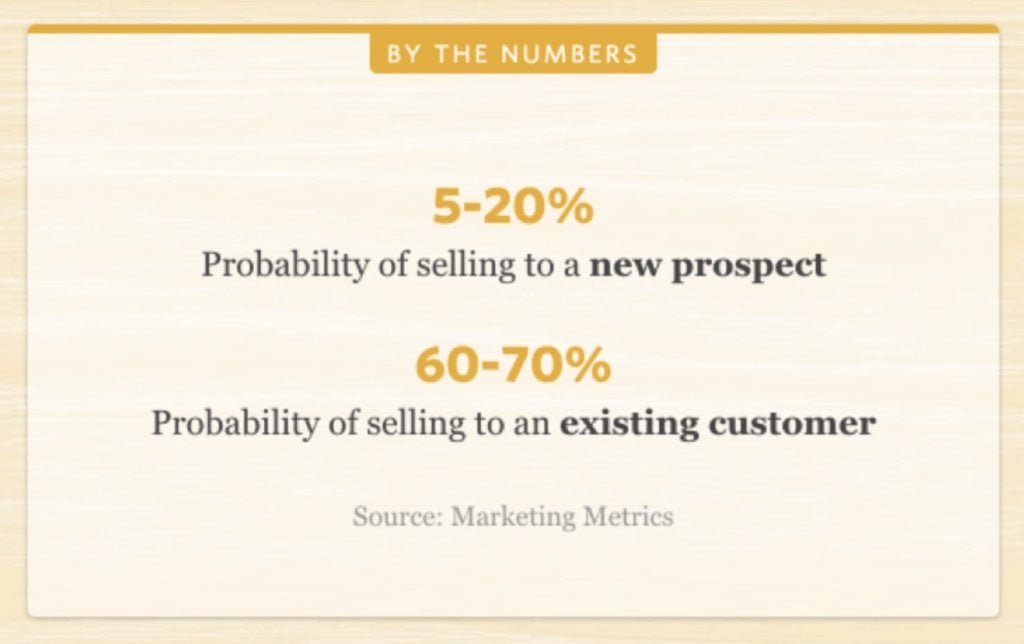 This brings me to the next strategy.
9. Create a fresh offer to upsell your new buyers
You've successfully re-engaged some subscribers.
And, you've built a list of buyers.
Bravo!
You can't let that momentum slip.
Ideally, your tripwire should be connected to your premium offer. This way it's a frictionless purchase decision for your new buyers.
They need to see your premium offer as the only natural transition.
Bare in mind: this won't be effective if your tripwire isn't a slam dunk.
10. Don't be afraid to purge your email list of the subscribers who did not engage
Remember that saying I referenced earlier?
Let the truly dead things go?
This is where it applies.
The truth is, your re-engagement efforts won't have an impact on every single subscriber.
And that's okay.
Use it as a license to trim the fat off your list and tighten things up a bit.
Delete the subscribers who are truly apathetic to your brand. They're not your ideal customers.
Your list will be more targeted, and your engagement rates will skyrocket because of it.
Re-Engage Your Email Subscribers Now
It's natural that your list will lose a bit of vitality after a while.
It happens to everyone.
The deciding factor is what you do about it.
Use your subscriber's disengagement as an opportunity to reevaluate your email strategy.
Segment your list, provide an exceptional experience to subscribers, and they'll keep being champions of your business.