Marketing is often about experimentation and iteration.
Try offering free gifts instead of percentage discounts. Tinker with your customer segments. Write a subject line using nothing but emojis. See what works best—and do more of it.
But December definitely isn't the time for playing. With Christmas approaching fast, you'll want to lean back on tried-and-trusted strategies to maximize revenue generation at this critical time of year.
Even though the majority of ecommerce holiday shopping is over, customers are still open to offers throughout the end of the year.
Audiences are particularly receptive to our messaging in December, which sees the second-highest email open rate of any month, at 21.81 percent. Only November—which, let's not forget, includes BFCM—has a higher rate.
Hopefully, you already have a clear picture of what your December email marketing campaigns will look like. But if you're still looking to finalize your plans, don't worry, because I've taken another deep-dive into the Drip swipe file to round up seven of the best December newsletter ideas…
7 December Newsletter Ideas that Actually Work:
1. The Body Shop: Give BFCM One Final Push
As marketers, we're often desperate for Black Friday and Cyber Monday to be over. Months of planning, followed by the most intense working week of the year—and all the time you're constantly terrified that your website will crash or your emails will accidentally promote last year's offer.
It's a wonder we keep coming back for more.
But evidence suggests that consumers don't think the same. Take a quick peek at Google Trends and you'll see there's still some search interest around Black Friday and Cyber Monday after the events have passed: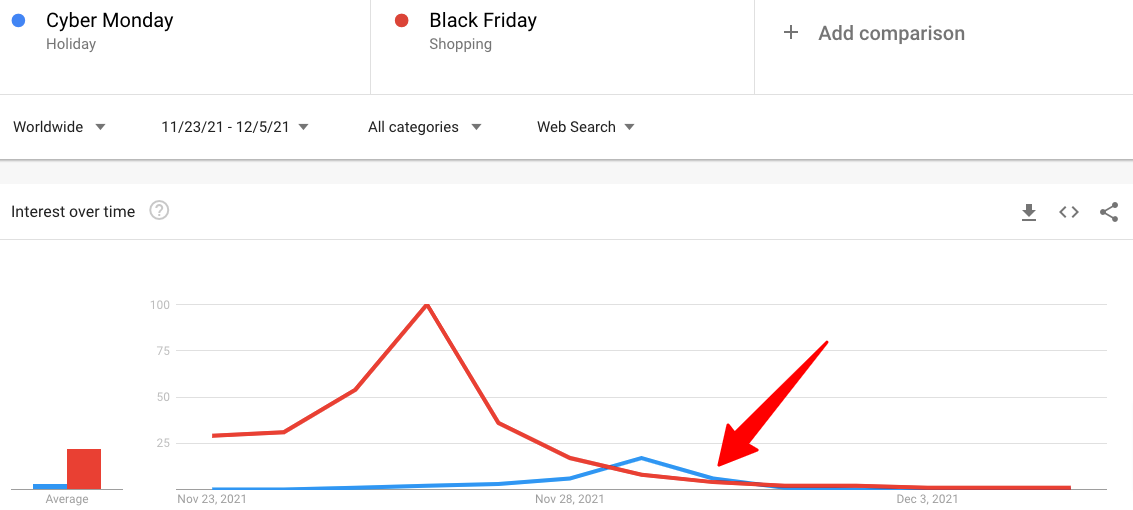 So why not give them what they're looking for by sending a BFCM followup email in early December? That's precisely what The Body Shop did in my first December newsletter example: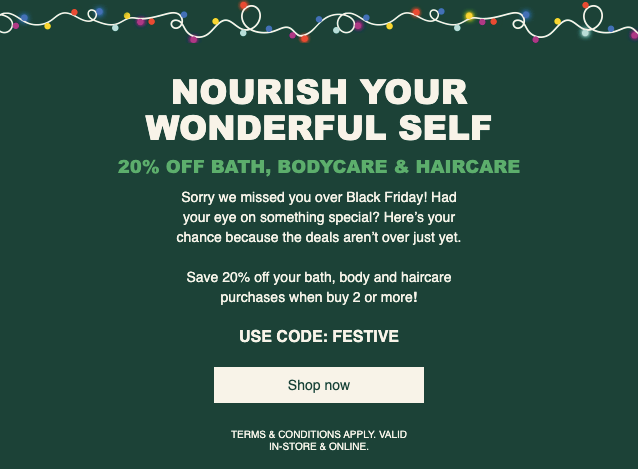 There are a couple advantages to this approach.
Firstly, there's a far stronger chance customers will actually see your post-Cyber Weekend emails. According to Campaign Monitor, more than 116 million emails are sent on Black Friday—more than any other single day. So there's something to be said for following up a few days later to reach people who missed your message on the day itself.
Secondly, there's a good chance you'll want to run some sort of discount or promotion in early December anyway. Tying it to your BFCM offering means you're technically promoting the same sale rather than starting a new one.
This is smart from a consumer psychology perspective, with research from Klarna revealing that 38 percent of shoppers believe constant sales make brands look unfashionable and cheap.
2. Origins: Slash Return Rates With Free Gifts
The holiday season is a bumper time for retail sales.
Unfortunately, not all of those sales are going to stick. According to the National Retail Federation, retailers expected more than 13 percent of all merchandise sold during the 2020 holiday period to be returned, at an estimated cost of $101 billion.
The vast majority of those returns—just over 80 percent—happen in January: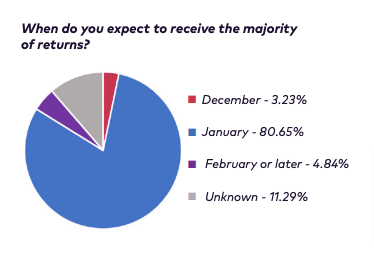 That's a frustrating, if inevitable, statistic. You work hard to hone your messaging throughout the holiday season, only to see about $1 of every $7.50 spent resulting in a return.
Wouldn't it be good if you could find some way to reduce your return rate?
Actually, you can, with research from Shinhyoung Lee and Youjae Yi revealing that consumers are less likely to return purchases including a free gift.
According to the researchers, it's all about the customer's perceived sense of loss. For whatever reason, they have a greater feeling of loss when the item they return is described as a "free gift."
Use this strategy to your advantage by offering a free gift as part of your December marketing plans, like cosmetics brand Origins did in this example: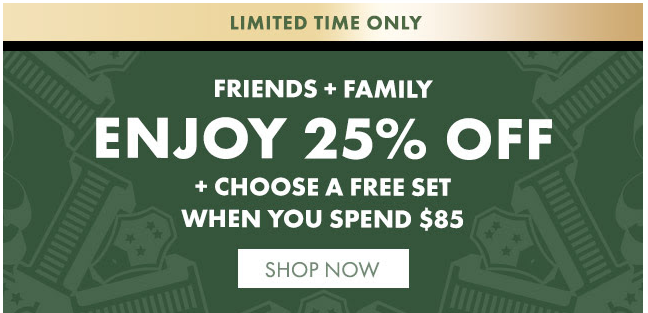 This approach isn't just about reducing returns. By offering the gift to customers who spend over a certain amount, you can also increase your average order value—provided customers perceive the gift's value to be worth the extra expense.
3. Lunya: Promote Free Shipping
In a world where 56 percent of all cart abandonments can be traced back to shipping-related concerns, there's never a bad time of year to promote free shipping.
But this tactic can be especially valuable during December, with research from Google revealing that 75 percent of holiday shoppers plan to buy from brands that offer free shipping.
Sleepwear brand Lunya is clearly well aware of this trend, using free shipping as the main "hook" for one of its December 2021 email campaigns: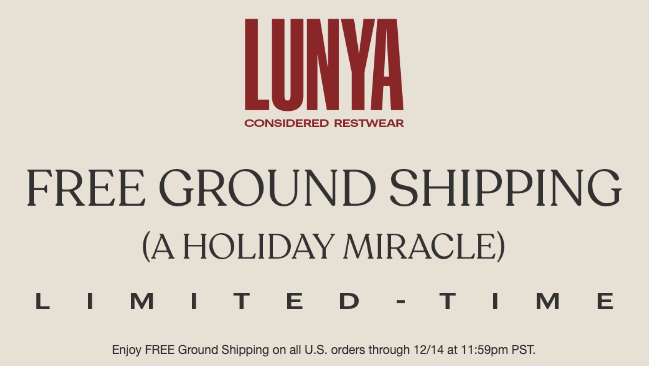 There's a lot to like about this example.
For one thing, Lunya kept things simple by offering free ground shipping on all US orders, leaving no room for confusion. It also introduced an element of scarcity by running this promotion as a limited-time discount, encouraging shoppers to buy now.
Importantly, Lunya also took care to add further information around delivery timings: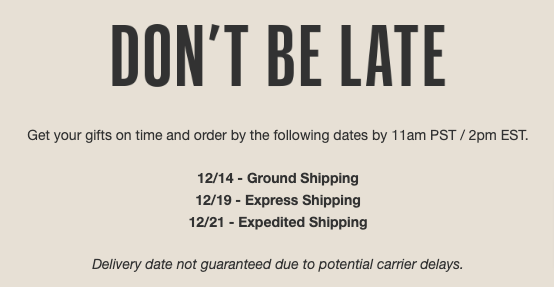 This is crucial during December, when customers simply can't afford for their purchases to arrive later than expected.
4. Charlotte Tilbury: Target Last-Minute Shoppers
Every time the holiday season comes around, we promise ourselves we'll be more organized than last year. We'll ensure every present is bought, shipped, wrapped and sat under the tree a week before Christmas Eve.
Unfortunately, something always seems to get in the way. Next thing we know, it's December 18th and we haven't ordered a single gift (unless you count the fancy new high-thread-count towels you bought yourself on a whim).
Sound familiar?
Clearly, a lot of other people are in the same boat. Per Google Trends, searches for "last-minute Christmas gifts" only peak on Christmas Eve. Honestly, what are those searchers expecting to find?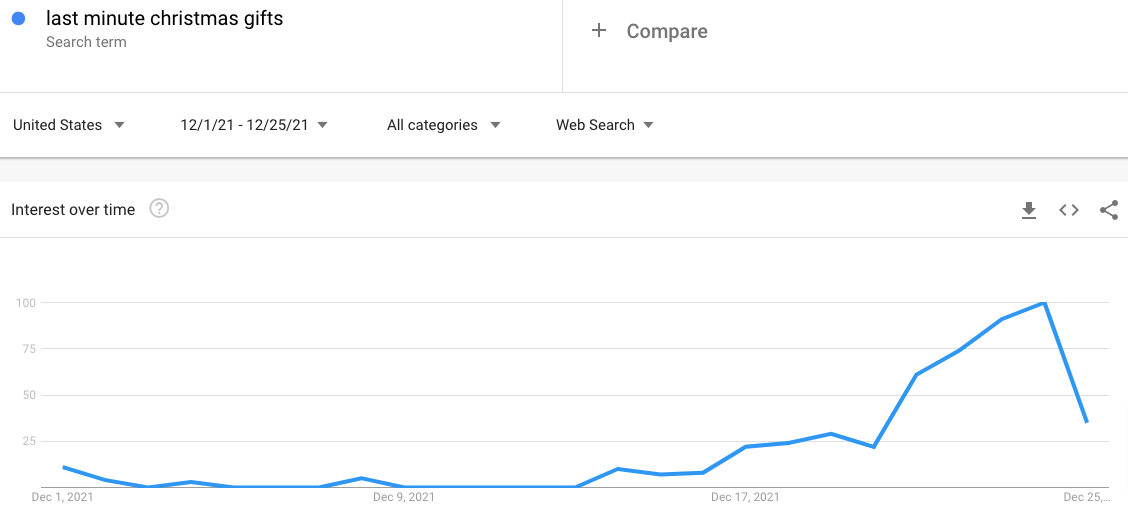 If anything, it appears we're actually becoming less organized when it comes to Christmas shopping. Google revealed that in 2021, searches for "last minute christmas gifts for" increased globally by more than 700 percent in the week running up to December 25th.
There are a couple ways for ecommerce marketers to capitalize on consumers' lack of preparation.
One approach, favored by cosmetics brand Charlotte Tilbury, is to warn customers when the final date for Christmas shipping arrives: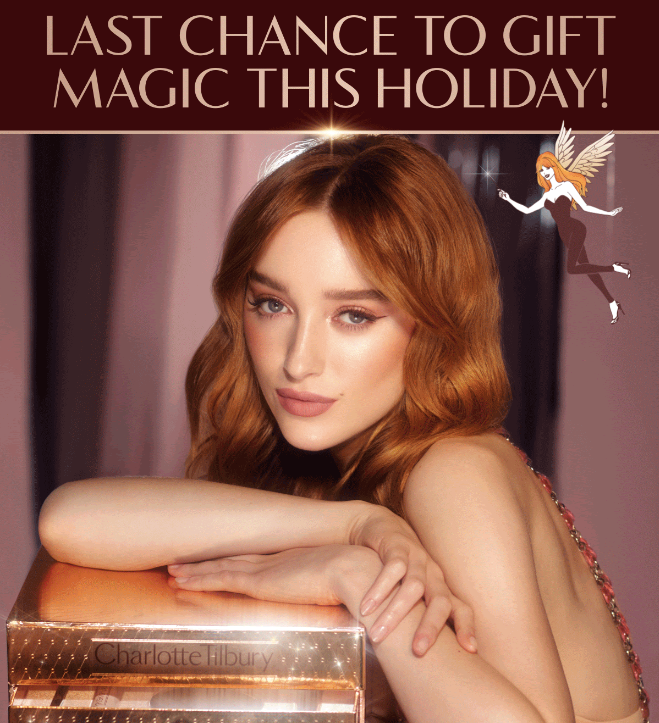 This isn't just a chance to drive sales; it's practically a public service. Your customers will thank you for helping them avoid the embarrassment of telling their nearest and dearest: "Sorry, your gift's in the mail—I definitely didn't forget to buy it."
Alternatively, if you're able to offer ultra-fast shipping—or perhaps in-store pickup—closer to Christmas Day, feel free to delay your messaging to the last possible minute.
You'll have a major point of difference versus all those other retailers that can't ship as late as you, giving you a fantastic opportunity to drive last-minute sales.
5. Chubbies: Reach Out With a Boxing Day Offer
Boxing Day isn't a huge deal (or even a holiday) in the US, but in other countries, it's celebrated with food, family—and shopping.
In the UK, consumers consistently splash out around £4 billion ($4.9 billion) on December 26th, so it's definitely another big opportunity to drive online sales.
Menswear brand Chubbies is well aware of this, using Boxing Day 2021 to target its email marketing subscribers with a revenue-generating promotion. It all started with the email subject:

This is a fantastic subject line. It's funny, but also just real enough to make you think: "Hmmm, maybe I should treat myself." I couldn't help but click—and I'm sure plenty of other recipients felt the same.
Intelligently, Chubbies backed up its excellent subject line with a solid sales promotion, offering a healthy discount on out-of-season stock: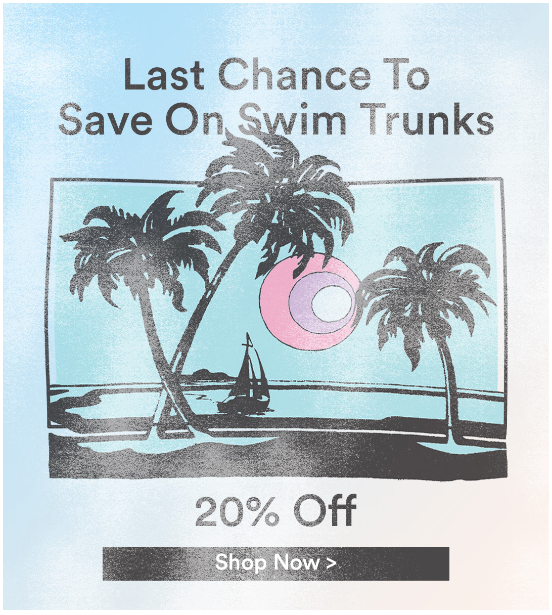 Again, this is intelligent marketing. At least in the northern hemisphere, few consumers are actively planning to buy swim trunks in late December. What's the harm in offering a substantial saving on products that would otherwise be gathering dust in your warehouse?
6. Bed Bath & Beyond: Showcase Your January Sale
Time never stands still in the ecommerce world. You've only just got through Christmas and it's already time to start thinking about the next big retail event: the January sales.
Data from the US Census Bureau shows that spending at retailers and restaurants climbed by 3.8 percent month-on-month in January 2022—almost twice as high as economists had predicted.
In other words, January is (yet another) key period for driving sales. Start the year poorly and you'll be playing catchup for weeks or months to come.
All of which means that it makes sense to start pushing your January offering in late December, just like Bed Bath & Beyond did in this email example: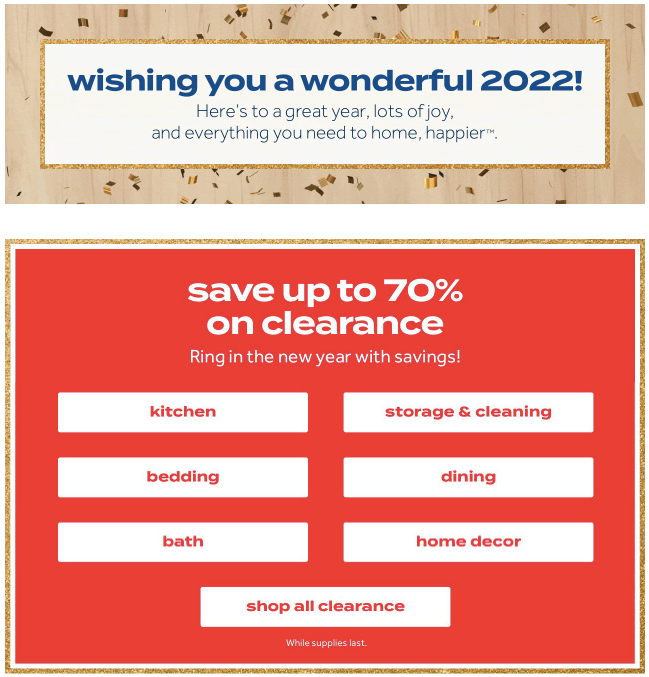 Just like my previous example from Chubbies, the emphasis here is very much on clearance deals.
This makes sense. According to Deloitte, the average consumer is expected to shell out almost $1,500 throughout the holiday season.
After all that spending, the last thing on most people's minds is to spendeven more on a bunch of big-ticket purchases. So take a leaf from Bed Bath & Beyond's book by pointing prospective shoppers in the direction of your most heavily discounted—and, therefore, most attractive—offers.
7. Banana Republic: Review the Year
Just a few years ago, the idea that audiences would flock to a branded roundup of the past year would have seemed pretty unlikely.
Spotify Wrapped has changed all that. The streaming platform's personalized annual roundup attracted 30 million viewers in 2017, rising to more than 120 million in 2021. Last year also saw almost 60 million shares of Wrapped stories and cards across social media.
So why not jump on the bandwagon and share your own "wrapped" of the previous 12 months?
Obviously, you're not Spotify, so you can't tell your email subscribers how long they spent listening to Taylor Swift. But you can definitely highlight key trends and events from the past year, such as:
Brand Republic jumped on the "yearly roundup" trend in 2021 by showcasing various happenings from around the business, including its new store fit-outs and its sustainability efforts: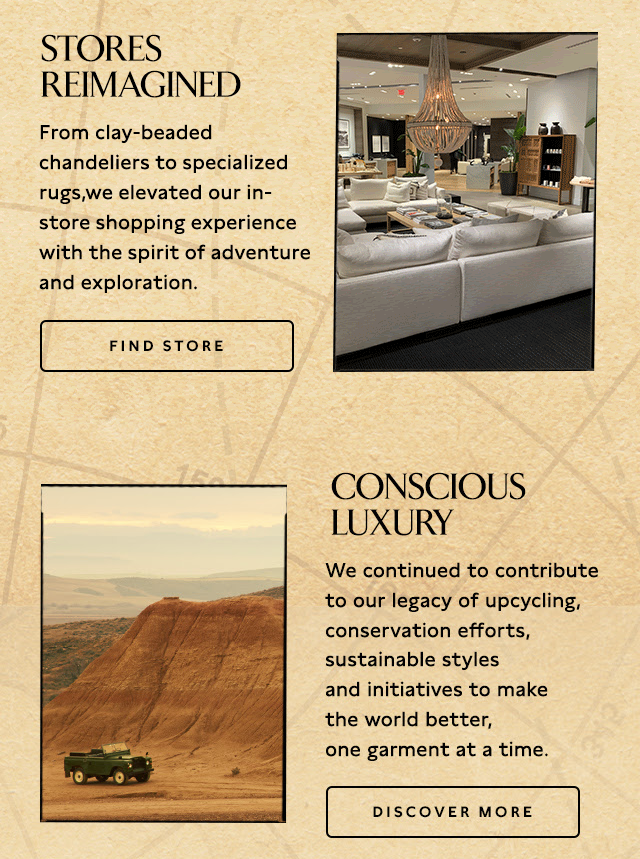 I'm a big fan of this approach—particularly around the issues of corporate social responsibility and environmental, social, and corporate governance.
Fact is, consumers want to know that you're making a (positive) difference to the planet.
Research from Google Cloud found that four-fifths of shoppers prefer brands' values to align with their own, while three-quarters have "split up" with retailers over values-related conflicts.
But it's not just enough to simply make promises; you need to follow through with action. Indeed, an Ipsos survey found that 34 percent of consumers have actively researched brands to find out whether they're staying true to their words.
What better time to demonstrate your environmental credentials than right at the end of the year?
Easily Build Revenue-Generating Email Workflows With Drip
Ever wish you could spend less time building and managing your email campaigns, and more time honing your messaging and sharing more compelling offers?
With Drip, you can.
Our tried-and-trusted email workflows—including abandoned cart emails, welcome series, and post-purchase emails—are ready to roll in just a few clicks.
Need more customization? Use our point-and-click workflow builder to craft fully automated, laser-personalized communications without having to type a single line of code.
If all that sounds good, sign up for your 14-day free trial to try it yourself.