The Thanksgiving weekend is make or break for retailers.
In 2021, almost 180 million Americans shopped over the five-day period, according to the National Retail Federation. That's almost 21 million more than initial projections.
Traditionally, Cyber Monday—less snappily known as the Monday after Thanksgiving—is only the weekend's third-biggest shopping day, behind Black Friday and Small Business Saturday: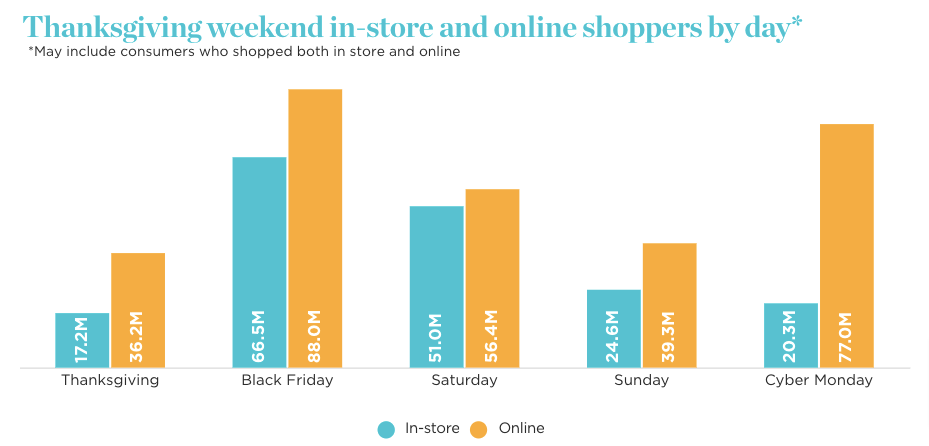 But Cyber Monday sees a disproportionately high volume of online sales, making it absolutely crucial to ecommerce brands. So you simply can't afford to get your messaging wrong.
To help you out, I've raided our email vault—containing literally millions of email campaigns from hundreds of brands—to find the best of the best Cyber Monday email examples.
7 of The Best Cyber Monday Email Examples We've Seen
1. Kylie Cosmetics: Tease Cyber Monday in Advance
Promoting Cyber Monday is actually pretty tough.
Given that consumers will splash out an estimated $11.2 billion online on the day this year, that sounds a little counterintuitive. Surely marketing such a gigantic shopping event should be like selling chewing gum at a baseball coaching convention?
But there's a problem: as we've already seen, Cyber Monday is hardly a standalone event.
That $11+ billion in online spending might be a vast sum, but it only represents about five percent of total online expenditure throughout the ecommerce holiday period. And with the event coming hot on the heels of Black Friday, it's hard to promote Cyber Monday in advance.
Think about it. With other key shopping periods—like Valentine's Day, Halloween, and Mother's Day—you'd start your marketing push weeks ahead of time. With Cyber Monday, you don't have that luxury.
Still, there's nothing to stop you following Kylie Jenner's lead by teasing your Cyber Monday sale a day or two in advance: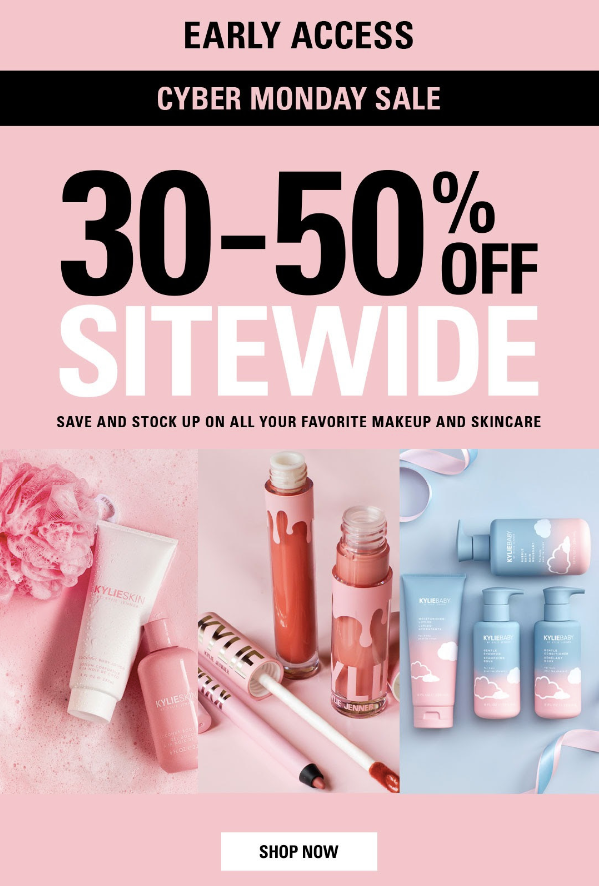 (For context, this email was sent on November 28, 2021—a day before Cyber Monday.)
That way, you get to whip up some excitement about your fantastic promotion and give customers a reason to flock to your store on the big day.
2. Levi's: Start Cyber Monday Early
Our email inboxes are busy at the best of times. But during the Thanksgiving weekend they're like Times Square at five minutes to midnight on New Year's Eve.
According to Campaign Monitor, more emails are sent on Black Friday than any other day of the year—and Cyber Monday isn't far behind.
How on Earth do you expect your messaging to stand out amid all that noise?
I've already pointed out how it's perfectly fine to tease Cyber Monday a couple days ahead of time.
But another approach is to simply extend your sale across the whole weekend, like Levi's does in this example: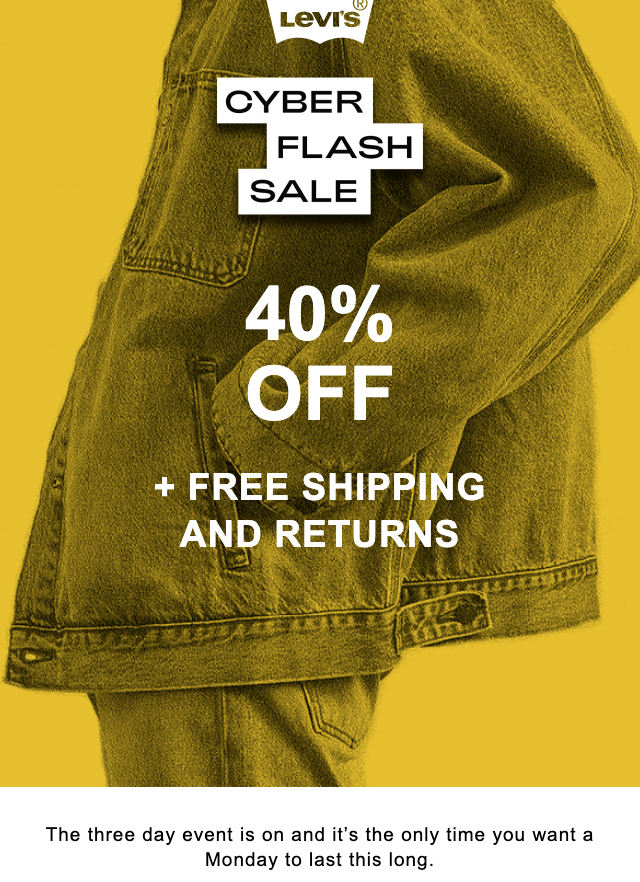 This strategy effectively allowed the denim brand to beat the rush by promoting its Cyber Monday discount from Saturday onwards.
And there's another less obvious, but equally meaningful, benefit: by spreading sales across the weekend, you effectively flatten the Cyber Monday peak, making it easier for your website and logistics infrastructure to cope with all the extra demand.
3. Anthropologie: Get the Timing Right
Running email marketing campaigns is kind of like banging the bass drum in an orchestra: come in too early (or late) and you'll mess everything up.
But what's the perfect time to send your Cyber Monday emails?
As with everything in the world of marketing, there are various schools of thought on this issue. But I always prefer to let data do the talking.
So I'm grateful to SendGrid, which took the time to analyze the percentage of emails sent and opened during eight three-hour time slots throughout Cyber Monday 2021: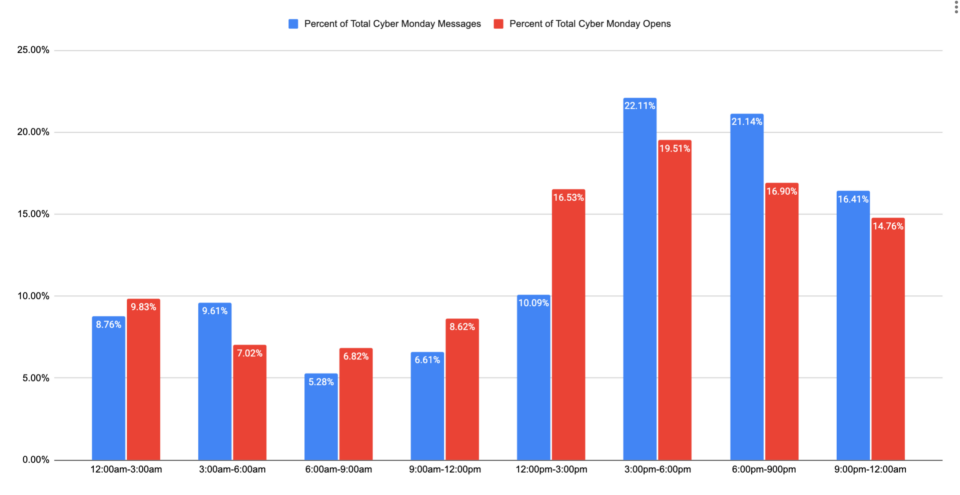 The findings make for interesting reading. Sure, it's no big surprise that a ton of emails are sent and opened from mid-afternoon to late evening.
But what's more striking is the data for 12:00pm – 3:00pm. Just 10 percent of all Cyber Monday emails were sent during this three-hour window, yet it was responsible for 16.5 percent of email opens.
Or to put it another way, one in six Cyber Monday emails are opened between midday and 3:00pm.
So what's going on here?
It's pretty simple really. As you're no doubt aware, Cyber Monday isn't a public holiday in the US. And the vast majority of people—me excluded—don't have the luxury of spending their working hours reading marketing emails.
But they're still hungry for a deal, so they rush to their inboxes during their lunch breaks, scrolling through all the emails they received throughout the morning while chowing down on a buffalo chicken wrap.
This tells me one thing: if you're at the top of the inbox at midday, there's a strong chance your email's going to stand out, because there's a lot less competition to contend with.
Anthropologie got the timing right with this Cyber Monday email example: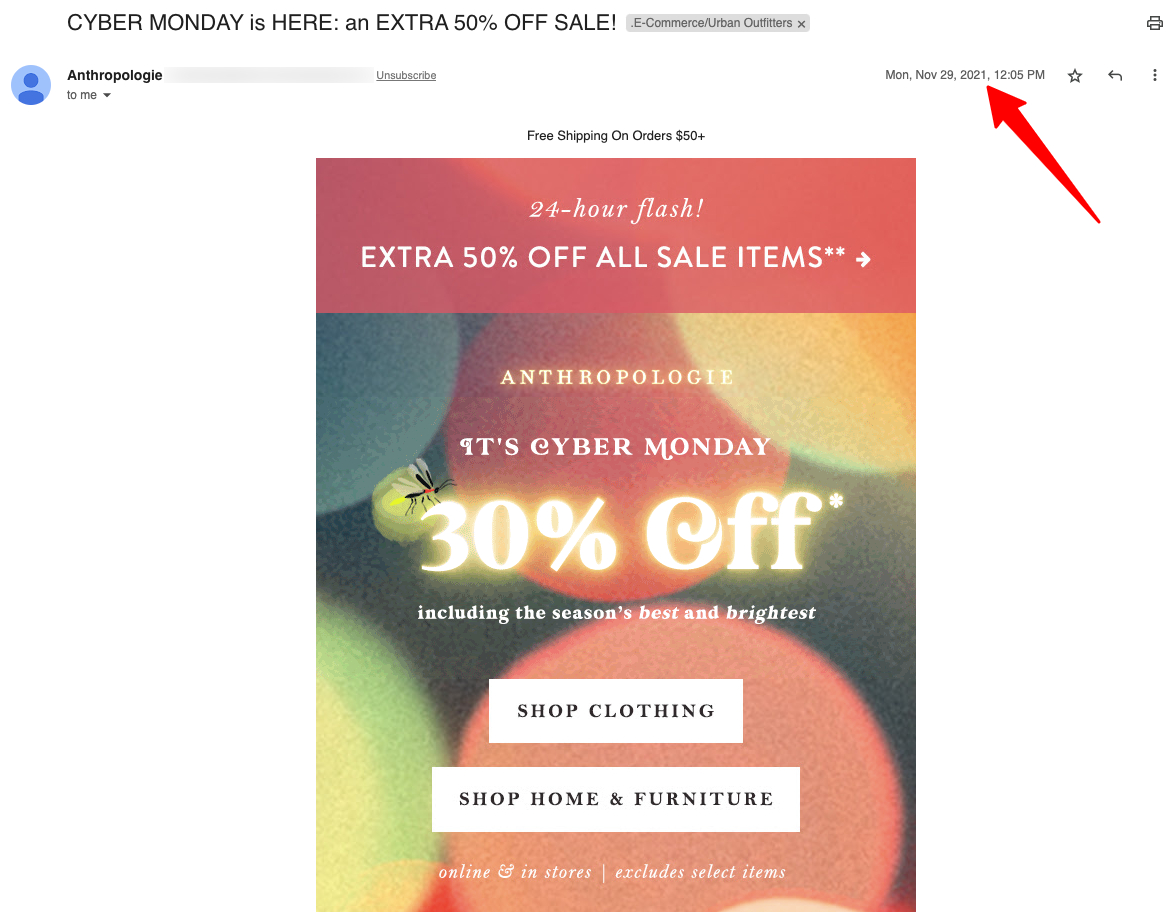 Of course, there's an important point to make here: there's more than one timezone in the world.
If your marketing team is based on the East Coast but most of your customers are in California, be sure to factor in the time difference to make sure your Cyber Monday email arrives at the right time.
4. e.l.f. Cosmetics: Offer Free Shipping
You might be planning an incredible Cyber Monday promotion, offering customers a 50 percent discount across all your best-selling products.
But I absolutely guarantee that if your shipping costs are too high, shoppers will still abandon their carts.
According to the Baymard Institute, the average cart abandonment rate stands at an astonishing 69.99. And the biggest cause of abandoned carts? The cost of mandatory extras like shipping, fees, and taxes.
Fact is, customers don't likepaying for shipping. That's not going to change just because you're running a sitewide sale. If anything, with every brand under the Sun offering some sort of discount, there's an even greater chance they'll look elsewhere if your shipping costs are too high.
For that reason, it's worth taking a leaf from e.l.f. Cosmetics' book by offering free shipping on Cyber Monday: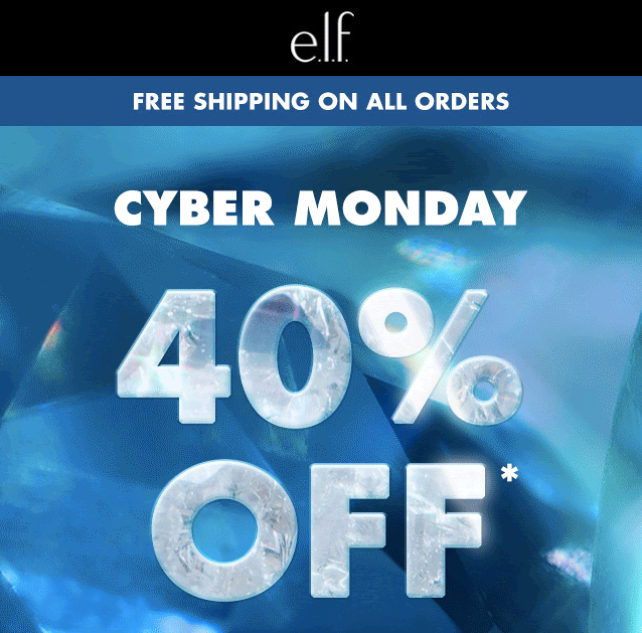 Obviously, not every retailer can guarantee free shipping. If you sell couches or fridges or elephant enclosures, it's probably not going to happen.
But if there's any possibility you can afford free shipping, I'd recommend giving it a try on Cyber Monday. Even if it means offering a slightly less aggressive discount to balance the books.
5. Glow Recipe: Spark Curiosity to Drive Email Opens
Now that I've won you round with a few scintillating insights, I feel it's a good time to break some bad news:
Cyber Monday emails have pretty dreadful open rates.
Omnisend analyzed millions of emails sent between November 25 and December 2, 2020. Those that contained the term "Cyber Monday" in the subject line saw an average open rate of just 13.8 percent.
To put that in context, Mailchimp says the average email open rate across the year, regardless of industry, stands at 22.71 percent. That's a drop of almost nine percentage points.
What's my point here?
Clearly, I'm not saying: "Don't bother sending Cyber Monday emails, no one's going to open them."
Instead, I wanted to stress that all the competition across the Thanksgiving weekend means you have to work extra hard to win the click. That means crafting an email subject line that your audience can't help but click.
Conventional wisdom says that the best way to drive email opens on key shopping days is to get specific. Tell people about the incredible discount you're offering so they understand the value of opening your email.
Unfortunately, this is the same strategy (pretty much) everyone else is using.
To illustrate my point, I performed my own (highly unscientific) analysis by trawling through a couple pages of Cyber Monday emails in the Drip vault. I discovered that 52 percent of Cyber Monday emails I scrolled past mentioned a percentage discount in the subject line or preview text.
Hanging your Cyber Monday campaign on a percentage discount is a race to the bottom. Sure, you might be offering 40 percent off. But if your competitor is running a 50 percent discount, why would anyone bother opening your email?
That's why I'm convinced that the best way to boost your Cyber Monday email open rate is to write an email subject line that sparks curiosity.
The good news is that you don't need to get super creative. Just look at this simple subject line from Glow Recipe:

It tells us absolutely nothing about the terms of Glow Recipe's Cyber Monday sale—or whether the brand is offering a discount at all. But it was intriguing enough to convince me to click.
6. Bonobos: Target Last-Minute Cyber Monday Shoppers
On an average online shopping day, you'd expect traffic levels to drop off around early evening. Most of us aren't browsing ASOS at midnight.
But Cyber Monday is anything but normal. Data from SaleCycle shows that traffic volumes don't slow down at all as the day goes on. In fact, they peak at 9pm and are still pretty high at 11pm: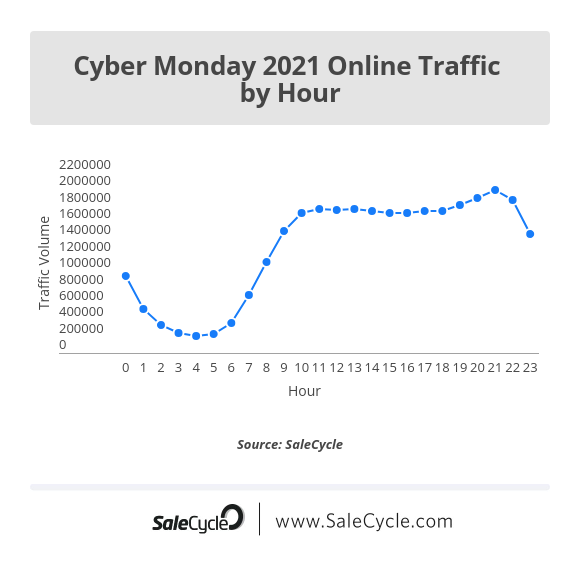 The takeaway here is simple: don't just send a single Cyber Monday email in the morning or at lunchtime and assume your work is done. Instead, follow up with a reminder email targeting last-minute bargain hunters, like this example from Bonobos: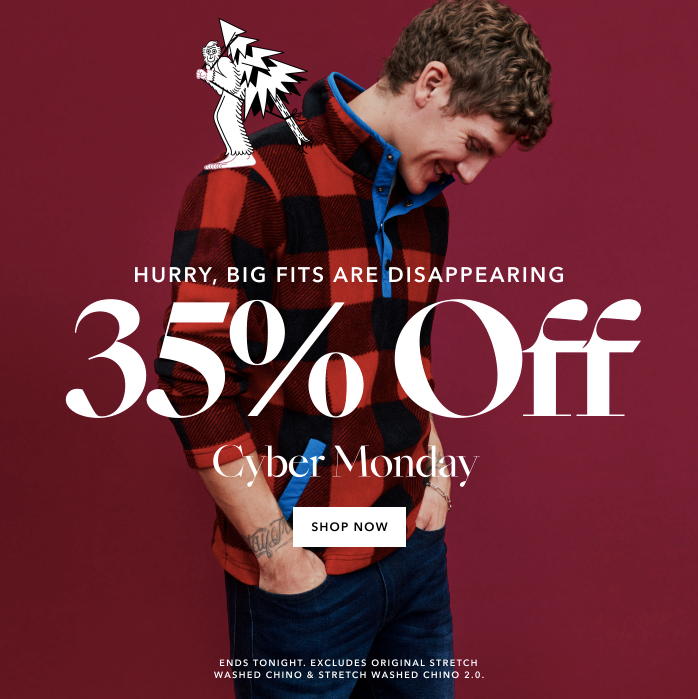 There are two key points to communicate in your last-ditch Cyber Monday email:
Reiterate the savings on offer
Remind customers that your sale is ending soon
Get it right and you can convert those last-minute browsers into paying customers.
7. The Frye Company: Unveil a Cyber Monday Extension
We consumers are a greedy bunch.
Not only do we expect massive savings on Cyber Monday, but lots of us are still frantically searching for offers the following day.
This point is demonstrated by Google Trends data covering the days before and after Cyber Monday 2021: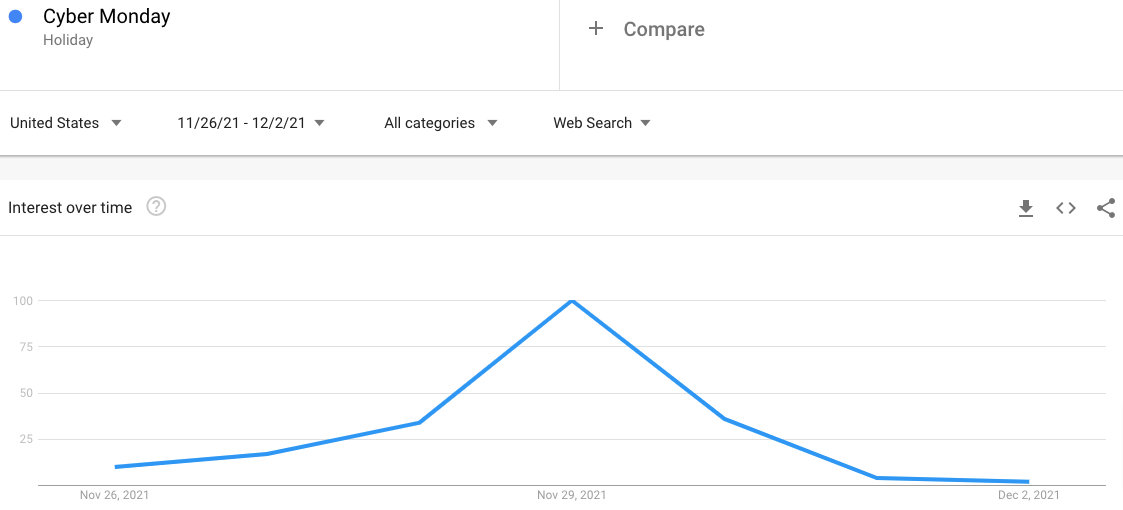 Unsurprisingly, the lion's share of searches around the topic "Cyber Monday" took place on Cyber Monday. And, as you'd expect, there was also a healthy amount of activity in the couple days preceding the event.
But what's most interesting is that slightly more searches took place on November 30—that is, the day after Cyber Monday—than on November 28.
If people are still hunting for deals after the event, why not give them what they want by extending your Cyber Monday promotion? That's precisely what The Frye Company does here: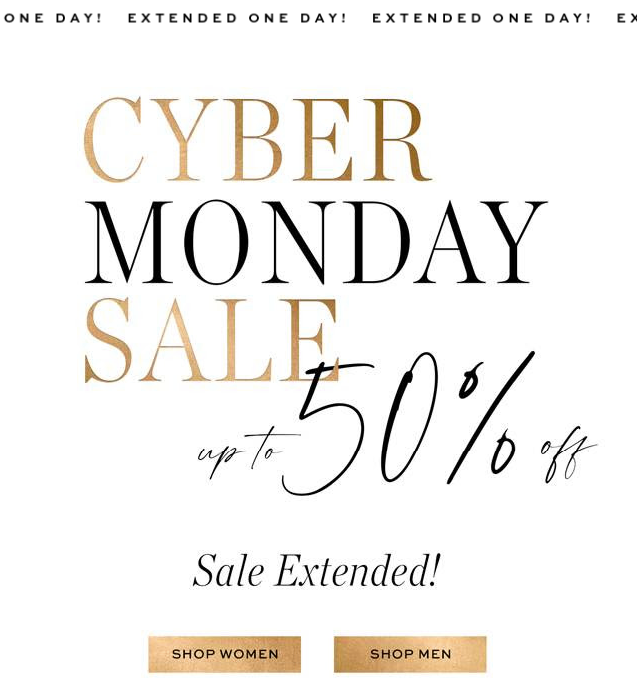 There's a right way and a wrong way to go about this.
The wrong way is to send an email early on Cyber Monday that effectively says: "No need to rush, we've extended our sale for another week."
Send that email and you've immediately eradicated any sense of time pressure from your Cyber Monday promotion, giving customers little incentive to buy now.
There's a good chance they'll file that information away at the back of their mind then return to their inbox, where they'll immediately notice another enticing offer. Just like that, you've lost a sale.
Instead, unveil your extension late in the day, or even better the day after. The Frye Company sent its email at lunchtime on November 30, giving it plenty of opportunity to drive a bunch of extra sales without damaging its performance on Cyber Monday itself.
Maximize Cyber Monday Sales With Drip
You can't afford a bad Cyber Monday.
So wouldn't it be good if you could rely on an email, SMS, and automation platform that's built around maximizing revenue?
Drip is that platform.
Our tools allow you to easily craft on-brand emails and create money-making automations in just a few clicks, from sales announcements to cart abandonment emails to post-purchase campaigns.
See for yourself by signing up for your 14-day free trial.