Total Halloween spending in the US is expected to hit a record $10.6 billion in 2022, with the average household planning to splash out more than $100 on the spooky ecommerce holiday.
That's a whole lot of jack-o'-lanterns, Spider-Man costumes, and candy corn.
What's more, figures from the National Retail Federation show that 69 percent of Americans plan to celebrate Halloween this year. For comparison, that's a higher proportion than a host of other big seasonal holidays, including St Patrick's Day (54 percent) and Valentine's Day (53 percent).
Massive levels of participation? Widespread appeal that cuts across demographic divides? Vast amounts of money being spent? No wonder Halloween is such a big deal for retailers.
To help you capitalize on "spooky szn", I've rounded up seven of the best Halloween marketing strategies I've seen this year. Feel free to pick your favorites from my list and use them as inspiration for your own Halloween campaigns.
Table Of Contents
1. Grow Your Email List With Seasonal Popups
If you've ever read any of our content before, you'll know we're big proponents of email marketing.
(And if you haven't, I hope you like what you've seen so far.)
According to Litmus, email marketing delivers an unparalleled ROI of 36:1. It's too important a channel to ignore at any time of year, and Halloween is no different.
But email marketing will only work if you invest in building your email list.
Without an ever-growing database of existing and future customers eager to learn more about who you are (and what you sell), you're not going to see the results you need.
So how do you build an email list to support your Halloween campaigns?
One of the best ways is to add an email capture popup to key pages on your website. If you can make it at least somewhat Halloween-related, all the better.
Now, I know what you're thinking. "Skeletons, pumpkins, and cobwebs aren't a great fit for my brand. I don't want to splash them all over my homepage and category pages."
Don't worry—you can always take a slightly more subtle approach by utilizing a simple, seasonal-themed popup.
In this example, BlackMilk Clothing uses a fall-related popup to capture email addresses: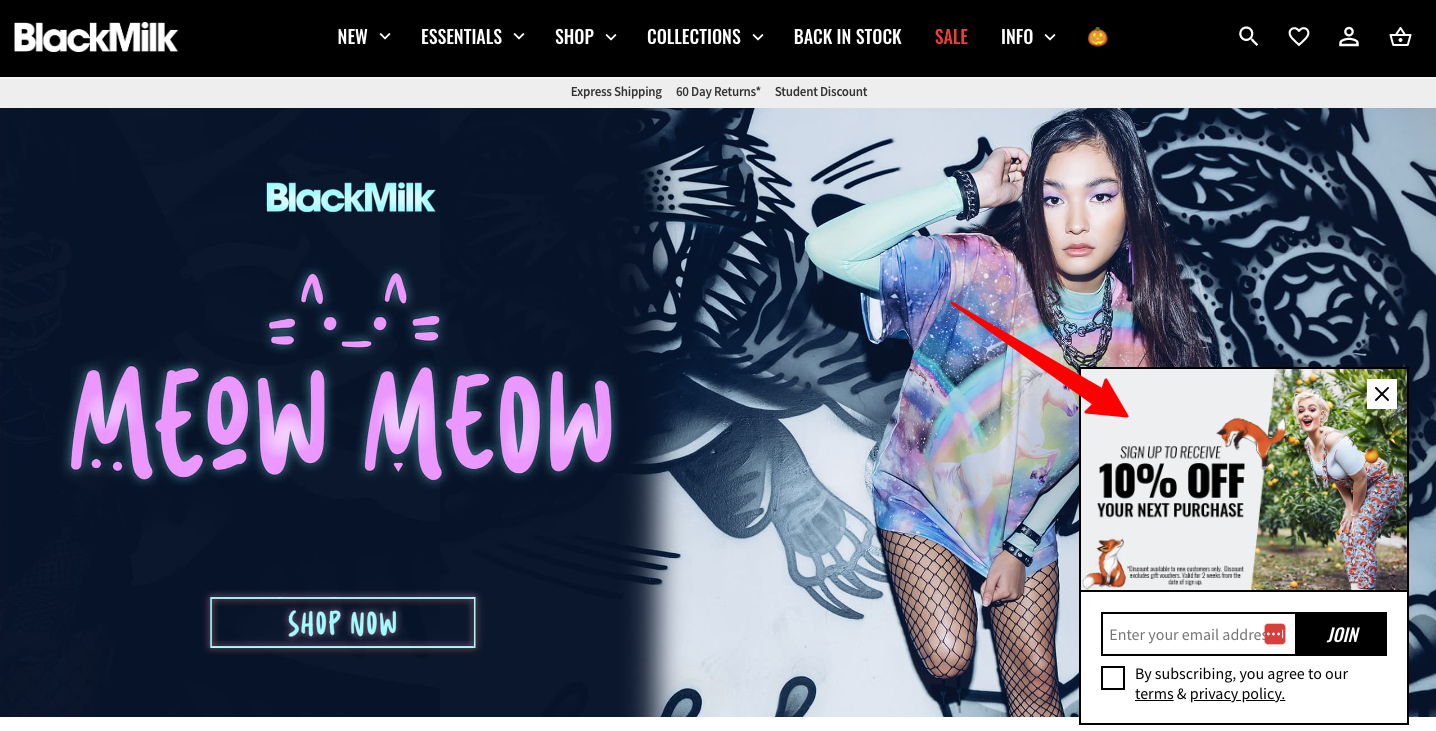 This popup feels sufficiently seasonal without being off-putting (or off-brand).
My favorite thing about this popup? The use of imagery.
Not so long ago, we analyzed more than one billion website popups. Our research found that image-based popups convert 83.57 percent better than popups without images:
Sure, a 3.8 percent conversion rate might not sound huge. But it means that for every 10,000 people who visit a webpage containing a popup, you can expect to add another 380 names to your email list.
Keep it up and you can quickly capture thousands of valuable email addresses from potential customers who are ready and waiting to hear about your Halloween offers.
2. Run a Halloween-Themed Email Campaign
Okay, so you've built up your email list.
Now it's time to capitalize on all that hard work by sending a Halloween email campaign. There are lots of ways that might work. For instance, you could:
Launch a flash sale
Invite customers to share user-generated content
Offer Halloween-themed product recommendations
Promote a Halloween-related product launch
Run a Halloween competition or giveaway
First up, here's an example from clothing brand Johnny Cupcakes, which promoted a different Halloween-based product launch every day for two weeks: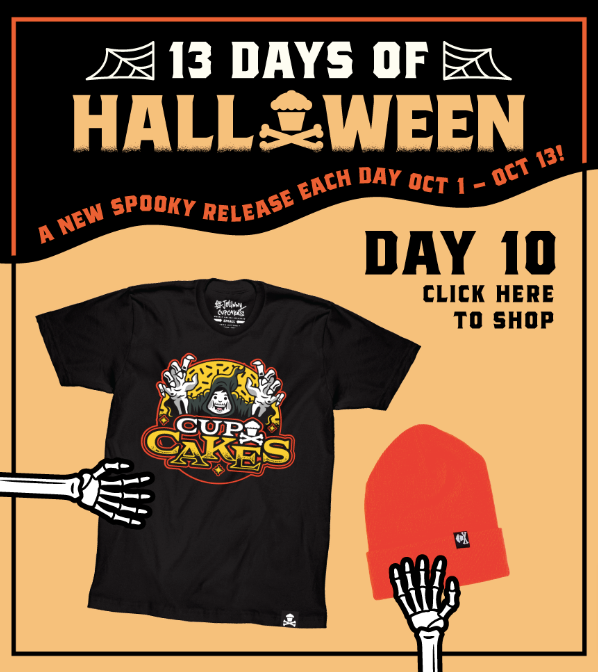 Sure, this approach isn't going to work for every brand. For some of you, Halloween just isn't a big enough deal to justify that level of attention.
But remember, this is a holiday with mass appeal. And with 67 percent of Americans planning to spend money on costumes ahead of Halloween 2022, it's a real slam dunk for apparel marketers (because not every "costume" has to involve fancy dress).
In my experience, this sort of multi-day campaign is a fantastic way to build engagement. If someone opens the first email in the campaign, there's a good chance they'll click all the others too.
Just make sure you kick off your email sequence with an engaging subject line that clearly explains the campaign, like Johnny Cupcakes did here:

Not only does this email subject line make it clear that this is a multi-day campaign, but it also uses actionable language ("get ready…") to encourage people to interact.
(N.B. Want more inspiration? Check out our roundup of the most creative Halloween email examples we've seen.)
3. Build a Halloween Landing Page
Let's say you've taken a leaf from Johnny Cupcakes' book by launching a whole collection of Halloween-themed products.
Naturally, you're planning to promote them through email marketing.
But you also want to display them prominently on your website throughout spooky season.
The solution? Build a dedicated Halloween landing page, like this one from underwear brand Shinesty: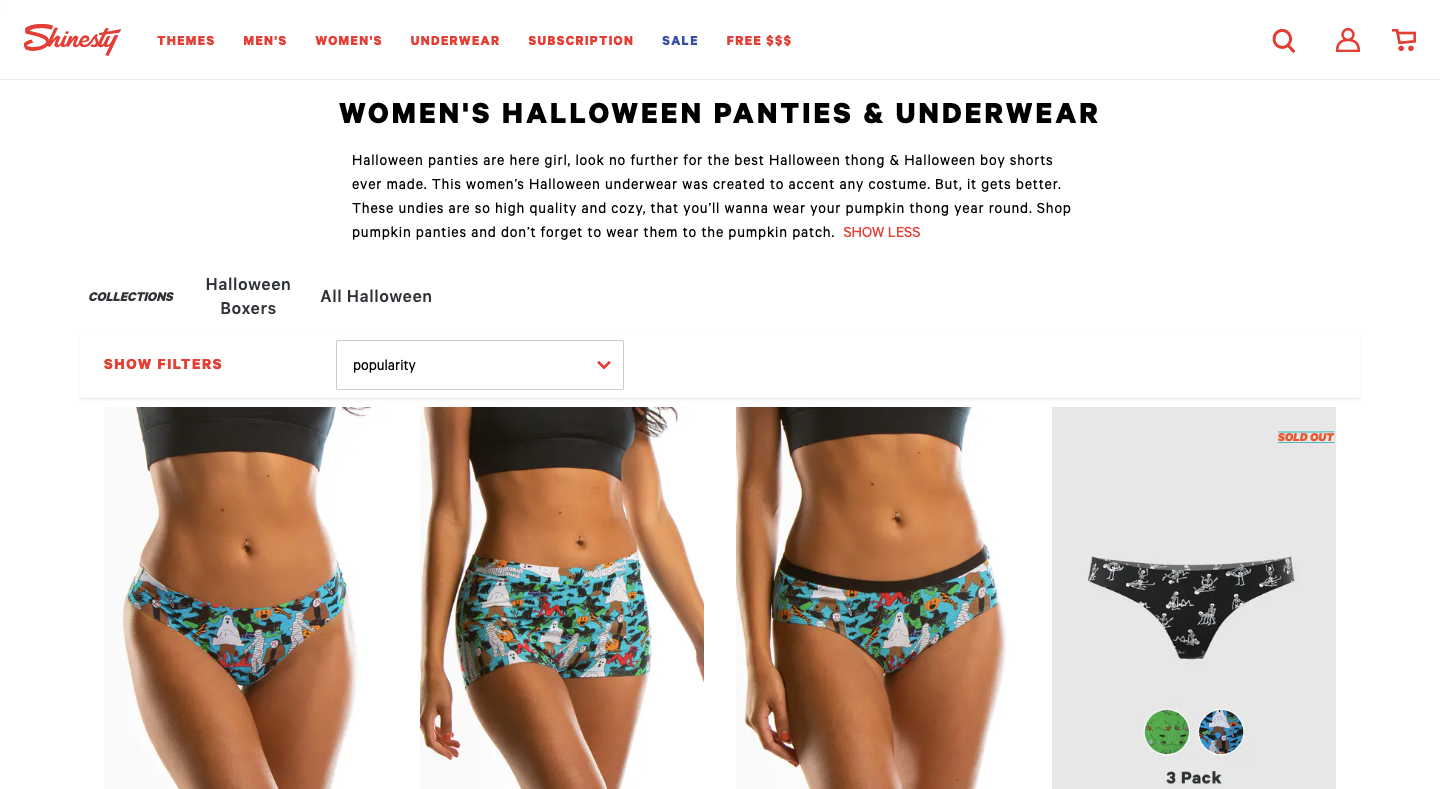 This approach has a couple benefits:
It gives you an obvious destination page for your Halloween emails.
You can add the category page to your website navigation, making it easy for visitors to find your Halloween-related products.
It helps bring in search traffic by giving you a page to target seasonal keywords.
On that last point, we can see that Shinesty's landing page ranks in the top #5 on Google for valuable terms like "Halloween undies" and "Halloween underwear", which generate thousands of searches throughout September and October:

4. Promote a (Spooky) Brand Collaboration
Looking for a way to give your Halloween marketing strategy a little X-factor? Consider teaming up with another brand for a co-promotional campaign.
This strategy puts you in front of your partner brand's audience, giving you an opportunity to sell to people who might never have considered buying from you before. And with research from Visual Objects revealing that 71 percent of consumers enjoy co-branding partnerships, it's easy to see why a growing number of brands are open to collaborations.
Of course, the success of any brand collab hinges on finding the right brand to partner with. The goal is to partner with a brand that:
Has a similar audience to yours…
But doesn't have the

exact same

audience…
And isn't a direct competitor.
It can be tough to find a willing collaborator that ticks all those boxes.
However, BarkBox got it exactly right this year by joining forces with one of the spookiest "brands" I can think of—the hit Netflix series Stranger Things:

This is a great fit. Not only is it directly relevant to Halloween, but it also plays on the shared traits of both audiences, as I'm about to demonstrate…
Stranger Things is most popular among younger audiences, with 31 percent of Americans aged 18–29 saying they watched every episode, and a further 17 percent watching at least some of the show.
So it's a big hit with Gen Z and Millennials.
Conveniently, Millennials happen to represent the largest share of pet owners in the US, with 32 percent owning a pet. And they're also more likely to buy gifts for their furry friends than other demographics, with a 2020 survey revealing that the average US Millennial planned to splurge $51 on their pets during the holiday season.
Taken together, these shared traits make for a perfect brand partnership.
5. Use Gamification to Drive Engagement
Perhaps more than any other holiday, Halloween is about having fun.
Few, if any, of us plan to trek across the country to spend October 31st with our parents. Instead, it's about attending parties, wearing fancy dress, going trick-or-treating with the kids, and generally overindulging in sugary snacks.
That sense of fun is definitely something to lean into with your Halloween marketing campaigns.
One approach is to use gamification—adding typical elements of game-playing, like points scoring or competitions, to otherwise mundane activities. Research published in the Journal of Business Research shows that consumers find it highly engaging, with the authors concluding:
"The results imply that gamification can positively affect brand engagement and further increase brand equity, and that gamification appears to be an effective technique for brand management."
MAC shows us how this might work as part of a Halloween marketing strategy: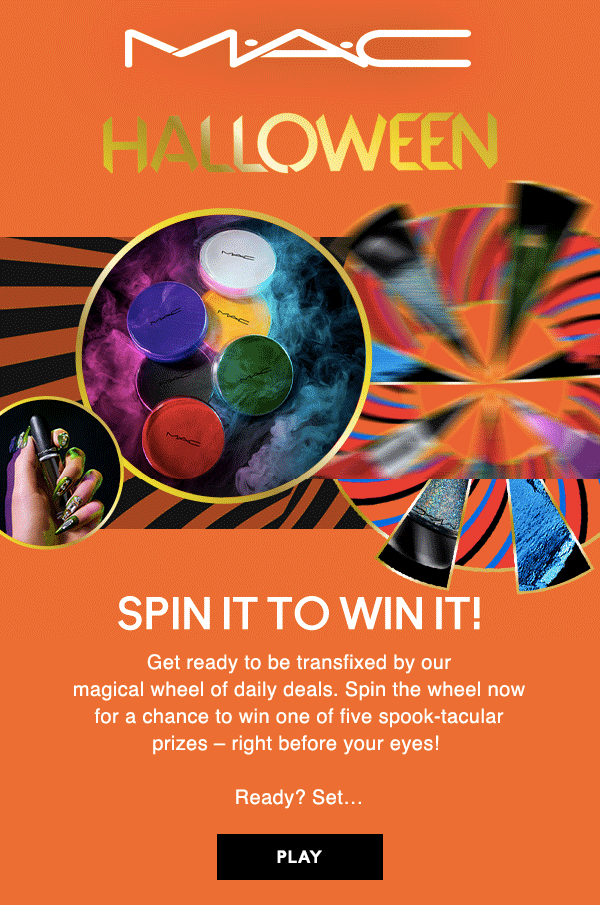 Rather than simply offering customers a set percentage discount, it gives them a chance to "win" a different prize every day throughout October by spinning a (digital) wheel on its website.
The added air of mystery makes this a more compelling offer than a classic limited-time offer.
6. Target Last-Minute Shoppers
Google Trends shows us that shopping-related searches on the topic of Halloween climb throughout October, only peaking on the day itself: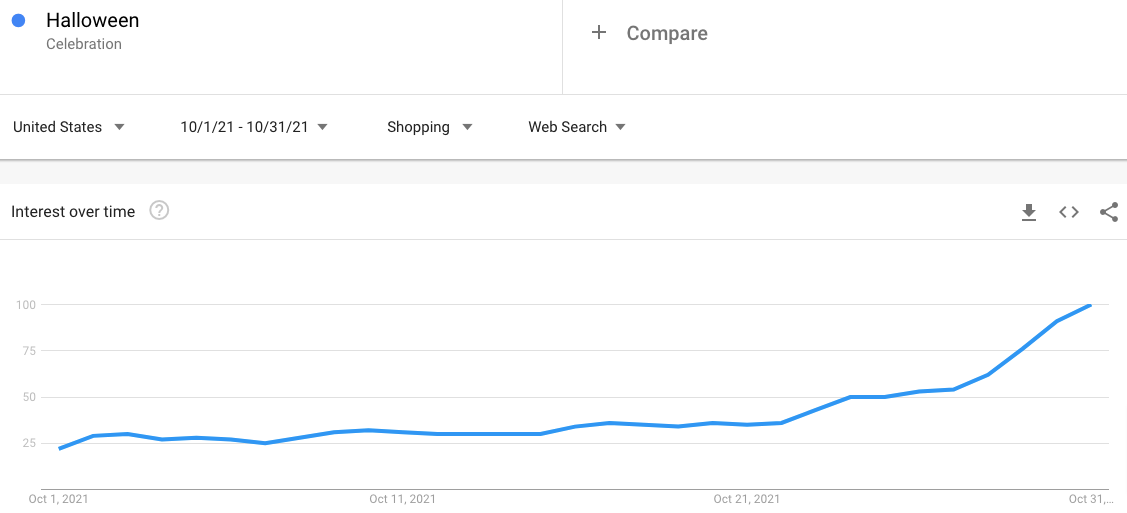 What does this tell us? That for many shoppers, Halloween purchases are an (extremely) last-minute decision.
When you think about it, this isn't surprising. Sure, lots of us love Halloween. But it's not exactly up there with Christmas in terms of buying priorities. Most people don't start panicking about their Halloween shopping list weeks or months in advance.
Use this knowledge to your advantage in your Halloween marketing strategy by sending emails targeting last-minute shoppers—people who absolutely need a costume, food and drinks, or a pumpkin-shaped mini waffle maker days before October 31st: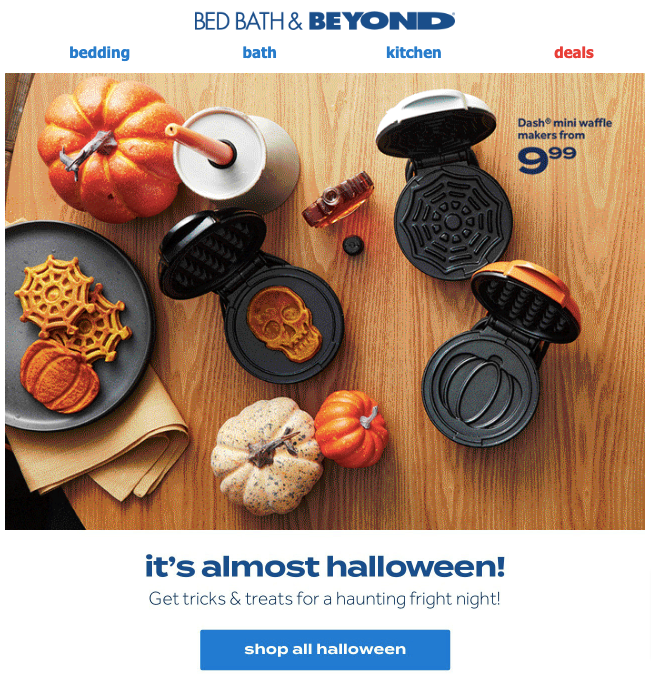 This email from Bed Bath & Beyond acts as a handy reminder for customers who haven't quite got round to buying their Halloween essentials yet.
Not only that, but it also effectively leverages the sense of urgency to compel shoppers to act now. As with any form of scarcity marketing, this approach allows Bed Bath & Beyond to drive purchases without having to offer a discount.
7. Join the Conversation
We know that Halloween is a big shopping event, and one that appeals to a broad range of audience demographics.
But that doesn't automatically make it a perfect fit for every brand. Your customers are theoretically interested in buying something for Halloween, but your products might not feature on their shopping lists.
So what do you do?
My advice is to join the conversation, like Greetabl does in this Halloween email example: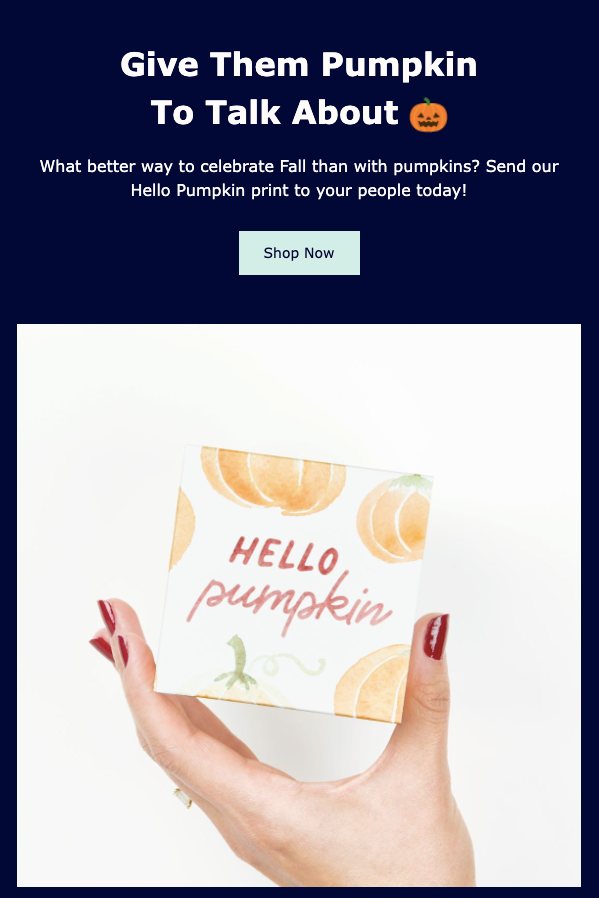 Greetabl sells cards and gifts. Let's be honest: neither of those categories is a natural fit for Halloween. I've been to my fair share of Halloween parties, but I've never once thought to buy the host a greeting card.
But by simply sending a Halloween-themed email, Greetabl gives itself the opportunity to generate a bunch of sales that it otherwise wouldn't have seen.
If you're in a similar boat, be careful not to overdo it.
So far in October, Greetabl has dedicated 50 percent of its marketing emails to Halloween—a far lower proportion than some of the other brands I've mentioned. For instance, 77 percent of Johnny Cupcake's October emails have been Halloween-themed.
Just like at any time of year, your goal here is to tap into broader trends while staying true to your brand.
Remember why people buy from you, follow your social channels, and sign up to your marketing emails—and give them more of what they want.
Grow Your Audience With Drip
Hopefully, my roundup of Halloween marketing strategies has demonstrated the value of building an engaged email list.
Struggling to convert drive-by website visitors into loyal email subscribers and paying customers? Drip can help.
With our tools, you can build dynamic, engaging forms and popups in seconds.
Start with one of our high-quality pre-built templates then customize to your heart's content. Swap the buttons, tweak the font, and add your own unique style—all without typing a single line of code.
The best thing of all? You can try it for free by signing up for your 14-day free trial. We won't even ask for your credit card details.