With an expected 2023 revenue of over $873 billion, the fashion industry is about to get bigger.
Trying to capitalize on this huge opportunity, online apparel retailers are forever on the lookout for new ways to multiply their e-commerce revenue.
However, while looking for new strategies, there are two points fashion e-tailers tend to overlook:
Traditional apparel marketing strategies don't work for all online businesses; and
Generic e-commerce marketing strategies don't always apply to fashion brands.
As an apparel e-tailer, you need e-commerce marketing strategies that are specially tailored to your needs and goals.
That's why today I gathered the seven best apparel marketing strategies that exceptional fashion e-commerce brands use (and why they work so well.)
Table of Contents
1. Curate Customer Photos
If you're in e-commerce, you likely know the importance of product photography.
Regardless of what you're selling, great photography makes your products easily understandable and desirable.
But if you're working in the apparel industry, you have a unique advantage (that, if ignored, can easily turn into a disadvantage.)
It's a common practice among fashion retailers to use models to show their products in action. And online retailers are no exception to it.
You might think that adding a model picture from three different angles will cover all aspects of your product.
And you're right—but only to an extent.
Each one of your customers looks different. So displaying "real" people wearing your products can help support your product photos and guide your visitors to better buying decisions.
Plus, customer photos make your products more relatable and desirable by creating social proof.
Knowing this well, Steve Madden adds a social media feed section to the bottom of their product pages and curate customer photos that contain the relevant product:

This way, their visitors know that several others enjoy the product (read: social proof) and get a better view of how the product looks in real life.
Steve Madden goes beyond curating user-generated content on their site and uses some of the customer pictures right after their product photos:
While browsing through a product's photo gallery, you can see how it looks on actual customers without scrolling to the bottom of the page.
This is a smart way to make your customers promote your products on your behalf, especially if you're an apparel marketer.
2. Incentivize Shoppers with Free Shipping
If you want to nudge your visitors to complete their order and increase their average order value, free shipping is one of the best incentives to use for a few reasons:
Consumers tend to buy more products when free shipping is an option;
You can offer free shipping without costs eating into your profit margins; and
There's more than one way to use it effectively.
For example, you can offer limited-time free shipping to reduce cart abandonment or use it as a tool to upsell your customers during checkout.
On top of that, you can use free shipping as an incentive to collect email addresses.
Check this example by Everlane: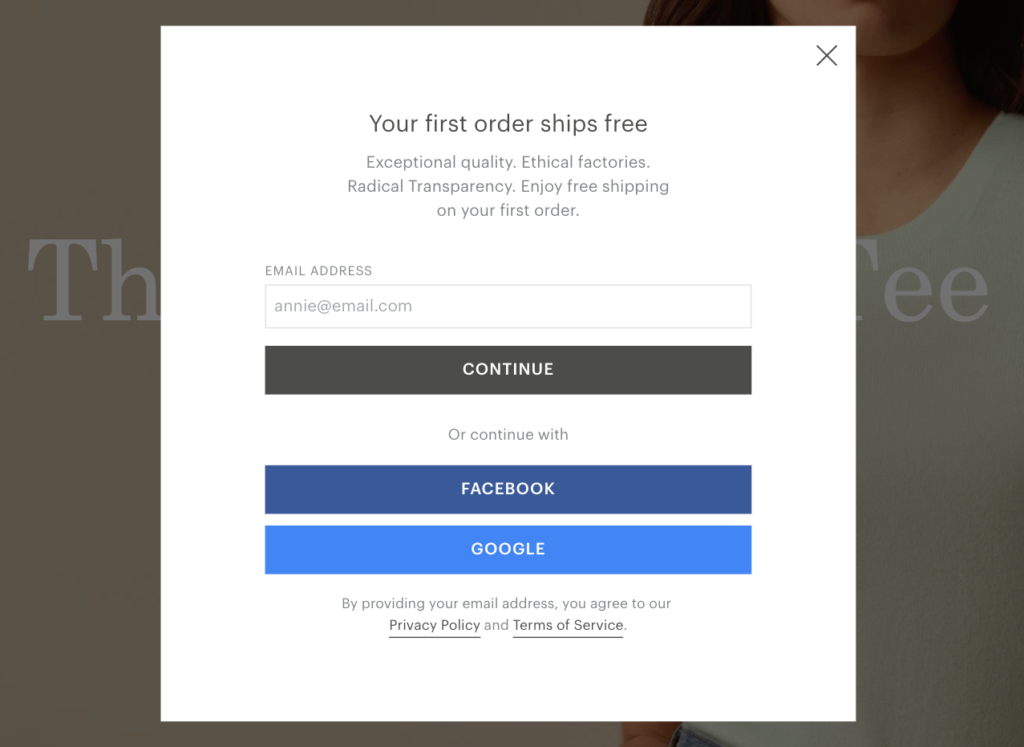 If you visit the company's website but don't have an account, they show you this email popup with a benefit-driven headline that reads "Your first order ships free."
Instead of writing a generic popup headline, such as "Sign Up" or "Join Our Newsletter," Everlane focuses on the powerful incentive of free shipping.
(This strategy works especially well if you can't afford to offer free shipping to every customer.)
First-time free shipping is a great alternative to offering discount codes upon signup if you don't want to decrease the perceived value of your products with discounting.
3. Increase Your Customer's Average Order Value on Product Pages
You're surely aware that product pages are the heart of your e-commerce site.
And chances are, you're already working on optimizing your product pages to convert more visitors into customers.
While getting more customers is one way to increase your revenue, there's another method you might have overlooked.
By using on-page tactics such as cross-selling and upselling, you can increase your customers' average order value and make more revenue out of each order.
Product recommendations are a great cross-selling tool that encourages your visitors to add more products to their basket. Plus, they help visitors navigate easily on your site.
If you're an apparel marketer, use the power of "looks" and recommend items and accessories that complement the initial product.
Take inspiration from Missguided: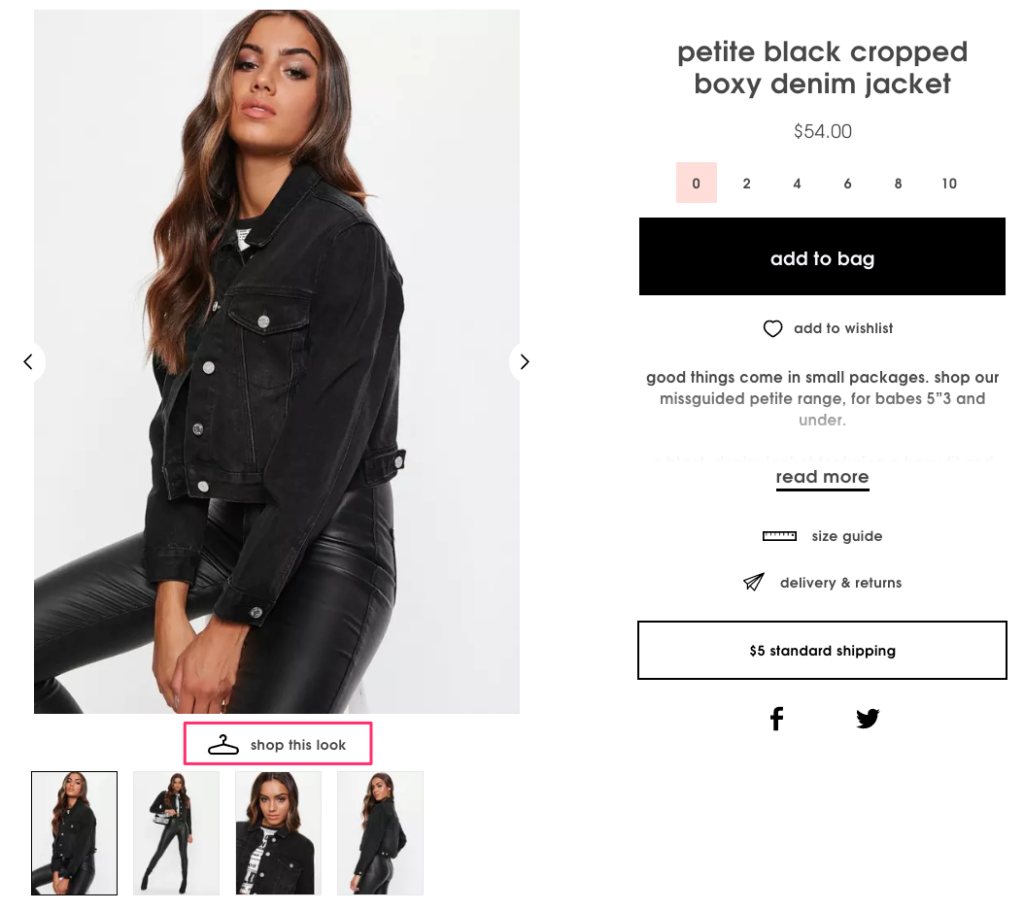 When you visit one of Missguided's product pages, you'll see a button that reads "Shop This Look" under the product photo.
When clicked, a window pops up containing the other items that the model is wearing: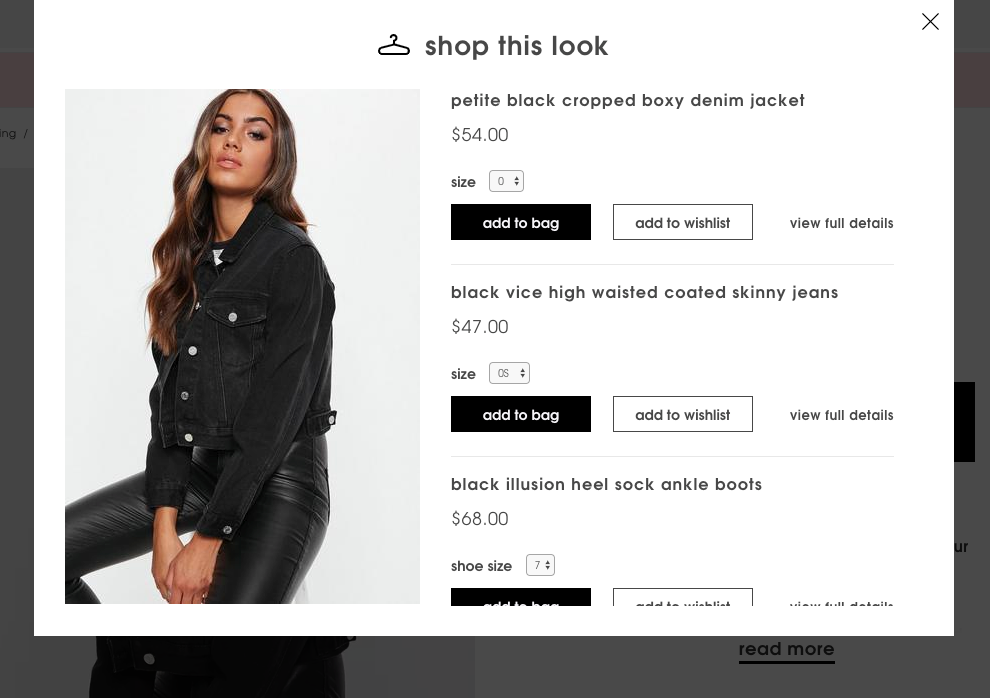 This is a smart way to recommend products and cross-sell without hurting your visitors' shopping experience.
Another apparel store that cross-sells using "looks" is Zalando. While doing this, however, they go one step further.
This is what their product pages look like:
Nothing striking here…
…until you scroll down and see this section: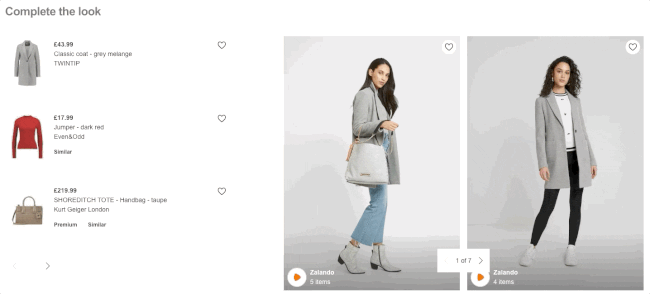 Right below the main product information, Zalando suggests their visitors seven different ways to wear this product (all with price information and product links.)
Notice how they frame this cross-sell as "Complete the look" and how this strategy fits well for fashion e-tailers.
4. Drive Urgency and Scarcity
There's at least one persuasion tactic apparel marketers aren't afraid of using and it's triggering our fear-of-missing-out (FOMO).
Knowing that consumers hate to lose their freedom of choice, smart apparel e-tailers often drive urgency and scarcity to increase their sales.
The underlying principle of scarcity is simple: When something has a risk of becoming unavailable, it seems more attractive to us. That's why we want to act quick and grab the opportunity before it ends.
And that's why marketers tell us to hurry up before our favorite products sell out.
Telling your visitors that they should "buy now" is one thing, but showing them the actual risk of selling out is another.
Exceptional apparel e-tailers choose the second path and ASOS is one of them: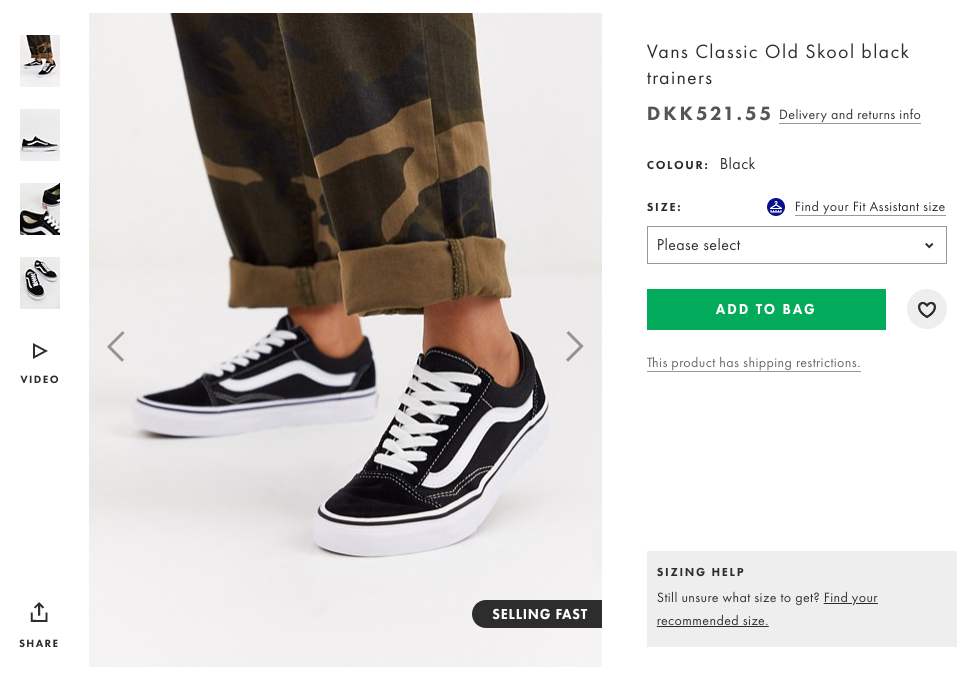 By adding a "Selling Fast" label to their bestsellers, the company proves the items' popularity and teases the risk of selling out.
If you're slightly interested in this product, you know you should decide quickly.
To enhance urgency and scarcity, try adding persuasion triggers to your product listing pages, such as category pages or search results.
Here's how Missguided does that successfully: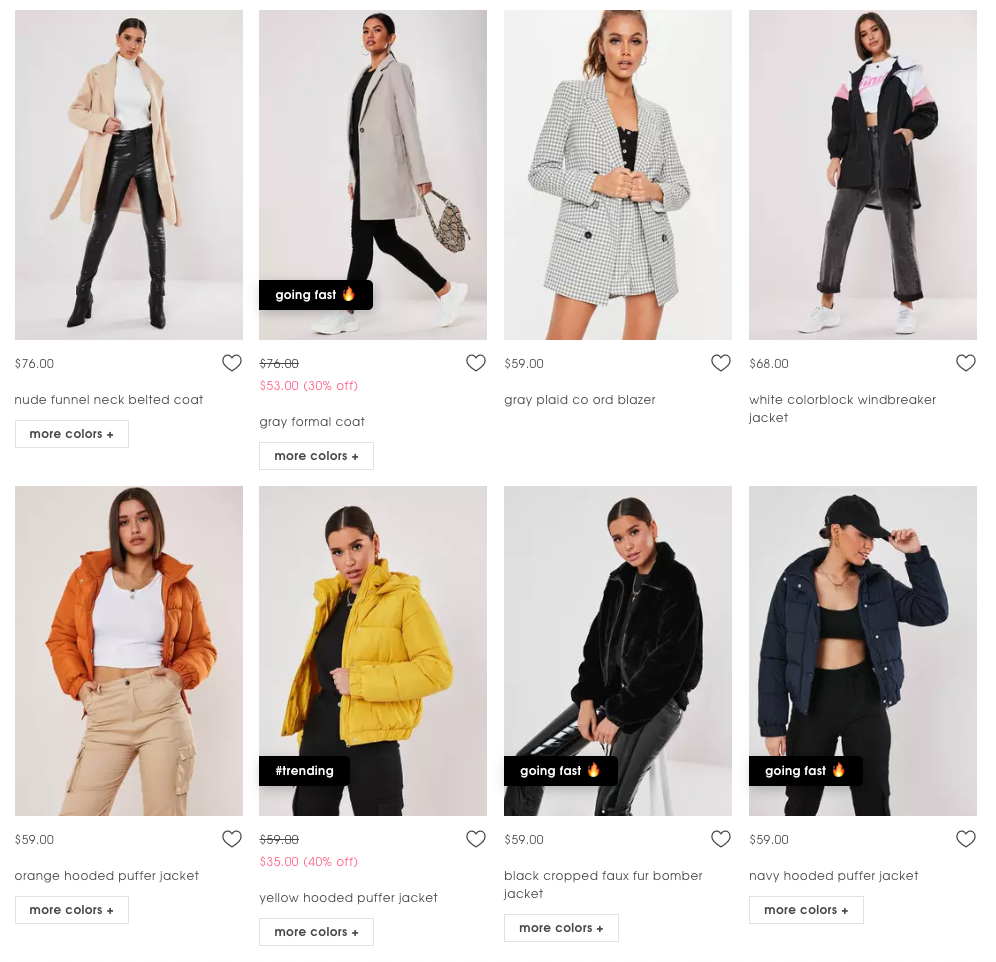 When you visit one of their category pages, such as Coats & Jackets, you'll see urgency labels on popular products that read "#trending" and "going fast 🔥".
Notice the use of emojis and hashtags that resonate well with Missguided's target audience.
This is a smart way to lure your visitors to product pages and help them make a quick purchasing decision.
5. Offer Size Guides
Shopping online for custom clothing and accessories isn't always easy.
Unlike in brick-and-mortar stores, e-commerce consumers face the challenge of not being able to try on the products when shopping online.
If you're running an apparel store, offering size guides on your site is an effective way to help your visitors make better buying decisions and reduce the likelihood of returns.
However, many brands link to their size guides that open in a new page, and that causes friction in the buyer's journey.
Instead of sending your visitors to a page that might distract them from the purchase, you can create an onsite campaign that shows up when a "Find My Size" button is clicked.
Here's how your campaign might look: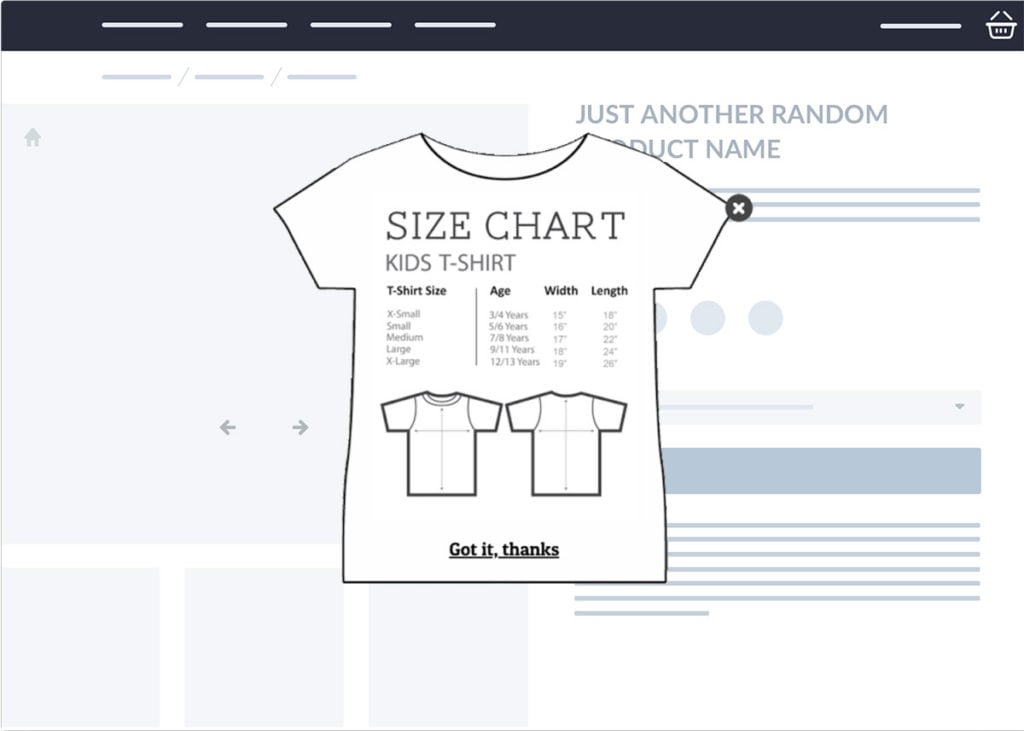 Contrary to popular belief, on-site size guides don't only work for clothing brands. They're perfect for any type of apparel store.
Take a look at this product page on the Nordstrom site: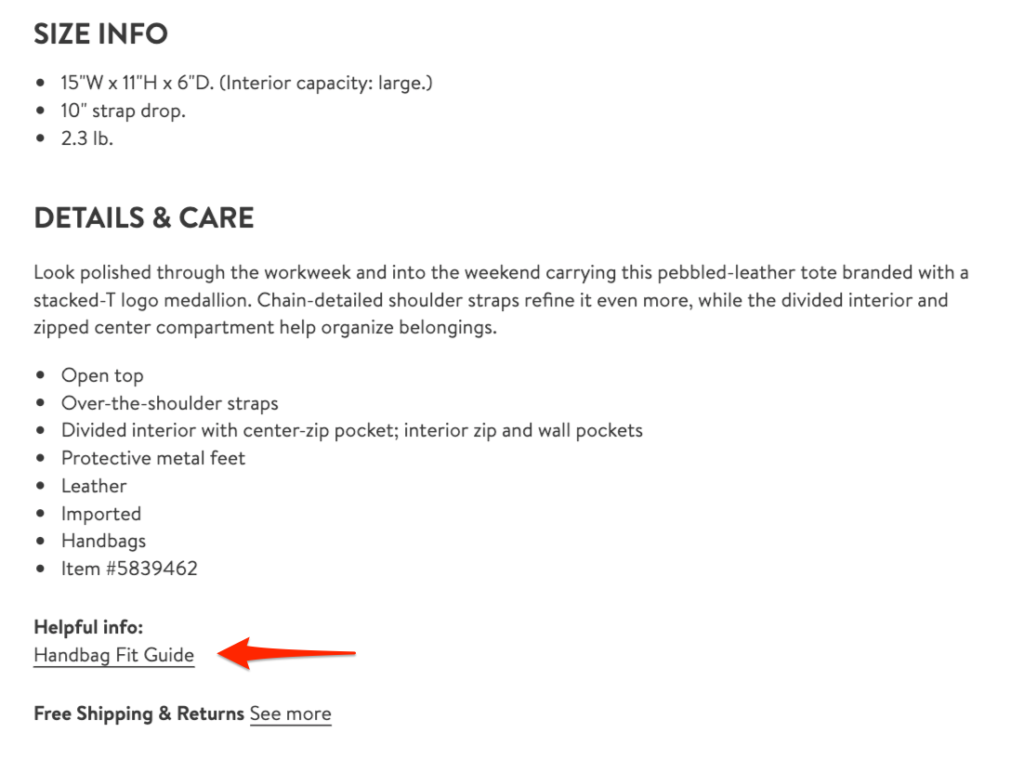 When you scroll down to read the product details of this handbag, you see a link that reads "Handbag Fit Guide."
When you click, this size guide pops up:
Nordstrom shows you how different sized bags look when held by a person in two different ways.
This size guide helps you visualize the product more easily and makes it more attractive by showing it in context.
It's an effective strategy all apparel e-tailers must capitalize on to provide a better shopping experience and drive more sales.
6. Optimize Sold-Out Product Pages
You likely spend valuable time and resources to optimize your product pages. And your ultimate goal, of course, is to sell as many products as possible.
But what happens when you sell all of them?
Sold-out products only mean frustration for consumers. But, for you, sold-out product pages are like a goldmine waiting to be tapped.
With simple tweaks, you can optimize your sold-out product pages and turn visitors' frustration into your advantage.
Collecting warm leads with out-of-stock notifications is one of the most effective ways you can utilize your sold-out product pages.
Visitors who land on a sold-out product page are already interested in that product. And now, the added scarcity on top makes the product even more attractive for them.
At this stage, you have two options to convert your frustrated visitors:
Guide them to similar product pages; or
Capture their email addresses, so you can remarket to them later with highly relevant offers.
Shinesty chooses the second path on their sold-out product pages: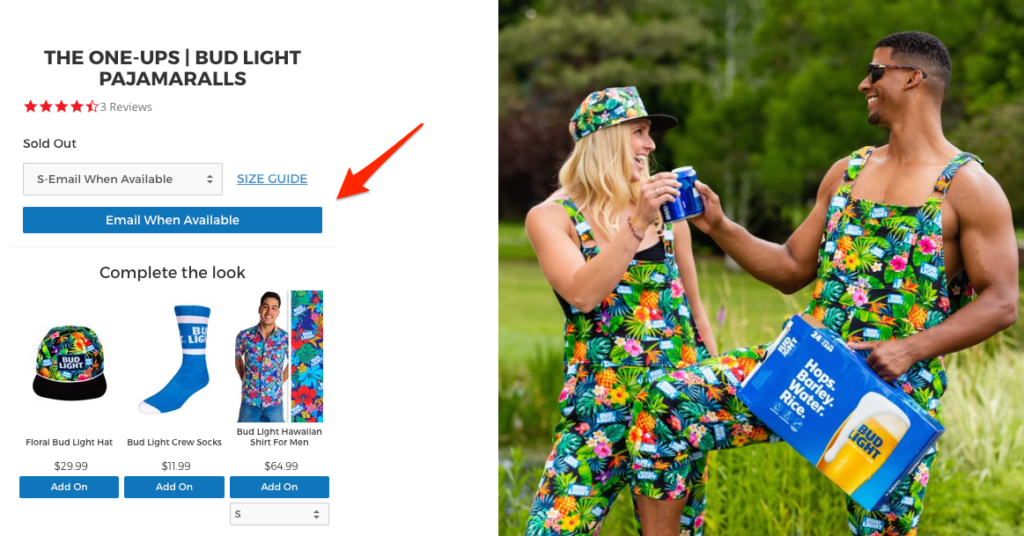 Clicking the link button "Email When Available" triggers this popup: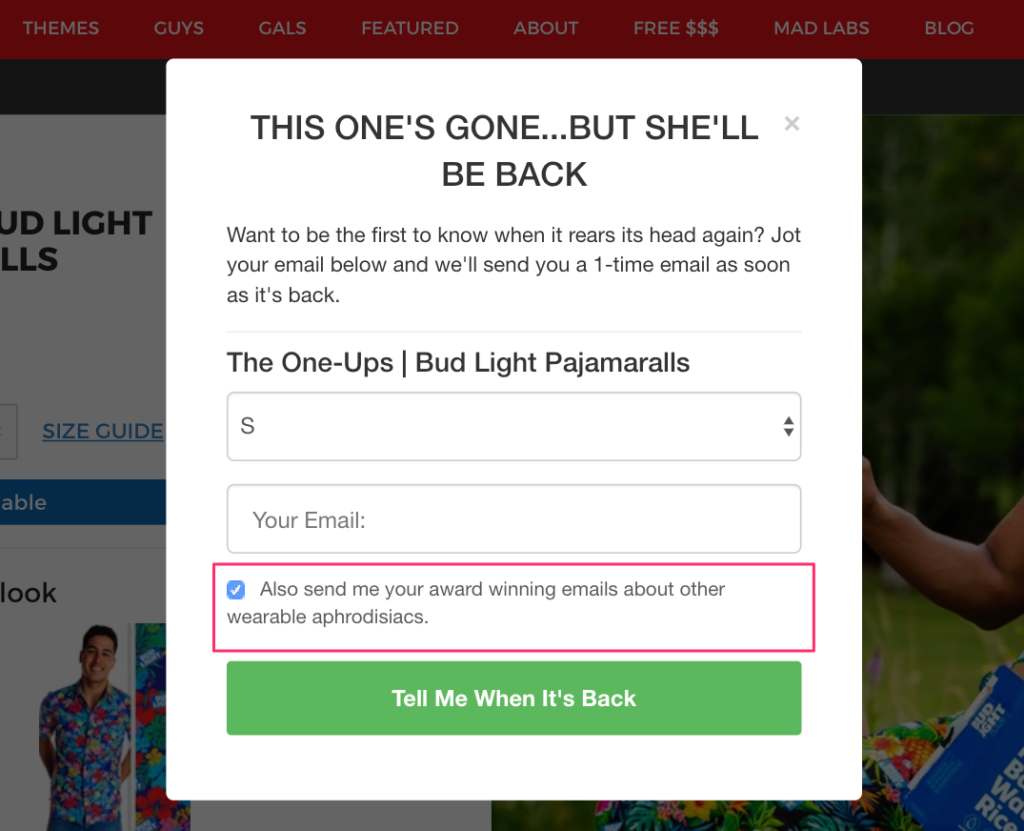 After asking for your size and email information, Shinesty promises you to send you a one-time email.
But it gets better.
Knowing that you're too good of a lead to miss, they suggest you join their newsletter by clicking the checkbox.
This way, Shinesty collects warm leads that will likely buy the product when it's back in stock. Plus, the company can now promote their other campaigns to those leads since they got their permission for that.
This is a smart strategy to capture the leads that you almost missed. Make sure to nurture them with your emails and suggest them relevant offers.
7. Encourage Referrals
You might be thinking that the buyer's journey is completed with the act of buying.
That's true—but only if you're not using them to their full potential.
Ensuring customer loyalty is a crucial step in your sales funnel and it's an effective way to drive sales on autopilot.
With a solid customer retention strategy, you'll not only guarantee repeat purchases, but you'll also turn your loyal customers into brand advocates.
Research shows that 92% of consumers trust and value product recommendations that come from people they know.
Pretty Little Thing leverages this information and uses a referral program that expands their reach and increases their sales: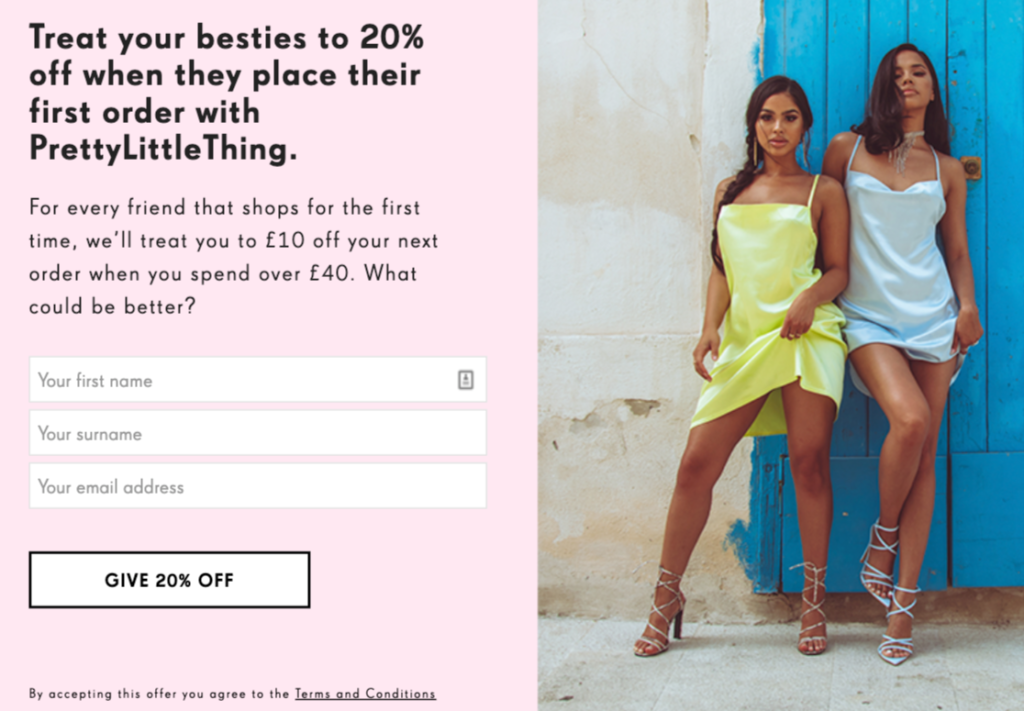 Their referral program follows two simple, yet important, principles:
It's easy to join; and
It offers benefits for both parties.
After typing your name and email information, and click the call-to-action button, this is the next step you see: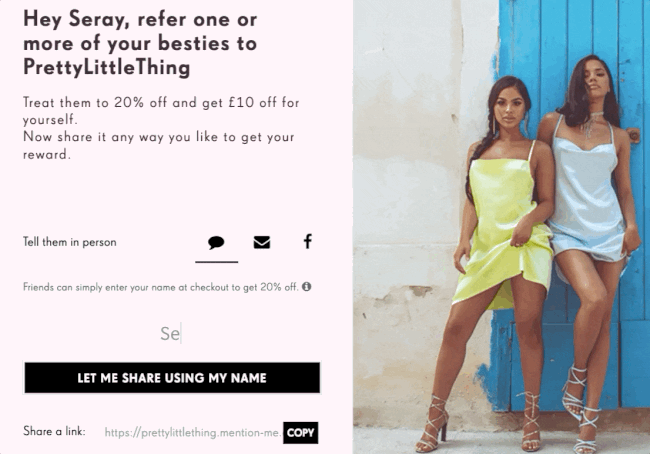 The company makes it ridiculously easy to share your referral link and leaves little space for mistakes.
If you want to refer your friends, you can share a custom link, send them an email, or post a Facebook update.
But if you prefer to tell your friends about this in person, all they need to do is to write your name during checkout.
As easy as that.
Using a third-party service, such as Mention Me, you can start a referral program for your apparel brand and multiply your revenue, too.
Conclusion
Not every e-commerce marketing strategy works for every industry, that's a given.
That's why I wanted to share the best apparel marketing strategies I've seen so far and why they work so well.
Try the ones that fit your conversion goals the best and you'll master online apparel marketing in no time.