Think about all those times you've been browsing Instagram and come across a picture that one of your friends, or some random influencer, has posted from an exotic location.
You know the ones. They're sipping mojitos in a cabana or gazing out over miles of unspoiled rainforest on a mountain trek. Immediately, you wish you were there. You're experiencing major FOMO.
While this all-too-common example focuses on the travel niche, FOMO marketing is just as relevant in any number of markets.
If a friend buys a fancy new car, lands their dream job, or picks up tickets to some hot new band you've never even heard of, human nature kicks in and makes you feel like you're missing out on something.
So it's no surprise that brands often try to leverage FOMO—or societal pressure—in a bid to drive sales.
But how do you convince your potential customers that they're missing out on something they might not even be aware of?
One of the best tactics is the classic last chance email. These emails come in three main flavors:
"This offer expires in 3 hours." The most common, and least subtle, form of last chance email. This is all about presenting you with an attractive offer and warning that if you don't grab it soon, you'll miss out. It's great for driving impulse purchases.
"Other customers are interested in [X, Y, and Z]." This messaging works in two ways. Firstly, it provides social proof that if you liked this thing, you should also buy that thing. Secondly, it subtly suggests products X, Y, and Z are in high demand, which means they might sell out soon.
"[X] is now out of stock." These emails are designed to spell out the consequences of failing to act in time. They're effectively saying: "You missed this offer and now you can't have it. Next time, you'll have to move faster."
That's all the theory out the way. If you're eager to drive a little FOMO from your audience by sending your own last chance emails, get inspired by these seven killer examples.
Table of Contents
1. Google
There's nothing too subtle or unnecessarily smart about this textbook last-chance email from Google:
The title makes it crystal clear what's going on here: Google is currently running some deals, but if you don't snap them up soon, they'll be gone.
Somewhat surprisingly, there's no actual time limit mentioned anywhere in the email. It's just Google saying: "This is your last chance because we're going to remove these offers at an undisclosed time."
Given that this is Google we're talking about, I highly doubt this was an oversight. More likely, it's intentional.
Why wouldn't they let you know when the offer's ending? If anything, this approach makes you even more likely to buy right now. After all, if you know a sale is ending in 48 hours, you can wait and buy it tomorrow.
While we're here, it's also worth noting how Google spells out the scale of the offer by highlighting the savings available on each product, with a separate "shop now" call to action (CTA) for each.
That makes sense because they're all quite different products. If you're in the market for a $59 Chromecast, you don't want to have to scroll past a bunch of unrelated (and much more expensive) products to find it.
Want to make a workflow like this?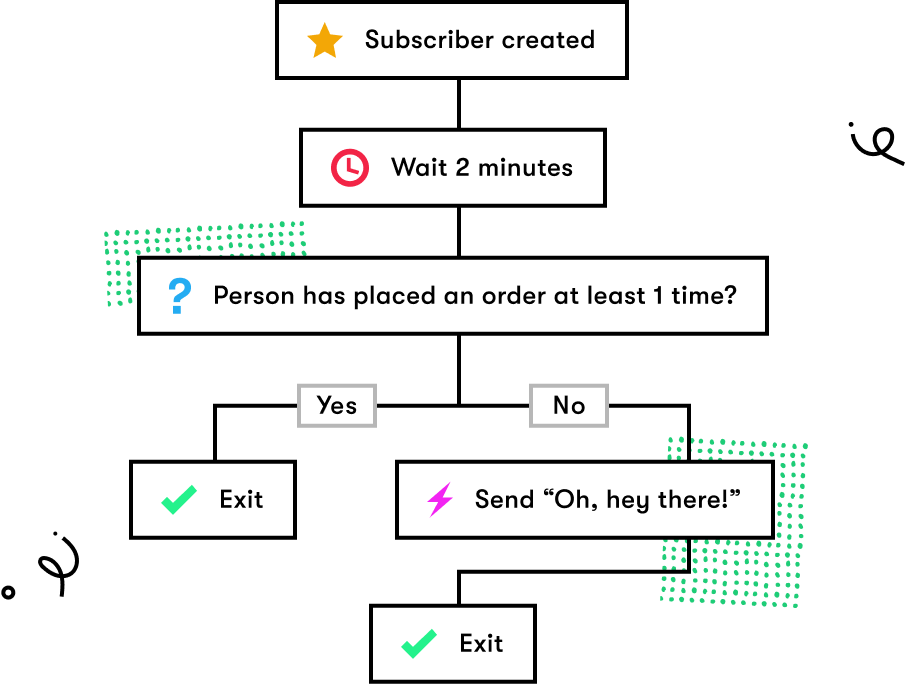 Hit the ground running with our pre-built workflows.
2. Grammarly
I have a love/hate relationship with Grammarly. It's surely useful but sometimes I just don't want to be concise.
However, I'm more than happy to put my petty grievances to one side and confess that I'm a big fan of this last chance email:

(Source: Really Good Emails.)
There are three big reasons why I think this works so well.
Firstly, it's about the targeting. This email is being sent to people who are already using Grammarly's free tier. Presumably, they already have a decent understanding of Grammarly's product and the benefits it offers, so there's no need for a hard sell or a detailed explanation of various features here.
Secondly, there's a side-by-side comparison of Grammarly's free and premium products. This makes it crystal clear how much more value you'll get from upgrading to premium.
And finally, Grammarly caps what's already a strong last chance email with a time-limited offer—upgrade now and get a 50 percent discount.
If you're already using Grammarly and you like the features, that really does sound like a deal you don't want to miss.
3. Eight Sleep
Whereas that Google example sets off our FOMO alarms by deliberately not communicating when the offer is ending, Eight Sleep is fully transparent in telling customers how long they have to take advantage of this promotion:

(Source: Really Good Emails.)
In other words, rather than prompting people to buy now because they don't know how long the discount will run for, Eight Sleep prefers to let the value of its offer do the talking. And, when you see it spelled out in black and white, getting $600 worth of products for $300 does sound like a pretty compelling proposition.
There's another thing worth noting here, too.
You'll notice from the call to action that this is a Black Friday offer. As you probably know, Black Friday falls in late November, so a lot of people take advantage of the limited-time discounts available to buy Christmas presents for their loved ones.
However, it's hard to imagine many people choosing to buy a $300 smart mattress (and a gravity blanket) as a Christmas gift. Eight Sleep clearly understands this, which is why it's included the phrase "self-gifting encouraged" in the intro copy.
4. Bose
Audio equipment giant Bose has created an extremely persuasive last chance email here by combining two key elements:
A limited-time saving on multiple high-value products; and
Testimonials from real customers that speak to the quality of those specific products.
(Source: Really Good Emails.)
That's a solid combination. But do you want to know what's really smart about this email? None of those testimonials are from customers who bought when this discount was running.
In effect, each of them is saying how much they love their headphones and smart speakers despite acquiring them months, or even years, earlier.
Now put yourself in the tasteful, expensive shoes of someone receiving this email. You can get exactly the same experience, but a whole lot cheaper.
But that's not all. Three of those four testimonials specifically reference receiving the products as a gift.
Again, this is a Black Friday email, so gifting is very much front of mind. If you're wondering what to buy a music-loving friend or family member for Christmas, and you receive this email, your search for a present is over.
5. Good Pair Days
Good Pair Days is an Australian subscription-based wine delivery service.
In this last chance email, the brand hammers home the value of its special offer—$25 off your first order—by strictly spelling out how you can only buy it once: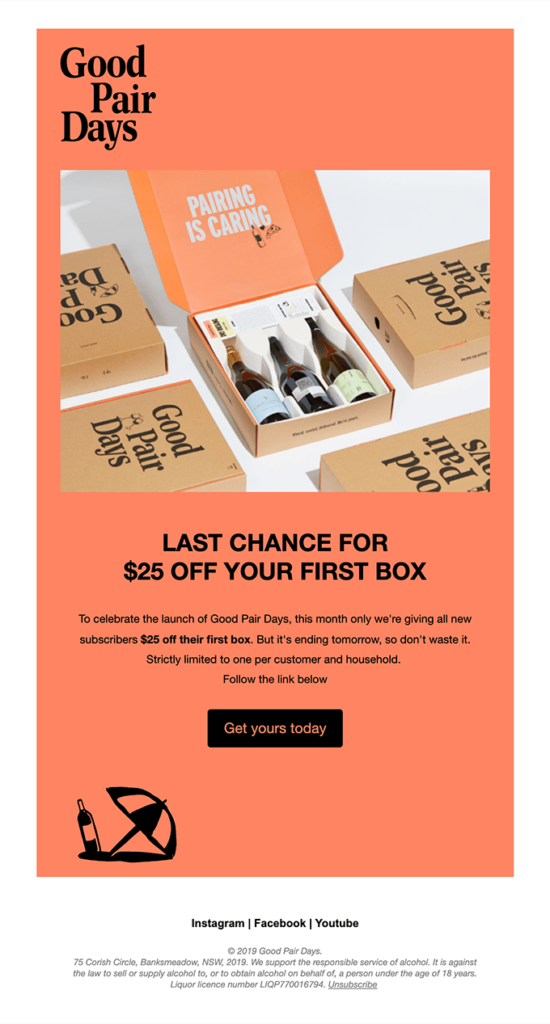 (Source: Really Good Emails.)
By doing this, Good Pair Days is effectively saying: "This offer is so incredible, you'd be taking advantage of us if you bought it twice. We just can't afford it."
Now, call me suspicious, but I don't know many businesses that would actually prevent customers from buying two "things" instead of one, even at a discounted price.
But by emphasizing this point, the brand makes this offer sound almost too good to be true. So you'd better not miss it.
6. Rye 51
Here, menswear brand Rye 51 gives us an example of the rarely seen "double last chance" email: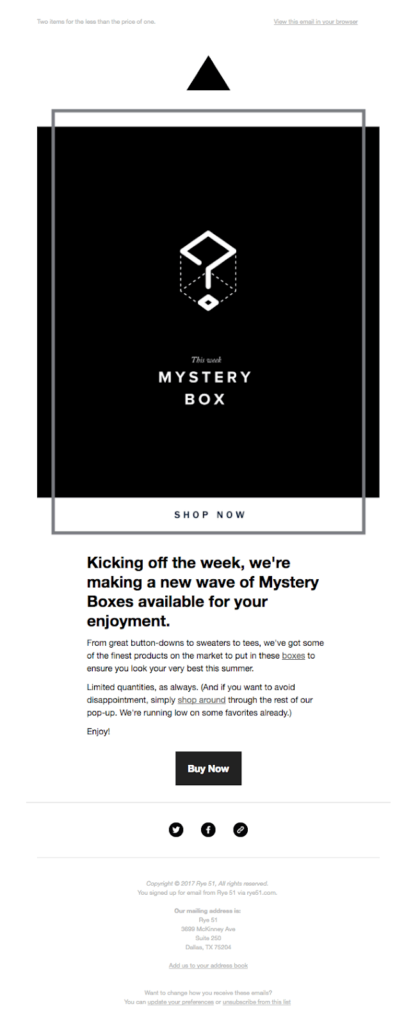 (Source: Really Good Emails.)
What do I mean by this?
First off, the email announces the launch of Rye 51's new mystery boxes, stressing that "as always", they're only available in limited numbers.
The concept of a mystery box plays nicely with the last chance email tactic because you're not just in danger of missing out on a nice new shirt or a pair of pants—you're missing out on a secret selection of products. This abstract element makes the whole thing a lot more exciting.
But what if mystery product boxes aren't really your thing? In that case, Rye 51 urges you to browse the rest of its collection but warns that it's already running low on some items.
The message is clear: whether you choose a mystery box or a specific pair of jeans, you're in danger of missing out on an amazing deal and a fantastic product.
7. Saxx
There's a good reason why people might feel compelled to buy new underwear in the run-up to Valentine's Day. Hopefully, I don't need to spell it out—after all, this is a family blog.
Plus, the image in this last chance email from Saxx does the spelling-out for me:

(Source: Really Good Emails.)
This is one of only two emails I've included in this article that doesn't rely on a limited-time discount to instill a sense of FOMO in shoppers.
Instead, it's all about the shipping. If you want your new Saxx underwear to arrive in time for February 14th, you've only got a short time to buy.
That's all there is to it. No smart copy, no big discount. Just a not-too-subtle promise that it'll be worth your while to place your order now.
Conclusion
Maybe you've read this article, looked at all the examples, and decided last chance emails aren't for you.
Perhaps you think they're too pushy or hacky.
To an extent, I agree. As a brand, you'd always prefer your product to speak for itself, rather than relying on artificial urgency to drive sales.
However, it's hard to deny that last chance emails are effective. That's because they play on human behavior and psychology. Indeed, according to the Journal of Consumer Research:
"People are more likely to perform unimportant tasks (i.e., tasks with objectively lower payoffs) over important tasks (i.e., tasks with objectively better payoffs), when the unimportant tasks are characterized merely by spurious urgency (e.g., an illusion of expiration)."
In other words, if we're told an offer is ending soon, it's in our nature to jump at the opportunity—even if we have a bunch of other pressing priorities to deal with.
That's why last chance emails work so well. And it's why they should almost certainly be part of your email marketing toolkit.