With every dollar spent on email marketing delivering a return of £41 (or $51), it's hardly surprising brands want to do more of it.
But they're not always prepared to put their money where their mouth is.
According to Litmus, 70 percent of brands have increased their email marketing workloads—yet their budgets have remained unchanged.
In short, email marketers are being forced to do more with the same resources.
That leaves you two options:
Work longer and longer hours until burnout eventually turns you into a withered husk of a person
Find ways to work

smarter rather than harder
I don't know about you, but option #2 sounds a lot more appealing to me.
Pre-built email marketing templates are one way to lighten your ever-increasing workload, allowing you to send eye-catching, revenue-driving emails without getting elbow-deep in CSS or HTML.
But templates aren't a silver bullet. To make them work, you first need to understand the purpose of each email and how it fits into your broader marketing strategy.
To help you out, I've collected seven types of email marketing templates based on the most impactful marketing workflows.
Why waste time building a whole new workflow when you could simply install a premade template with predefined triggers, delays, and decisions?
7 Examples of Email Marketing Templates
Abandoned Cart Series Templates
Imagine if two-thirds of shoppers at your local Walmart added a bunch of items to their trolleys, waited in line to pay, then changed their minds at the last minute.
Unfathomable, right?
Yet that's exactly what happens, time and time again, in the world of ecommerce.
High shipping costs, taxes, or fees; slow delivery times; overly complex checkout processes. Consumers ditch their online shopping carts for any number of reasons, with the average ecommerce cart abandonment rate standing at a startling 69.99 percent, according to the Baymard Institute.
Unsurprisingly, brands are eager to win back some of that "lost" revenue by sending abandoned cart emails.
You might imagine that consumers don't want to be reminded about all the items they browsed, added to bag, then ditched at the altar.
But the data tells a different story. According to Barilliance, cart abandonment emails enjoy average open rates of 40+ percent and conversion rates of close to 19 percent, making them one of the most effective email marketing tactics you can find.
As with all the workflows in this article, it's not enough to send a single abandoned cart email. Your series should include a first email sent within one hour of the cart abandonment, followed by at least one or two other emails reminding customers what they left behind.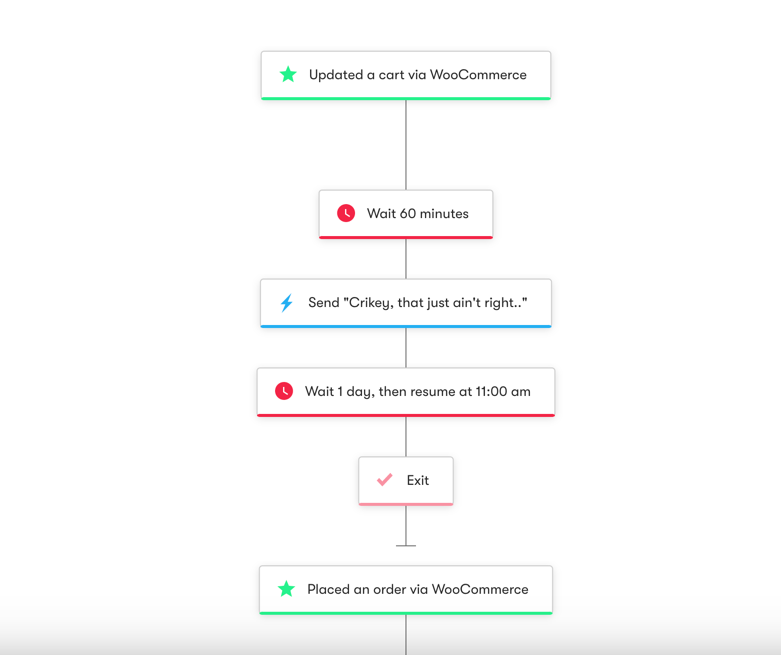 Timing is important, but so is the content of your abandoned cart emails. To optimize performance, you should include:
Email copy that conveys a sense of urgency (e.g. "We won't hold your items forever.")
The product name and image
A link directing customers back to their shopping cart
Check out Drip's abandoned cart email series templates for Shopify and WooCommerce.
Abandoned Browse Series Templates
Sure, cart abandonment is a big problem for ecommerce brands. But think how many people dip before adding anything to their shopping cart.
According to SaleCycle, on average, just 14.5 percent of ecommerce sessions result in products being added to shopping baskets. Meanwhile, up to 50 percent of sessions include at least one product page view.
Wouldn't it be great if you could reach out to those customers who liked your products enough to view them, but didn't get as far as adding to cart?
Actually, you can, with a browse abandonment email series.
The automations involved in these series are relatively complex, but the idea is simple: when a customer browses a product but doesn't add it to their cart, you target them with an email reminding them of what they're missing.
Then you follow up with at least one further email pointing them in the direction of the product that first caught their eyes.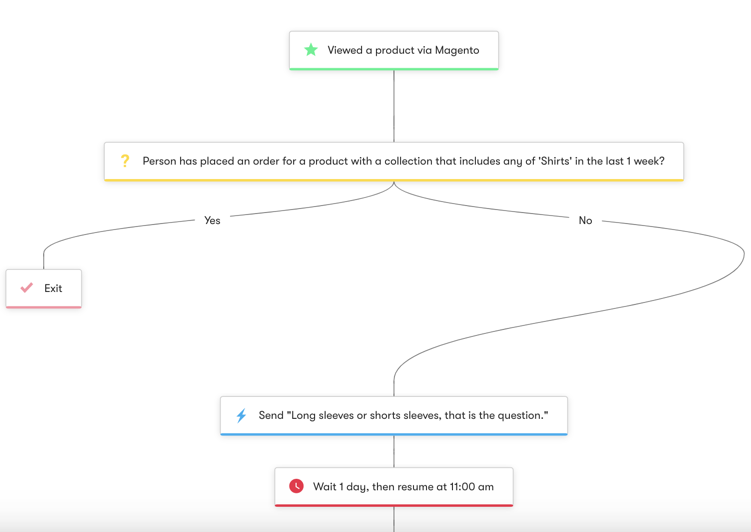 Why the category, rather than the product itself?
It's all about intent. Clearly, they weren't totally convinced by the product they looked at, because they didn't get as far as starting the checkout process.
Sure, they might be won over by that product the second (or third) time around. But they're just as likely to be persuaded by a similar product that they never even spotted during their first browsing session.
Check out Drip's browse abandonment email series templates for Magento, Shopify, and WooCommerce.
Welcome Series Templates
Every single email address you capture represents an opportunity to build a beneficial long-term relationship with an individual customer.
Once they've handed over their email, you can leverage the power of analytics to better understand their product preferences, buying habits, favored messaging, and much more besides.
In short, when you collect an email address, you open the door to a whole world of laser-targeted marketing.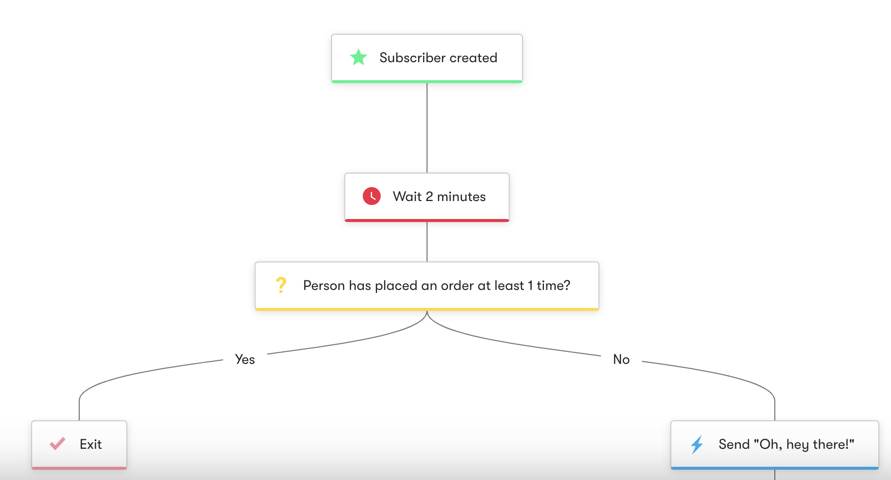 So doesn't it make sense to celebrate your new subscribers?
That's where welcome email series templates come in. A welcome series is your chance to create a fantastic first impression by:
Showcasing your brand colors and imagery to boost recognition
Incorporating images of your most popular products
Providing

social proof

of your quality by sharing all the lovely things people are saying about your brand
Linking them to your social media accounts
Outlining your

unique value proposition
Sharing an attractive offer that compels new subscribers to become paying customers
Pro tip: Remember to remove people from your welcome series if they place an order before the end of the sequence. If they're ready to buy, there's no need to keep treating them like noobs.
Check out Drip's welcome email series templates for Magento, Shopify, and WooCommerce.
Post-First-Purchase Series Templates
So much of our effort as marketers goes into converting prospects into customers that it's all too easy to forget about those who've already bought from you.
The moments after someone places their first order are crucial. Nail your communications and you're well on the way to winning a loyal customer who'll stick by you through thick and thin. But get it wrong and you can pretty much guarantee their first transaction will also be their last.
That's why you need a robust post-first-purchase email series template to thank customers for their purchase, set expectations around shipping times, and provide other useful information about:
Returns
Exchanges
Warranties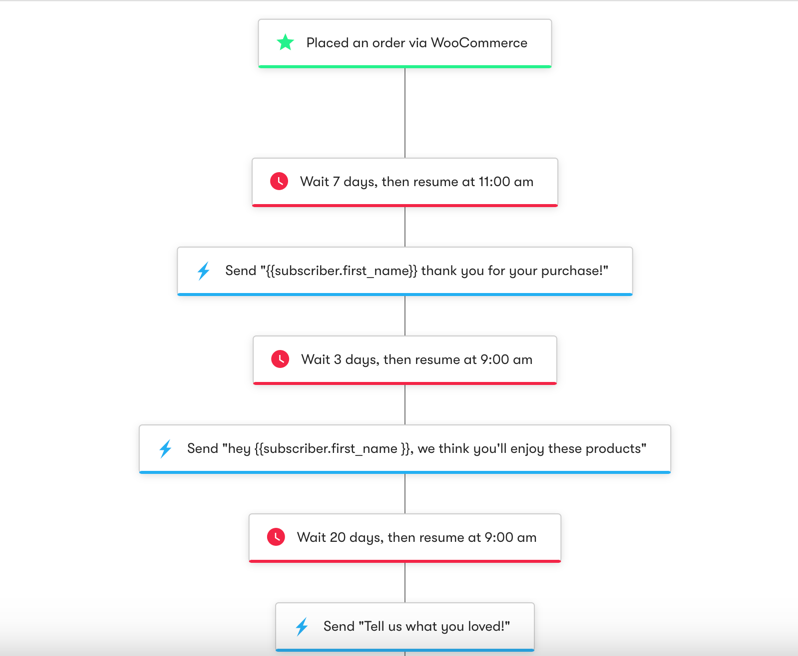 Of course, the ultimate goal of your post-first-purchase email series is to encourage future transactions, so be sure to share additional products they may be interested in.
You can also take the opportunity to ask for a product review. After all, 89 percent of consumers read reviews before making a purchase, yet 73 percent only pay attention to reviews written in the last month. So it's in your best interests to build a reliable pipeline of fresh review content.
Just be sure not to request a review before the customer has actually received—or had a chance to use—their product.
Check out Drip's post-first-purchase email series templates for Magento, Shopify, and WooCommerce.
Post-Repeat-Purchase Series Templates
Loyal customers; don't you just love them?
Chances are you've already got a substantial core of ride-or-dies, with 74 percent of consumers saying they feel loyal to a particular brand or company.
That's fantastic news, because once a customer becomes "loyal", they're far more likely to recommend you to their friends and family, write positive reviews about you, and remain loyal after a negative experience. As if that wasn't enough, they're also happy to keep buying from you—even if cheaper alternatives exist.
There are various ways to define customer loyalty, but for my money, the most obvious is to target repeat buyers: people who've bought from you at least twice. Once they've made their second order, reach out with a post-repeat-purchase email series.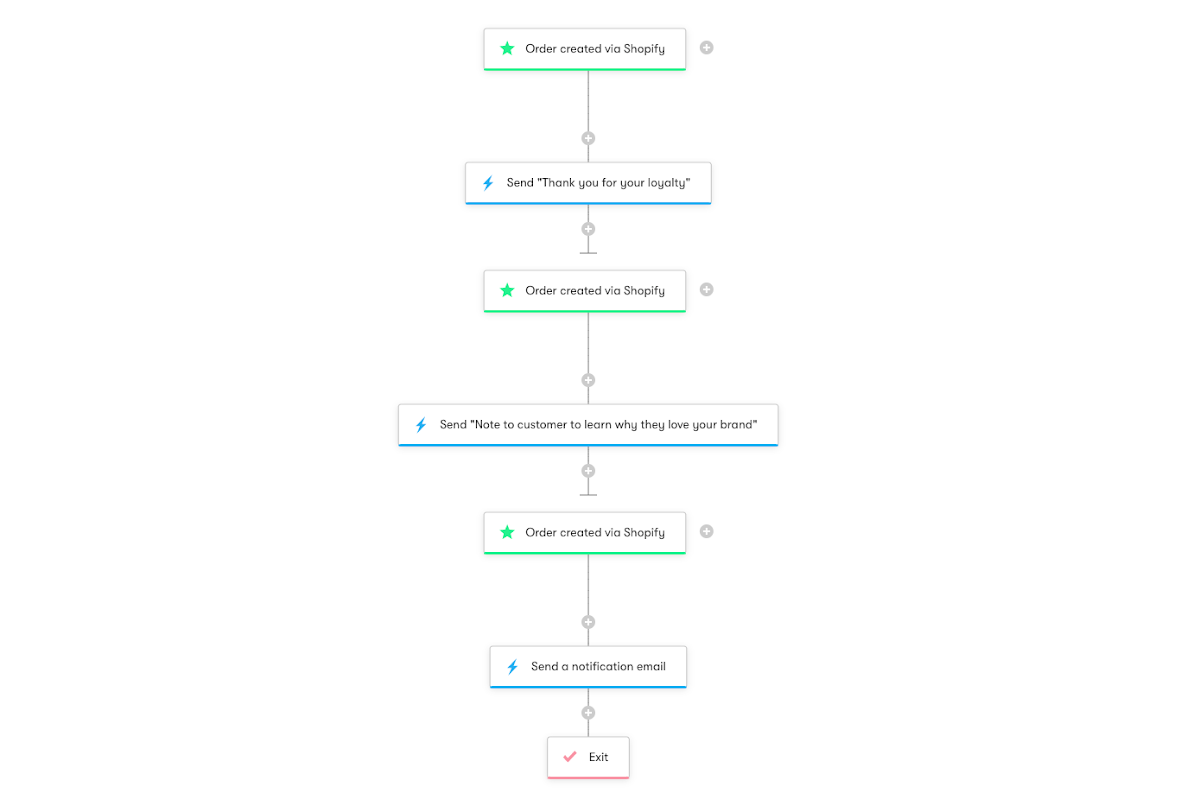 We recommend including three emails in a post-repeat-purchase series. The sequence might look like this:
Email #1:

Thank the customer for their repeat purchase and share some kind of reward, like a unique discount code or free shipping.
Email #2:

Encourage them to

spread the love

by sharing a discount code or offer they can send to friends and family.
Email #3:

Ask for

customer feedback

to better understand

why

they like your brand—either through a survey or simply by responding to your email.
Check out Drip's post-repeat-purchase email series templates for Magento, Shopify, and WooCommerce.
Birthday & Anniversary Series Templates
I've already alluded to the fact that there's more than one way to spot a loyal customer.
Monitoring the number of transactions they've made is one approach. But it also makes sense to celebrate your longest-standing customers: the people who've been receiving—and engaging with—your email marketing for years.
There are two common ways to do this:
Reach out to customers on the anniversary of their first purchase, or when they first signed up to your marketing list
Sending them a message

on their birthday

As well as thanking them for sticking with you for so long, it makes sense to share a unique discount or special offer.
Evidence suggests this sort of targeting resonates with customers. According to McKinsey, 71 percent of consumers expect brands to deliver personalized interactions, while 76 percent admit they feel frustrated when this doesn't happen.
Check out Drip's birthday and anniversary series template for rewarding loyal customers.
Win Back Series Templates
Ideally, when a customer first buys from your brand, they'll go on to make new purchases for months or years to come.
But it doesn't always work like that. Sometimes, consumers will buy once, or even several times. Then, out of the blue, they'll ghost you like the Tinder Swindler.
We shouldn't be surprised when this happens. Consumers have famously short attention spans—and it's not their fault.
Back in 2007, an article in the New York Times claimed the average city-dwelling American was bombarded with almost 5,000 adverts a day. While it's hard to believe the figure is really that high, there's no denying we see a whole lot of ads for a whole lot of products.
So is it any wonder that your customers are occasionally won over by your competitors' messaging?
But just because you accept it, that doesn't mean you have to like it.
Rather than shrugging your shoulders and moving on, attempt to re-engage your lapsed audience with a win back email series.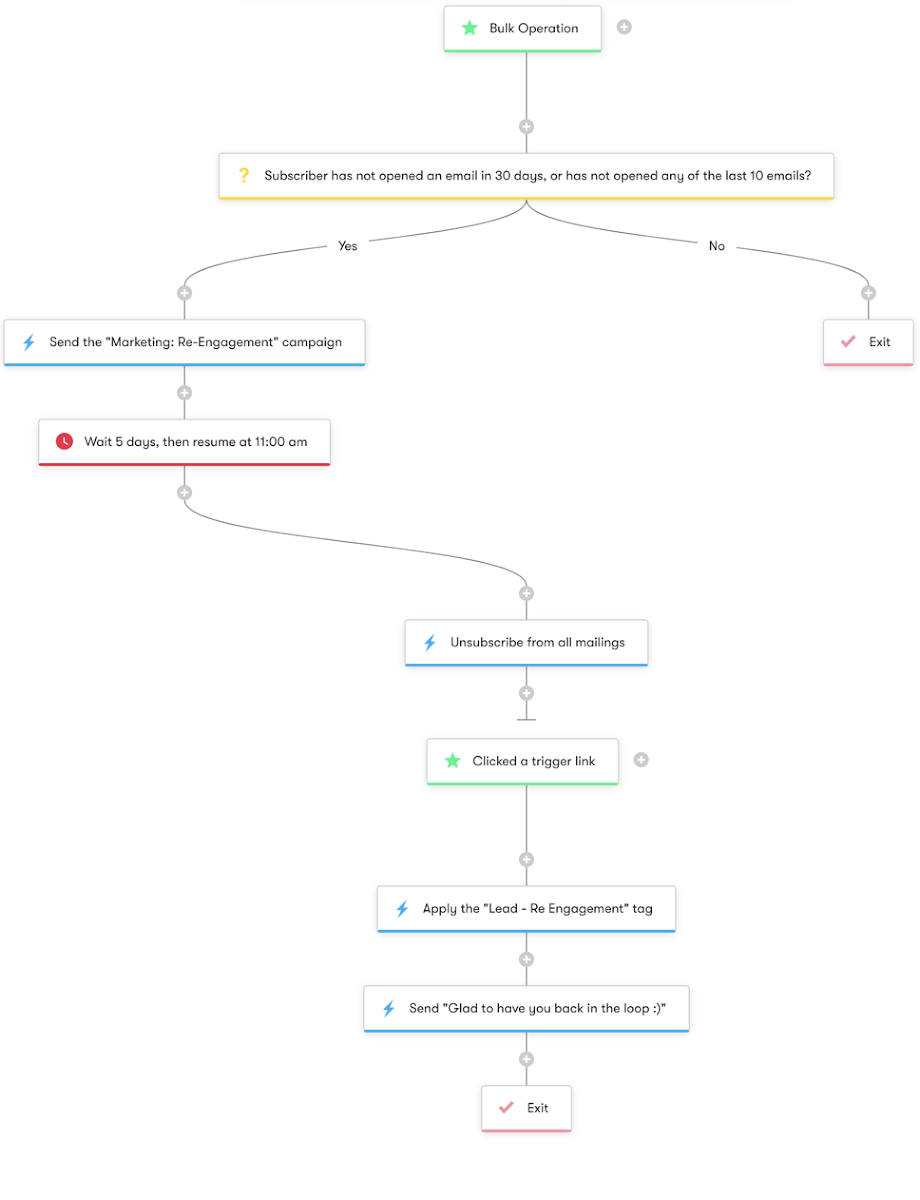 Your goal here is to remind people what they liked about you when they subscribed to your marketing list and made their first purchase.
Typically, that involves restating your brand story and value proposition. And if you can sweeten the pot with a targeted offer based on their previous browsing and buying habits, all the better.
Check out Drip's win back series template for re-engaging lapsed customers.
Try Drip's Workflows For Free
You're probably itching to get your hands on all these amazing templates and workflows.
If only you could road test them for free.
Turns out, you can. Sign up for your 14-day free trial for full access to our pre-built workflows, then customize them to your heart's content with our point-and-click workflow builder.
PS: With a Drip account, you can one-click add any of the above templates (and more) to your account from our Workflows Library.