Have you ever refrained from buying something just because your friend told you it's not that good? Or walked into a bookstore and headed straight to the bestsellers' section?
You likely have.
Why? Because we tend to assume that other people's actions are the correct behavior in a given situation. In a nutshell, that's how social proof works.
We've talked extensively about social proof on our blog before, simply because it's an effective tool to increase sales.
You might be thinking that adding customer testimonials to your product pages is all you can do to demonstrate social proof. And many e-commerce marketers would agree with you.
But it's only the exceptional e-commerce brands that use social proof to its full potential.
That's why I want to show you seven different ways to demonstrate social proof in your email marketing using the best social proof email examples we've seen.
7 Ways to Use Social Proof in Email Marketing
1. Earned Authority
We all tend to listen to experts. But not everybody has the same level of authority over us.
We feel more comfortable using the mouthwash our dentist recommends because we know that they have expertise in that area.
The mouthwash automatically gets a stamp of approval and we believe that it's the right product for us.
In marketing, however, you don't necessarily need such authorization to sell a product. You simply need the perception of a recognized authority.
In other words, you need consumers to see you as an authority figure—whether this is the case or not.
An unbeatable type of social proof is the authority you earned, be it the number of customers you have, the awards that make you proud, your sales numbers, and so on.
One often-overlooked way of establishing authority is showcasing the popularity of your products by curating them in your email marketing.
It's simple logic: consumers tend to believe that if a product is particularly popular, it must be for a good reason.
Here's how you can display earned authority in your emails.
i. Promote Your Bestsellers
As the year closes out, you start seeing "best-of" lists everywhere.
Why? Because we all want to read and listen to the best.
And naturally, we want to buy the best.
Listing your bestselling items, then, is a great way to demonstrate the authority you and your products earned.
But if everyone is doing it the exact same way, yours will likely go unnoticed.
Bombas chooses to do the unexpected and sends their subscribers the following email in January: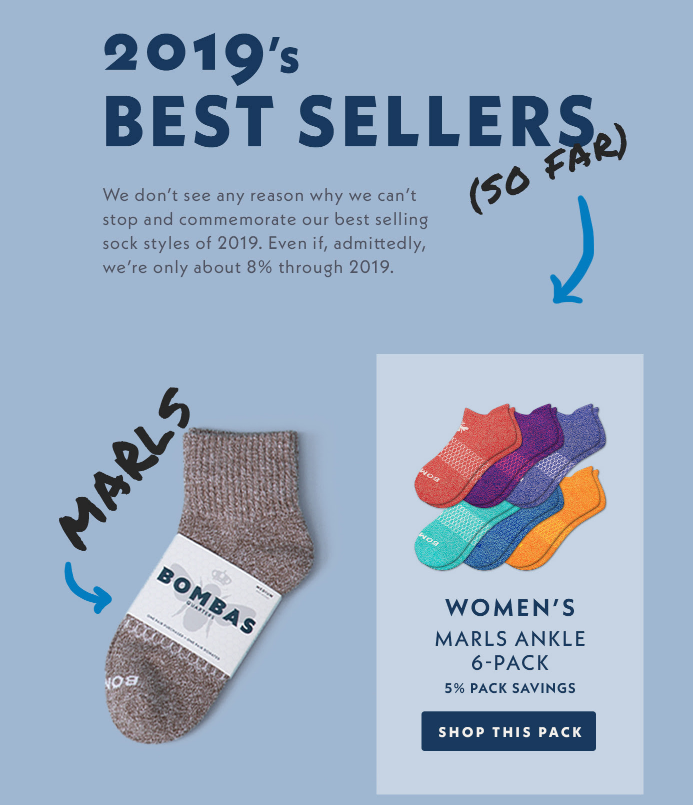 With this email, the company shares what others have bought. And in doing so, they urge you to join the crowds because they know that nobody wants to feel left out.
This way, Bombas displays social proof through their earned authority and triggers your fear-of-missing-out.
ii. Curate Customer Favorites
Now and then, I get emails from e-commerce brands with a subject line like "Our Favorites."
And my immediate reaction is: "Why would I care about your favorites?"
Curation emails are surely valuable—but only if you frame them the right way.
Knowing this, Brandless curates customer favorites in an email and uses the power of social proof: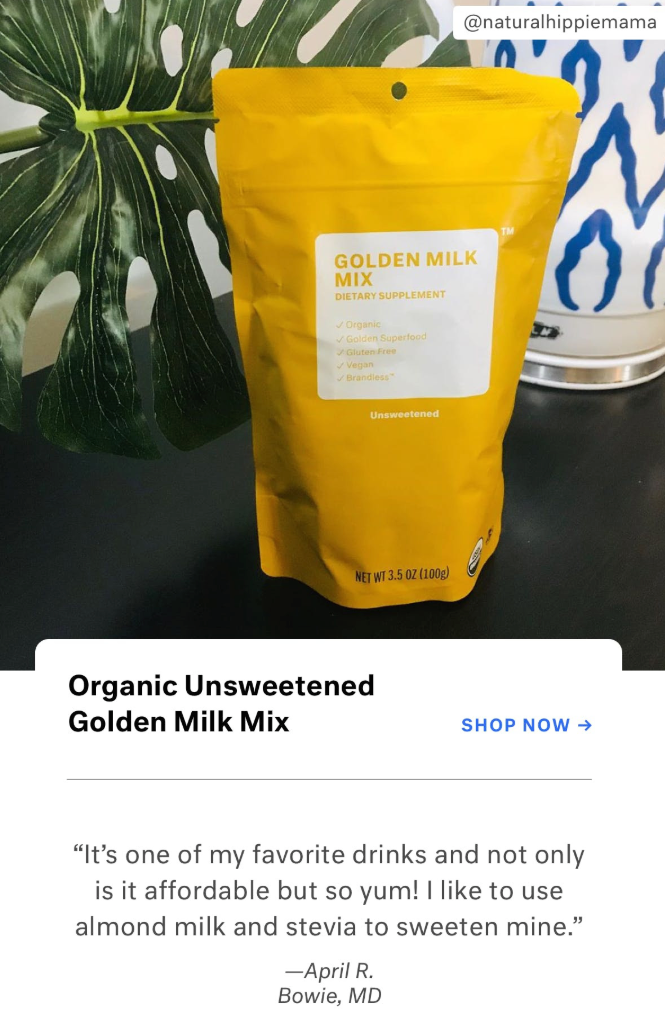 Brandless asks customers what their favorite products are and collects the best answers in an email with product photos and links.
The answers both inspire their subscribers and endorse the company's authority. Moreover, they are relatable and credible because they come from fellow customers.
iii. Prove Your Authority with Numbers
It's one thing to tell readers that a product is popular among customers, but it's another to show them how popular it is.
The more specific you get, the more social proof you can display in your email marketing.
AYR finds a smart way to support social proof using numbers: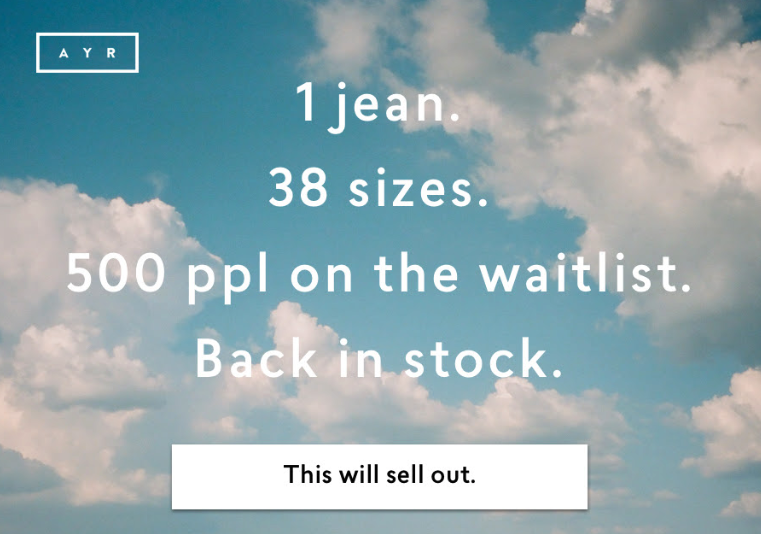 Showing the number of people on their waitlist, AYR combines social proof with scarcity to draw your interest in the product.
Another way to demonstrate earned authority is by including the number of your happy customers in your emails.
Here's how Barkbox does that: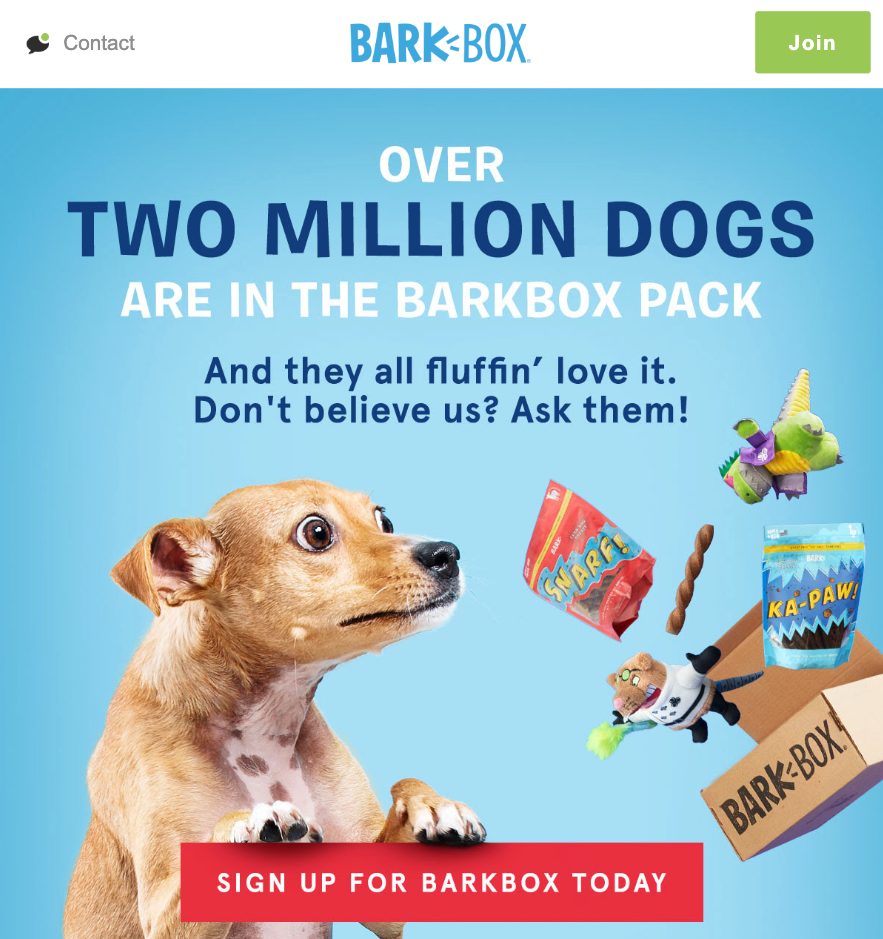 After all, how can over two million dogs be wrong?
2. Borrowed Authority
Music artists love collaborations for a good reason: they both get something valuable out of it.
Marketing is no different.
Many brands partner with each other or collaborate with influencers. Why? Because they borrow authority from each other.
Tattly and Rifle Paper Co. recently partnered up to turn great design into temporary tattoos and to harness each others' strengths.
Both companies made sure to include this partnership in their email marketing: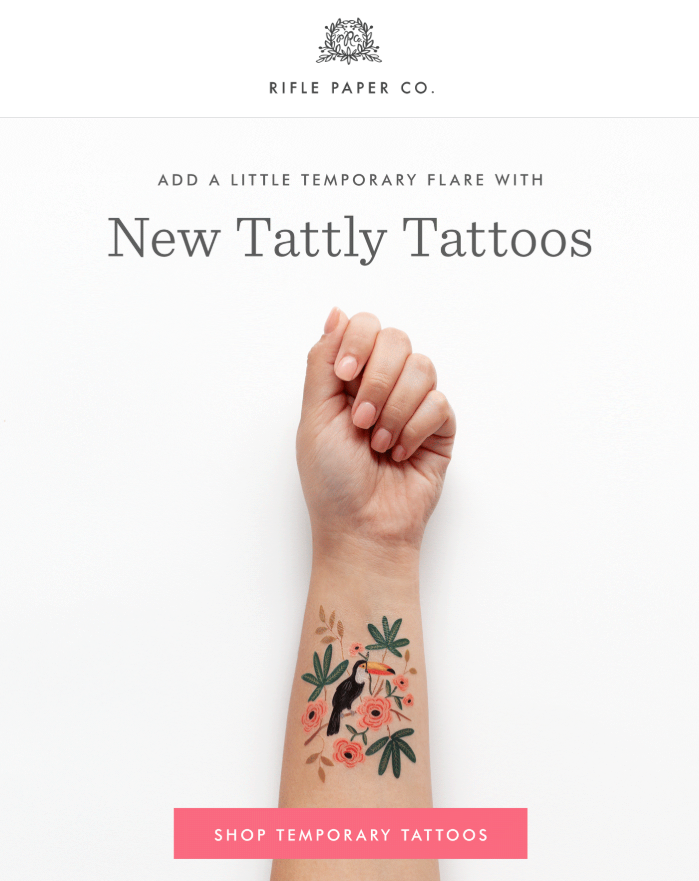 This way, both companies get to expand their reach and product line. More importantly, they borrow authority from each other, which makes their products more desirable and marketable.
You don't necessarily have to connect with industry giants or make partnership deals with big brands to use them as social proof.
Joining associations, supporting causes or nonprofit organizations will also let you borrow authority from other people, communities, or brands.
Take a look at this email I recently got from Birchbox: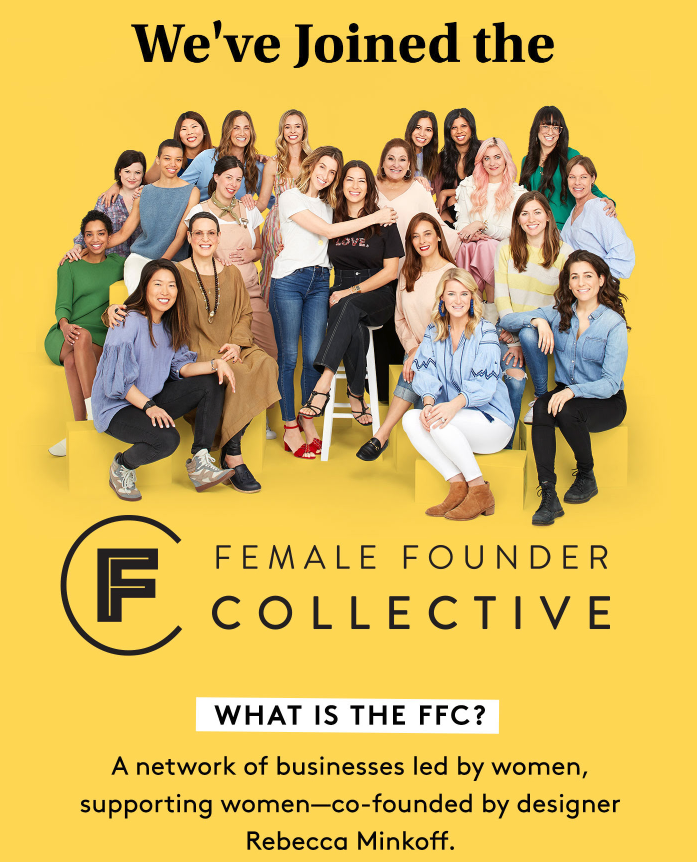 Sent with the subject line "We've Partnered with the Female Founder Collective 👩🏿👩👩🏻👩🏽👩🏼👩🏾," this email lets Birchbox borrow authority from the collective itself and the companies in it.
Unsurprisingly, in the remainder of the email, they promote their latest beauty box, which they created with the other brands in the Female Founder Collective.
It's a subtle promotional email with strong social proof in it.
3. Celebrity Endorsement
The use of celebrities in marketing is nothing new.
Getting celebrity endorsements for your brand creates powerful social proof because we assign a status to celebrities, which makes their actions and thoughts even more acceptable.
Luckily, for this strategy to work, you don't need to go all-in and cut a deal with a superstar. Simply look for people your ideal buyers can relate to.
Here's an email example by Beauty Bay: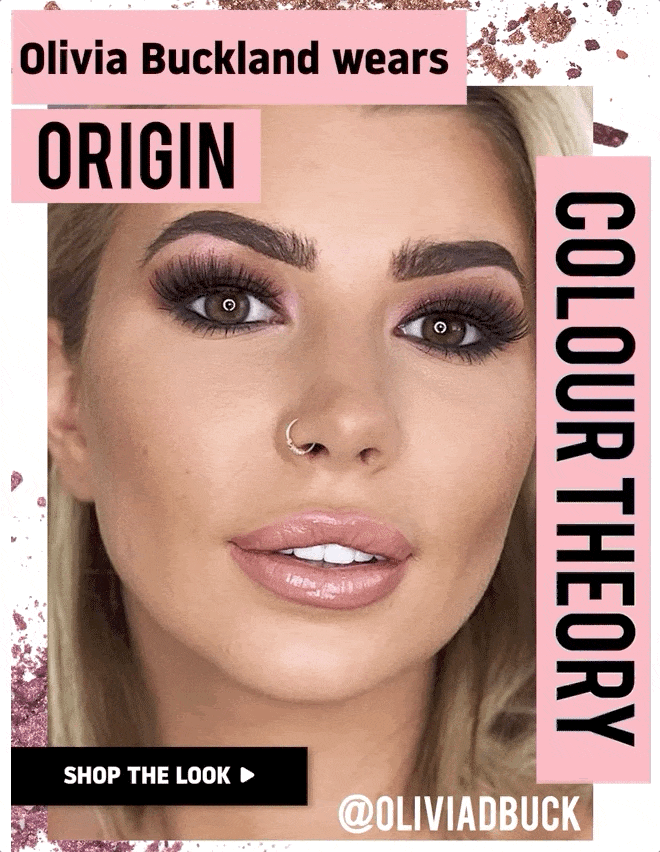 The company uses a television personality that their target audience is likely familiar with and couples the email with a curiosity-evoking subject line: "Guess what Olivia Buckland is wearing? 👀🔥"
Ban.do takes a different approach to endorsements and invites a designer to talk about her favorite products…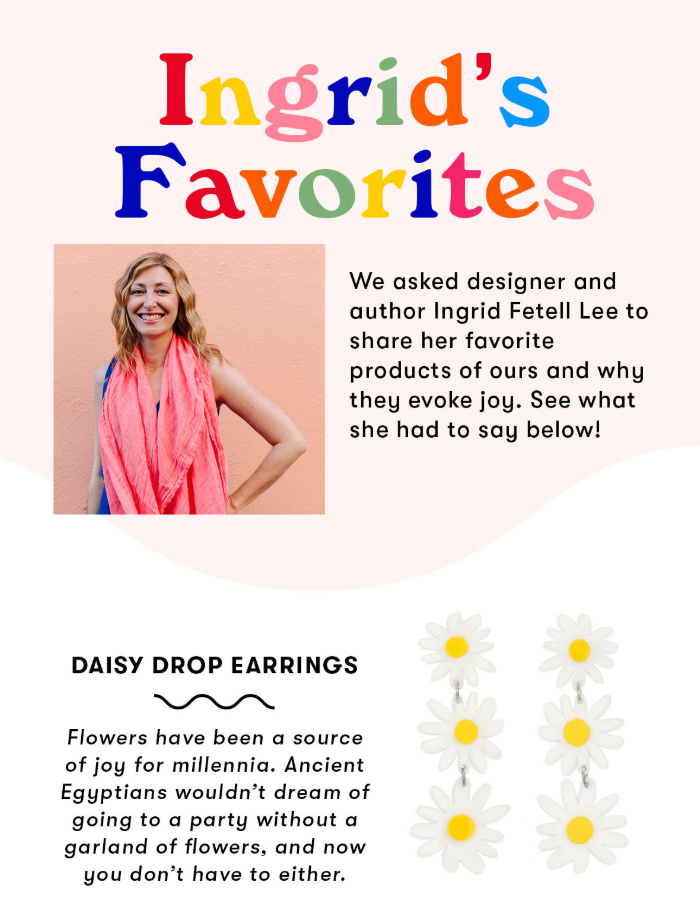 …because a designer has likely more authority than a reality star in the eyes of Ban.do's customers.
If you run a luggage store or a travel company, whose endorsement would you like to get?
Someone who travels a lot, right?
That's exactly what Away does in their emails: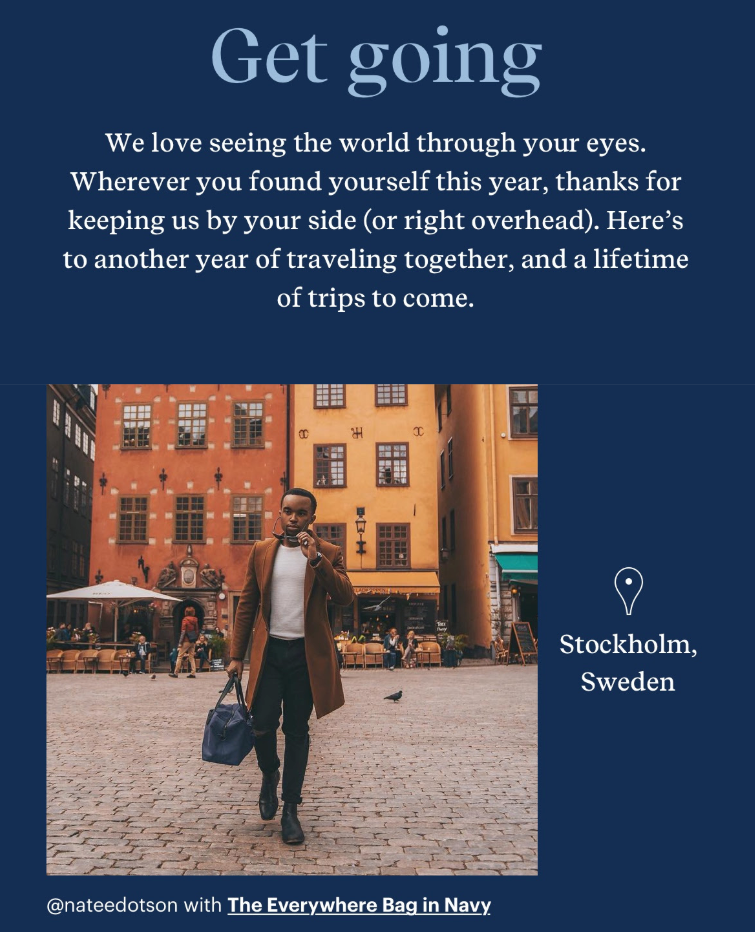 That's why they feature Instabloggers and travel influencers to showcase how popular their products are.
Long story short, it matters who endorses your brand. Not everybody will be perceived in the same way among your audience.
4. Product Promotion
Nobody likes a show-off. Especially when it's a business who is bragging.
So if you start sending out emails full of self-promotion and no benefit for your subscribers, chances are, you won't be their favorite brand of all times.
Support your social proof with an incentive instead, and you'll have a top-performing product promotion email.
Take a look at this example by Ban.do: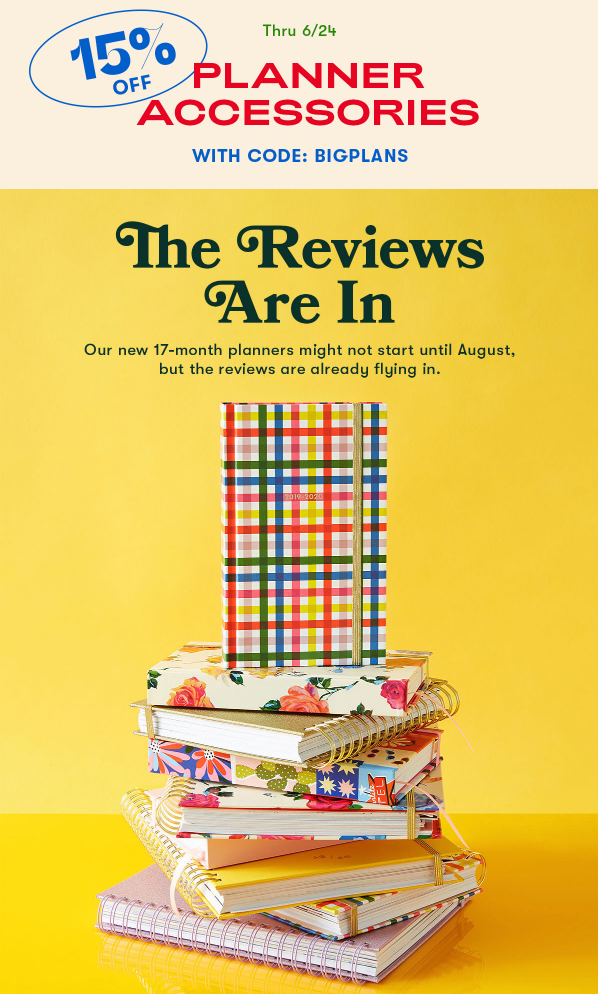 Recently, they sent me an email with the subject line "Check out the reviews," where they focus on a single product category.
In the remainder of the email, you can read some of the reviews written by customers: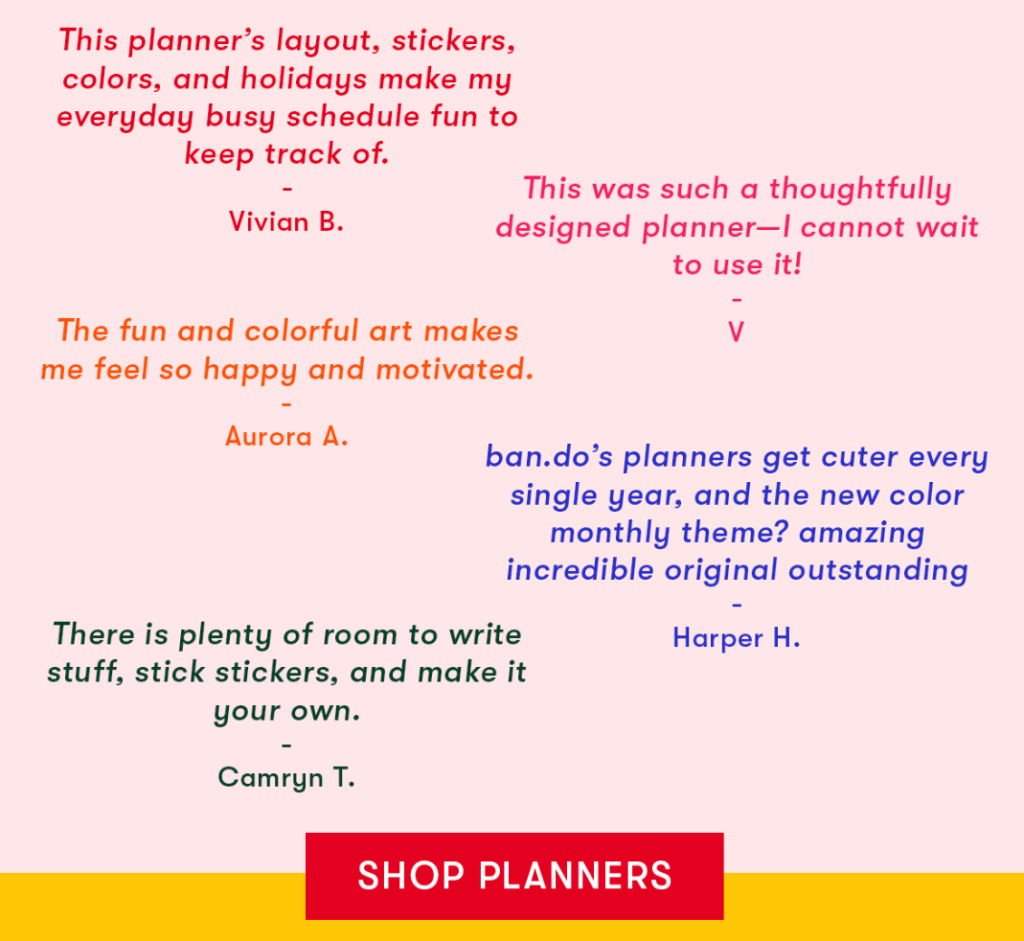 What I like about this email is that it doesn't only focus on promoting the product category and its features. Instead, Ban.do compiles user reviews with an additional benefit for their subscribers: A discount code that applies to that product category.
This is a great trick to increase sales of a specific product category by combining social proof with an incentive.
When used right, customer reviews can do more than converting site visitors into customers.
By showing your reviews in the same place and at the right time, you can convince abandoning shoppers to give you a second chance.
Brooklinen knows this well. That's why when you leave your shopping cart on their site, you'll get the following email as part of their abandoned cart email sequence: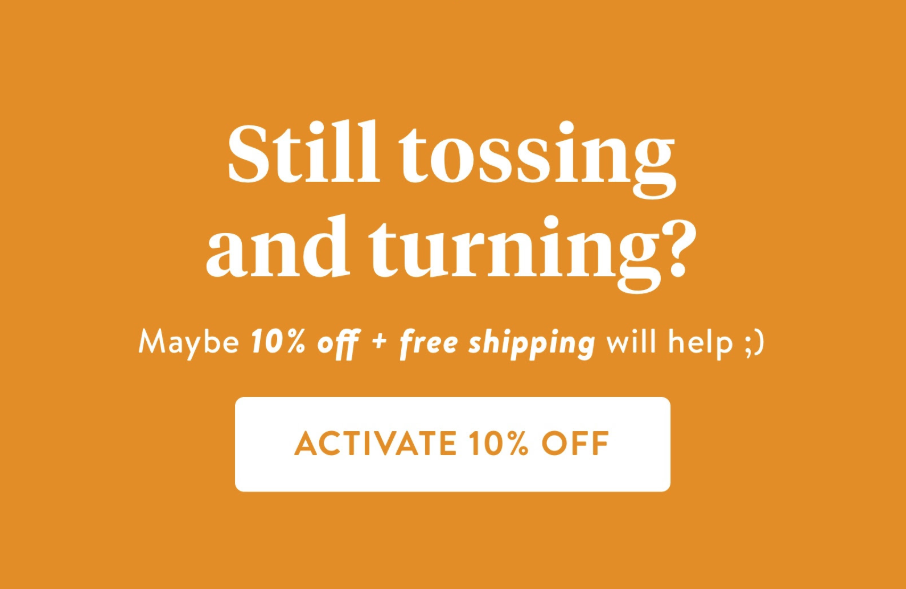 It looks like any other cart recovery email until you scroll down…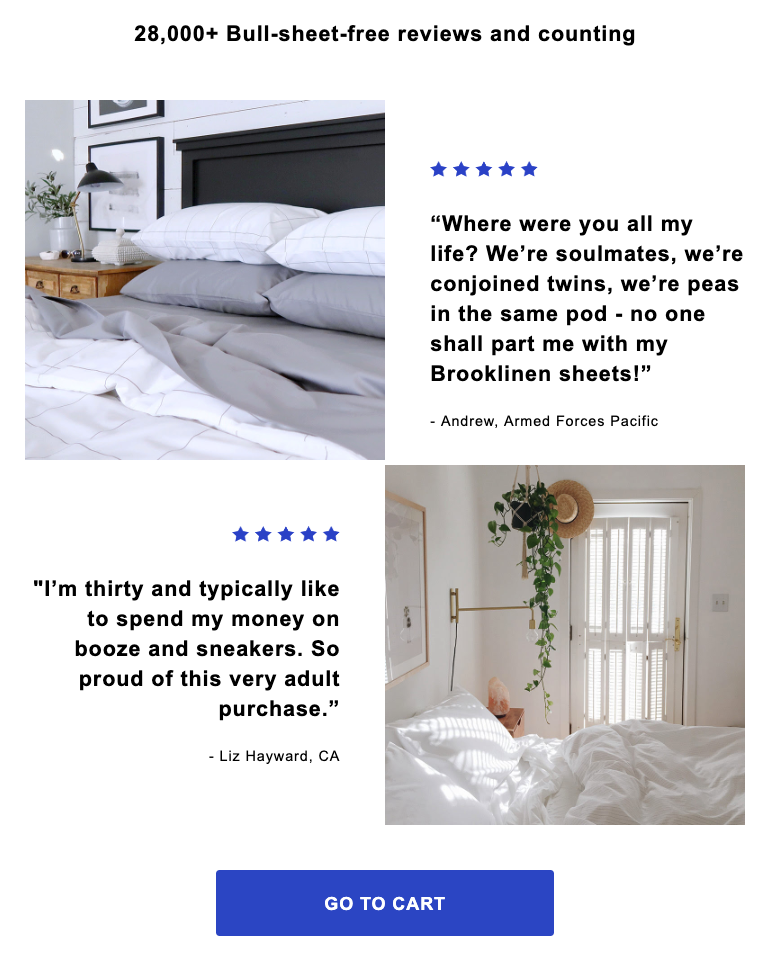 …and see social proof in action.
They don't only include selected product reviews in the email but also specify the number of reviews they received so far to strengthen the social proof.
So if you're not convinced by the 10% discount, 28,000 happy customers should persuade you.
6. Customer Retention
Social proof doesn't only convert leads into new customers, but it also helps you retain your existing customers.
Adding user reviews into your customer retention emails, you can promote your e-commerce site without being salesy.
One of the best examples of how you can use customer reviews in retention emails comes from Death Wish Coffee.
Check this email I received on Mother's Day: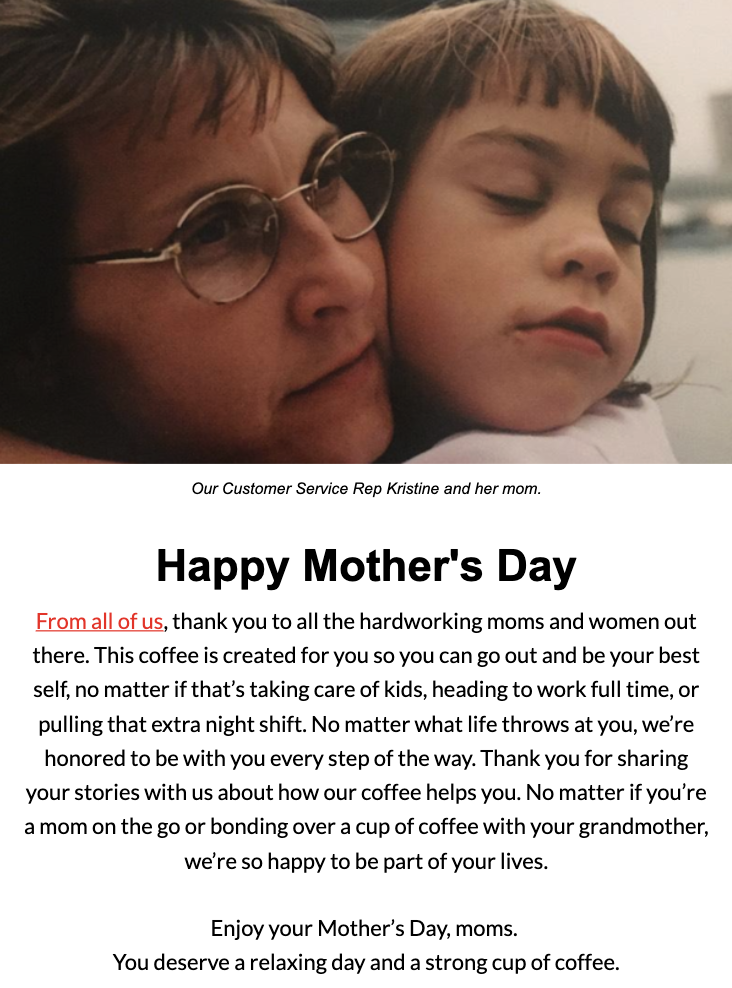 The email resembles a heartfelt note with a personal touch of an employee picture.
(If you're wondering, clicking the photo takes you to this blog post about all the employees and their moms.)
But as you scroll down, you see three user reviews which contain personal anecdotes about their mothers and the company's products: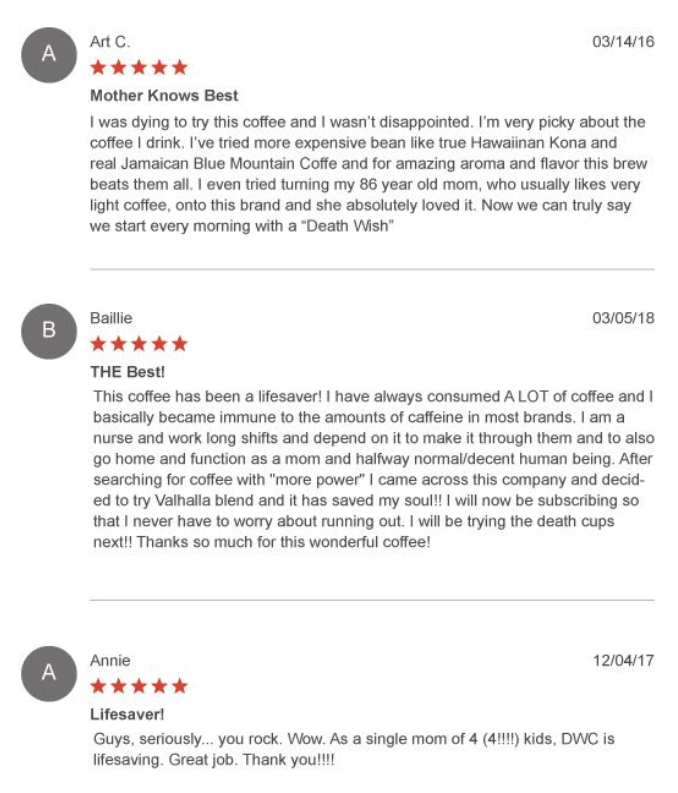 This email has no call-to-action, no promotional links, no buttons. It's a brilliant retention email that keeps the brand top of mind and uses social proof without trying to sell you anything.
Next time you're sending out a holiday email, try curating relevant customer testimonials and attach a warm thank you note.
7. Media Mentions
We're inclined to believe in what we see in the media because we think of them as legitimate sources of correct information.
That's why media channels carry a level of authority unparalleled to any other organization.
Unsurprisingly, media approval (and disapproval) significantly impact consumer behavior.
Whether in the form of authority blogs, local newspapers, or podcasts, getting a media mention automatically adds a stamp of social proof on your brand.
And e-commerce businesses are no exception.
By adding media mentions to your emails, you can support your marketing messages with social proof and convince prospects to take action.
Check this product launch email by Brooklinen: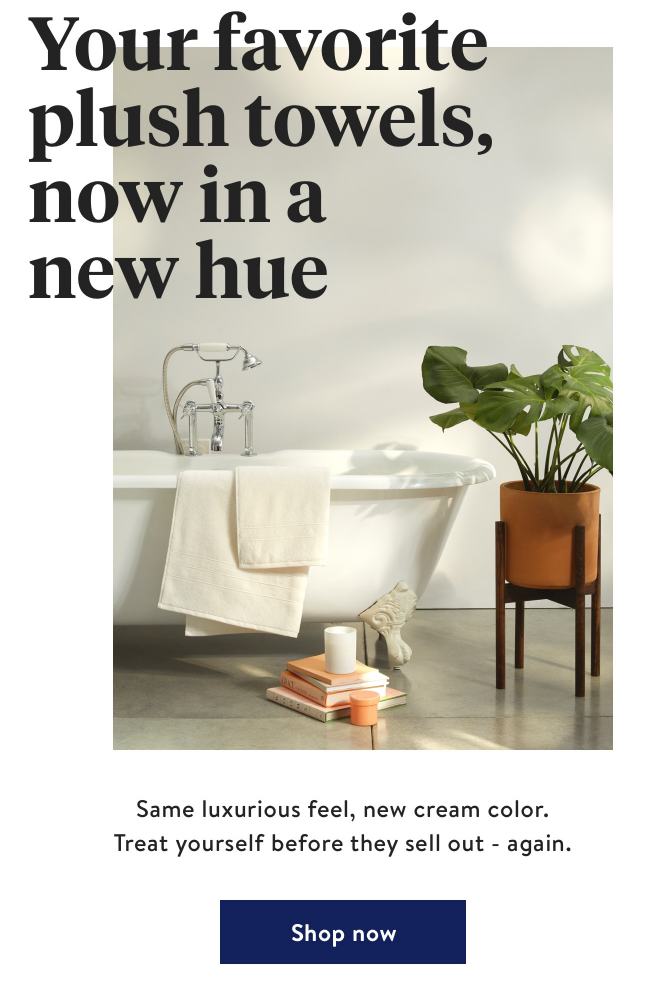 Sent with the scarcity-infused subject line "this will sell out…," the email promotes Brooklinen's new product launch.
It looks like a typical product promotion email (enhanced with psychological triggers) until you scroll down.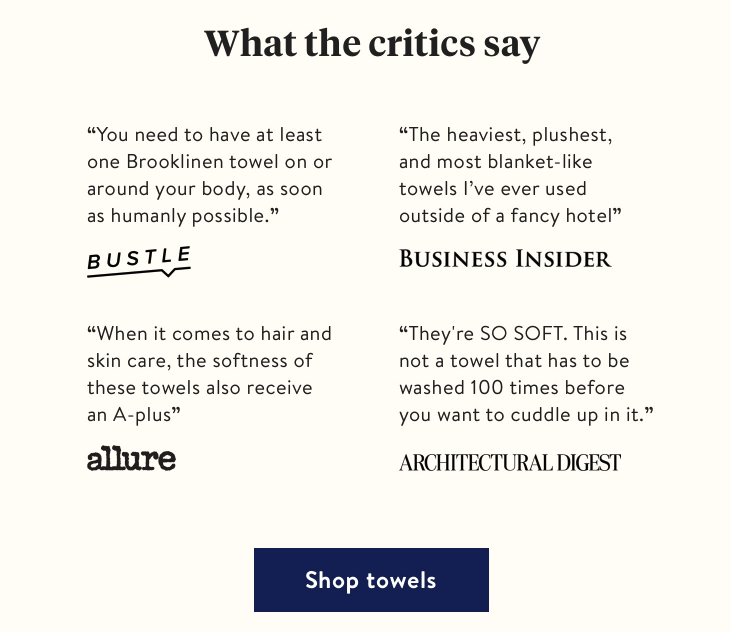 Brooklinen brings together a selection of their media mentions under a section titled "What the critics say."
The best part is, all of their media quotes are highly relevant to the product category they're promoting in this email.
By calling these magazines "critics," the company focuses on their authority and further strengthens the social proof.
You don't have to partner with mega-influencers or get featured in international publications to use social proof in your email marketing.
If your brand is mentioned in an industry blog or a local magazine, cite their praise in your emails, together with their logos.
And if you don't have any media mentions yet, try reaching out to reporters and bloggers from your area and ask them to review your products.
Conclusion
From customer testimonials to user-generated content, there are many different ways to use social proof—and even more ways to include them in your email marketing.
Give some of these strategies a chance and you'll see how effective they are in converting your email subscribers into lifelong customers.
Have you recently seen any social proof email examples? Which one of these strategies will you try first? Leave a comment below.