Live chat is the new deal in customer service.
And if you're not already using it, it might be time to get started.
In fact, a recent study by eMarketer found that live chat is directly related to 38% of online purchases.
Further, 62% of consumers who have engaged with live chat said they were more likely to purchase again from businesses who offer this service on their website.
In truth, many e-commerce businesses are already using live chat, but fail to recognize the many possibilities the service holds.
Perhaps you're one of them?
In any case, live chat is much more than just answering customer questions all day long—with the right strategy it can become a finely tuned selling machine.
In this article, I'll share seven underused live chat strategies that will drive more sales, and give you an edge over your competitors.
Table of Contents
Is Live Chat Right for My Business?
While there are many advantages to using live chat, it's not for everyone.
So how do you know if live chat is right for you?
Live chat is a good fit for your business if…
You're an e-tailer looking to increase sales and improve customer service.
Looking for a new way to gather valuable user insights.
You're willing to invest in a dedicated team to handle your live chat service.
If you identify with the above, you should definitely keep reading.
Running a live chat service is demanding and you need to understand how to make the most of it if you want to see green numbers on your bottom line.
With that said, here are some of the advantages of live chat:
It's convenient for potential customers
You can cut down on expenses by 50%
You can increases sales
Live chat reduces cart abandonment
Many of your competitors are most likely not using it, so if you want to get ahead, now's the time
You get direct access to customer pain points and identify areas for improvement
Let's dive into the best, yet most underutilized ways to drive sales with live chat.
7 Ways to Drive More Sales With Live Chat
1. Offer tailored product recommendations
It's no secret that consumers want relevant and personalized content from e-tailors.
In fact, 75% of consumers are more likely to buy when offered tailored product recommendations.
Personalized offers have already made their way into e-commerce email marketing, and it's now time to implement it in live chat as well.
What's great about live chat is that, well, it's live.
You're talking to your prospects in real-time!
The reason I'm highlighting this, is I see too many live chats being automated to an extent where I feel like I'm speaking to a robot and not a real person.
Listen to your prospects and ask follow up questions to make sure you recommend the best suitable product to match their needs.
Here's an example from a recent live chat I had with ASOS: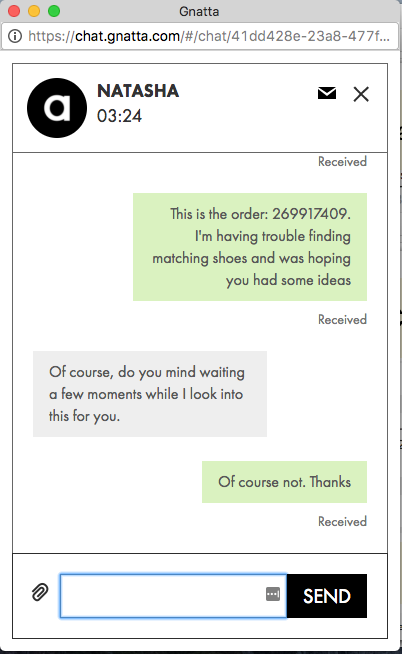 I needed help finding a pair of shoes to go with a previous order.
If you need time to find an answer, tell your prospects that you'll be away and for how long. Then they know you didn't just leave because you didn't have an answer for them.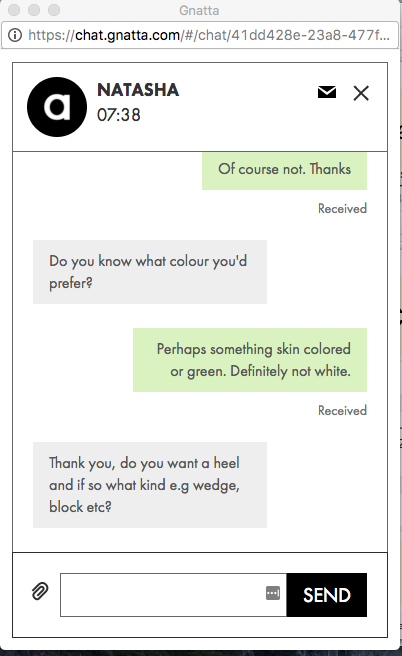 If you need more information, don't be afraid to ask. It'll only help you find relevant products.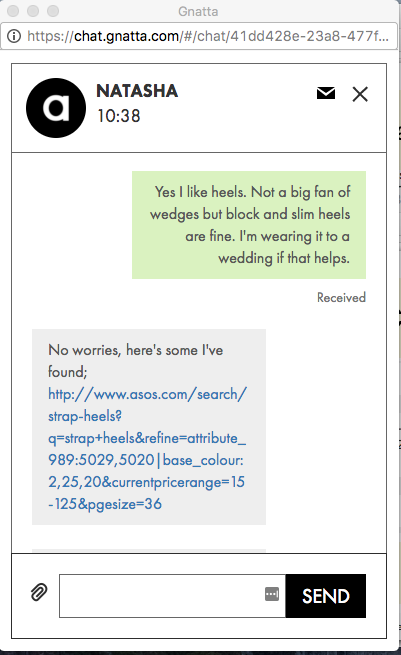 Lastly, when you recommend products, you should never just say "How about the blue leather jacket with rivets?" Send a direct link to the products you're suggesting so users don't have to go look for it themselves.
ASOS sent me a link to a filtered search based on my criteria for the shoes. That way I could easily browse the different models and choose the ones I liked.
I was really taken aback by how much effort she put into helping me.
Whether or not you suggest one or several tailored products is up to you. It's a fine balance. You don't want to overwhelm prospects with too many links.
If they're not happy with your original suggestion, ask them what they didn't like about it, and recommend something else based on your new information.
2. Discover pain points
Once a prospect has reached out to you on live chat, you know they're looking for an answer to something.
By listening to their inquiries, you can discover pain points that will help you answer their questions better and close the deal.
The interactive nature of live chat makes it easier for businesses to collect high-quality user data.
For instance, if people keep asking about shipping rates, it's because your copy's unclear. Also if they ask how specific products work, it might prove beneficial to create more detailed product descriptions or maybe even include explainer videos.
Knowing your prospect's pain points will ultimately help you sell more products.
3. Time greetings based on behavior
When approaching your prospects, timing and relevance is everything. Displaying the right message at the right time will do wonders for your conversion rate.
Just as with triggered lead capture forms, you can customize your live chat boxes to appear on different pages with a custom preset message depending on the page they appear on.
Let's take an example.
A prospect is browsing your product page with tennis rackets. You can assume this person is interested in tennis rackets, and trigger your live chat box with an automated greeting asking if you can be of assistance:
"Welcome to [your site]. I'm [name of representative]. Can I help you with information on our awesome tennis rackets today?"
Meet your prospects where they are in the buyer's journey. If they're browsing specific pages they're likely looking for information relevant to those pages—and if they're not, it's a good thing you ask so you can guide them to the right page or answer their questions in real-time.
This brings me to the next item on this list.
4. Overcome objections on checkout pages
Your checkout pages are some of the most important pages on your website.
To help prospects complete their purchase quickly, optimize your checkout process and help them overcome any obstacles that might prevent them from reaching your confirmation page.
You might already think you have a great checkout process because customers are making purchases and you're making money.
But have you looked at your abandonment rate?
For e-commerce, the average cart abandonment rate hovers around 70%.
No matter how many customers complete your checkout process, a larger percentage will not—which should be reason enough for you to continuously optimize your checkout process.
To do so, you can incorporate live chat on your checkout pages. This gives prospects the opportunity to ask any questions they might have that could prevent them from completing their purchase such as questions about shipping, pricing, returns, and more.
But beware: if not used correctly, it can damage your conversion rates.
First, your live chat box should never pop up on its own. It's tempting to ask prospects if they need help checking out to ensure they don't just abandon, but if you do, you'll interrupt prospects in the most important stage of the buyer's journey.
Prospects who know exactly what they want to buy, where to find it, and how to check out, should never be interrupted.
Instead, you should insert a button or link to your live chat in a visible spot on your checkout pages.
That way, prospects who just want to check out quickly and without interruptions can do so, and those who might need a little help or nudge have the option to click your live chat button and get their questions answered.
Many e-commerce businesses are not using live chat on their checkout pages because they don't want to interrupt prospects in the process of buying.
But if you want to take your live chat strategy to the next level and increase conversions, it's worth testing.
5. Be available when your customers need it
One way of differentiating yourself from your competitors is by being available.
And by that, I don't just mean during office hours, but also during nights and weekends.
Most live chats are only open during business hours, and where are your customers during those hours?
Working.
I know there are exceptions, but most online shoppers do their shopping in their spare time which is typically on nights and weekends.
In fact, one study by Workarea found that e-commerce conversions peaked Mondays from 8:00 p.m. to 9:00 p.m. followed by Sundays from 7:00 p.m. to 8:00 p.m.
Zappos is known for their "above and beyond" customer service, which includes ordering pizza for people, sending cards and flowers, and 10+ hour customer service calls.
"Above and beyond" customer service isn't complete without 24/7 live chat, which Zappos promote on their website: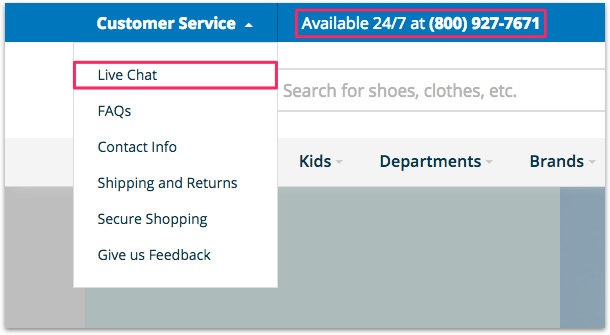 They even promote their 24/7 customer service in live chat sessions to prospects so they know they can get in touch at any time.
Here's an example from a recent live chat session I had with a Zappos representative:

Before ending the conversation, Debye wrote: "You are more than welcome Rikke! If there is anything else that you may need, please feel free to contact us anytime. We are open 24/7. When you are ready, please close down the chat by hitting the "end chat" button. Have a beautiful day!"
The message is not only personal and cheery but also lets me know how I end the live chat letting me decide when I'm ready to do so (opposed to the representative cutting off a prospect ahead of time – they might have more questions).
Your live chat must be available at the time your prospects are shopping which could be at any time during the day—especially if you have an international customer base.
6. Become more efficient with canned messages
Canned messages are templated messages you can use in your live chat to increase efficiency and answer frequently asked questions.
These can include greetings, shipping rates, special offers, apologies, and more.
You can create keyboard shortcuts for each message to increase efficiency further.
There are, however, a few pitfalls to avoid when using canned messages—the most important being not listening to the people you're communicating with.
When using live chat, you must listen to what people are saying. It sounds simple, but it's easy to skim a question and provide an answer in the form of a canned message without knowing if this message was exactly right for this question.
Just to give you an example I was browsing Dunnes Store recently and found a shirt I really liked (I don't think I can hide my shopaholic tendencies any longer).
The shirt was matched with a long skirt (which doesn't suit short people like myself), and I wanted to know what else I could pair the shirt with.
This is what my request looked like: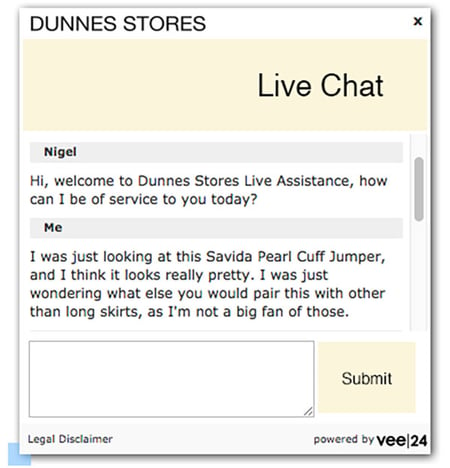 The answer:
The link he sent me was for the exact same long skirt as illustrated in the image of the shirt. I was obviously not happy with that as I'd already made it clear I wasn't interested in long skirts.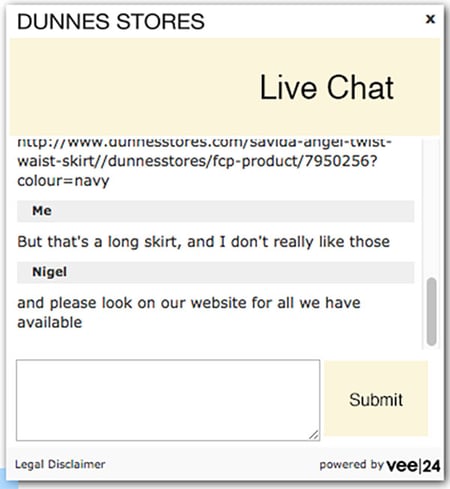 To make it even worse, this is the response I got after telling him I didn't like those (for the second time).
The result: I closed down the live chat and exited the website without purchasing the shirt.
At no point in this conversation did I feel like I was talking to a real person, which contradicts the whole purpose of live chat.
Not to be mistaken, automating live chat messages will increase efficiency, and you should definitely use them—but don't overdo it and make sure you listen.
7. Offer transcripts after ended live chat sessions
One often forgotten live chat feature is transcripts.
During a live chat conversation, you might provide prospects with information they'd like to keep for future reference. Once your live chat session has ended, you should offer to send a transcript of the conversation to the prospect by email.
For instance, if you've listed a number of potential products the prospect needs time to look at, sending an email with the links to these products will ensure the prospect has access to them.
Offering a transcript to prospects after a live chat session can be fully automated and it's a service that many consumers will appreciate.
Don't Forget to Follow Up
What happens to your prospect after an ended live chat session?
If you do nothing, you're missing out on a massive opportunity to increase revenue with targeted email marketing.
Many e-tailers ask for information before consumers are able to start a live chat.
Here's an example from Nordstrom:
When you ask for this information, prior to the live chat conversation, you can personalize your communication, know what the inquiry is about, and lastly, quickly send any follow-up emails or transcripts to customers after when you already have their email address.
Following up on potential purchases is crucial in e-commerce—especially in live chat. You've already put work into guiding prospects closer to a purchase, so it would be a waste not to have them finish just because you didn't send a follow-up email.
Let's say your live chat session was about a specific product. Why not send an email with a limited offer on that product, or ask if they need additional information about the product—anything to prompt a dialogue with potential customers.
In extension of my previous ASOS live chat example, I received this email after exiting the session: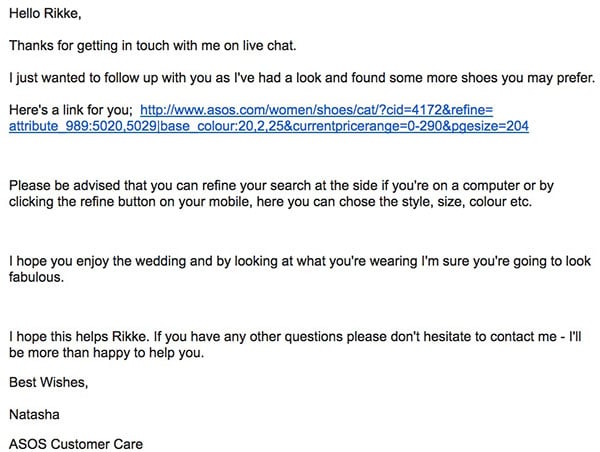 Once again, I was completely astonished by the level of personalization.
Especially this part:

This sentence was the clinching argument that made me re-enter the website and buy, not just one but two pairs of shoes.
This is a perfect example of how to use the information you get from your prospects—whether it be their previous orders (such as my dress), or personal information they let slip during your live chat conversation.
Turn Your Live Chat Into a Selling Machine
Live chat is an amazing tool that will help you close the gap in the journey from being a window shopper to a customer.
Once you start with live chat, you shouldn't compromise on either time or quality—and that means spending the necessary time and resources on creating the best live chat out there.
Differentiate yourself with the above tactics and you've already made great headway towards creating a live chat selling machine for your e-commerce business.