In this day and age, influencer marketing is one of the best ways to reach new audiences.
Thanks to the spread of social networks, there are influencers in every niche who have huge audiences.
How huge, you ask?
The numbers speak for themselves: there are 2,000 YouTube channels and over 9,000 Instagram accounts that have a million (or more) followers each.
From cooking to technology, there are thousands of influencers available online.
That means you have thousands of opportunities to get your product or service in front of millions of people.
Influencers can give you instant access to enormous audiences you wouldn't be able to reach otherwise.
And when you get endorsement and support from an influencer, their followers will listen.
Even working with just one influencer can double, triple, or 10x your sales.
The problem is that many businesses don't know where to start.
Even if you already have a robust social media strategy in place, you probably don't know how to get influencers on board or where to start looking.
If that's you, buckle up and get ready to learn five easy ways to start doing influencer marketing (including examples).
1. Create An Influencer Persona
Before you go scouting social networks for influencers, you need to be aware of the kind of people you're looking for.
After all, not everyone is going to be a perfect match for your brand. In fact, there will probably be only a couple handfuls of influencers who fit your business.
And that's okay. Five influencers who match your brand's vision is much better than 50 influencers who don't.
You should approach this the same way you would approach customer research.
Just like you would create buyer personas to help you market your product, you should create influencer personas to understand exactly the type of people you want to work with.
Your influencer persona should actually look fairly close to how your buyer personas look.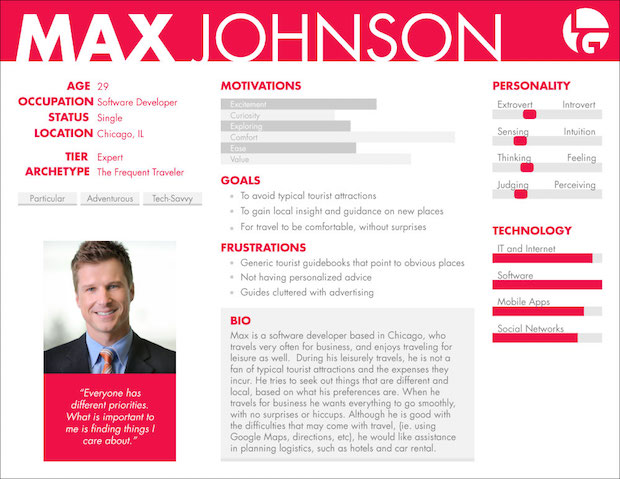 You should think about many of the same factors, including age, location, and industry.
However, an influencer persona should focus on goals and values more than a typical buyer persona.
If an influencer doesn't share the values of your brand or product, they're not going to be a good match for you. It's worth putting in the extra work to find ideal influencers.
Choosing the wrong influencer can lead to a lack of sales, or worse, an embarrassing incident.
Consider what happened to health startup Bootea when it reached out to TV personality Scott Disick to promote a protein shake. An Instagram faux pas proved that Disick didn't care much about the product: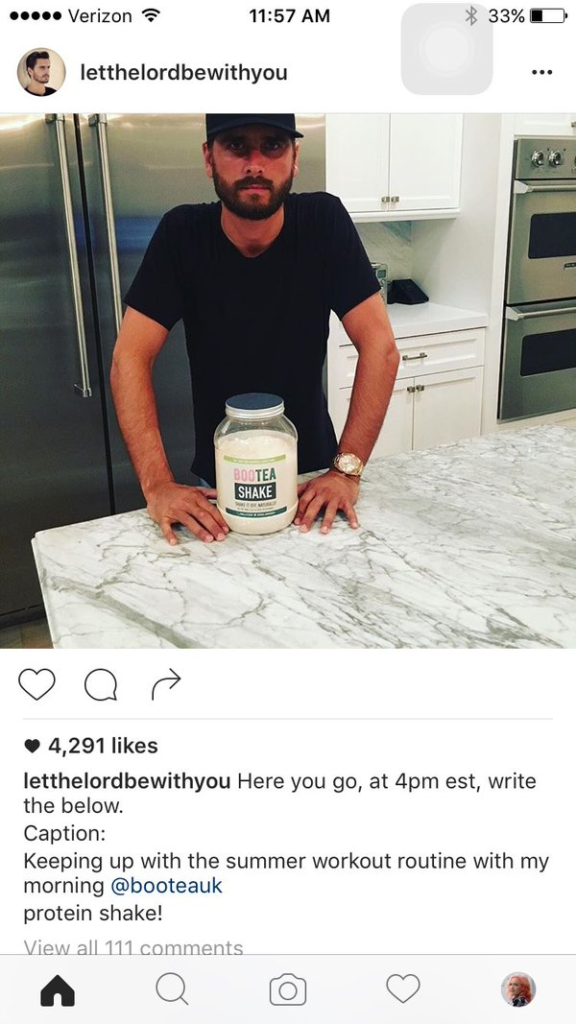 Disick deleted the post after he realized his mistake, but it was too late. A Twitter user reposted it, and the media had a field day.
Bad influencer experiences aren't normally that dramatic, but it goes to show that the right person can make or break an influencer marketing campaign.
That's why creating an influencer persona can make all the difference.
The goal is to pin down the specific type of person you want to work with. You should be choosing the influencers that suit your brand's needs, not the other way around.
2. Choose The Best Platform First
While sometimes you might want to start by scoping out influencers, it's an equally valid approach to choose the platform first.
Influencers live on many platforms, from the obvious (like Instagram) to the more obscure (like Quora).
When you think about influencer marketing, you probably think about the big social media sites like Instagram and Facebook. But sometimes the biggest platforms aren't the best.
Ultimately, you want to look for a specific type of influencer who posts on a specific platform. You need to put as much thought into choosing a platform as you put into choosing an influencer. (Yep, it's that important.)
There are several factors you need to take into account when settling on a platform to target.
First, which platform has devoted audiences in your niche?
Notice I didn't say biggest. While it's tempting to expose your product to an audience of millions, it doesn't always ensure that people will listen.
But if an influencer has a devoted following, your product will get more attention. (And serious attention.)
A good way of determining audience devotion is by checking the number of comments the influencer gets.
Tim Ferriss is one influencer who regularly gets lots of comments.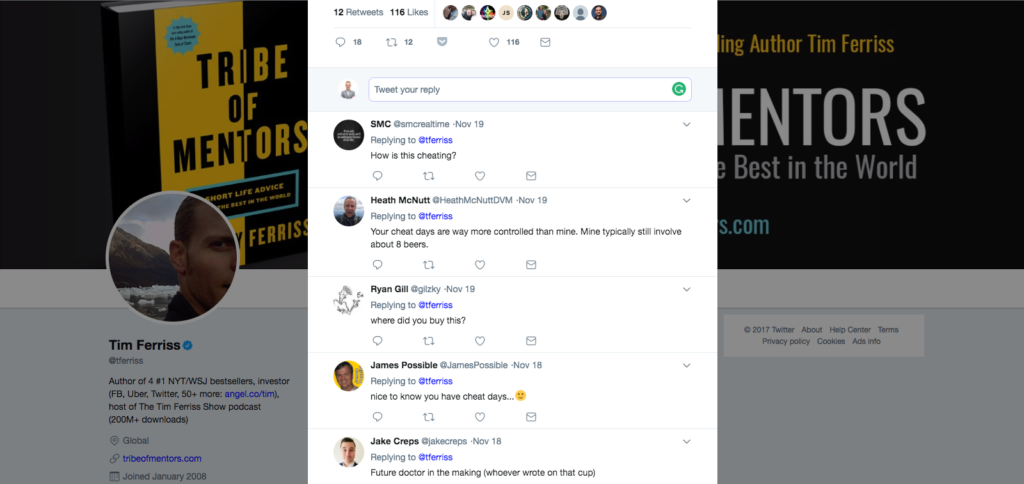 The number of comments is an important metric to consider. It holds a lot of weight because it isn't a vanity metric. If an influencer gets lots of comments, it means his or her audience is involved and not just passive.
This is especially important on YouTube, a popular platform for influencer marketing.
You might see a video with lots of views and be impressed. However, according to Buffer, a person only has to watch a video for three seconds for it to count as a view.
So if a video has lots of views but few comments, it's likely the influencer doesn't have an engaged following.
No matter what social media platform you're looking at, the number of comments is always important. The amount of shares or reposts also reflects the level of engagement.
This Twitter post got 12 retweets and 23 likes, which is a great ratio.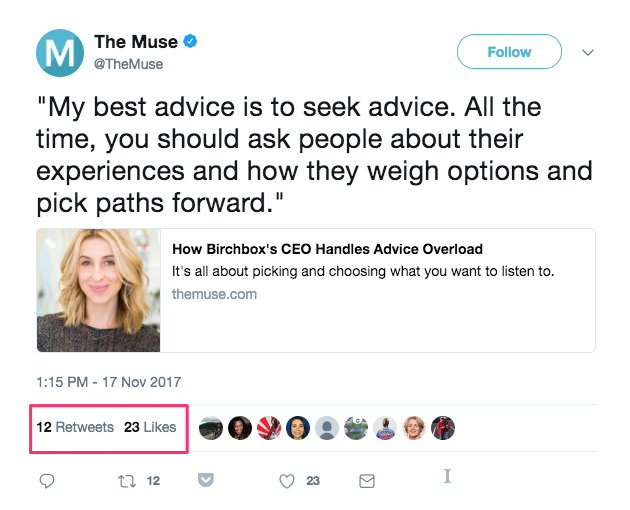 You'll probably discover that the same niche can have wildly different levels of engagement on different platforms. For example, the beauty industry is much more popular on YouTube than it is on Facebook.
It's like the old saying in marketing—"go where your audience is."
Second, which channel makes the most sense for your product?
Some platforms are naturally better for certain products.
The platform you choose should allow for your product to shine. That means you need to think about how people use your product.
For example, YouTube is great for kitchen gadgets because the products can be seen in action, and the influencer can give a more in-depth review.
On the other hand, Instagram wouldn't be as optimal. While the influencer could still post a video of the product in action, most people probably wouldn't watch for as long because Instagram doesn't require users to have a longer attention span.
Choosing the best platform can skyrocket your sales, while the wrong channel can rob you of the chance to get a return on your investment. So think about it carefully.
Third, think about all of the options.
The best platform isn't always one of the biggest.
The more popular social media sites like Facebook, Twitter, and Instagram can trick us into thinking they're the only ones that matter. And there is definitely value in pursuing influencers on these bigger platforms.
However, you can have just as much success on smaller platforms.
For example, natural foods company Bob's Red Mill sought the help of several bloggers to promote their products. The result: Posts like this one from food bloggers who used the brand's ingredients in tasty recipes.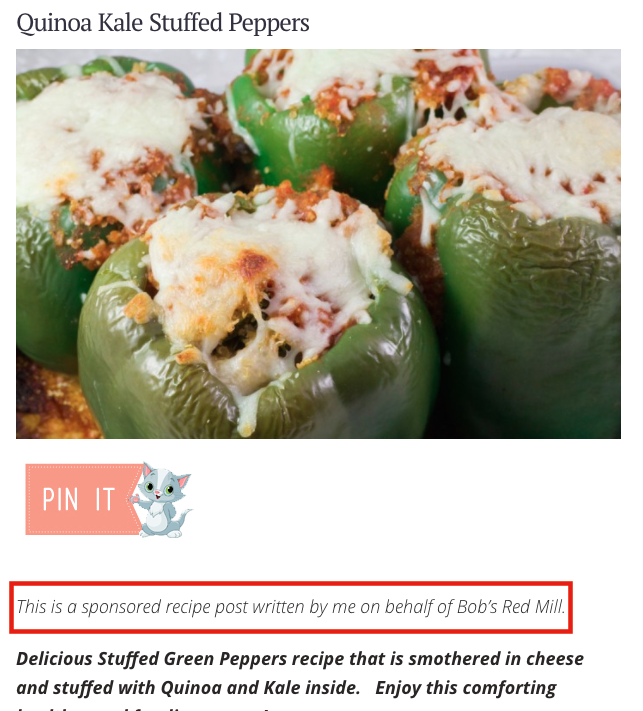 You probably don't think of blogs when you think of social media, but the blogosphere is still a powerful platform for the right campaign.
If you can follow people on a site, it's fair game for your influencer strategy. So don't blindly target just the big names. Instead, take a look at all of the options.
3. Pair Specific Products With Specific Influencers
Ideally, your product should already fit into your influencers' lifestyles.
Why?
The promotion will be organic.
The less forced an influencer marketing campaign feels, the more positively people will react to it, and the more buzz you'll build around your product.
Axe hit a home run when they partnered with Josh Peck, a stylish actor known for his humor. Peck released a series of funny videos on his Instagram that featured Axe products.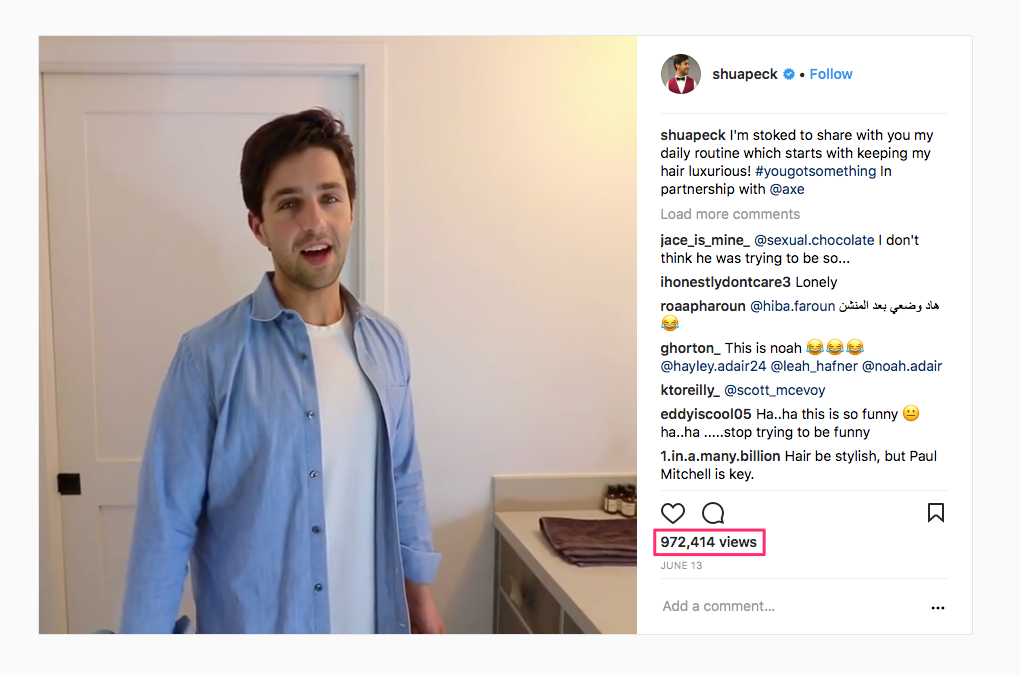 With his over-the-top delivery of the product mention, Peck poked fun of the sponsorship in good nature. But it went over well because of his reputation as a comedy-loving actor.
If Axe had chosen someone with a less lighthearted delivery, the promotion probably wouldn't have gone over as well as it did.
Of course, not all endorsements go down as well…
One of the most famous cases of an influencer marketing campaign gone wrong has to be Kendall Jenner's ad with Pepsi.
In the ad, Jenner hands a riot policeman a can of Pepsi, and the policeman gratefully accepts it, apparently bringing peace to both the police and protesters.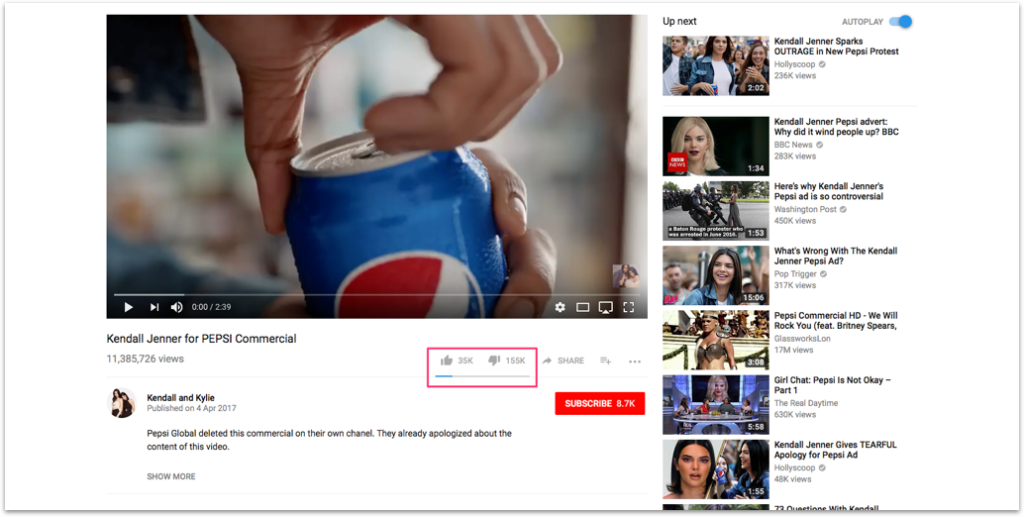 Pepsi said that the ad was meant to "project a global message of unity, peace, and understanding." Instead, it sparked an outcry, with news outlets around the world calling out its inappropriateness.
One of the big problems was that Pepsi was attempting to make a statement about racial tensions in the United States, but they chose a white model as their influencer.
Jenner, a wealthy white woman, was easily one of the worst influencers Pepsi could have chosen for an ad meant to racially unify America.
It also flopped because Jenner probably doesn't side with protesters in her free time. The advertisement didn't seem to echo her values, and people could sense just how fake it was.
That's why you should pair specific products with specific influencers. It should seem as if the influencer chose the product themselves.
Raoul Benavides from Heart Soul Heat chose to use influencers as a way to test out his products in the very beginning. According to him, he just reached out to "spicy influencers" to find people interested in his prototype and began sending it out to them.
If the sponsorship is too obvious or the product seems like a bad fit for the influencer, the entire campaign could fail. You want it to be as organic as possible.
From the very beginning, think about which products would work with different influencers.
If you're a tech startup, look for an influencer who regularly posts about his or her devices. If you're selling a low-calorie snack, for instance, find an influencer who takes nutrition seriously.
4. Find Out What Works for Other Brands' Campaigns
Influencer marketing isn't new. It's become especially more popular in the last several years, thanks to the rise of social media.
How does that benefit you? Simple—you have thousands upon thousands of case studies right at your fingertips.
You're not the first company to make the kind of products you're making. That means companies have already conducted influencer campaigns for products extremely similar (or maybe even identical) to yours.
For example, for Keta Burke-Williams from Ourside, working with micro- and nano-influencers worked best for their products. She was able to get real feedback around their products and engage in real community-building.
There are two main ways you can find influencer marketing in action (and see how it went down).
The first is to find popular influencers on each site and take a look through their post histories. If you see a branded product, chances are it was sponsored.
Sometimes, it'll be obvious: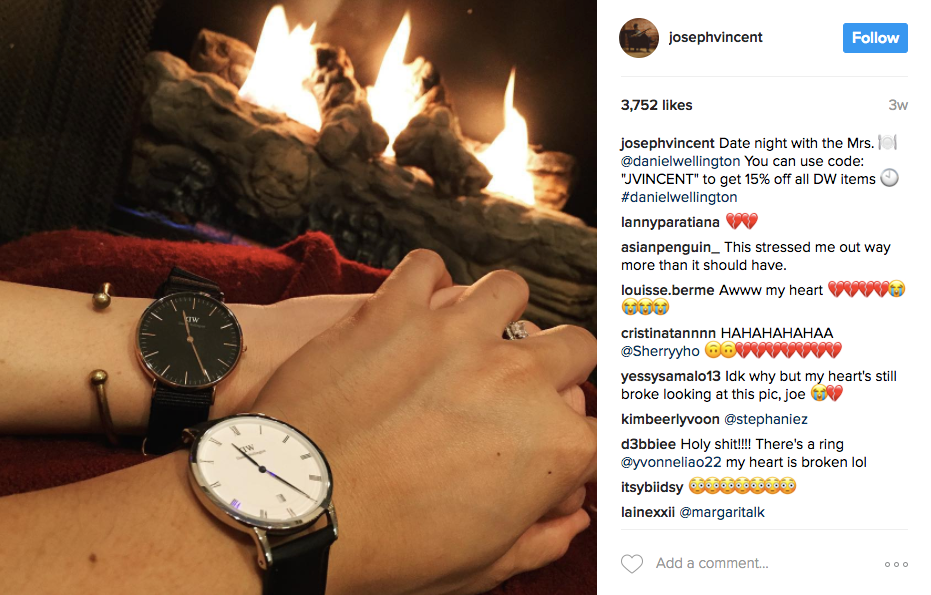 In this particular example, the influencer shared a discount code for his audience. That's another great approach to influencer marketing (if you don't mind the more obvious nature of the promotion).
If a campaign went poorly, you can analyze it and find out why. If it goes well, you can replicate the approach. Either way, you can win big by taking a look at what others have done.
5. Use Software To Help You Find Influencers
If you still need some help, don't worry. There are tons of resources designed to help you find the right influencer.
Traackr bills itself as an IRM (influencer relationship management) platform. It's been used by Google, Microsoft, Coca-Cola, and several other top brands worldwide.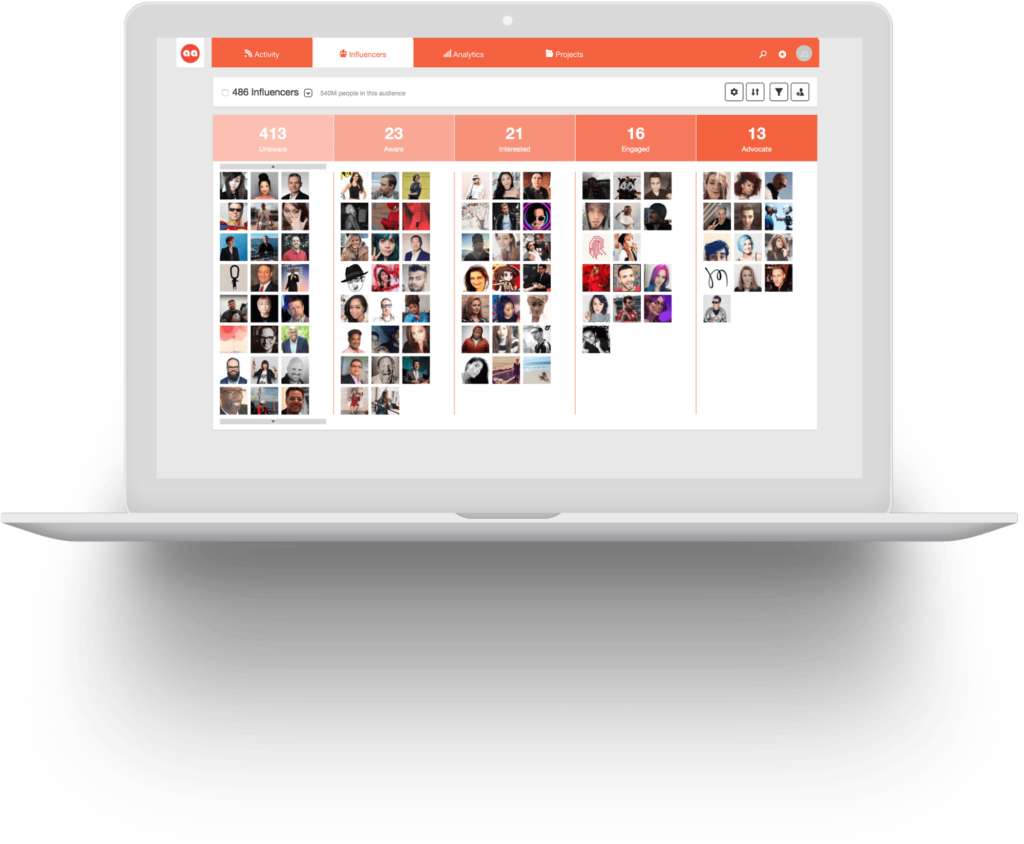 You can easily find and manage influencer outreach. One of the few tools specifically designed for influencer marketing, Traackr is steadily gaining popularity.
Brandwatch Audiences is another great option.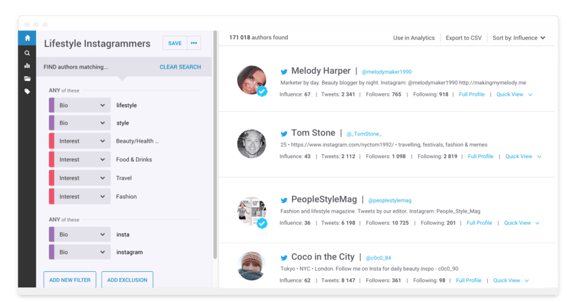 Like Traackr, Brandwatch Audiences has a user-friendly interface that makes it a breeze to find influencers that are right for you and your business.
The software doesn't just take follower count into consideration. Instead, it looks at several variables to find the best overall influencers, not just the ones who have the most followers.
And if you want to compare the impact of different accounts, you can use a service like Keyhole.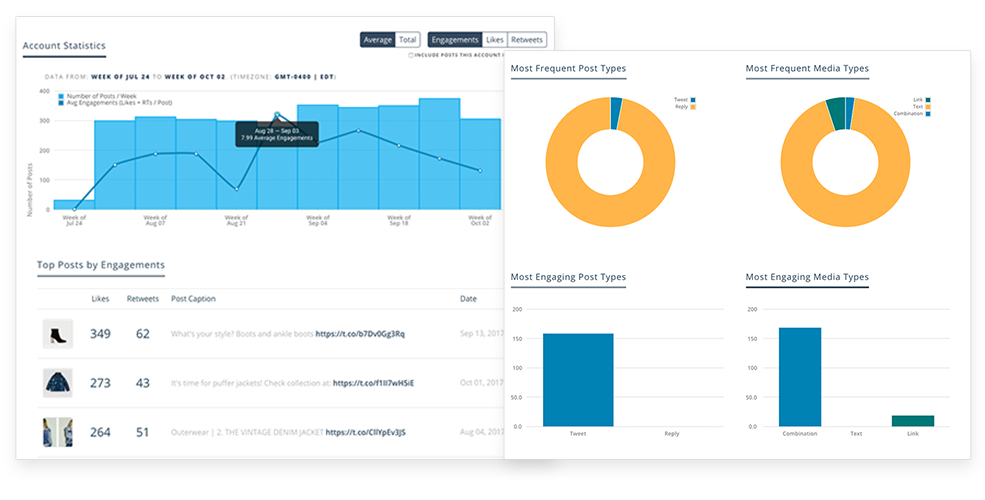 You'll get real-time analytics and KPI reports that help you understand how powerful an account is.
Of course, these are just tools to get you started. Choosing the right influencer starts by pinpointing the type of person that you want. Once you know that, these tools can take you to the next step.
Conclusion
If you do it right, influencer marketing can become one of your most powerful marketing strategies.
We live in a culture of influence, and with social media, that's become more amplified than ever before.
When a product gets a celebrity endorsement or a shout out from a famous YouTuber, sales soar. Some brands have built a devoted following from influencer campaigns alone.
If you haven't given influencer marketing a shot, there's no time like the present.