Shopify is one of the biggest names in ecommerce technology. Its platform powers millions of merchants in 175+ countries, including big hitters like Allbirds, Gymshark, and Netflix.
To date, Shopify has helped to drive approximately $590 billion in sales—higher than the GDP of Sweden.
At time of writing, it's hot off a record-breaking Black Friday, which saw Shopify merchants generate an astonishing $3.36 billion in sales across a single day, up 17 percent year on year. At its peak time of 12:01 PM EST, merchants saw collective sales of $3.5 million per minute.
Mind-blowing stuff, right?
But running a Shopify website isn't a license to print money. With roughly 1.3 million ecommerce businesses in the US and Canada alone, competition is fierce. If you don't get your marketing right, you can kiss goodbye to your chances of hitting your revenue targets.
Email marketing is a key part of the equation. According to one study, email drives an average return on investment of $36 for every $1 spent. No other channel comes close.
With that in mind, I've rounded up seven examples of engaging, high-converting Shopify email examples to help you smash your marketing goals. Read on to learn…
…and much more besides.
Sounds good? Then let's get into it…
1. Engage New Subscribers With Triggered Welcome Emails
Triggered emails—those based on a recent customer or subscriber action—deliver consistently strong performance metrics. One study revealed they see higher open rates than any other type of email, at an impressive average of 35.64 percent.
Why do they work so well?
It's simple, really. When someone receives a marketing email directly after performing an action, there's a far higher chance they'll read (and react to) it.
One of the best use cases for triggered emails is sending welcome messages to new subscribers.
Welcome emails are a classic example of striking while the iron's hot. Customers are at their most receptive when they first sign up to your mailing list, with Invesp claiming that welcome emails deliver up to 320 percent more revenue per email than other types of promotional email.
To help you understand the key elements of a welcome email, I analyzed a recent example from sustainable women's clothing and accessories brand Reformation.
It all starts with a simple, striking subject line that lets customers know exactly what's going on:

Remember, this message is automatically sent to new email subscribers. Chances are they'll be looking out for your email, so make it easy for them to spot.
Reformation goes on to explain what customers can expect from its email newsletters…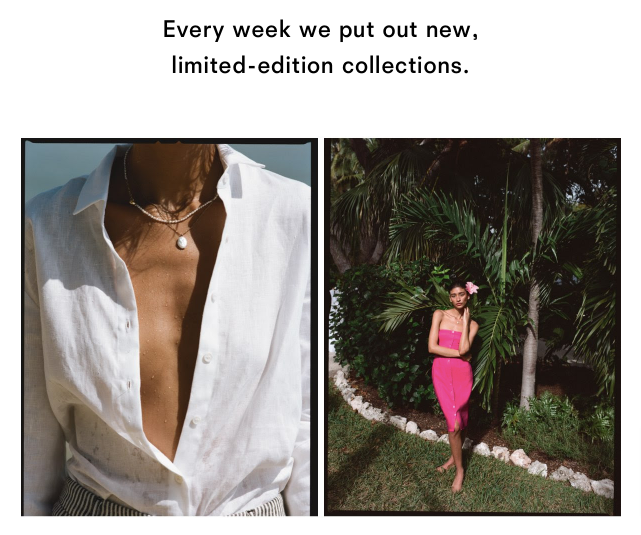 …and discuss its commitment to sustainability.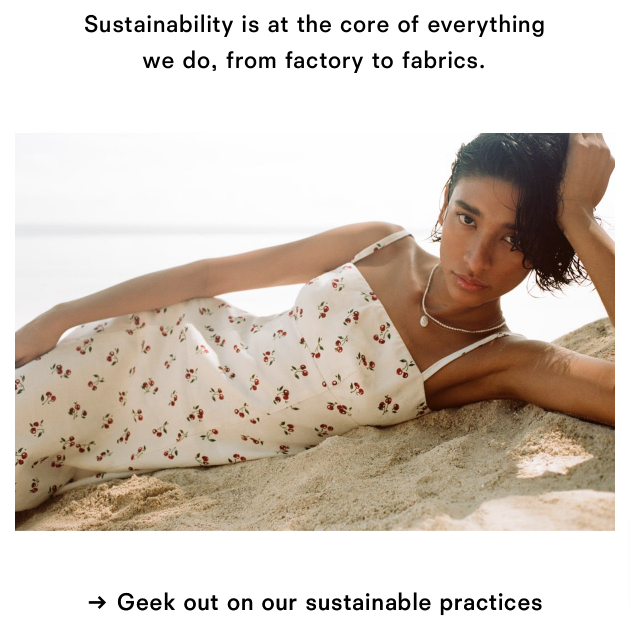 That's an important point, with 75 percent of consumers saying they expect organizations to help them live greener lives—both when it comes to making purchases, and in terms of the choices they make more generally.
And there's one more element to a high-performing welcome email: the call to action.
Because while these emails are ostensibly an opportunity to greet new subscribers with open arms, they're ultimately about driving revenue. And you won't do that without a strong CTA.
Reformation gets it right, linking to three of its most popular product categories, and revealing that it offers free shipping on sustainable orders:

2. Drive Revenue With Personalized Product Recommendations
When it comes to driving revenue, personalized emails are hard to beat.
In part, that's because consumers actively want to receive personalized messaging, as the following statistics demonstrate:
91 percent of consumers are more likely to shop with brands that recognize them, remember them, and provide them with relevant recommendations and promotions (source)
71 percent expect companies to deliver personalized interactions—and 76 percent get frustrated when brands fail to do so (source)
36 percent say retailers need to offer more personalized experiences, rising to 43 percent among households earning over $100,000 a year (source)
Ideally, you should be adding some degree of personalization to each and every email you send. On a basic level, that means referring to customers by name. More advanced personalization means building audience segments, allowing you to reach out with messaging that feels like you're speaking to each subscriber as an individual.
However, if you could only send one type of personalized email, I'd highly recommend choosing product recommendations.
Because if you share products that you know customers will love, based on their previous browsing activity and order history, there's a much better chance they'll buy from you.
Want to know one of the best things about sharing personalized product recommendations? It's super quick and easy.
Just take a look at this example from Australian accessories brand Bellroy: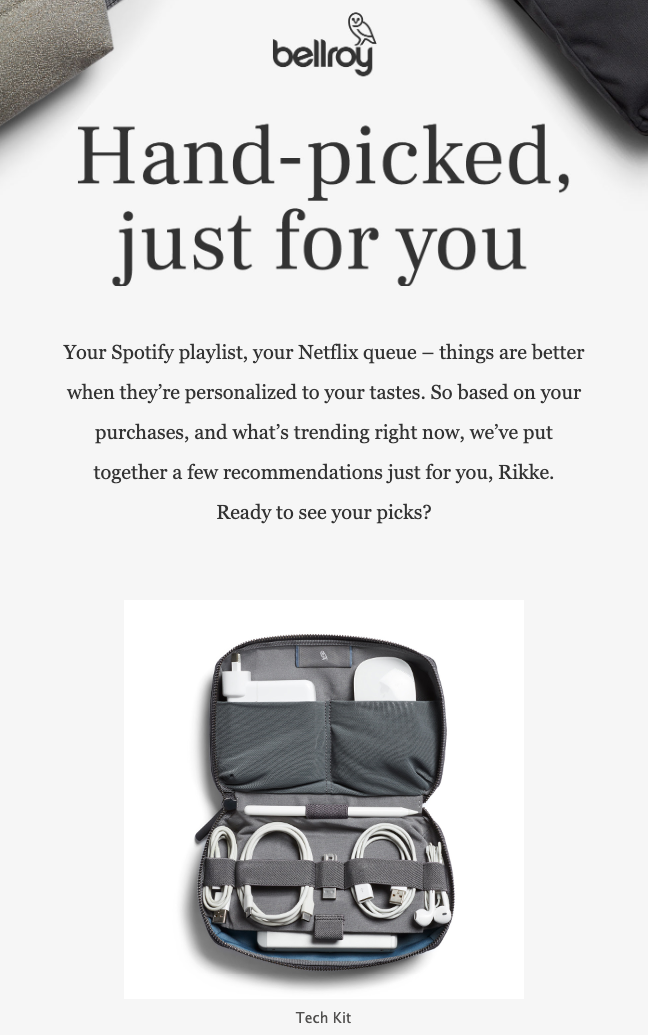 For marketers, this email is a dream come true. All you need to do is write a couple sentences of snappy email copy explaining that these products are personalized to your individual tastes.
Then it's up to your email automation software to do all the heavy lifting, picking out products that align with each customer's interests.
One top tip on sending product recommendation emails: give your subscribers the chance to find their new favorite product by linking to your full product range.
And while you're at it, be sure to remind shoppers why they love buying from you by listing three or four product and service-related USPs, like Bellroy does here:

3. Boost Conversions With Abandoned Cart Emails
You might be forgiven for thinking that when a customer visits your website and adds a product to their shopping cart, your work as a marketer is done.
Congratulations, you're another step closer to hitting your revenue goals.
Unfortunately, things don't always work out like we hope. According to the Baymard Institute, an astonishing 69.99 percent of all shopping carts are abandoned. So for every 10 customers who start the checkout process, seven will drop off before converting.
There are any number of reasons why customers abandon their carts, including:
Extra costs, like shipping, taxes and fees (cited by 48 percent of cart abandoners)
Requirement to create an account (24 percent)
Slow delivery (22 percent)
Not trusting the site with their credit card information (18 percent)
Too long or overcomplicated checkout process (17 percent)
Whatever the case, it's in your best interests to follow up on cart abandoners. Because if they liked your product enough to start the checkout process, they can be persuaded to complete the transaction with the right messaging.
Importantly, evidence suggests consumers like abandoned cart emails, with open rates consistently clocking in at more than 40 percent.
One retailer that clearly understands the potential of abandoned cart emails is makeup and skincare brand Too Faced: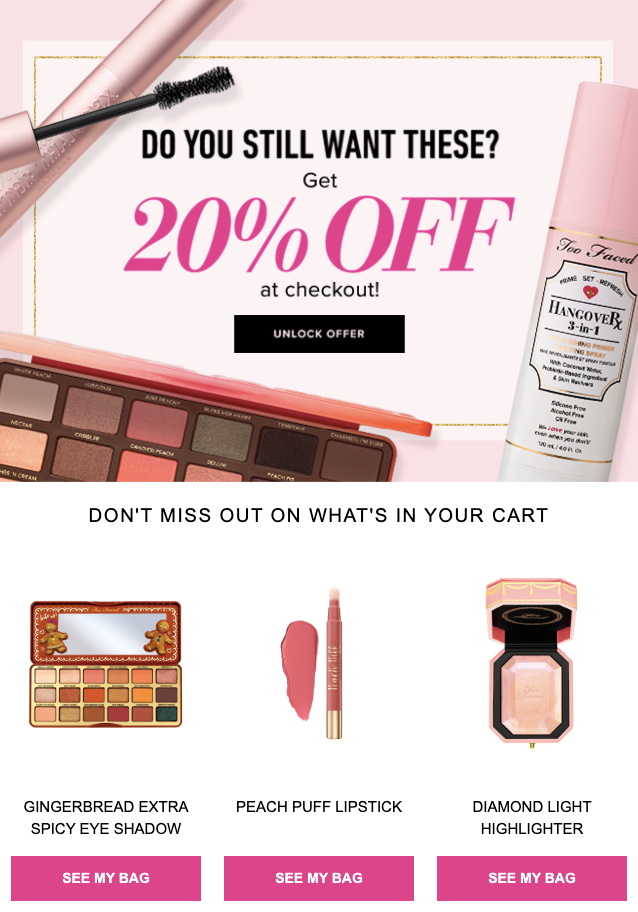 This email is simple but effective. It reminds the customer of the items they abandoned and offers a 20 percent discount, which is a strong incentive to go back and buy.
4. Improve Customer Satisfaction With Order Confirmation Emails
Transactional emails—such as order, shipping, and refund confirmations—aren't exactly the most exciting form of email marketing.
They don't offer much scope to flex your creative muscles, showcase your whip-smart copywriting, or demonstrate your passion for graphic design.
In fact, the overwhelming majority of transactional emails look more or less interchangeable, because they include the same types of information, namely:
Product ordered
Price paid
Order date
Shipping address
Billing address
They may not be the most engaging emails you'll ever send, but transactional emails are effective.
How effective? One study claims they deliver an average open rate of 58.32 percent and a click rate of 18.69 percent—both of which are higher than any other type of automated email.

If three in five of your order confirmation emails are going to be opened, it pays to put some thought into them.
Beyond listing the bare minimum information, this is a fantastic opportunity to take some strain off your customer support team, like Mango does in this example: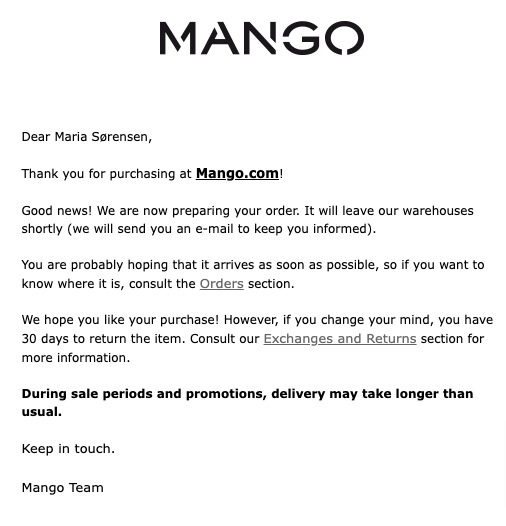 Try to anticipate the questions customers are likely to have at this stage of the buying journey and provide them with relevant information. Most likely, they'll want to know two things:
When their order will ship and/or arrive
How to exchange or return their purchase if necessary
5. Encourage Action With Scarcity Emails
We humans always want what we can't have. If a product is listed as "out of stock", it suddenly becomes twice as attractive.
As marketers, we can use this to our advantage by pointing customers in the direction of fast-selling products. Or, to take a more cynical approach, we can tell customers that a product is running low in the hope that it'll spark interest and drive sales.
Brooklinen regularly uses this approach to promote recently launched products: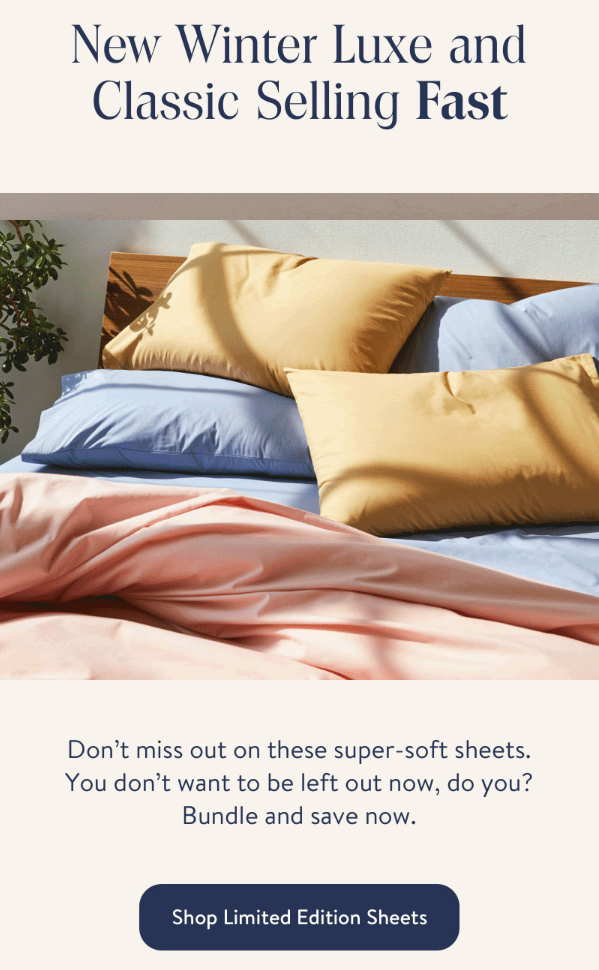 This email is positively dripping with scarcity-related messaging, including phrases like:
Selling fast
Don't miss out
You don't want to be left out
Limited edition
Sure, it's not subtle. But when it comes to driving revenue, sometimes it pays to repeat the message over and over again to ensure it really hits home.
6. Tease Product Launch Events
You've invested a bunch of time and money in developing a new product.
Along the way, you surveyed existing customers to understand exactly what they want.
You're confident the price point is spot-on.
So the last thing you want is to fall at the final hurdle by failing to adequately promote the launch.
In my next example, natural skin care brand Three Ships demonstrates how email marketing can be a key element in your product launch strategy: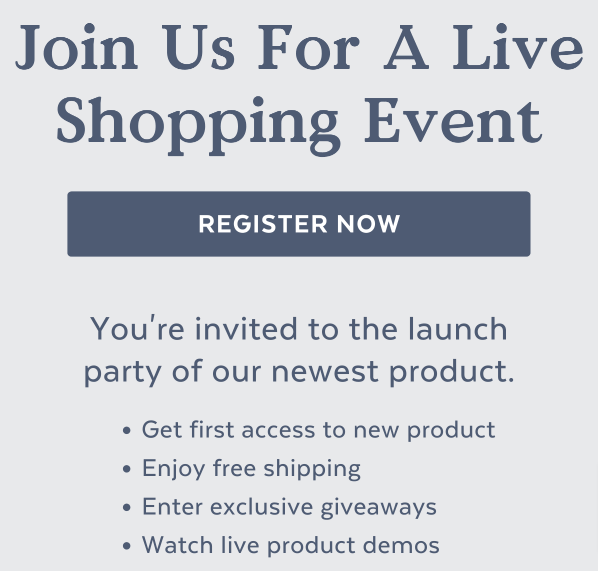 Rather than simply telling customers a new product will be dropping next week, it invites them to a live shopping event, including lots of juicy perks.
Sure, organizing a live event might sound like a lot of work. But evidence suggests it's worth the effort.
Indeed, McKinsey predicts that live commerce-initiated sales could account for as much as 10 to 20 percent of all ecommerce by 2026.
Not only that, but McKinsey says that companies are seeing conversion rates of up to 30 percent from live shopping—that's up to ten times higher than traditional ecommerce strategies.
But live product launches aren't a silver bullet. They'll only work if you promote them effectively, and email marketing is the best way to do it.
7. Promote Free Shipping
Next time you're planning a price discount, think again. Turns out customers are actually far more turned on by shipping-related promotions.
According to Retention Science, online shoppers are two times more likely to respond to free shipping offers than price discounts.
What's more, Google research reveals that 75 percent of holiday shoppers are planning to buy from stores that offer free shipping, while X Delivery claims that 56 percent of all shopping cart abandonments can be traced back to shipping-related concerns.
Sure, free shipping isn't practical—or feasible—for every retailer. But if you can afford it, you should give it a try, because consumers simply can't abide paying extra for their orders to be shipped.
In my next example, Red Rooster Coffee used free shipping as the focal point of its latest Cyber Monday email marketing campaign: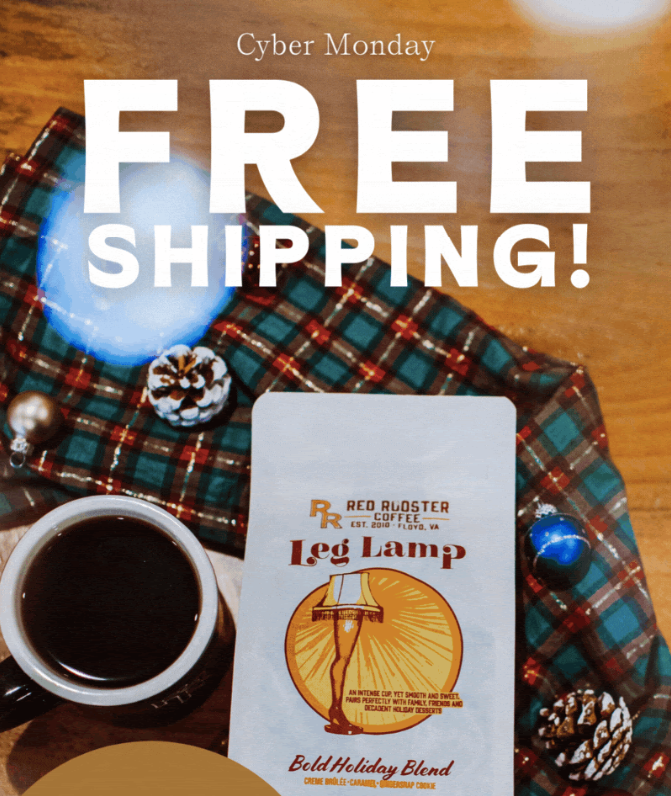 In my opinion, the best thing about offering free shipping is that it doesn't devalue your product.
That's a big deal. Research from Klarna shows that one in four consumers are less likely to buy from retailers that always run sales, while two-fifths say that constant sales make brands look unfashionable and cheap.
By discounting the shipping rather than the product, you get to retain your value while giving customers what they want. It's a double win.
Drive Shopify Revenue With Drip
Shopify and Drip are a match made in marketing heaven. But don't take my word for it, check out the Drip reviews on the Shopify App Store.
With Shopify, you get all the tools to sell your products to the world.
You also get a ton of data about what your customers are buying, when they're shopping, and how often they're abandoning their carts.
Drip allows you to make sense of all the data, helping you find your most loyal customers, your most engaged subscribers, and your lapsed customers who need a little nurturing.
All of which gives you the insights to develop better targeted, more impactful campaigns.
Sounds good? Try it out by signing up for your 14-day free trial.