If you've been in digital marketing as long as I have, you'll have seen a lot of "next big things" come and go.
Anyone remember Google Glass?
And how about all those articles that emerged in early 2021 insisting Clubhouse was about to take the social media world by storm? It's safe to say interest in the audio-only platform has dropped off a little since then:
However, live shopping really might be the next big thing in e-commerce. In fact, it's already huge (just not in the Western world, yet).
If you've heard anything about live shopping before, you'll likely know it's massive in China.
In 2020, Alibaba's live-streamed presales campaign for Singles' Day—a popular Chinese shopping event—generated an astonishing $7.5 billion in total transaction value in the first 30 minutes.
Furthermore, a 2020 survey from consulting firm AlixPartners discovered that 67 percent of Chinese consumers had bought products via live stream in the previous year, with younger consumers and those from smaller cities most likely to hop on the live shopping bandwagon.
And the trend is fast becoming global.
According to McKinsey & Company, live-commerce-initiated sales could account for 20 percent of all e-commerce by 2026, while Coresight Research expects the US to live streaming market to be worth about $25 billion by 2023.
That's too big an opportunity to pass up, so I gathered seven live shopping examples that'll get you a head start.
7 Live Shopping Examples to Inspire Your Own
What Is Live Shopping?
I'm going to pump the brakes for a minute and give you a potted history of live shopping.
Effectively, its roots can be traced back to the launch of home shopping networks like QVC and the Home Shopping Channel in the late 1970s.
First introduced in the US before expanding to numerous overseas markets, these free-to-air TV channels sold an Aladdin's cave of products to shoppers sitting on their couches.
Often, the networks would feature products endorsed by celebrities, and those (relatively) high-profile figures would appear on the channels to pitch directly to a (relatively) captive audience.
And that's pretty much exactly what live shopping—also known as Livestream shopping—is today. The only difference is that it's been digitized via social media, apps, and websites.
That means the buyer no longer needs to be tied to their sofa to see the content and make a purchase but can buy from anywhere with an internet connection.
From a retailer's perspective, it's easy to see the appeal of live shopping. It all happens in real-time, allowing them to leverage the very real power of "FOMO" and answer viewers' questions on the fly.
Live shopping also allows you to reach a highly qualified audience. There are no illusions here; everyone knows they're going to be sold to. Per McKinsey, brands are seeing conversion rates of nearly 30 percent from their live-streamed events—up to ten times higher than "traditional" e-commerce channels.
That's enough hype. Let's dive into how brands are using live shopping to reach new audiences and drive sales.

3:19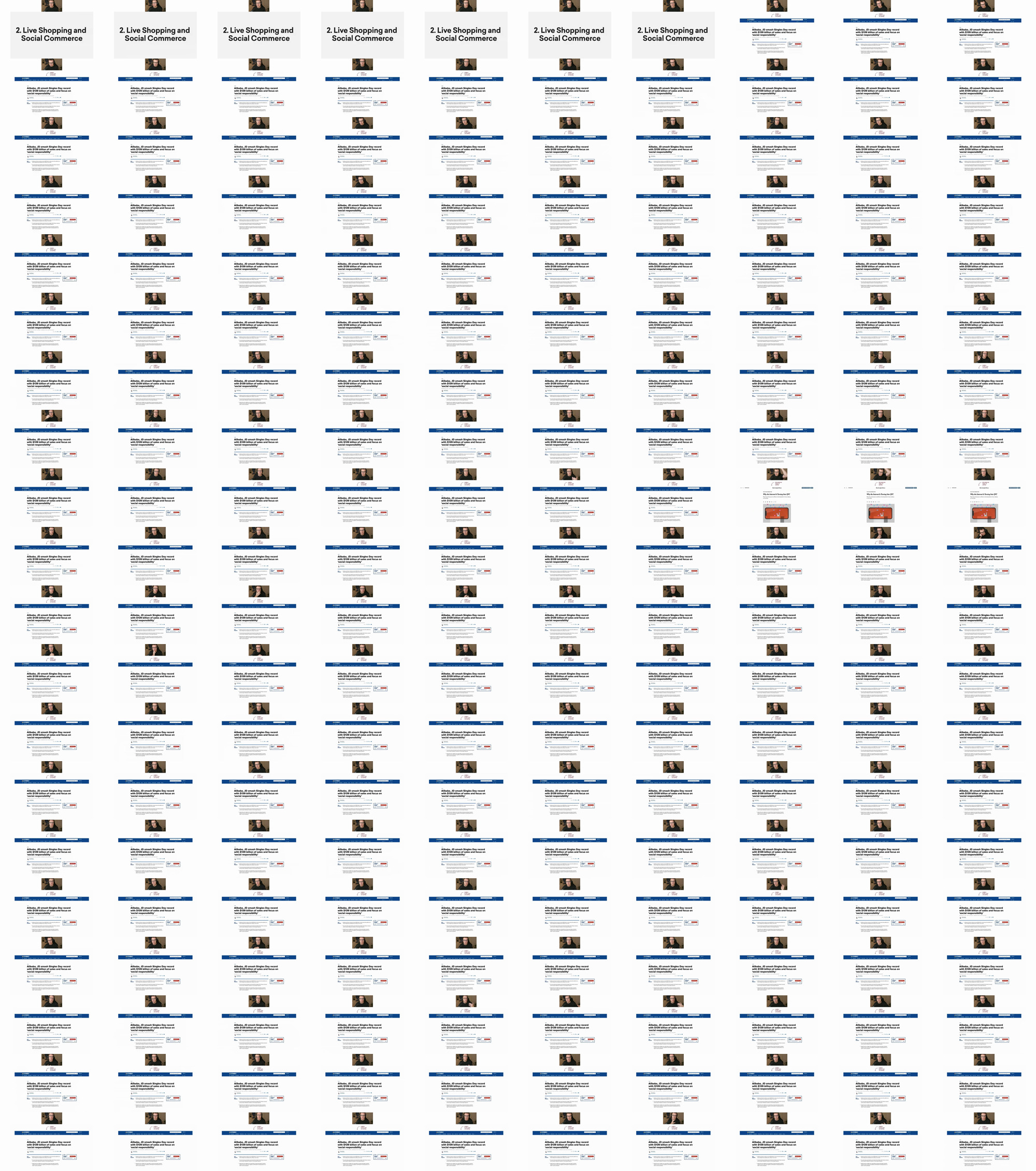 1. Aldo
"If you build it they will come" might work for baseball fields, but it definitely doesn't work for live shopping.
Just because you're running a Livestream event, people aren't going to show up without a pretty good reason.
In the case of shoes and accessories giant Aldo, the "pretty good reason" behind its inaugural live shopping event was a co-hosting partnership with celeb stylist Mimi Cuttrell and TikToker Nate Wyatt.
The event saw Wyatt and Cuttrell share fashion tips and showcase their favorite Aldo products, while viewers were simultaneously able to browse the brand's spring 2021 collection from within the stream.
Aldo hailed the pilot as a success. The website attracted around 17,000 page views in the following five days, with an impressive average viewing time of over 12 minutes, while the event itself saw an engagement rate of 308 percent.
2. Nordstrom
While US brands have traditionally lagged behind their Chinese counterparts when it comes to live shopping, Nordstrom is definitely hoping to close the gap.
In March 2021, it announced the launch of a dedicated live shopping channel.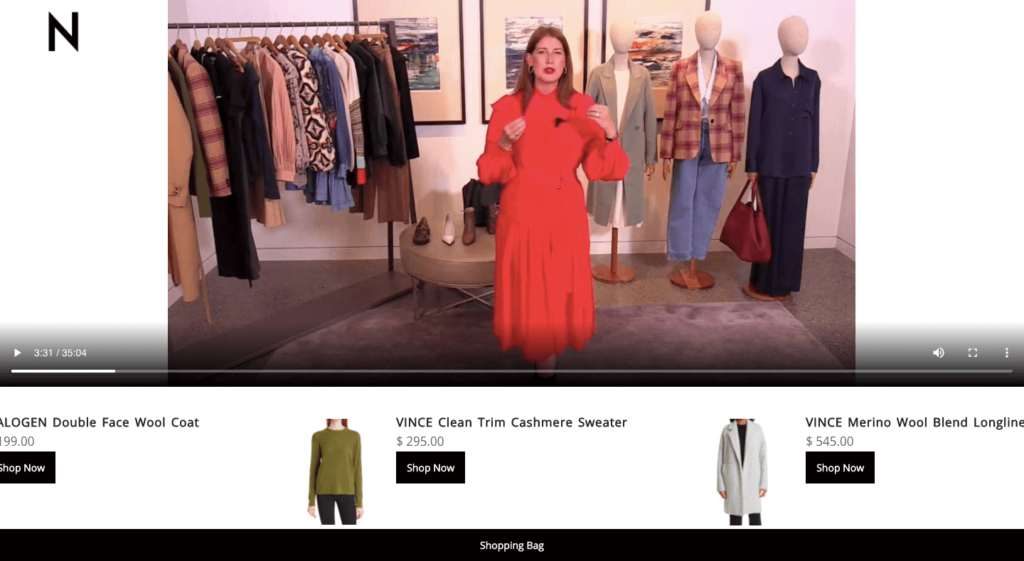 Since then, the channel has hosted dozens of live shopping events, with themes like:
Dressing for special occasions;
The best of fall fashion; and
Spring beauty trends.
In other words, exactly the same topics you'd expect a brand like Nordstrom to discuss in blogs and on social media.
Transporting those themes to the world of live shopping enables Nordstrom to present them in a more engaging manner, taking questions from viewers and gathering feedback in real-time in a way that a "static" piece of content (like a blog post) would never allow.
And, of course, there's the other major benefit: customers can shop the products featured in each live stream as they appear. It's a more interactive experience than simply writing about a product and linking to it in the copy.
3. CAIA Cosmetics
As with any marketing channel, you're not doing live shopping for fun: you're doing it to make money.
You need to know if the time taken to plan, promote, and execute a live shopping event is worthwhile. To do that, you need clear e-commerce metrics to gauge success.
Swedish makeup brand CAIA Cosmetics is no stranger to the world of live shopping, taking its first foray into live streaming back in October 2019, and it clearly understands the importance of measuring performance.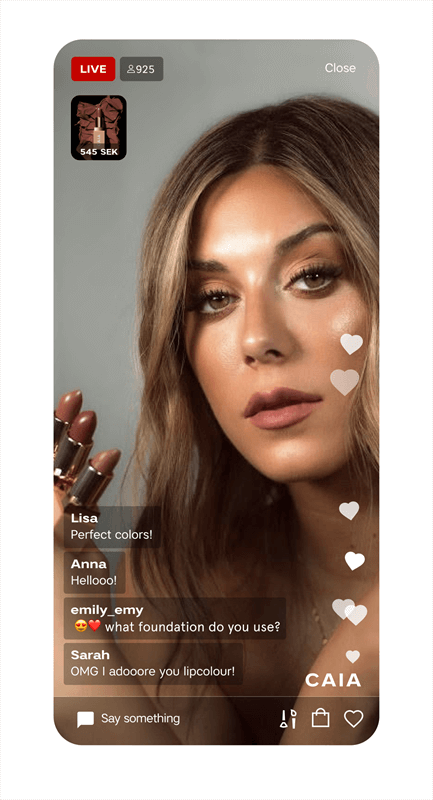 CAIA founder Bianca Ingrosso's live tutorials have an average viewing time of 11 minutes, with 60 percent of viewers "liking" the content and 17 percent interacting with the live chat, according to mobile streaming software company Bambuser.
Even more impressively, its first-ever live stream saw a conversion rate of five percent, higher than the brand's average website conversions.
Conversions are clearly the name of the game here, so by monitoring the data, CAIA can be confident that its live stream shopping strategy is resonating with customers.
4. Quivr
As a marketer, you don't just decide to start "doing social media"—you choose a specific platform that gives you the best chance of reaching the desired audience and achieving your marketing objectives.
Live shopping is no different. There are various platforms available, each with its own strengths, weaknesses, and audience. You need to find the one that best fits your needs. And that's exactly what coffee and tea-maker Quivr has done.
Co-founder Ash Crawford dipped his toe into the live shopping waters for the first time in 2020, speaking for an hour to an audience of 50 people about Quivr's brand story and products. Since then, he's experimented with live streaming on Instagram and TikTok, before settling on his platform of choice: Amazon Live.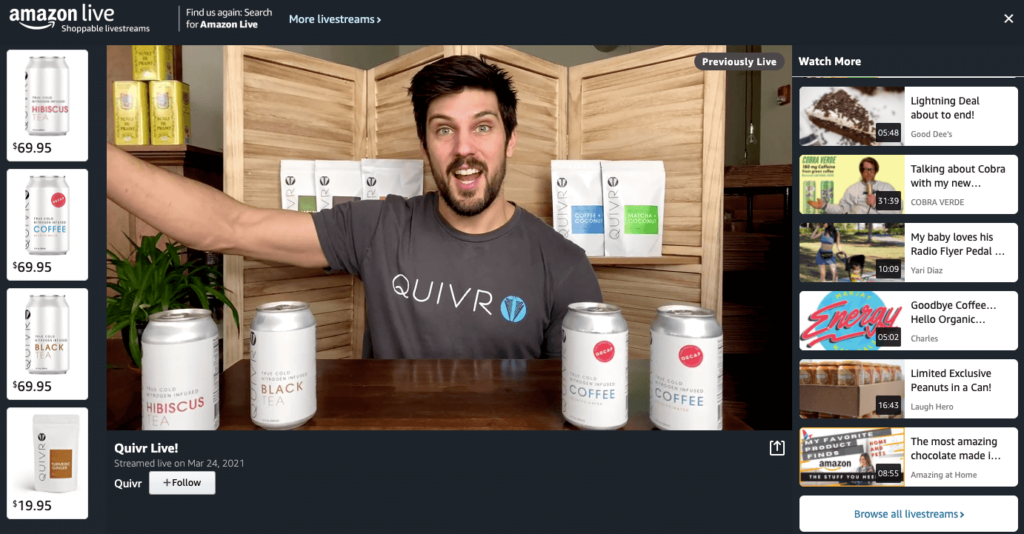 Speaking to CNBC, Crawford explained that Amazon's highly qualified audience gave it the edge over other live shopping services. Whereas Instagram and TikTok are entertainment-focused platforms, people typically visit Amazon when they're specifically looking to buy something, he said.
The decision appears to be paying off. "It's like clockwork or guaranteed that if we go live and I do a show, sales are increased for the next 24 hours by like 150 percent," Crawford added.
5. Kiehl's
As anyone who's been involved in event marketing will tell you, the success of your event hinges on your promotion strategy.
By which I mean: if you're going to invest the time to plan and execute a live shopping event, it's essential your audience knows about it (and can't wait to attend).
Skin and hair care brand Kiehl's demonstrates exactly how to do this. The company decided live shopping would be a good fit for its Ramadan campaign, which aimed to engage customers in Malaysia by referencing the holiday tradition of visiting loved ones' homes.
The centerpoint of the campaign was a series of "open house" Instagram Live events featuring Kiehl's beauty advisors.
Ahead of the livestreams, the brand ran a series of ads within the Instagram feed and Instagram Stories to promote the "Virtual House" events.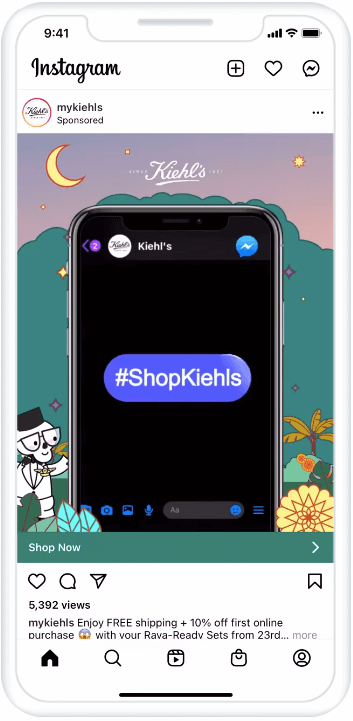 Colorful in-feed ads communicated the date and time of the live events in a way that appealed to both Ramadan observers and non-observers, as well as promoting interactive elements such as virtual quizzes and games on the Kiehl's website.
Meanwhile, it used Instagram Stories ads to raise awareness of the event and showcase special offers such as complimentary skin consultations and limited-edition travel sets.
Its efforts appear to have worked. Throughout the seven weeks of the campaign, Kiehl's saw an eightfold return on ad spend, with half of new customers signed up during the first half of 2021 being traced back to the campaign.
6. Bloomingdale's
Perhaps it's because live shopping is still something of a novelty (at least to Western audiences), but it feels like a real event—more so than a flash sale or sitewide discount.
Bloomingdale's has very much leaned into this. The department store chain has hosted more than 50 live shopping events since the dawn of the pandemic and has taken the time to build anticipation and excitement for each.
According to CNBC, in one recent livestream, presented by Jimmy Choo creative director Sandra Choi, viewers who signed up in advance were sent cocktails and macaroons in the mail to enjoy during the event.
The first 50 people to buy a pair of Jimmy Choos during, or immediately after, the session received a personalized fashion sketch, while everyone who watched until the end was entered into a gift basket and gift card giveaway.
The lesson here? If live shopping is going to become a serious fixture in your marketing strategy, you need to put in just as much effort as if you were organizing a "real-life" in-store event.
7. KitKat
No marketing channel exists in a vacuum.
As much as you want to seem like a cutting-edge innovator by diving into live shopping before your rivals, there needs to be a reason for it. In other words, if livestream shopping doesn't tie into your wider marketing strategy and objectives, it's almost certainly a distraction.
KitKat shows us all how live shopping can fit seamlessly into a broader campaign.
To promote KitKat Chocolatory Australia, which allows customers to create personalized KitKat bars and discover weird and wonderful flavors, the brand devised a paid social media strategy incorporating a livestream shopping event.
Polls, branded content, and dynamic ads were used to drive in-store and online conversions, while the streamed event—hosted on Facebook Live—allowed shoppers to place orders via the "Comment to Message" feature, which automatically initiates a Facebook Messenger conversation whenever someone comments on the livestream.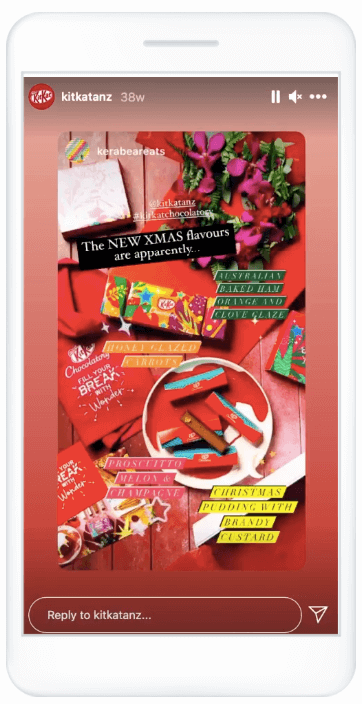 The campaign generated over one-third of the brand's annual sales, as well as achieving a:
23-point upturn in brand awareness among Australians aged 35–44;
2.2X lift in intent to purchase for KitKat Chocolatory; and
3X increase in online sales via KitKat's Australian website.
Conclusion
There's no real mystery behind the growth of live shopping.
The technology underpinning it might be new, but the concept—showcasing products in an engaging way and making it as simple as possible for customers to buy—is as old as retail itself.
So don't think of livestream shopping as a revolutionary new channel. Instead, see it as an extension of your existing social media and content strategy.
And if you're still not convinced, consider this: would you turn down the chance to pitch to a room full of highly qualified customers, with the knowledge that approximately one in three will buy from you?
Certainly not. But that's what you're doing if you ignore live shopping.