If you want to buy one of the many iPhones out there right now, you probably can't make a decision in a minute.
If you're like most people, your first thought is to tap into a browser "iPhone reviews" to find out which is better—and you're not alone. In fact, 85 percent of consumers trust online reviews as much as personal recommendations.
Product reviews have the power to make or break a person's purchasing decision. They matter to both businesses and shoppers. After all, no one wants to spend money or time on something that's going to fall below expectations.
Whether you're selling software or fragrance, social proof can give you the edge to convince customers to buy your products. To help you with that, I put together nine steps you can follow to get more product reviews.
9 Steps to Get More Product Reviews
1. Choose the Best Moment in the Customer Journey
Getting more product reviews comes down to choosing the right moment to ask your customer, depending on where they are in the buyer's journey.
First, think about the natural ups and downs that customers experience with your business. These stages might include:
A successful purchase;
Satisfaction with your customer service;
Disappointment with a slow delivery; and
Delight following problem resolution.
All of these situations are dependent on each customer's individual journey with your business. Every shopper has a different experience with your business, so it's up to you to determine the right moment to request product reviews.
Asking for testimonials at the wrong moment can lead to a negative review or a customer simply ignoring your request. Think about strategic moments when your customer may be in a good place to leave you a review. These times might include:
Following a re-purchase or re-order;
After a customer referral;
When they tag your brand on social media;
Following success with your product or service; and
Spending time on your site browsing products.
E-commerce giant ASOS sends recent customers a post-purchase email requesting a review. The brand uses a friendly tone and describes writing a review as the fun part, even encouraging buyers to share a quick selfie.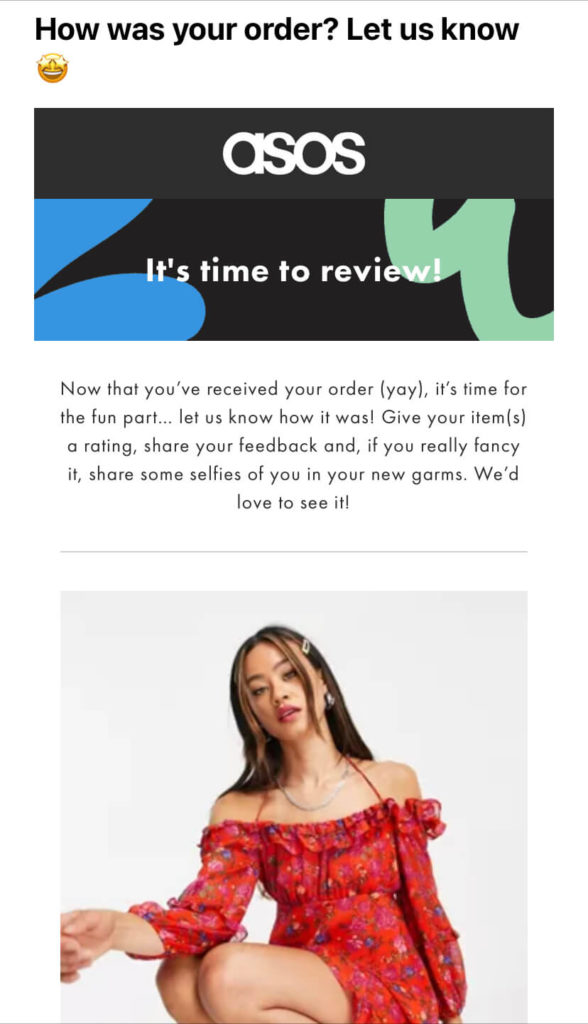 2. Identify a Method You Can Scale
Consumers aged 18-24 expect to see more than 200 reviews per product when they're searching online for a product or service.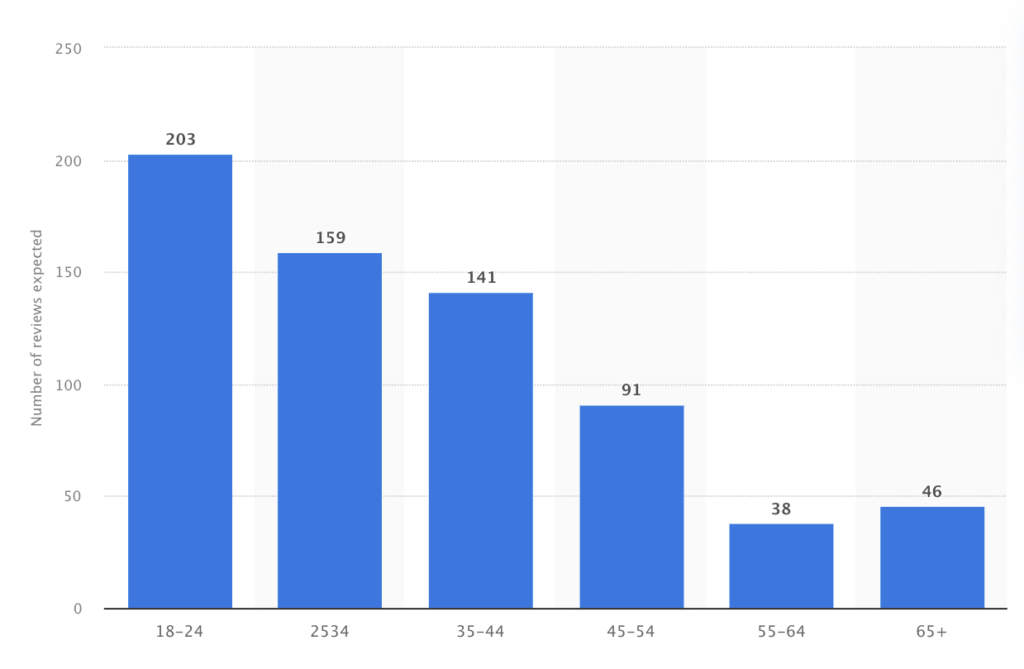 That's a lot of reviews. But as we know, more product reviews equals more social proof.
Don't feel overwhelmed, though—getting more reviews is a case of scaling your current methods.
Getting reviews regularly should become a part of your process. Here are some ideas for scaling up:
Include review requests in your email automations.
Train your team to ask for reviews after successful product sales.
Incorporate review links at checkout or thank you pages.
Use NPS to find your happiest customers at scale and ask your service team to build relationships with them.
Think about all the different interactions customers have with your business and how you can reach them on different platforms. Next, figure out which methods you can most easily automate so you scale your review generation campaign at the same time.
Here's an example of how fintech company Wise, (formerly TransferWise) sends customers an email with a quick and easy NPS to complete.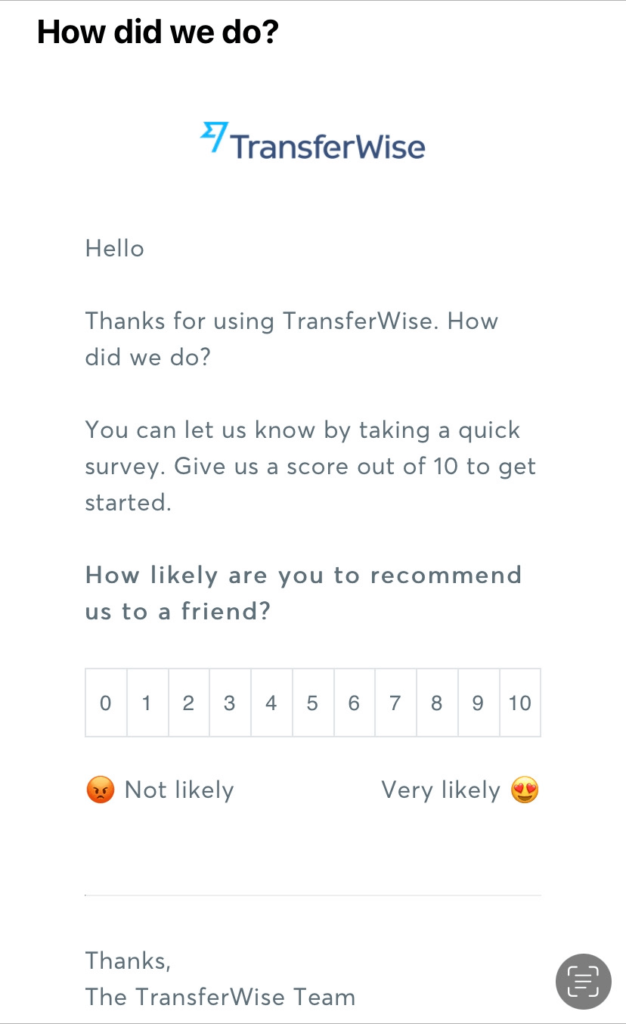 To take it a step further, Wise could then follow up with their most satisfied customers (those scoring seven and above on the NPS) and ask for a testimonial.
An embedded email NPS is also simple for customers to use, which leads me onto my next step.
3. Make It Easy for Customers
If leaving a review is hard work, customers will be less likely to do it. But if you make it easy for customers to leave you a review, they'll be more inclined to write a review.
Focus on making the process streamlined, quick, and simple. That way customers are more likely to take a few minutes out of their day. Here are a few ideas:
Provide prompts so it's easier to recall details and write a review. These prompts might look like "write us a review about your purchase of X last week" or "it was great to see you shopping with us yesterday".
Give them a link to the review page to minimize the steps or links they need to click. People don't want to have to jump between multiple pages. Remember people are doing you a favor, so give them everything they need quickly.
Australian activewear brand, Lorna Jane Active provides prompts in its review request email to remind customers of their recent purchases.
They include an embedded star rating along with a review text box in the email so the customer can quickly share their thoughts right there in the email.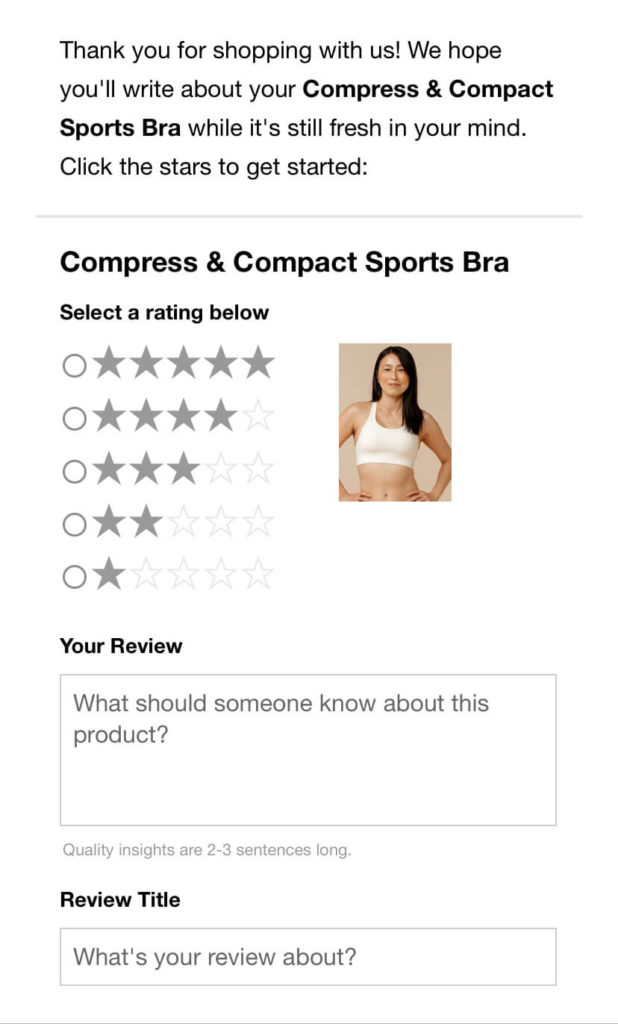 Time-pressed customers can quickly and easily leave a product review without having to chase down a landing page or third-party review site.
4. Provide More Space to Leave Reviews
We all have preferences about which platforms and websites we use the most. Including multiple options means your customers can choose the ones they're most comfortable using. Some people may prefer emailing you a testimonial while others may want to leave a review on a third-party site, like Trustpilot.
Equally, you don't want to spread yourself too thin across too many platforms. Aim to strike a balance between offering different options while not confusing customers with too many sites.
Think about third-party websites as well as your own where customers could review you. Depending on your business type, these sites might include Trustpilot, Google Maps, Facebook, and Consumer Affairs.
For example, dog treat subscription box, BarkBox includes testimonials on its website and has a presence on third-party sites like Consumer Affairs and Trustpilot at the same time: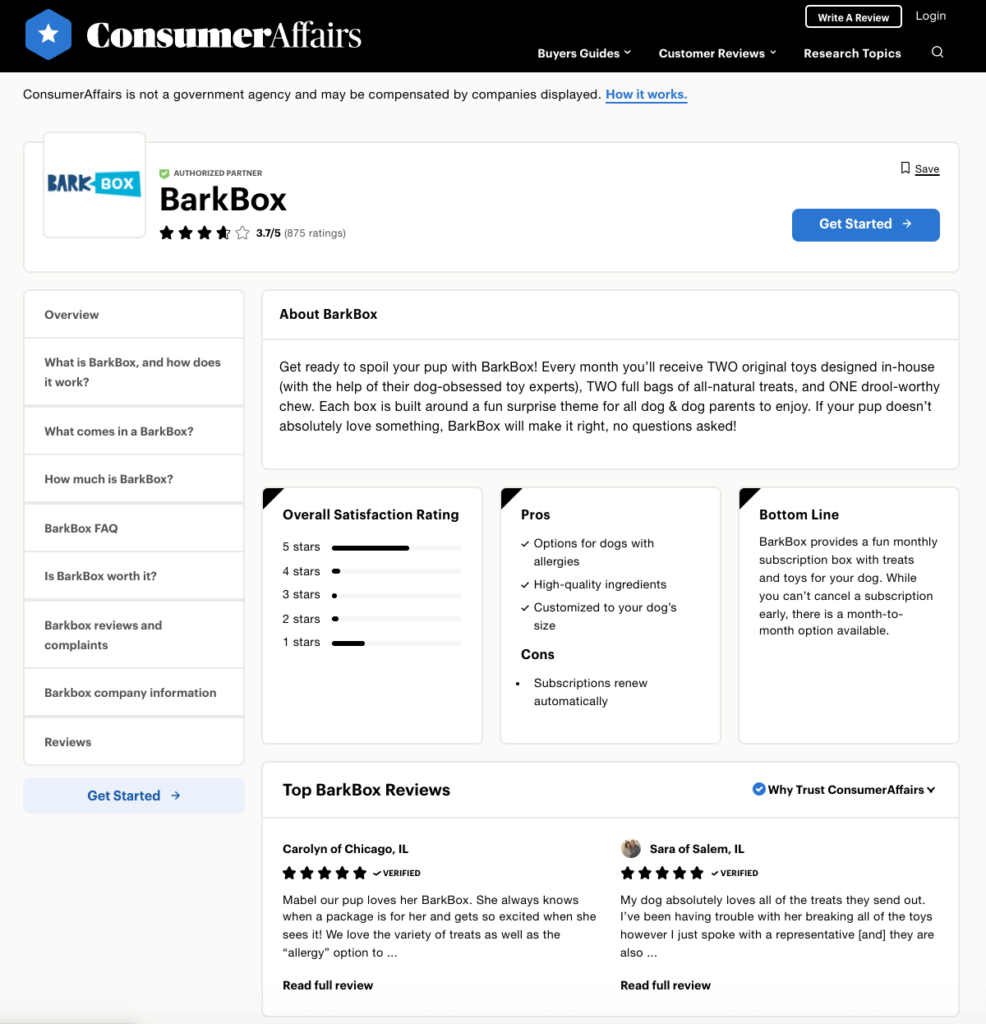 5. Send Post-Purchase Emails
Post-purchase review request emails have an 8.1 percent response rate. Sending an email right after the purchase has the advantage that the purchase is fresh in your customers' minds.
On the other hand, timing it a few days or a week after purchase allows your customers to form an opinion of the product without forgetting about the purchase.
Integrating and incentivizing reviews into your normal customer communication is the best way to drive more reviews for your products. That's what Jack Benzaquen of Duradry does. According to him, 2-3 weeks after someone receives their products is a great time to follow up and ask for a review.
If you don't receive a response right away, make sure to set up automated follow-up emails to prompt customers to leave you a review. Sending one or two follow-up emails a few days after the first email is about the right balance.
This review request follow-up email from I Saw It First is friendly and helps remind customers about their recent purchases and how to review them too.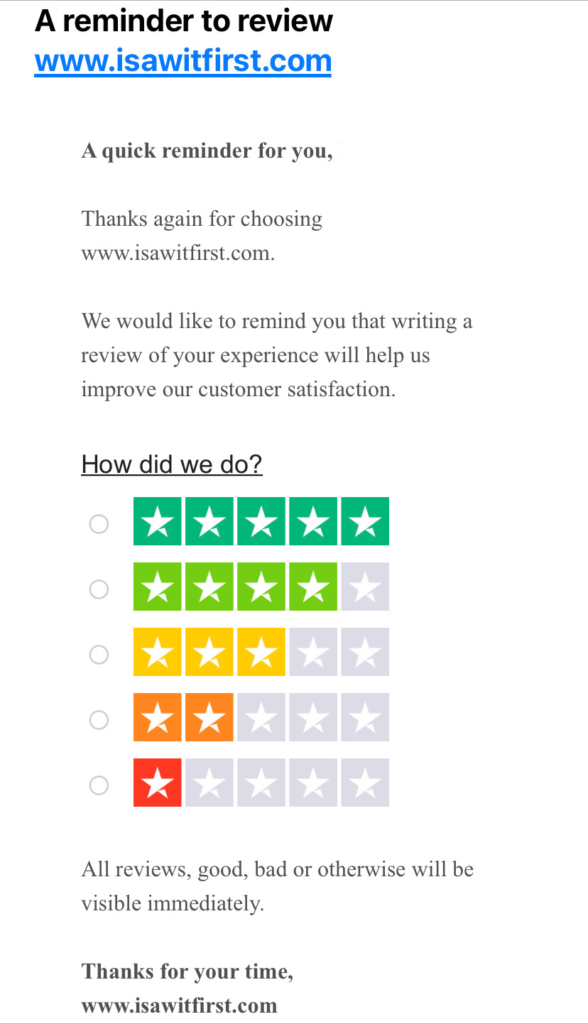 6. Personalize Review Requests
Personalized review requests help your customers feel valued and can lead to more product reviews.
You can personalize your testimonial emails by segmenting your audiences and addressing your customers by name. This way, even if your review requests are automated, customers will feel connected to your brand.
In this request email from Skinmart, they address the customer personally. Going an extra step, the company asks if you need help and advise that if you reply to the email, a professional skin therapist will reach out.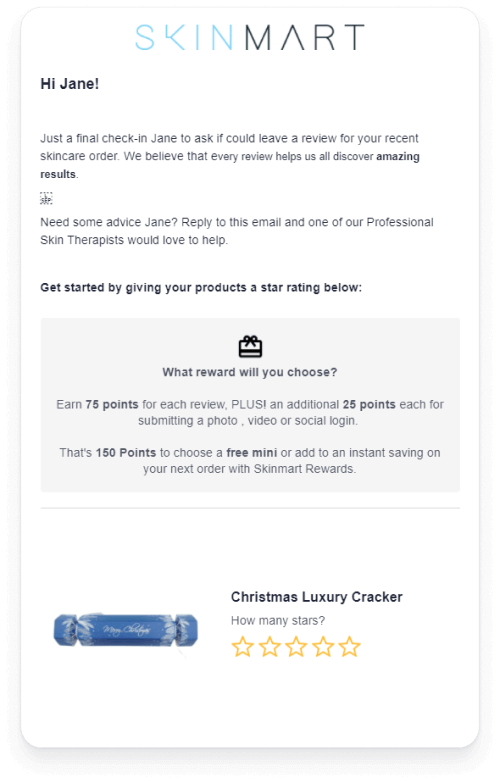 Source: Okendo
This encourages a two-way relationship and ensures the email remains personal.
7. Offer Incentives
If customers are spending valuable time writing a review for you, make sure to show your appreciation.
One way to say thank you and encourage a product review is to provide incentives, such as:
Gift cards. Give customers a reason to write a review and shop with you again with a small gift card or token.
Samples. Send samples of your latest products to get customers excited.
Early access. Show appreciation for loyal customers with early access to your newest products and services.
Entrance to giveaways. Offer a bigger prize in the form of a giveaway entry.
In this example from Anthropologie, they remind customers that they can win a $100 gift card by leaving a product review.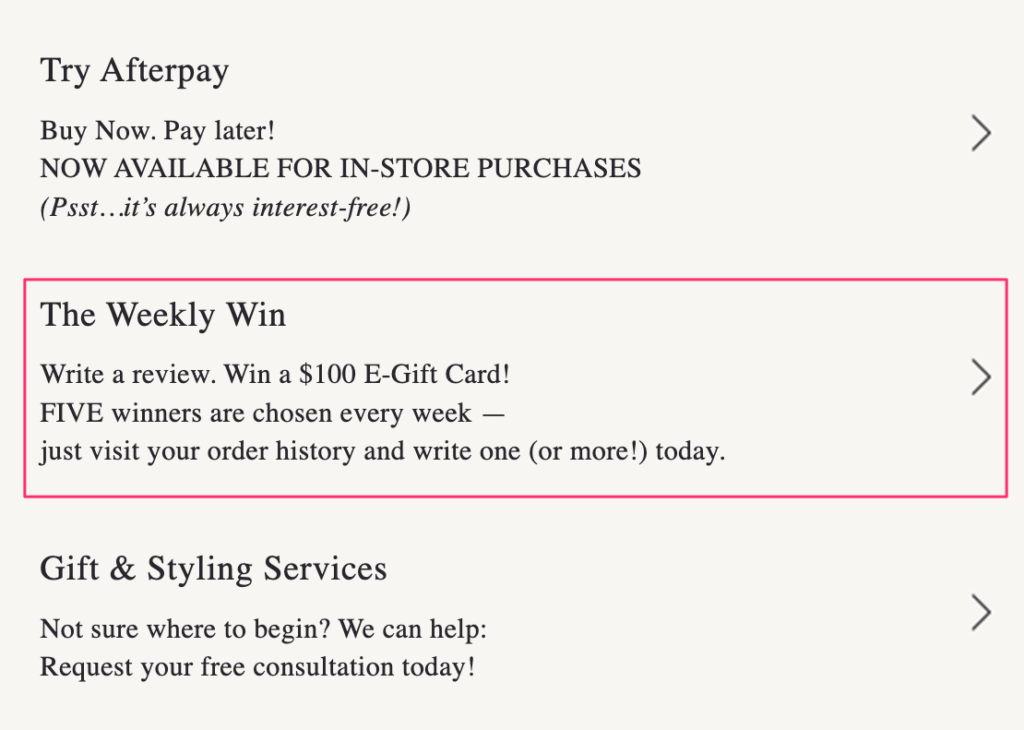 It shows appreciation for the customer's time and encourages them to shop with the brand in the future.
8. Get Reviews After Providing Support
Providing customer support is one way your business builds customer relationships.
Not everything in your customer journey can run smoothly all of the time. But resolving issues and helping customers is one way of enhancing their view of your brand.
If you successfully solve the customer problem and they walk away satisfied, ask for a product review. Timing is everything with this tip, so make sure your customer is happy before you ask—you don't want to end up with a negative review.
9. Share Positive Reviews on Social Media
When other customers see featured reviews, it encourages them to leave reviews too. Sharing positive reviews on social media shows you care about customer experience and value their opinions.
The Body Shop regularly shares positive customer testimonials with its Instagram audience. Not only does this advertise its products but also encourages other customers to write reviews.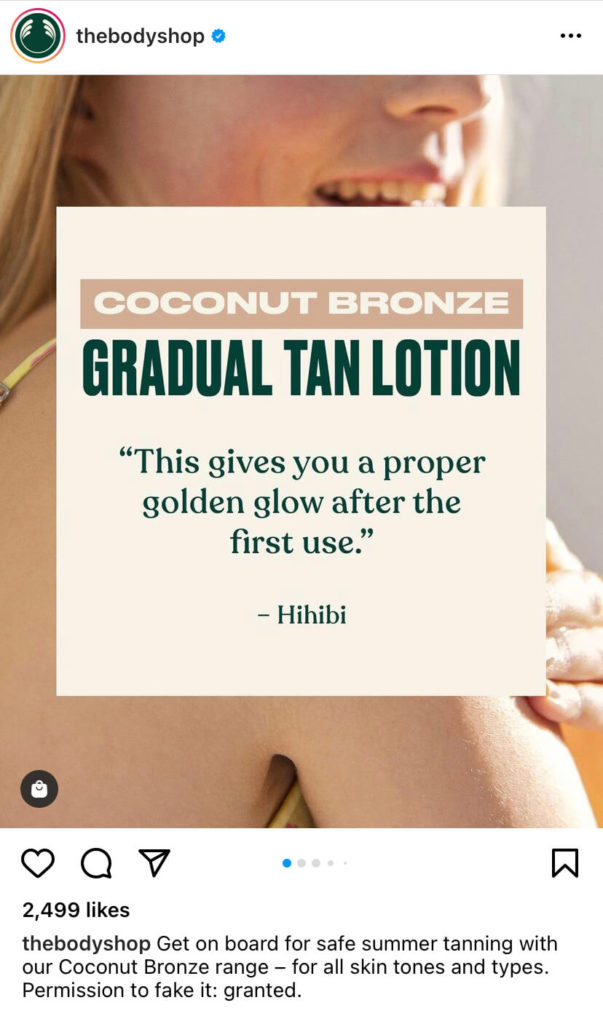 To take this one step further, you can include a link to your review form in your social posts so other customers can easily leave reviews too.
Conclusion
A solid portfolio of positive product reviews is vital for getting people to buy from you.
Since shoppers can't try out your products before buying online, they look for some convincing social proof to help them make a decision.
But it can be hard to get product reviews from customers. The solution is to build out a streamlined review request system that's easy for you to automate and simple for customers to follow.
Remember that social proof is essential for building trust and authenticity with customers. Get more product reviews and you'll likely increase your conversion rate.