Our inboxes are more crowded than ever. Brands are blasting emails out like never before because someone (it might have been us) told them that email marketing is the most effective marketing channel.
And it's true. But let's be honest: most emails SUCK.
They're overwhelming, uninspired and worse of all, boring to read. And with enough time, end up collecting digital dust in subscribers' inboxes (along with other unopened emails).
Six months ago, our emails were no exception.
Sure, we were getting clicks and opens, but we weren't writing emails that we would read ourselves. More to the point, we weren't writing emails that reflected us as a brand.
Today, it's a VERY different story.
We're now writing emails that readers love and look forward to:

There are two subtle changes we've made. And in this post, I'll share EXACTLY what we're doing to write emails that readers can't help but open, click and comment on.
How to Master Story-Based Emails
The Problem with Most Emails
Before I share what we did to improve our email marketing strategy, I need to explain why our emails weren't performing as well as they could have been and needed a change.
You see, it's not that our emails weren't performing.
Compared to the average for the software and web app industry…

Our emails we're hovering just below the average:

Numbers aside, the biggest problem with our emails is that they were boring to read, at least, in our opinion.
Take a look at this excerpt from one of our old newsletters:
If it looks familiar, that's because it is. I mean, it could be a marketing email from any company.
Here are three excerpts from promotional emails directly from my inbox, each with similar layouts (and note that these aren't bad emails, they just don't stand out from each other):

(I don't want to step on anyone's toes so I had to blur parts of these emails to keep them anonymous.)
How are your emails going to stand out in your customer's overcrowded inbox if there's nothing unique about them?
We were already tired of reading boring emails from other companies, so why were we sending similar emails to our audience?
The short and honest answer:
It's easy.
It's always easier to do what everyone else is doing, and assume that they're doing what they're doing because it works even though that might not be the case. It's also easier to send just one email to everyone instead of writing different emails for different segments.
But if you want to build long-lasting relationships with your audience and sell more, it's not the right strategy.
That's when we realized that, for us to get noticed week after week, we had to start writing really interesting emails, emails that we would want to read ourselves.
And to do that, we also needed to:
Segment our audience better; and
Send relevant emails based on how subscribers engage with our brand.
How We Improved Our Emails (Step-by-Step)
There were two problems we needed to solve:
We were sending the same email to everyone; and
Our emails were boring and not reflective of who we are as a brand.
So, that was our starting point for changing our email strategy.
Step 1: Segmenting Our Audience
First, we needed a way to determine how to send the right emails to the right subscribers.
To do that, we set up a lead scoring system in HubSpot to identify top-of-funnel (ToFu) subscribers and middle-of-funnel (MoFu) subscribers.
ToFu subscribers are those that are new to our list and haven't engaged much with our brand (e.g. read a blog post, visited our site, opened and clicked on emails, etc.). In our system, these leads have a lead score below 40.
MoFu subscribers are those that have shown a higher level of engagement and are further down the funnel. In our system, these have a lead score above 40.
This means that we can send content based on the level of engagement our subscribers have shown.
Step 2: Writing Better Emails
The second change we made was how we wrote our emails.
You see, it wasn't that our content was bad, we just weren't "selling" our product as well as we could be.
So, we decided to do something different:
Tell stories.
If you're a loyal reader of our blog, you know that we love telling stories and write content that's fun and easy to read.
And it works because people love storytelling.
Storytelling is a fundamental human experience that unites people and enables you to create deeper and more personal relationships with your audience.
Just think about your favorite TV show and why you glue yourself to the screen every time a new episode comes out.
Are Ross and Rachel going to break up again? Will Jon Snow survive? Will the DEA catch Walter White? What cringe-worthy move will Michael Scott make next?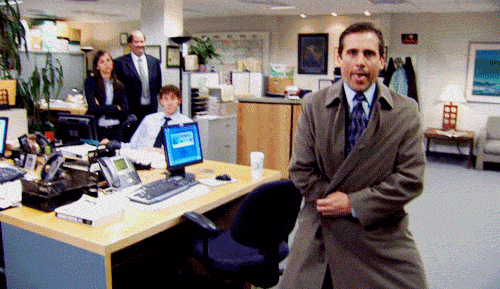 The question is, how do you write powerful stories? And more specifically, how can you leverage those stories in your marketing emails?
How to Write a Story-Based Email
Writing good story-based emails is challenging because you have less space to work with than you do with, say, a blog post.
But it's not impossible.
In our experience, there are six crucial elements behind a good story-based email.
Here's a quick overview:
Increase opens with a curiosity-driven subject line
Capture attention in the first sentence
Tell a story
Transition into your call-to-action
Close with a Call-to-Action
Include a funny visual element
Let's take a look at each in detail.
1. Increase Opens with a Curiosity-Driven Subject Line
We've talked about it before…
A good subject line varies from business to business. But there's one type of subject line that works particularly well for our emails:
The curiosity-driven subject line.
When your curiosity is piqued, your brain enters a state of increased motivation to learn. You also memorize things easier when you're curious about them.
It's why I'm horrible at math today (to my mom's great regret). And why curiosity-driven subject lines drive more opens. They motivate people to click through in your email to learn more.
Here's an example from one of our recent newsletters:

It doesn't reveal much about the content of the email, but it teases enough to make you want to read more.
Be warned, though: you need to be careful when writing curiosity-driven subject lines. Don't write something that you fail to follow up on it in your email copy.
2. Capture Attention in the First Sentence
Once people open your email the next challenge starts:
You need to hook the reader on your story. And that means capturing their attention in the first sentence.
It's always the hardest sentence to write in an email because it sets the tone for your entire story.
One practice I like to follow in our newsletters is give readers a peek into my life to get to know me better.
That way, I can build a relationship with our audience and increase engagement.
Here's the first sentence in one of our recent newsletters:

Don't be afraid to tell your audience about yourself and who you are. It will only increase the authenticity and credibility of your emails.
Also, avoid giving too much away in the first sentence. You want to make sure you capture the reader's interest and convince them to read on.
Then, it's time to tell your story.
3. Tell a Story
Storytelling in emails is different from storytelling in blog posts, for example.
For one thing, space is limited, so you need to make your story long enough to cover the essentials, but short enough to keep the reader engaged.
That's not always an easy thing to do, but it's definitely doable.
Before I start writing emails, I always decide on the call-to-action (CTA), first.
That way, I can build my story around it and make sure that there's a thread running throughout my email that ties the story to the CTA.
Let's take a look at the story in one of our recent newsletters. The CTA is to click through and read a blog post Seray wrote about social proof.
I knew my story had to relate to social proof, so I wrote about a recent experience I had while on vacation…

Once you have your CTA, it's easy to find a real-life story that relates to your topic.
It doesn't have to be a big adventure like my skiing trip—it can be something completely ordinary like babysitting your friend's dog. (I wrote an email about my friend's dog which you can get in our swipe file at the end of the post.)
Whether it's a blog post about social proof, or an email announcing a new product line, you can find stories from your life that are relevant to your CTA.
It can take time and it definitely requires out-of-the-box thinking. But putting your mind to work to find that perfect story is a lot of fun.
When I write my emails, I also like to open small curiosity gaps in the content.
For example:
"And you won't believe what happened next…"
What happened?
Peppering in curiosity gaps helps keep the reader engaged. And if a reader is engaged, they're more likely to click through to learn more.
When you write your story, keep your CTA in mind and don't go off on a tangent.
4. Transition into Your Call-to-Action
As your story comes to an end, it's time to transition into your CTA. Note, this isn't where you ask people to take action. We'll get to that in the next step. The transition is all about linking your story to the CTA.
Here's the transition from one of our recent newsletters.

In the above example, we introduce the concept of social proof as this is the topic of the blog post we're promoting. You can add a subtle link when you first mention your keyword to give readers a chance to click through.
Then, you build on your story and connect the dots. What was the point of your story? And why is it relevant to the reader and the CTA?
Only then can you ask the readers to take action.
5. Close With a Call-to-Action
It doesn't matter if your CTA is a button or a link. Nor does it matter what action you're asking the reader to take. If you write a clear CTA, your readers will click through.
Tell them exactly what they can expect when they click. In this case, our readers went directly to our blog post on social proof:

It's a good idea to repeat your CTA at least twice. After the first CTA, we usually give the reader more information on what they can expect and why they should take action. This also helps convince readers who are on the fence about clicking through.
Remember, keep it simple and tell the reader exactly what you want them to do.
6. Include a Funny Visual Element
This last step can be included anywhere in the email. After the first sentence, in your story, or even in your P.S., include a relevant visual element.
One type of visual element we've had great success with is including personal images and GIFs.
Here's the above newsletter example including the visual element—a picture from my skiing vacation: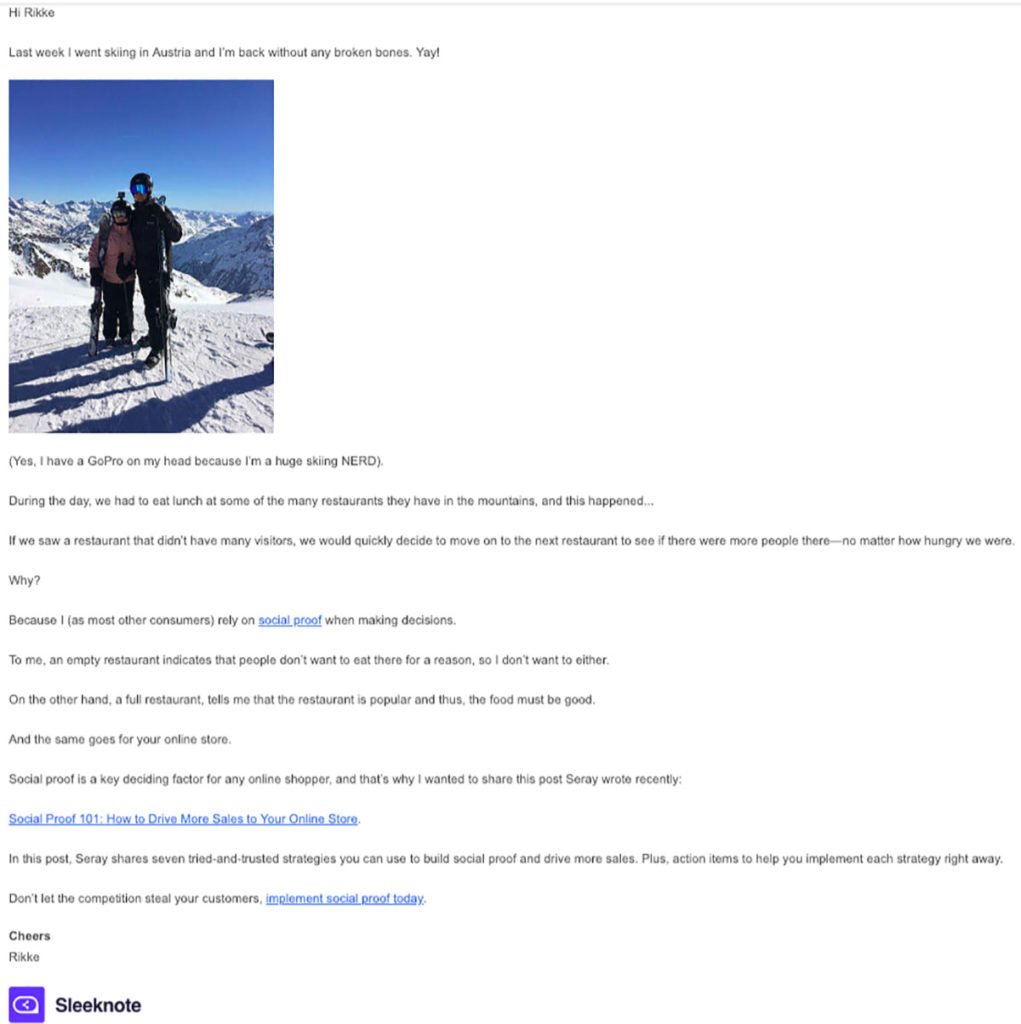 I also like to use humor when writing the image caption to personalize it further: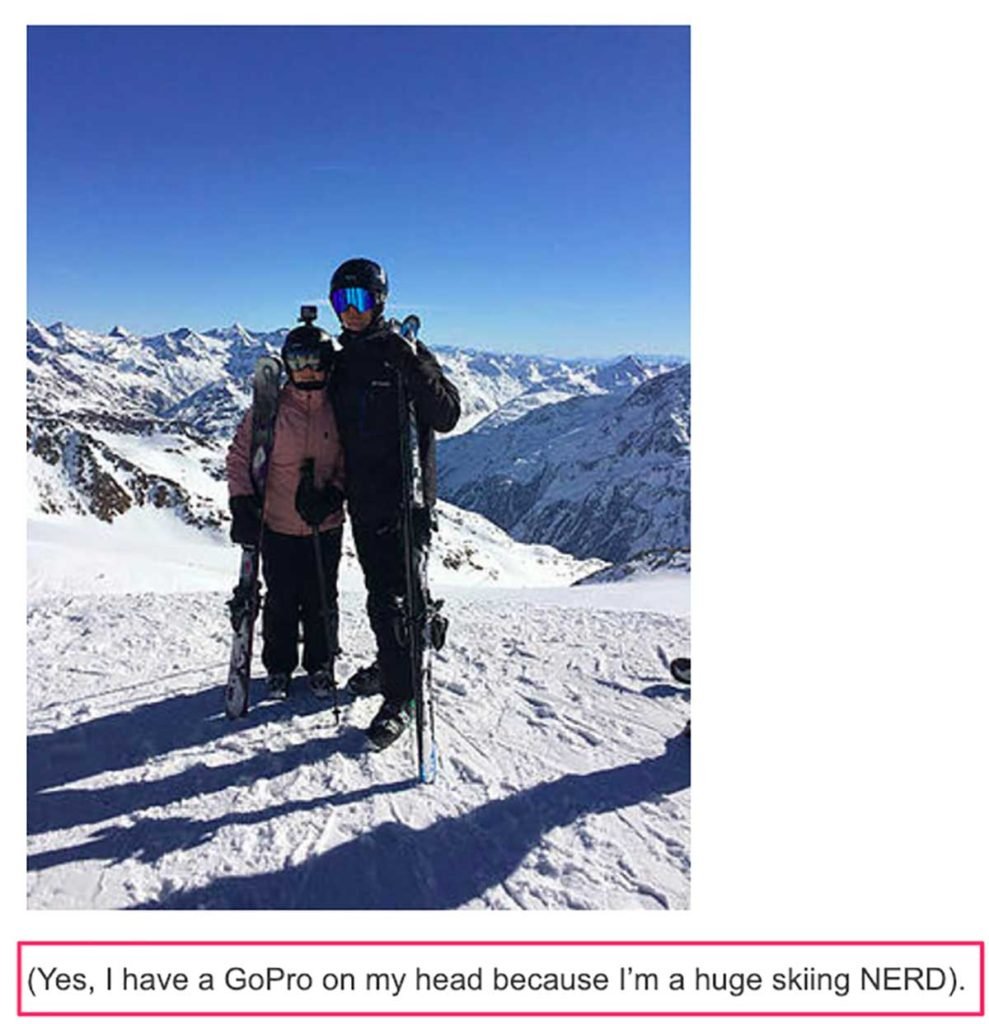 Adding a personal and relevant image to your emails isn't always possible. (I only go skiing once a year and I can't use that angle every time.)
So, because we don't always have a relevant image to accompany our stories, we decided to create our own GIFs.
Here are a few examples of our most recent newsletter GIFs.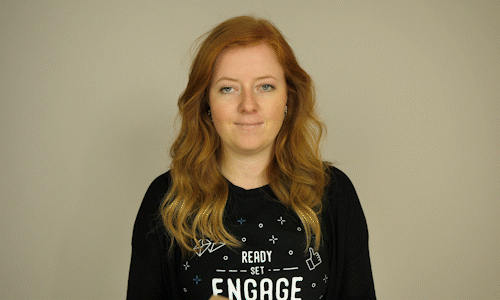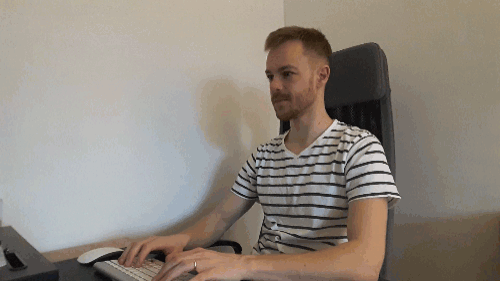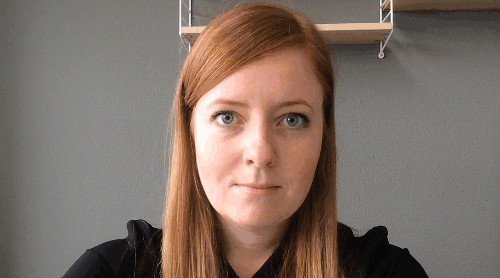 When we create GIFs, we don't aim to create high-quality videos. They just need to be fun and personal.
Creating your own GIFs is not that hard. If you have a camera phone and 30-minutes, you can create any GIF you'd like.
The Results of Our New Emails
After we segmented our newsletter audience and added stories to our emails, we saw a significant improvement in our open and click-through rates.
We now have two newsletters going out each week with relevant content that matches where our users are in the customer journey. Plus, our email performance is at an all-time high.
Here are the results of our ToFu newsletter:

That's an average increase of 123.74 percent for our open rate and 63.15 percent for our click-through rate.
If you take a look at our MoFu newsletter, the results are even more astonishing.

A 139.94 percent increase in open rate and a 352.63 percent increase in click rate.
But most importantly, we're now building stronger and lasting relationships with our readers.
And we're writing emails that reflect who we are as a brand: fun, personal, and creative.



"You are fun, Rikke!" is probably the best compliment I've ever received!
Conclusion
Writing story-based emails is challenging, to begin with, especially if you've never done it before.
But once you find your voice, writing becomes a lot more fun and your audience will love you for it.
Don't be afraid to let your audience get to know you as a person or as a brand, and remember to only write emails you would want to read yourself.