Black Friday, Christmas, Easter, Halloween… These are all seasonal events that drive A LOT of website traffic.

But are you capitalizing on that traffic and doing all you can to maximize sales during those periods?
Many marketers plan their marketing strategies quarterly or yearly, but few remember to think about seasonal marketing strategies.
And that's a lost opportunity.
So, to help you get more out of seasonal website traffic, I've found 9 seasonal marketing strategies you can implement for the upcoming season.
Let's get started.
Table of Contents
1. Build a Seasonal Email List
Building a relevant email list is important all year round. Ecommerce holidays are far from sparse throughout the year.
But during specific seasons, you should capitalize on the increased traffic by tagging and segmenting new signups by seasonal interest.
That means your optin incentive should be relevant to the season so you can retarget the leads you collect with content and offers that are specific to the season.
Black Friday is a perfect example of a seasonal event where building a relevant email list before the big day can guarantee more sales.
Miinto invites visitors to join their newsletter by offering early access to Black Friday deals: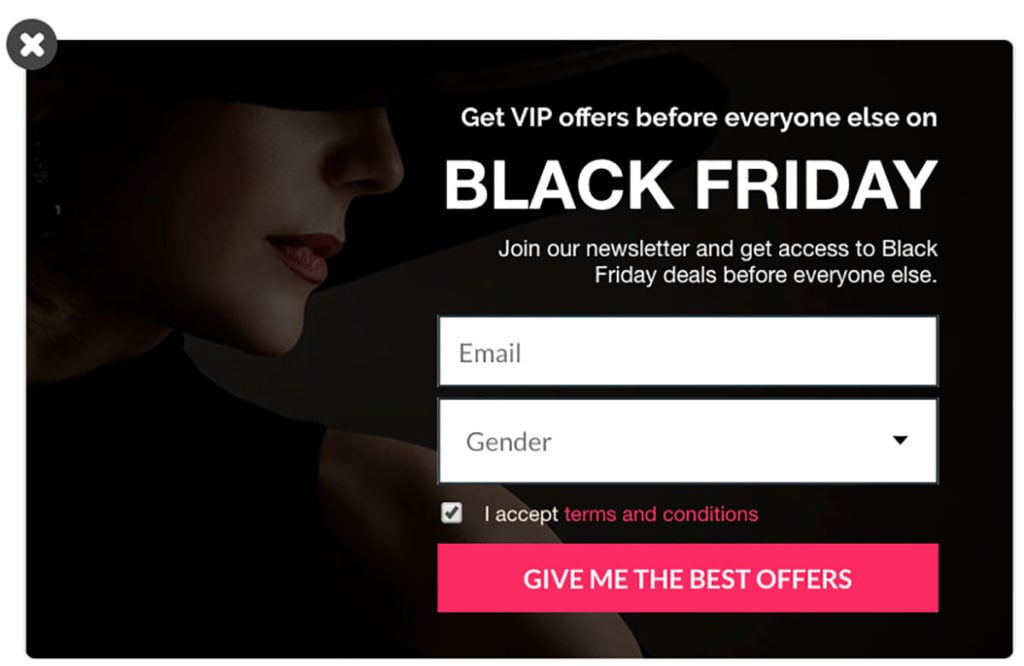 Offering early access to Black Friday deals is a great incentive for this specific event. People stand in the cold for hours to get their hands on the best Black Friday deals, so getting early access via email is both valuable and convenient.
Miinto gets a relevant email list they can target with Black Friday emails and get more traffic—and sales—on this occasion.
Action Item
Collect emails for upcoming seasonal events by offering, early-bird discounts, sneak previews, exclusive access to deals, and more.
2. Promote Seasonal Product Categories
Creating a smooth user journey on your site involves helping visitors find what they're looking for.
One way to do that during specific seasons is to gather all your seasonally relevant products on one page and promote them to your visitors.
Take Mother's Day, for example.
Take Offer carefully selects all the products that work well as Mother's Day gifts and use a popup to promote them: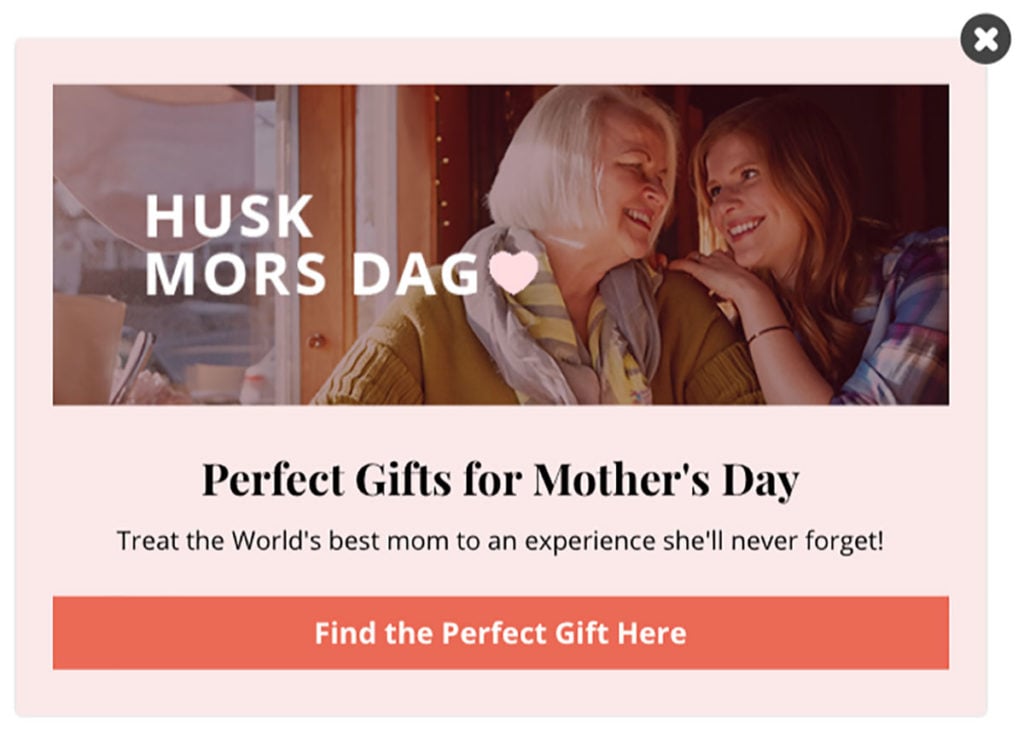 The image text reads "Remember Mother's Day."
The copy is cleverly written to evoke emotions in visitors—making them more likely to click through and buy.
Guiding visitors to a smaller selection of season-specific products makes it easier for visitors to choose the right gift.
Having too many choices can prolong the decision stage and maybe even prevent people from buying.
Action Item
Create a product page including carefully selected products relevant to a season or event and promote it on the rest of your site. Giving visitors fewer choices and guiding them is a great way to increase sales during specific seasons.
3. Build Anticipation with a Countdown Timer
There's nothing like anticipating a big event, right?
When I was a kid, I could never sleep the night before my birthday because I was so excited. And I'm sure I wasn't the only one.
Building anticipation for upcoming events is a great way to create hype and get people excited about what's to come.
So, don't forget to promote your seasonal sales ahead of time across your site. If people don't know it's happening, they likely won't come back for it.
One effective way of promoting an upcoming sale is by adding a popup with a countdown timer to your site.
And even though this type of popup is counting down to the start of the sale, it makes the message more memorable.
Action Item
Promote upcoming seasonal sales or other events in a popup across your site to drive returning traffic to your site. Protip: If your site allows for saving carts, you can add a call-to-action to this popup and ask visitors to add their favorites to their cart to save time when the sale starts.
4. Use Season-Specific Testimonials to Drive More Sales
It's no secret that customer testimonials drive sales.
Consumers look to each other more than ever for product recommendations and quality assurance. That's why including testimonials on your product pages can do wonders.
But what's better is including season-specific product testimonials to popular products, depending on the season.
During Thanksgiving, for example, there's likely a spike in turkey baster sales, and during Halloween, there's a higher demand for costumes and Halloween decorations. You get the point.
So, what are season-specific testimonials?
They're testimonials from customers who bought a season-specific product and mention how that product improved their experience during that season.
Let's go with the Halloween example. Chasing Fireflies have this testimonial on one of their costume product pages:

When visitors are looking for a product to use for a certain occasion, having a testimonial from another customer about how the product was perfect for that same occasion, is invaluable.
(I mean, who doesn't want people to gush over their kid because of a cute costume you bought?)
Action Item
Dig into your archives and find customer testimonials that are relevant to the season and add those to your product pages.
5. Customize Product Guides
There are many ways to help visitors find the right product on your site.
One of the most effective ones, though, is to offer product guides for specific product categories.
If you sell appliances, you can offer a guide to choosing the right washing machine, for example.
But what if there was an easy way to customize product guides to the season?
Well, there is. And you don't have to create new product guides every time the season changes.
The trick is how you promote your product guides.
Let me give you an example.
Here's a "standard" product guide popup:

And here's the same popup, but customized for Christmas: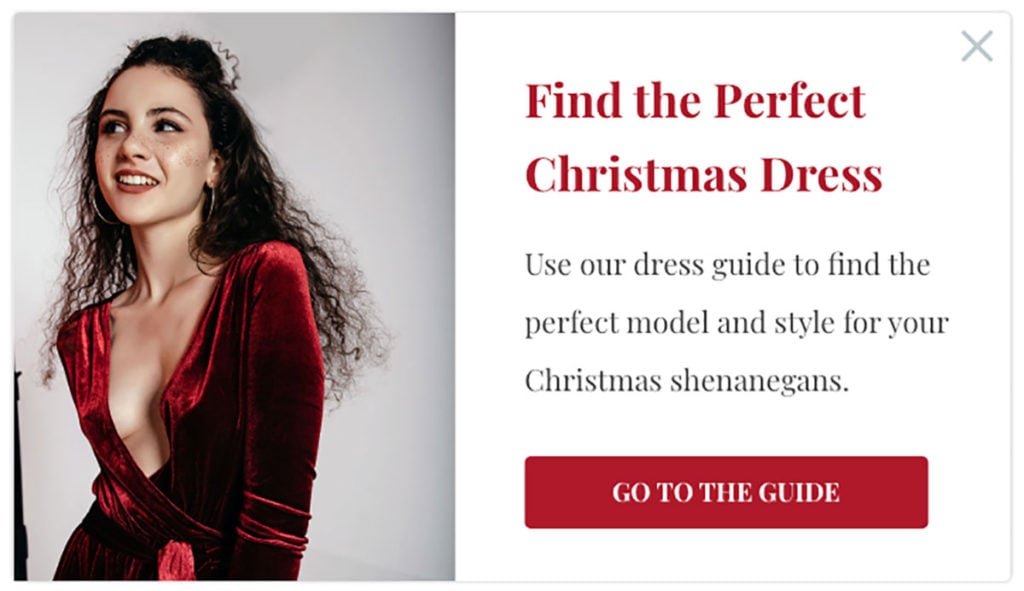 Big difference, right?
The guide is the same, but by duplicating the existing popup and changing the copy and design to fit the season, it becomes more relevant for visitors.
Action Item
Customize the design and copy for your product guide popups to match the season, and you'll create a better user experience on your site and drive more sales.
6. Create a Seasonal Game
If you're anything like me, you love games and competitions.
And so do many of your website visitors.
There are many seasonal events, year-round, that can be turned into competitions and games.
Easter is one of them. In many countries, it's a tradition to go Easter egg hunting. It's a fun activity and you can easily incorporate it online.
Just look at this example from Melvin & Hamilton:

They created an Easter egg hunt on their online shop and encourage visitors to shop for shoes while looking for hidden Easter eggs.
When you find an egg, you get a 10% voucher. And if you use the voucher within 30 days, you enter the competition to win a premium shoe care box.
Creating an Easter egg hunt, or another seasonal game is an effective way of driving more engagement. And if you do like Melvin & Hamilton and use vouchers, you also encourage purchases from visitors.
Action Item
Create a fun game or competition for the next upcoming seasonal event. You can create a quiz where visitors have to look for answers on your site, or you can create a "hunt" game like the Easter egg hunt. It's up to you, and the possibilities are endless.
7. Use Daily Offers
During longer holiday seasons it's a good idea to invite visitors to engage with your site continuously.
One way to do so is to create daily or weekly offers for visitors.
Let's take Christmas as an example.
You can create a Christmas Calendar with a new reward every day, as CC Hobby does:

By having a new calendar door to open every day, CC Hobby is generating returning traffic and engagement. And more engagement means higher customer loyalty in the long run.
You can even use advanced scheduling to schedule all your Christmas popups ahead of time so you can set it and forget it.
Action Item
Pre-schedule daily or weekly offers for visitors during longer holiday seasons to encourage continuous engagement from visitors.
8. Stay on Top of Problems
Seasonal events drive a lot of website traffic. And with that, comes a host of unplanned technical issues, like checkout errors, longer waiting time on support, or worse, your entire site crashing.
We never hope for these things to happen, of course, but they do.
To encourage visitors to have patience while you're working to fix any issues, you should activate a sitewide popup informing visitors of the situation.
Here's an example from Pixizoo who had issues with completing payments: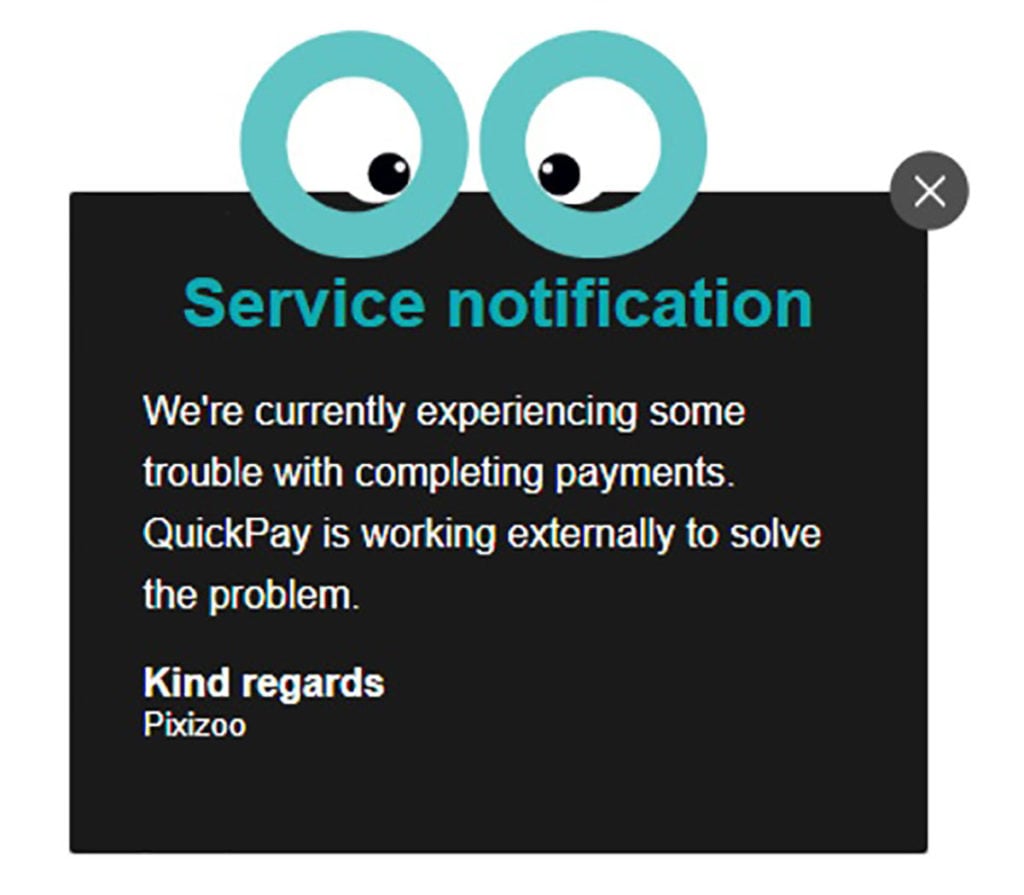 It may seem unnecessary but by using this popup, Pixizoo conveyed transparency and gave potential customers a reason why their payment wasn't going through.
Giving people a reason is in many cases enough to increase their patience and keep them on the site.
Action Item
Don't be afraid to let visitors know if you're having issues on your site. Tell them you're working to fix the issue and give them an alternative solution if you have one.
9. Add Gift Wrapping at Checkout
Many seasonal events require gift shopping which is stressful for many consumers.
It's not only stressful to try and find the perfect gift, but it's also time-consuming to buy wrapping paper and try to wrap the present and make it look good.
So, having a gift wrapping option on your site is a great way to offer customers that little extra service and help them save some time.
Here's MAC Cosmetics' gift-wrapping option in checkout: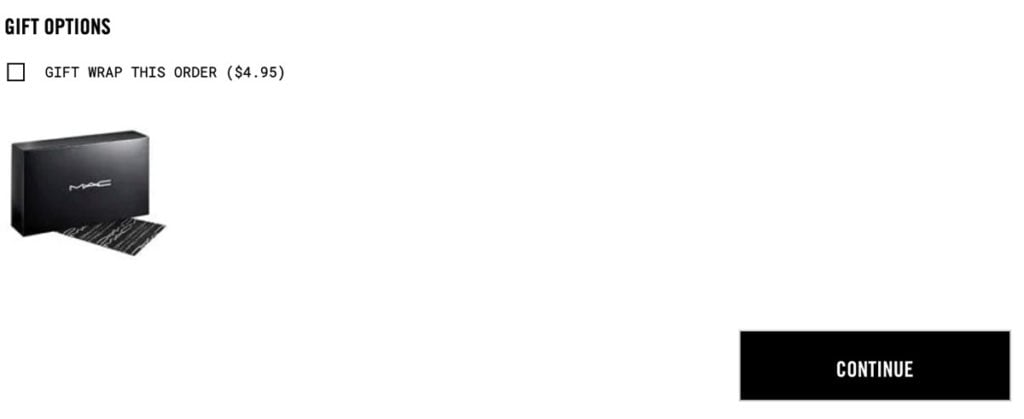 It's a simple checkbox and previews what the gift will look like. This is great for ensuring customers the wrapping will meet their expectations.
MAC Cosmetics has this gift wrapping option all year which is even better than only having it seasonally.
It's small things like this that customers will remember—and come back for.
Action Item
Add a gift wrapping option to your checkout and give customers that little extra service. It's a small effort to make to get loyal and happy customers.
Conclusion
Seasonal marketing isn't just about offering a discount once in a while.
There are many ways to get creative with seasonal events and drive more engagement and sales from visitors.
Take advantage of the season and customize messages, offers, incentives, and more to the season. The results might surprise you.