The biggest online sales event of the year is nearly here. And although customers are returning to brick-and-mortar stores as Covid19 restrictions ease, it doesn't appear that's going to dampen consumers' enthusiasm for Cyber Monday bargains.
Cyber Monday 2021 is expected to be a stellar occasion for ecommerce retailers. The National Retail Association predicts online sales to increase by 11 percent and reach up to $859 billion in sales.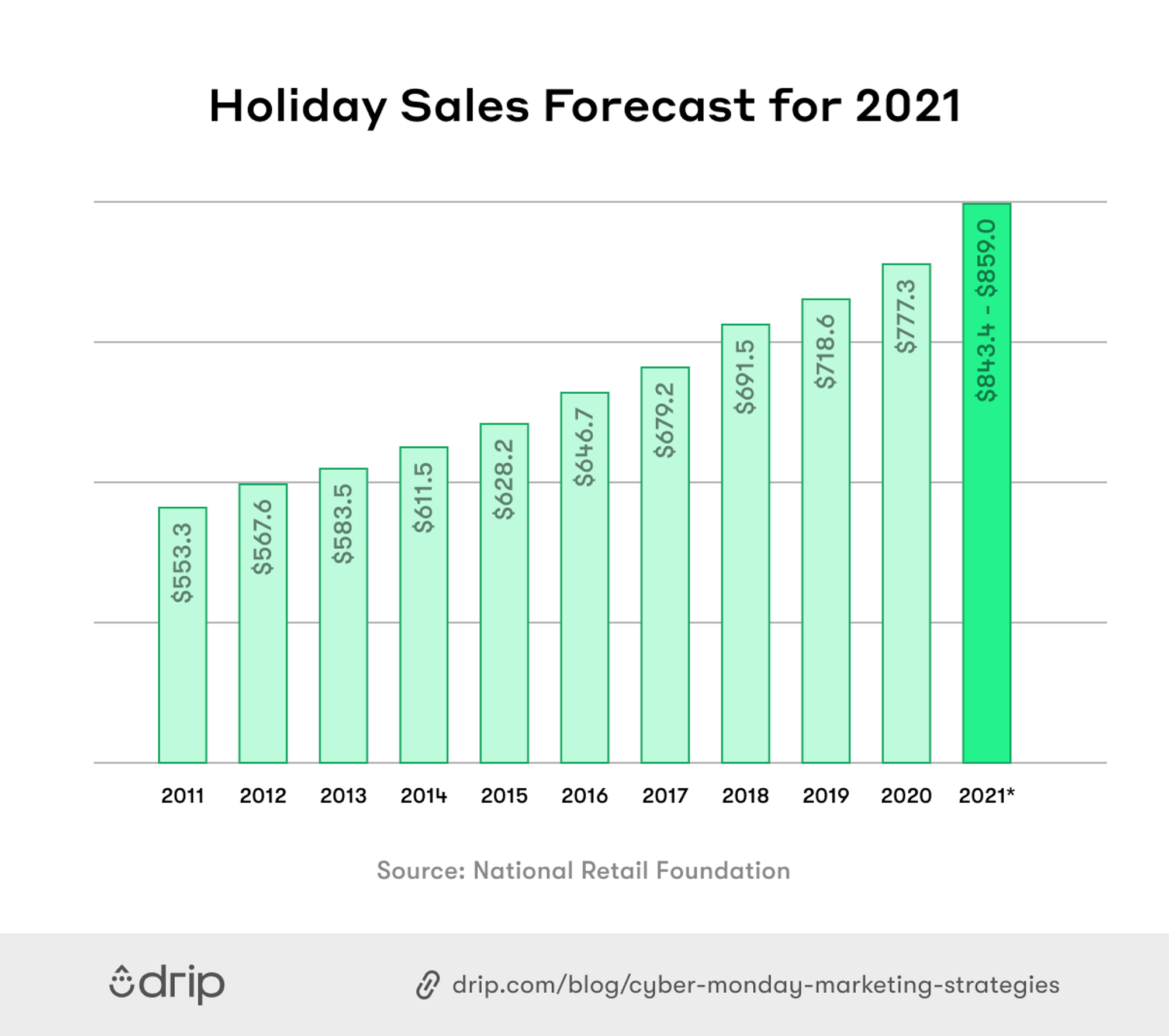 Roped into the Black Friday fervor, Cyber Monday is one of the largest ecommerce holidays of the year.
With that in mind, I've put together some of the best Cyber Monday marketing strategies I've seen to help you get the most from this day.
Cyber Monday Marketing Strategies
1. Create Email Campaigns to Build Expectations
Whatever your customers are planning on buying, they expect one thing: to save money. So, how can you make your Cyber Monday special deals sound even better? By talking in numbers rather than percentages.
Most of us don't often talk about percentages, but in dollar savings, we've made. And that's what brands like Design Within Reach do. It uses the same language as its customers, making its email relatable and real.
Rather than a percentage, Design Within Reach highlights a $1,000 saving, using a bright font to draw added attention to the potential discounts.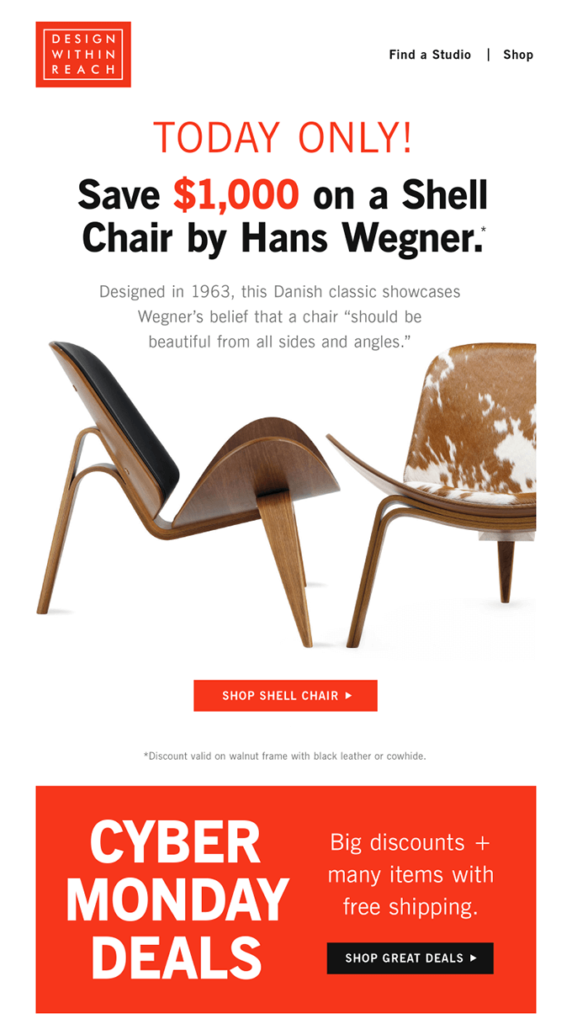 This gives subscribers a clear idea of the kind of bargains available and sounds less formal than a percentage figure.
Design Within Reach's email provides a great lesson in creating a sense of scarcity too. Starting with a "Today Only" in a prominent font encourages readers to get click-through for their chance to make savings not available during the rest of the year.
2. Create a Sense of Urgency
Creating a sense of urgency is a common approach among businesses wanting to drive a rush of keen buyers to their sales promotions.
Countdown timers are a great tool to achieve just that. Wherever they're used, they're an effective psychological trigger to get undecided consumers to act and make that final click through.
Take a look at this email from Dr. Martens, a brand that uses a countdown timer in the hours before their sales end to create a sense of urgency.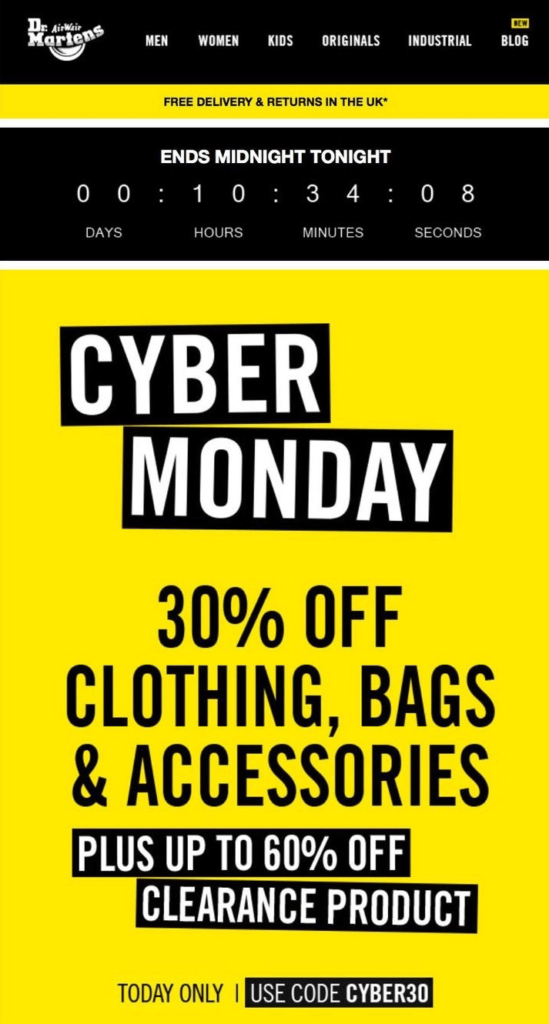 Source: ActiveCampaign
Dr. Marten also uses its emails to promote a product launch, building further interest beyond the Cyber Monday sale, and adds details of another 60 percent worth of savings.

Udemy uses this approach too. Like Dr. Marten and multiple other brands, Udemy puts the countdown timer into good use in its Cyber Monday emails.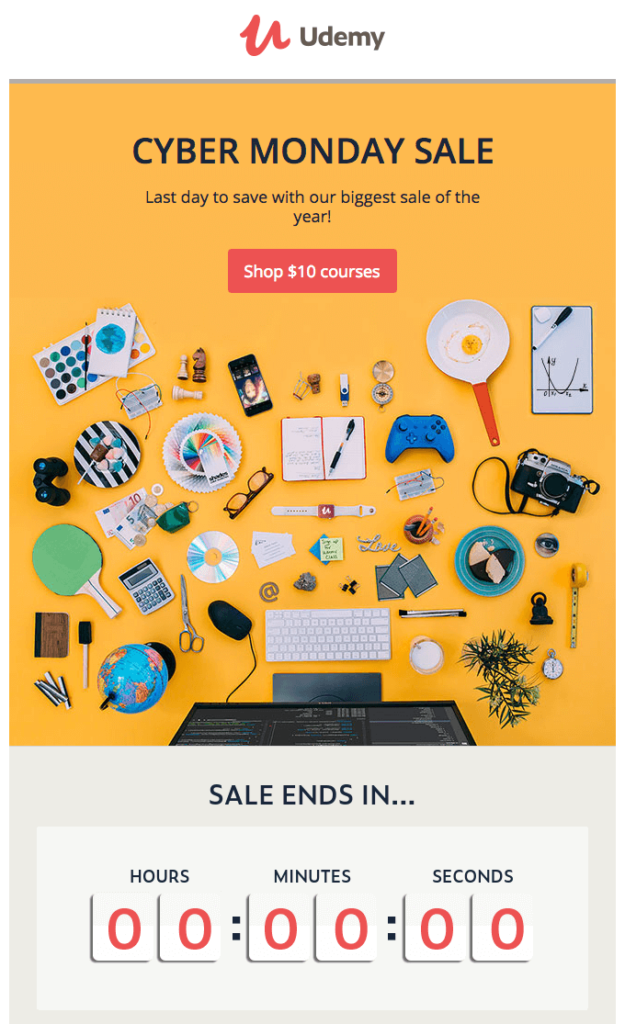 Source: ReallyGoodEmails
Udemy plays on the fear of missing out (FOMO) by starting the email with "It's the last day to save…" followed by a bright call to action (CTA) button inviting subscribers to click through to its $10 deals.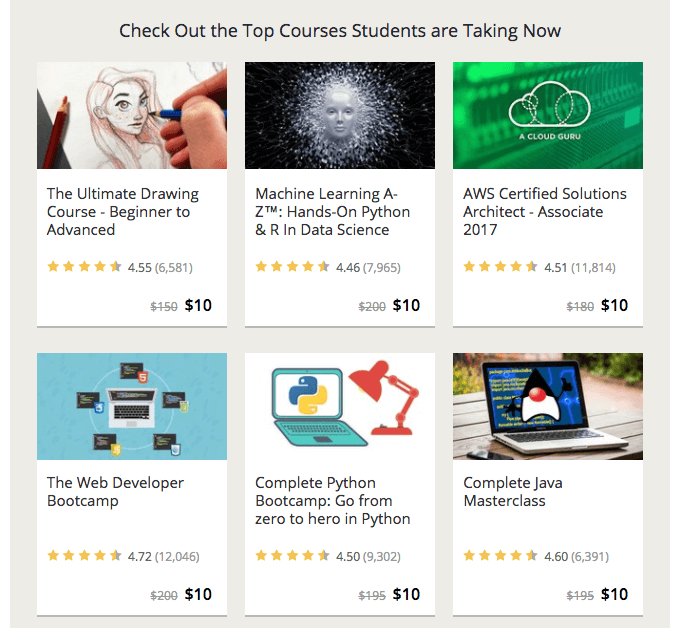 And for the undecided shoppers, Udemy highlights a selection of available courses to inspire its subscribers to find out more and hopefully sign up for one of its many courses.
3. Improve Your Subject lines
How do your grab subscribers' attention ahead of Cyber Monday? By carefully crafting your subject lines for maximum impact.
Arguably, the subject line is the most essential part of your marketing email and often the deciding factor in whether your email gets opened. You can use several tactics to increase open rates, such as:
Asking questions;
Sparking curiosity;
Including numbers; and
Using five words or less.
However, ideally, you want to go with something more creative or visually appealing. You can try drawing attention to your incentive by including it in your subject line, as La Provence does with its: "CYBER MONDAY!!! – FREE GIFT with Purchase"
It's simple enough but it works. The addition of the exclamation points creates a sense of excitement and anticipation among readers, too.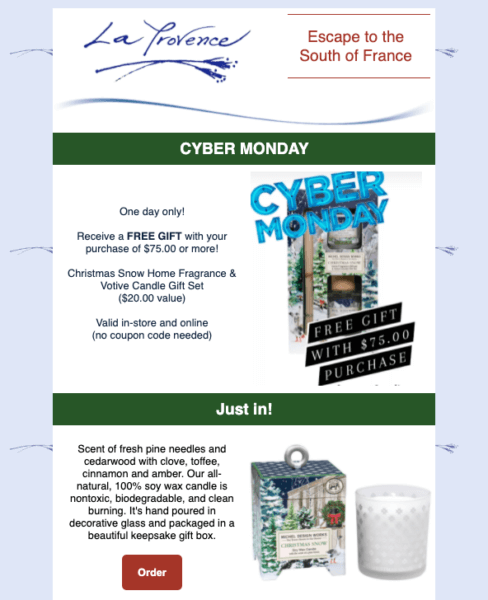 Source: Constant Contact
La Provence then follows up by detailing the offer and telling the shoppers what they must do to qualify while using a non-distracting design to keep prospects focussed.
Like many other brands, La Provence includes details of a new product launch to attract even more sales beyond Cyber Monday.
Notice how La Provence incentivizes high-value orders with a free gift, rather than giving a site-wide discount.
This is a Cyber Monday strategy you can replicate if you don't want to discount your entire product range. Focus on one product and create an irresistible deal around it, instead.
4. Advertise Early
It's a smart Cyber Monday tactic to avoid the rush and start your campaigns early—before shoppers gets swamped with special discounts from competitors.
Mahnal is a brand that chooses this path. The company starts a secret sale in November before Black Friday and Cyber Monday.

It entices prospects in with an early access headline and invites shoppers to use their preferred discount as many times as they wish during the sale.
The offer also promotes Mahnal's Cyber Monday sales using a comparison chart showing the benefits of joining its waitlist, such as increased savings, exclusive access to its new jewelry collections, and free shipping.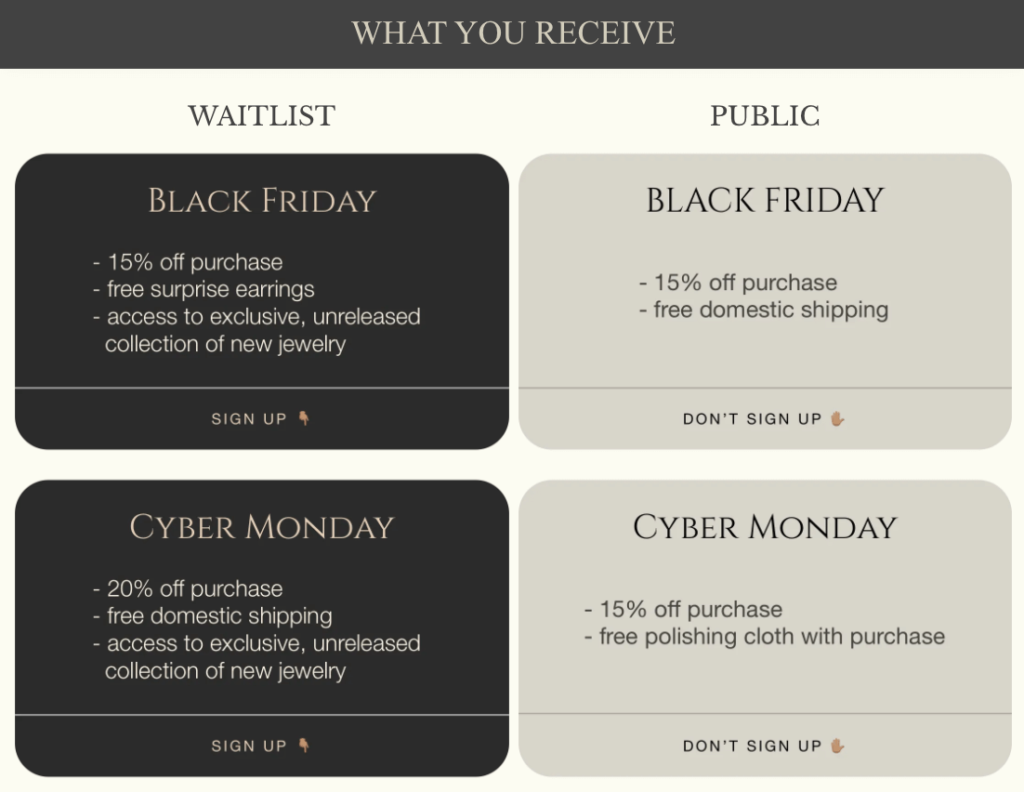 Skincare company WOW is another brand that starts early with its Cyber Monday campaign. In its pre-Black Friday email, WOW aims to get customers to sign up for its VIP club before the big day.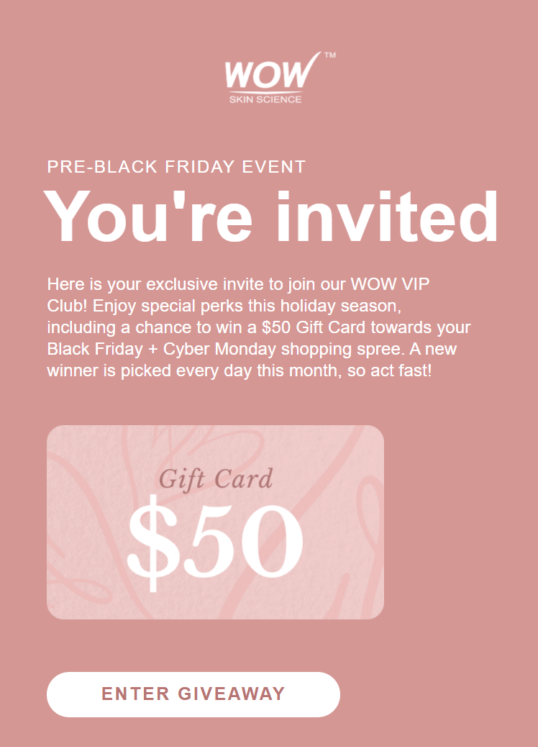 Source: Chamaileon
To encourage consumers to join its VIP club, WOW runs a giveaway promising members the chance to win a $50 gift card to spend on its Cyber Monday sale.
Several aspects stand out about this email. First, its use of the word "exclusive" appeals to prospects as it appears they've been personally chosen. What's more, WOW tries to get more people to join its loyalty program, meaning extra year-round income for the brand.
Last but not least, the prize offered in the giveaway can help new members return to WOW's Cyber Monday sale and likely spend much more than $50 in the store.
5. Highlight Benefits
Not all sales need landing pages, but one-off occasions and special events, such as Cyber Monday, can benefit from having one.
Kohl's is one of the e-commerce brands that dedicate a landing page to its Cyber Monday deals.
Its Cyber Monday landing page highlights what makes it different from other brands and highlights its benefits like Kohl's cash, savings, and shopping all in one place.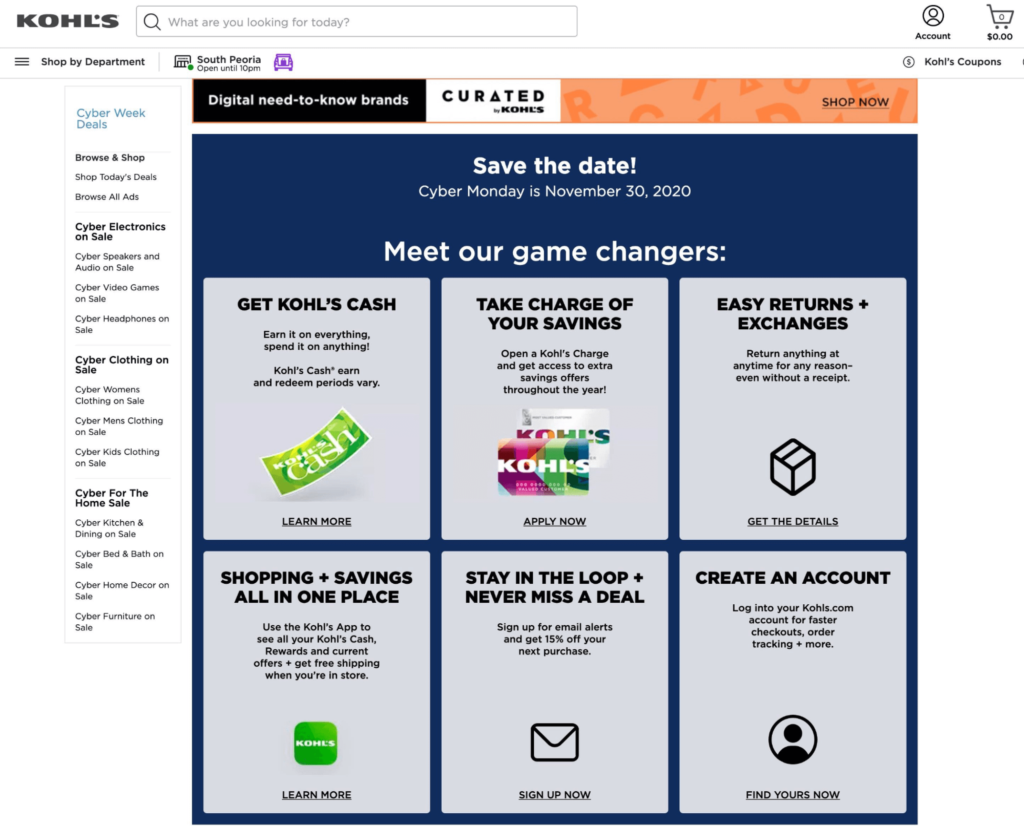 If a landing page isn't the best option for you, create a website popup that highlights the benefits of shopping from you.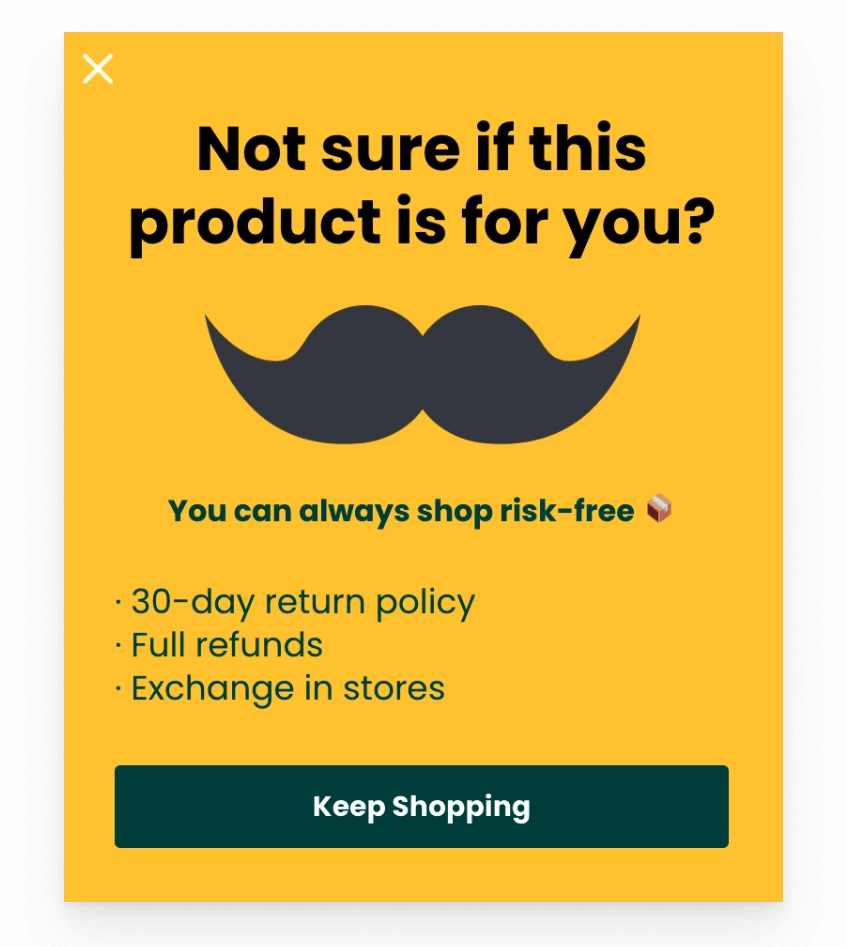 It's an effective strategy you can use, not only for Cyber Monday, but all year round.
6. Run Exclusive Offers
You can guarantee your subscribers are going to see an avalanche of marketing emails before Cyber Monday. To stand out, offer exclusive products that give shoppers a reason to buy from your company rather than a competitor.
But think beyond what you're selling: exclusivity isn't only about the products you sell.
For its part, beauty brand Sephora makes a point of rewarding its subscribers all year round, and especially on important shopping occasions like Cyber Monday. Take this email as an example.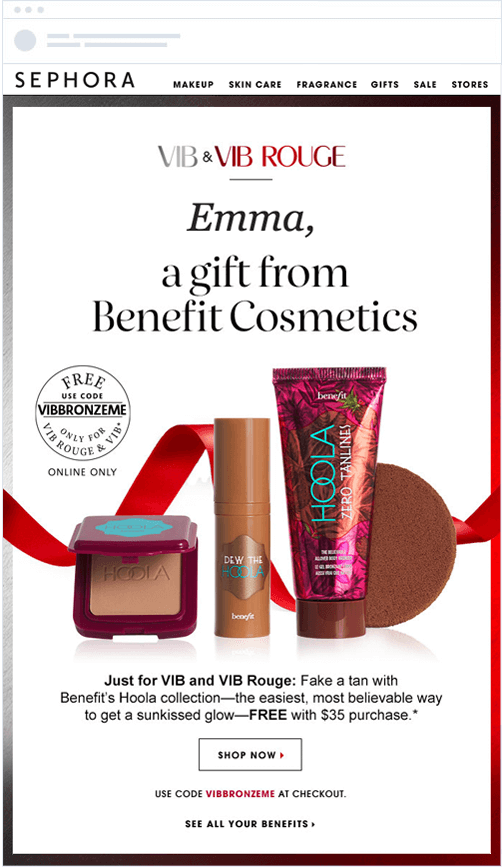 Source: Campaign Monitor
Sephora's email is attractive to subscribers who want to feel like they're part of an exclusive club and getting offered gifts and deals that aren't available to everyone.
In its email, Sephora uses a simple but effective design with plenty of white space along with a black and white CTA button to get VIP customers to click through and access their free gift with qualifying orders.
7. Create Anticipation
Inviting consumers to sign up to a waiting list appeals to buyers who want to know they're first in the line when it comes to finding out about the best deals.
Beauty brand Clinique creates anticipation with its headline and then invites subscribers to be the first to hear about its Black Friday and Cyber Monday deals.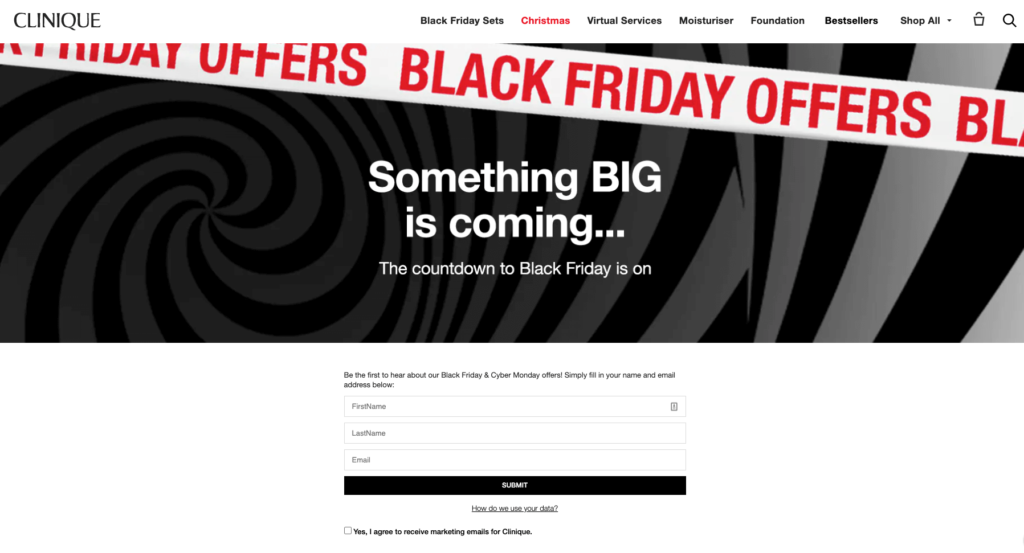 Clinique uses a short signup form on its waitlist page and teases its upcoming promotions too.
Talking of creating anticipation, Chubbies finds a whole new way to get shoppers to keep opening their emails and heading to its website. Chubbies promotes a free gift every hour of the day, shoppers can qualify for by making a purchase.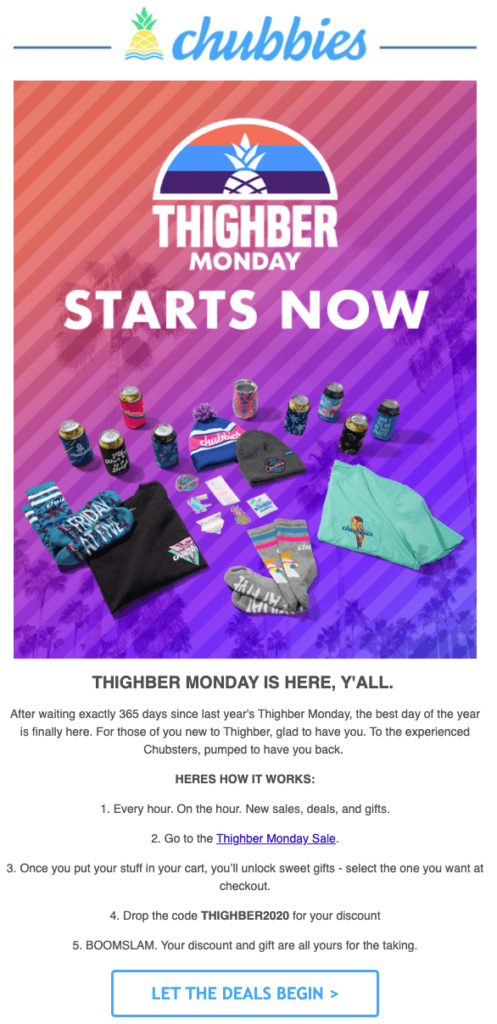 Chubbies include some of its trademark humor along with punchy copy, all designed to get customers to keep going back to the website on Cyber Monday to see which limited edition free gift was on offer next.
8. Use Social Media
Social media is one of the best places to get your Cyber Monday offers in front of tons of bargain hunters.
It's no surprise, then, that every company with a decent following focuses heavily on platforms like Instagram, Facebook, and Twitter.
Karen Millen is an excellent example of this.
The striking black and white image on Instagram catches the attention. Plus, the short text highlights savings, and a catchy "Monday never felt better" line ends the post on a positive note.
Conclusion
Whatever you want to achieve this Cyber Monday, there are several proven strategies you can use to drive engagement, interest, and sales.
These were only eight of my favorites.
Create a sense of urgency and demand attention with carefully chosen imaging, timing, and subject lines, to create a sense of occasion.
And make sure to use exclusivity where you can to get ahead of competitors.