If you're struggling with cart abandonment, don't worry, you're not alone.
Whether you're an e-commerce giant or running a small online store, you should know that there isn't a single e-tailer that doesn't suffer from cart abandonment.
While you can't completely prevent cart abandonment, you can significantly reduce it and recover some of your almost-lost sales.
If you're already using cart abandonment popups on your site and sending abandoned cart emails, you have a head start.
But if you're willing to go the extra mile and increase your revenue with personalized cart abandonment popups, then this article is for you.
So, here are seven advanced on-site strategies you can use to reduce cart abandonment that only the best e-commerce marketers know about.
Table of Contents
1. Trigger Popups Based on Basket Value
If you ever googled "how to reduce cart abandonment," you know the number one tip every marketer recommends: Offer a discount code while users are about to leave your site.
While this strategy certainly works for capturing some of your abandoning visitors, it's not free from problems.
If you offer discounts to reduce cart abandonment:
You might decrease the perceived value of your products; or, worse
Your visitors will expect discounts and start leaving their carts on purpose.
Luckily, there's a better incentive you can offer abandoning shoppers.
After analyzing 15 billion popup sessions, we found products convert almost two times better than discount codes as incentives.
While offering free products is a high-converting incentive, you can't afford to give your products away on each order.
What you can do, though, is to use different incentives based on the visitor's basket value.
You can detect a visitor's total basket value and use this information to trigger different campaigns with our SiteData condition.
If a visitor has products valued over a certain amount in their basket, you can show them a free product campaign that they qualify for: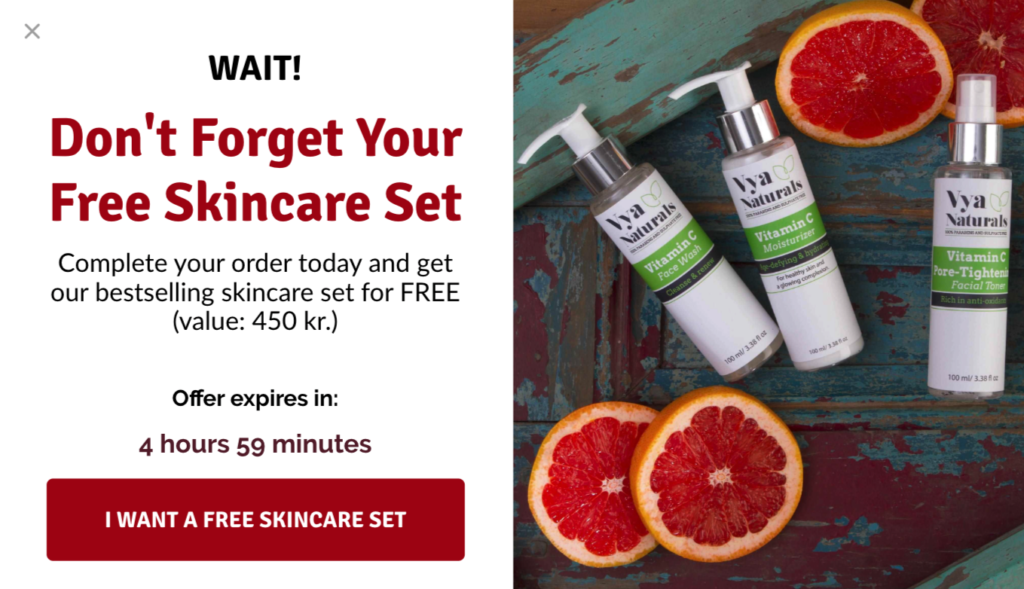 And if they're below that amount, you can trigger a different campaign to let them know that they'll enter a giveaway if they complete their purchase: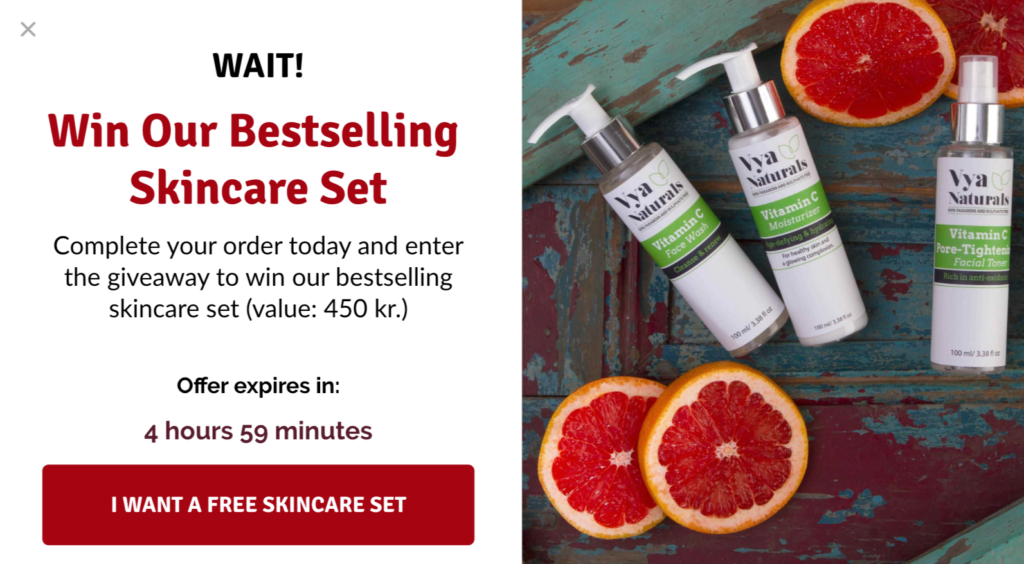 This way, you use the incentives that each customer segment deserves. Plus, you give prospects a convincing reason to complete their order, without lowering your products' perceived value.
The best part? You can do this based on the data you already collect on your site.
2. Use Free Shipping in Two Different Ways
It's no secret that free shipping is an effective incentive to stop abandoning visitors and increase their average order value (AOV).
According to Invesp, online consumers find free shipping twice as compelling as discount offers. Furthermore, 93% of consumers tend to buy more products when the online store has a free shipping option.
That's why a free shipping offer, when combined with exit-intent, is a great tool to capture abandoning shoppers at the right time.
But what happens if you can't afford to offer free shipping to all your customers?
Then, offer free shipping on orders above a certain amount.
While you're likely familiar with this tactic, how you use it to nudge your abandoning visitors, rather than the offer itself, plays a critical role in your conversions.
Let's say you're offering free shipping on your site on orders above 500 DKK.
If a visitor's cart items are worth more than 500 DKK, you could show them a campaign that informs and nudges them of this fact, when they're about to exit: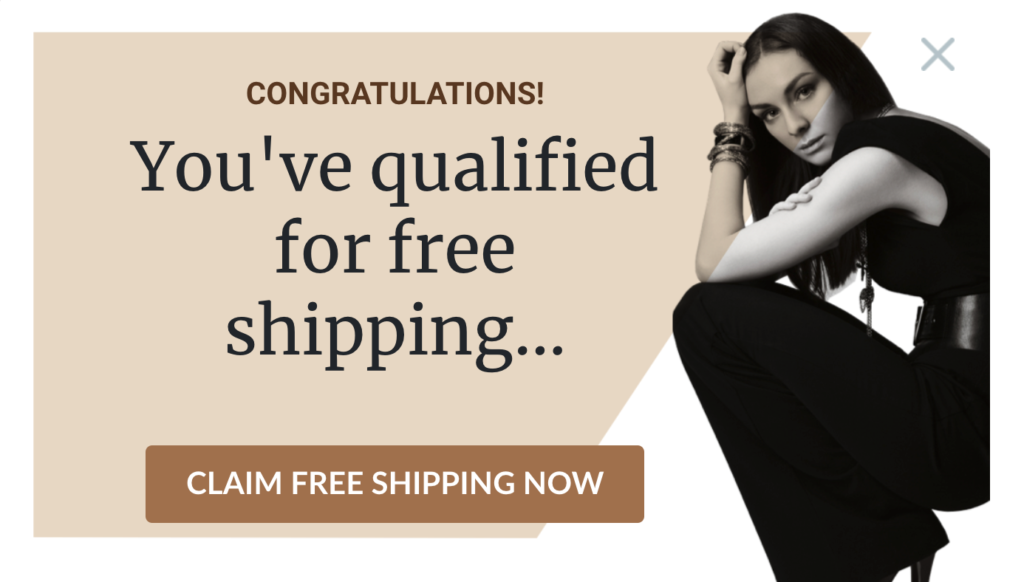 And if their basket value is below 500 kr., you could remind them that they're missing out on free shipping. While doing this, you could even recommend products they could add to their cart if they want to qualify for free shipping: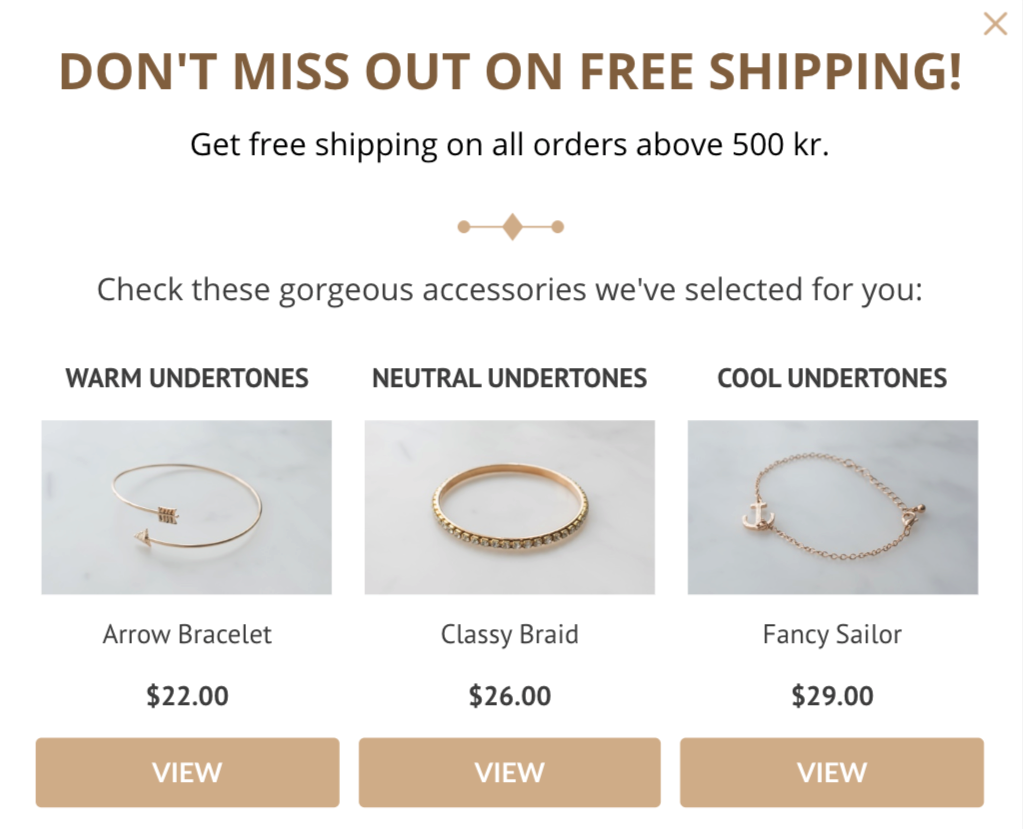 Like the above example, you can show a product recommendation popup from a certain category and price range, and help visitors make easier buying decisions.
This is a smart strategy that'll help you combat cart abandonment and increase AOV.
3. Convert Your Subscribers with an Exclusive Offer
Your first-time visitors and loyal subscribers are at different stages of their buyer's journey. While the former only found out about you, the latter might be ready to become your next customer.
Why treat them the same when you can use targeted offers and incentives to convert each of them into customers?
With subscriber-only cart abandonment popups, you can thank users for being on your email list and reward them with a special offer when they're about to leave your site.
To increase subscriber loyalty and to personalize your copy, make sure to openly state that this is an exclusive offer.
Don't forget to add a countdown timer to drive urgency in your popup and help your subscribers make faster decisions.
Here's how your campaign might look: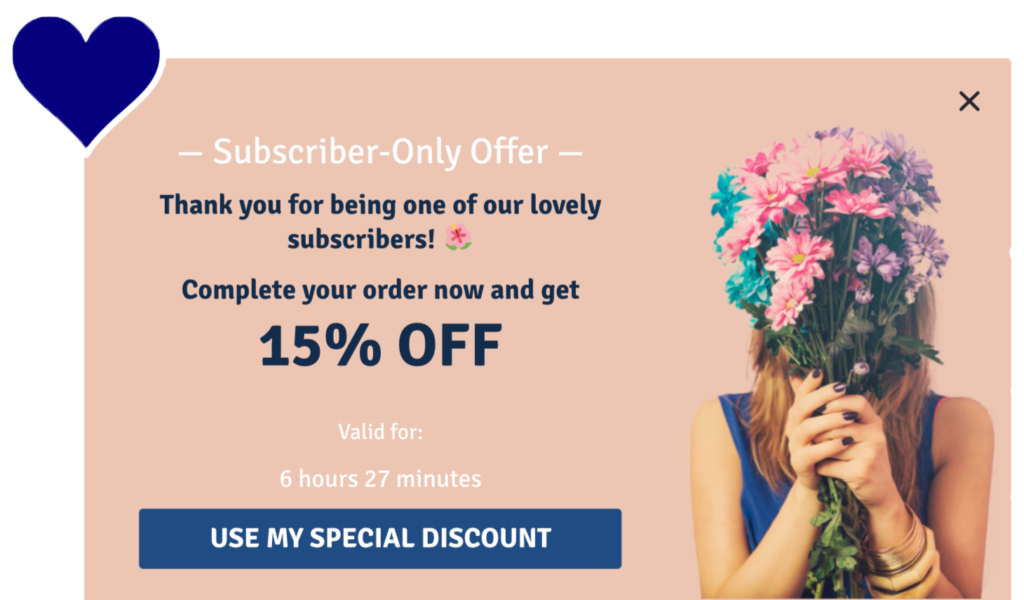 This strategy is super easy to use. All you need to do is to add the "Newsletter Subscriber" condition to your campaigns and a piece of text at the end of your newsletter URLs (so we can recognize your existing subscribers.)
This way, you'll offer discount codes to abandoning shoppers only when they deserve them. In sum, you can discount your products at the right time and for the right people—without taking a hit on your profits.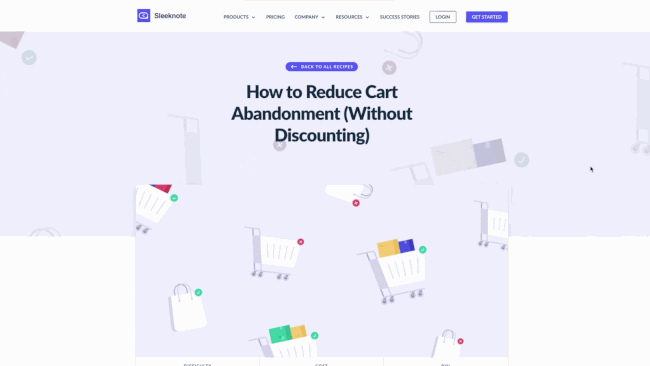 4. Reward Your Loyal Customers
While many e-commerce marketers only think of customer retention in terms of email marketing, how you welcome and incentivize your return customers has a big impact on your revenue.
According to Smile.io, 40% of your e-commerce site's revenue comes from repeat customers. This means that if a customer added products to their basket, it's an opportunity you can't afford to miss.
While your subscribers deserve special treatment (and a unique incentive) to convert, remember that your existing customers are even further down your sales funnel.
If a subscriber-only campaign is still too costly for you, or if you want to reward your customers for their loyalty, create a login-specific campaign that only targets your customers.
This way, you can identify when a user is logged in to your site, for example, as part of your customer loyalty program, and show campaigns specifically created for them.
This is what your customers-only campaign might look like: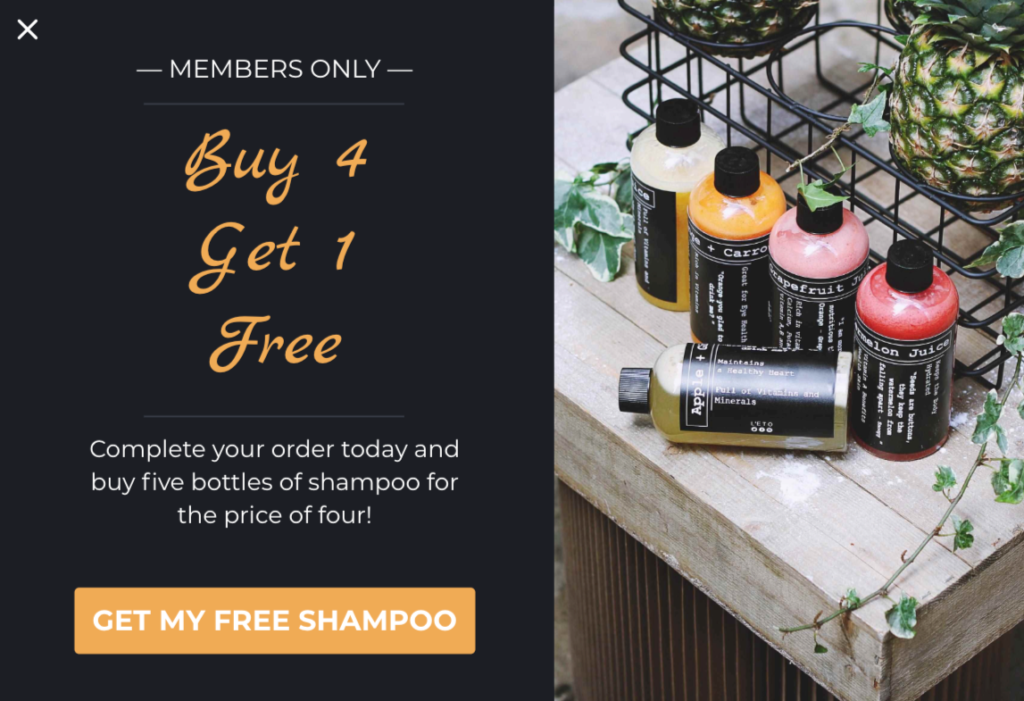 Using SiteData, you can easily get the information when a user is logged in to your site and trigger campaigns based on that.
5. Enhance Your Popups with Personalized Social Proof
There are several reasons why users abandon their carts, including but not limited to:
Complicated checkout processes;
Unexpected shipping costs;
Inadequate payment options;
And so on.
Yet, even if you fix the issues above, some of your visitors will still leave your site empty-handed. (Don't take it personally, it's not your fault.)
Your visitors often abandon their carts simply because they're not yet convinced about the quality or effectiveness of your products.
As the principle of social proof goes, when we're uncertain about things, we look at other people's behavior to try and find the right action to take. We think that if lots of people are doing the same thing, they must know something that we don't.
It's one thing to hear good words about a product from its sellers, but it's another thing to hear it from fellow customers in the form of testimonials.
Not only do testimonials make your products' positive features more credible, but they also create the strongest form of social proof, since they come from people similar to us.
Adding customer testimonials to popups is an underused cart abandonment strategy that only a handful of marketers leverage. Plus, you can enhance your popups by personalizing them based on the items your prospects are interested in.
For example, if a visitor has a hair care product in their basket, show them a campaign with a testimonial from that category: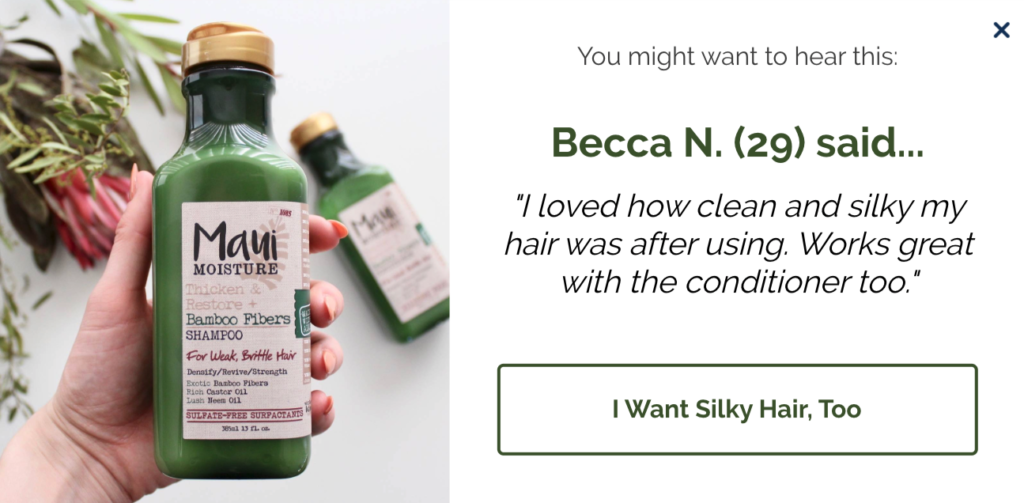 And if they have wellness products in their cart, show a campaign like this: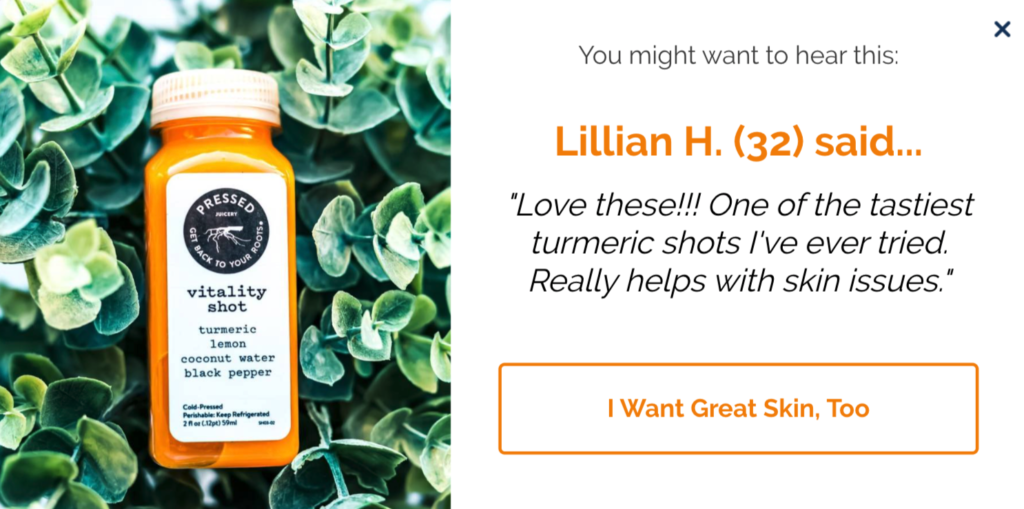 This way, you'll provide relevant social proof to the right users when they need it the most.
6. Offer Help to Abandoning Visitors
While some users abandon their carts because they're unsure or confused, oftentimes, they have questions about your products that you can easily answer.
But if they don't know how and when to ask them, they'll never get a reply.
If you're selling complex or high-end products and experience high cart abandonment rates, try easing your visitors' minds with helpful popups.
Since abandoning shoppers need immediate on-site assistance before they decide to leave their basket, you need to offer them help in the right place, at the right time.
But there's one caveat: Don't make any promises you can't fulfill.
So if you add a popup to your site that asks people to contact you right now, you can't show it all the time (unless you offer 24/7 customer support.)
Luckily, there's a simple solution to this: Create two campaigns and schedule them in advance based on the time of the day.
During your office hours, show a campaign inviting your visitors to call you now: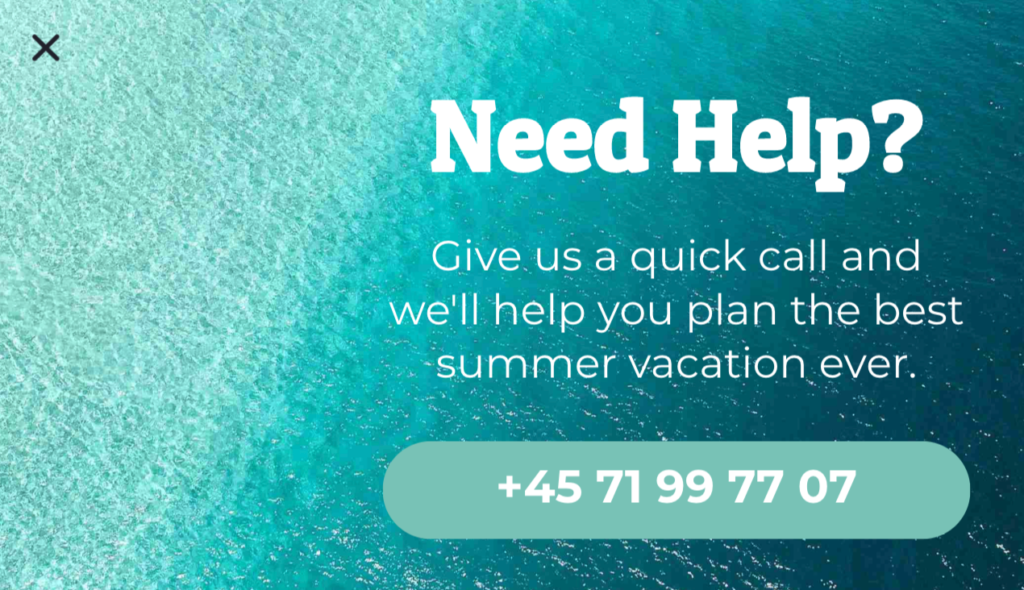 And outside of office hours, ask your visitors to leave their contact information, so you can help them when you're back at your desk: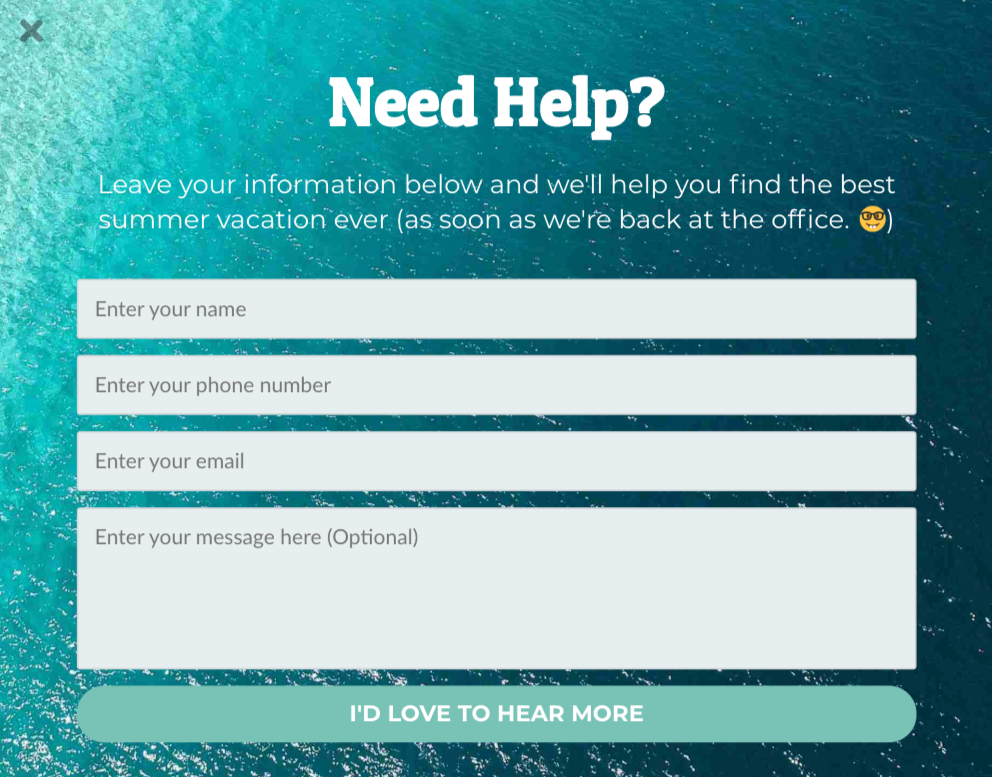 This is a smart way to start a conversation with your prospects and help them make better buying decisions. Furthermore, you get a chance to convert some of your confused visitors who would otherwise leave your site and never return.
7. Run a Personalized Giveaway
Most marketers love giveaways because they help businesses expand their reach and find new potential buyers. But giveaways can contribute to your other conversion goals, too.
With on-site giveaways, you can collect email addresses, increase your survey entries, promote your products, and increase your sales.
Furthermore, with giveaways, you can tempt abandoning shoppers by promising them a free item they might like.
But the problem with many e-commerce giveaways is:
They don't always offer prizes relevant to consumers; and
They don't do it at the right time.
That's why many giveaways result in email lists full of irrelevant, freebie-seeking leads.
If you visit a site intending to buy an electric guitar, you likely wouldn't be enticed by a giveaway that promises you a set of kids' toys, right?
If you want to make the most out of your on-site giveaways, then:
Keep your prizes highly relevant to your visitors, and
Let users join only when they deserve it.
In other words, identify what category your abandoning shoppers are interested in and offer a relevant prize before they're about to leave.
If a visitor has cart items from the sound category, for example, show them this campaign: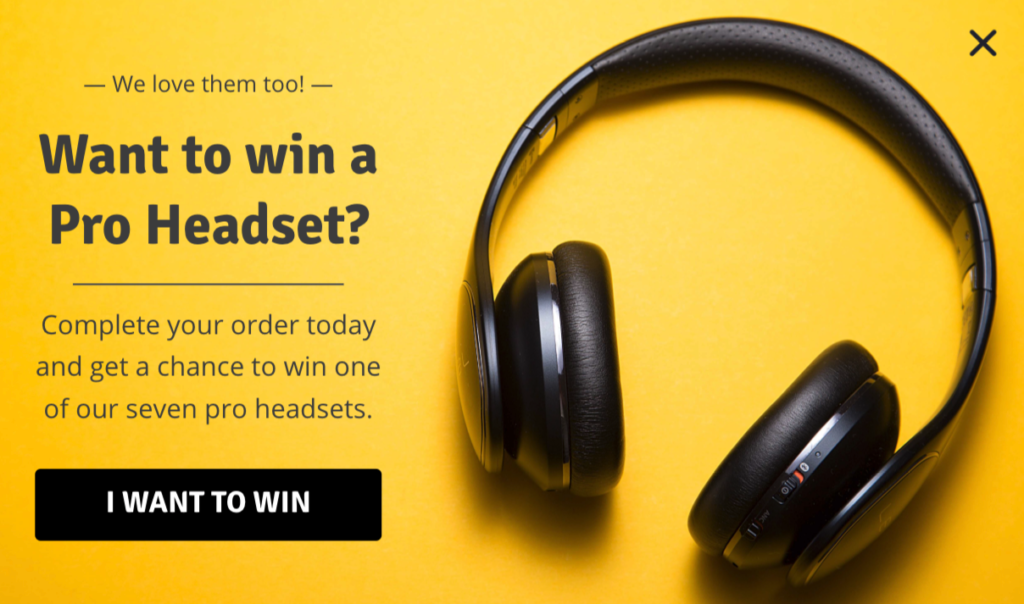 And if they're interested in apparel products, trigger this campaign: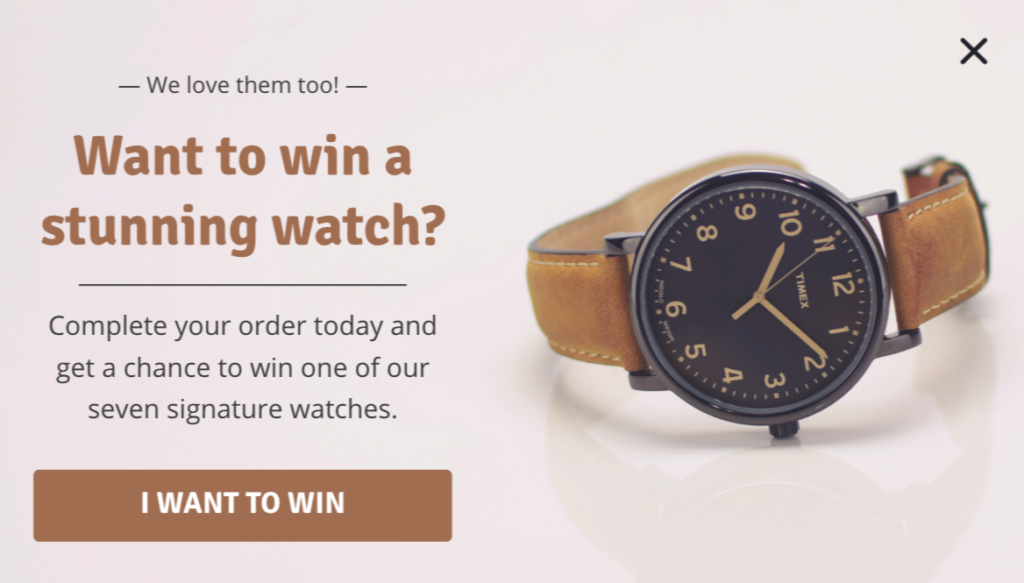 This way, you'll grab your prospects' attention with the right prizes, at the right time, and increase their likelihood to complete their order.
Conclusion
We're living in the age of personalized experiences and online shopping is no exception to it.
You can't afford to show the same exit-intent discount campaign to all your prospects and expect fascinating results anymore.
If you want to go the extra mile to reduce your cart abandonment rates, give these seven advanced strategies a try.
Which one of these strategies will you try first? Share with us below.