WooCommerce is the world's biggest commerce platform, with a market share of almost 37 percent.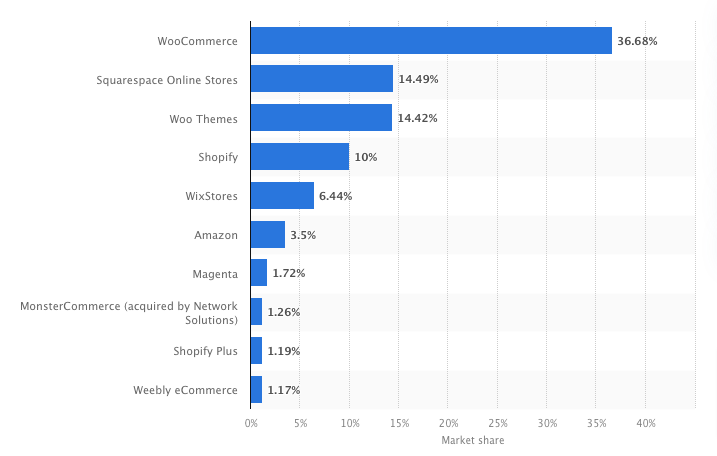 Sure, we're not talking Google levels of dominance, but it's 2.5 times bigger than its nearest rival and has a customer base of more than 3.4 million companies. That's impressive, especially given it's competing with massive names like Squarespace and Shopify.
So WooCommerce is clearly getting something right. But that doesn't mean you can expect to launch a WooCommerce store then kick back as the money rolls in. You still need to nail your messaging.
To that end, I dived into Drip's overflowing email archive to pick out XX engaging, eye-catching, high-converting WooCommerce email examples.
In this article, I'll lift the lid on what it takes to craft highly effective email marketing campaigns for your WooCommerce store, including tips on:
Driving customer action through behavioral emails
Using follow-up email campaigns to boost customer orders
Building a loyal audience through ESG messaging
Sounds good? Then let's get into it…
7 WooCommerce Email Examples
1. Showcase Back-in-Stock Products
The best marketing is often devilishly simple.
Back-in-stock emails are a classic example. You sell a product that's so popular, it sold out completely. So it makes sense to tell people about it.
When products get super popular, a lack of stock can become national news, like when White Claw revealed it was struggling to meet demand for its eponymous hard seltzer.
But you don't need to be interviewed by CBS to capitalize on high demand for your most popular products. Instead, you can simply send a back-in-stock email, just like lingerie brand ThirdLove: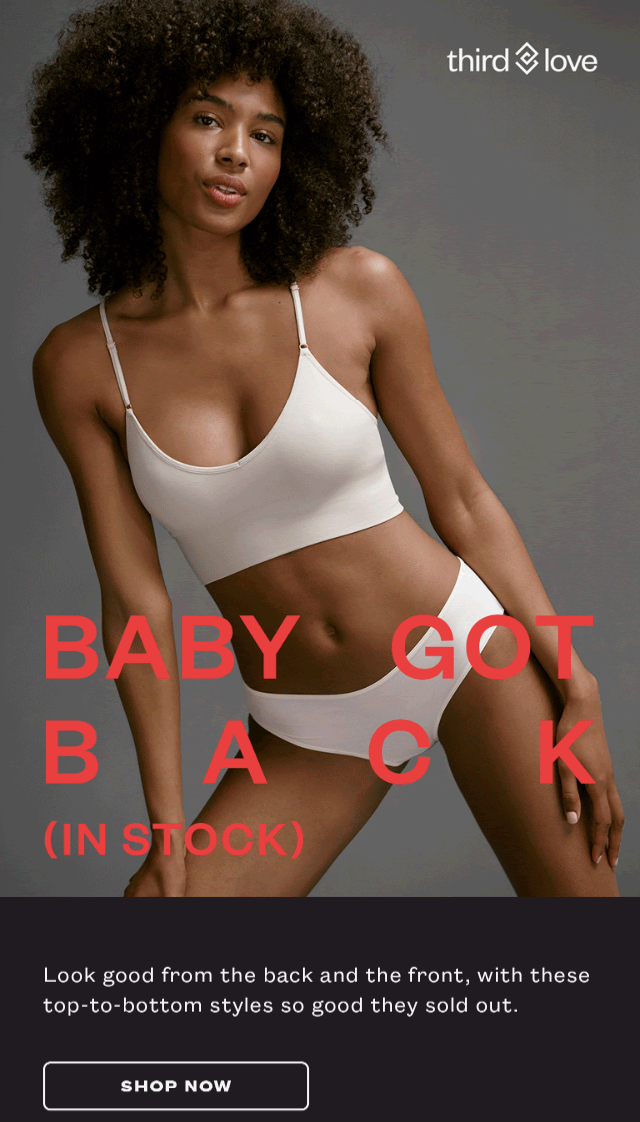 This tactic works well because it leverages the product's scarcity.
If consumers know an item is likely to sell out fast, they're more likely to take action. Why? Because we humans can't stand missing out on a good thing.
ThirdLove makes this email even more compelling by adding an above-the-fold discount code for first-time buyers:

Offering a 20 percent discount on a hard-to-buy product? That's a recipe for guaranteed sales.
2. Prompt Action With Behavioral Emails
Every ecommerce company wants to offer the best possible customer experience.
Increasingly, this means delivering personalized experiences. As many as 36 percent of shoppers—rising to 43 percent in households earning $100,000+ a year—believe retailers should do more to personalize the customer experience, according to Forrester Research.
Brands are well aware of this. Yet the vast majority are still falling short, with research from Bluecore revealing that just 12 percent of retailers believe they are actually good at delivering personalized experiences to customers.
Of course, admitting you have a problem is the first step to solving it.
One of the best ways to create tailored experiences for your audience is to send behavioral emails. These are automated emails that are laser-targeted to individual customers based on how they interact with your products and content across multiple channels, from your social media accounts to your website.
The Frye Company clearly understands the value of behavioral emails, routinely using them to share personalized product recommendations based on customers' browsing history: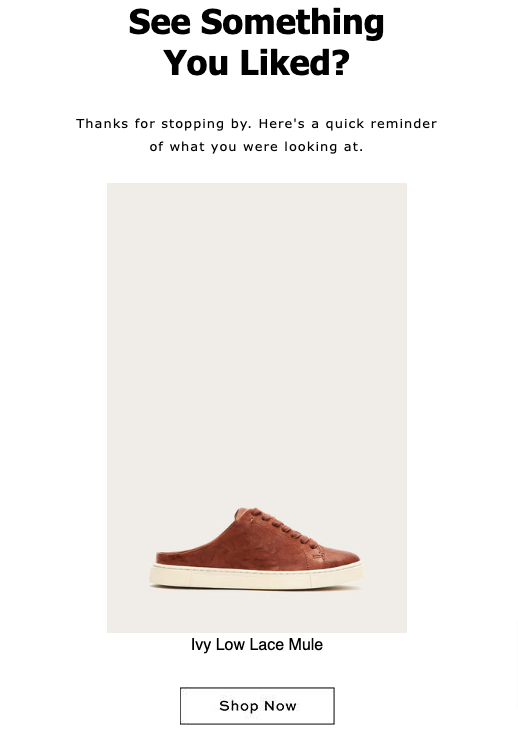 It's not hard to see why this type of email is so impactful. The customer who received the above email clearly liked that tasteful pair of brown mules enough to click the product page.
There could be any number of reasons why they didn't buy immediately. A gentle nudge—in the form of a well-time behavioral email—could be all the persuasion they require to convert.
And just in case the customer in question has totally gone off the idea of owning that particular product, The Frye Company adds a bunch of other "handpicked" products, each carrying a significant discount:

3. Show Appreciation for Customers With Birthday Emails
Let's be honest: we all like to feel appreciated.
Mostly, we want our loved ones and colleagues to appreciate us. But it's also nice when our favorite brands take the time to reach out and thank us for our loyalty.
Of course, you clearly appreciate your customers. Without them, you literally wouldn't have a business. But what's the best way to show it?
One simple but effective tactic is to send automated birthday emails to customers, like Anthropologie does here: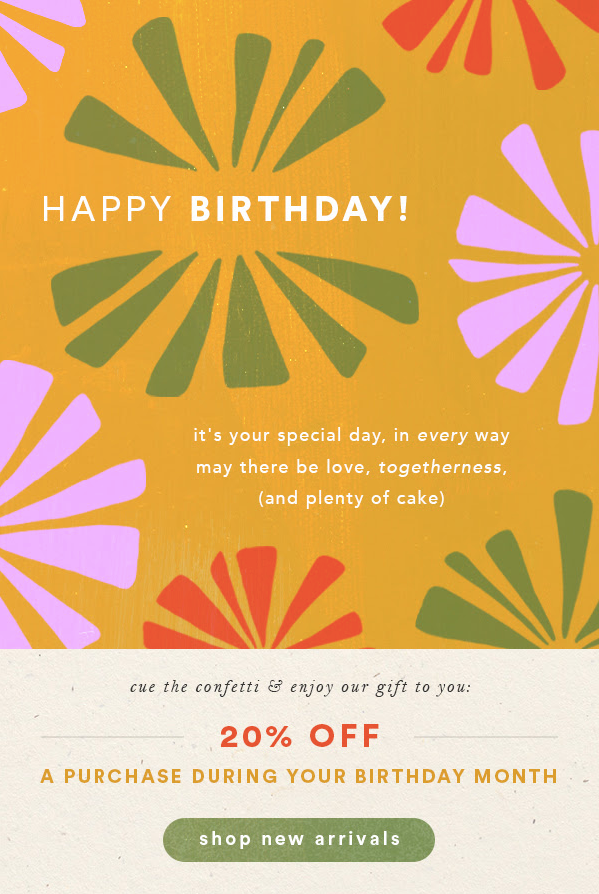 Are we really won over by brands remembering our dates of birth? Research suggests the answer is a resounding yes.
According to in-depth (if slightly old) analysis from Experian Marketing Services, birthday emails outperform promotional emails across virtually all email marketing metrics, delivering:
481 percent higher transaction rates
342 percent higher revenue per email
179 percent higher unique click rates
The only metric they don't overperform on is average order value—likely because most birthday emails include some sort of discount.
However, there's an obvious flaw with birthday email campaigns: many of us like to make plans for our birthdays. And those plans rarely involve checking our email inboxes.
For that reason, it pays to follow up your on-the-day birthday email with a reminder email a day or two later, just like ASICS does here: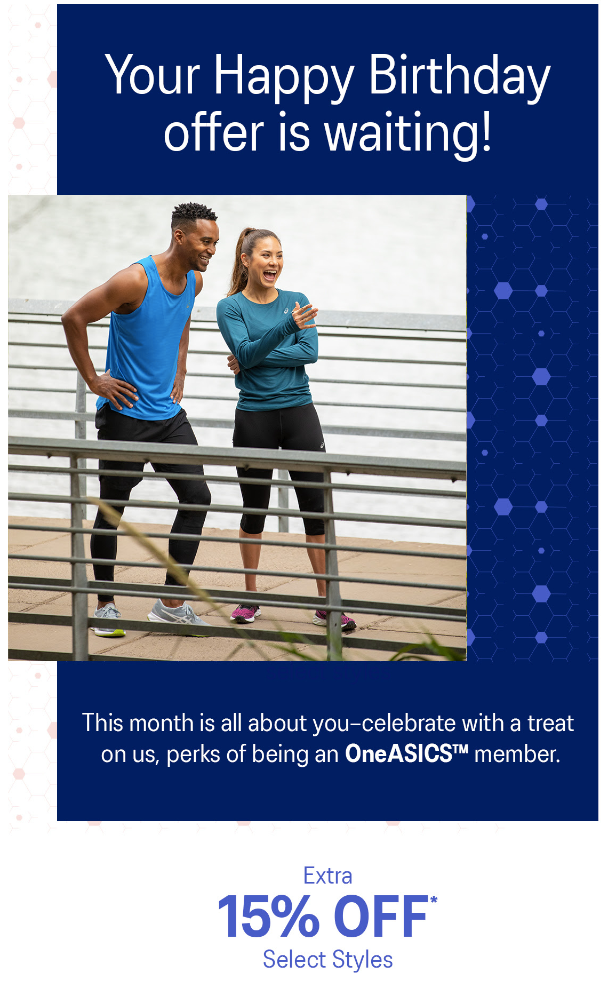 This tactic pays dividends, with Experian's research showing that birthday reminder emails deliver rate increases of at least 20 percent across open rates various metrics—including open rate, average order value, and average revenue per email—versus the original birthday email.
4. Boost Orders With Follow-Up Emails
Follow-up emails shouldn't be reserved for your once-a-year birthday email campaigns.
Think about your customers. Think how busy they are. What proportion of your audience will be checking your inbox at the exact time you send an email?
If they don't see it immediately, there's a strong chance it'll end up buried beneath 30 other unopened emails, never to be clicked.
For that reason, it pays to send follow-up emails any time you're running an important email marketing campaign. Figures from Omnisend demonstrate the benefits of this approach, revealing that a three-step email series results in…
90 percent more orders for welcome emails
75 percent more orders for

customer reactivation emails
63 percent more orders for abandoned cart emails
…when compared to just sending a single email.
Mavi Jeans uses this tactic to remind customers about limited-time discounts: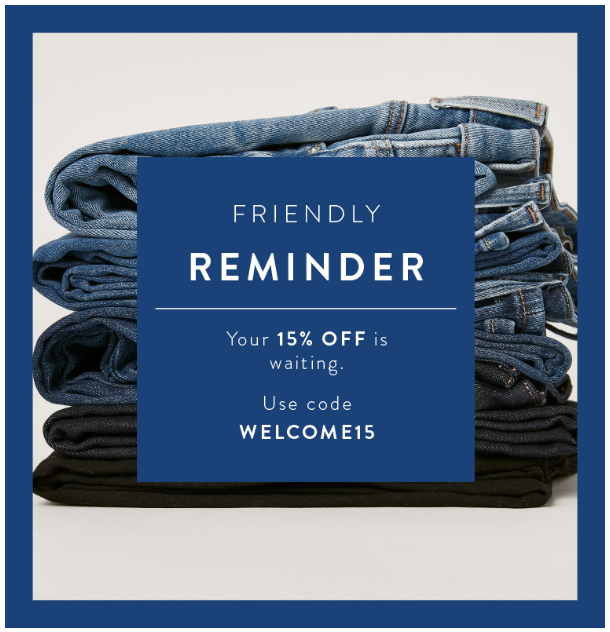 Once again, this approach is simple but effective. If you're offering an attractive promotion, it stands to reason that customers will want to hear about it. So give them the best chance of seeing your message by sending at least one follow-up email.
However, there's a fine line between following up and bombarding your audience with multiple unwanted messages.
It's totally fine to send a follow-up email or two to remind people that your Black Friday sale is coming to an end, or that your latest must-have product has just hit the market.
Just don't overdo it. If you follow up on anything and everything, your audience is quickly going to tune out, lessening the impact of future follow-up campaigns.
5. Demonstrate Your ESG Credentials
Not all WooCommerce email examples should be overtly sales-oriented.
Sure, you've got revenue targets to hit. But remember, a lot of people on your mailing list signed up because they like your brand. They enjoy your messaging, value your products, and want to learn more about what you do.
In particular, many want to find out what you're doing around environmental, social, and governance (ESG)-related issues.
Environmental factors have become increasingly important to consumers in the wake of the pandemic. According to Mastercard, 62 percent believe it's now more important than ever for companies to behave in a more sustainable, eco-friendly way.
Importantly, your customers don't just want you to act more sustainably; they expect you to help them make more sustainable choices too. Research from insurance company Zurich found that 75 percent want organizations to enable them to be greener—both when making a purchase, and around the choices they make more generally.
One of the most tangible ways to demonstrate your ESG credentials is through your product packaging, because it's a physical thing.
If it's full of single-use plastics, customers are going to notice (and they'll likely be disappointed). On the flip side, if you're taking steps to reduce the environmental impact of your packaging, you should definitely shout about it, like business card company Moo does in this email example: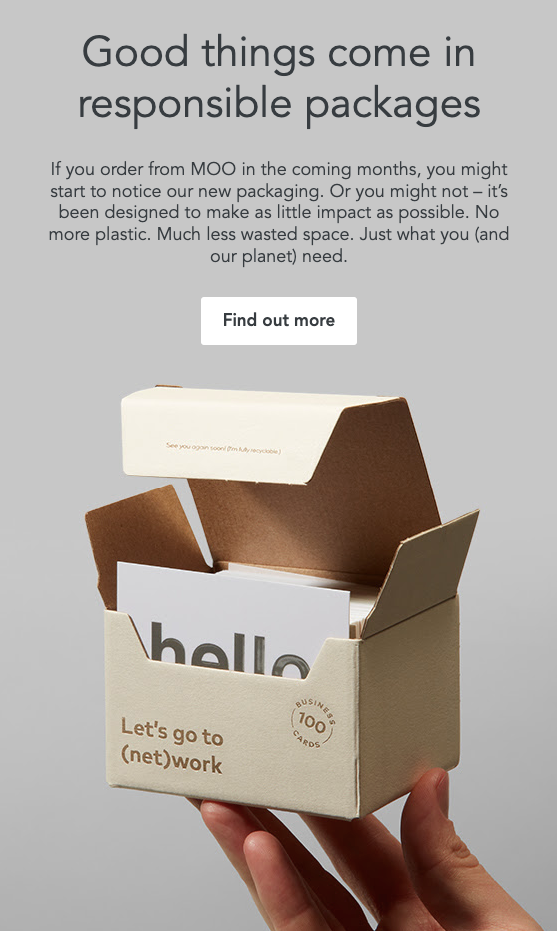 One word of caution on this approach: if you say you're going to do something eco-friendly, you'd better follow through with real actions.
In an Ipsos survey, 34 percent of consumers revealed they had researched brands to ensure they are meeting their sustainability commitments. If you fall short, don't expect them to stick around.
6. Point Customers Toward Trending Products
When you work in ecommerce, it's your job to stay up to date with all the latest developments in your niche.
It's safe to assume that most of your customers don't have ecommerce jobs. They're not being paid to keep a finger on the pulse of new trends in fashion, tech, or beauty.
Consequently, it's easy for them to lose track of what's hot (and what's not). So it's no surprise that research from Emarsys revealed almost one in five US consumers feel overwhelmed by choice, while one in 10 have backed out of a planned purchase because they were presented with too many options.
For that reason, it pays to point your audience in the direction of the latest must-have products, like Glossier does here: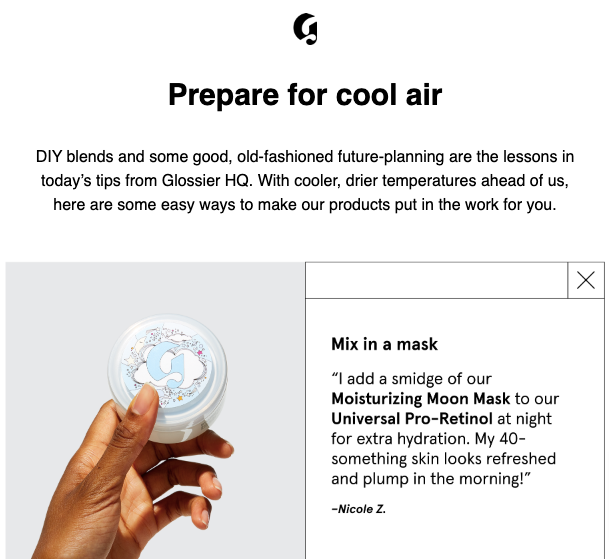 This email works so well because it's not just saying: "Here's a big list of all our new releases, please buy them."
Instead, it adds a timely hook—in this case, the cooler temperatures of the fall season—to make its messaging more relevant, actionable, and helpful to customers.
7. Encourage Customers to Refer Friends & Family
If you're not already running some sort of referral program, you're missing out.
Fact is, consumers are far more responsive to recommendations from real people. According to Matter Communications, 61 percent are likely to trust recommendations from a friend, family member, or influencer on social media, while just 38 percent are likely to trust recommendations from brands.
But referrals aren't just an effective way to grow your customer base; they also help you reach the right sorts of customers. One study discovered that referred customers:
Are more loyal
Generate higher profit margins
Show a higher customer lifetime value
Want to hear the best news? Referral programs are super easy to establish. You can just share an email encouraging customers to refer their friends—that's all there is to it.
Cruelty-free skincare brand Frank Body gets it right in this referral email example: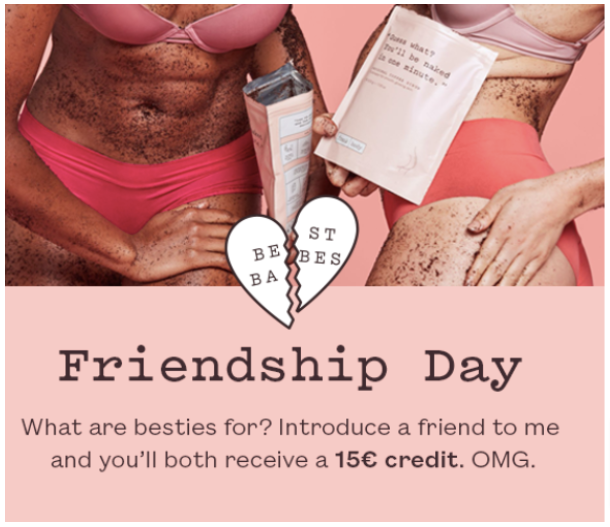 I like how this email keeps things simple. There are no complicated terms and conditions here—just the promise of a €15 credit for both the referrer and the customer they refer.
WooCommerce + Drip = More Loyal Customers
WooCommerce offers access to a near-infinite supply of customer data.
Drip brings meaning to all those figures, helping you understand how loyal your customers are—and what that means for your bottom line.
We make it easy to find shoppers who've just discovered you, or made their first purchase, or taken a solid step toward loyalty by placing their second order.
That helps you define the types of experiences that are most likely to resonate with high-value customers, allowing you to do more of the stuff that works.
But don't just take my word for it. See for yourself by starting your 14-day free trial.