Thanksgiving, celebrated in the US on the fourth Thursday in November, is a double win for marketers.
On the one hand, it's a time for loved ones to come together to watch football, attend a parade, and eat their body weight in turkey, potatoes, and pumpkin pie. Throwing a Thanksgiving celebration takes a little planning, which explains why the average American splashed out $448 ahead of the holiday in 2021.
But that's only one element of Thanksgiving spending because the day itself—and the weekend that follows—is the busiest shopping period of the year. According to the National Retail Federation (NRF), in 2021:
36.2 million consumers shopped online on Thanksgiving
88 million shopped online on

Black Friday

(the day after Thanksgiving)
56.4 million shopped online on Small Business Saturday (the day after Black Friday)
39.3 million shopped online on the as-yet-unnamed Sunday that follows Thanksgiving
77 million shopped online on

Cyber Monday

(the Monday after Thanksgiving)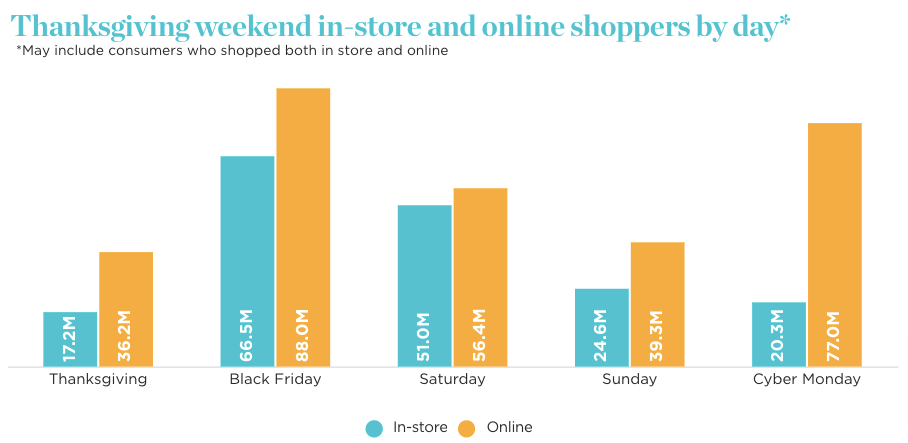 With Christmas on the horizon, a lot of that activity is based around gifting, with the NRF's 2021 figures showing that the average Thanksgiving weekend shopper spent more than $300 on ecommerce holiday-related purchases. Of that total, the vast majority ($215.40) went toward gifts, with top purchases including:
Clothing and accessories (bought by 51 percent of shoppers)
Toys (32 percent)
Gift cards and certificates (28 percent)
Books, music, movies, and video games (27 percent)
Electronics (24 percent)
Given the vast sums of money being spent across a wide range of product categories, it's fair to describe Thanksgiving as a pretty big deal for brands. So you'd better get your messaging right ahead of the holiday.
To help you out, I've dug into the Drip marketing vault to pull out seven of my favorite recent Thanksgiving marketing ideas.
7 Thanksgiving Marketing Ideas You Need to See
1. Crate & Barrel: Tap Into Consumer Stresses
Thanksgiving is a magical time of year. But it's also a lot of work.
Whether you're hosting your entire extended family or have a more exclusive guestlist, there's plenty to worry about. According to one study, top stressors ahead of Thanksgiving include:
Grocery shopping (cited by 37 percent of respondents)
Serving a dry turkey (25 percent)
Not making enough of a given side dish (20 percent)
Not thawing the turkey out in time (19 percent)
Buying a turkey that's too big to fit in the oven (19 percent)
Honestly, reading that list made me feel stressed, and I'm not even American.
The desire to avoid ruining Thanksgiving can be a powerful motivator for brands to tap into. Savvy marketers point consumers toward products that makes their lives easier, just like in this example from Crate & Barrel: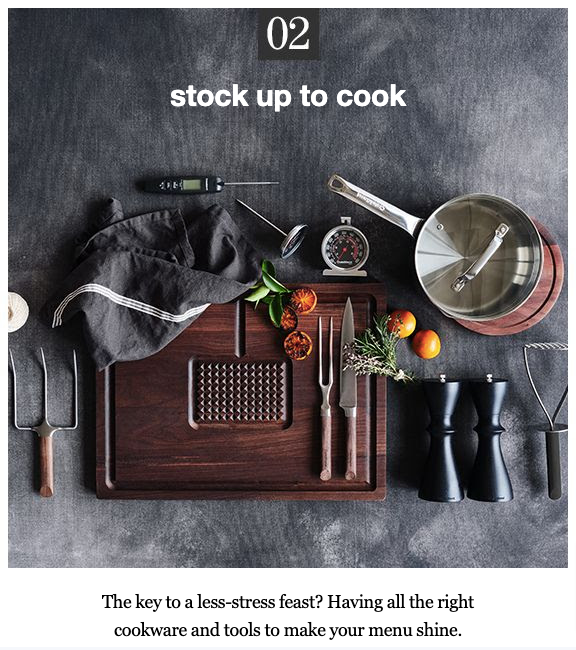 Obviously, it helps that Crate & Barrel sells a bunch of kitchen-related products, which—as the survey results above demonstrate—are directly tied to some of the biggest causes of Thanksgiving stress.
The message here is clear: if you stock product categories that are directly relevant to Thanksgiving, they should be front and center in your marketing messaging. Bonus points if you can also highlight other stress-relieving features and benefits, such as:
Guaranteed delivery in time for Thanksgiving (more on this later)
Positive customer testimonials

and review scores
Free returns if the product isn't suitable
2. Rockets of Awesome: Get the Timing Right
Another "benefit" of all the stress associated with Thanksgiving is that plenty of consumers start their preparations early.
Google Trends shows that search activity around Thanksgiving starts to climb from the start of November, a full four weeks before the day itself: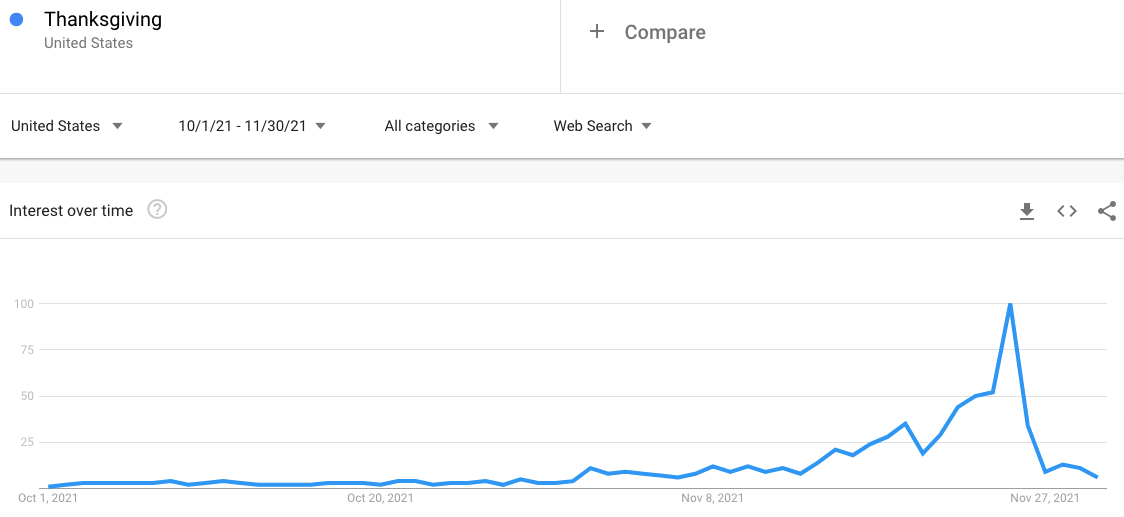 So if you're hoping to capitalize on pre-Thanksgiving sales—and you certainly should be—early November is the time to do it.
Here's an example from children's clothing brand Rockets of Awesome, which sent this Thanksgiving email on November 4, 2021: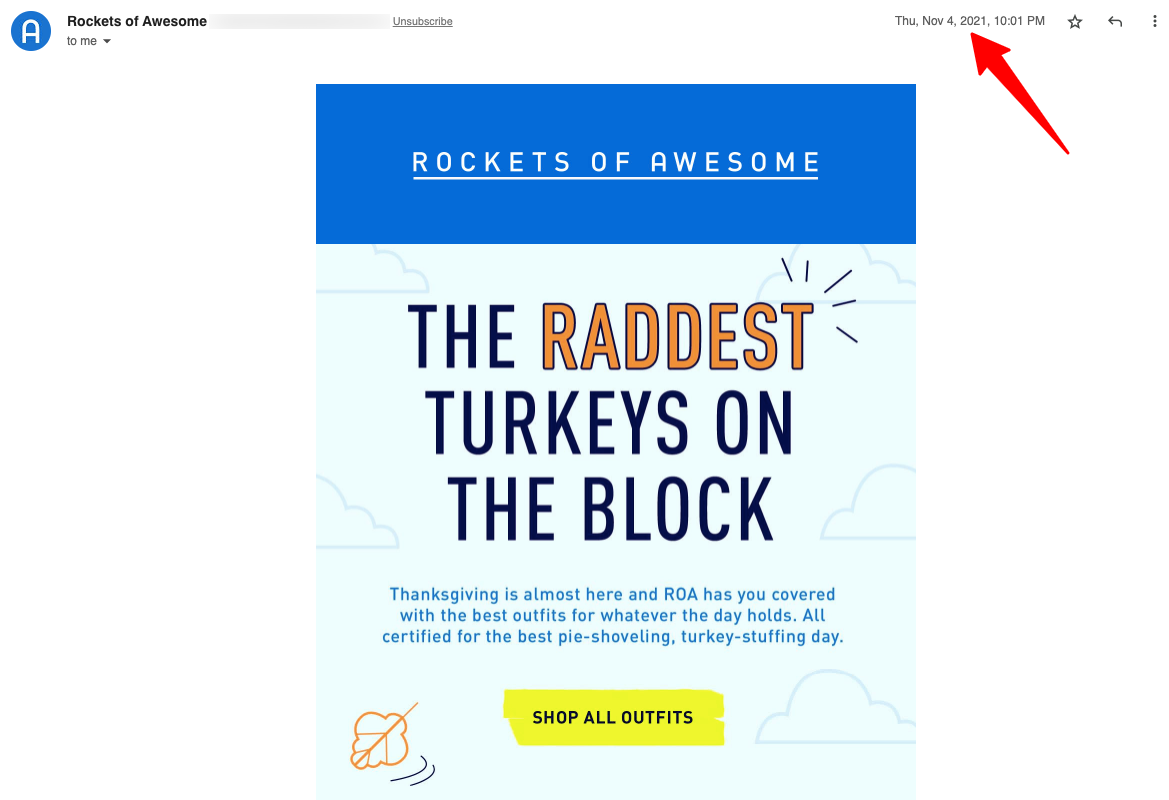 There are a couple reasons why it makes sense to start your Thanksgiving campaigns a few weeks in advance of the holiday.
For starters, it gives you the opportunity to get a jump on the competition, potentially allowing you to capture early sales that might otherwise have gone to one of your rivals.
This tactic also helps you to flatten the demand curve. Because if all your Thanksgiving sales take place in the week before the event, you risk placing too much strain on your logistics and infrastructure—and the last thing you want is to let customers down with late deliveries or canceled orders at such an important time of year.
3. Material: Promote Fast (& Free) Shipping
Your shipping policy can make the difference between closing the deal and losing a customer forever.
That's true at any time of year. But it's especially relevant when consumers are making time-sensitive purchases—such as buying products in time for Thanksgiving.
We already know this is a stressful time of year for your audience. So the last thing they want is to waste a bunch of nervous energy worrying whether or not an important purchase will arrive on time.
With that in mind, it pays sense to make timely shipping a key focus of your Thanksgiving marketing, just like this email from kitchenware brand Material: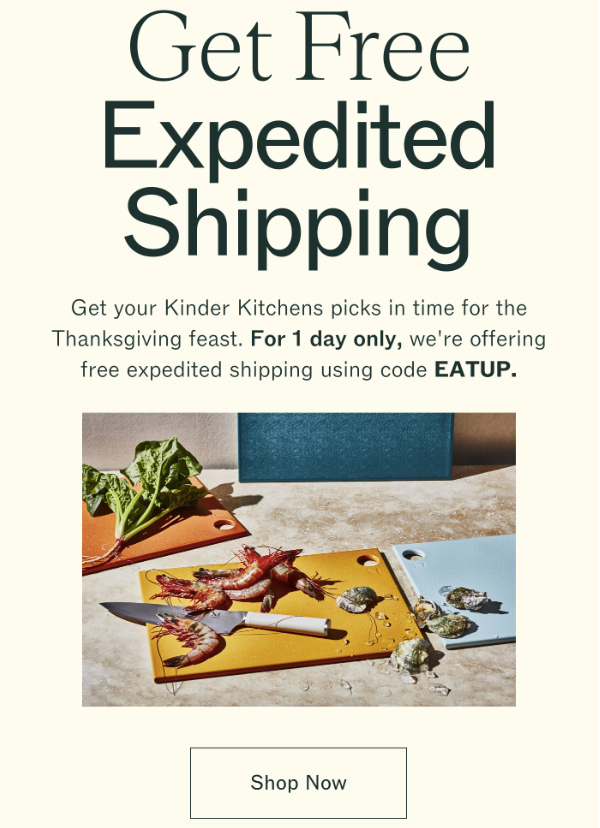 This email raises an important point.
Not every brand can afford to offer shipping that's both fast and free. It's fine if you're promoting comparatively compact products like kitchen knives, but what if you sell furniture or appliances?
Or, to put it another way, what if you can only realistically provide one or the other?
Opinion is somewhat divided on this thorny subject, but research suggests that free shipping has the edge.
In a survey from Shopify, 59 percent of online shoppers said free delivery would improve their online shopping experience, whereas just 34 percent said the same about fast delivery.
Similarly, a study from Ware2Go found that 56 percent of merchants believe free shipping is the most impactful way to drive cart conversions, compared to 52 percent for one or two-day shipping.
But you should use a healthy dose of common sense when it comes to interpreting third-party data.
Sure, free shipping might be more appealing to the average consumer at a generic time of year. But if you're specifically targeting last-minute Thanksgiving shoppers, I can bet that guaranteed fast delivery will generate more sales than free, but slower, shipping.
4. Bed Bath & Beyond: Help Shoppers Save Money
Look, I know I've already mentioned stress a bunch of times in this article.
I'm not trying to give you heart palpitations. I'm just pointing out that consumers have a lot of justifiable concerns about the holiday season—and that it always makes sense for marketers to understand how their audience is feeling.
As such, I'm going to dive into another common cause of Thanksgiving stress: money.
According to a survey from Personal Capital, 45 percent of Americans feel financially stressed about Thanksgiving 2023, with younger generations most likely to be affected.​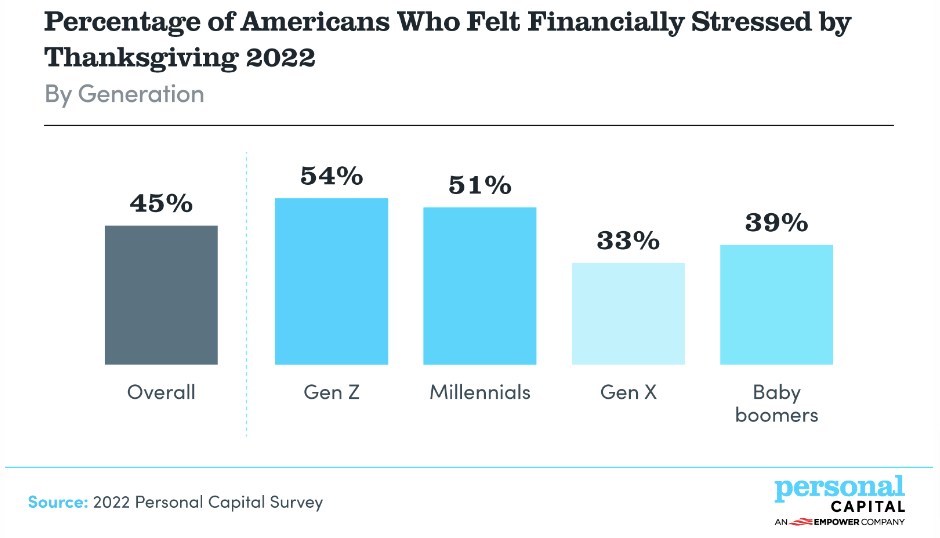 These financial concerns are expected to have a significant impact on consumers' Thanksgiving plans. More than one-third of Americans are planning to have smaller dinners, 88 percent intend to remove at least one dish from their holiday menu, and one in four consumers say they will pass on Thanksgiving altogether to save money.
If your customers are tightening the purse strings, you don't want to sound tone-deaf by positioning high-ticket luxury products as Thanksgiving essentials. Instead, you should offer ways for them to save money on purchases they were already planning.
Evidently, Bed Bath & Beyond understands this. Ahead of Thanksgiving 2021, it reached out to customers with a coupon offering money off on must-have products:

Although it's a little wordy for my liking, the subject line works well because it targets two audiences:
Last-minute shoppers
Consumers looking to save money
Everyone who opened the email was presented with a money-off coupon that was valid until the day before Thanksgiving: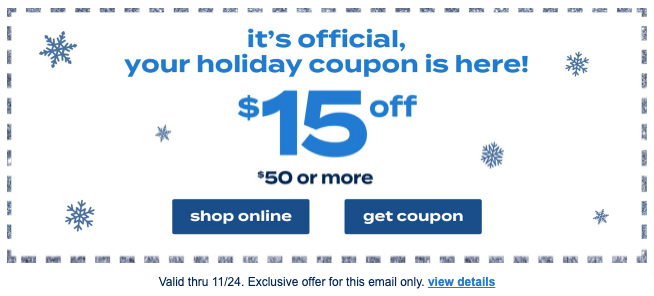 This is a smart approach, because it encourages shoppers to make larger purchases, which is an effective way to boost your average order value.
5. Taylor Stitch: Say "Happy Thanksgiving" With a Sale
The NRF data I referenced earlier in this article shows that Thanksgiving itself isn't a huge shopping day, with "only" 36 million planning to shop online and 17 million planning to buy in-store on the day.
This presents a challenge for us email marketers.
On one hand, we have an innate desire to reach out to our audience at any time of year—even if they're not necessarily in the buying mood. But on the other, if they're not planning to buy anything, what are we meant to say to them?
"Happy Thanksgiving" is an obvious starting point. After that, it's about doing something—anything—to shift your audience's attention away from the turkey and toward your website.
An obvious way to do that is to launch a sale. Of all the brand emails that landed in our marketing vault on Turkey Day 2021 containing the word "Thanksgiving", an astonishing 84 percent were promoting some sort of sale or discount alongside the general "happy holidays" messaging.
This email from Taylor Stitch was no exception: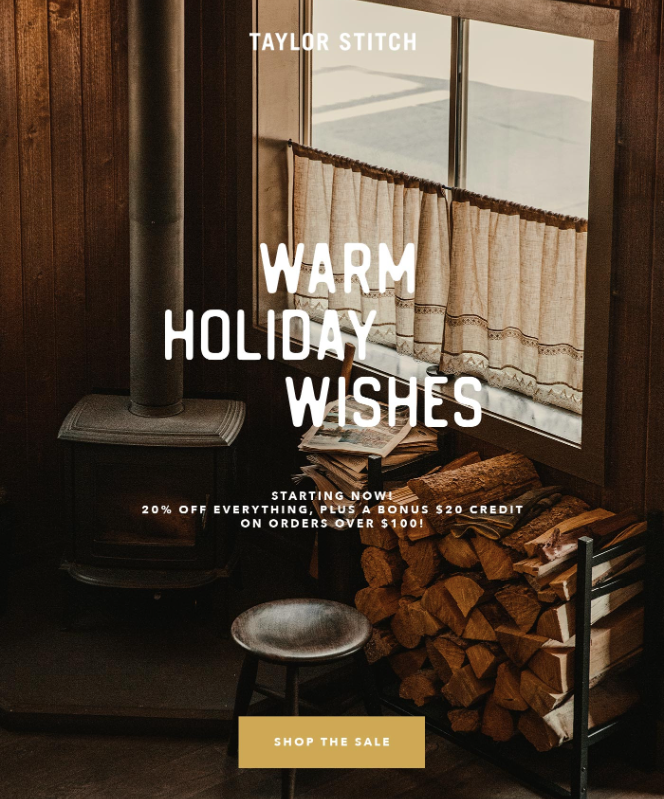 Again, this is all about flattening the peak.
You already know people will be flocking to your website a few hours later for Black Friday. If you can convince some of them to buy early, there's less chance of your site breaking under the strain.
6. 4ocean: Tease Black Friday
Okay, so launching a sale on Thanksgiving can be a smart way to drive some extra sales.
But that doesn't automatically mean it's the right thing to do. With Black Friday just about to land, it might not make sense to introduce an entirely separate promotion.
Of course, a lot of brands mitigate any confusion by simply bringing their Black Friday sale forward by 24 hours. But you might have a compelling reason not to do this.
Maybe you simply don't have the staffing numbers on Thanksgiving to cope with the demand. Perhaps you believe that less is more where discounting is concerned. Or maybe you're tapping into a broader desire to shop less on Turkey Day, with 57 percent of consumers saying they support retail stores closing on the holiday.
Whatever the case, if you don't want to launch a sale on Thanksgiving itself, why not follow 40cean's lead by reminding customers that Black Friday is just around the corner?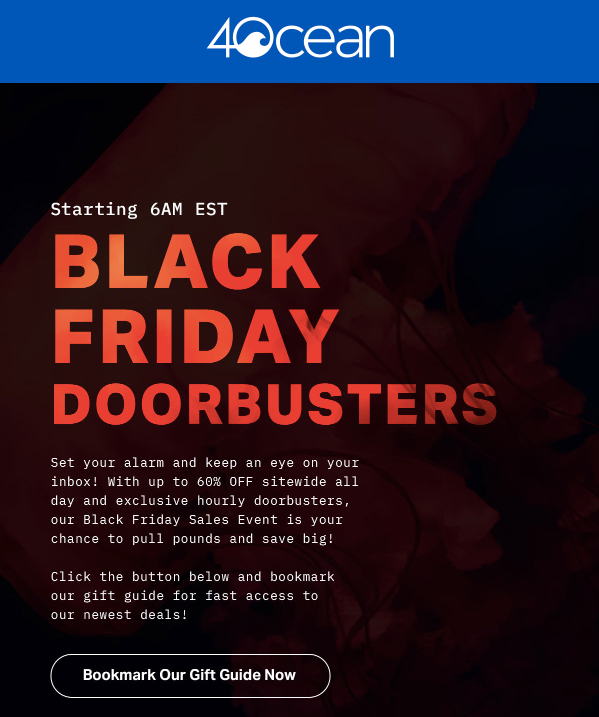 I like how this email prompts readers to start working on their shopping lists on Thanksgiving, thereby allowing them to buy quickly and efficiently once Black Friday arrives.
7. Brooklinen: Share a Message From Your CEO
You're not launching a sale. You don't want to bring forward, or tease, your Black Friday promotions. But you're still eager to reach your audience on Thanksgiving. So what are your options?
One tactic is to hand over the reins to your CEO, like Brooklinen did with this Thanksgiving marketing example from 2021: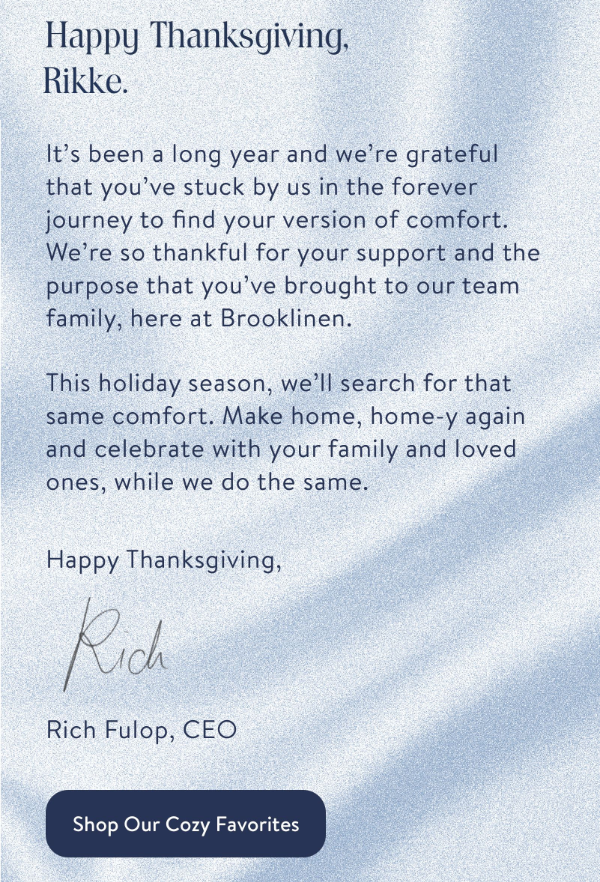 Why would you do this? Because there's growing evidence that your audience wants to hear from the person who calls the shots.
Research from Forrester found that 47 percent of all Americans—and 51 percent of Gen-Zers—associate the social, environmental, and political views of CEOs with the values of the businesses they lead. Furthermore, 70 percent of consumers told Sprout Social that they feel more connected to a brand when the chief executive is active on social media.
So it makes sense to put your CEO in the spotlight, especially at a time when your audience has that warm, cozy, Thanksgiving feeling.
Cut Through the Thanksgiving Noise With Drip
Thanksgiving is kind of a busy time of year.
With a turkey to buy and 78 unread messages in the family group chat to respond to, the average consumer just doesn't have time to engage with every single email in their inbox.
Fortunately, Drip's personalization and segmentation functionality gives you the tools to stand out from the crowd, helping you create dynamically customized content in just a few clicks.
See for yourself by signing up for your 14-day free trial.