Ever wish you had a network of social media influencers, bloggers, podcasters, YouTubers, and website owners recommending your brand and products to their audiences?
That's basically affiliate marketing in a nutshell.
In 2022, brands spent an estimated $8.2 billion on affiliate marketing in the US alone.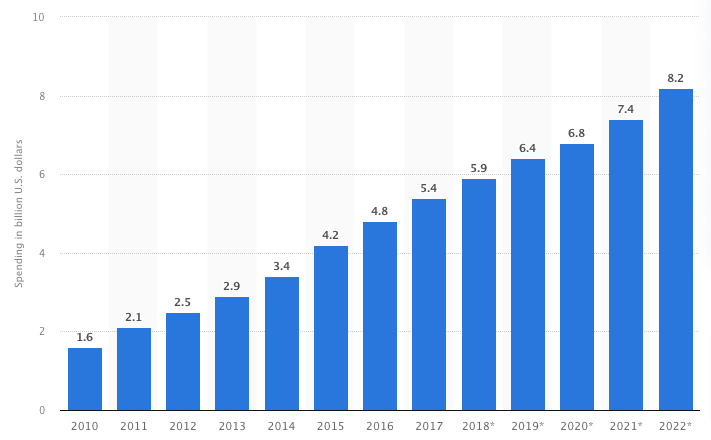 So it's no surprise that 81 percent of advertisers currently include affiliate marketing as part of their marketing mix.
If you're new to the world of ecommerce affiliate marketing, you've come to the right place. In this article, I'll explain what affiliate marketing means, why you should consider investing in it as an ecommerce brand, and how to recruit high-value partners to your affiliate program.
What Is Ecommerce Affiliate Marketing?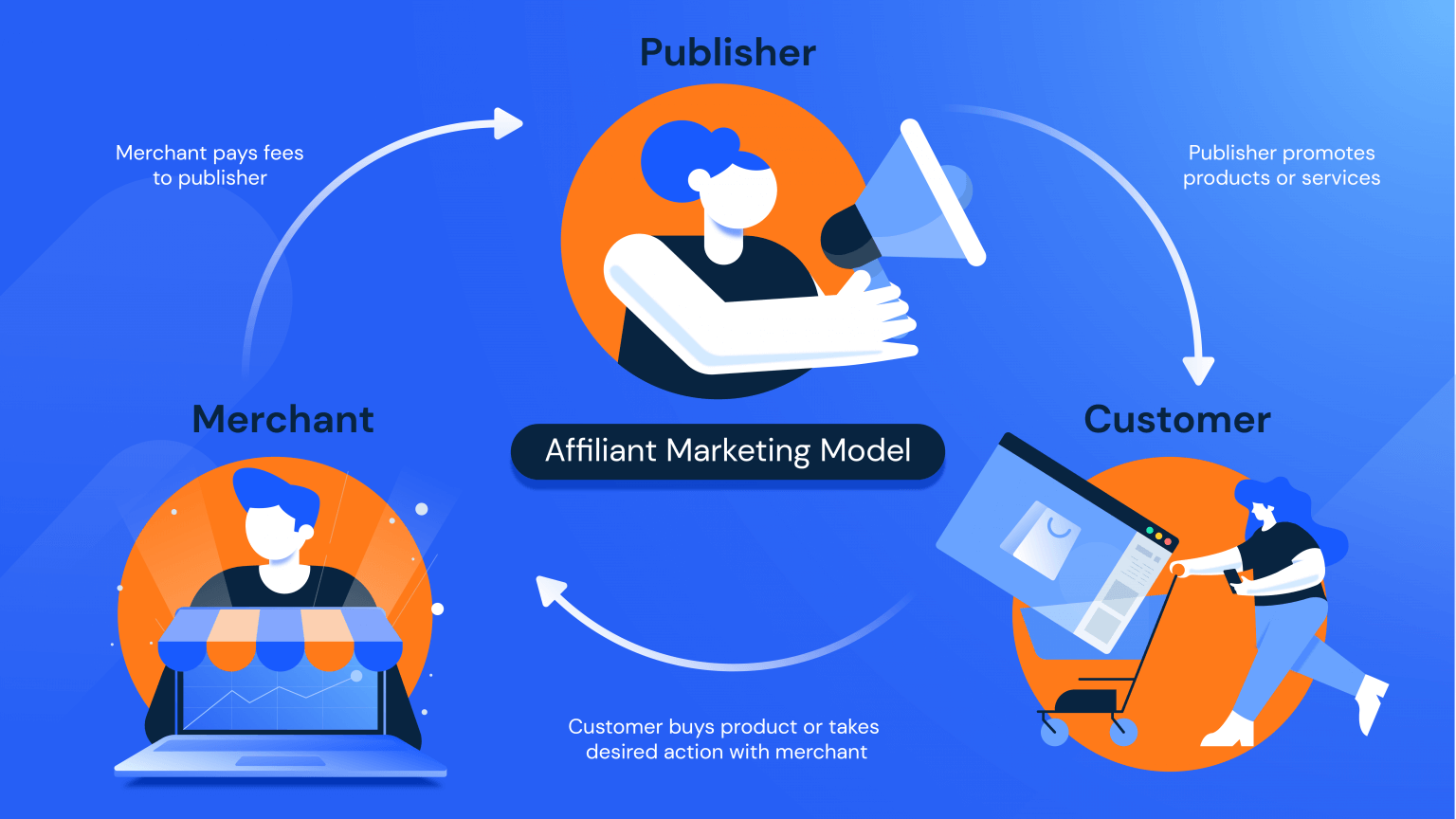 Source
Ecommerce affiliate marketing is a model whereby brands and retailers (or "advertisers") reward content creators (or "publishers") for promoting their products.
After joining an affiliate program, a publisher can generate a unique affiliate link—sometimes called a referral link — that points their followers toward your site. Sometimes, it'll lead to your homepage, but more often it'll send visitors to a specific category or product page.
When someone clicks one of those links, visits your site, and makes a purchase, the affiliate earns a commission — either a fixed cash sum or a percentage of the sale.
Throughout the ecommerce world, percentage-based commission rates typically start at around five percent. However, they tend to be lower in high-ticket, low-margin niches like consumer electronics.
How Affiliate Marketing Helps Ecommerce Companies (5 Ways)
Ecommerce affiliate marketing offers wide-ranging benefits to brands and retailers, such as…
1. Low Startup Costs
With the vast majority of ecommerce affiliate programs, an affiliated partner only earns a commission when they drive a sale.
That means the costs of starting an affiliate program are theoretically zero, and only start mounting when you're already generating revenue from your affiliates.
Of course, your program will never make any kind of return if you don't recruit (the right) affiliates. Unless you're a household name, you'll likely need to spend time and money promoting your affiliate program.
You might also choose to join an affiliate network (more on those later), in which case you'll need to cover their costs, too. For instance, ShareASale — one of the largest B2C networks — charges a one-off upfront merchant setup fee of $625, plus a minimum deposit of $125 toward commission payments.
2. High Return on Investment
Given the (comparatively) low costs involved, affiliate marketing delivers a solid return on investment.
Indeed, 84 percent of advertisers say their ROI from affiliate marketing is higher than other channels, while 35 percent rate it as 10/10 for the return it generates.
Of course, ROI varies from one ecommerce niche to another. According to the Performance Marketing Association, retailers see an average return of $12 for every $1 spent—but that ranges from $18 for games and toys to just $3 for CPG and consumer products.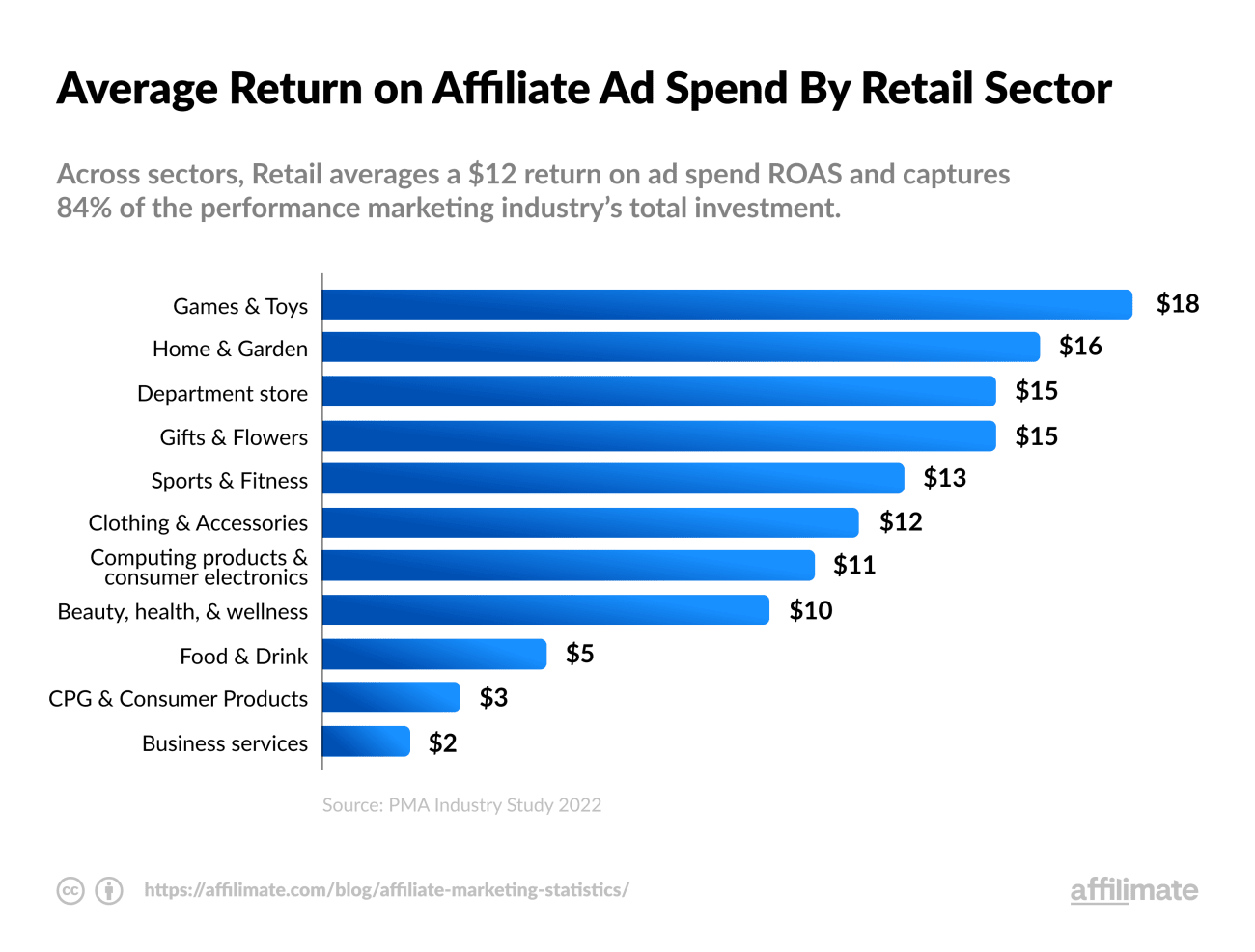 Image source
A 3:1 ROI simply isn't sustainable for a lot of brands. But, as you can see, most niches offer far greater returns.
3. Increased Brand Awareness
Perhaps the most obvious benefit of ecommerce affiliate marketing is its ability to connect brands with new audiences.
Say each affiliation partner you work with has 1,000 followers (or monthly blog visitors, or YouTube subscribers, or other channel-specific equivalents). If you partner with 100 affiliates, you could be connecting with 100,000 people you otherwise wouldn't have reached.
That's an extremely basic calculation. It doesn't take into account any overlap between different affiliates' follower counts, or the fact that some of those followers might already know your brand. But you get the point.
4. Highly Qualified Traffic
(Most) ecommerce affiliates only get paid for referring paying customers, so it's in their best interests to send qualified traffic your way. That means affiliate marketing delivers comparatively high conversion rates.
For instance, website-based affiliates typically target high-intent keywords like:
Best [product] for [pain point], such as

best mattresses for back pain
Best [product] under [price], such as

best running shoes under $100
Best [product] for [audience], such as

best tennis rackets for beginners
Importantly, those are exactly the types of queries brands are unlikely to (successfully) target themselves, because they can't be impartial. Indeed, 72 percent of consumers think reviews and testimonials from real people are more credible than brands speaking about their own products.
(N.B. This highlights the importance of working with affiliates who actually use and love your products.)
5. Social Proof
Social proof describes how people often make decisions based on the actions of others—particularly those who they deem to be authority figures.
This has a big impact on our shopping behavior. For instance, about three-fifths of consumers search for reviews on blogs or social media while browsing in-store, while over half have bought something from a company after reading one of their blog posts.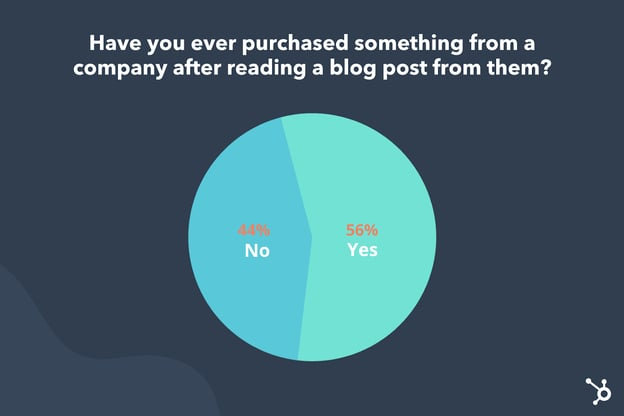 Chances are you do the same when you're buying stuff online. You might search Google for the best products, find one that appears to fit your needs, then head straight back to Google to search for reviews.
By partnering with authoritative content creators with relevant audiences, you can use social proof to drive sales.
6 Strategies to Recruit Ecommerce Affiliate Partners
Your ecommerce affiliate marketing strategy is wholly reliant on your ability to attract high-quality publishers with relevant, engaged audiences. Here's how to track them down…
1. Rally Your Existing Customers
The obvious starting point for new affiliate advertisers is to encourage your current customers to sign up. After all, they're the folks with hands-on experience using your products. And, hopefully, they already love your brand, meaning the content they create will be more authentic and trustworthy.
Chances are only a tiny proportion of your customers will have massive audiences. But that's not necessarily a problem.
For instance, there are three "flavors" of influencers, ranging from those with comparatively small followings of 1,000+ to huge celebrities with millions of followers.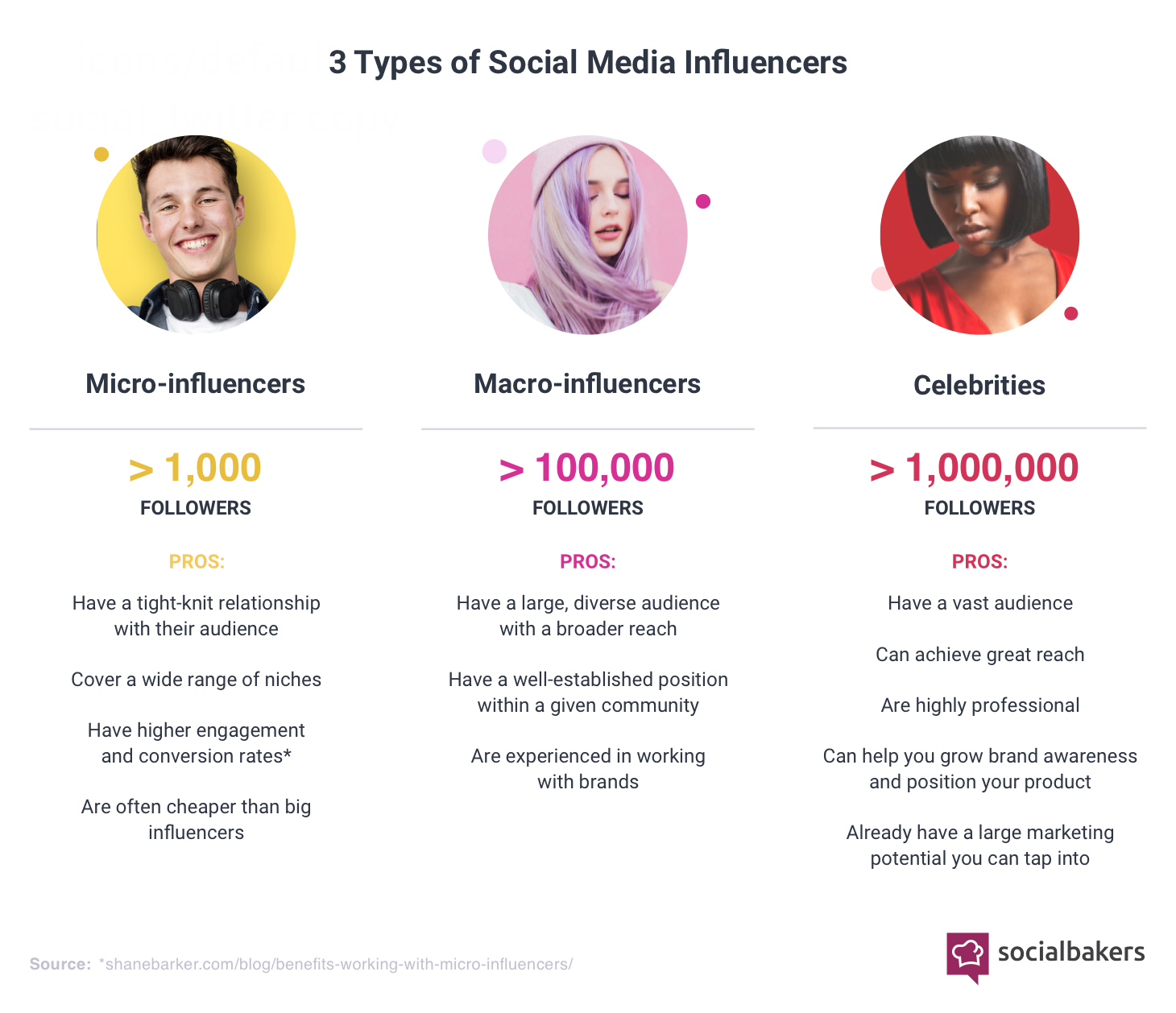 Image source
According to Social Bakers, those in the micro-influencer category actually deliver 60 percent higher engagement rates than macro-influencers. So recruiting a bunch of smaller affiliates from your existing customers could actually play in your favor.
Of course, not all customers are a good fit for your affiliate program. For starters, consider targeting your:
They're most likely to be receptive to your offer — and to discuss your brand and products in glowing terms.
2. Build An Engaging Affiliate Landing Page
Publishers often sign up for affiliate programs through a dedicated landing page on advertisers' websites.
These pages are your opportunity to share your value proposition and promote the most attractive features of your program. So it pays to know what affiliates are looking for from brands before building your own.
According to an extremely old but still interesting survey, their top priorities are:
Commissions
Merchant reputation
Product/service relevancy

That makes sense. For the vast majority of publishers, affiliate marketing isn't a hobby; it's a part-time side hustle or a full-time job. So money matters. But at the same time, they don't want to damage their business by recommending irrelevant products or brands with bad reputations.
Let's look at an example from the ecommerce world, courtesy of TK Maxx (for all our American readers, that's what they call TJ Maxx in Europe and Australia).
They start by explaining a little about their brand story, the types of products they sell, and the reasons customers buy from them: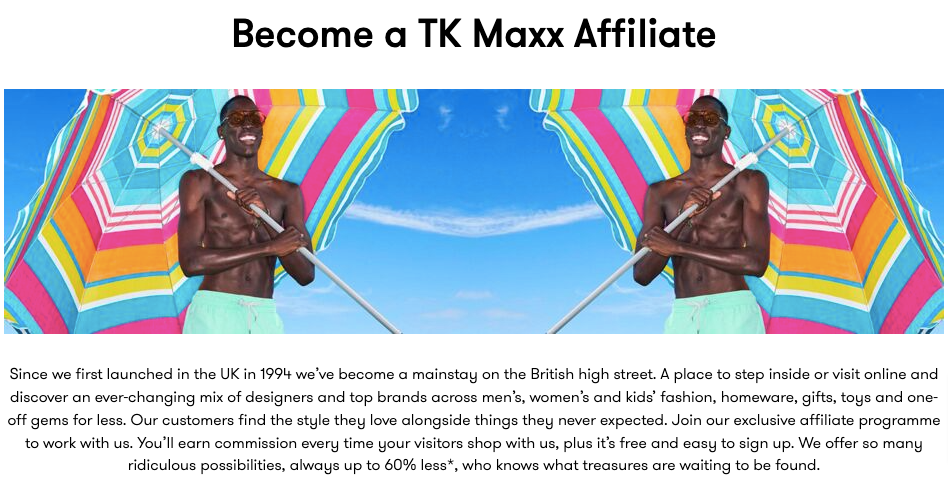 Then they list a bunch of reasons why you might want to partner with them, including their commission rate, cookie window, and the marketing materials they provide: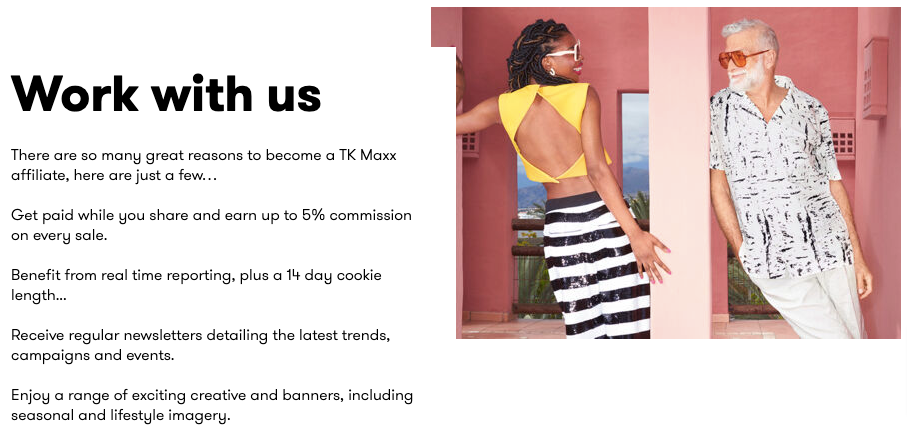 In short, they provide all the information a prospective affiliate partner needs to know before signing up.
3. Reach Out to Influencers
By their very nature, influencers have engaged audiences.
Best of all, many of their followers look to them for product recommendations. Indeed, 46 percent of social media users have bought products promoted by influencers, while 36 percent say influencer posts are the best way for brands to persuade customers to try new products.
Influencers know their value to brands, so don't expect to lure them with your "standard" affiliate program. Many advertisers promote dedicated influencer programs, offering perks like:
Higher commission rates
Personalized partnership opportunities
Unique promo codes to share with their followers
Custom marketing materials, like banners and videos
Access to free products
Sephora Squad is a perfect example of an ecommerce ambassador program.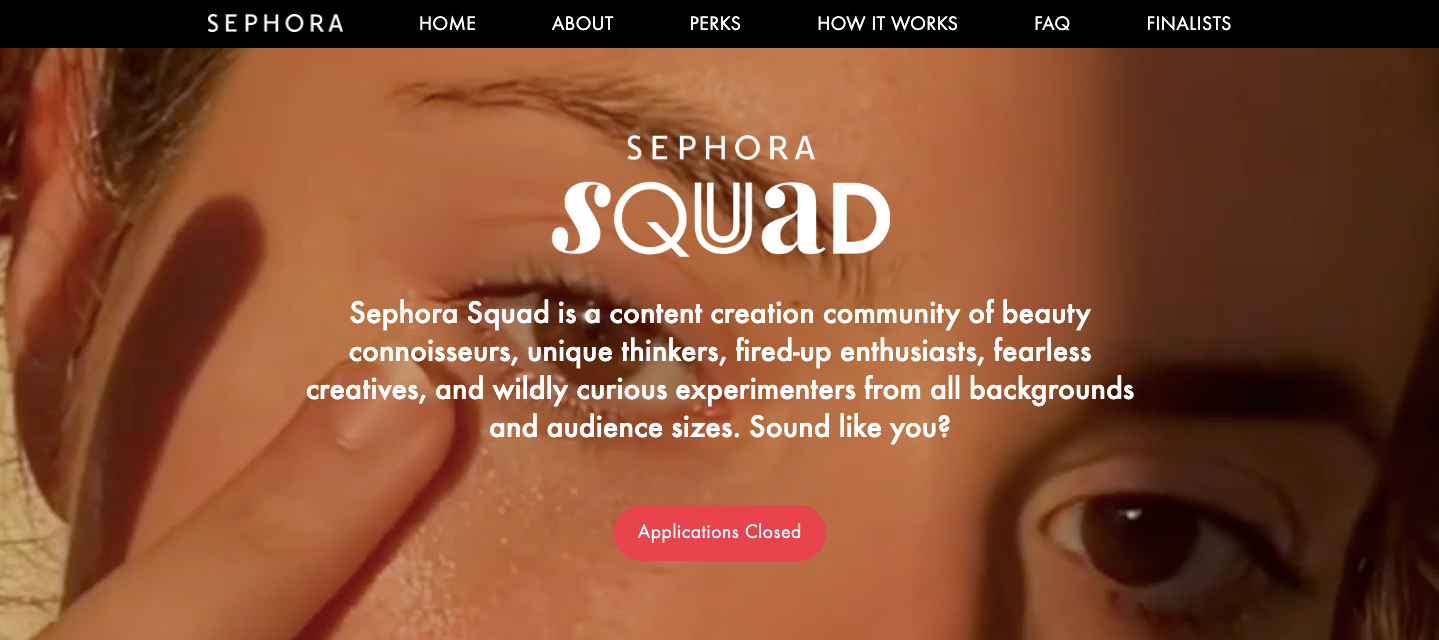 The beauty retailer offers yearlong, paid partnerships with content creators who have engaged audiences on Instagram or TikTok, offering free product samples, professional development opportunities, and networking opportunities with fashion and beauty industry leaders.
And, as you'll notice from the following screenshot…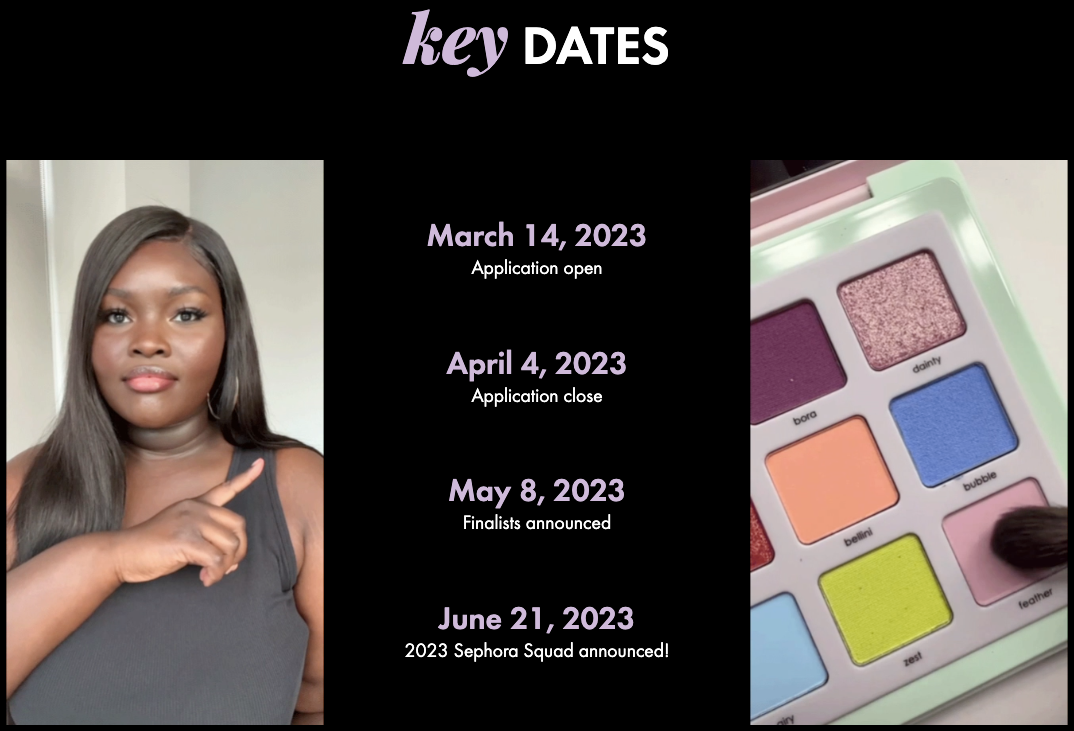 …applications are only open for a limited period each year, increasing the scarcity value of becoming a squad member.
4. Do Your Competitor Research
There's a good chance at least some of your rivals already run affiliate programs.
That's good news, because it means they've done a lot of the hard work for you. With a little sneaky competitor research, you can identify (and connect with) their best affiliate partners.
Say Urban Outfitters is one of your biggest competitors. Use a tool like Ahrefs or Semrush to find the websites that are pointing most links their way:

Image source
Dollars to donuts, a bunch of those top referrers will be affiliate partners.
(N.B. You'll probably want to weed out lower-quality affiliates by filtering for sites with domain ratings of at least 20. Maybe even 30+ if you're super picky.)
Inspect the websites to see if they are, indeed, affiliate publishers—then reach out to them with your own offer.
Want to know the best thing about this approach?
You don't need to convince anyone to ditch what they're already doing. Affiliates are free to join as many programs and promote as many brands as they want. If they think you're a good fit for their audience, there's nothing stopping them from recommending your products—even if they're already working with your rivals.
5. Join An Affiliate Network
Affiliate networks are networks of affiliate marketers and brands. Some cater to specific niches or geographic areas; others work with hundreds of global brands and thousands of affiliates across dozens of industries.
As I've already noted, working with an affiliate network costs money. You'll almost certainly have to pay an onboarding fee and give the network a cut of any sales you generate, eating into your ROI.
But it's not all bad news.
The good thing about affiliate networks is that they're packed with vetted affiliates who are actively searching for new partnership opportunities. And many promote (or make it easy to find) brands that have recently joined their platform.

Image source
In short, joining an affiliate network makes it a lot easier to reach and recruit affiliates passively.
However, bear in mind that it's also easy for prospective partners to compare you to other brands in your niche across various factors and metrics, including:
Commission rate
Cookie window
EPC
Conversion rate
So you'll definitely want to see how your offer measures up to your competitors. If affiliates aren't convinced by your program's earning potential, they're simply not going to join.
Ecommerce Affiliate Marketing Networks
Most affiliate networks work with at least some B2C ecommerce brands. However, the following major networks are particularly popular with ecommerce advertisers and brands:
6. Get Listed In Affiliate Program Roundups
Search for "best [your niche] affiliate programs" and you'll almost certainly find hundreds of roundup-style articles promoting popular affiliate advertisers in your space.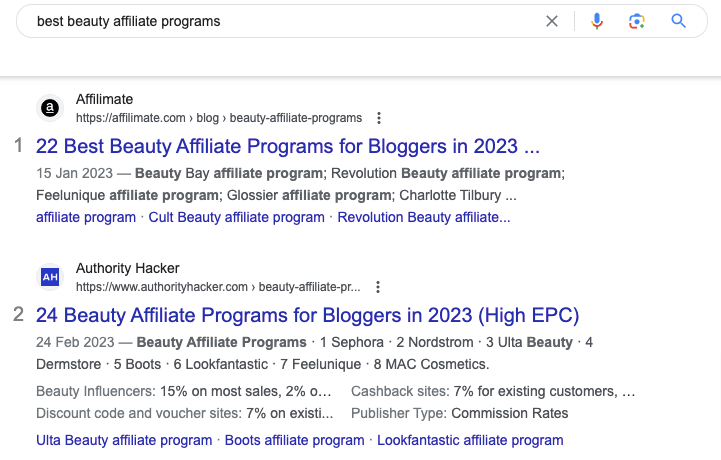 For the most part, the people searching for these articles are affiliates looking for new partnerships.
So it's well worth reaching out to those websites and asking if they'll add your program to their list. It costs you nothing, and it might get you in front of a bunch of high-quality, experienced affiliates who specialize in your niche.
Affiliate Marketing Glossary: Terms You Need to Know
Like any digital marketing channel, affiliate marketing is full of abbreviations and jargon that are utterly inscrutable to newcomers, so we've defined some of the most common terms you'll encounter.
This list is by no means exhaustive, but it'll at least help you get started.
Advertiser. A brand or retailer running an affiliate program.
Publisher. Affiliate partners (such as bloggers, website owners, and social media influencers) who promote relevant products to their audiences.
Customer. Anyone who clicks an affiliate link and purchases a product.
Affiliate link. A unique URL containing the publisher's ID or username, used to track the source of affiliate sales.
Commission rate. Either a fixed monetary sum or a percentage of the sale paid to publishers for generating conversions.
Cookie window. Also called a

referral window

or

cookie length, this is the length of time in which a customer can make a purchase that counts as a commissionable sale. For instance, if an affiliate program has a 30-day cookie window, the customer can buy up to 30 days after clicking an affiliate link and the publisher will still earn a commission.
CPA. Cost per acquisition. This is the most common ecommerce affiliate marketing model, in which publishers are rewarded for generating sales.
EPC. Earnings per click. The average amount of money a publisher can expect to earn from a given affiliate program each time someone clicks one of their affiliate links. The higher the figure, the higher the earning potential.
Final Thoughts
Like most things in the ecommerce marketing realm, affiliate marketing isn't a quick win.
It takes time to hone your offer, create helpful marketing assets, and recruit a bunch of engaged affiliates with audiences full of people who'll love your products.
But if you get it right, affiliate marketing is like a referral program on steroids.
You'll be working with content creators who are desperate to recommend you, helping you build a consistent stream of qualified traffic, sales, and revenue.
And because you only pay for conversions, you're pretty much guaranteed to see a decent return.
Sounds good, right?
Of course, any great affiliate program is going to keep affiliates updated on latest products, brand news, and opportunities. Consider using Drip's marketing automation platform to segment your customers and affiliates even easier.
This way, you can send affiliate-targeted messaging to your collaborators (without accidentally sending not-yet-released information to your customers).