Picture this: You're standing at the starting line of a race, surrounded by other athletes.
You're capable of winning, but before the starting gun goes off, you take a glance around.
Who are you up against?
Who are you going to have to beat in order to win?
What are their strengths and weaknesses?
This is the essence of competitive landscape analysis. It's not just a fancy term; it's the foundation for any business that wants to take control of its market and stay ahead of the competition.
And that's why I've written this article, to help you understand the world of competitive landscape analysis better.
I will go through what competitive landscape analysis means, why it's important for businesses, and ultimately how you can use it to gain an advantage over your competitors.
Let's get started, shall we?
What Is Competitive Landscape Analysis?
Competitive landscape analysis is the process of analyzing and understanding competitors — how they behave, how they market themselves, their strengths and weaknesses, and their strategies.
It's really just a way of getting to know your competition.
Your competitive landscape analysis should include:
Who your competitors are
What products and services they offer
Their strengths and weaknesses
The strategies they're using to achieve their goals
An overview of the market
Understanding your competitors can help you fine-tune your business plan and give you a better chance of coming out on top.
Competitive landscape analysis can be compared well to chess. In 2015, Magnus Carlsen astounded the world by playing and winning against three opponents in chess simultaneously while blindfolded.
How was he able to do this? It's because Carlsen has an intimate understanding of chess, knowing both the game itself and how his opponents think and play.
The same thing occurs in business. With competitive landscape analysis tools like Ahrefs, SEMRush, SimilarWeb, among others, you can learn anything and everything about your competitors (without their knowledge).
From the keywords they're targeting, to the way they're building links, there's nothing you can't learn from a few clicks of a mouse.
That's what competitive landscape analysis is all about.
Why Is Competitive Landscape Analysis Important?
Doing proper competitive landscape analysis can bring immediate value to any business. After all, it gives you a fundamental understanding of your competitors.
Let's go through a few reasons why you should do it.
1. Helps to Identify Gaps in the Market
Competitive landscape analysis can shed light on any gaps in the market that may have been previously overlooked. By identifying these gaps, you can then capitalize on them to your advantage.
For example, if you're doing ecommerce and you notice that none of your competitors are offering a same-day delivery service, you can introduce this to your own business and use it to differentiate yourself from the competition.
2. Helps to Identify Your Key Differentiators
By analyzing your competitors' strengths and weaknesses, you'll be able to identify what sets you apart from them.
As an example, you may have discovered that while your competitors offer a wide range of products, they don't specialize in any particular niche. If you can focus on offering high-quality products that cater to a specific market segment, you can use this as a key differentiator.
3. Gives Insight Into Your Target Audience
Analyzing your competitors also gives you an insight into who your target audience is. Doing competitive landscape analysis can help you better understand what customers in your industry are looking for.
This knowledge helps you tailor your product offerings and marketing messages to specific customer needs.
How to Do a Competitive Landscape Analysis (in 7 Steps)
I struggled for years in business.
Often, I searched for articles—like the one you're reading—to learn how to analyze other sites' marketing strategies.
But time and time again, I found content that focused on what to do rather than how to do it.
This is NOT one of those articles.
Below are five crucial steps that will help you conduct an effective competitor analysis, steps that, when followed, are predictable and repeatable:
Step 1: Identify Your Competitors
The first step is to identify your key competitors.
Without a clear understanding of who you're competing with, it's hard to accurately analyze the competitive landscape.
Keep in mind that not everyone in your niche is your competitor. You have different types of competitors that you compete with, and they should be divided into different categories.
When simplified, there are:
Direct competitors
Indirect competitors
Replacement competitors
i. Direct
We all have companies we're competing with for customers.
You're probably familiar with many of them. But chances are there's a few you haven't heard of.
Discovering who you're competing against is often as easy as typing one of your target keywords into Google and seeing who shows up in the search engine results pages (SERPs).
Let's say you're a SaaS business building billing and invoicing software for freelancers.
Here's what I found when I typed in "invoicing software":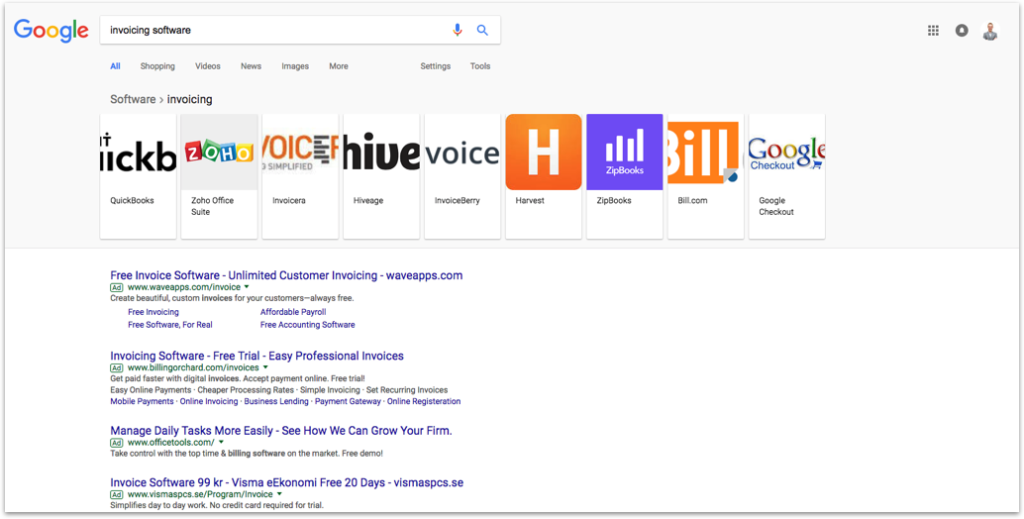 Often, you will need to narrow your search by adding a "modifier" to your search query.
Here's what I found when I searched for "invoicing software for contractors" (it was a Google related search term):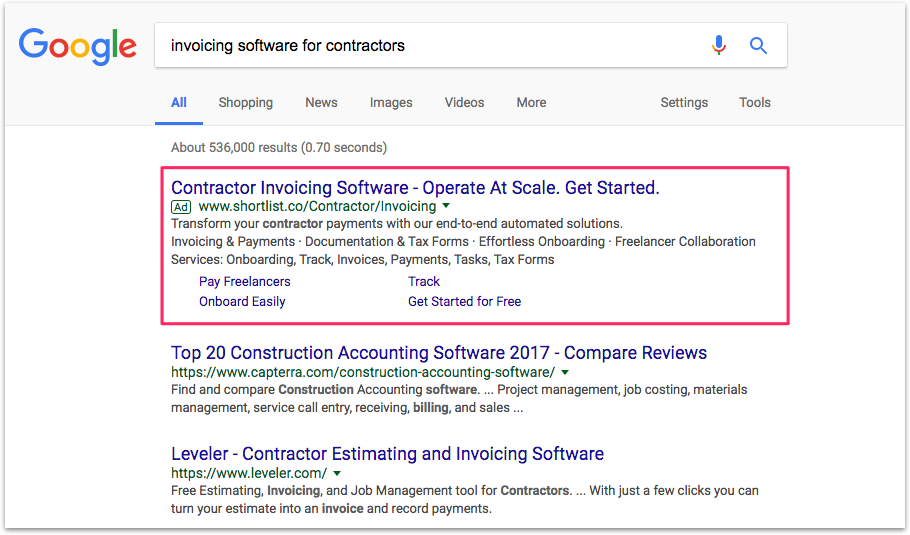 Shortlist.co didn't show for our initial search, but they did for our follow-up. This emphasizes the importance of trying multiple search queries until you're confident you've exhausted all variations of your keyword.
ii. Organic
If direct competitors are sites you're competing with for customers, organic competitors are sites you're competing with for keywords.
And if you're investing in content marketing, you're going to have your work cut out for you.
For example, we have a popular blog post on customer testimonials. It ranks on page one and generates a TON of traffic. And for that reason, many sites — direct competitors or otherwise — are jockeying for that position. It's nothing personal; it's simply the nature of the content marketing game (and we play by the same rules).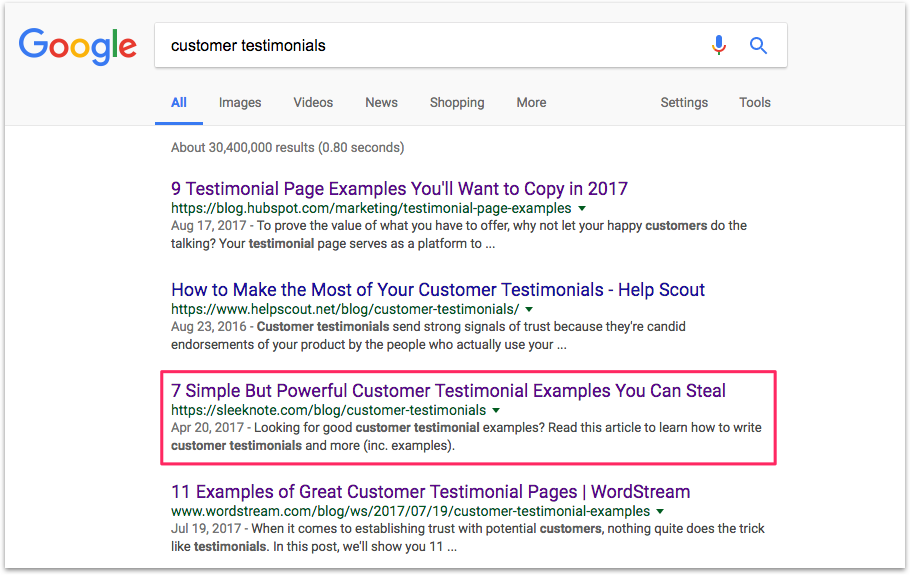 If content marketing is an important acquisition channel for you, organic competitors will require a LOT of attention. After all, if readers aren't clicking onto your site — or they are, but they're not finding what they're looking for — they're going to click on someone else's.
Once you have an overview of who you're competing with, create a spreadsheet and add any sites you're going to closely monitor. Then, using a site like Ahrefs or SEMRush, include key metrics like the number of referring domains, organic search traffic, and anything else you think might be useful.
We like Airtable because there's a feature to alternate between different "views" for your data, allowing you to specify how you look at your information: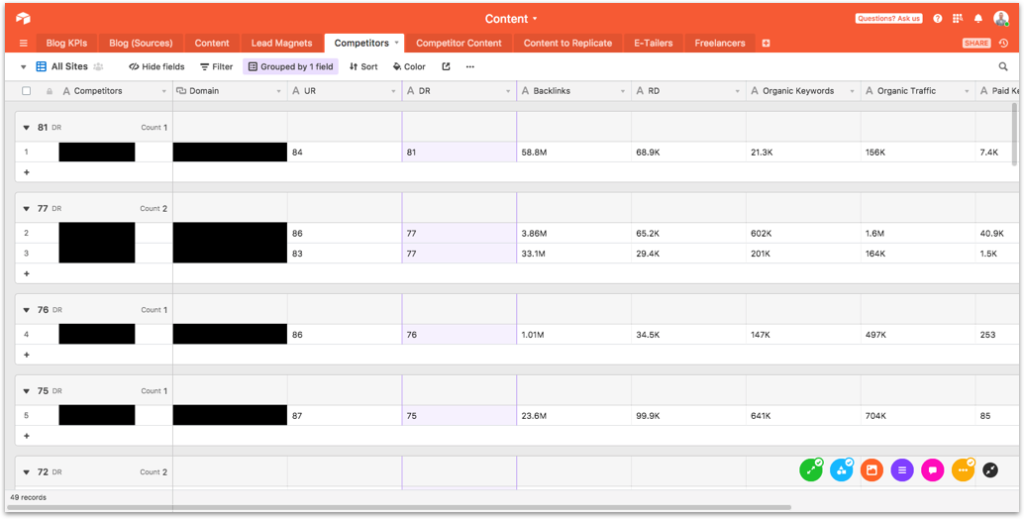 Takeaway: often, it's not the Goliaths you're competing with; it's the Davids, the underdogs who can't afford to make costly mistakes in their marketing. Note down as many direct and organic competitors as you can before moving on.
Step 2: Analyze Your Competitors' Content and Keywords
Once you've identified your competitors, the next step is to analyze their available content.
This step requires a deeper dive into understanding what kind of content your competitors publish and how well their audience receives it.
Analyze the following things:
Their social media pages.

What kind of content do they post? What platforms do they post on? How often are they posting? How engaged is their audience?
Their website.

What kind of content do they have on their homepage, product pages, and about us page? Does it relate to their audience, or do you see room for improvement?
Their emails.

What kind of content do they send in their emails? Is there a sequence of

welcome emails, or is it all promotional?
Their blog posts.

Do they even have a blog? What kinds of topics do they cover? Are their topics related to the needs and interests of their audience?
Their videos.

Do they publish videos? If so, where do they post them? What topics do they cover in the videos?
Going through all of these components can give you an idea of the company's content and how well it relates to its audience, and it can also help you identify gaps in their content that you can fill.
However, one of the most powerful ways to analyze what your competitors are doing is by taking a look at their keywords.
Today, 70% of the buyer's journey begins online.
And that journey begins with keywords.
It's no surprise, then, that 53% of marketers say blog content creation is their top inbound marketing priority.
In our experience, gaining an advantage in the SERPs is a game of one-upmanship: identify keywords with a high search volume and traffic potential, and create content targeting those keywords.
Now I know what you're thinking:
"But how do I know which keywords to target?"
Simple:
By "borrowing" your competitors'.
Here's how.
Understanding Organic Keywords in Competitive Landscape Analysis:
As mentioned above, if you're investing in content marketing, it's crucial you target the right keywords for your content.
Much of this will be influenced by your industry, your buyer persona(s) and more importantly, where they are in the buyer's journey.
But a good part of it will also be influenced by what's already working.
And by that, I mean what your competitors are doing and achieving results with.
This might be traffic they're generating, keywords they're targeting, links they're acquiring, etc..
Remember: you don't need to reinvent the wheel; you simply need to do more of what works.
Here's an example:
Let's say you're in the CRM niche and you're using content to generate traffic to your site in the hopes of converting a percentage of that traffic into customers.
One option would be to analyze your competitor's top pages and identify potential target keyword opportunities. In fact, you can easily run an Ahrefs competitor analysis and perform competitor research in just minutes.
Here's how to do that:
First, go to Ahrefs and plug in a competitor's URL. In this example, I'm using Pipedrive: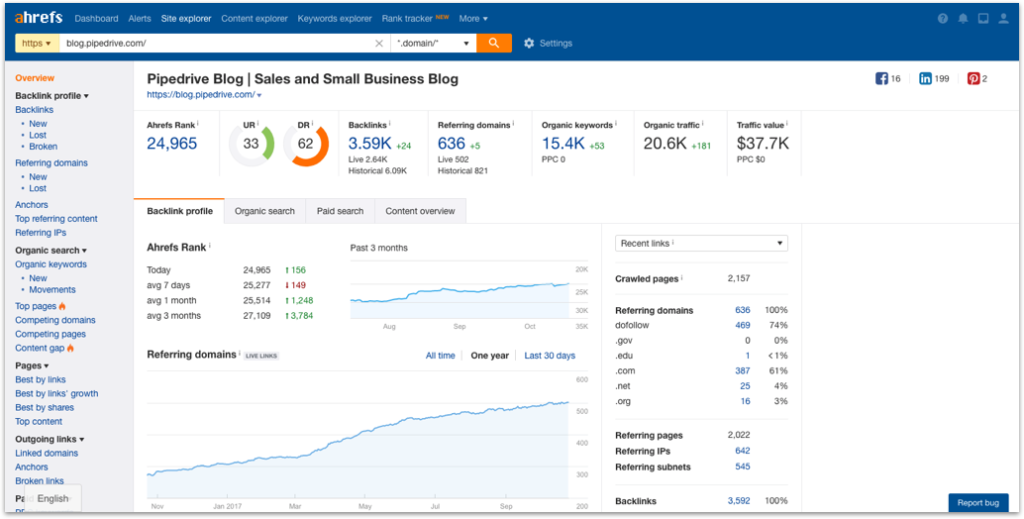 Then, click "Pages > Top Pages":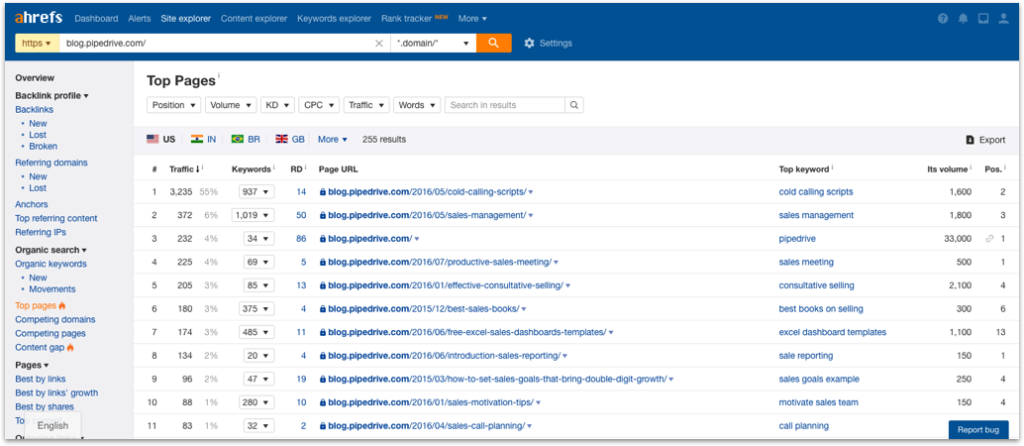 You now have a 30,000-foot overview of Pipedrive's top performing content, but let's take it a step further.
They have an article on "cold calling scripts" that accounts for 55% of their traffic. Maybe there's potential to outrank it?

To get started, we first need to know the post's target keyword.
Usually, this is as simple as looking at the post's permalink:

As we can see, "cold calling scripts" is included in the permalink.
So far, so good.
Now, let's determine if it's a keyword worth prioritizing.
Plug the keyword into Ahref's Keyword Explorer: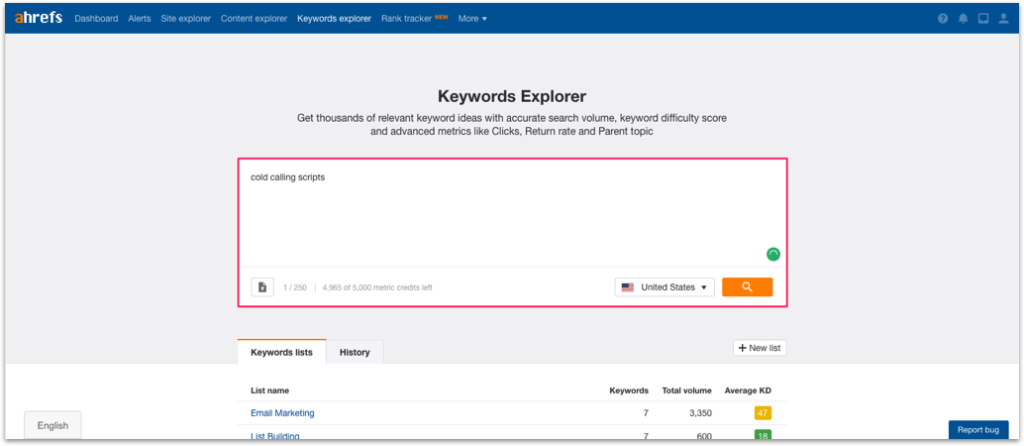 This will give you its volume, traffic potential, and other important metrics: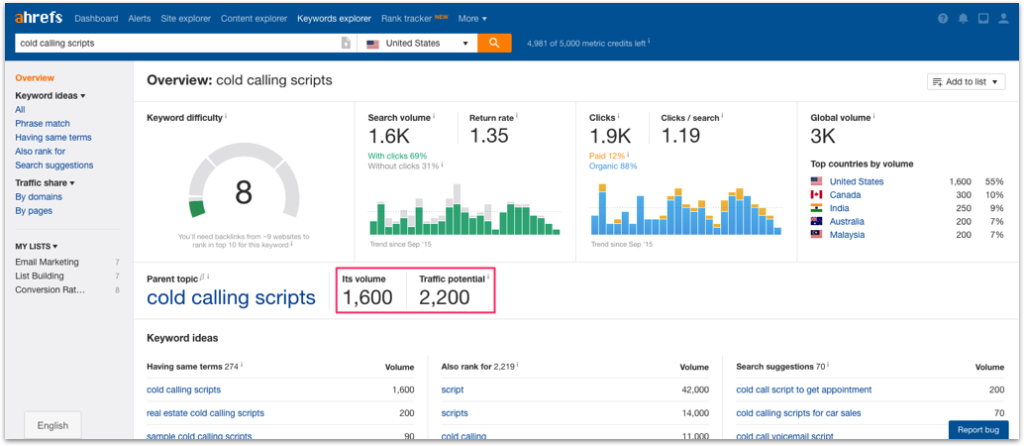 With a healthy search volume and traffic potential, "cold calling scripts" is probably worth targeting.
However, what is also important is its keyword difficulty.
With only eight backlinks needed to rank in the top 10, there's potential to not only rank well but also generate a ton of traffic in the process.
So, how could you outrank Pipedrive's blog post (or as a minimum, rank alongside it)?
One approach, as you're probably familiar with by now, is to try "The Skyscraper Technique".
But here's the thing:
Often, it's not enough to write content that's better, more up-to-date, better designed or more thorough. After all, anyone can build on the number if it's a list post (which, given the number in the Pipedrive example, would be easy to expand on).
A better approach is to combine two topics. For example, we knew "email marketing" was a keyword we wanted to target. But due to its keyword difficulty, we knew it was going to be hard to rank for.
So, we added a modifier—"ecommerce"—and approached it from another angle. The keyword didn't change, but the audience became more targeted. Incidentally, it's now one of the most popular blog posts on our blog.

If we return to our "cold calling scripts" example, one way of skyscraping the post might be to write an article on how to write cold calling scripts of your own, rather than relying on templates.
Using a tool like SEMRush's Content Template will give you recommendations on what semantically related keywords to include, which domains you need backlinks from, and how your competitors are using your target keywords.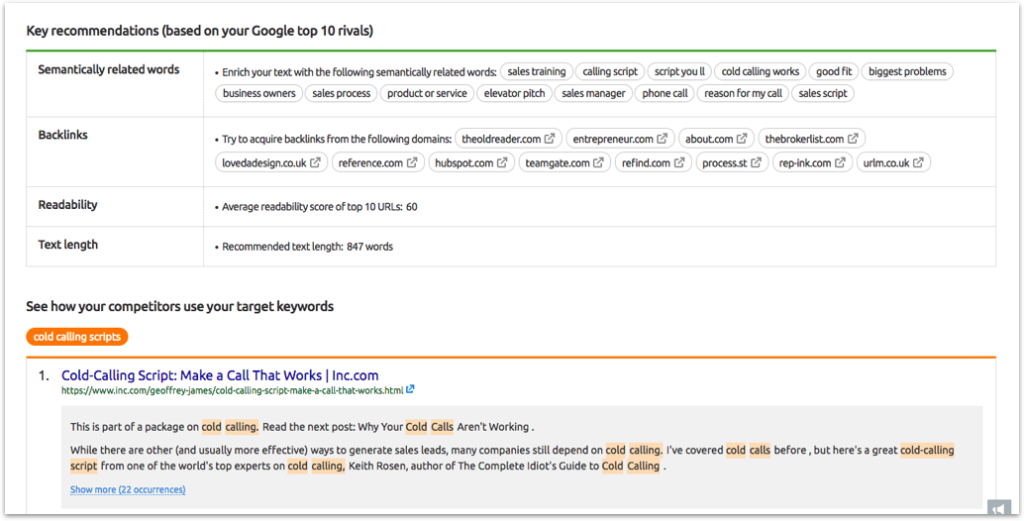 Like you did in Step 1, add any potential blog post topics to your spreadsheet with important metrics like search volume, traffic potential, and anything else you think you might need.
Analyze the Keywords Your Competitors Are Paying For
Many sites pay for keywords. And if they do, it's likely many of them have high search volume and traffic potential.
Granted, it isn't always possible (especially when the majority are branded keywords), but when it works, it gives you a deeper insight into a competitor's acquisition strategy.
To access a competitor's paid keywords, type in a competitor URL in Ahrefs and go to "Paid Search > PPC Keywords".
Here's an overview for Pipedrive's paid keywords (sorted by volume):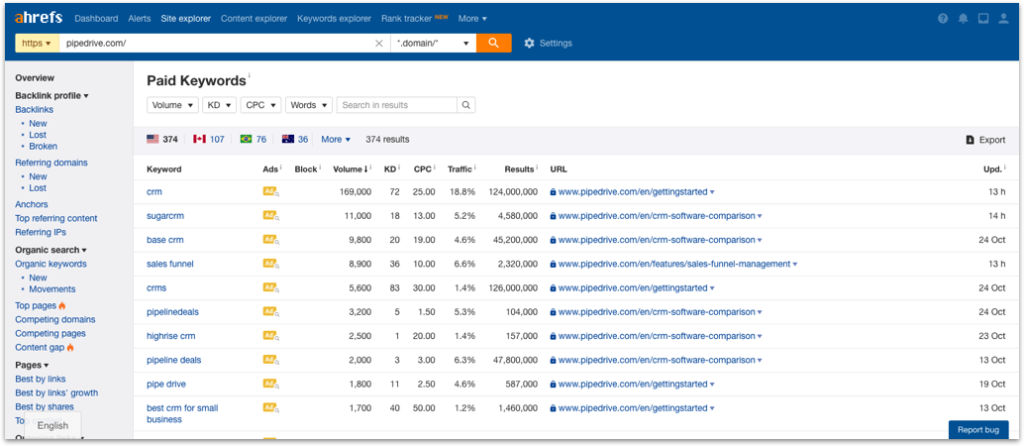 Authority domains (like Pipedrive), tend to have mostly branded keywords, but if you scroll down, you'll sometimes unearth a few hidden gems:

As you can see, "sales funnel template" gets a decent search volume. Could you create content targeting that keyword?
Of course, validating blog post topics is only the beginning. But it will give you a solid foundation to build from when creating content.
Takeaway: Using a tool like Ahrefs or SEMRush, analyze your competitors' organic and paid keywords and note down any you can create content for.
Further Reading:
Step 3: Determine What Marketing Strategy Your Competitors Use
You should also identify your competitor's existing marketing strategies.
Look into these things:
Do they use SEO techniques to generate organic traffic?
Are they utilizing influencers, or have any partnerships with other brands?
How much do they use paid ads to drive traffic?
What type of email campaigns do they run?
How active are they on social media? What

social media strategies

do they use?
Asking these questions is great for identifying what your competition is missing or lacking.
For example, if you notice that your main competitor is not using TikTok at all, you can use that as an opportunity to have a presence there and start building your presence with different influencer marketing strategies.
Alternatively, diving into one of your competitors' channels can also help you identify existing opportunities for yourself, as well as what's working and not working for them.
Looking at how your competitors are positioning their products and what strategies they are using can give you good insights into how to go about your branding and what angles to use.
However, as always, SEO will tell you what they're really focusing on.
We all know it by now, but it bears repeating:
You can have the best content in your industry, but if no one is linking to it it's unlikely to have any longevity.
Link building is more important than ever. But with more than 2 million blog posts published every day, increasing your site's visibility in the SERPs is getting harder.
So, how do you outperform your competitors (without breaking your budget)?
By analyzing their backlink profile.
Here's the deal:
No two sites are the same.
Some brands acquire links naturally. Others work hard to build links through outreach and other link building strategies.
In truth, there are hundreds of ways to build links, each with their own degree of difficulty.
So, with that in mind, you need to determine how a competitor is building links and whether it's something you can model.
An ecommerce site like Birchbox builds a ton of links through content (a rarity for ecommerce):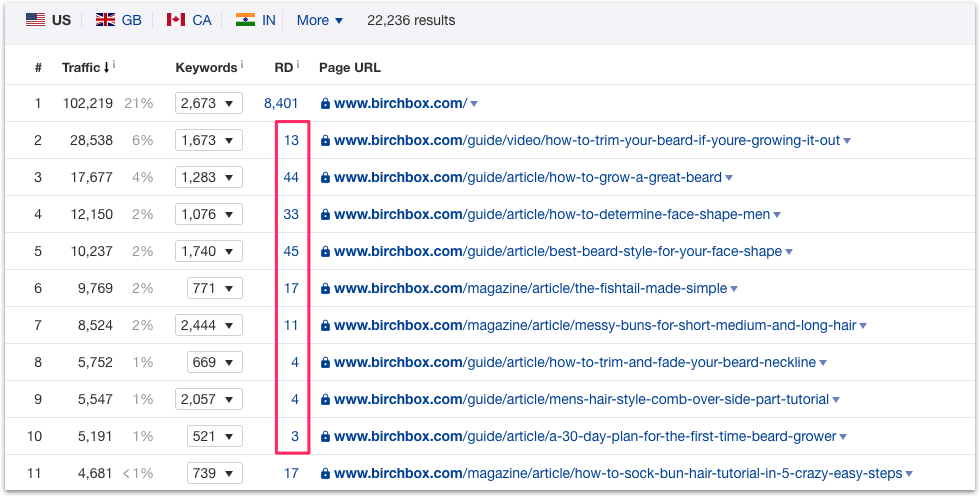 Others, meanwhile, rely on good ol' fashioned PR (having a unique value proposition or angle is essential here). Below are high authority sites linking to Freshly, an American meal delivery service: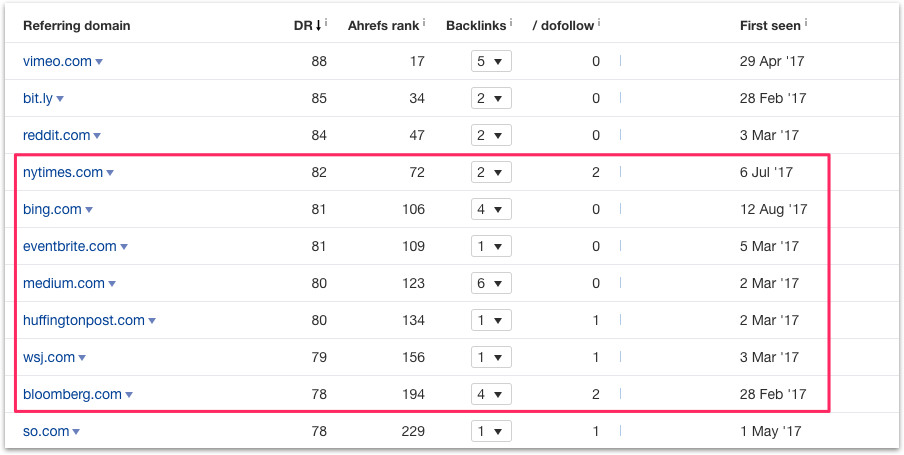 Analyzing a competitor's link profile can tell you a lot about their growth and even their SEO campaigns.
For instance, let's return to our Freshly example. If we analyze their referring domains, we can see one month saw a sharp increase in activity.

A jump like that can be due to a number of reasons. In Freshly's case, they received an investment from Nestlé and many authority sites covered the story including The New York Times…

…and The Neue Zürcher Zeitung…

Of course, examples like the above are rare and hard to model, so let's look at another example, one that's likely a result of an outreach campaign.
Similar to Freshly, Ties.com also saw a dramatic increase in referring domains, only it wasn't accidental (what is it about July?):

Around that time, Ties.com created an infographic around one of their most frequently asked questions:
"How do I tie a necktie?"
While it's impossible to know for certain, it's likely Ties.com did a TON of outreach to promote it, because in the months that followed they acquired over 1,000 backlinks:

So, if you're in a similar industry (one where you, too, have frequently asked questions) you could create an infographic and build links to it from similar sites.
Speaking of which…
If you've ever tried to build a link to your site, you'll know timing is everything. If a site has recently linked to a competitor, they're more likely to link to you if your content is better, more thorough, etc. That's why I recommend you set aside time once a week to review any new link building opportunities you can capitalize on.
Here's how to do that:
First, go to "Alerts" in Ahrefs:

Then, click "New Alert", type in a competitor domain, select "New backlinks" under "Scope" and "Weekly" under "Interval":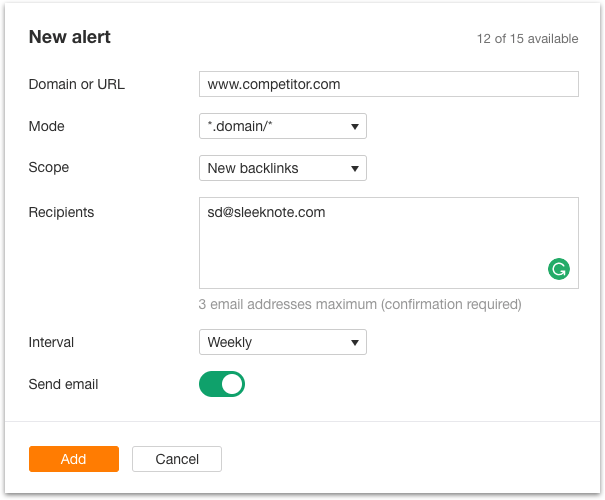 And that's it. You'll now get notified weekly when a site links to a competitor.
Takeaway. Link building it HARD. That much is a given. But it's a lot easier when you know how your competitors are building links—and who's linking to them. Setup processes like Ahref Alerts to ensure you're always one step ahead.
Step 4: Analyze Your Competitors' Product Pages
Marketing strategies bring people to the product pages, but it is the product page itself that will ultimately convince your customer to make a purchase.
For that reason, it is important to analyze your competitors' product pages.
Go through their
Descriptions
Images and videos
Delivery options
Call-to-action buttons
Reviews and testimonials
And you should not just blindly go through them. You should ask yourself what works and what does not work on their product pages.
Are they heavily into a particular sales strategy, such as FOMO? What kind of call-to-action buttons do they use, and do they have reviews and ratings?
Most importantly, where are they getting their traffic, and how can you redirect some of that traffic to your site instead?
Let's go back to Birchbox for a second, or rather, their competitor, Ipsy.
Using Ahrefs' Site Explorer tool, you can take a look at which of your competitors' product pages and blogs are the most popular (or at least which ones drive the most traffic).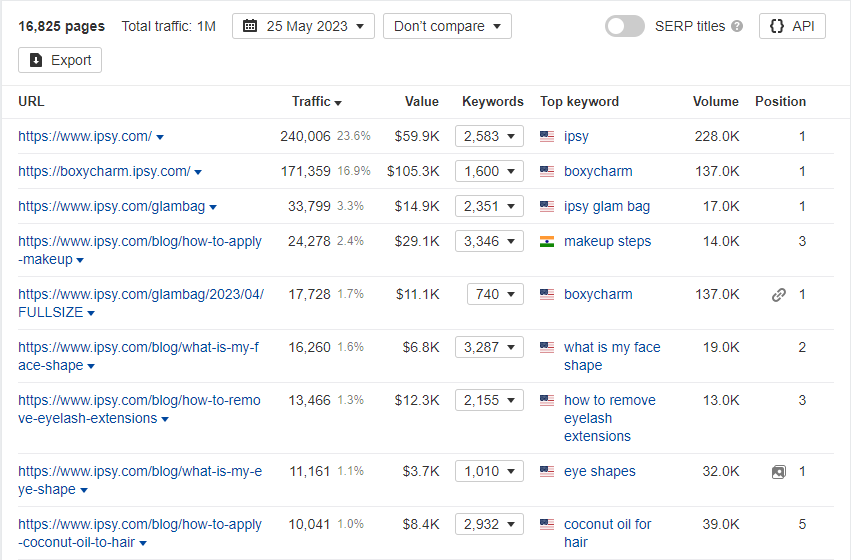 Ipsy's homepage drives nearly a quarter of their traffic. That's not a surprise. So let's check out a few of the pages that pop up right after the home page.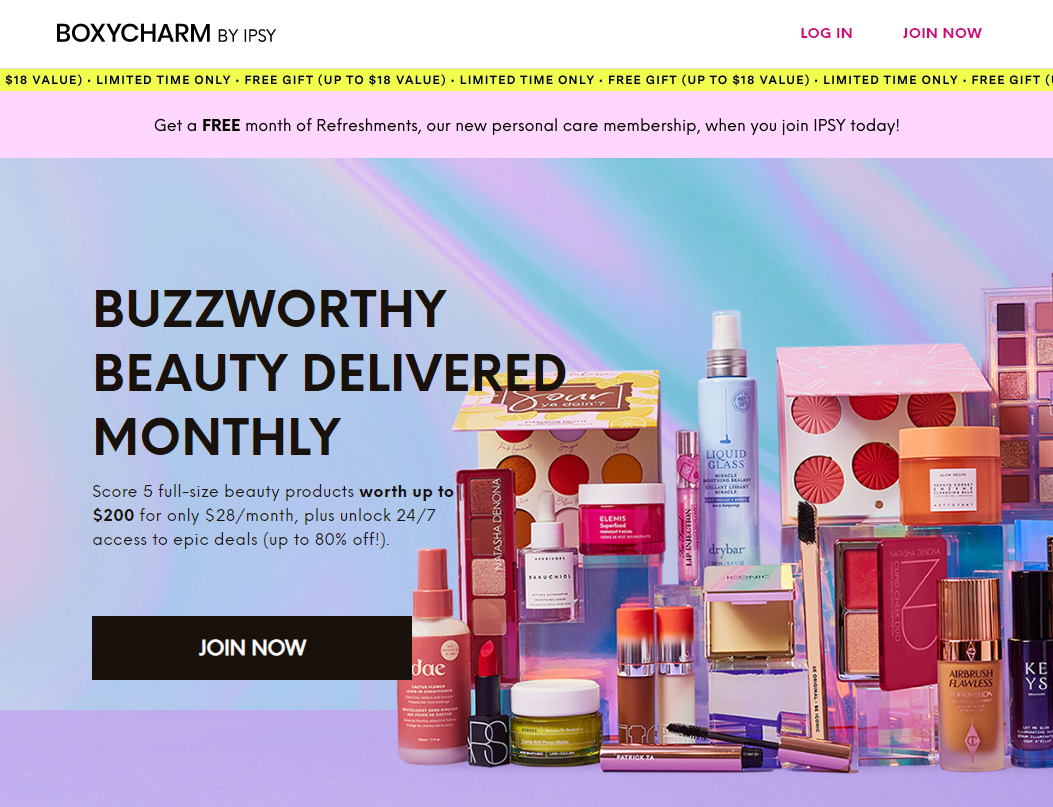 In fact, that top page is the exact competitor for Birchbox. This is the same offer that Birchbox offers, so it's good to start analyzing this page.
Now we could just pour through and pick apart this page to figure out how it works.
Or we could reverse engineer it from an SEO standpoint.
By plugging this keyword back into Ahrefs Site Explorer, we can dig a little deeper on it.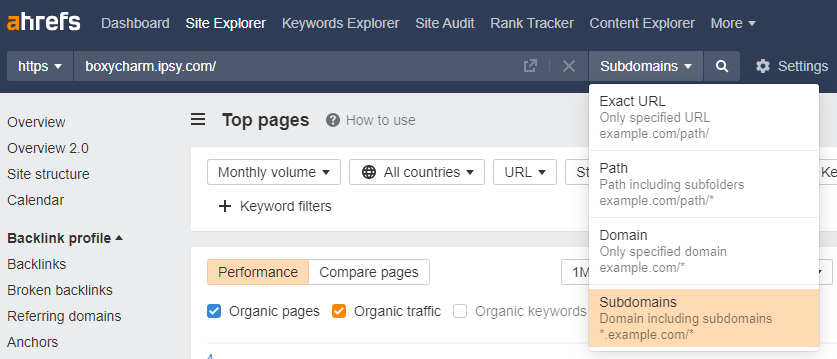 Now we can take a look at its traffic history according to Ahrefs, and even dive into the keywords it ranks for.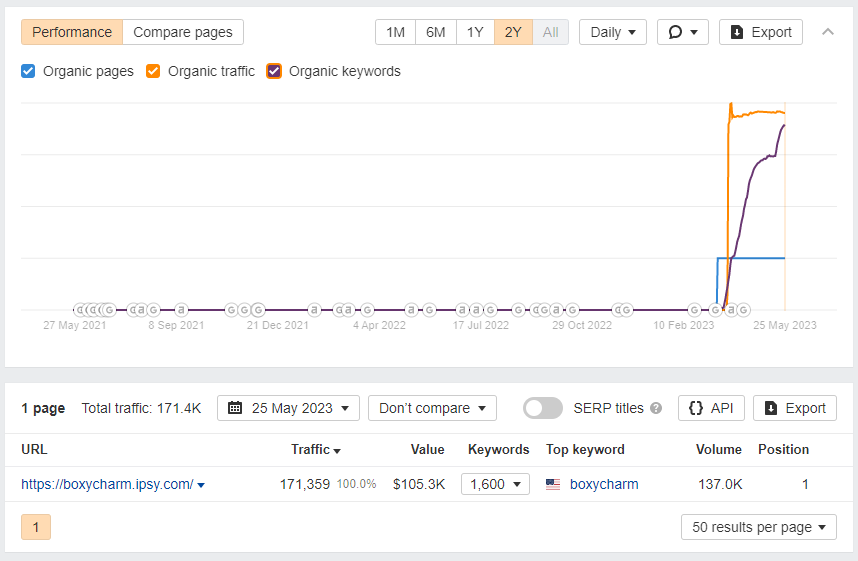 We can see that this page wasn't earning much traffic before March 2023. This tells us this is probably a relatively new page, or a newer offer.
Its top keyword is also a branded keyword, meaning that top search intent for this product page is for the product itself, as opposed to a generic product. Customers coming to this page want this specific product.
So let's take a look at more of the keywords this page ranks for organically.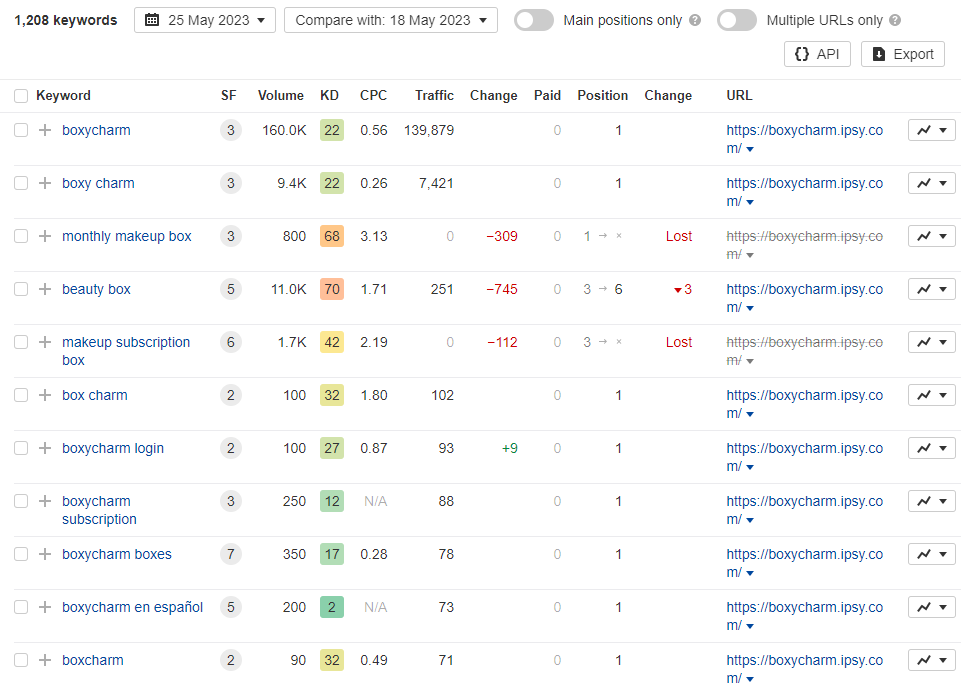 Keywords are always fluctuating, so it's normal to see some changes even within the last week. We can see that Ipsy's Boxycharm has quite a few branded keywords. They're low difficulty, as not many of their competitors are trying to rank for them.
But when we look a little deeper, we can see a few opportunities for Birchbox.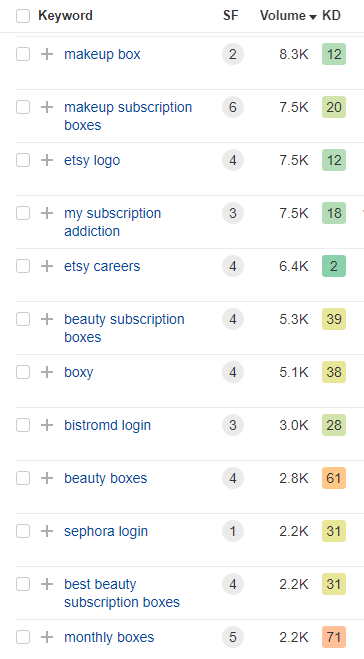 There are a few more generic keywords with relatively low difficulty. From here, you could begin adding keywords like "makeup subscription boxes," "beauty subscription boxes," and "best beauty subscription boxes" to your site.
This way, you can begin targeting the exact words that are driving potential customers to your competitors.
Step 5: Study Your Competitors' Pricing Strategy
There is a lot you can do when it comes to pricing and promotions.
And most likely, your competitors will be employing different strategies.
Going through all of your competitors and analyzing what pricing strategies they use can give you ideas for your own pricing and offerings.
For example, see how Blendjet, a company that sells portable blenders prices its products:
Blendjet has a quite commonly used pricing strategy of discounted prices (around 50% OFF for their blenders).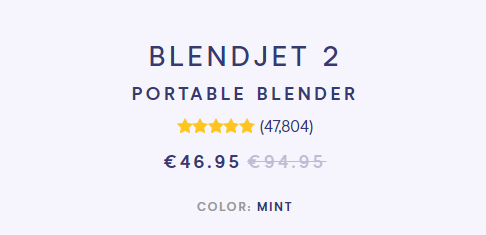 And looking at its main competitor, Nutribullet, they are using a non-discounted price and free shipping strategy.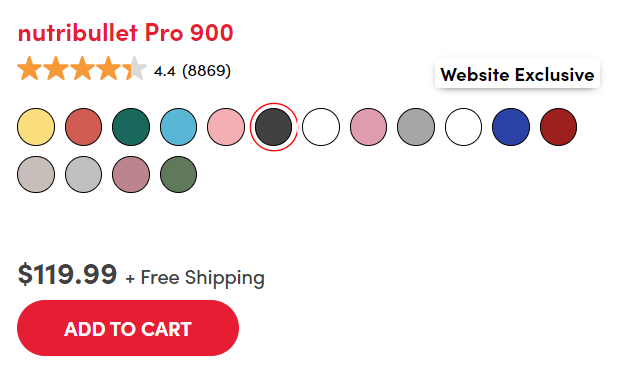 If you were Blendjet's and Nutribullet's competitor and did a competitive landscape analysis, you could create a strategy for differentiating yourself by offering a free gift, such as a free recipe book or an extended warranty with each purchase.
This could give you an edge over them.
In the same way, look into your competitor's offerings, such as seasonal sales.
Here again, see what Blendjet is doing. Here is what they did for Mother's Day:

If you were its competitor, this should give you an idea of what type of seasonal promotions you can implement.
The same things apply in any niche, and you should look at what your competitors are doing.
Are your competitors going with a free shipping strategy? Are they using upsells to boost their average order value? Are they offering discounts and coupons at certain times of the year?
Identify what's working for them, then use it as inspiration for your own campaigns.
Step 6: Reverse-Engineer Onboarding Emails from Your Competitors
A company's email marketing strategy will tell you a lot about their goals and why they're sending the emails they're sending.
After all, each email will have a specific goal in the hopes of nudging you to become a customer.
If you're serious about analyzing your competitors' email marketing strategies, I recommend (1) creating a new email account specifically for collecting emails and (2) creating labels in Gmail (and have their emails skip your inbox). Without either, your inbox will quickly become overcrowded, making it harder to review competitor emails.
You might be doing this already, but if you're not, go to a competitor's site and opt in for a lead magnet or join their newsletter (avoid using your work email for obvious reasons).
After you've gone through their onboarding flow (if they have one), ask yourself:
My colleague, Rikke, recently began a free trial with Squarespace and was able to go through all their onboarding emails to analyze what they're doing.
Going through competitor campaigns and workflows like this will give you opportunities to pick up on any little details you wouldn't have known otherwise.
For example, Squarespace number their emails for the user so they know how far through the onboarding process they are.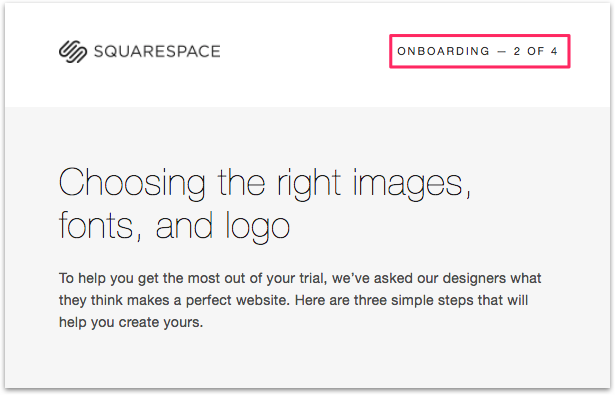 CoSchedule are also a good example of a site to pay attention to, especially since they send emails that look like they come from a real person:

Details like the above might not seem like much, but when added together they make a big difference.
Takeaway. Sign up for your competitors' emails and go through them, one-by-one, to identify anything they're doing that you're not — and then make the necessary changes.
Step 7: Piece Together Their Remarketing Strategy
According to recent research, 96% of people who visit your site don't convert to a lead or sale.
Worse yet, 70% of visitors that add a product to their shopping cart abandon the process before completing their order.
It's no surprise, then, remarketing is a go-to strategy for many marketers…
And Larry Kim is no exception.
In fact, in 18 months, remarketing allowed Wordstream to increase their repeat visitors by 50%, boost conversion by 51%, and increase their on-site time by 300%.

While analyzing a competitor's remarketing campaigns isn't as easy as the preceding steps, it is possible, but you need to be patient because it takes time.
To get remarketed, go to a competitor's site. In the below example, I'm using ReferralCandy as I visited their site recently (they have an amazing blog):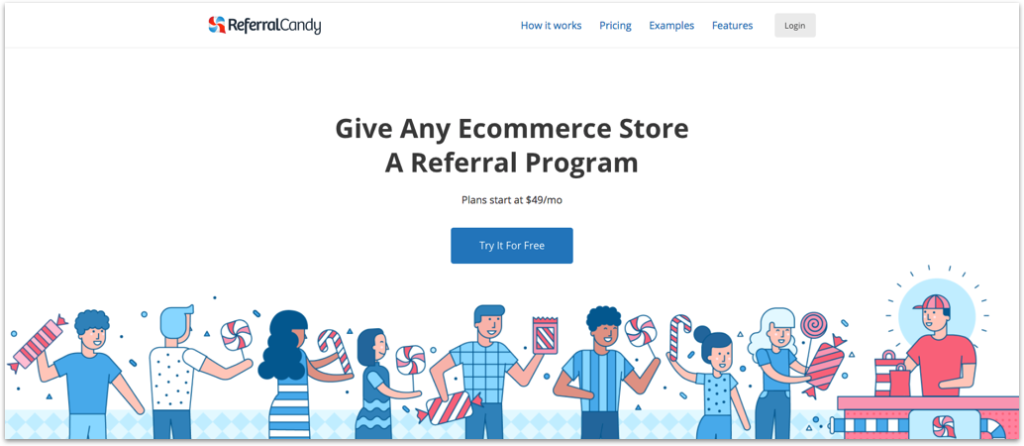 Shortly after, log in to Facebook and pay attention to your news feed and sidebar (note: you need to ensure you don't have AdBlock enabled if you're using Chrome). Guess what I found in my news feed after visiting ReferralCandy's site?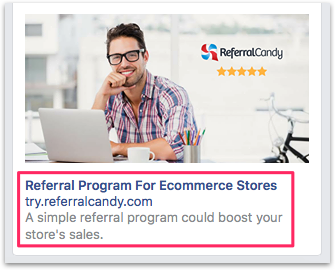 If a competitor's remarketing to you, it's worth taking a screenshot of their ad as it's likely they'll show you different ads on different days, depending on the length of their retargeting flow. (Our retargeting flow runs for 40 days so we have plenty of time to showcase our content, our product and more.)
Click on the link and make note of where they're directing you. Are they pushing you to download a lead magnet, begin a free trial or something else?
When I click on ReferralCandy's ad, I'm redirected to a landing page to start a free trial: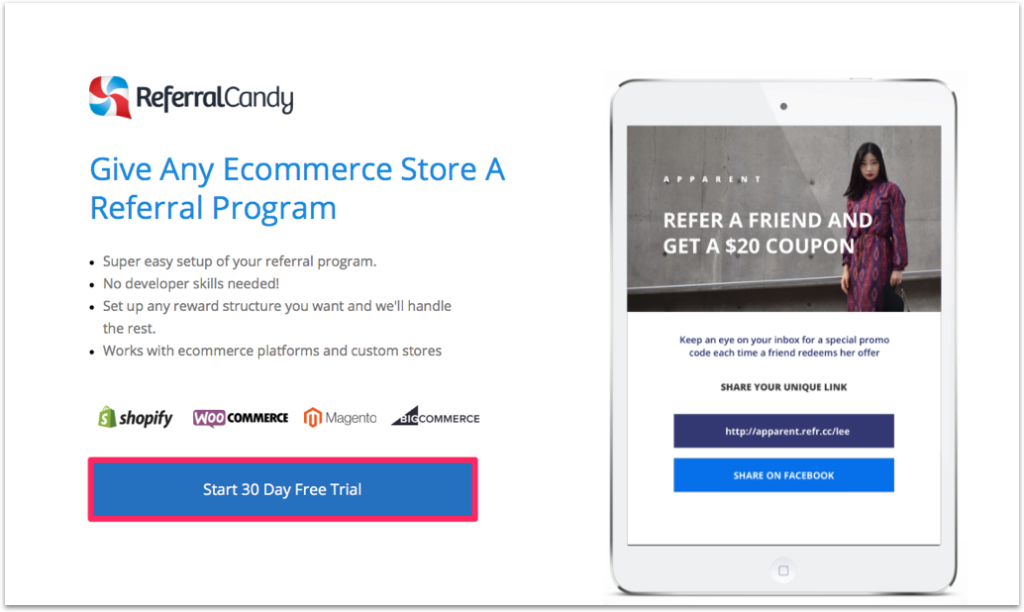 Sometimes, clicking the URL will also hint to whom they're targeting and why.
Compass, for instance, retargeted me because they viewed me as a potential partner for their program:

Asana, on the other hand, viewed me as a potential customer because we're a customer of a competitor, Favro, and they're using a lookalike audience):

Granted, information like the above isn't always available (especially if your competitors aren't investing in remarketing.) But if they are, and you have the patience to go through their marketing funnel, top to bottom, it might give you the advantage you're looking for.
Takeaway. If you're using AdBlocker, turn it off and take screenshots of any competitors ads you see on Facebook or other sites. Click on the links and try to reverse-engineer their retargeting strategy.
Use These Steps to Create a Competitive Landscape Analysis Framework
Using the above seven steps, you can flesh out your own competitive landscape analysis template.
Alternatively, there are also some other competitive analysis frameworks you can incorporate and use to inform your overall strategy.
These frameworks can help you gain insights into a company's competitive strengths and weaknesses, as well as their overall competitiveness in the market.
Let's look into two popular competitive analysis frameworks, SWOT Analysis and Strategic Group Analysis.
Framework 1: SWOT Analysis
SWOT analysis is one of the most common ones, and it's used to identify a company's Strengths, Weaknesses, Opportunities, and Threats.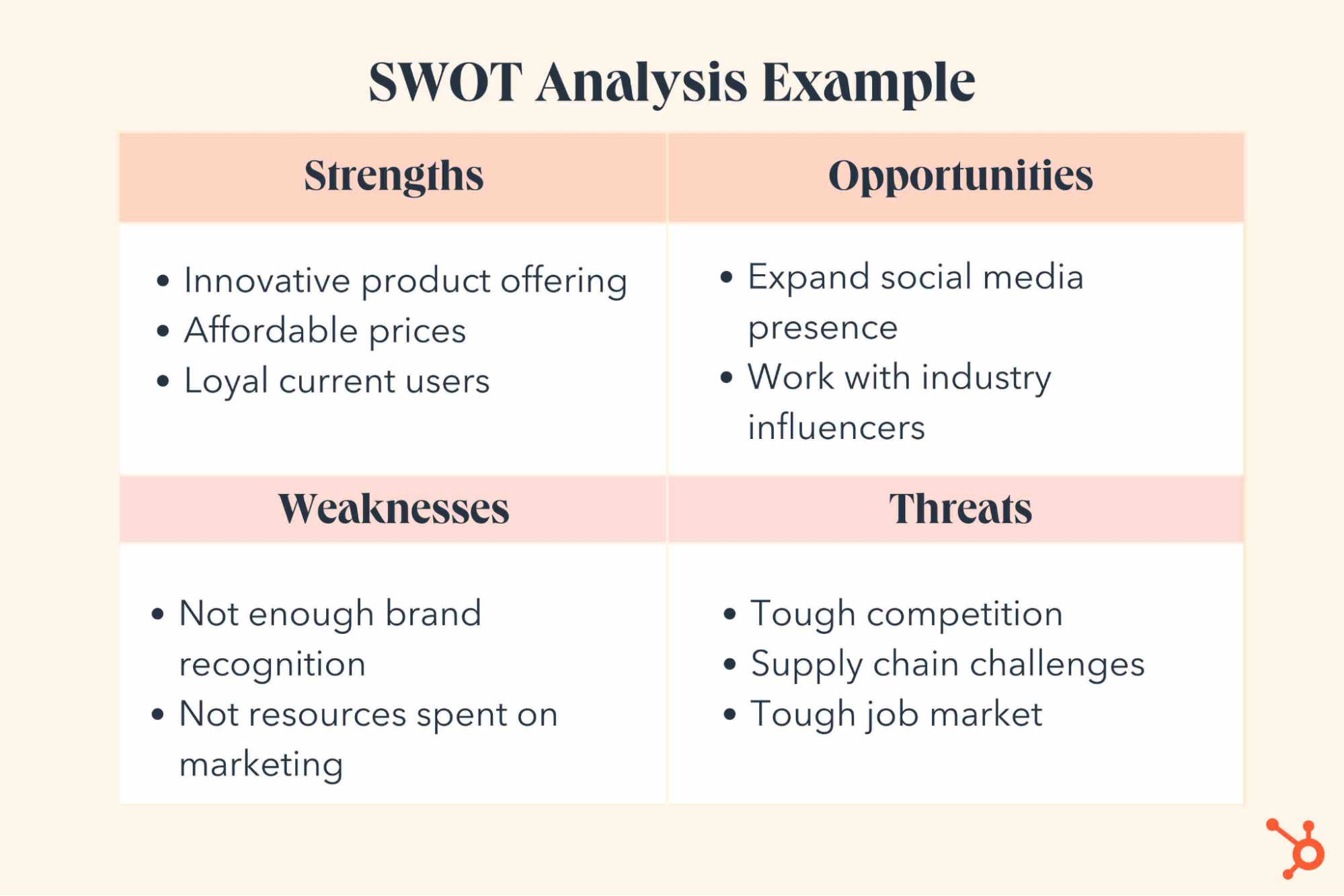 Source
You can use it to compare yourself with a competitor and look for gaps in the market that you could fill.
For example, if you see that your main competitor lacks quality customer service, you can use that as an opportunity to provide a better experience for customers.
Framework 2: Strategic Group Analysis
Strategic Group Analysis looks into the industry and matches competitors together who have similar strategies and objectives. It's usually visualized by a scatterplot-style graph that places your competitors in relation to one-another, and your own brand.
For example, G2 Crowd offers this style of strategic group analysis for software companies.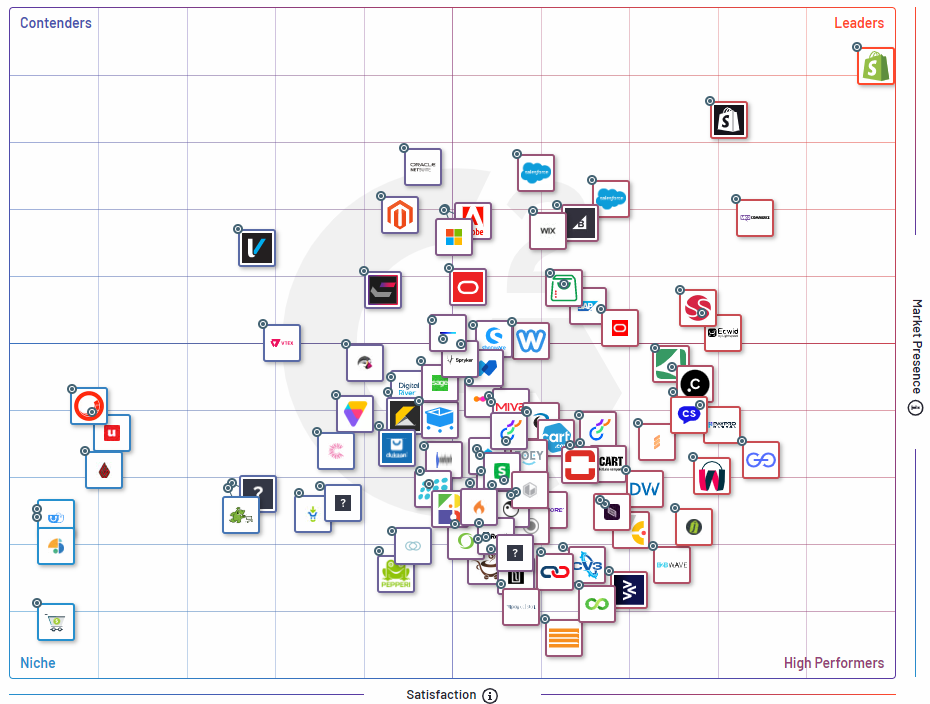 This can help you better understand where your competitors stand and help you come up with creative ways to differentiate yourself.
Using a Competitive Landscape Analysis & Automation to Edge Out Competitors
While a competitive landscape analysis won't beat your competition alone, it'll arm you with the knowledge you need to go to battle.
According to Sun Tzu, "If you know the enemy and you know yourself, you need not fear the result of a hundred battles."
Competing in business can be a lot like war: and knowing your competition inside and out is your best weapon.
But it's only half of the equation. Now, you need tools that will help you put your competition strategy in place.
Marketing automation is a huge piece of that puzzle: freeing up your time to focus on your core business, while helping you build a real relationship with your customers.
Drip helps you do more with the time you already have. That extra time can help you focus on how best to meet the competition where they are, and surpass them.
But don't take my word for it — try Drip free for 14 days and see how much time you save.