Product close-ups, size guides, augmented reality … No matter how much you help customers visualize your products, online shopping will always carry a certain amount of risk for consumers.
After all, they can't touch, feel, and try on the products you're selling.
That's why there's a greater chance that an online order won't match their expectations or needs when compared to brick-and-mortar shops.
Addressing your consumers' perceived risk will minimize their worries, and help them shop with more confidence.
And a solid satisfaction guarantee is a must to remove that risk.
Several studies showed that selling with a money back guarantee increases retail profits, and consumers take it as a signal for product quality.
How you frame and offer a guarantee can have a dramatic impact on your conversion rates, too.
So you can always go beyond generic money back guarantees and reassure your potential customers better.
Here are seven of the best e-commerce satisfaction guarantees we've seen and why they work so well.
What Is a Satisfaction Guarantee?
A satisfaction guarantee is a promise a brand makes to assure a buyer that a refund will be issued if the buyer is not satisfied with a product or service within a certain timeframe.
The promise of a refund can win the confidence of the buyer before their purchase, and for that reason, help brands convert more prospects into buyers.
Money-Back Guarantee Template to Steal
If you offer a great satisfaction or money-back guarantee, you'll want it front and center. Nothing builds trust quite like a guarantee that your customers won't lose their money if they aren't happy with the products they've ordered.
Writing them can be a bit tricky. How do you make sure you cover all of the important bits and make your customers understand that their happiness is your priority?
We've crafted an easy-to-use money-back guarantee template you can shamelessly steal here:
We have complete confidence in the quality of our products and firmly believe that you will be more than delighted with your purchase. However, we understand that sometimes things may not go as planned. That's why we offer our amazing [timeframe] money-back guarantee. So, no need to worry, simply send us an email at [email address] and we'll take care of everything for you. We'll promptly process a refund for the full purchase price, which will be promptly credited back to your original payment method. Your satisfaction is our utmost priority, and we'll ensure that you're a happy customer!
This little template will help you create your own money-back guarantee policy that fosters customer trust. You'll want to customize the information in brackets and adjust the tone for your own brand.
1. The Lifetime Guarantee
Your satisfaction guarantee tells visitors many things about your online store:
How easy it is to return a product;
How good of customer service they should expect;
What happens if they regret buying that product;
and so on.
But more importantly, it tells visitors how much confidence you have in your products.
And for consumers, it points to product quality.
Many brands limit themselves with 30-day or 90-day money back guarantees. And that's only one way to go.
Offering a lifetime guarantee, on the other hand, is the ultimate level of confidence you can display.
When you frame your guarantee around a fixed number of days, you risk triggering a question in consumers' minds. If a product has a 30-day guarantee, it automatically puts the idea of returning the item before the time runs out into their minds.
A lifetime guarantee is a bold choice, but it eliminates the customers' urge to return products and creates a trust for your product quality.
Here's how Brooklinen offers a lifetime guarantee on all their products:

The company phrases the guarantee in a way to explain how proud they are of their craftsmanship.
And if anything ever happens to your Brooklinen products, they offer free repairs or replacements.
You don't always have to offer a money back guarantee on your e-commerce site. Repairs, refills, or renewals are also effective promises you can make to your customers.
Most of your customers will never even ask for it, but a lifetime guarantee will put your brand in a strong position for customer satisfaction.
2. The Free Trial Guarantee
Offering a free trial for a limited time before selling a product or service is one of the oldest tricks in the book.
Marketers know that the free trial period is their chance to influence the consumer and get them hooked on the product.
If someone is already satisfied with the product during the trial period, chances are, they'll be ready to pay the full price once it's over.
Even though it's highly effective in converting site visitors into customers, we tend to associate free trial with SaaS companies (just like ours.)
But free trials have great potential waiting to be explored by e-commerce sites.
Warby Parker has already discovered that and their take on free trial guarantees is something to behold: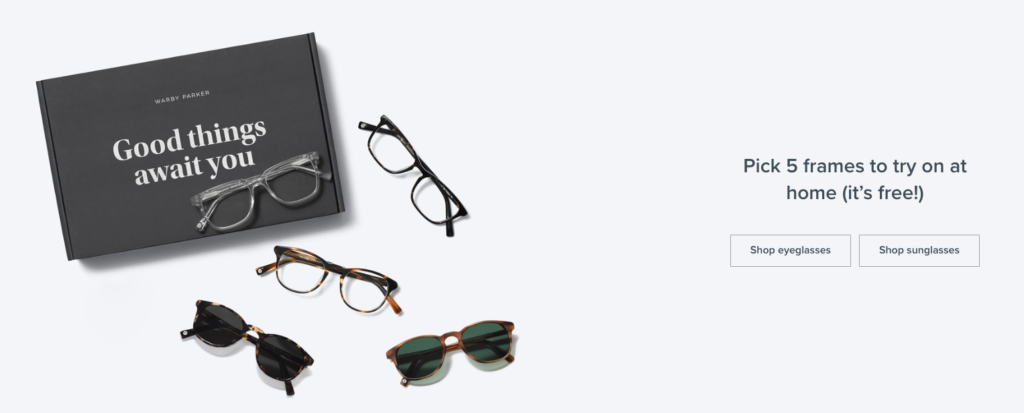 The American online store for glasses offers visitors a different kind of free trial.
Knowing that shopping for glasses is a personal experience, the company goes beyond virtual try-ons and offers visitors a chance to try the products at home—for free.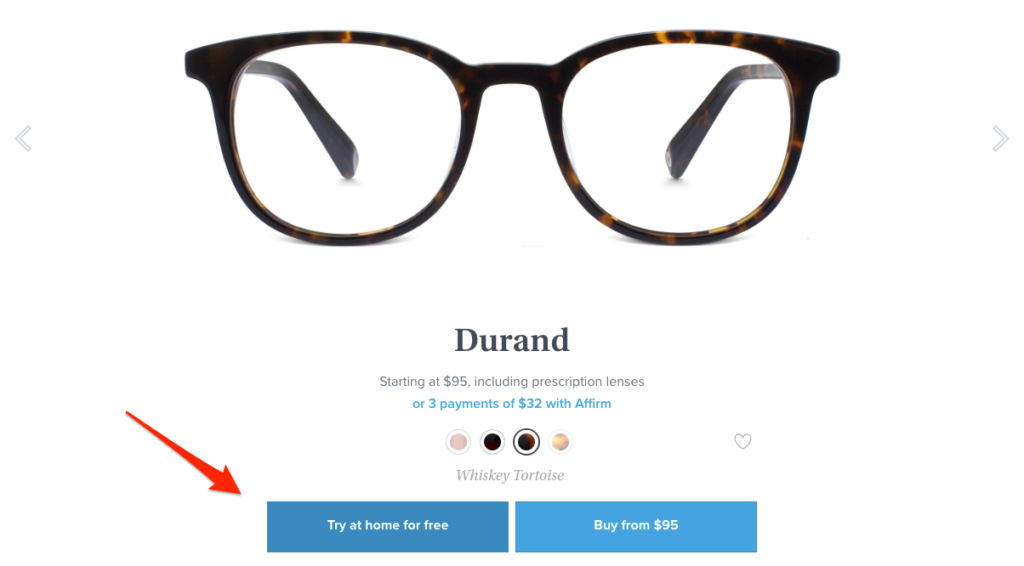 When you visit a product page that is part of the program, you see two options: "Try at home for free" and "Buy from $95".
You can choose up to five frames to try at home for free and find the one that fits your face perfectly.
Warby Parker offers both free shipping and free returns, only to make things easier for their customers.
If you're selling products that have to be a perfect fit for your customers, you can offer them alternatives for a limited period.
Customers will have a more pleasant shopping experience, make better decisions, and they'll be more willing to buy the product when they know it's easy to try and see.
3. The First-Time Guarantee
First impressions matter.
No matter what you're selling, the first purchase is your greatest chance to impress customers.
You need to make sure that first-time customers have an exceptional shopping experience so that you can convince them to buy from you again.
A powerful satisfaction guarantee not only turns visitors into customers. It also converts first-timers into repeat buyers.
But what do you do if you can't offer a free trial guarantee on your e-commerce site?
Offer a first-time guarantee instead.
Mack Weldon is a brilliant example of first-time guarantees:

Offering what they call a "try on guarantee," the company wants to ensure that customers are happy with the first purchase they make.
Since they're selling underwear online, offering an exchange due to dissatisfaction is not an option for Mack Weldon.
So they find a better way to guarantee customer happiness, instead.
If you don't love the first pair of underwear you buy, they send you a different size, style, or issue a refund. And you get to keep the pair you tried on.
They aim to make a good first impression by ensuring product satisfaction. Plus, they increase your chances of making another purchase and becoming a repeat customer.
4. The Lowest Price Guarantee
Competition in e-commerce is real.
One way or another, you should make your online store stand out among the crowd.
And offering the lowest price is one of those ways.
In fact, price is among the top three reasons why Americans choose to buy a product at a certain online store.
Offering the lowest price guarantee gives site visitors a strong reason to buy from you—without even considering alternatives.
This type of guarantee shows that you are confident in your online store and the fair pricing of your products.
When you offer a lowest price guarantee on your site, you address many visitor concerns … including those who wonder if they can find the same product somewhere else for a cheaper price.
The lowest price advantage makes you stronger vis-à-vis competitors and improves your conversion rates.
You probably came across a few e-commerce sites offering to pay the difference if you see the same product somewhere else at a cheaper price.
But evo goes the extra mile and shows how much they trust their prices:
When you visit a product page on their site, you'll see a tag that says "Lowest Price Guarantee."
Here's what their guarantee looks like in detail:

Instead of simply paying the difference, the company also promises to beat the price by 5%.
This means higher self-confidence and a stronger focus on customer satisfaction.
If you're offering the lowest price guarantee on your e-commerce site, make sure you make it visible on product pages and explain clearly what your guarantee covers.
5. The Happiness Guarantee
If you're in e-commerce, I'm sure you're working hard to make your customers happy—and hopefully, to keep them happy.
Because happy customers become loyal customers.
In fact, 30% of consumers say that they would prefer to shop from a site they've previously bought from.
In Guarantee #3 above, we covered how important it is to make a good first impression.
But how can you go beyond the first time and ensure customer happiness in every single purchase?
Offer a happiness guarantee.
Here's how Bombas approaches customer satisfaction the right way:

Taking a more sentimental position, Bombas frames its product guarantee around the word happiness.
Instead of calling it a money-back guarantee or a full refund policy, they explain how important customer happiness is to them.
They stress that it's a no-questions-asked type of guarantee and they're dedicated to solving your problem—doing whatever it takes.
What I like the most in this example is the balance between emotions and logic.
They don't only praise the customers and talk about how much they care about you.
And they don't simply write down a technical explanation about what you should expect when you want a refund.
Instead, they find a nice balance to make their brand trustworthy and keep their customers 100% happy.
If you're offering a money-back guarantee on your e-commerce site, try framing it around positive feelings and use power words.
6. The Fun Guarantee
Nope, I'm not talking about guaranteeing fun to your customers. (Unless that's your value proposition.)
While looking for examples for this blog post, I've seen so many companies using a refund policy, just because they had to.
What's the point of having a strong guarantee if none of your potential customers will see it?
If you're offering a satisfaction guarantee on your e-commerce site, you want to make sure that your visitors are aware of it.
So why not make it a little more attention-grabbing?
That's exactly what Sunski does.
When we're buying glasses, we might think about what happens if lenses get a scratch or if the frame breaks. And Sunski knows our concerns well.
That's why they address customer pain-points and possible post-purchase problems in their guarantee.
And the best part? They don't write a page long refund policy.
Instead, they create a song out of it:
This is, by far, the most memorable way you can frame your guarantee.
Sunski offers a Lifetime Guarantee on their site, but with a little twist:

When you visit a product page, you see this drawing that communicates the product guarantee.
Combined with the phrasing "forever warranty" and the brilliant guarantee video, the company wins the customers with humor.
No matter which type of warranty you're offering, try bringing some joy into your guarantee pages and you'll start making more out of them.
7. The Branded Guarantee
Consumers are now immune to generic guarantees that say "If you're not satisfied with our product, return it within 30 days."
They don't even notice it, let alone be persuaded by it.
As the Sunski example above proves, satisfaction guarantees don't have to be yet another legal, must-have page on your site.
After all, the purpose is to reassure your site visitors and nudge them to make an easier buying decision.
The more interesting your guarantee is, the more attention it will catch. And that means better chances of convincing and converting site visitors into customers.
This doesn't mean that you have to write a song about your refund policy, too (although I strongly support the idea.)
Find a way to own your satisfaction guarantee and align it with your brand voice.
Just like Casper does it: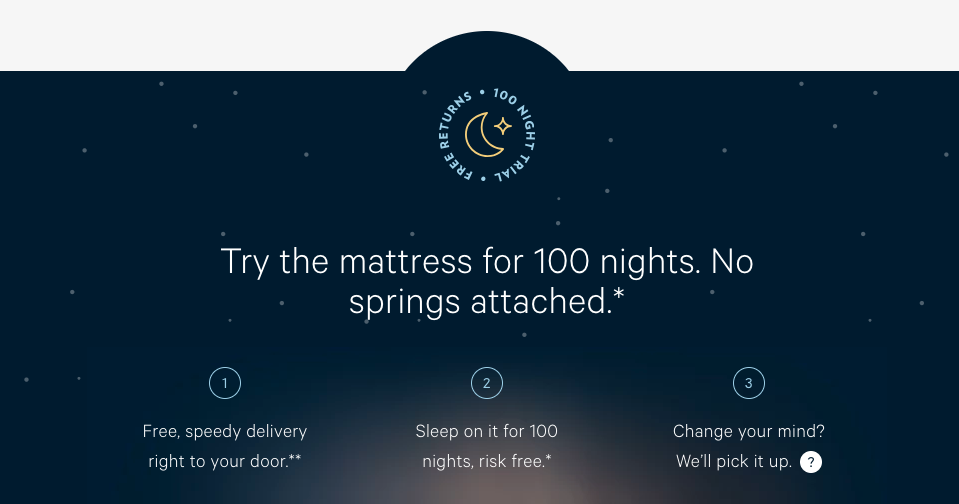 Instead of calling it a 100-day-warranty, the famous mattress company phrases their guarantee as a 100-Nights Trial Period.
They brand the guarantee in a way that is highly relevant to their products and in a humorous tone.
If you're unsure about what type of guarantee to offer on your online store, think about the worries of your customers: Why might they want to return the product? Which potential problems can occur after the purchase and make them change their minds?
Selling mattresses-in-a-box, Casper knows that customers won't be willing to pack the product to return it, so they guarantee that they'll pick it up for you.
They're also well aware that customers probably won't change their minds after sleeping on a mattress for three months.
But if that happens, they know that Casper will be there for them. And that's the whole point of satisfaction guarantees.
Another great example of branded guarantees comes from Patagonia: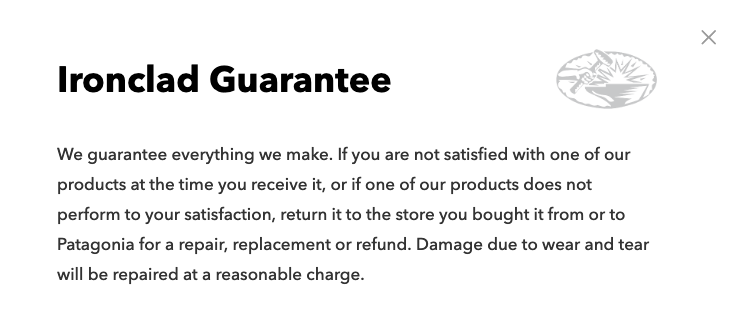 Since the company sells outdoor clothing and gear, they offer customers something called an Ironclad Guarantee that they invented.
And they make sure that it's visible on every product page: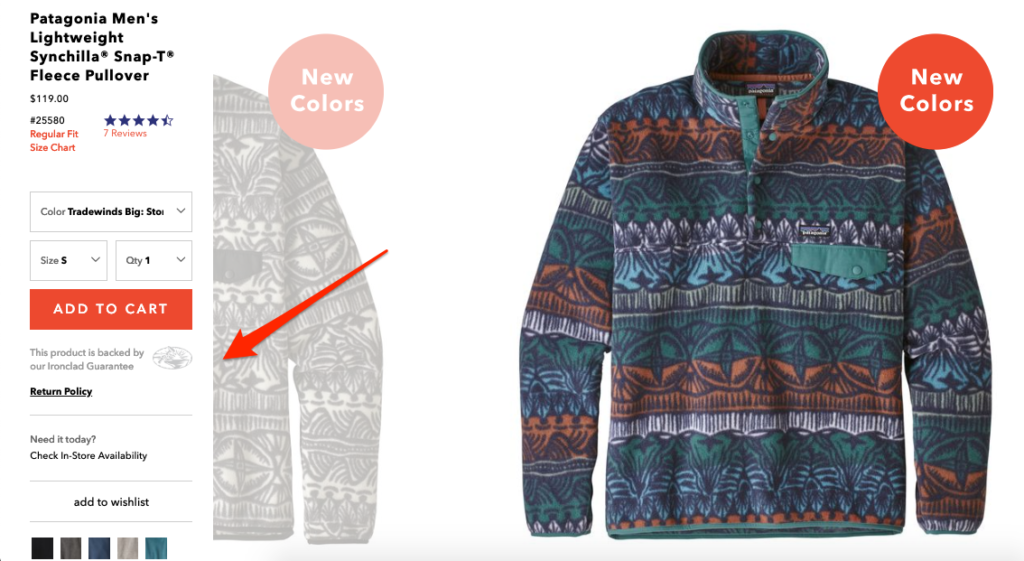 Try coming up with a word that is relevant to your brand name, product range, or industry you're working in. Make sure it resonates with your audience and communicates strong, positive emotions.
Conclusion
The main motive behind writing good satisfaction guarantees is not to tempt customers to return your products. Because let's admit it, nobody wants that.
The goal is to make your guarantee as clear and interesting as possible so that you can minimize the visitors' concerns about making a purchase.
And that means more sales and happier customers.