When it comes to winning new customers and driving sales, a well-timed recommendation from your existing customers can go a long way.
In truth, as consumers, we're far more likely to engage with—and take action on—advice from the people closest to us.
Indeed, Nielsen's latest Trust in Advertising study reveals that 88 percent of consumers trust recommendations they know more than any other form of advertising.
And that trust has long-term benefits, as demonstrated by a landmark study from Wharton Business School.
Researchers analyzed two groups of customers acquired by a German bank over three years. One group comprised customers acquired through the bank's referral program, while the other contained customers acquired through various other means.
The study, which looked at nearly 10,000 accounts signed up over 33 months, found that customers referred by other customers:
So it's no surprise that referral schemes are such a popular ecommerce marketing tactic.
Planning to launch or hone your referral marketing initiative? Get inspired with this selection of engaging, persuasive forward-to-a-friend emails.
7 Foward to a Friend Email Examples You Need to See
1. Baronfig: Offer Mutually Beneficial Incentives
To generate more referrals, you first need to understand the reasons why customers feel compelled to recommend a product or brand to their friends or family in the first place.
Sure, if they really love your product, they might decide to give it their stamp of approval.
But people are busy.
And with the best will in the world, you're probably not the only thing on their mind.
Not only that, but conflicting forces influence our decisions on whether or not to recommend a given product.
Referral marketing company Mention Me explains this well. It says the likelihood of someone giving you a recommendation is informed by two competing factors, which it describes as psychological balloons and psychological weights:
Psychological balloons are things that make a referral more likely
Psychological weights are factors that make us less likely to go out of our way to refer a brand or product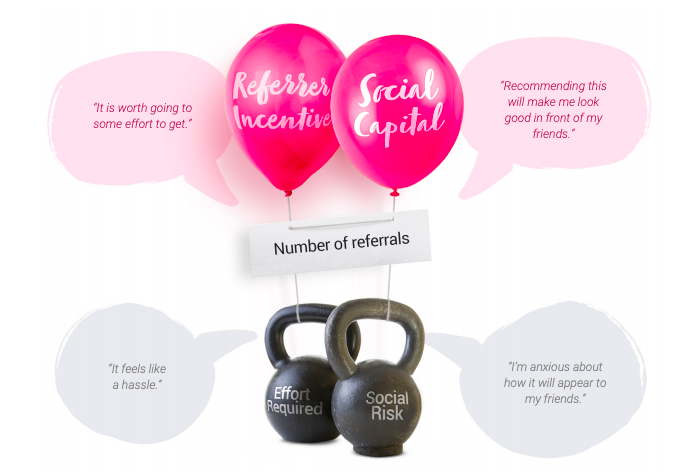 The more you can "inflate" those psychological balloons and "lighten" the weights, the greater the chances of winning a ton of referrals.
Baronfig attempts to do this by offering an incentive to referrers (when someone they refer makes a qualifying purchase, they get a $10 discount).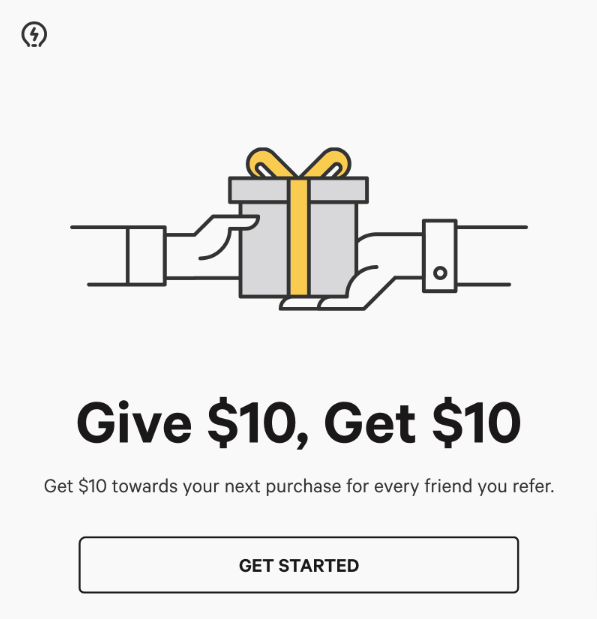 The lesson here is clear: if you offer a strong referrer incentive, you can attract referrals (provided your product is up to scratch and your referral process doesn't put them off).
2. Weekday: Keep It Simple
Continuing the theme of psychological weights and balloons, providing a referrer incentive isn't the only way to secure valuable referrals.
You could offer me $1,000 to recommend your product. But if you force me to jump through endless hoops to earn it and insist that my reward be paid out in points or coupons that can only be spent at certain times or on certain items, I'm not going to bother. It just doesn't feel worth the hassle.
That's why it's in your best interests to communicate your referral program in the simplest way possible.
Weekday does this through possibly the most concise, easy-to-understand forward-to-a-friend email example I've ever seen: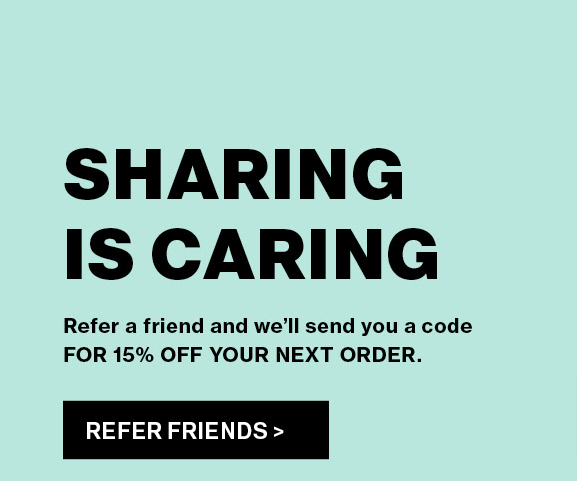 This isn't a screenshot of part of an email—it's the whole email.
In just 20 words, including the copy in the CTA button, it:
Offers an incentive for referrals
Uses emotive messaging to persuade people to refer their friends
Adds a persuasive kicker that compels people to click
Each of those words is doing a lot of heavy lifting. But it works so well because it makes Weekday's referral program sound super simple.
That means there are few barriers to getting involved.
Struggling to concisely communicate your referral scheme? That's a surefire sign that it's too complicated.
3. Bombas: Provide Meaningful Value to Referred Customers
Let's take another quick look at the Mention Me graphic I shared earlier.
This time, we'll focus on the lower right quadrant: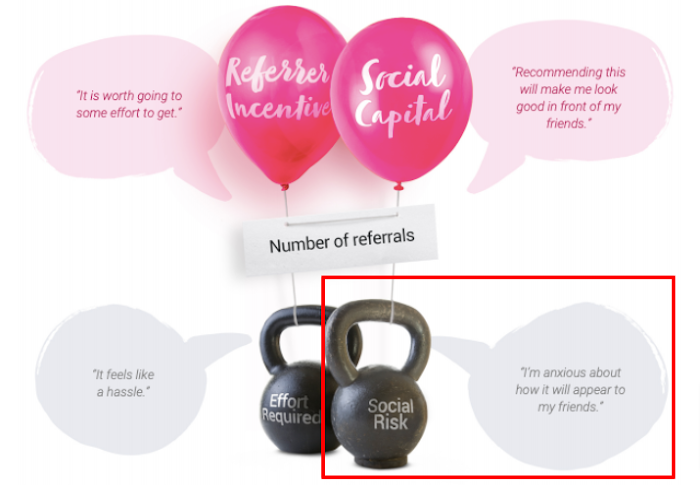 One of those aforementioned psychological weights—or barriers standing in the way of referrals—is a social risk.
We care a lot about our "social capital," which means we're extremely careful about what we recommend. In short, I'm not going to tell my friends about your product or brand if I worry it won't reflect well on me—even if you're offering me an insane incentive to do so.
There are many reasons why referring a friend might make you look "bad."
The product could be terrible (or simply "uncool"); it might be too expensive; it might not be relevant to the potential buyer.
Or there might be little incentive to the person you're referring. In other words, if you don't offer an attractive discount or promotion for the person being referred, it might make your existing customers less likely to give you their recommendation.
Naturally, what makes for an "attractive" discount will vary from brand to brand.
A five percent discount is massive if you sell $5,000 designer sunglasses, whereas offering $10 off your next purchase is practically meaningless. The opposite is true for cheaper, lower-end products.
Bombas gets things right here: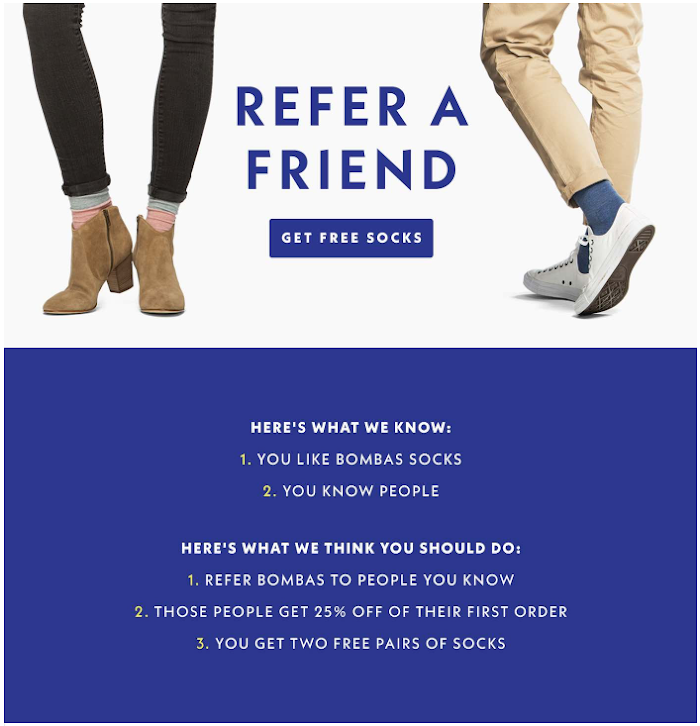 Its products are comparatively expensive as socks go, but they don't cost the earth—they're not woven with gold thread.
So it has to offer a pretty substantial incentive to make its forward-to-a-friend offer sound worthwhile. And a 25 percent reduction ticks that box.
The eagle-eyed reader will have noticed another interesting element of this forward-to-a-friend email example: the existing customer—that is, the person making the recommendation—doesn't receive a cash incentive or money off their next purchase. Instead, they get two free pairs of socks.
Offering a physical incentive feels more tangible and valuable than a simple discount. This works well if you sell a product that customers need to own in bulk (like socks).
That said, it's less useful for longer-lasting, one-off products; there's a limit to how many dining tables or microwaves I need in my home.
4. PrettyLittleThing: Simplify the Process of Sharing Referrals
Okay, so you want your customers to recommend you.
But what exactly does that look like?
Do you simply want them to tell people to buy your products face to face? Or to share a promo code on social media? Or something else entirely?
Don't force your existing customers to guess how it all works—explain everything to them upfront so they know what happens next (and what's expected of them).
PrettyLittleThing does this effectively—and without any bells and whistles—in this forward-to-a-friend email example:

It really couldn't be much simpler. Just a line of intro copy, then a message with a referral link that can be copy-pasted into an email or social post and shared with friends.
In other words, if I'm thinking about recommending PrettyLittleThing to one of my nearest and dearest, they've done all the work for me.
5. Firebox: Make Your Customers Feel Special
Let's take a second to think about the people who are most likely to take advantage of your referral program.
Is it going to be someone who just stumbled across your brand and signed up for your mailing list? Or someone who's been purchasing from you for years?
Chances are, it's option #2.
Loyal customers are worth their weight in gold where referral programs are concerned, with research from KPMG revealing that 86 percent of loyal customers will recommend a company to friends and family.
So it makes sense to act as if you're speaking directly to your most loyal, longest-standing, highest-spending customers. Tell them how important they are to your brand; make them feel special.
That's what Firebox does here: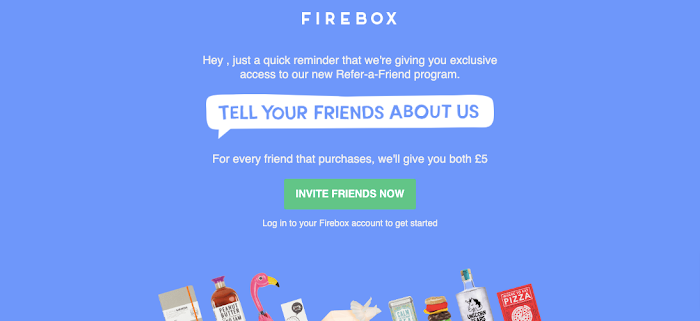 By telling email recipients they're getting exclusive access to this all-new referral program, Firebox makes it sound like this isn't something available to just any old customer.
A little flattery can make a big difference in convincing people to refer your brand or product to their loved ones.
6. Huckberry: Never Stop Pushing for Referrals
All the other forward-to-a-friend email examples we've looked at have offered some kind of incentive to drive referrals—either to the email recipient, the person they're referring to, or both.
The thing is, it doesn't necessarily need to work like that.
You don't even need any kind of an "official" referral program to encourage people to recommend your products.
Confused?
Let me explain courtesy of this example from Huckberry, which shows us how it attracts referrals without providing any sort of an incentive: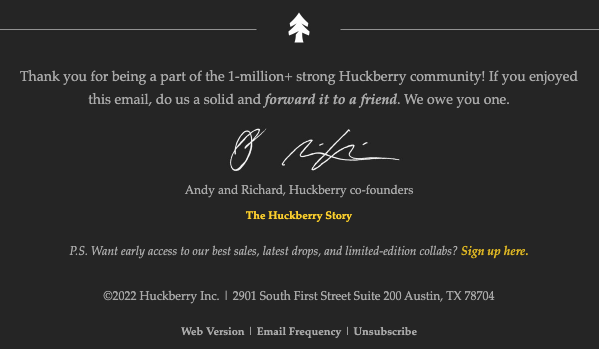 A bit of context: at Drip, our swipe file of ecommerce email marketing examples is huge, dating back five years. By diving back into our records, I can see that Huckberry has been using its email footer to drive referrals for almost that whole time.
Makes sense, right?
If you're on its email marketing list, and you read to the footer, that's a pretty clear sign you're engaged with Huckberry's content and messaging.
In which case, maybe you'd like to share that content with a friend.
If you don't have an engaged audience and a sizable email list, this approach probably won't land you many referrals.
But if you've got both of those things already, what's the harm in asking recipients to forward your latest email to a friend?
7. Snowe: Focus On Benefits Rather Than Discounts
I've already discussed the importance of incentivizing your existing customers to refer their friends.
But an incentive can be a double-edged sword.
If your forward-to-a-friend email is 100 percent focused on the discount or promotion rather than the value you provide, you risk devaluing your brand.
Think about it.
If the only way to get people to recommend you is to give them a substantial discount, that doesn't exactly speak volumes about the quality of your product.
That's why it's also important to remind people just how fantastic you are like Snowe does here: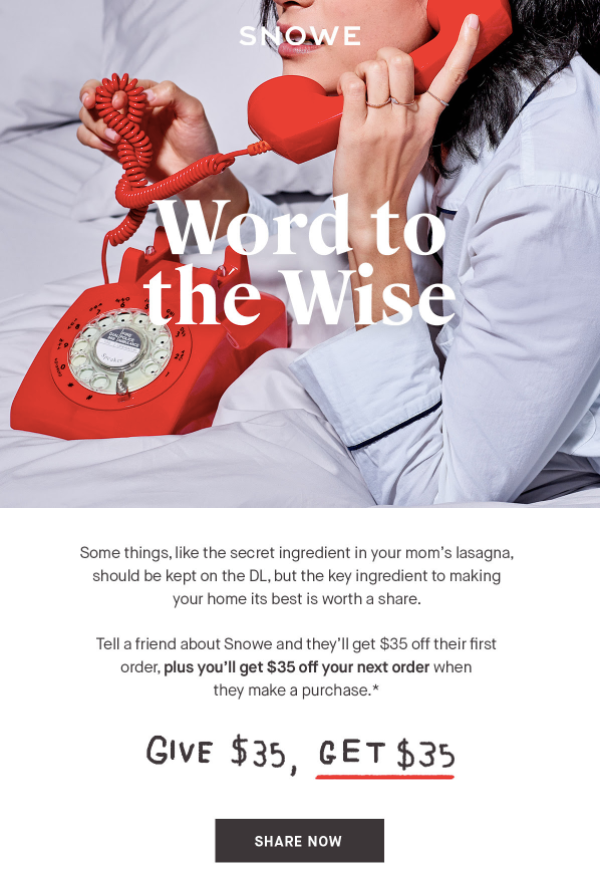 That's some persuasive copywriting. It's not just about sending a discount code or earning yourself a $35 saving; it's about sharing the secret of tasteful interior design.
This makes customers feel like they're doing their friends a favor by recommending Snowe rather than capitalizing on a referral scheme. It's all psychology.
Conclusion
Want to generate more referrals from your existing customers?
Ultimately, the best thing you can do is sell a fantastic product and provide a superb customer experience.
If people love buying from you and feel confident that you'll delight their nearest and dearest, they'll have no qualms about recommending you.
So focusing on product quality and customer support should be your first ports of call.
When they're in a good place, you'll see a lot more success from your forward-to-a-friend emails because people want to recommend products and brands that make them look good.