As an ecommerce store owner, your ultimate goal is to convert website visitors into paying customers.
Not just convert, but rather, convert in a way that's cost-effective and easy to maintain.
The word cost-effective is particularly important, as the average profit margins for ecommerce stores are 10%, making small things really count.
Because of the low-profit margins, many ecommerce stores are turning to popups.
Popup forms are a low-cost but effective way to capture potential customers' attention and convert them into paying customers. And, whether you're an ecommerce veteran or a beginner, you can use them.
That raises a question: how do you use popups effectively, and what type of popup works best? I'll help you!
In this article, I'll show you the best Shopify popup examples I've ever seen, the best practices for creating popups, how to add popups to your Shopify store, and the best tools for that.
If you're ready to learn more, let's start!
7 Of The Best Practices For Shopify Popups
What are some of the common practices that make a popup successful, or not so successful? Let's look into those things.
1. Get Your Timing Right
One major study from Nielsen Norman Group found that modal popups—those that show up when you first land on a page, forcing you to close them before interacting with the site's content — are the most hated form of online advertising among both mobile and desktop users: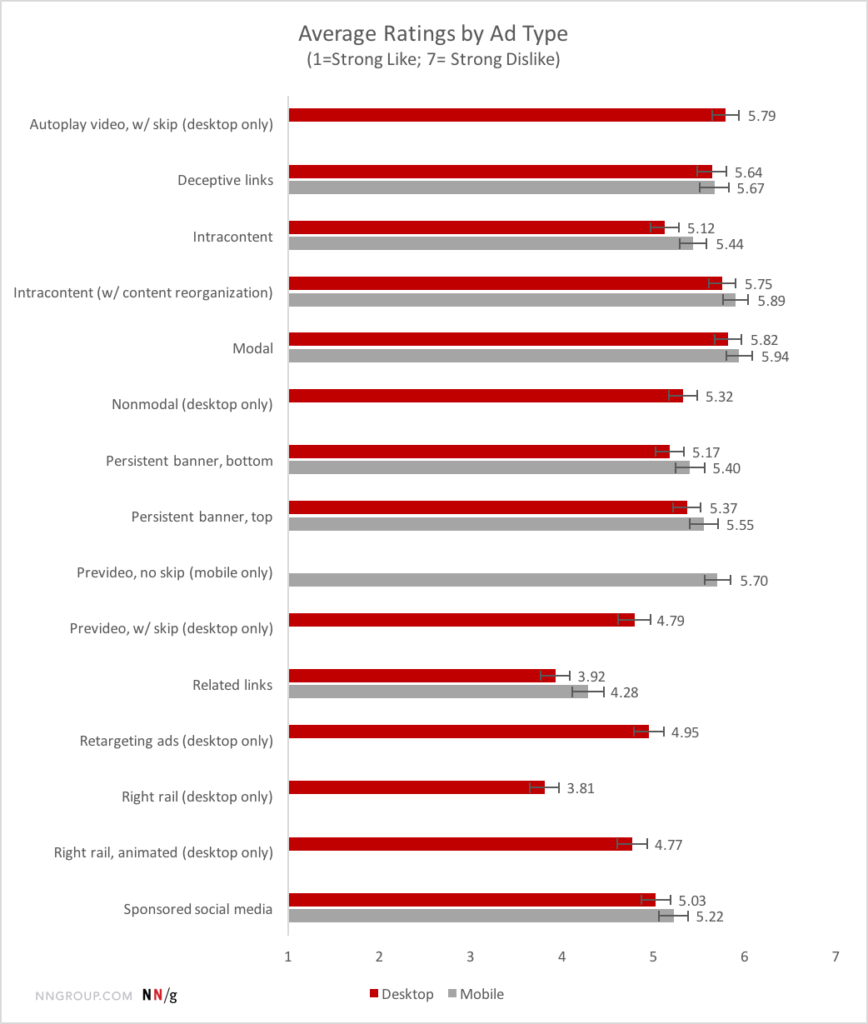 Even retargeting ads aren't that unpopular, and they're basically tantamount to online stalking.
Why do people loathe modal popups so much? As far as I can tell, there are two main reasons:
They disrupt our browsing experience, actively hampering us from finding what we're looking for; and
They're asking for something from us—often an email address—without having earned it.
That second point is key. After all, why would I hand over my email address if I've not even taken a cursory glance at your content?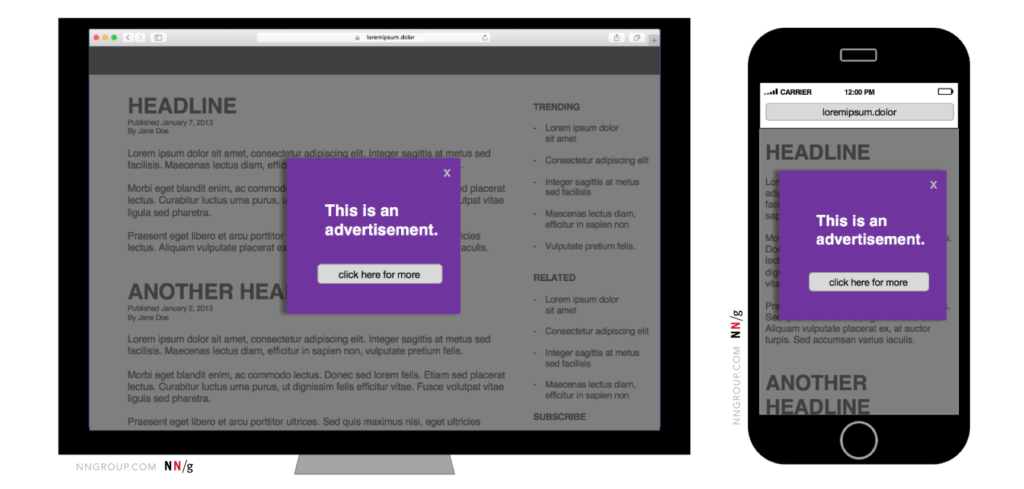 That's why timed triggers are so valuable.
If you're unfamiliar, a timed trigger lets you show your Shopify popup based on how much time a visitor spends on a page. That way, they can at least confirm they're in the right place for a few seconds before your popup appears.
While you don't want to jump the gun, you also don't want to leave it too long. There's no point in having a 30-second timed trigger on a page that most people only read for 29 seconds or less.
So what's the magic time for displaying a popup on your Shopify store?
According to our research, popups shown after eight seconds convert at a rate of 3.62 percent — higher than popups shown before or after.
2. Give People a Reason to Engage
Glaucon, the Ancient Greek philosopher, declared that humans are selfish, self-interested, and egoistic.
If Glaucon is to be believed, whenever we do the "right thing", it's not because we really want to — it's because we fear the consequences of being caught doing the wrong thing.
Whether or not you share his pessimistic view of humanity, it's a fact that most visitors to your site aren't going to give you their email address unless there's something in it for them. That "something" might be:
An opportunity to win something
A code for free shipping
A free gift
Here's a great example of this in action from Danish fashion brand Miinto: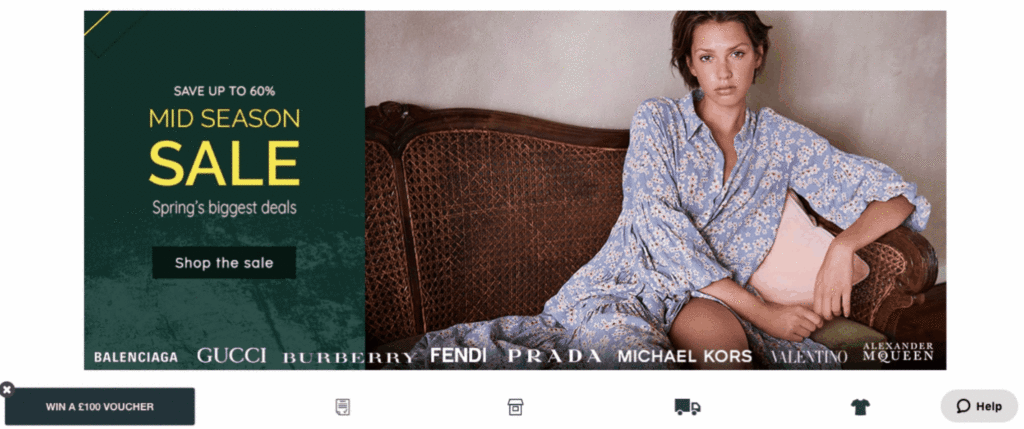 First, you're presented with an unobtrusive yet compelling offer—the chance to win a £100 voucher. Click that panel and you're presented with an email capture form. Simple but effective.
However, your "offer" doesn't necessarily need to cost you money. For instance, if you're trying to drive newsletter signups, you can set out the specific benefits of subscribing, like:
Ultimately, the right "offer" will depend on your brand and audience. Test multiple options to learn what works best for you.
3. Don't Be Greedy
I'm sure Greek philosophers had lots to say about greed, too. But this is a simple point so I won't labor it.
Naturally, you want to capture as much information as possible from your e-commerce leads. But do you really need to know their mother's maiden name and their dog's inside leg measurement?
Asking for too much information upfront will harm your conversion rate.
One study found form completions drop off dramatically when forms have more than three fields. What's more, our own research found popups with two input fields convert at a rate of 3.31 percent — or 206.48 percent higher than those with three fields.
4. Stand Out From the Crowd
Unless you've asked a friend to print this article out for you, it's safe to assume we're all web users.
That means we're bombarded with popups, not to mention countless other ads and marketing tools, every day. If you're going to generate real results, your popups need to stand out.
Clearly, in order to craft a top-performing popup, you first need to understand what an average (or bad) one looks like. Here are some typical popup characteristics, plus pointers on how to differentiate yourself:
Most Shopify popups don't include visuals. Those retailers are missing out because our analysis shows popups with imagery convert 83.57 percent better than those without.
Most popups don't feature animated elements. Breathe some life into your popup by adding a video of GIF when it appears on-screen.
Most popups are square or rectangular. There's no real reason for this—it's just how they've always been. Break the mold by adding rounded edges or graphical elements that stand apart from your popup (hint: Drip makes this easy).
Think about what kind of email capture tool you'll choose and whether or not they can both accommodate the above best practices, and if they play nicely with Shopify.
5. Create Multiple Popup Formats
"Popups" aren't just a single entity. There are multiple popup types, and the type that performs best for one brand might not work as well for you.
So it makes sense to try out as many formats as possible, right?
Fortunately, there's plenty of scope to do just that. Just consider the online shopping experience of an average customer. They might:
Land on your homepage via a Google search;
Head to one of your Shopify collections pages;
Click through a product they like the look of;
Check out your shipping and returns policies;
Return to Google to look at other brands; and
Add your product to the bag, then get distracted and abandon the basket.
There are so many opportunities to target them with popups throughout that journey. How about: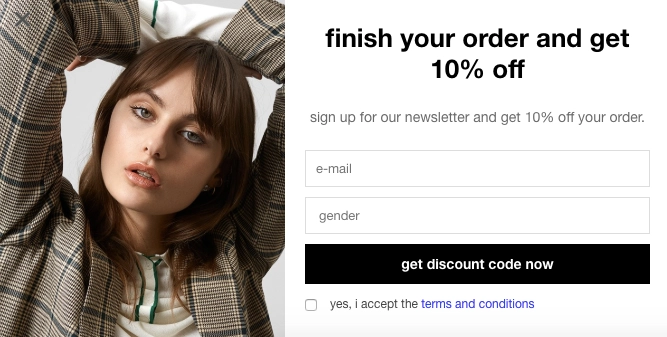 Now, I'm not suggesting you need to hit every customer with every one of those popups, every time they visit your site. But testing will show you what works (and what doesn't).
6. Give Shoppers Space to Engage
I started this article talking about Walmart greeters, and I'm going to circle back to them for a second.
Greeters are good because they take a softly-softly approach. They wouldn't be good if they started shouting about the store's fantastic products and offers the second you crossed the threshold.
Shopify stores are really no different — yet that point seems to be lost on a lot of retailers. Every time you immediately display a popup when someone lands on your site, you're basically yelling in their face.
One way around this is by adding timed triggers, which we've already discussed in this article. Another option is to use a scroll trigger.
Scroll triggers are pretty much what they sound like.
Rather than being triggered when a user spends a certain amount of time on a page, they show up after that user scrolls a certain way down the page. That way, you're only reaching out to people who've shown a certain level of engagement.
Unsurprisingly, as with timing, scroll depth is an important factor in popup effectiveness. Wait too long and you'll effectively disqualify a big chunk of your website visitors.
But do it too soon and you risk scaring them off.
Fortunately, we've crunched the numbers on this as well.
Our analysis showed popups triggered at a scroll depth of 35 percent have the highest conversion rates, whereas those triggered at depths of 25 percent and 70 percent perform worst:
7. Use Exit-Intent Popups Intelligently
On average, an astonishing 88 percent of online shopping orders are abandoned, although rates are even higher in some industries.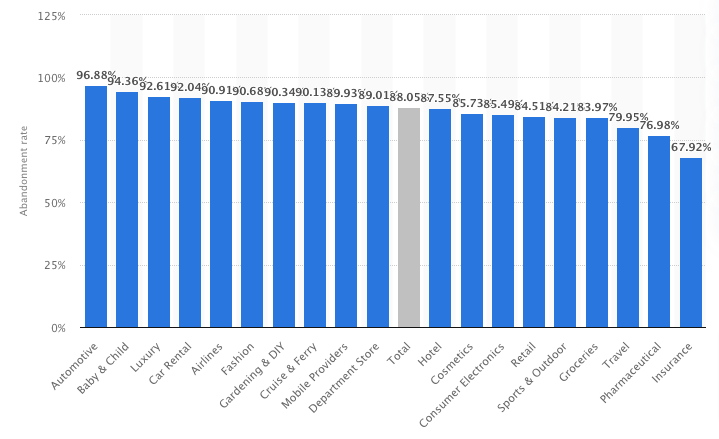 That means cart abandonment is almost certainly costing you a lot of money.
One way to claw back some of that lost cash is through exit-intent popups which appear when a user signals they're about to leave a page or bounce off your website. A well-timed popup can be all it takes to persuade a shopper to complete their transaction right now.
These popups are most effective when targeted at your shopping cart or checkout page. When a user moves the cursor outside the browser window, your popup will be triggered, presenting them with an incentive to remain on your site or give you their email address. That incentive could be:
A special offer;
A limited-time discount code;
A coupon to buy in-store rather than on your website;
A reminder that the user has items in their cart; or
A newsletter signup box.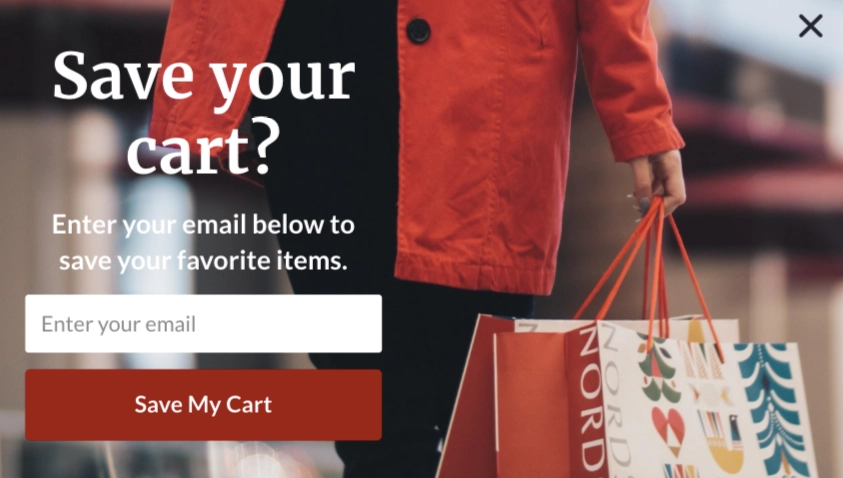 However, you need to be smart about the way you use these powerful popups.
If a user is still actively shopping around on your site, they don't need to be told they've got items in their cart. It's interrupting their experience and nagging them to take immediate action, which might annoy them to the point of leaving.
How To Add Popups To Your Shopify Store
So, I've gone over the best Shopify popup examples and best practices, but how do you go about and add popups to your Shopify store?
Let's go through the process together.
1. Add Popup App To Your Shopify Store
Shopify doesn't offer the ability to add popups by default, so you have to have a popup app installed to add them.
There are a number of popup apps available, one of which is our own solution, Drip. Although we've got many competitors, were biased toward our own solution due to its superior all-in-one popup and email marketing capabilities.
To get started, head into the Shopify App Store, and add Drip to your Shopify store.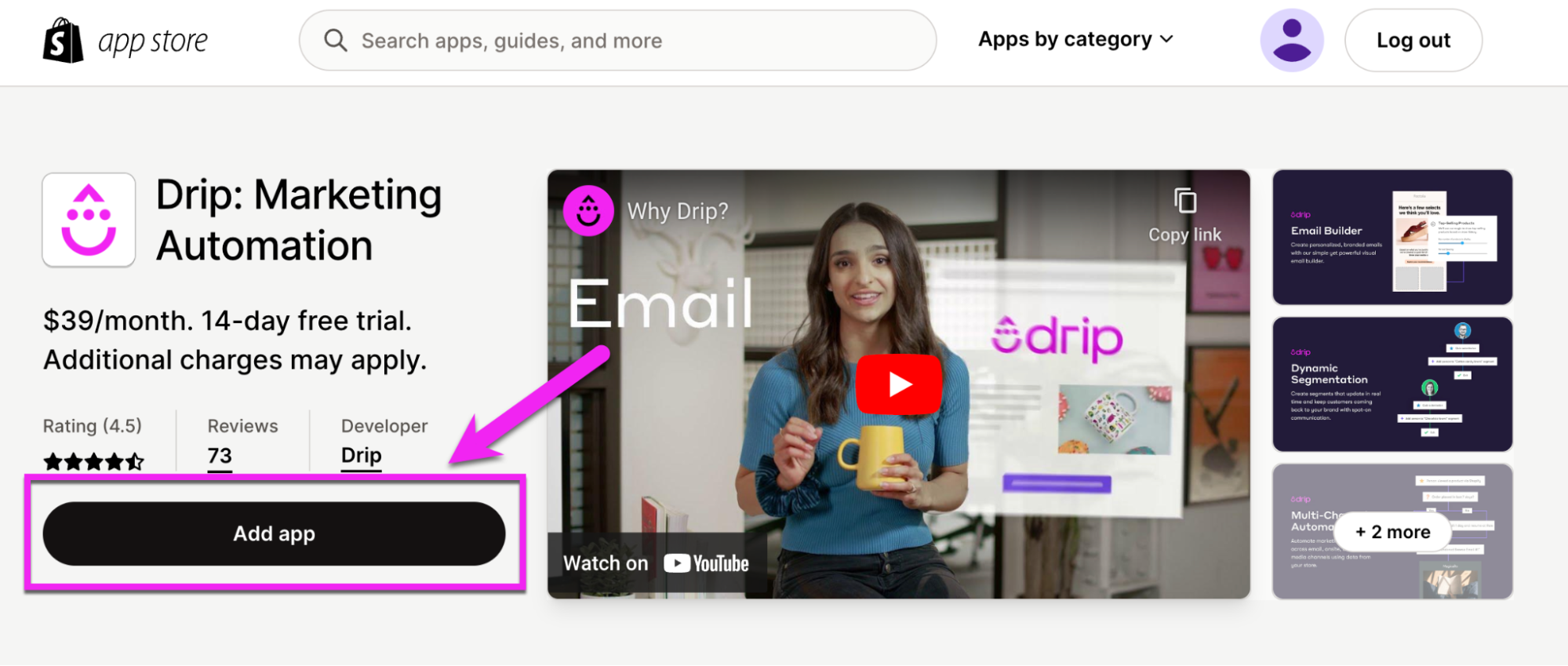 Just clicking on 'Add app,' you'll be headed to Drip's registration page.
If you haven't created a Shopify store yet at this point, you should do so since it's necessary to install Shopify Apps.
2. Create Your Free Account
To begin creating your popup, start your 14-day free trial with Drip.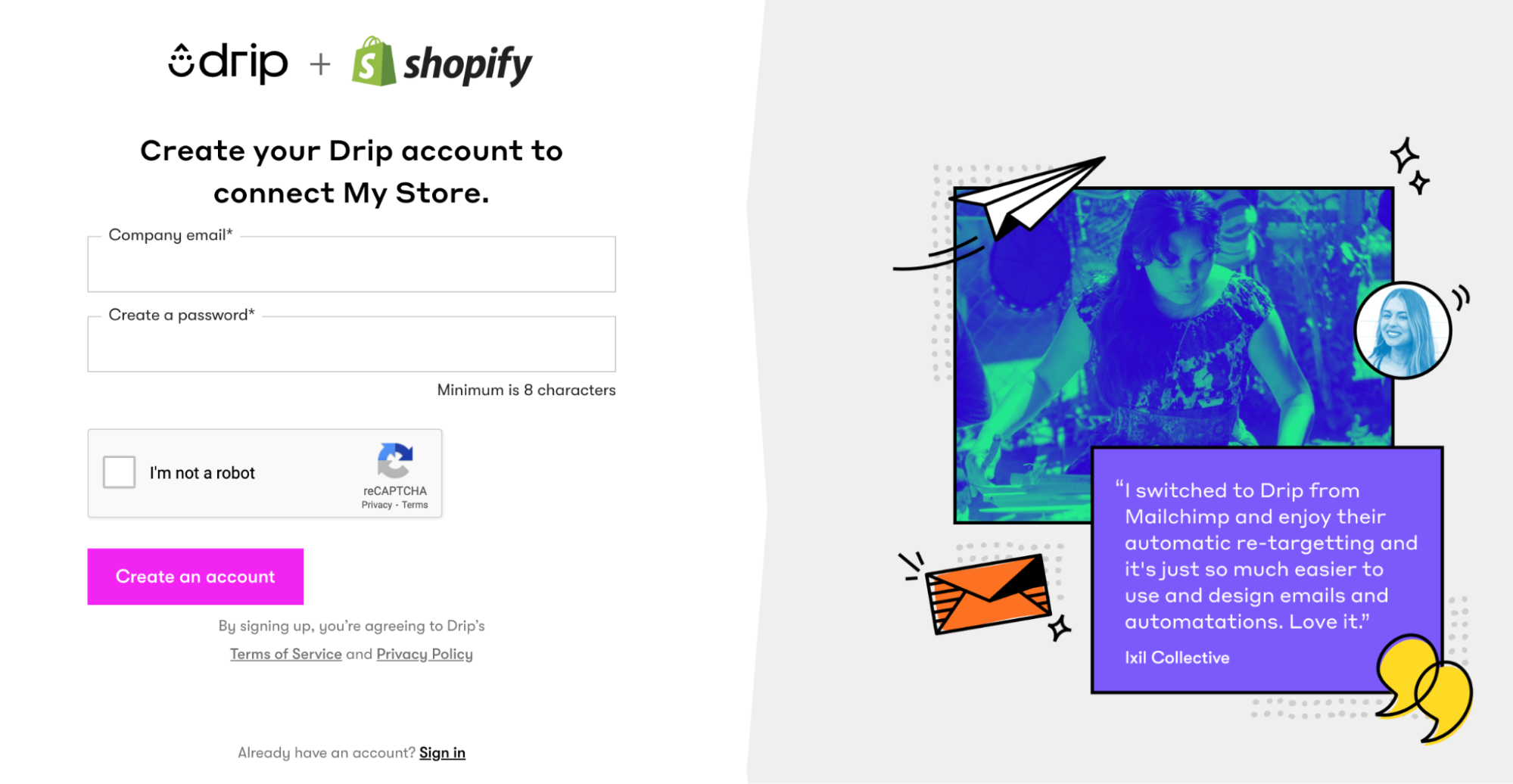 It only takes a few minutes to set up, there is no credit card needed, and you'll be asked to provide information like store URL, email address, and password.
From there, you'll be able to access Drip's dashboard, where all the tools for creating popups are located.
3. Create Your First Popup Campaign
Once you have access to Drip's dashboard, you can immediately start creating your popups.
Start by clicking on the 'Onsite Campaign' in the admin dashboard.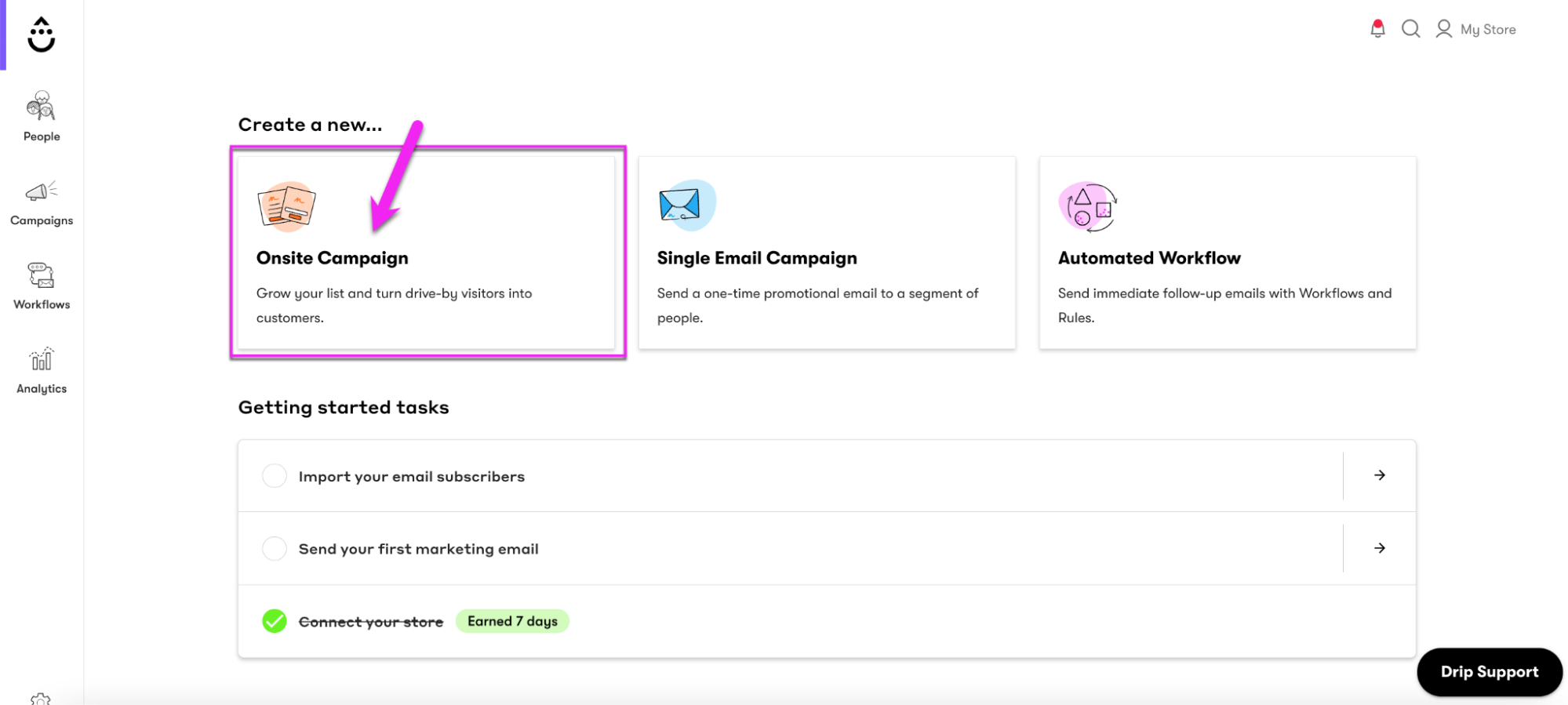 The first step of the campaign setup is to select a template for your popup.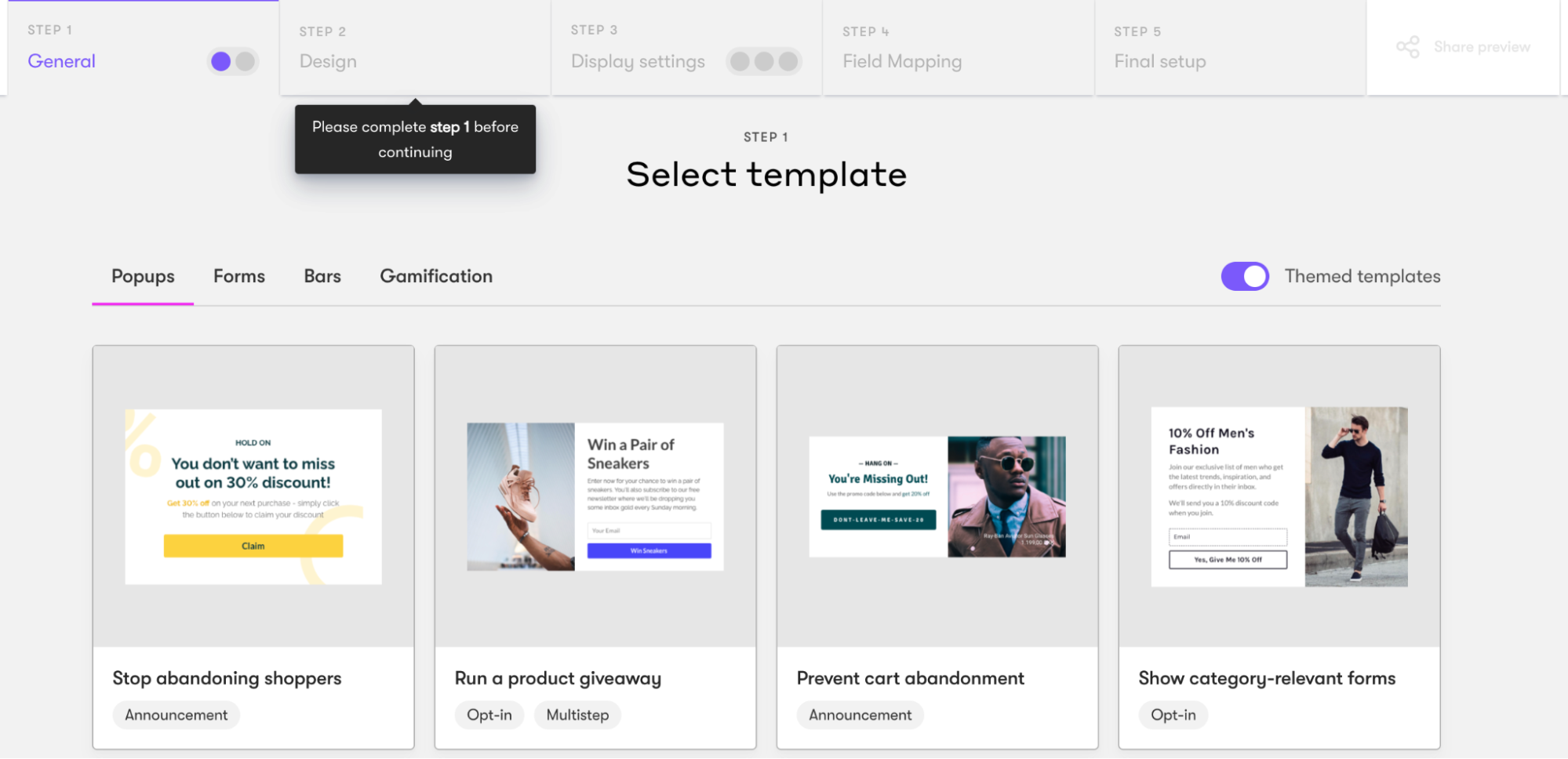 Selecting a template does not commit you to anything, and you can change or customize the template later on for your own needs. You can also start from a blank template if you wish to do that.
For this example, I will select one of our most popular templates, which is the 'Run a flash sale.'

Once the template is selected, you get to choose your popup placement.
The popup can be shown in the center, bottom-left, bottom-right, or embedded in any other position on your website.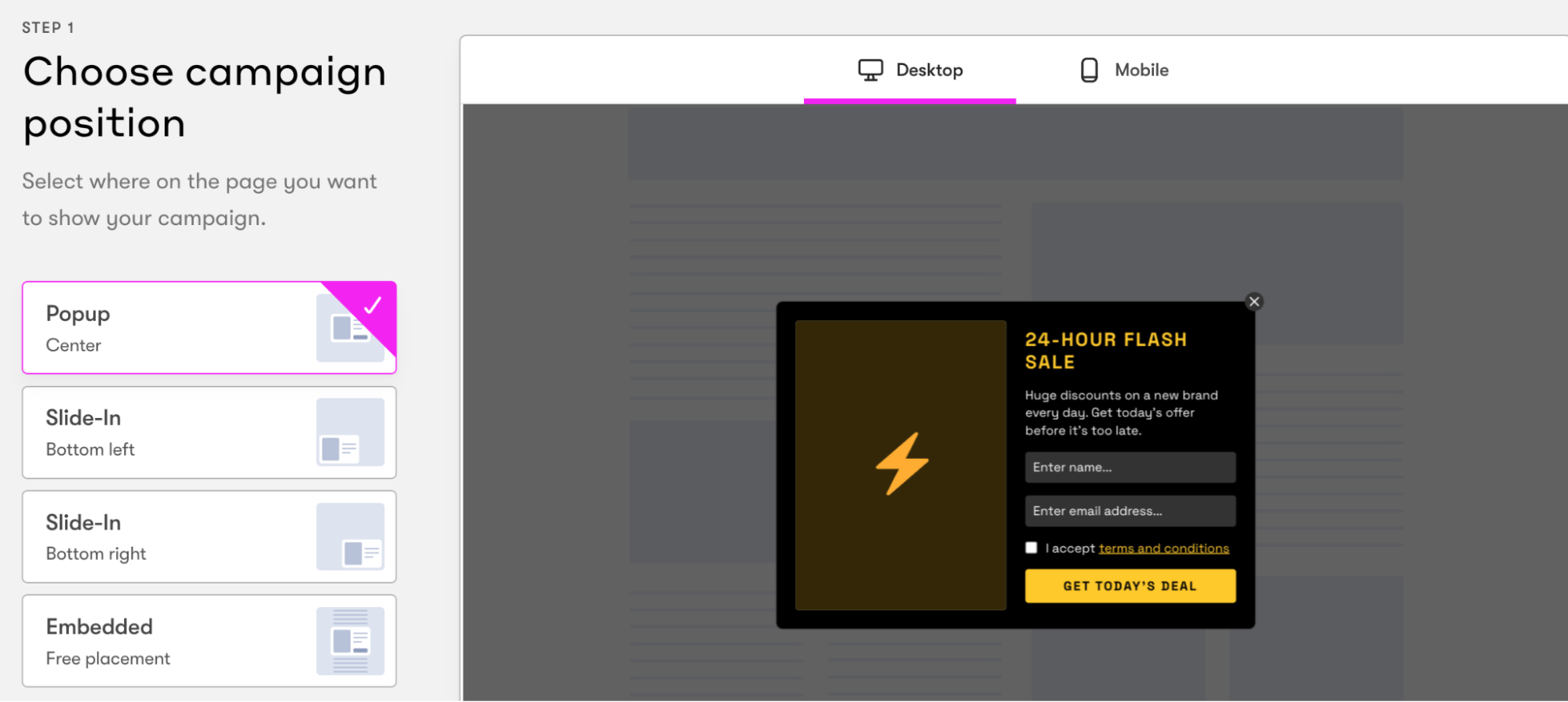 In most cases, the center is a good choice for displaying your popup.
4. Design Your Popup
For the design, you have two options: you can use the popup as it is in the template or customize it further.
Even though Drip's popup templates are proven to work, you may want to add your own style to the popups.
Customizing your popups is easy with our point-and-click editor.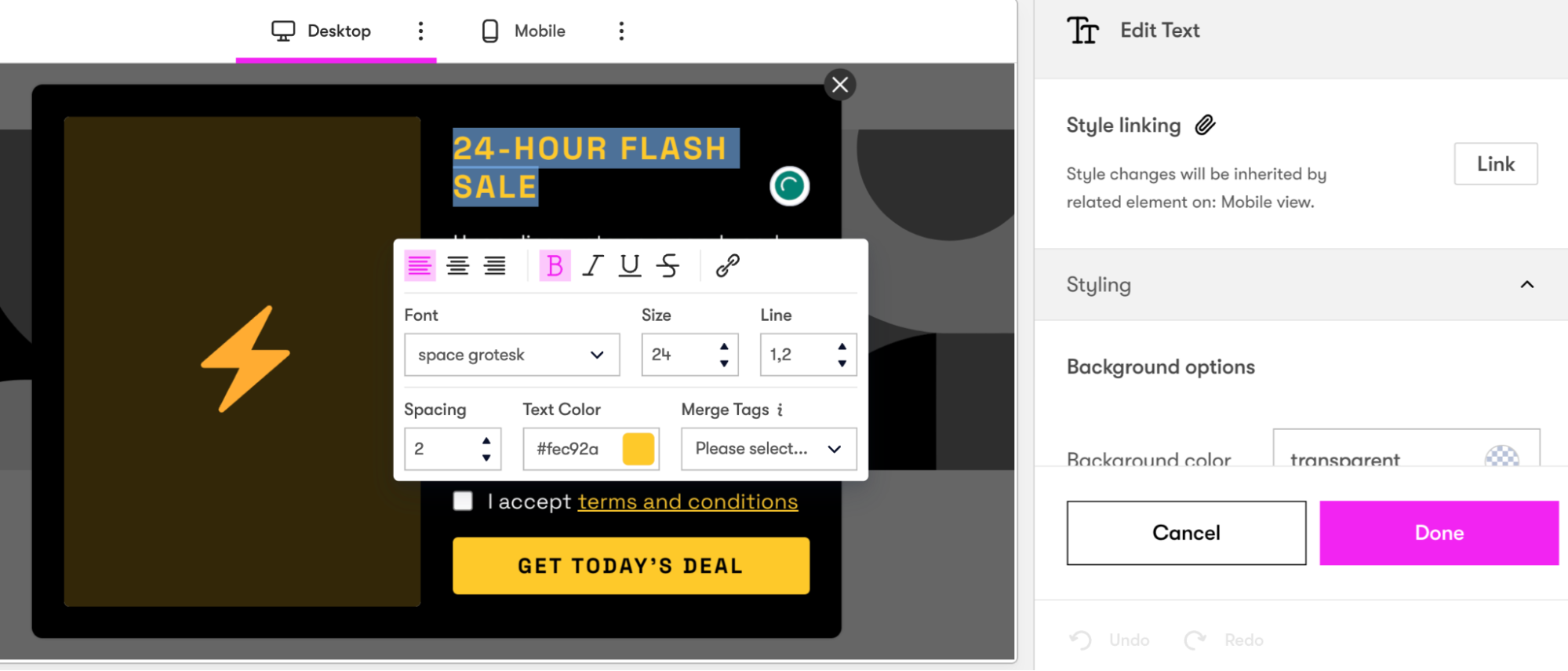 You can change almost anything, including the background image, available offer, and other visual elements like headings, text, and buttons. If needed, you can also add additional elements like images or videos.
And a key point, all of Drip's templates are optimized for mobile devices, which is crucial in today's market since almost 60% of website traffic comes from mobile devices.
5. Set Up Display Settings
Display settings, i.e., the conditions under which the popup is shown, are an important aspect of your campaign for maximizing your conversions.
You can set up rules to trigger the popup, such as when someone is about to leave your site or when they scroll X% of the page or spend X amount of time on your site.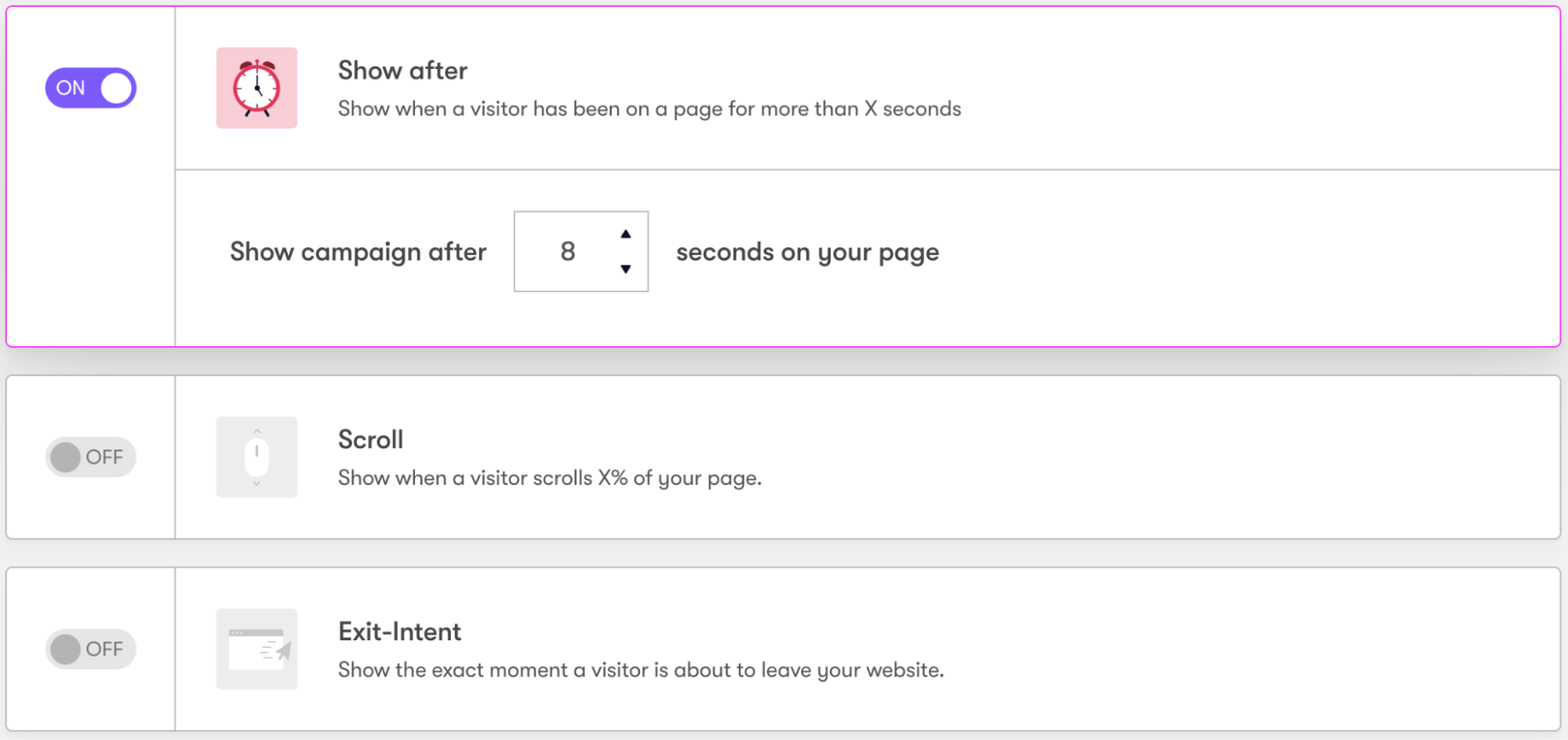 If you prefer, you can choose the Automated Triggering option to let our algorithm find the best option for your situation.

Aside from the display settings, you can choose the pages that the popups apply for, as well as other targeting rules to determine who should see your campaign.

If you want to further personalize your popups and use custom fields, you can set up the input fields before the last step.
6. Make Your Popup Campaign Live
One of the fun parts: making the popup live.

As a last step, you can name your popup campaign to stay organized.

If you want, you can schedule your popup to appear at a certain time.
If you're running a seasonal sale or a specific sales promotion, you may want to turn this on.

After this, just by clicking on 'Save,' the popup will go live on your site and you will be able to preview how it looks.


What To Look In For a 3rd-party Popup Tool
When you're looking for a 3rd-party popup tool, you need to look out for a few features.
1. Available Templates
Templates can give you a good starting point for your popup designs. Look for a popup tool that offers different templates, so you can customize them to match the look and feel of your store.
As an example, Drip has +50 ready-to-use templates for its customers that they can use as they are or further customize for their needs.

And an important thing: The templates should not limit your options when it comes to creating popups.
Regardless of if you want to promote a seasonal sale, set an exit-intent, or create a giveaway, you should be able to create a popup.
The point is there should be templates for popups with different goals.
2. Ability To Do More Than Just Create Popups
Capturing the customer information with popups is the first step, but you also have to send out the emails, do A/B testing if needed, and measure the performance.
If your popup tool is not able to send out the actual emails, you have to integrate it with an email marketing platform, which can get expensive quickly.
For this reason, choose a popup tool that can do more than just create popups.
3. Available Free Trial Or Plan
Most of us prefer trying out a platform with a free trial or plan before deciding to invest in it. Make sure the popup tool offers a free trial or plan so you can test out its features before committing to it.
4. Customer-focused reporting and metrics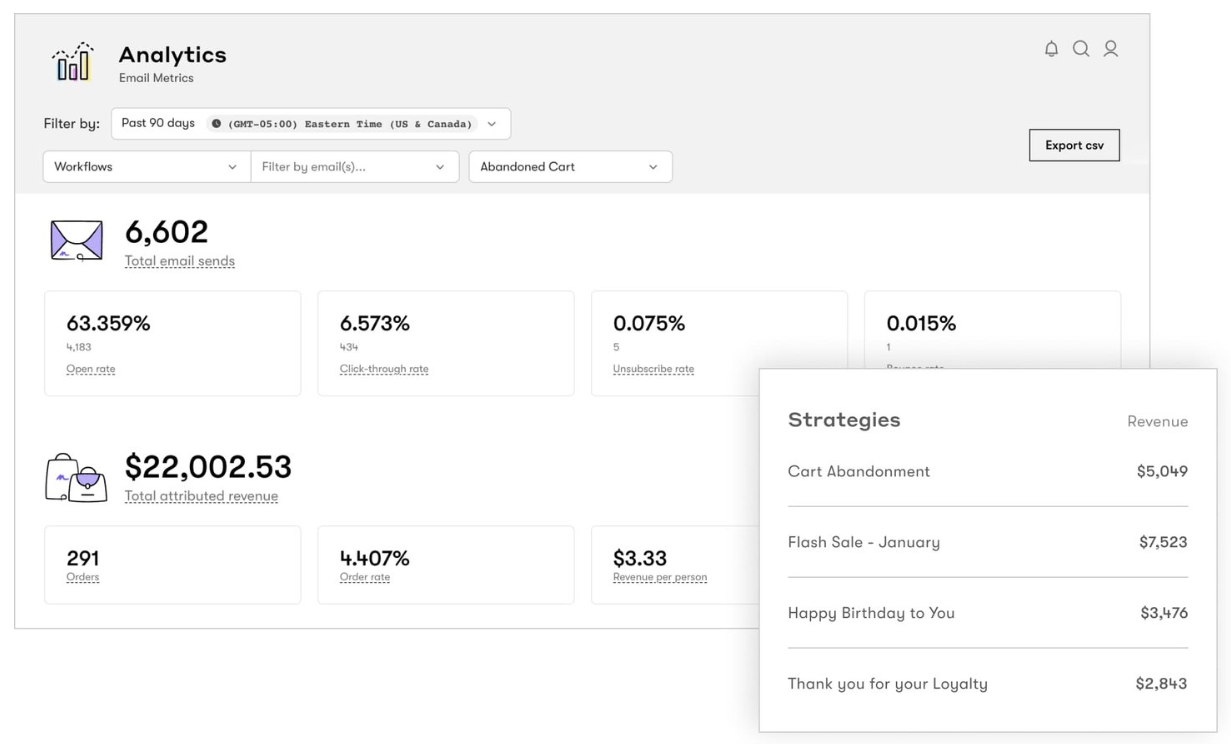 It's one thing to create popups and another thing to track how they perform.
Without proper reporting and metrics, you can never know what actually works and double down on that.
In the best-case scenario, you should see your campaign and revenue performance as well as metrics including open rate, click-through rate, and order rate.
3 Great Popup Tools For Shopify
Let's take a look at the best popup tools available for Shopify.
For each tool, I will list the features, as well as the pros and cons, so you can weigh them against each other.
1. Drip - Best Overall Solution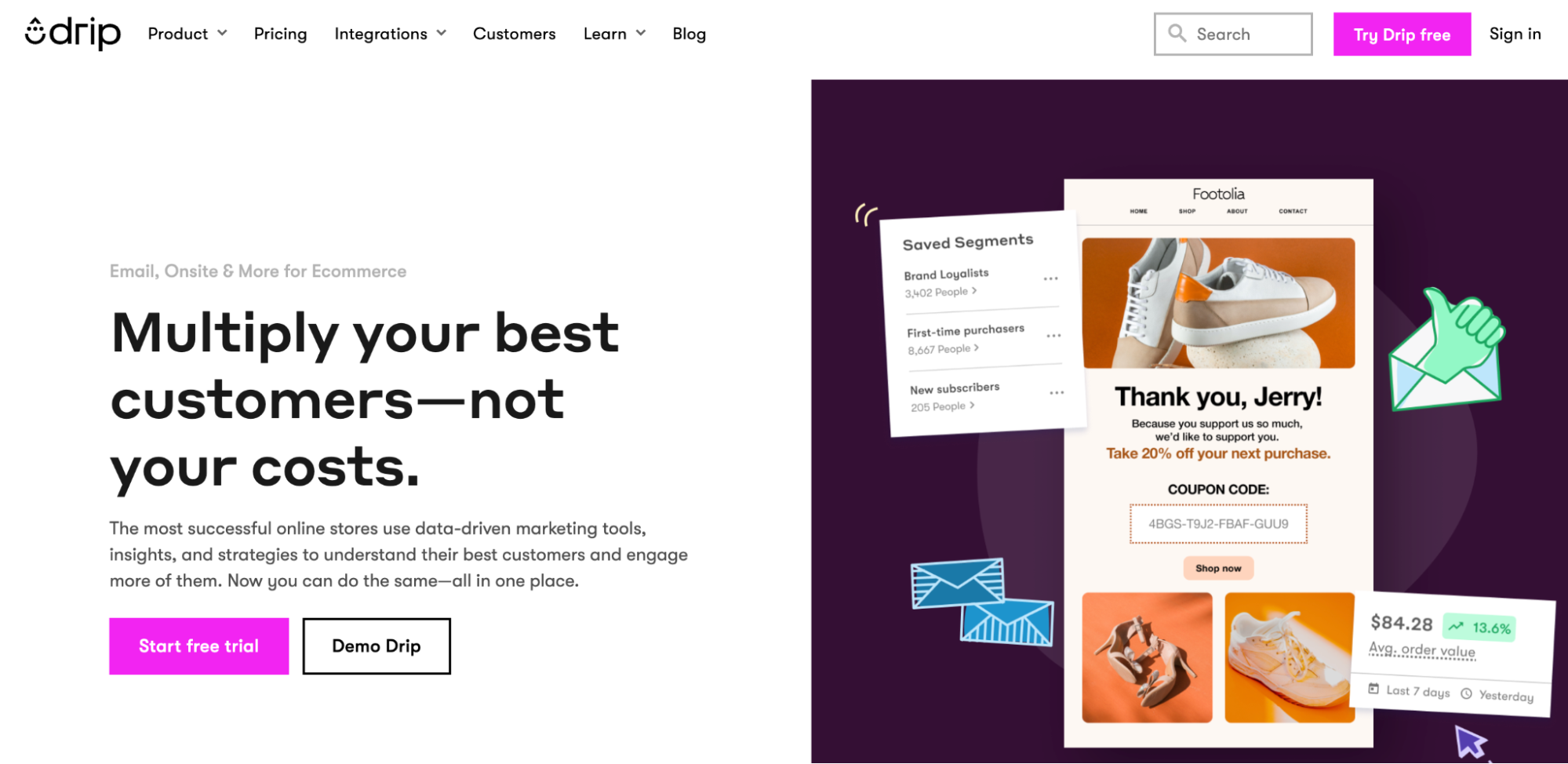 Drip is a marketing automation platform that helps brands build stronger customer relationships through email and onsite marketing. While Drip has powerful popup tools, it's more of a one-stop-shop when it comes to email marketing for ecommerce stores.
Drip does it all, from capturing customer information onsite via a popup to sending out emails to analyzing the performance.
Pros
All-in-one solution for popups and email marketing. Drip is not just for creating popups - we combine marketing automation, A/B testing tools, analytics, and a powerful popup builder into one package.
+50 ready-to-use templates to get a headstart. Drip users have access to a library of 50+ templates. You can further customize each template with your brand's colors, fonts, and images.
Revenue-focused solution. We understand that the end goal of ecommerce brands is to make money. That's why we provide revenue metrics for every email and automation and even show you Drip-attributed revenue — so you know exactly how much you're getting out of our tool.
Native integration with Shopify. Drip can be found in the Shopify App Store, and the setup process takes less than a few minutes.
Cons
Not the best fit for non-ecommerce brands. The marketing automation features of Drip are made for ecommerce brands. As an example, if you run a blog site doing product reviews, Drip may not be the best solution.
2. Popupsmart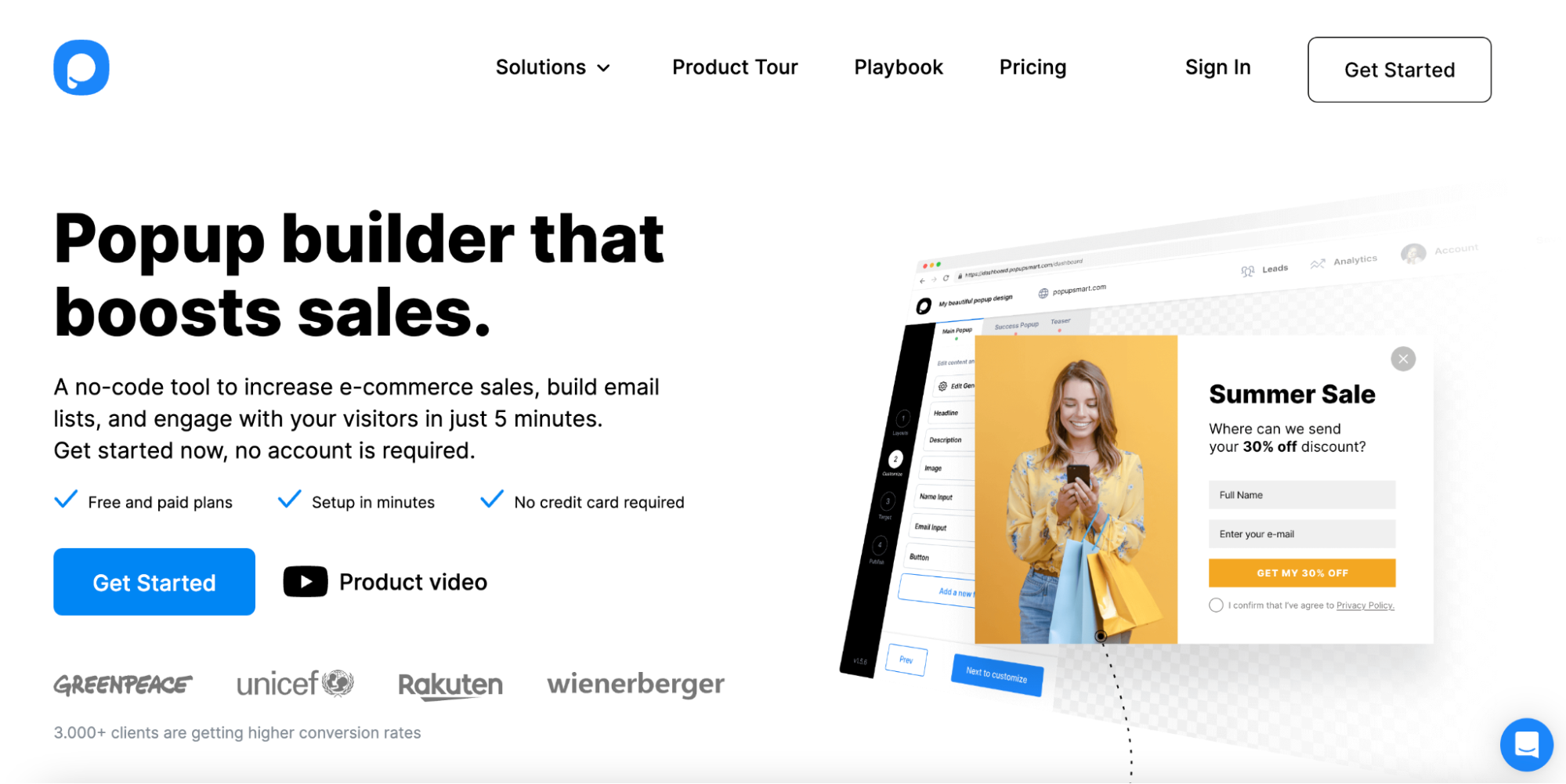 Popupsmart is a Shopify popup builder for those that are looking to create simple popups for their website. Popupsmart comes with over 35 templates that can be customized to create different kinds of popups, such as gamification, giveaways, social proof, and more.
You can't send emails with Popupsmart, so in order to use it, you have to integrate it with an email marketing service.
Pros
Easy-to-use popup builder. Popupsmart is known for being easy to use, and it has all the basic features for creating popups. For this reason, it can be a good solution for non-technical people.
Analytics and A/B testing capabilities. For all of the Popupsmart campaigns, you can see the popup views, leads, interactions, and the conversion rate. You can also do basic A/B testing to split-test two versions against each other.
Available integrations to extend functionality. While Popupsmart is only made for creating popups, it does have solid integrations that extend its functionality.
Cons
Does not let you send out emails. Popupsmart is only made for creating popups. If you want to send out the actual emails, you have to integrate it with an email marketing solution. This can end up being more expensive than just selecting a platform that can do it all.
3. Optimonk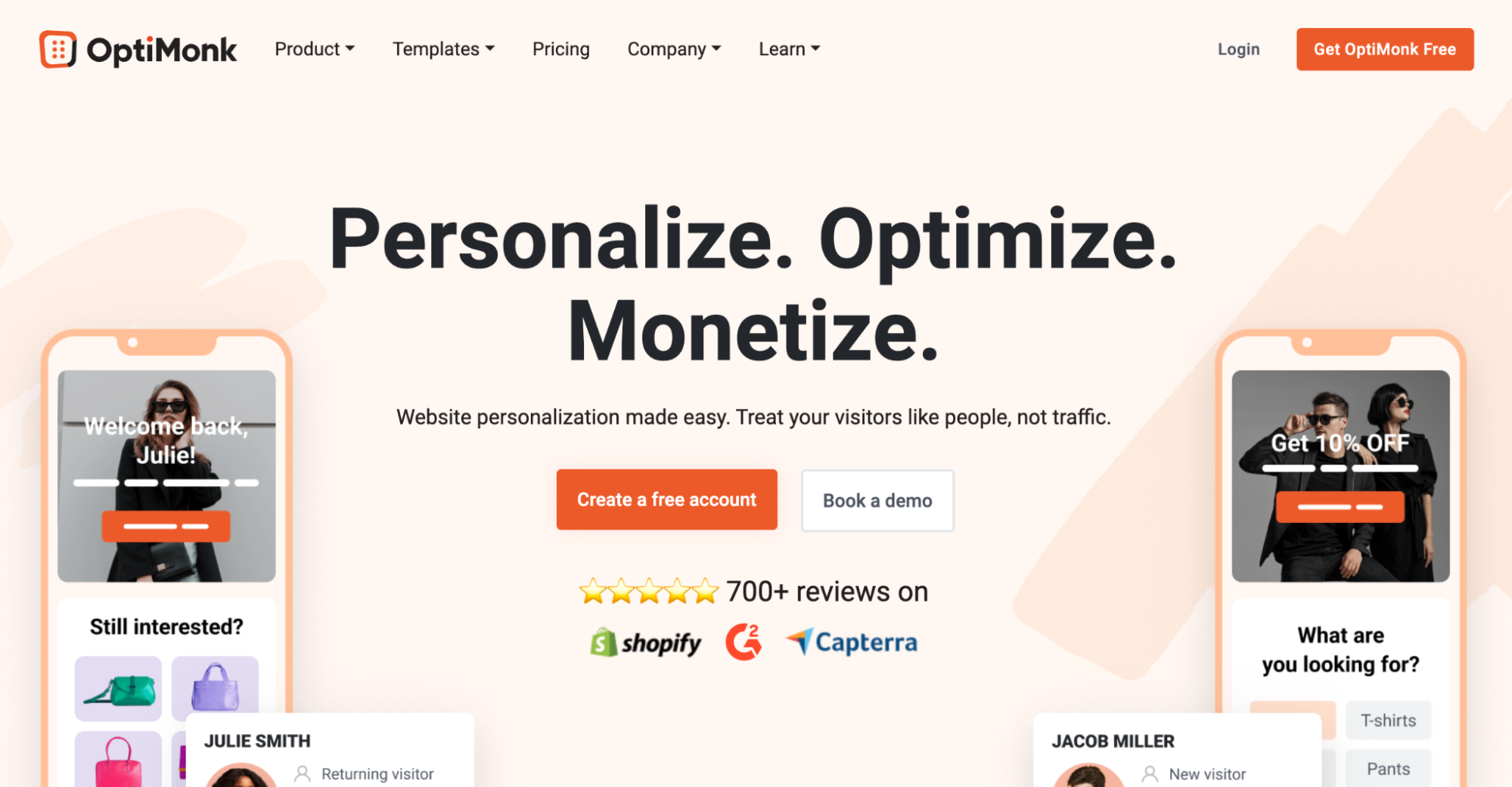 Optimonk is a popup builder that lets you capture emails via different kinds of popups, including welcome, conversational, and gamification popups. You can set up different trigger-based popups, such as time delay, scroll-based, click-based, and exit intent.
Optimonk integrates with the most popular email marketing platforms, as well as ecommerce platforms, including Shopify.
Pros
Trigger-based popups for a more personalized feel. Based on the customer's behavior, you can set up trigger-based popups. For example, when someone is leaving your website, you can show an exit intent popup.
Not just for ecommerce. Outside of ecommerce, SaaS companies and blog sites can also take advantage of Optimonk by creating popups. There are available templates for many different industries.
Cons
Only made for creating popups. You can't do much else than create and analyze the performance of your popups with Getsitecontrol. If you want to send out emails, you have to integrate it with another solution that can do that.
The 5 Best Shopify Popup Examples We've Ever Seen
1. Pipcorn
This is a brand that sells top quality "heirloom snacks," where "seeds are passed down generation to generation, saving the best seeds."
Some of their top sellers are sea salt popcorn, cheddar cheese balls, and lime zest corn dippers.
The moment a shopper lands on Pipcorn's website, they're shown this popup.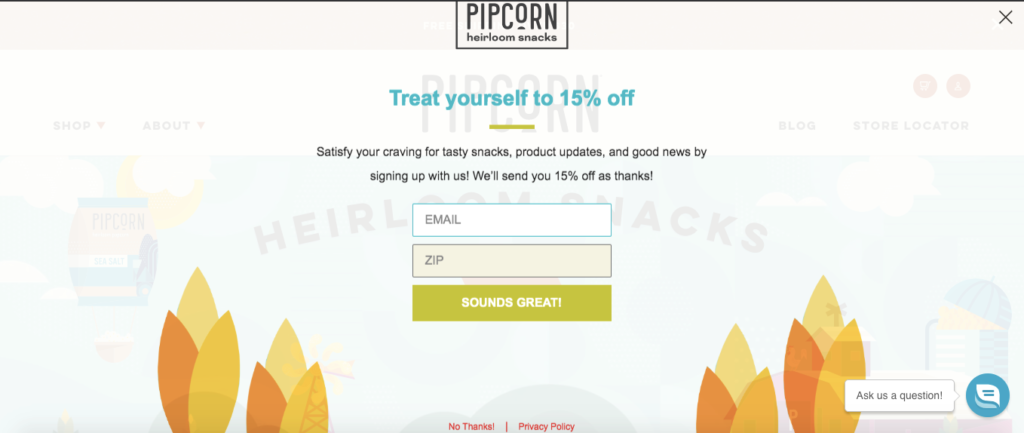 Although this style would technically be classified as an interstitial because it takes up the entire screen —something I generally suggest avoiding because it can be disruptive—I think Pipcorn does a great job with it.
Here's why.
First, shoppers can still see the website in the background because the popup is translucent, meaning that it doesn't upset the flow, and shoppers don't become disoriented by it.
Next, this popup is simple and clearly written and includes some enticing offers.
At a glance, shoppers can see that Pipcorn will give them 15 percent off for signing up, and they'll also receive product and news updates.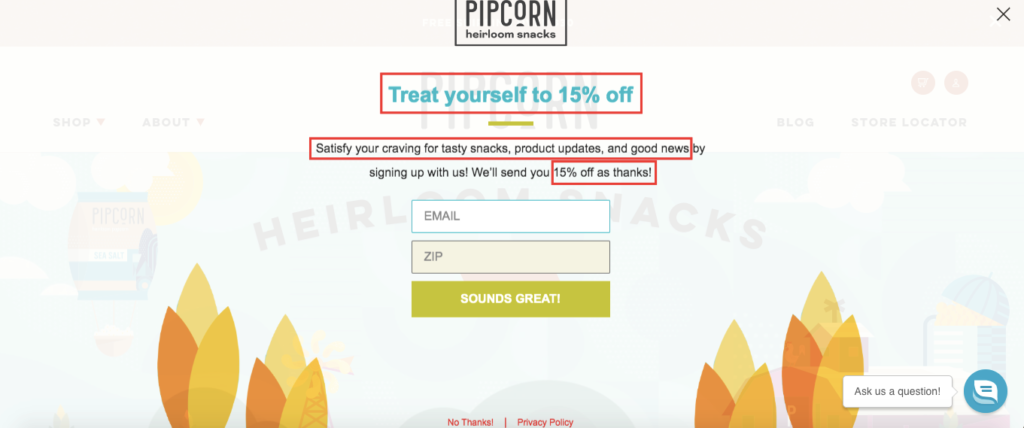 If it's a brand they have a genuine interest in, this combination of a discount and exclusive information can serve as a strong incentive to sign up.
Finally, shoppers can quickly and painlessly exit the popup with no hassle.
They can click the "X" on the top right-hand corner, or they can simply click anywhere outside of the optin box to return back to Pipcorn's website and resume browsing.
And this is something I think is incredibly important when using popups.
After all, you don't want to create friction and potentially lose shoppers because they have difficulty navigating out of your optin.
Instead, exiting should be easy and intuitive, which Pipcorn has done a great job with.
2. Tigerlily
Tigerlily specializes in women's clothing, apparel, and swimsuits.
Their products are simple yet sophisticated and upscale.
Here's the popup shoppers see after arriving on Tigerlily's homepage.
There are a few different things that I like about it.
For starters, they have a professional-looking image that instantly lets new shoppers know about the types of products they sell.
I'm sure you know how vital the visual component is to ecommerce sales and marketing.
So including a strong image in a popup can be powerful.
Just like the rest of their brand, Tigerlily's popup has a straightforward, minimalist feel to it, with sharp, tight copy.
And notice how the dark fonts and space between the copy and white background naturally draw shoppers' eyes to the offer.
Having plenty of "negative space" like this is an effective technique for instantly bringing attention to the offer and letting shoppers know what's in it for them by signing up.
Just as Pipcorn, Tigerlily doesn't waste any time in letting it be known the benefits of optin in either.
But rather than offering 15 percent off as Pipcorn did, Tigerlily gives shoppers $20 on their first order for subscribing.
This shows there are different ways to go about offering incentives, and it doesn't always have to be giving shoppers a certain percentage off.
Instead, you can deduct a set amount of money, like $20 in this case.
I also like that Tigerlily only has one field in their optin form that simply asks for a person's email address.
As you probably know, there's a correlation between having a lower number of form fields and higher conversion rates.
And it doesn't get much lower than only having one field.
Also, like Pipcorn, Tigerlily makes it super easy to exit out of the popup.
Shoppers can either click the "X" on the top right-hand corner or simply click anywhere else on the screen.
Just like that, they're back to browsing with zero frustration.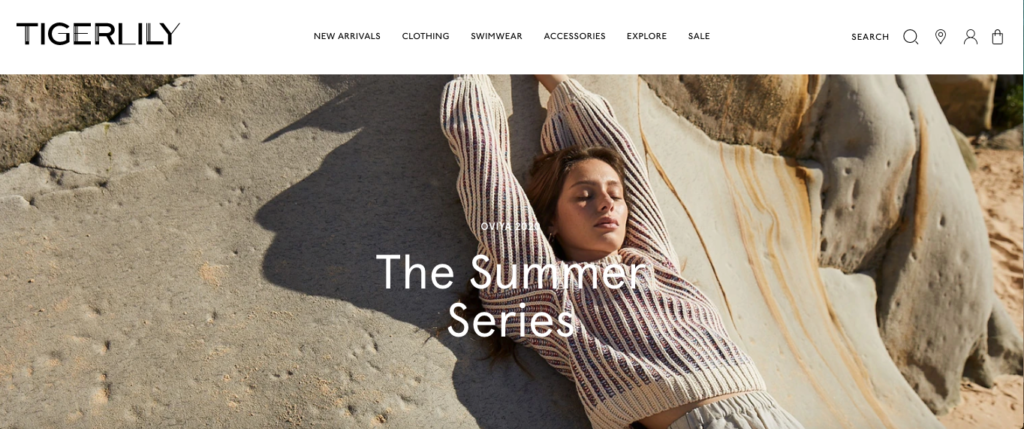 3. HELM Boots
Austin Texas-based brand HELM Boots sells handcrafted premium leather footwear.
Explore their site, and you'll quickly notice that they put a lot of time and energy into creating an enjoyable online shopping experience and have a definite attention to detail.
A few seconds after arriving, this popup appears.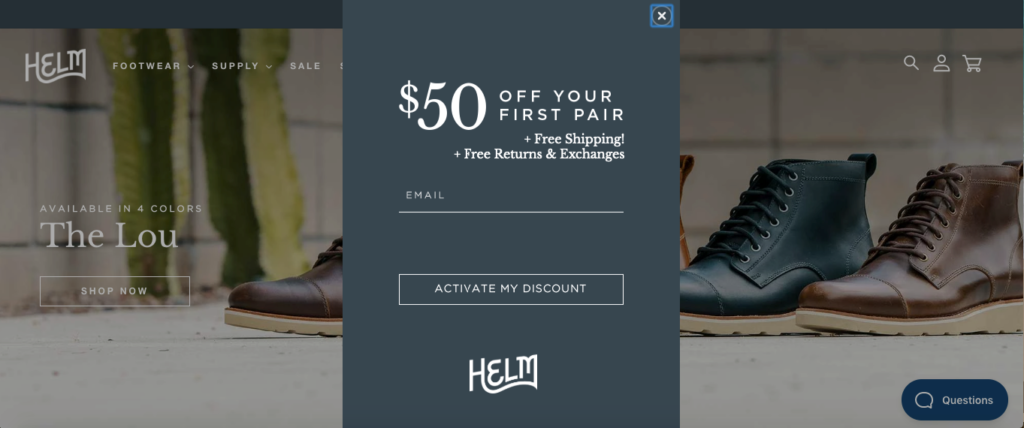 The key words here are "a few seconds."
Using a timed popup is a strategy that more and more brands are using these days, with many having great success with it.
Rather than hitting a shopper with a popup instantly, businesses like HELM Boots wait a few seconds or longer to give the shopper a second to get their bearings.
Another option is to wait until a shopper scrolls down to a certain point before displaying a popup.
For instance, they may scroll halfway down the page or reach a particular product before it appears.
I think both can be good options and are definitely worth experimenting with.
To learn the basics of timed popups, I suggest reading this post from Finalsite.
It covers the fundamentals and walks you through the general process and logic step-by-step.
Another thing I love about this popup is the ridiculous amount of incentive it gives shoppers for signing up.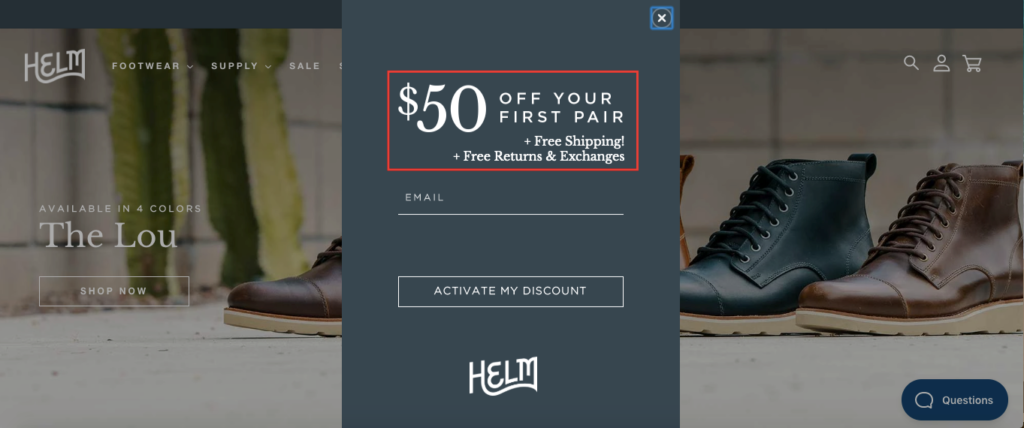 By doing so, they get:
$50 off their first pair of boots
Free returns and exchanges
This blows the offers of many other brands out of the water, and I'm sure HELM Boots has maximized its subscriber base as a result.
I mean, who wouldn't be at least a little interested in getting $50 off, along with free shipping and free returns and exchanges?
It's a no brainer.
While not all brands have the financial wiggle room to offer $50 off and still make a reasonable profit, this shows the impact that targeted offers like these can have.
That's why it's smart to crunch the numbers and see how big of a discount you can afford to give to get shoppers to sign up.
When you consider the potential long-term value, deep discounts like the one HELM Boots offers may be worthwhile.
Besides that, it's dead simple for a shopper to enter their information because all HELM Boots requires is their email address.
This is the same approach Tigerlily takes and one that should result in a higher percentage of shoppers going through with the optin process.
So always keep it as basic as possible, asking only for essential information.
4. SoYoung
Here's a brand that sells "elevated lunch boxes, cooler bags, backpacks, and accessories constructed of raw linen and washable paper."
All of the products are expertly designed and definitely have the "cool factor."
SoYoung is one of the more interesting Shopify popup examples because they take a slightly different approach.
Rather than offering a discount, exclusive access, etc., they have a giveaway where shoppers can enter to win free loot.
SoYoung also uses a timed popup that doesn't appear until after shoppers have scrolled down and checked out some of their products.
Here's what shoppers see.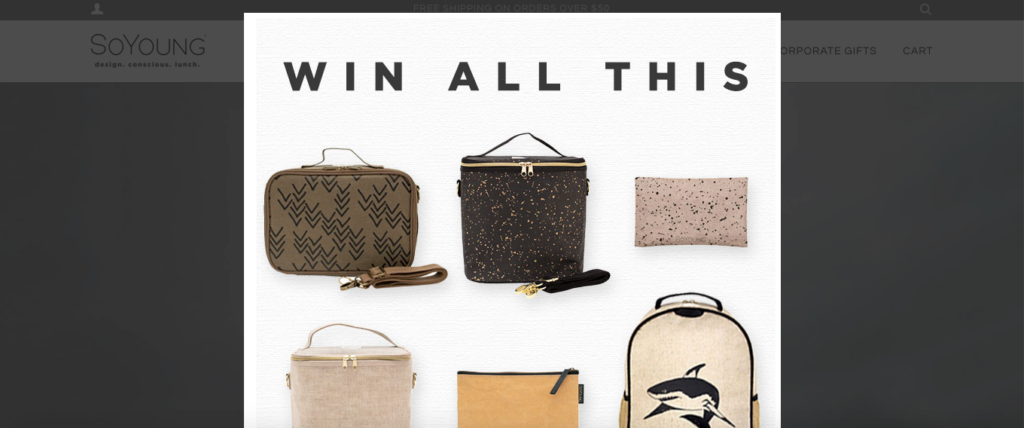 I'm a big fan of the bold, beautiful images that highlight SoYoung's top products that can be won through the giveaway.
All a shopper has to do is click, "Yes, I want to enter!" at the bottom.
Or, if they're not interested, they can simply click on, "No, I don't want a chance to win."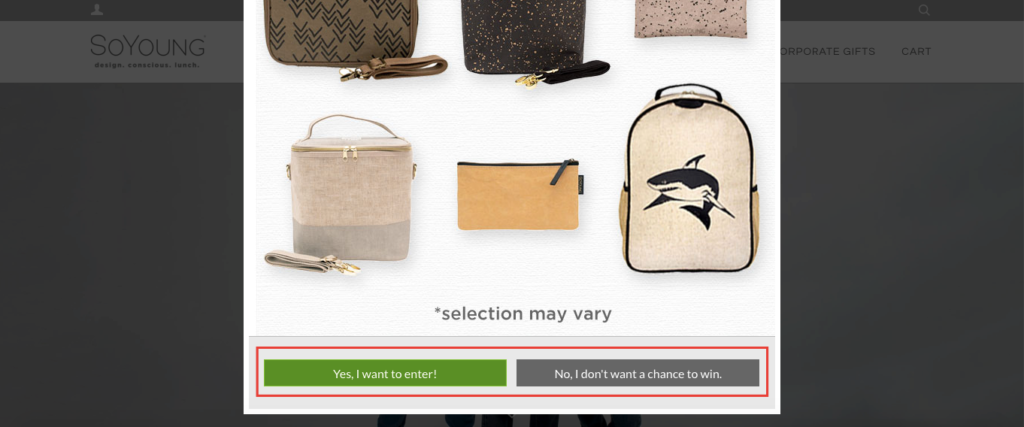 If it's the latter, they'll instantly exit the popup and can resume browsing as normal.
But if they are interested, they simply enter their email address, and they're signed up for the SoYoung USA "Win All This" giveaway.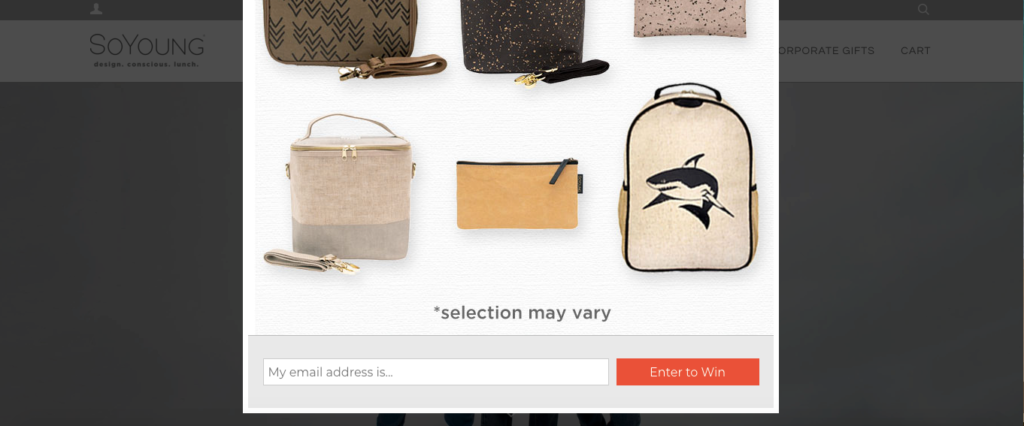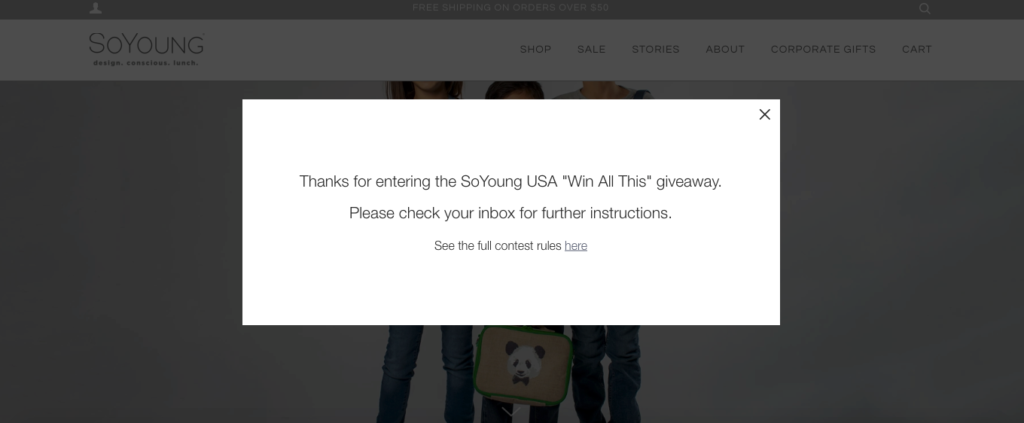 From there, subscribers can click on the link for contest rules to learn the details and get filled in on the specifics.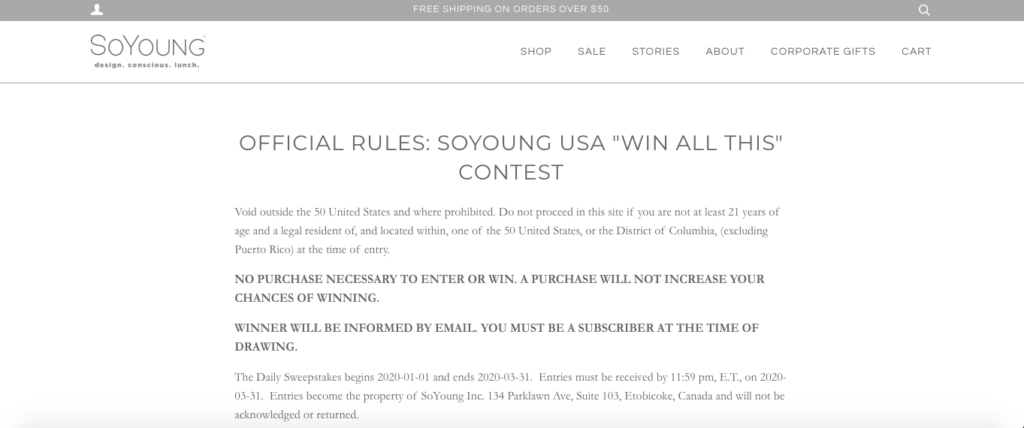 I really like this idea from SoYoung because it takes a different angle than what most ecommerce brands are using.
I think it's a fun way to raise the interest level in their brand, while at the same time providing shoppers with a strong incentive for signing up for their email list.
And it doesn't require a massive amount of money to run this type of giveaway.
You could do something similar by gifting the winner with a handful of your top products, which could potentially be done for under $500.
I also like the aesthetic appeal of their popup.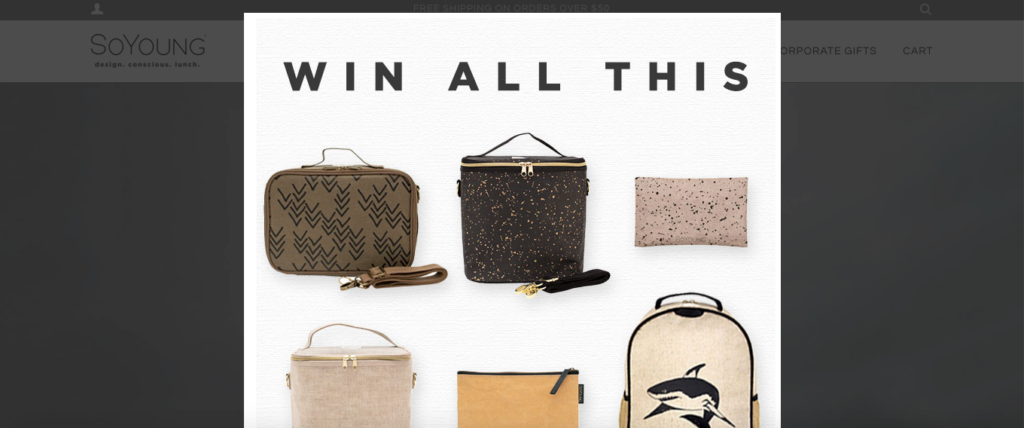 It's very crisp and clean and uses beautiful product photos to showcase what's up for grabs.
So if you're looking to do something a little out of the box, this is certainly an avenue to consider.
5. Beardbrand
If you've been reading the Sleeknote blog for a while, you probably know that we're big fans of Beardbrand, a company that specializes in men's grooming products.
There are just so many things they do well with their sales and marketing, which is a big reason why they've been so successful.
Beardbrand has also proven that they're not afraid to be different and try out new strategies.
A good example is their optin popup.
Beardbrand understands the importance of creating a stellar digital shopping experience and didn't want to do anything that could be remotely disruptive to it.
So rather than using a traditional popup, they took a unique approach that I've never seen before.
When shoppers land on their site, there's a mail icon that's lit up red, indicating there's a message for them to read.
For those who are interested, all they have to do is click on the icon, and the optin popup appears, inviting them to join the Beardbrand newsletter.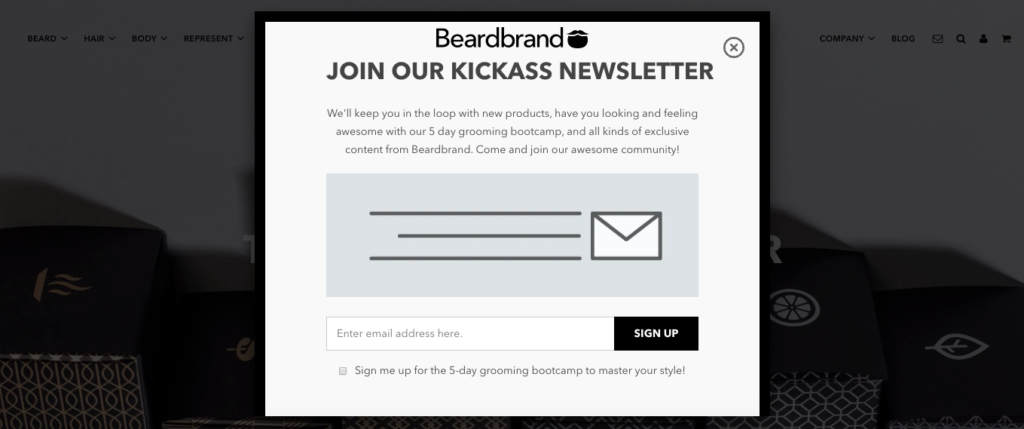 This revolves around a concept known as a two-step optin form, which is gradually catching on with more and more ecommerce brands.
There's a lot of interesting psychology behind it, which you can learn about in a previous post we wrote.
But at the end of the day, a two-step optin form resonates with a lot of shoppers because it's non-intrusive.
Although it's not for everyone, it's an option worth exploring for many online businesses, and Beardbrand shows how to execute it well.
They also do a great job at sweetening the deal by letting shoppers know they'll receive access to Beardbrand's 5-day grooming boot camp to master their style, as well as be the first to hear about new products and receive exclusive content.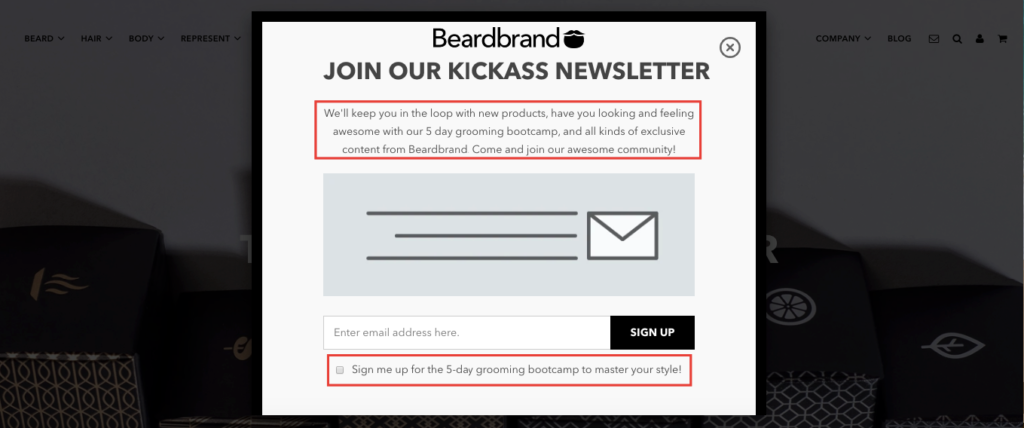 So there are several good takeaways you can learn from Beardbrand.
Wrap Up
While adding the Shopify popup is relatively easy (see the steps we covered previously), the real challenge is converting potential customers into paying customers.
That's why selecting a tool that can do more than just add popups is beneficial. Your popup tool should be able to:
Create advanced popups
Send out varying email sequences
Perform A/B testing to optimize campaigns
Track results to see what's working
And, as we're talking about Shopify popups, it should have an easy integration with Shopify.

Drip is a great example of such a tool, as it offers all of these features. With Drip, you can finally start building real relationships with customers and keep them engaged for the long term.

Plus, we have a 14-day free trial to get started with.