Few things in the ecommerce world are more frustrating (and costly) than abandoned carts.
You've got within inches of a sale, only for the customer to up and leave your Shopify store at the last possible moment—possibly never to return.
It's easy to get mad, but let's be honest: we've all abandoned a shopping cart or two in our time.
On some of those occasions, we likely never even planned to buy in the first place. Maybe we were saving a product for later, or maybe we accidentally clicked add-to-cart.
But other times, we were totally intending to complete the order, only for something to get in the way.
Those are the types of customers you can convert with persuasive, well-timed abandoned cart emails for Shopify. Which, coincidentally, is exactly what I'll be discussing in this article…
What Is an Abandoned Cart?
Abandoned carts—or, as Shopify calls them, abandoned checkouts—happen when a customer adds one or more products to an online shopping cart, then bails out before completing the checkout process.
This happens more often than you might think.
In fact, according to the Baymard Institute, just over 70 percent of all shopping carts end up being abandoned.
Among US shoppers who had recently abandoned an online shopping cart, 58.6 percent said they were just browsing and weren't ready to buy. You could argue these weren't true abandonments—they were never going to convert there and then.
Of the remainder, nearly half ditched their carts because the extra costs (shipping, taxes, and fees) were too high, while almost one in four were put off by the store asking them to create an account.

But people change their minds all the time.
Even if a customer left you high and dry, you can still win them round. Abandoned cart emails are the best way to do that.
What Is a Shopify Abandoned Cart Email?
Shopify abandoned cart emails are sent to shoppers who added items to their carts but are yet to complete the transaction. The idea is to nudge those would-be customers into converting by reminding them what they're missing, thereby helping you recover some of that lost business.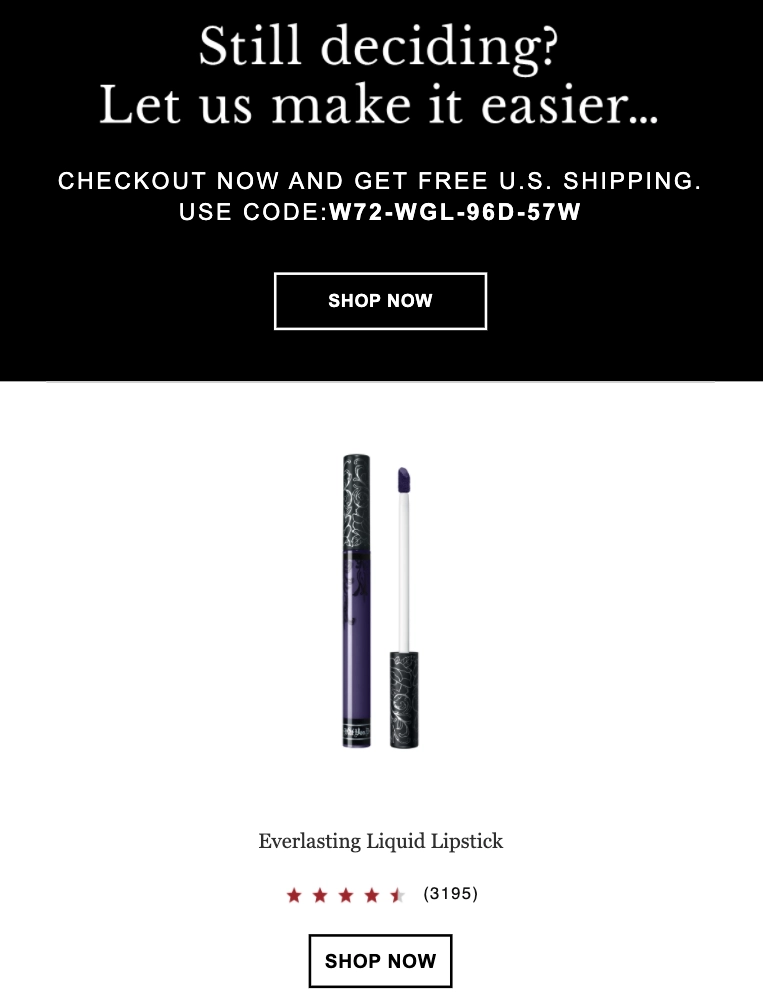 Like the above example from KVD Beauty, most Shopify abandoned cart emails contain some or all of the following elements:
A list of products left in the customer's shopping cart
Images of those products
A

call to action

prompting the customer to complete the order
But, as I'll go on to discuss, those are only the basics of a successful abandoned cart email. There's a whole lot more you can add to boost click-throughs and conversions.
Why Send Shopify Abandoned Cart Emails?
The whole purpose of a Shopify abandoned cart email campaign is to tempt cart abandoners back to your store to finish what they started. But you can do exactly the same thing with a retargeting campaign. What makes abandoned cart emails so special?
Simply put: cart abandonment emails are better (and cheaper) than retargeting.
According to Barilliance, cart abandonment emails see average open rates north of 40 percent…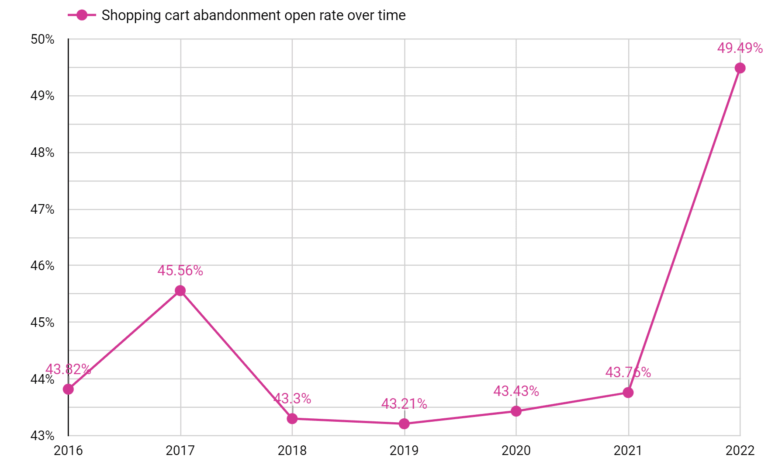 …whereas the average retargeting campaign has a click-through rate of just 0.7 percent.
Even more impressively, the average conversion rate for shopping cart abandonment emails is a whopping 18.64 percent. In other words, you can expect to win back about one-fifth of cart abandoners with an effective email campaign.
Just think of all that extra revenue!
How to Set Up Abandoned Cart Emails in Shopify
While Shopify store owners can manually email cart abandoners, this takes a whole lot of work.
Unless your store is just starting out, you could conceivably encounter hundreds (or even thousands) of cart abandonments every single day, so it's no surprise that most Shopify stores opt to automate their abandoned cart sequences.
Here's how to set up a basic automated abandoned cart email campaign in Shopify:
Log in to your

Shopify admin, then navigate to

Settings > Checkout.
Scroll down to the

Abandoned checkouts

section and tick

Automatically send abandoned checkout emails.
Under

Send to, tell Shopify whether you want to target

all

cart abandoners, or just email subscribers who abandon their carts.
Under

Send after, choose how long you want to delay sending your abandoned checkout Shopify email (between one and 24 hours).
You'll be left with something like this: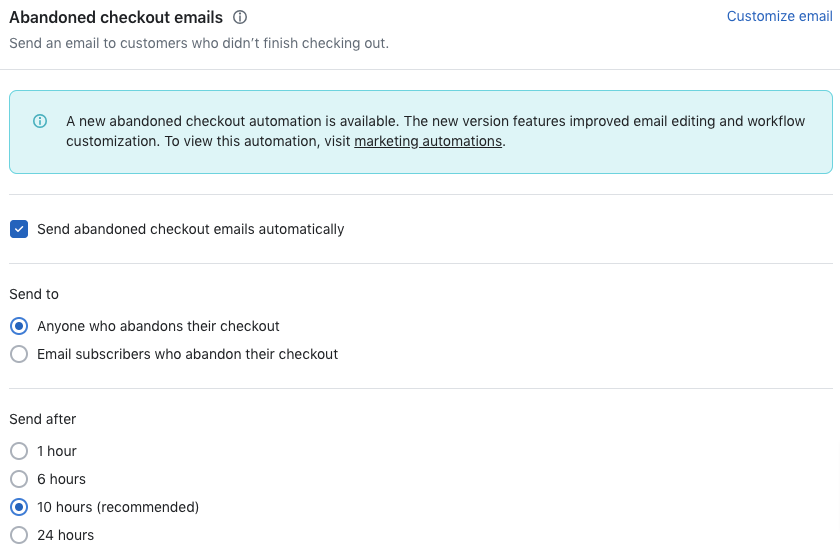 Once you're happy with your settings, click Save to trigger your abandoned cart campaign.
How to Customize Shopify Abandoned Cart Emails
There's nothing technically wrong with the standard Shopify abandoned cart email template, but it's definitely a little basic.
Here's what it looks like: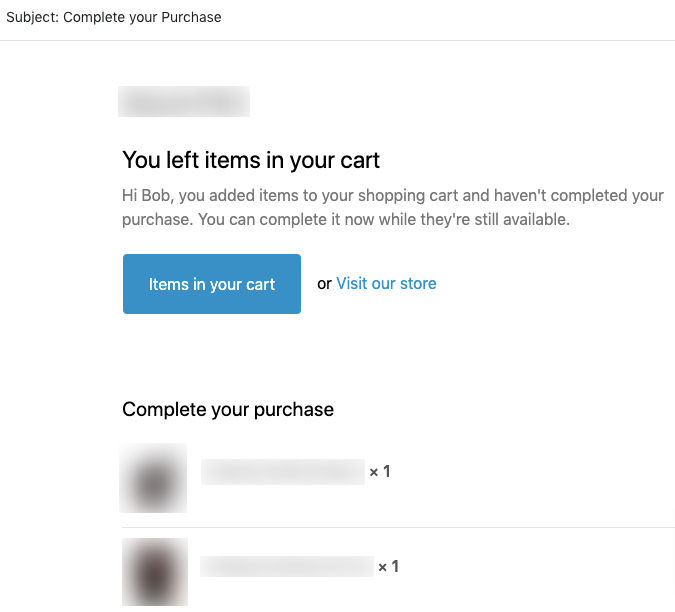 Pretty uninspiring, right?
Fortunately, there are a couple ways to level up your Shopify abandoned cart emails…
1. Customizing Abandoned Cart Emails in Shopify
Shopify allows you to make limited changes to its email templates within the platform.
Start by logging into your store admin and clicking Settings > Notifications, which brings up a list of all your current email automations. You'll find your abandoned cart email within the Orders section: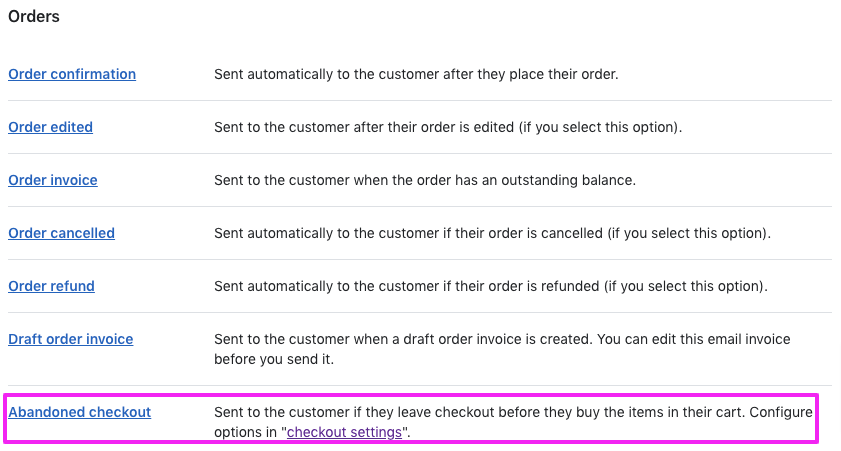 Click the Abandoned checkout hyperlink to view your current Shopify abandoned cart email template.
Once you've done that, you can hit Edit code to bring up Shopify's HTML editor, which allows you to adjust the look of your template (provided you understand how to write the necessary code).
Alternatively, you can tweak the copy and subject line by changing the relevant template sections: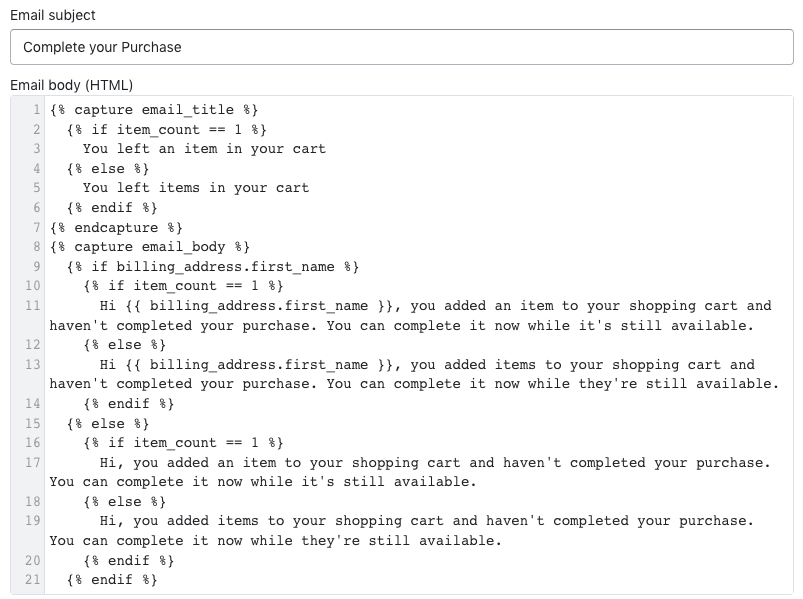 Want to make aesthetic edits without getting elbow-deep in HTML?
Head back to the Notifications page and click Customize email templates to:
Add your store logo
Change the color scheme
And that's it.
As you can see, there's not much scope for customization, with no easy option to make sweeping changes to the style and layout of your abandoned cart email.
And you can forget about incorporating multiple emails into your abandoned cart workflow, or adding personalized offers and CTA buttons that incentivize cart abandoners to complete their orders.
For that reason, most successful Shopify stores favor the advanced automation, customization, and segmentation features offered by a third-party platform like Drip…
2. Customizing Abandoned Cart Emails in Drip
Drip gives you the power to create sophisticated, on-brand abandoned cart sequences using prebuilt workflows, templates, and our intuitive point-and-click email builder.
Add as many (or as few) products as you want; play around with vertical spacing; incorporate your brand logo, colors, and fonts; and edit CTA buttons to drive action from email recipients.
Not only that, but you can add multiple steps to your workflow, increasing your chances of winning back cart abandoners before they look elsewhere.
Here's how to do it…
1. Disable Abandoned Cart Emails Sent From Shopify
First off, if you've already switched on cart abandonment notifications in Shopify (as described in the previous section), go ahead and turn them right back off again.
The same goes for any abandoned cart emails you've set up through other Shopify apps or plugins.
2. Connect Your Shopify Store to Drip
Now, the next step is to connect Drip to your Shopify store—which is surprisingly easy to do. All you have to do is:
Log into your Drip account
Click on Settings in the lower left corner
Go to Integrations and choose Shopify
Click the Get the Drip App for Shopify
Click Add App
And enter your store credentials
From the Shopify App Store, it's even easier. You simply click "Install" and select your store to continue. The wizard will take you through the rest of it in just a few clicks.
3. Install Drip's Shopify Abandoned Cart Workflow
Once you're connected, it gets even easier. Then, install our prebuilt abandoned cart workflow custom-made for Shopify stores.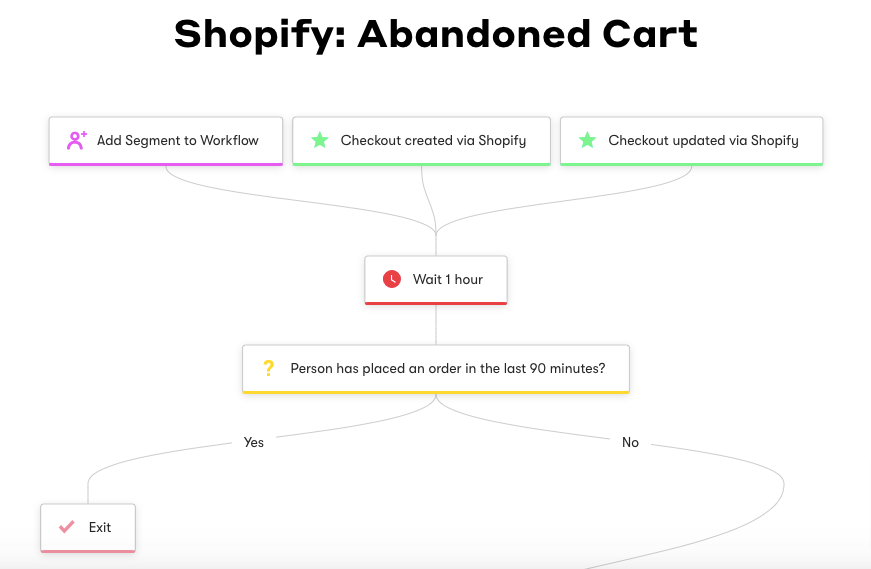 Easy!
4. Edit Your Abandoned Cart Emails
Now it's time for the fun stuff: building your shiny, new cart abandonment emails.
Start by clicking on the step labeled Send "Abandoned Cart #1":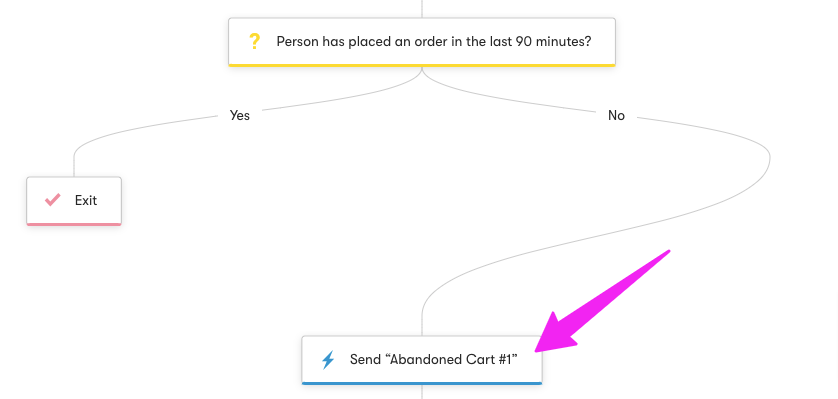 Then select Edit Email and you'll be transported to Drip's visual email builder.
You'll already see dynamic product blocks in the email body—those are where your customer's abandoned items will appear. Now, fine-tune the rest of the email by:
Adding your header logo
Editing the font and button colors under

settings

and

default styles
Writing a subject line and email copy in your brand voice
Once you've built your email, click Preview to see how it looks across desktop, tablet, and mobile.
Then head back to the workflow editor and update the additional emails in your multi-step abandoned cart sequence (there are three in total).
Want some inspiration on the look and tone of your emails? Check out nine of our favorite abandoned cart emails.
5. Activate Your Abandoned Cart Workflow
You've designed and written your emails and set your delays, so the only thing left to do is switch your workflow on to start recovering those pesky abandoned carts.
3 Shopify Abandoned Cart Email Best Practices
Wait!
Before you trigger your first Shopify abandoned cart email sequence, check out these best practices to give yourself the best chance of converting cart abandoners into paying customers…
1. Share Offers Based on Cart Value
Sure, offering cart abandoners a free gift, free shipping, or a generous discount will likely bump up your conversion rate. But you don't want to give every would-be customer the same deal.
If a customer's sitting on hundreds of dollars of items in their basket, you might want to roll out the red carpet and do everything you can to convert them. However, you may not want to extend the same courtesy to someone with $10 worth of socks in their cart.
For that reason, you should build abandoned cart segments based on the value of items in the shopper's cart. That way, you can share appropriate offers for higher and lower-value customers.
2. Get Your Email Timing Right
Timing is essential to the performance of your abandoned cart emails.
On one hand, you want to strike while the iron's hot. But on the other, you don't want to freak people out or seem too pushy.
As standard, our Shopify abandoned cart workflow is built around the following timings:
Email #1:

Sent 1 hour after cart abandonment
Email #2:

Sent 24 hours after email #1
Email #3:

Sent 24 hours after email #2
However, we recommend playing around with your email timings to discover the flow that resonates best with your audience.
3. Write a Persuasive Subject Line
Almost half of shoppers decide to open an email based on the subject line. So it's fair to say those 40-or-so characters can make or break your abandoned cart sequence.
A quick glance at our email marketing swipe file reveals that brands use a wide range of subject line tactics to lure cart abandoners. Standout cart abandonment subject line examples include:
"You're gonna miss me when I'm gone" -Your Basket
Lucky you! An item in your shopping cart is now on sale
Ahem, [first name]
You forgot something important…
Items are waiting, and waiting, and waiting in your Shopping Bag!
Seen something you liked, [first name]?
Should we empty your shopping cart?
Just like with the previous tip, we'd advise split-testing multiple subject lines to see which have the biggest impact on open rates.
Convert More Cart Abandoners With Drip
Sure, cart abandonments are frustrating.
But we prefer to see them as opportunities.
Treat every cart abandoner as a hot lead. You know exactly what products they're interested in, giving you the perfect opportunity to convert them with a smart, persuasive Shopify abandoned cart email.
We've already told you about all the ways Drip can help you build better-looking, higher-converting abandoned cart sequences.
So what are you waiting for? Give us a try by signing up for your free 14-day trial!