Running an ecommerce store can be tricky business. From inventory management and fulfilling orders to building brand loyalty, it can be difficult to put efficient processes in place.
To smoothen your workflow, we've rounded up a variety of Shopify apps worth considering—each of which is versatile enough to hopefully suit your needs, whatever they may be.
Best Shopify Apps for Ecommerce
1. Drip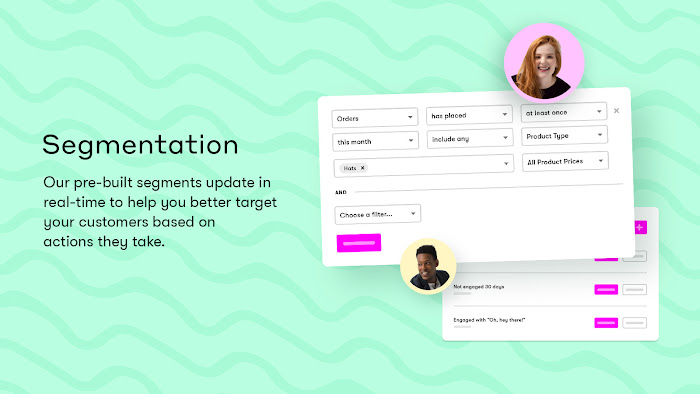 Ideal for: Email and onsite marketing automation
Cost: 14-day free trial; plans from $39/month
Drip is a marketing automation platform built for ecommerce businesses. While we're obviously biased, there are a slew of unique benefits to using our integration—starting with the ability to get real-time updates on customer actions, which in turn allows you to target and segment your buyers better.
You can also use our visual builder to send personalized emails, which include tailored product recommendations based on a customer's purchase history.
The customization continues with Drip's pre-built playbooks that let you send a variety of email types, including a welcome series, abandoned cart emails, and post-purchase emails.
And if you aren't sure whether things are working or require tweaking, turn to your dashboard for insights and recommendations on how to better tailor your efforts.
It's no surprise that Drip has a 4.5 star rating on the Shopify App Store.
2. HubSpot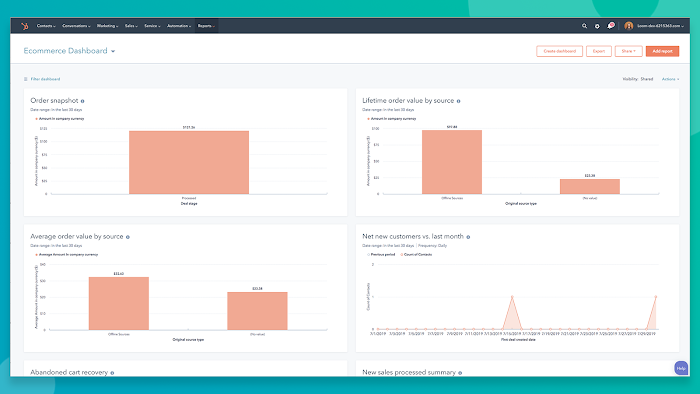 Ideal for: Tracking and nurturing leads
Cost: 14-day free trial; paid plans from $29/month
HubSpot needs no introduction: The platform offers software for inbound marketing, sales, customer service, and customer relationship management (CRM).
If you have a HubSpot account, then this Shopify integration might be ideal. At the basic level, you're able to easily sync your contacts, orders, and an unlimited number of products (even with the basic plan). But it's the analytics aspect that we particularly like.
With it, you can analyze your Shopify data using reports including average order value, lifetime order value, abandoned cart recovery, and more—all of which could help you to refine your ecommerce strategy over time and even guide your decisions when expanding into new markets.
The integration additionally allows you to personalize your growth strategy, such as running calls-to-action in your content and product retargeting ads. If you're looking to automate ecommerce campaigns, that's possible as long as you're on a paid plan (Marketing Hub, Sales Hub Professional, or Enterprise).
3. Smile.io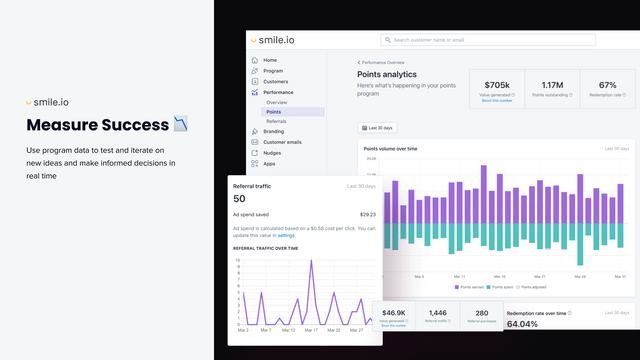 Ideal for: Building loyalty/referral programs
Cost: Free (up to 200 monthly orders); plans from $49/month
Smile allows you to quickly create, customize and launch a rewards program—with the aiming of building customer engagement and brand loyalty over time.
Its Shopify point-of-sale (POS) integration has a number of nifty and customizable features. For starters, you can customize the exact point at which your customers are rewarded—such as when they join your brand's loyalty program or when placing an online order.
These rewards can also be built in multiple ways. You might choose to offer points, a mix of referrals and points, or even add a VIP program in the mix.
There are also on-site reminders (also known as "nudges") to encourage customer engagement at opportune times. We'd also recommend utilizing the customizable widget and rewards panel, which allows you to customize it with logos, banner images, and advanced color options. There's no need to code either, making it a huge plus in our books.
4. Oberlo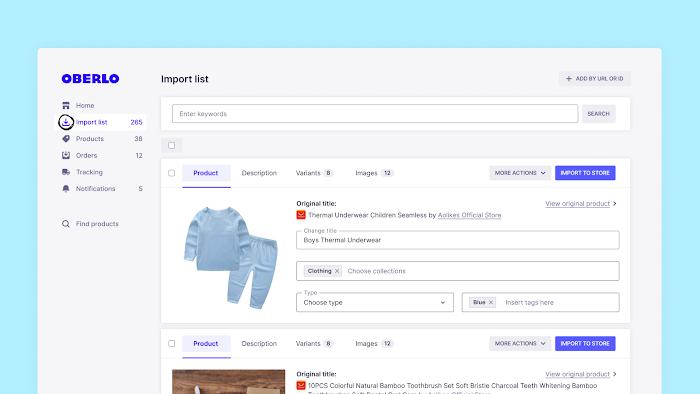 Ideal for: Dropshipping businesses
Cost: Free or from $29.90/month
Oberlo is a versatile dropshipping app that allows you to easily start and grow your dropshipping business rather than rely on an inventory model.
So if that's something you've been mulling over, its integration might be worth a try. If you're just starting out, browse products across many categories (including electronics, fashion, beauty, toys, and more) using Oberlo data—or add AliExpress products to your store easily.
From there, choose your product photos and edit their descriptions and titles, then personalize your online storefront. You can even automate bulk orders and fulfill them in one click, as well as get real-time alerts on stock levels, prices, and order statuses (including shipping).
Should you wish to scale your dropshipping business at any point, you can add multiple users to your online store at any time.
5. QuickBooks Commerce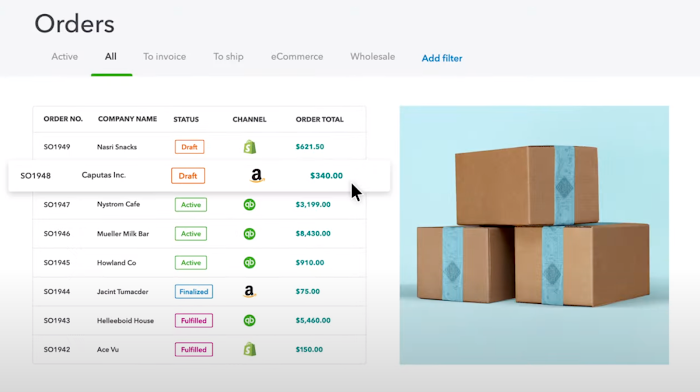 Ideal for: Inventory management
Cost: $50/month (for first three months, then $100/month)
Quickbooks Commerce integrates your sales and inventory data across multiple channels into a single platform. A tiny caveat: to get access to all its ecommerce and accounting features, QuickBooks Commerce must be paired with QuickBooks Online (included in the monthly price).
You'll find the usual suspects with this integration, including real-time updates on your orders and the ability to track products from inventory to fulfillment. If you have product listings across multiple channels and locations, you can easily manage them via the dashboard, as well as identify your highest-performing products regardless of channel.
The accounting features are a real plus. Apart from generating custom reports, you can automatically calculate sales tax on your invoices, track income, and expenses in order to maximize tax deductions, and—our personal favorite—automate your sales data, so there's no need for manual data entry.
6. Product Reviews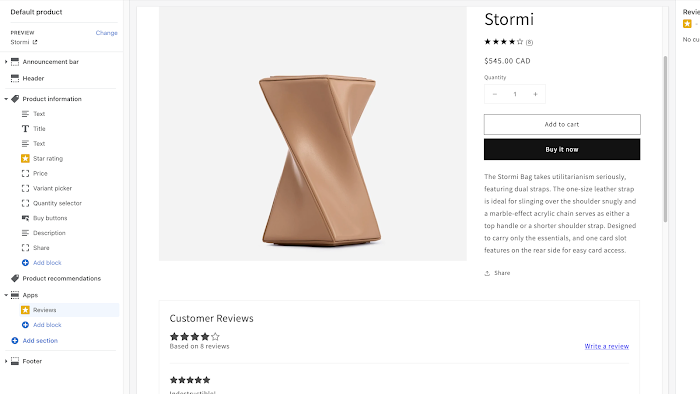 Ideal for: Giving your products more credibility
Cost: Free
As its name suggests, Product Reviews lets you add and feature customer reviews on your products. Simple as it sounds, we'd consider this a powerful integration for many reasons—starting with the fact that it can boost your organic reach in search engine results pages.
That's because you're able to add SEO-friendly review scores to your Google search results.
Over time, this might help to increase the sales of reviewed products in your store. On the backend, you're able to customize the product reviews interface to match your store's look and feel. That includes pre-built features spanning layout, text, and color options—with no coding required.
Too many reviews to track, or hoping to analyze them to identify common patterns? Try taking a bulk action: You can publish, hide, filter, and manage reviews and even import them into a spreadsheet for further analysis.
7. ModeMagic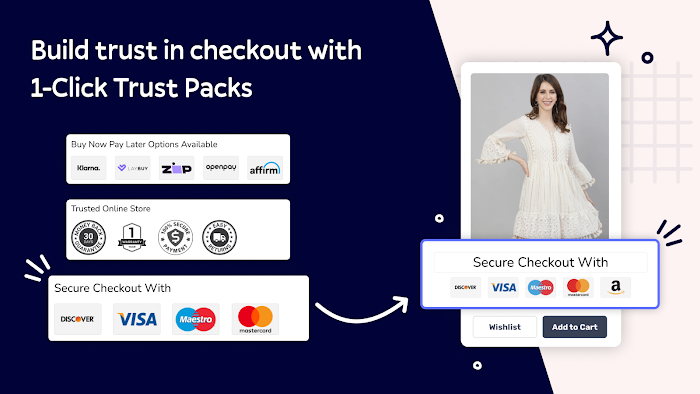 Ideal for: Stock clearance
Cost: Free (up to 10 products); plans from $29/month
ModeMagic is a store conversion kit that helps you run all kinds of sales—from flash and clearance sales to discounts, inventory and stock updates, announcements, and product bundles. The integration also helps you show off your current bestsellers, launch new arrivals, and run sitewide announcements without having to code.
Some notable features include being able to automate the tracking of your product inventory, as well as run UTM-supported across your store's pages for sales and promotional offers.
You can also schedule seasonal offers on your website—think year-end or end-of-season sales—and embed badges on your product and payments pages. In the latter case, these badges are helpful to indicate things like free shipping, free returns, secure checkout, cashback, and yet more.
When you're ready to review your campaign's or store's conversion rates, you're able to easily pull these insights from your dashboard.
8. Form Builder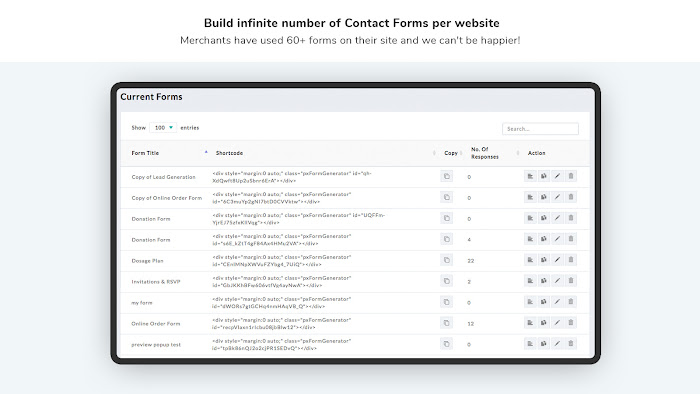 Ideal for: Customer support
Cost: Free; plans from $9.90/month
Form Builder was developed by HulkApps, a Shopify-focused platform that offers solutions to ecommerce brands.
Its Shopify app lets you create a better experience for customers. To start, build an advanced Contact Us form in minutes (Google reCaptcha included) or other custom forms to suit your needs. This might include forms for orders, donations, or registrations, to name a few.
These forms include intelligent features such as auto-suggest recommendations and the ability to improve lead quality by blocking form submissions from specific domains. You're even able to identify where your customers are from, should you opt to enable UTM-tracking.
Form Builder also employs conditional logic to show or hide answers based on a user's previous answer.
Aesthetics-wise, you can customize each form for text, font, color, and layout—and include response options such as multiple-choice answers. Looking to get more from the app? Try integrating it with Mailchimp.
Final Word
We hope this list serves as inspiration on how to improve your ecommerce store—whether on the frontend or backend. With a little trial and error, you'll soon have a go-to list of app integrations, so give it time and patience.