You spent all day perfecting your email copy. You do one last proofread, and everything looks great.
So you hit send. But guess what?
You inserted the wrong link to the sales page in the email.
Uh, oh! Facepalm.
Don't panic. It's possible to turn this simple mistake into an opportunity with an apology email (even if you aren't a Drip customer - shameless self promotion: see pricing info here).
In this post, I'll highlight specific use cases to show you how to transform your mistake into an opportunity to earn more audience engagement—and even more sales.
Have you ever made one of the following email mistakes? Here are our suggestions for how to handle it with an apology email.
1. You Made a Typo
We've all been on a deadline before. You're handling several assignments and checking things off of your list. You may even need to send out an email or two.
After you write and proofread the email, you hit send. It's only then that you notice the glaring typo in your message. You spelled to, when you meant too.
While it's important to send an apology to acknowledge significant mistakes, you don't have to resend a message correcting all your minor issues.
It may distract people from your main goal (like purchasing your product), or call attention to something that most customers didn't even notice in the first place. Here are a few common misfires that don't necessarily need an apology:
Misspellings

Grammatical errors

Missing or incorrect punctuation

Formatting problems that don't interfere with the email's meaning
In cases like these, you just need to take proactive steps to prevent those mistakes from happening again.
If the email is part of an evergreen campaign, workflow, or behavior-triggered email, make sure to make the necessary changes right away.
If it was a one-off broadcast, take the opportunity to reflect on your email setup process. Do you need to designate a proofreader on your team, or add another person to your QA list?
Focus on correcting mistakes that prevent the customer from connecting with your business or reflect a poor brand image. Like the following cringeworthy moments.
2. You Sent the Wrong Link
Whether you're launching a new product or sending customers to a specific sales page, it's important that they can actually take the action you want.
So it's always unfortunate to realize you forgot to add the page link or inserted the wrong link altogether.
It's easy to get frazzled by your mistake. However, you can take immediate action and fix most of the damage by sending a good apology email.
In the email, tell people about the error, apologize for it, and provide them with the correct information to complete the desired action. (And of course, double-check that you're sending the right link this time around.)
I asked a few other marketers how they handled apology emails like these. One big piece of advice: add some personality to your apology email. "I'll make a joke, like: We were so excited to send you xyz that we forgot to include the link!" said Marketing Director Sarah Prince at Anderson Law Firm.
Petco experienced a similar challenge when their team sent the wrong coupon link to customers. They sent an apology email stating what happened and how the problem would be resolved.
Note the use of a glossy-eyed dog to express their emotions for the mistake. The imagery and text complemented their brand well.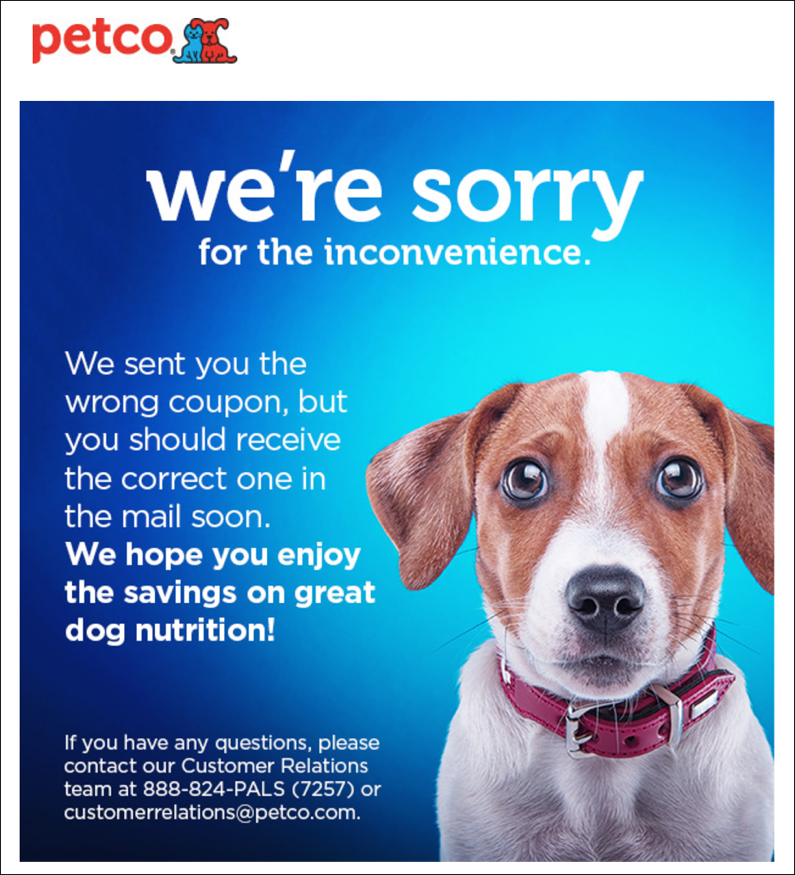 It's impossible for anyone to send perfect emails to their customers every single time. With a playful apology, your customers will understand your mistake and forgive you.
3. You Emailed the Wrong People
Have you ever rushed to a meeting, opened the door, and quickly noticed you entered the wrong room? You felt embarrassed as every stranger stared right back at you.
That's sorta the same feeling you get when you email the wrong people in your list. Their initial reaction is simple: What's this?
When you email the wrong people, the next step is to explain the mis-sent message to them. You can acknowledge that you made a mistake and instruct them to disregard your previous email.
Recently, Outbrain faced this exact issue when their team sent "a few extra people" an email about a particular white paper. The company promptly took responsibility for the error.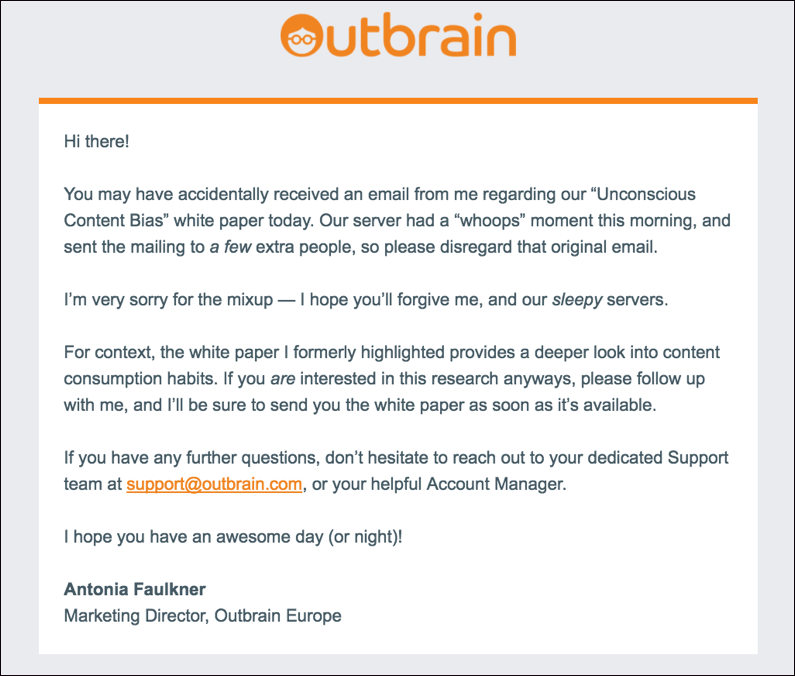 But then they did something really smart: they still engaged the "wrong people" with the message intended for the other audience. "If you are interested in this research anyway, please follow up with me," writes Marketing Director Antonia Faulker.
Even though your message reached the wrong audience, it's an opportunity to gauge interest in another product offering or resource.
In fact, with one extra step, you can even find out how many of your apology-email recipients might actually be open to other kinds of content than you've been sending, and automatically tag them with updated information.
If you have Drip, you can do this with a one-click trigger-link survey.
Let's say your real estate business accidentally sent a list of available condos and townhomes to your segmented list of buyers who want two-story homes. Because people's interests change, you might want to assess whether they want to expand their home search.
You can craft an apology email addressing the mistake and include questions asking if they want to learn more about condo and townhome options. You'll create a trigger link to each possible answer.
This is how it might look…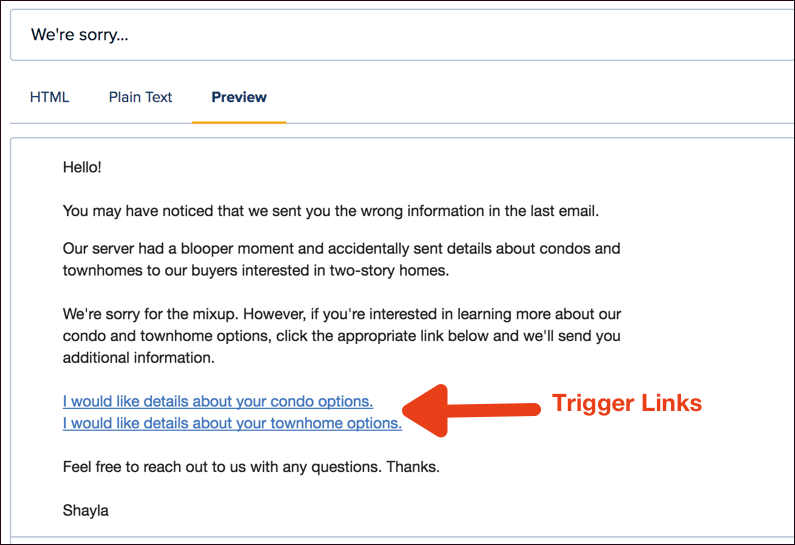 Once the person clicks the trigger link, the automation rule connected to the link will instantly apply your desired tag. That way, you can add the person to new email campaigns discussing topics about condos and townhomes.
You can learn how to set up your own one-click survey here.
4. Your Website or Payment System Went Down
Your apology emails aren't limited to only email mistakes. Sometimes, you will need to send a message to apologize for basic business issues, like:
Longer-than-expected customer support times

Product shipping delays

Delays in a planned digital product release

Rescheduled events

Servers going down right after you've announced a big sale
Try to immediately notify customers when these problems happen. This common courtesy means a lot to the frustrated customer attempting to visit your website or struggling to use your product. Plus, it will deter customers from flooding your support channel with questions about the known problem.
If possible, save the day for customers and offer a coupon or bonus to recapture sales and show you care.
Lucky Brand experienced technical issues with their website, causing a poor customer experience. Rather than just apologizing, their team gave customers a 30% coupon for their troubles.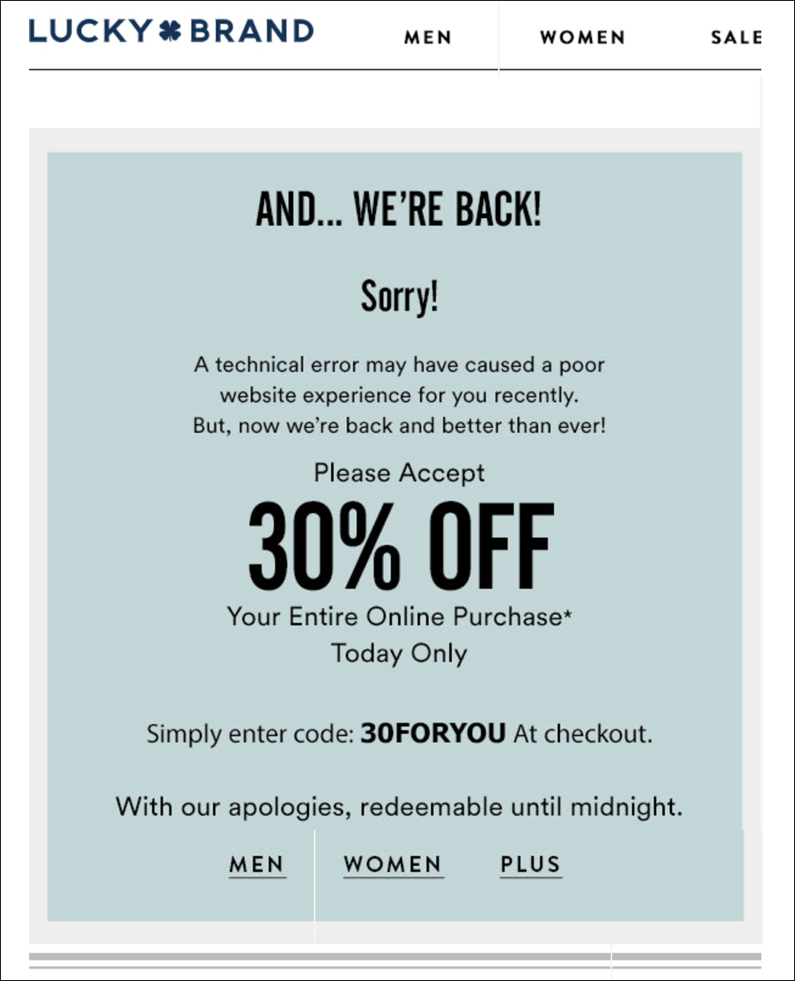 You can do something similar by adding an evergreen expiring offer in your apology email. To give everyone a coupon deadline, you will need the following:
A offer page with a countdown timer that redirects when the offer expires

A series of reminder emails that update the expiration of the offer for every person
We recommend using Leadpages' countdown widget to redirect your visitors to a different page after the offer expires.
5. You Forgot to Mention Something Important
When you're juggling multiple tasks, it's easy to forget to add important information to your email messages.
You may accidentally leave out a crucial element of the package you're trying to sell, or you might forget to tell people the end date of your upcoming sale.
But no worries. Just think of your incomplete broadcast as the first part of a two-part email campaign. It'll also serve as a reminder about your offer for anyone who wasn't paying much attention the first time.
Jeff Walker, creator of the Product Launch Formula, recently sent an email but forgot to tell his audience about a new payment plan option. Jeff sent a quick apology email referencing the mistake, stating the forgotten details, and reiterating the product information.

In Drip, you have the power to tailor your apology emails based on your segments. So when you forget to mention important information, you can customize the message to fit the needs of every unique person on your list.
For instance, say you're a financial advisor who forgot to tell your customers that your new product package includes a one-on-one consultation with you. By using Liquid shortcodes in your Drip emails, you can tailor that major detail to all your audiences.
As a financial advisor, you might have two distinct segments: beginner and advanced consumers. So your email might look like this…
Hello!

I forgot to mention a really important detail about the All-Star Financial Freedom package.
This strategy works well when you want to spotlight specific benefits of each customer segment. To your buyers, the email will feel like you're talking directly to their needs.
6. You Sent a Draft Too Early
You've planned out your next email. You know what points you want to stress and the best layout for your message.
So you begin to draft your email. But…
Somehow you clicked the send button while you were reaching for your morning coffee. Yikes!
Now, people are reading your draft, not your finished message.
Mailchimp encountered the same challenge when a draft of their upcoming newsletter got sent to 20% of their customers. Once they recognized the error, their team quickly sent out this apology explaining the snafu: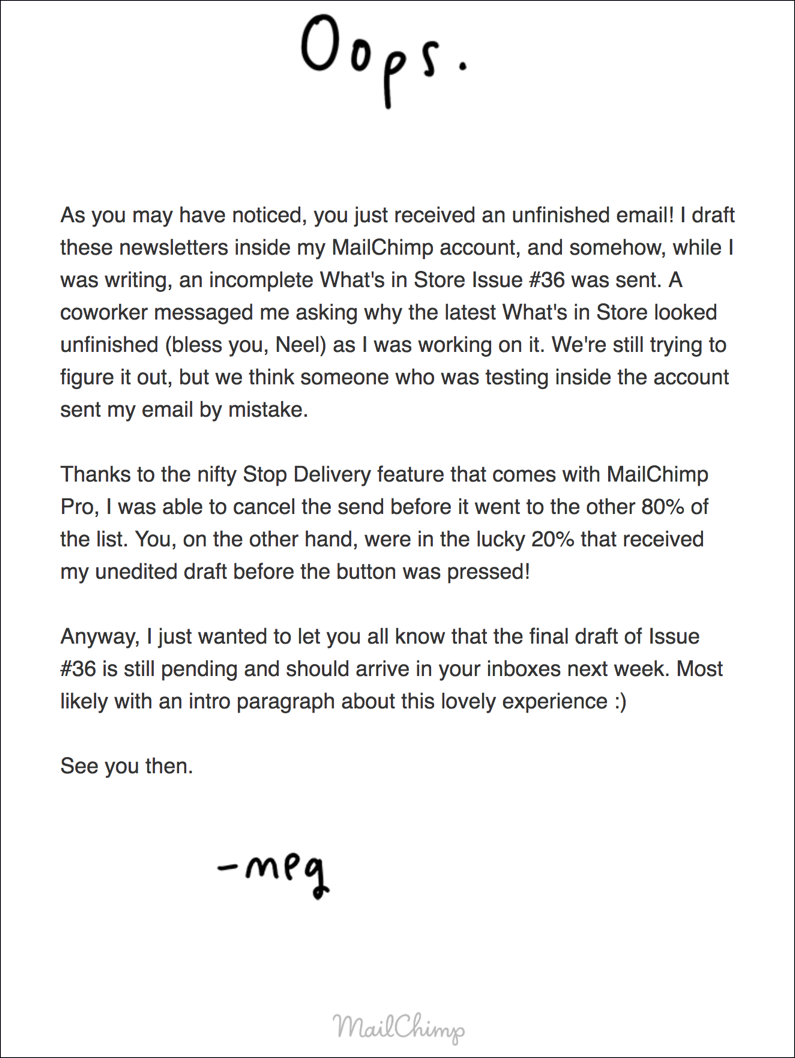 You'll also notice that Mailchimp used this as a brand-building moment by mentioning the Stop Delivery feature of their product. Plus, they continued to talk about the blunder in their newsletter. They offered customers an inside look (with a picture and GIF) on how the mistake played out in their office.

You can do the same thing if you ever send a draft too soon. If it fits your brand voice, you can even turn your mistake into an epic story. Make sure to include all the details, from beginning to end, about what happened.
Just like Mailchimp, you might want to insert the funny responses you received from customers who replied to the draft. It gives people a different perspective from the customer point of view.
You'll also notice that Meg's first apology email looks a lot different from MailChimp's regular newsletters. If you normally use a highly designed template, try Drip's default simple template instead to convey the feeling of a personal apology note.
Measure the Impact of Your Apology Email
As with any email campaign, you want to measure the effectiveness of your apology email. Did it actually resonate with your audience?
In Drip, you can monitor how well your email performed under Reports -> Email Metrics. Don't forget to check back to see how many customers clicked on your apology sales offer and see who decided to opt-out of your emails.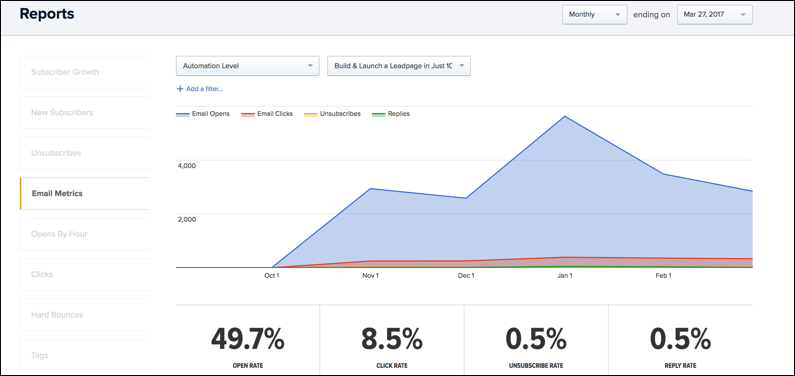 The unsubscribe rate is one key metric to observe after you send an error message or apology email. A high rate may indicate the significance of your mistake or that your apology failed to resolve the situation.
Another metric to monitor is the open rate. After you send an email with a mistake, you want the same people to open your apology email and understand what occurred. If not, your customers will stay misinformed.
To counter an unopened apology email, you can set up an Automatic Broadcast Resend in Drip. This powerful feature lets you automatically resend an email to people who didn't open it the first time. Set the number of days to wait before resending, add a new subject line if you like, and sit back while Drip does all the work for you.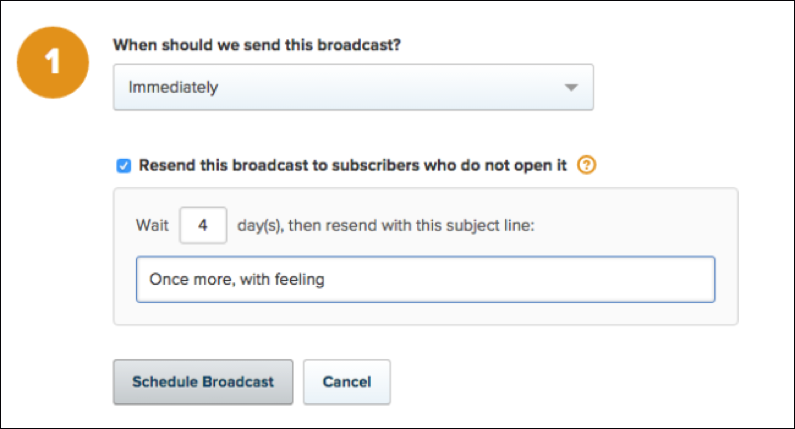 Although you won't be building an apology email into your campaigns, taking a moment to check your metrics will teach you more about your customers and how to create better messaging.
Turning Simple Mistakes into Big Sales Opportunities
We all know it's going to happen sooner or later. You will need to send an apology email to your customers. Take advantage of your error by sending customers coupons or restating your sales message to increase your revenue.