It's impossible to overstate the value of quality customer testimonials.
So rather than resorting to hyperbole, I'll give you a couple of interesting stats that demonstrate how effective a positive word from your existing customers can be:
72 percent of consumers don't take any action until they've read reviews.
57 percent of US consumers say reviews are either "very" or "extremely" important when looking for a new product, while only two percent say reviews aren't at all important.
Shoppers who interact with testimonials are 58 percent more likely to convert and have a three percent higher average order value.
Given the obvious value of testimonials, it's clearly in your interest to actively seek them out, rather than sitting back and waiting for them to magically happen.
The truth is, most customers won't leave you a review unless you ask them or give them an incentive.
But generating testimonials isn't the end of your task here—once you've got them, you need your current and potential customers to actually see them.
Rather than adopting an "if we build it, they will come" mentality by hiding them away on your website, include testimonials in your marketing emails to give people a regular reminder of how great your products are.
Here are seven customer testimonial email examples from brands that are using the power of reviews to drive more sales.
7 of the Best Customer Testimonial Email Examples
1. Cladwell
Cladwell is a membership app that allows you to digitally "store" everything in your closet.
You list all the clothes you own and answer a few questions about your preferred colors, patterns, and styles, then let the app give you daily, weather-appropriate outfit recommendations.
It's a smart and quite "different" product. While we're comfortable with using apps to manage our schedules, tell us what meals to cook, and guide our exercise plans, the idea of handing creative control of my fashion choices to an AI assistant feels kind of weird.
If I'm going to entrust my future sartorial decisions to an app, I definitely need to know that it's up to the task. I want to trust that it won't advise me to pair my cycling shorts with that awful lime green shirt I bought on impulse 10 years ago and never wore.
That's where testimonials come in.
Cladwell includes three different testimonials in this email, all highlighting how the app has helped users get more from the clothes they own: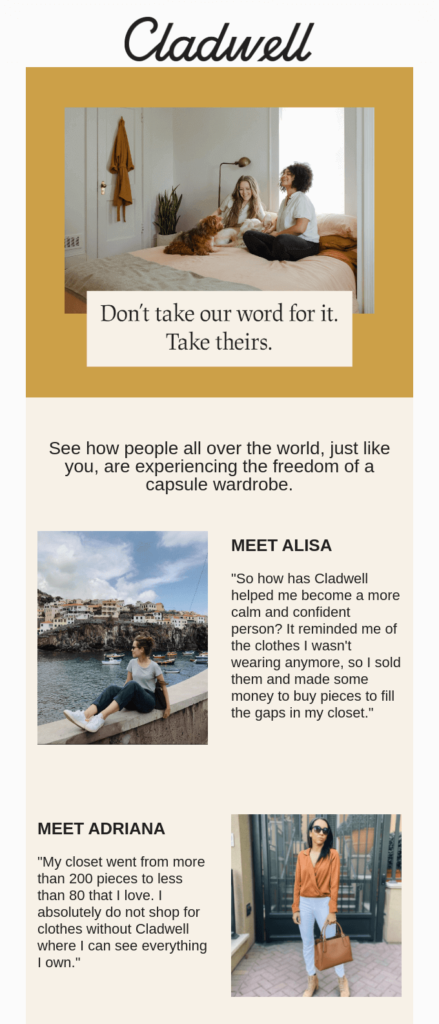 Importantly, they aren't just hammering home the same point. It doesn't feel authentic if all your testimonials say exactly the same thing.
Instead, each takes a subtly different approach, from the idea of connecting with your closet, to how the app has helped them feel more calm and confident. That touches on a lot of potential audience pain points.
Still not convinced? There's even a call to action (CTA) directing you to check out yet more testimonials.
Want to make a workflow like this?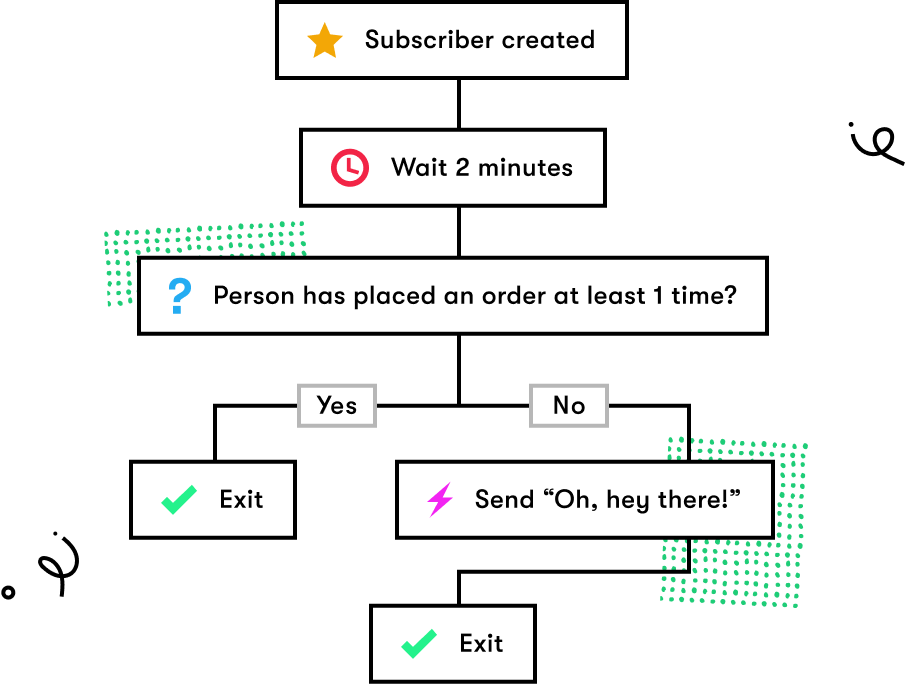 Hit the ground running with our pre-built workflows.
2. Ritual
Ritual sells vitamins and supplements for men and women.
As I'm sure you know, trust is super important for any brand selling health-related products.
Google's so-called "Your Money Or Your Life" algorithm update is a good indication of this. Essentially, it saw the search giant hold websites in the healthcare and financial industries—brands that impact your money or your life—to higher standards than other types of sites.
As such, testimonials in Ritual's space can be particularly impactful, because potential customers are going to scrutinize the brand and its products far more closely than if they were buying a new dress or a pair of sunglasses. They're not going to purchase unless they have complete confidence in the products and brand.
With that in mind, this email incorporates four testimonials, all of which address potential concerns that a potential customer might have before buying Ritual products: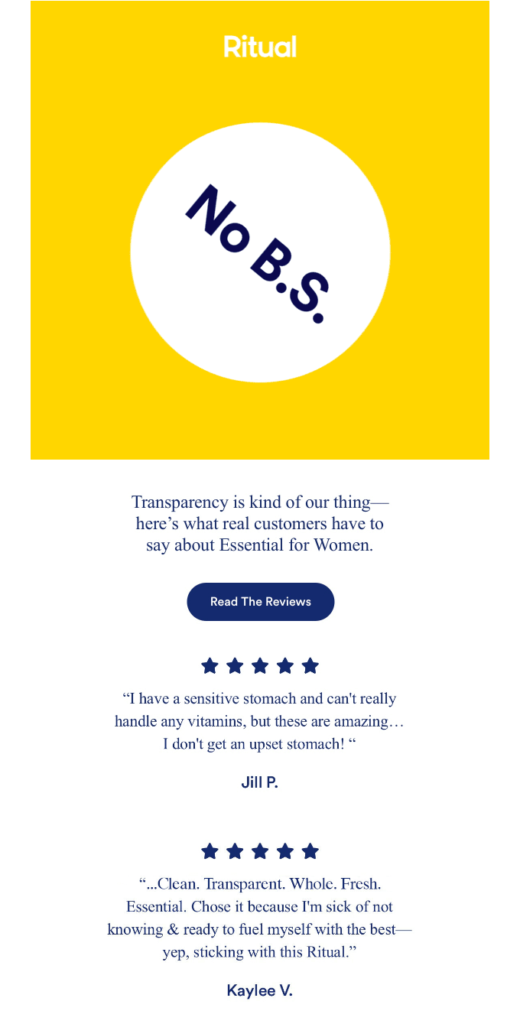 Source: Really Good Emails
It's all reinforced with the message that "transparency is kind of our thing". In other words, they're not trying to pull the wool over anyone's eyes about what their products do or what they contain.
3. JUDY
JUDY makes emergency preparedness kits for families affected by natural disasters and home emergencies.
Much like the previous two examples, trust is crucial for JUDY since it's a product that's designed to keep you and your family alive in the event that disaster strikes your home. If you're in the market for an emergency prep kit, you're probably not going to gamble on one that might be okay. You want the best.
Unlike the previous two examples, in this email, JUDY uses a single testimonial that's been designed to look like a social post: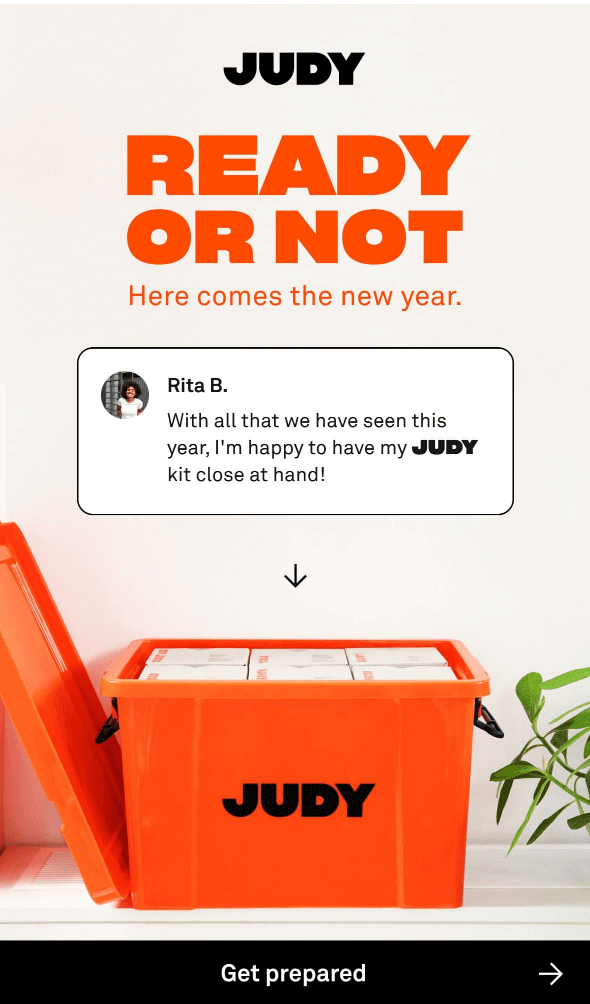 Source: Really Good Emails
Rather than prompting readers to check out more customer success stories, JUDY uses this testimonial to encourage them to buy right now.
This might seem a little pushy, but it can be an extremely impactful tactic for selling high-priced products (bear in mind, JUDY'S top-tier kit will set you back $295). In fact, one study found that placing testimonials alongside more expensive items can drive conversion rates by an incredible 380 percent.
4. Calm
While the previous three examples we've looked at are all testimonial-centric emails, the meditation app Calm takes things in a different direction.
Rather than building the whole email around the words of its customers, Calm tucks the testimonial away at the bottom, beneath a promotion for a 30 percent discount on premium memberships: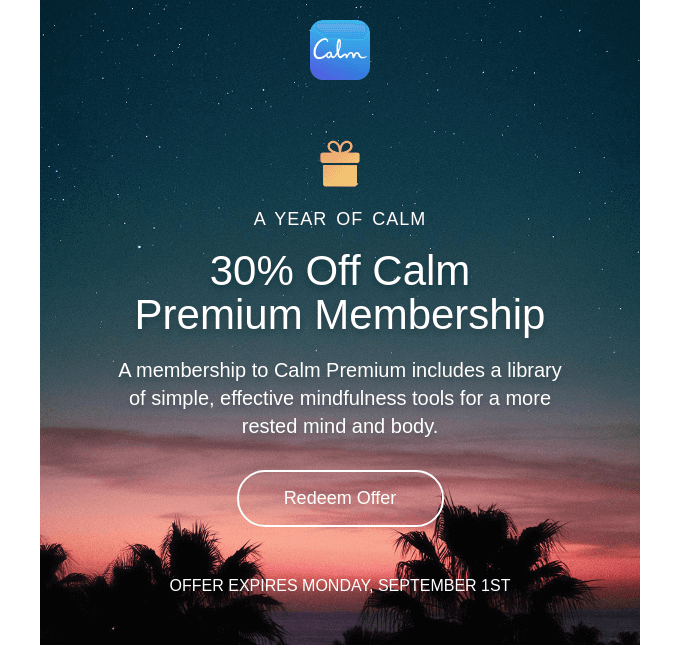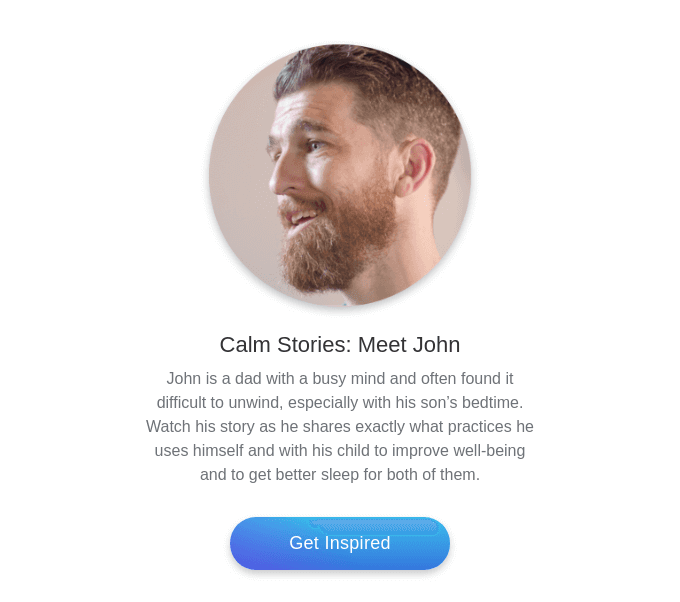 Source: Really Good Emails
This email works well because it's effectively giving you two opportunities to buy:
If you're sold by the discount, you can click through and sign up there.
If you need a little more persuasion, you can scroll down the email and you're presented with information about new daily lessons, plus a link to a customer testimonial.
It's also worth flagging up the CTA button beneath the testimonial. It would be easy to go for something unimaginative, like: "Read testimonial." But instead, Calm chose a far more evocative message: "Get inspired."
This makes the app sound exciting and transformational, rather than just another product.
5. Bite
Dental care brand Bite really goes all-out to win over potential customers in this testimonial email. This isn't just about highlighting a solitary review or sharing a nice piece of positive press coverage about its product.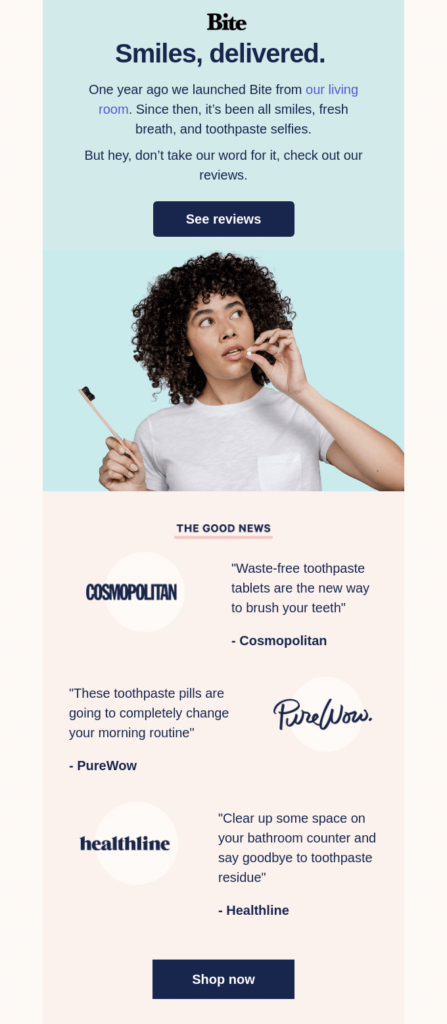 Source: Really Good Emails
There are three separate reviews from massive publishers like Cosmopolitan and Healthline. And if that wasn't enough, the email also contains five customer testimonials.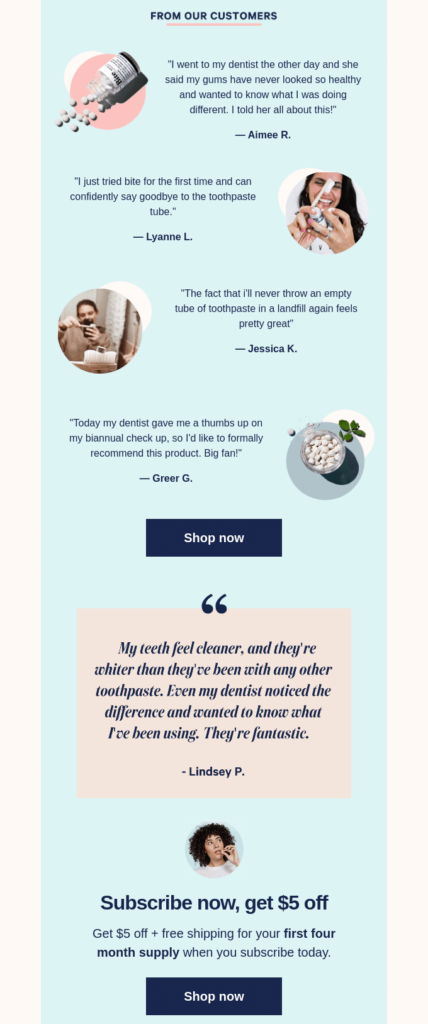 That's a lot of positive sentiment for a single email.
However, I haven't included this email because of the sheer volume of recommendations. The choice of testimonials is worth looking at, too.
Similar to the Cladwell example we discussed earlier, Bite has been a lot smarter than simply including five testimonials that are basically variations on: "Yeah, Bite is great, you should go buy it yourself."
Instead, we've got:
Testimonial 1 focusing on gum health;
Testimonial 2 offering a first-time buyer's perspective;
Testimonial 3 highlighting Bite's eco-friendly credentials;
Testimonial 4 coming from a customer who's just been to the dentist; and
Testimonial 5 referencing how their dentist has noticed the difference since switching to Bite.
Look at all the different pain points they're hitting here. If you're on Bite's mailing list, there's a high chance at least one of those testimonials is going to resonate with you.
Combined, all these reviews and testimonials give you a pretty compelling reason to take advantage of the "$5 off" promotion at the bottom of the email.
6. Everlane
We're about 70 percent of the way through this article, so it's high time I mentioned the elephant in the room—the dirty little secret that no marketer or brand ever wants to mention.
Testimonials aren't always believable.
Especially when they sound like the brand wrote an outrageously flattering sentence about themselves, like "This new couch single-handedly saved my marriage and landed me my dream job; now I'm a millionaire!" and then claim it was written by "Jeff Smith from New York".
Far from persuading me to part with my hard-earned cash, those too-good-to-be-true testimonials actively put me off. They make me view the brand in a negative light. I'm sure you feel the same, too.
So it's great to see denim brand Everlane guarding against these sneaking suspicions by including the social handles of each of the five customers who left these glowing testimonials: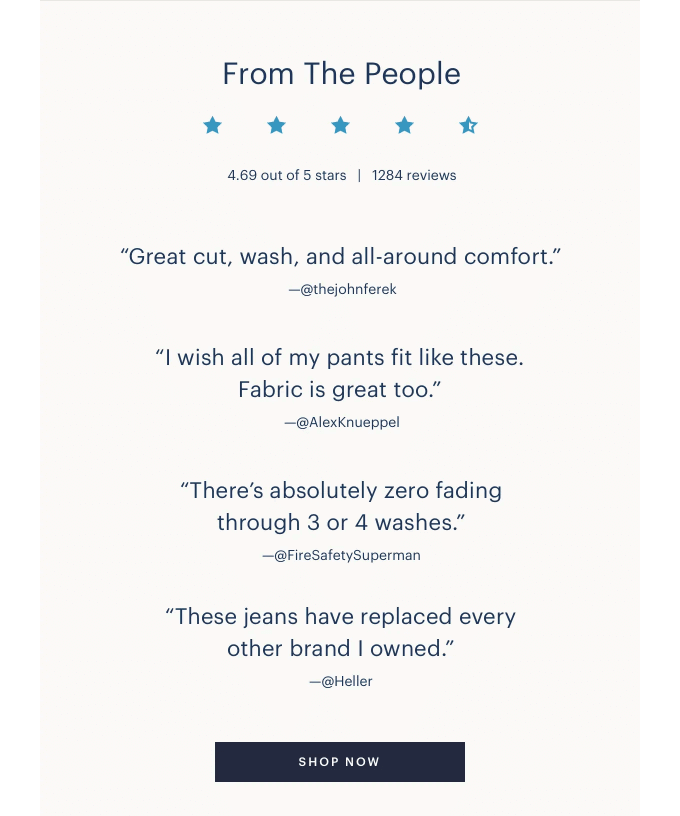 Source: Really Good Emails
That makes them a lot more believable. And if you don't believe them, you can even take the time to seek out the profiles yourself. (Full disclosure: I actually did this, and at least three-fifths of those accounts are real and active.)
For added credibility, Everlane highlights how its jeans have a rating of 4.69 out of five from 1,284 reviews. All told, that makes for a pretty compelling body of support.
7. Eight Sleep
Any customer testimonial is better than no customer testimonial (provided it's credible). But some testimonials are definitely more valuable than others.
For instance, if your testimonial is from a verified expert or a public figure, it's going to carry a whole lot more weight.
Smart mattress brand Eight Sleep clearly recognized this and gathered three testimonials from high-profile figures in the world of sport and fitness:

Source: Really Good Emails
For a company that regularly touts how its products help people improve their performance by maximizing sleep, these professional recommendations go a long way.
The CTA is worth mentioning too. It's not about buying a mattress, it's about starting a journey.
That's the sort of call to action you'd expect to see from an app company or software brand, not an e-commerce firm selling a physical product.
But it works here because it ties into the "smart" features of the Eight Sleep mattress, such as its ability to regulate temperature and monitor heart rate variability.
Conclusion
The examples in this article show there are lots of ways to design a customer testimonial email. All are equally valid.
However, I think there are a few key points we can draw from these emails. For me, the biggest takeaways are:
Credibility is everything. If your testimonials don't sound believable, they're not worth including in an email.
Include a range of perspectives. Your customers likely have multiple pain points related to your product. Try to choose testimonials that speak to several of these points.
If your testimonials are from verified experts, all the better. A recommendation from someone who's a legit authority in your industry (or a related field) will be especially valuable.
Want to know the best thing? If you're already actively gathering customer reviews, you likely have all the content you need.
It's just a case of searching out the most compelling, persuasive testimonials that will have the biggest impact on your email subscribers.