For many of us, May is a time of celebration, as the weather hots up, music festivals take place across the US, and students graduate college.
Which should mean plenty of opportunities for brands, right?
Unfortunately, perhaps because of all those festivities, May isn't a month for reading emails. In fact, despite being full of ecommerce holidays, it sees one of the lowest average email marketing open rates of any month, at just 20.19 percent—only ahead of January, August, and July.
So it's vital that your email messaging cuts through the noise and compels people to open, click through, and buy, buy, buy.
To help you out, I raided Drip's brimming swipe file to track down seven of the very best May newsletter ideas and examples from some of our favorite brands…
7 May Newsletter Ideas to Steal:
1. Function of Beauty: Target Last-Minute Mother's Day Shoppers
As most Americans can (hopefully) tell you, Mother's Day in the US falls on the second Sunday in May.
It has near-universal appeal, with research from the National Retail Federation (NRF) revealing that 84 percent of Americans planned to celebrate the occasion in 2022.
Fortunately for retailers, those celebrations typically involve splashing the cash. The average person spends almost $250 on Mother's Day gifts, with top purchases including:
Flowers
Greeting cards
Gift cards
Clothing & accessories
Jewelry
And with more than one-third of shoppers planning to buy their Mother's Day presents online, this is one holiday that ecommerce brands definitely don't want to miss.
While we all plan to have our Mother's Day purchases wrapped up weeks in advance, life often gets in the way. Which means there's a big opportunity for retailers to target last-minute Mother's Day shoppers.
Function of Beauty certainly got the memo. In 2022, the beauty brand shared an email aimed at people who were yet to make those all-important Mother's Day purchases.
As with every top-performing email, it all started with a compelling subject line:

There's a lot of meaning in those six words. They make us feel kind of guilty for being so unprepared, while also subtly promising a solution to our gift-buying woes.
Things get even better when you open the Mother's Day email: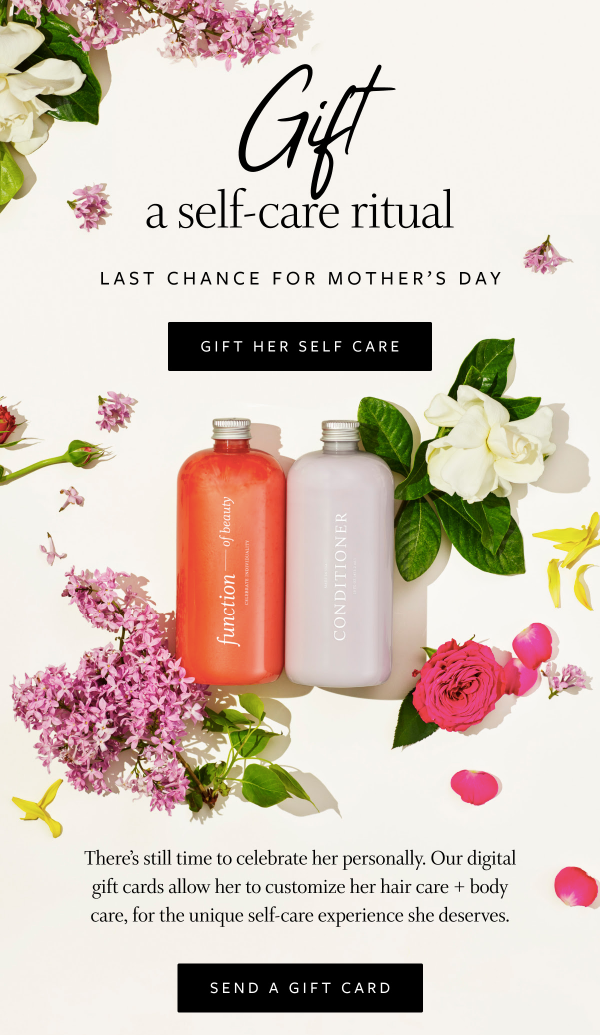 Once you read all the copy, you realize this email is essentially saying: "Buy your mom a digital gift card." Which is a solid if uninspiring gift idea.
However, the email makes this message sound a lot more appealing by positioning gift cards as the "gift of self-care".
That makes us feel like we're making a smart, meaningful choice—not just buying the only thing that's guaranteed to arrive on time.
2. Team Man Create: Share Graduation Gift Ideas
Graduation is a time for millions of Americans to toss their mortar board hats in the air and take their first step into the working world.
And it's also a time for their loved ones to celebrate their achievements by showering them with gifts.
According to the NRF, roughly one in three Americans buy graduation gifts for high school and college students each year, with popular purchases including:
Gift cards
Apparel
Electronics
While most US graduation ceremonies take place during May and June, Google Trends shows us that the lion's share of search activity for the term "graduation gifts" takes place in May:

So if you're planning to target prospective gift-buyers, May is definitely the best month to do it.
With that in mind, let's analyze one of my favorite graduation emails from 2022, courtesy of Team Man Crates.
We'll start with the subject line, which leans into the idea of buying "tassel-free" gifts:

Are tasseled gifts a thing? I can't imagine what that would even look like. But this is a fun subject line nonetheless, and the emoji usage helps it stand out in a crowded inbox.
The humorous tone continues in the email body, which again plays up the idea that Team Man Crates offers graduation gifts the recipient will actually enjoy: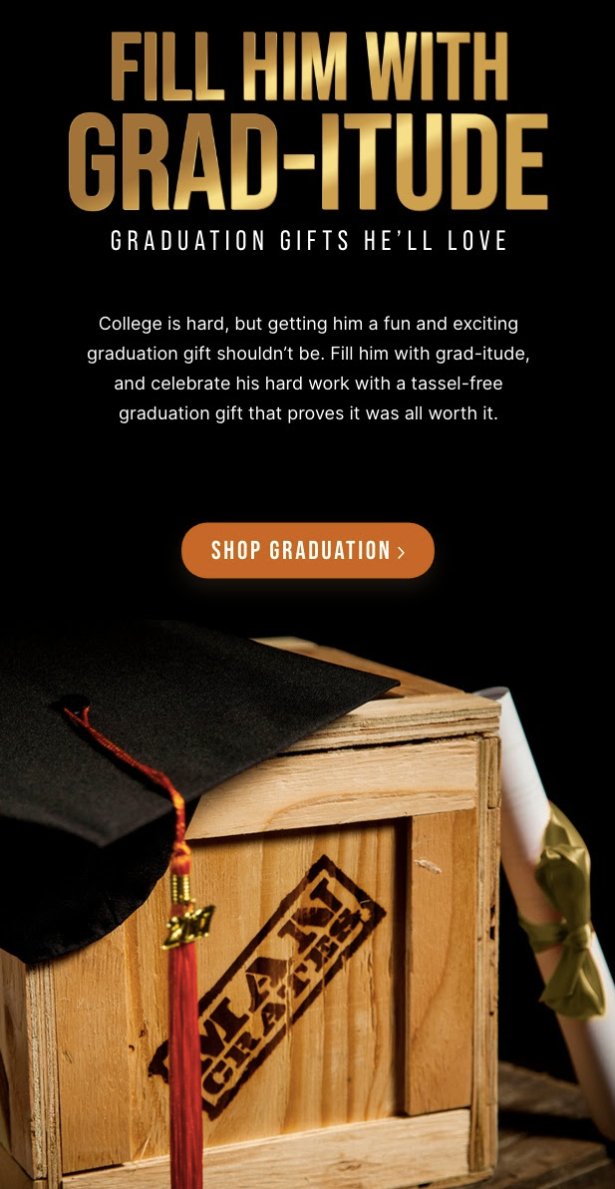 It's all underpinned by a healthy dose of humor, which can be tough to achieve—but extremely effective when you get it right.
Indeed, research from Oracle — not a company I'd necessarily associate with LOLs or LMAOs — found that 91 percent of consumers prefer brands to be funny, while 72 percent would choose humorous brands over their less-amusing rivals.
3. Brooklinen: Launch an Early Memorial Day Sale
Memorial Day is a US federal holiday observed on the last Monday of May to mourn fallen military personnel.
Which doesn't exactly sound like a natural fit for ecommerce brands.
However, as with all long weekends, the holiday has become synonymous with shopping. According to Numerator, of the 75 percent of Americans who planned to celebrate Memorial Day in 2022, about one in five planned to buy something online.
For a lot of consumers, Memorial Day is about hunting down bargains.
Indeed, Numerator's survey found that 64 percent of Memorial Day shoppers intended to purchase sale items, while 37 percent planned to shop with coupons.
So launching a Memorial Day sale is an obvious move, right?
Maybe. But there's a problem: everyone else is doing exactly the same.
A quick scroll through our swipe file reveals that precisely 100 percent of Memorial Day-specific emails sent on the day in 2022 referenced some kind of discount, promotion, or special offer.
Which means there's a strong chance all your incredible deals will get lost in the noise.
Fortunately, there's a simple solution: take a leaf out of Brooklinen's book by launching your Memorial Day sale early.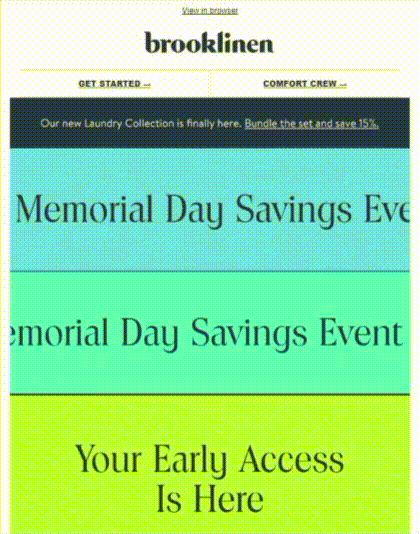 That way, you're up against less competition, which will hopefully translate to more clicks and sales.
I especially like how Brooklinen positioned this email as an early-access invitation:

This makes customers feel like they're being offered something special; something that's not available to the average consumer. Which makes this email a lot more clickable.
4. ThirdLove: Capitalize On Long Weekend Travel Plans
The Memorial Day long weekend presents another opportunity for (some) ecommerce brands: travel.
Numerator's research shows that 14 percent of people planned to travel for the 2022 Memorial Day weekend, rising to 17 percent among respondents from the Northeast.
And with three-quarters of American adults celebrating the holiday, that means approximately 27 million people intended to hit the road during the weekend.
So if you're short of May newsletter ideas, consider adding some travel-related messaging.
To be clear, you don't need to sell luggage, eye masks, or neck pillows to capitalize on the long weekend travel trend.
In my next example, ThirdLove shows us that with a little creative thinking, it's totally possible to promote bras and underwear in a travel-themed newsletter: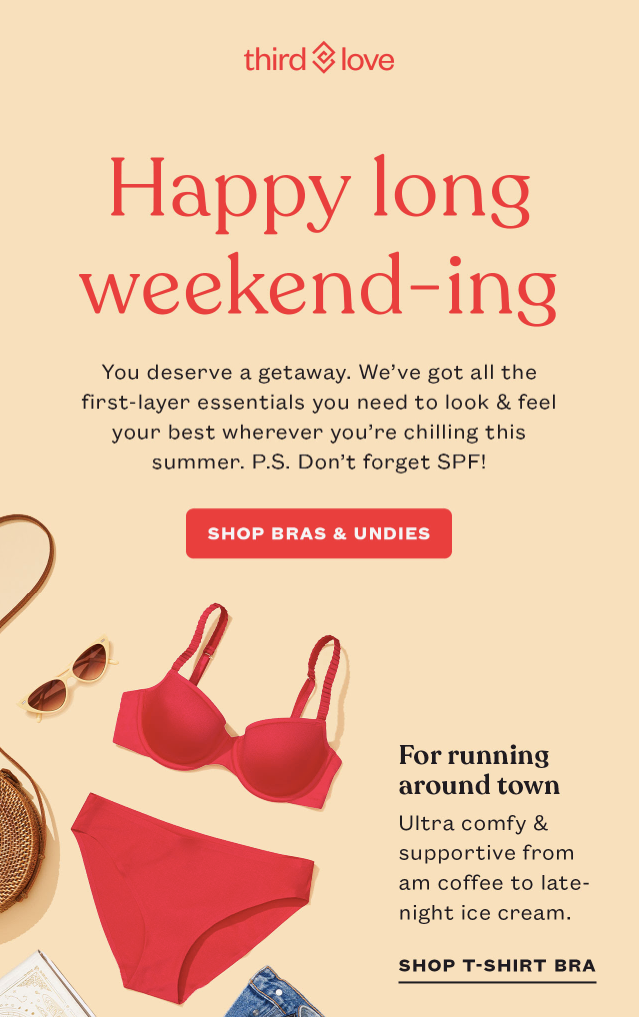 5. Prose: Showcase Your Summer Collection
Technically, summer doesn't actually begin until June.
But there's no doubt that once May comes around, your average consumer is thinking about hot weather, barbecues, and beach breaks.
This is reflected by Google Trends data, which shows two clear peaks in search activity for the term "summer fashion"—the first of which falls in late May:

In other words, May is a fantastic time to show off your summer-specific products. Which is precisely what haircare brand Prose does in my next May newsletter example.
Firstly, a shoutout for the subject line:

The use of "your" makes it feel like a personalized email. And with up to 36 percent of shoppers saying retailers should work harder to deliver more personalized experiences, that's never a bad thing.
Not only that, but I like the un-salesy tone here.
Prose presents this email as a "haircare checklist", rather than a list of products it wants you to buy, so it feels like valuable content. And if customers think they'll get something useful from your email, they're more likely to click.
The email itself features what looks like a haircare checklist, but on closer inspection is actually a run-down of various product features and USPs:
Again, the focus here is on the subtle sell.
This theme continues right down to the CTA button, which eschews the traditional "Shop now" messaging in favor of a call to "Go custom".
6. AllSaints: Promote Festival-Friendly Purchases
Now for a glimpse behind the curtain at my creative process…
Compiling a list of May newsletter ideas involves a bunch of time scrolling through events calendars to make sure you're not missing anything important.
And music festivals are one event "type" that crops up time and again throughout the month.
From big names like Electric Daisy Carnival in Las Vegas to countless more obscure examples (anyone down for Seattle's Northwest Terror Fest?), it seems there's a festival catering to every taste and budget.
So it's no surprise that terms like "festival fashion" and "festival outfits" see high levels of search throughout May:

Which means one thing for ecommerce brands: lots of opportunities to push festival-themed products.
AllSaints leapt at the opportunity in May 2022 with an email promoting its festival product category: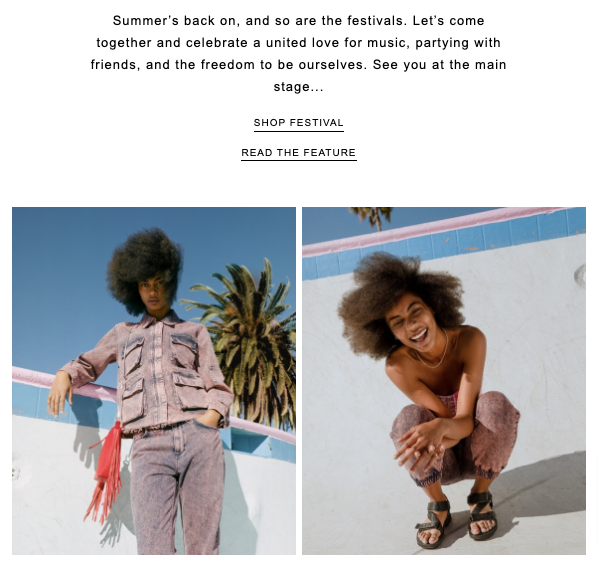 As you'd expect, the email is chock full of festival-friendly fits…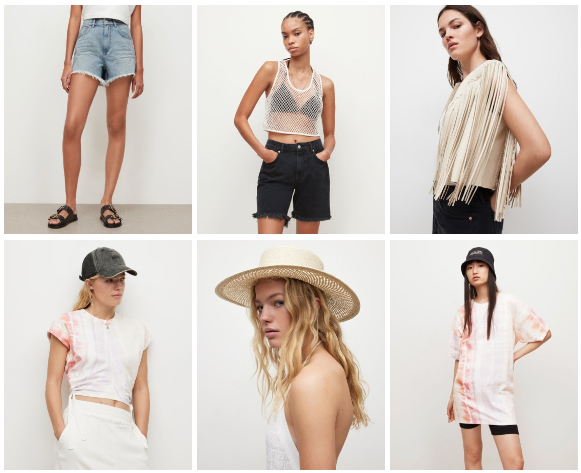 …including product recommendations that speak to common festival-going pain points (like realizing the sun has gone down and you're actually pretty cold):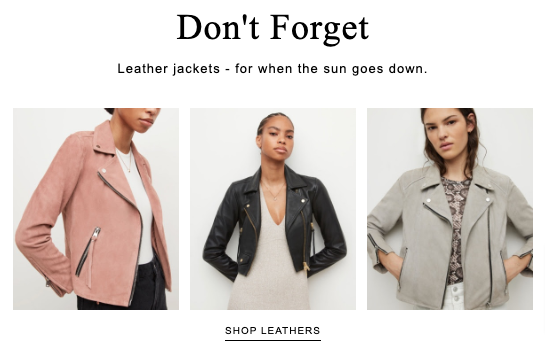 7. Care/of: Celebrate Mental Health Month (Tactfully)
Buckle in, because this is a tricky one…
Mental Health Month has been observed in the US since way back in 1949, so it's very much a legit awareness day (unlike some we could mention).
For some brands, this is an ideal opportunity to promote mindfulness and wellbeing-related products, just like Care/of does in this May newsletter example: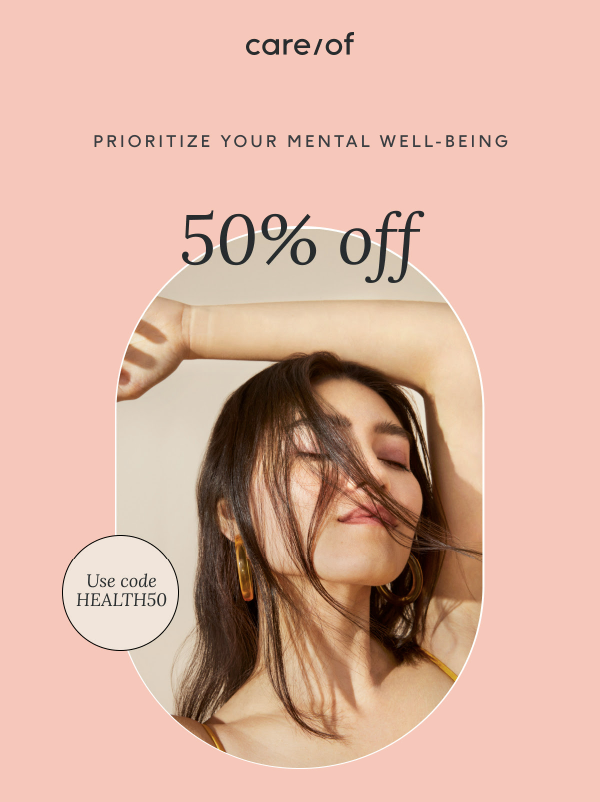 I think Care/of gets it right here. Sure, it's using an awareness month to sell products—but because those products are relevant to the event in question, it doesn't come across as cynical marketing.
However, we live in a pretty cynical age. According to Havas, 71 percent of consumers have little faith that brands will deliver on their promises, while less than half of brands are seen as trustworthy.
The last thing you want is to be accused of "CSR washing" for crowbarring your products and promotions into largely unrelated spaces and conversations.
In short, if you're not sure whether it's appropriate to get involved in an awareness day, it's probably best to err on the side of caution.
Generate More Email Marketing Revenue All Year Round With Drip
Regardless of the time of year, your #1 email marketing objective is to drive more sales and revenue.
Drip offers all the tools to help you deliver on that goal.
Our platform makes it quick and easy to design on-brand emails that actually convert. Start with one of 50+ professionally designed ecommerce templates, then customize to your heart's content.
Not only that, but we offer superb deliverability and smart pre-built workflows for common ecommerce scenarios, from cart abandonments to welcome series (and everything in between).
Of course, I don't expect you to take my word for it—I'm kind of biased, after all.
Instead, find out for yourself by signing up for your 14-day free trial.