Mother's Day is a great opportunity to show mothers and grandmothers how much we appreciate everything they do.
Naturally, it's also one of the most competitive occasions of the year in ecommerce — and not just for flowers and jewelry.

Mother's Day retail spending totaled more than $31 billion in 2022, breaking the record set in 2021 (which had broken the record set in 2020).

We'll probably see an even higher figure in 2023, with brands of all kinds doing whatever they can to get a slice of the pie.

With your competitors pulling out all the stops to generate revenue, throwing an email together at the last minute isn't going to cut it.

If you want to hit your Mother's Day sales targets, you need to approach the holiday with a clear plan — that's where we come in.

Let's take a look at five of the best Mother's Day emails we've seen in recent years.
Trend Alert: Asking for Permission for Mother's Day Emails
Mother's Day can be a sensitive time for some. Whether they've recently experienced a loss, or perhaps they don't have a strong relationship with their mother, not every customer wants to receive Mother's Day emails.
Be mindful when you're sending your campaigns. Not everyone is up to celebrating Mother's Day.
And the last thing they want is yet another reminder of it.
Some brands are taking a compassionate approach to Mother's Day. Well in advance, they're asking their customers if they'd prefer to opt out of Mother's Day email campaigns altogether.
Thortons offers that easy out with a campaign they sent in February.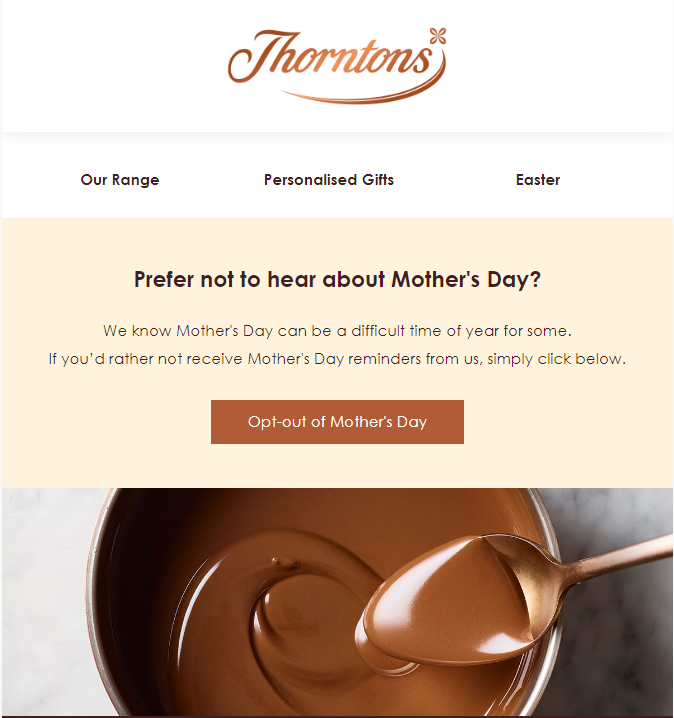 And simply with one click, customers can decide not to get any Mother's Day promotions in their inbox. This email copy is perfect too — it's compassionate, but still clear, with simple instructions.
Lush did something similar in their Mother's Day email opt-out campaign.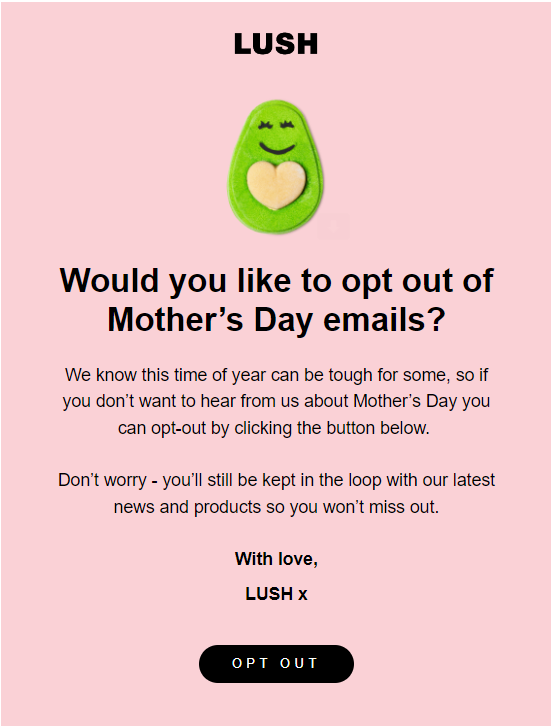 This copy offers humanity and reassurance — you can decide not to receive Mother's Day emails, but you won't miss out on the new products.
This style and tactic for Mother's Day emails isn't for everyone, but it's something to consider.
With that, let's take a look at some amazing Mother's Day email examples to inspire your campaigns.
1. Michael Kors: Putting Mom First
Right off the bat, Michael Kors' Mother's Day subject line takes all the guesswork out of the equation.

It's simple and minimalistic. Michael Kors positions itself as a luxury brand, so using emojis or flashy copy isn't likely to resonate well with that brand image.
The body of this Mother's Day email is also paired down, gorgeous, but still sits on that monochromatic theme.
Mother's Day is a time for gratitude and appreciation towards the moms in our lives. Michael Kors put together a simple message to connect with their audience's sentimental side.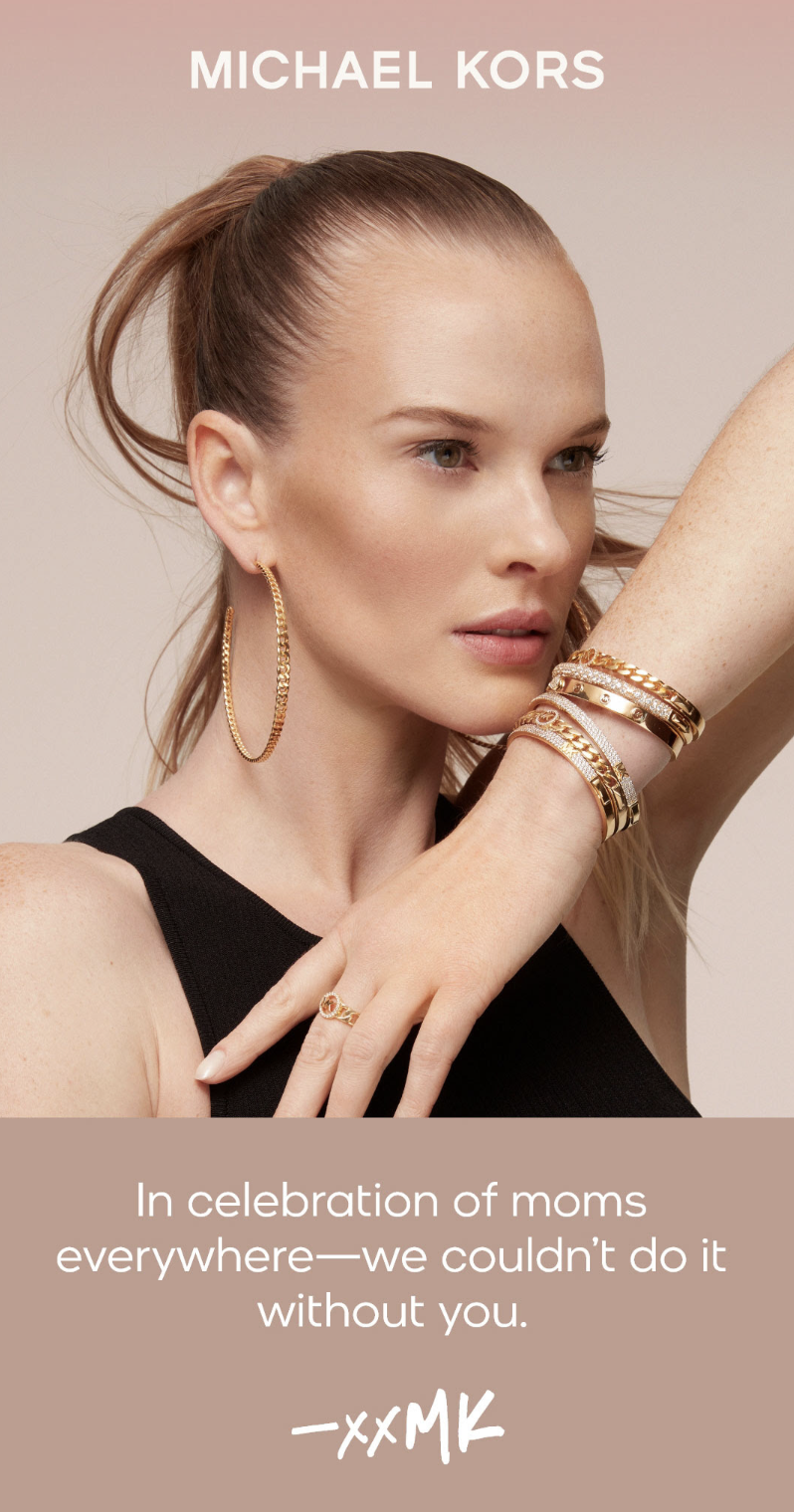 What's interesting about this email is that you're getting product recommendations without actually getting product recommendations. The image is bold: we see earrings, and several bracelets on the same model.
But much like the menu in a restaurant we probably can't afford, there aren't any prices. There aren't even product names.
We're simply tempted with the gorgeous photo that highlights the person in lieu of the products themselves. The person you're buying for is the reason for the holiday, and this Mother's Day email keeps that same focus.
Underneath the fold is a short note reminding readers that they still have time to buy a gift for delivery before Mother's Day. However, the email doesn't contain any special discounts or offers.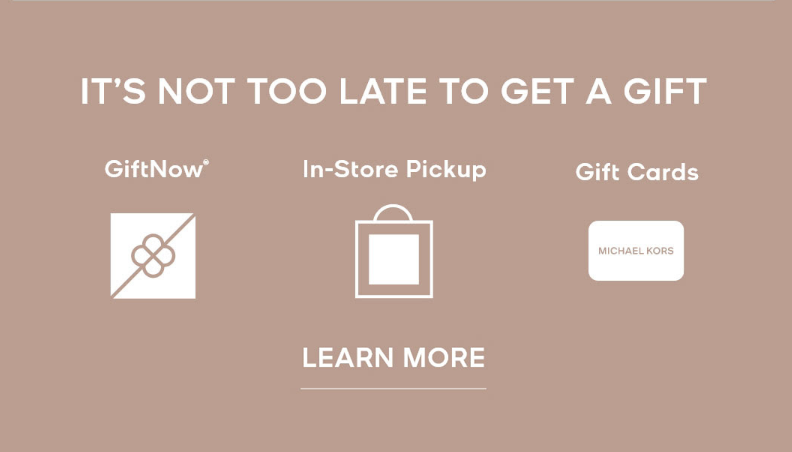 When people shop for Mother's Day gifts, they're generally looking for a nice, high-quality item that the recipient will appreciate. Instead of slapping promotional copy all over the email body, Michael Kors takes a subtle, luxury approach.
You have shopping options if you want them.
Remember that your audience doesn't always want to be bombarded with marketing copy before Mother's Day. In this case, a subtle, relatable message may be more effective than a traditional marketing email.
2. L'Oréal: Appreciating the Moms in Our Lives
L'Oréal starts off with a simple, but effective subject line to grab your attention.

Short, sweet, to the point: you know exactly what this Mother's Day email is going to have in it.
L'Oréal does a great job at catching your eye while being clear about why they're reaching out in the first place. We can also get the sense that this email is going to be more promotional than the one Michael Kors sent.
Unlike Michael Kors' branding, which opts for minimalism, L'Oréal is a much more everyday-customer brand. They can choose to use more eye-catching emojis, copy, and colors in their Mother's Day email.
L'Oréal's message has a similar feeling, but it's also much more sales-forward than we saw from Michael Kors.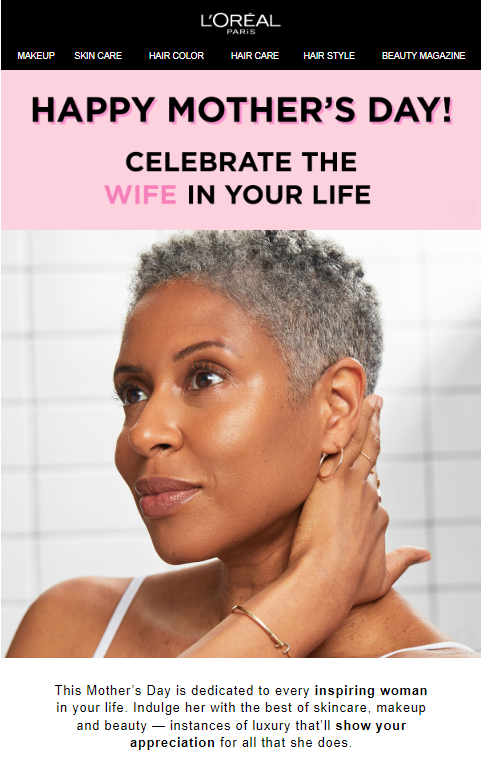 Neither option is "better" than the other — it all comes down to your audience and the brand image you want to give off.
L'Oréal takes a similar approach to Michael Kors in their Mother's Day email by highlighting the model (or the mother, so to speak), in lieu of a sale or a product.
This makes sense for L'Oréal, after all. They're not selling jewelry — they're not even selling makeup — they're selling making mom feel beautiful.
The first thing we noticed is that L'Oréal displays a few product recommendations while Michael Kors stuck to a more basic design.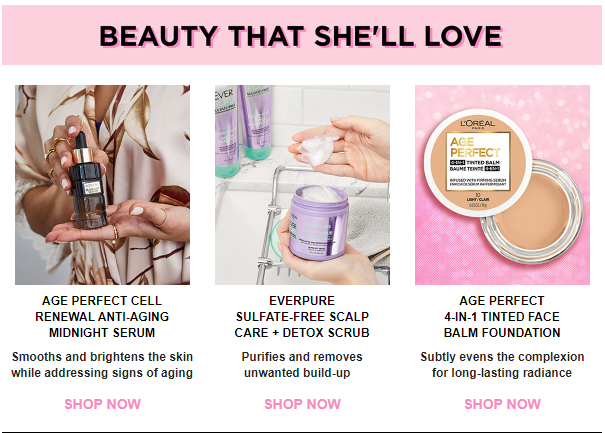 The downside of Michael Kors' approach is that readers might not have much of a reason to click through without a specific product in mind.
A more product-forward message will give you a chance to make a sale in the email itself rather than leaving the viewer to browse on their own. If you decide to include gift recommendations, don't forget to set up some A/B tests to identify your best-selling products.
3. Quip: Something for Mom, Something for You
Quip is an oral care company offering toothbrushes, toothpaste, mouthwash, dental floss, and similar products.
They opted for a different approach to their Mother's Day email. Instead of beating around the bush, they've led with the promotion from the subject line.

It's clear that the All-Pink line is probably meant for mom, but Mother's Day is conspicuously absent from their subject line.
When we get into the body of the email, the Mother's Day angle is a lot more clear. This is the first email we've seen that includes a Mother's Day promo code, giving recipients an exclusive 30% discount.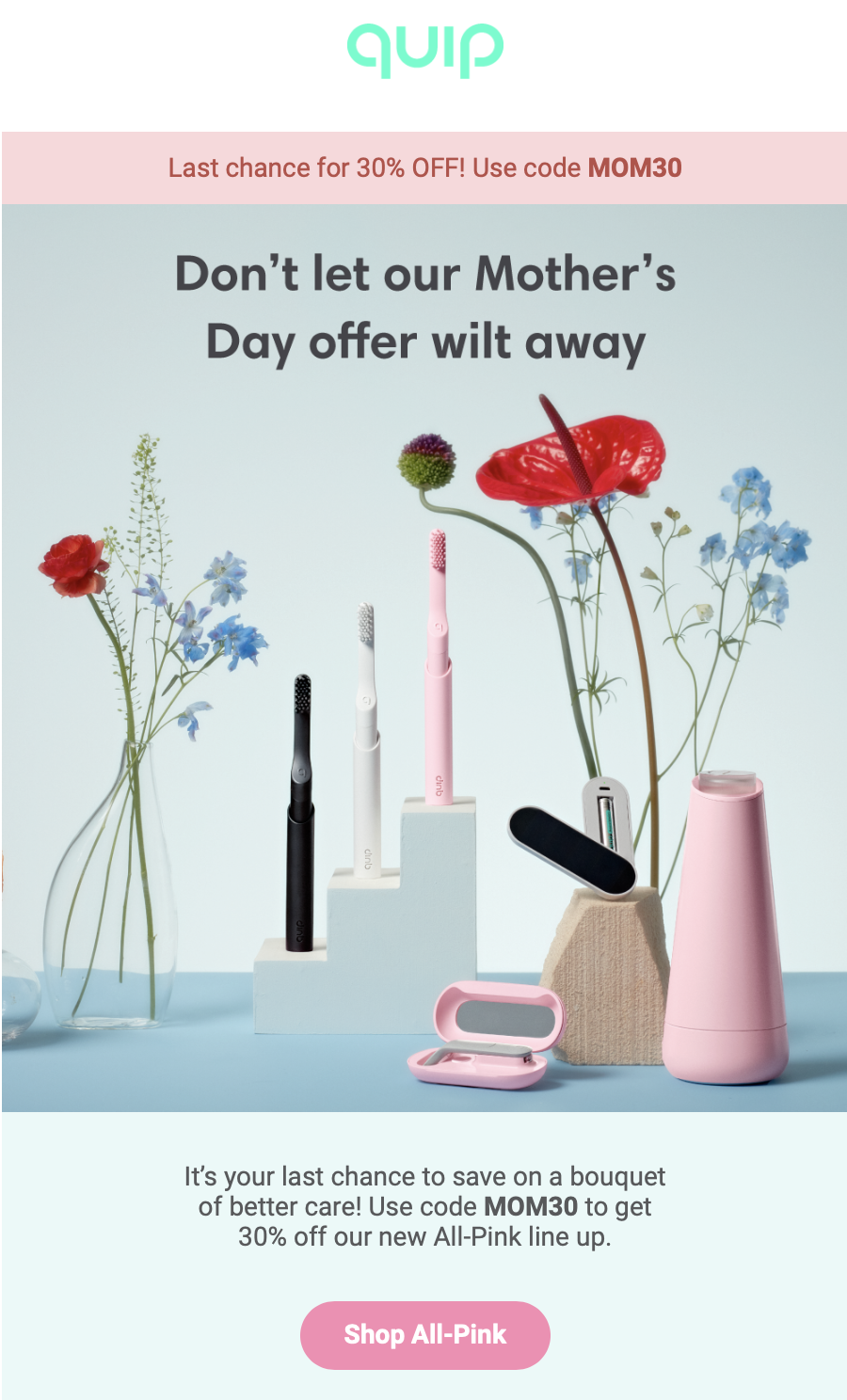 The code is specifically intended for their all-pink products, so there's a good alignment between the promotion and the upcoming holiday.
Instead of focusing on mom, this Mother's Day email brings the value that they're offering first (not to mention a healthy dash of FOMO). Both techniques are completely valid — there's something to be said for a brand that's up front about what you're getting out of this marketing message.
However, what's interesting about this Mother's Day email is that Quip has left space in this promotion for people who have either already purchased a different Mother's Day product, or are simply not celebrating the holiday.
How? There are options to improve your own oral care routine.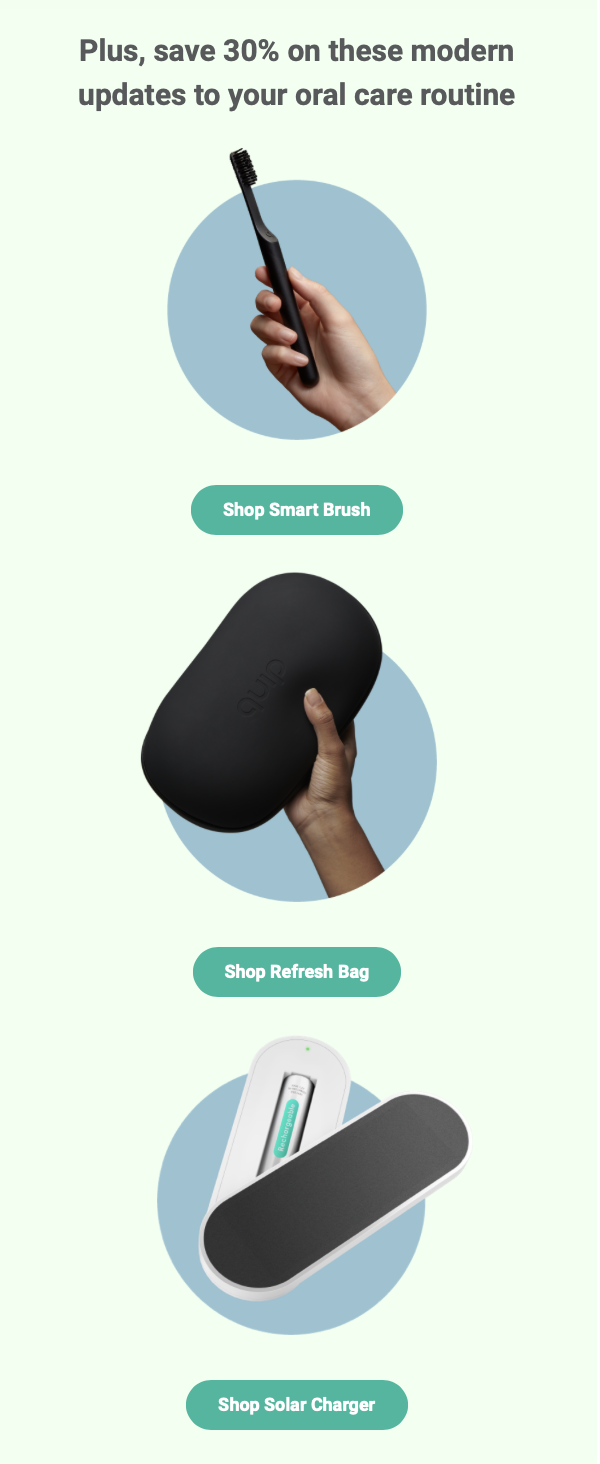 While the email goes on to offer a 30% discount on other products, that part of the message is separate from the initial Mother's Day email campaign.
This provides a clear line between shopping for mom and shopping for yourself.
It's never a bad idea to give your audience a chance to buy something for themselves in addition to any gift items. After all, if you're spoiling mom, why not pick yourself up a little something too?
4. Lush: Making Moms Proud Since 1995
Regardless of the holiday you're participating in, you have to make sure that your messaging stays consistent with your overall brand.
Lush does this perfectly, choosing a more engaging route for their Mother's Day email, even from the subject line.

One of the core tenants of Lush's brand is sustainability — an initiative that would make any mom proud. Here, they combine their Mother's Day email promotion with longevity that increases customer trust.
Lush isn't a brand built yesterday, it's existed since 1995.
And while it might be painful for your author to write it, that's nearly 30 years since Lush opened its doors.
This messaging continues in the email body, where they combine this idea of making mom proud with a few product recommendations.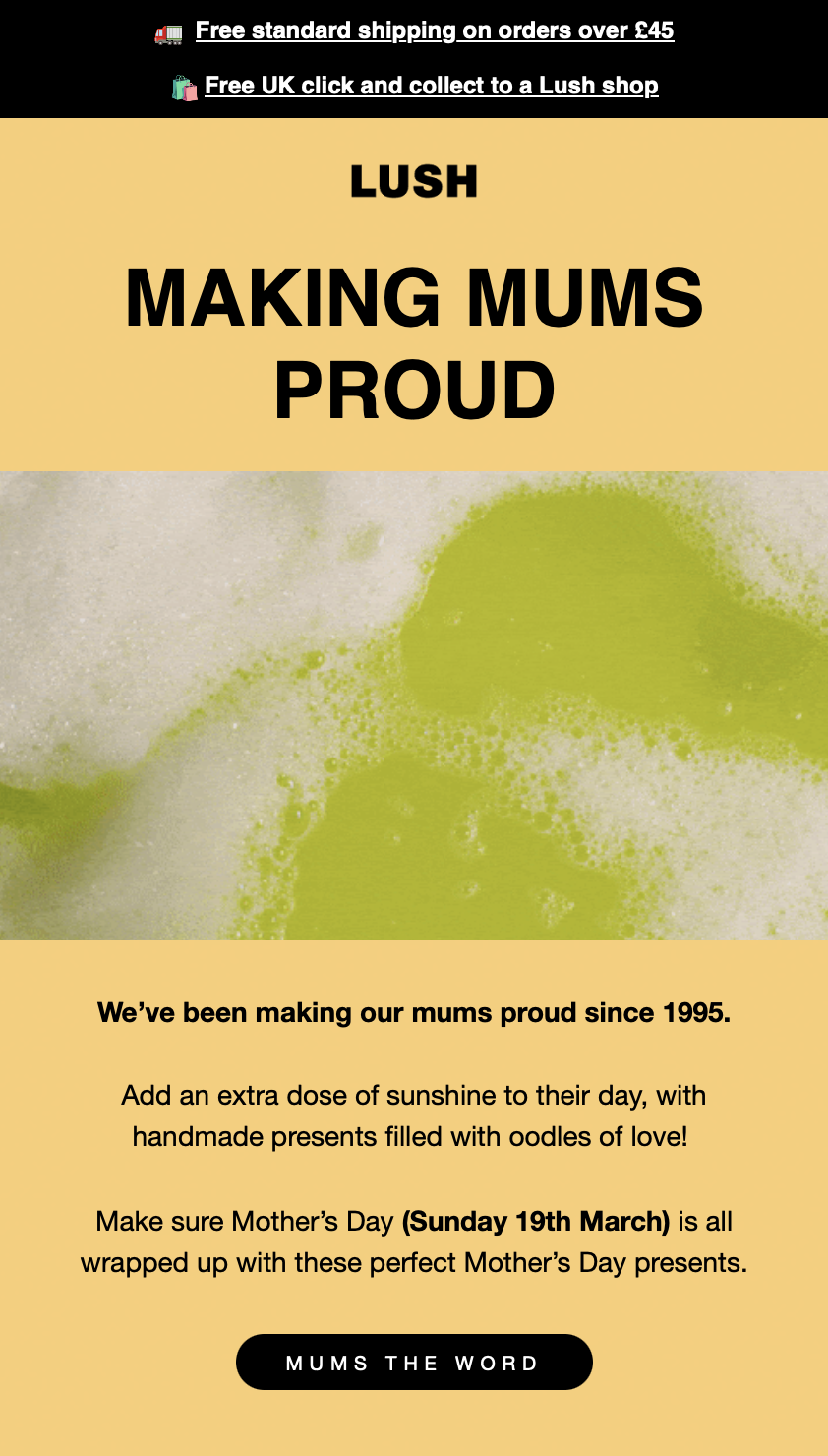 First things first — Lush didn't get the date wrong. Mother's Day fell on March 19th, 2022 in the United Kingdom, and it comes at different times in many other countries around the world.
If you're an international ecommerce vendor, don't let holiday scheduling catch you off guard. It's critical to send campaigns to the right people at the right times, both to take advantage of local holidays and to avoid sending campaigns that don't apply to a particular audience.
(This is a perfect reminder to start thinking about tailored promotions and product recommendations for the entire ecommerce holiday calendar.)
We love Lush's strategy of including shipping options at the very top of the message. Even before reading the rest of the email, recipients know about the minimum order for free shipping as well as the option to pick up in store.

Scrolling down, the email highlights Lush's cute gift-wrapping options and gives readers the chance to click through for gift recommendations.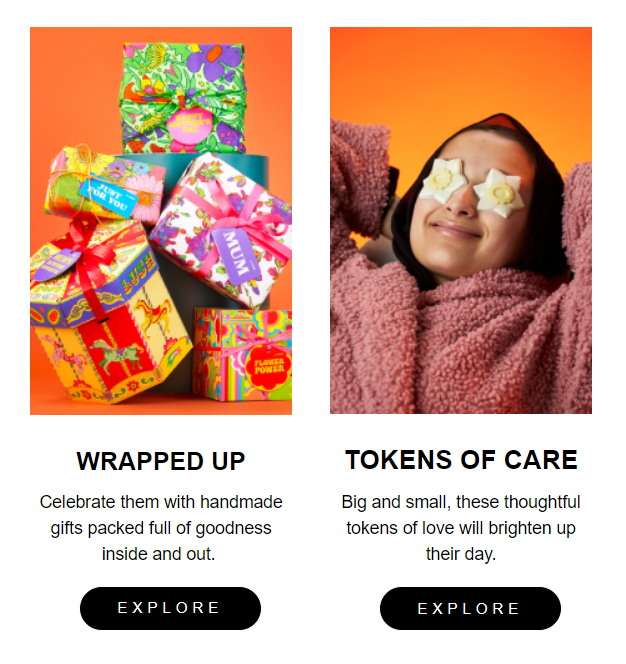 5. Scout & Co: Short On Ideas? Have Over 200
We know that numbers, emojis, and certain power words make subject lines pop — which is wildly helpful in your customers' noisy inboxes.

Scout & Co take their subject line to a new level.

If you're in your customer's head, they might be thinking: "What can I even get Mom for Mother's Day?" If they're out of ideas, Scout & Co has more than 240 of them.
Surely, there must be something that would be perfect for Mother's Day.
And Scout & Co is banking on the idea that one of their hundreds of ideas will be right for your mom.
Their Mother's Day email body doesn't disappoint either.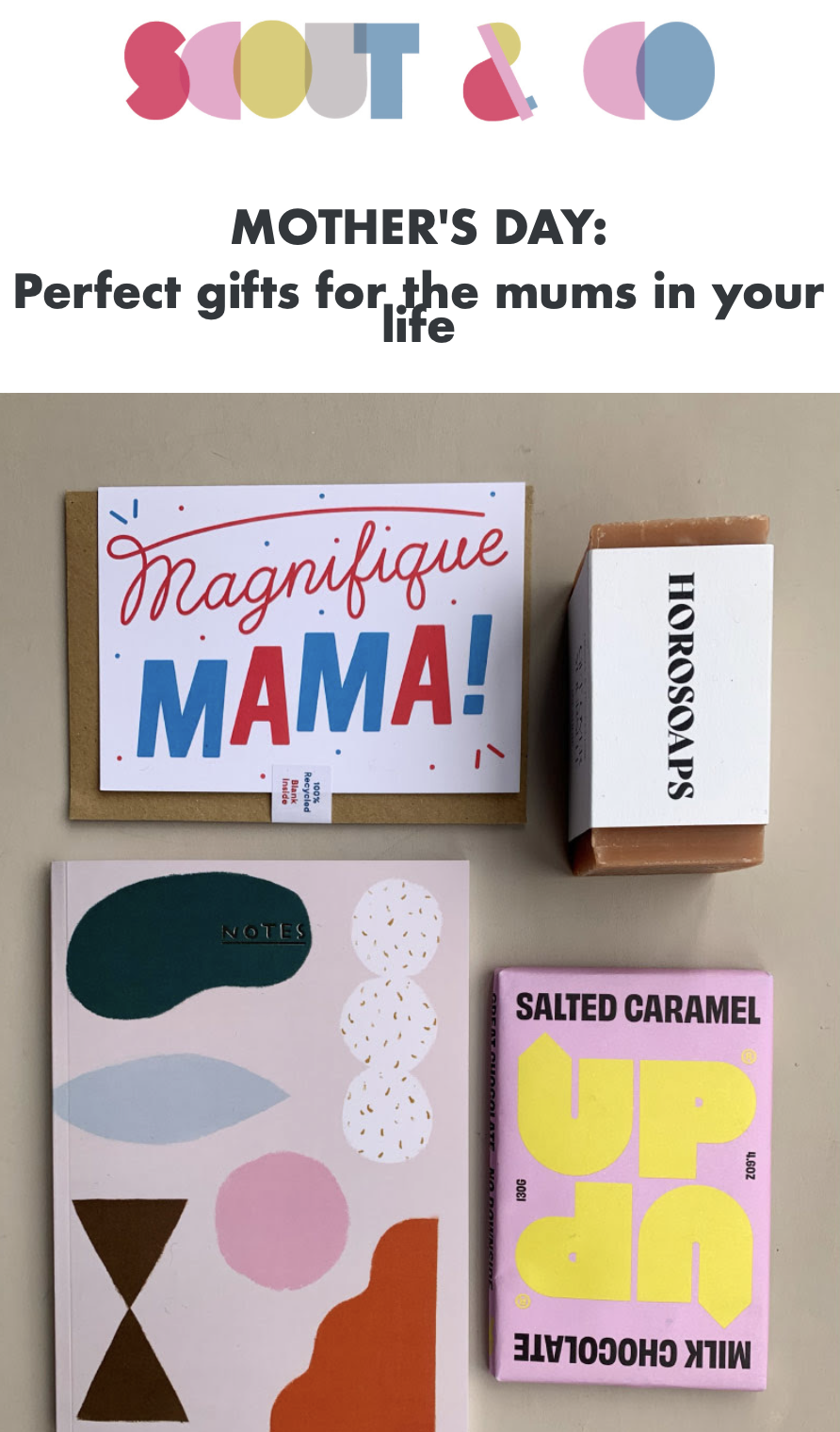 The email copy even highlights the potential in buying Scout & Co's products, not just for your own mother, but for any mom in your life.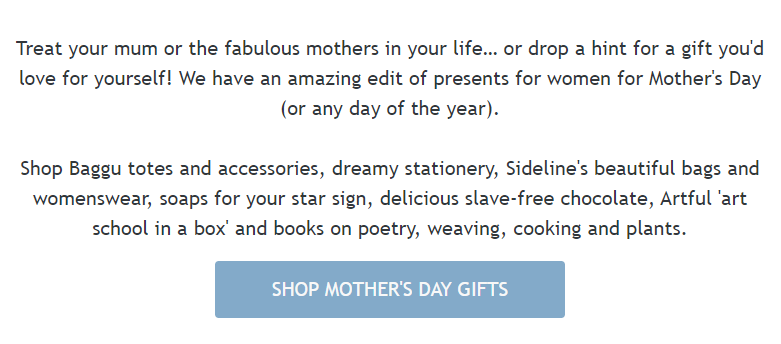 This is a perfect fit for their fun, quirky image, and they picked a great selection of products to highlight their unique style. Each item fits in with a conventional gift category, but it also provides something a little different from a typical Mother's Day gift.

They even offer a few products combined together so you can compose your own bundled product, so to speak.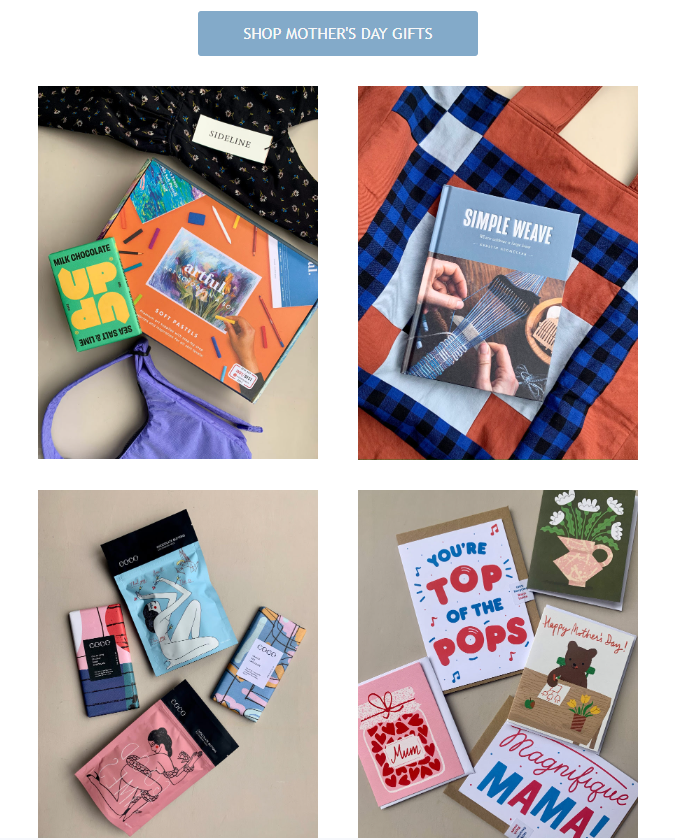 Selling gifts comes down to the products themselves, so don't be afraid to highlight what you have to offer.

From there, Scout & Co opts for the "more is more" approach for product recommendations — delivering on that promise of 240+ ideas with 12 teased recommended products for Mother's Day.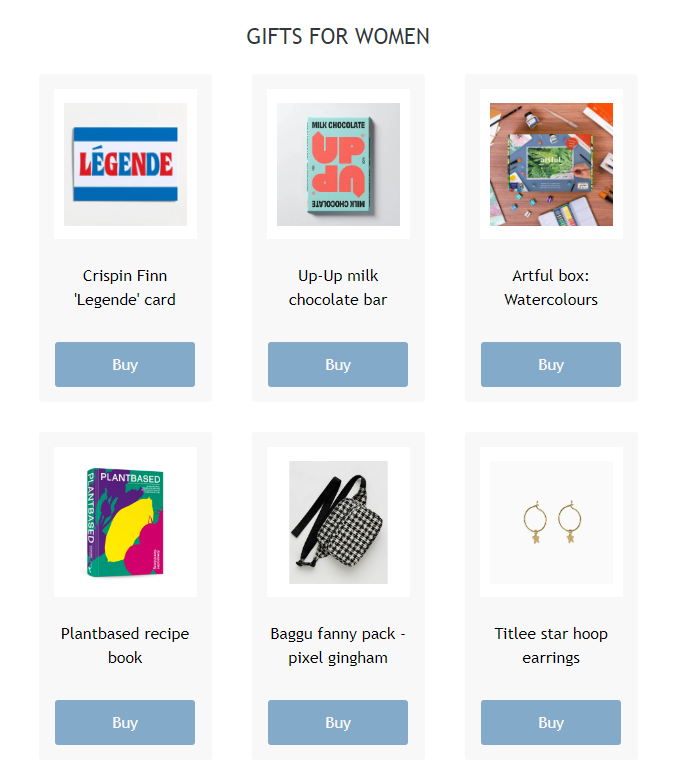 While this Mother's Day email is the most promotional out of the bunch, it works when you have a wide range of potential products. Holidays can be hard — and we all want to find something that makes our loved ones happy.
So by offering a ton of ideas, you can help jog inspiration in your customer and tempt them towards purchase.
Mother's Day Emails That Inspire
Spring has sprung, and Mother's Day is already right around the corner in most countries.
Are you ready to make it one of your top ecommerce holidays of 2023?
Whether you choose a people-first approach or a value-first approach, these five campaigns can help inspire your perfect Mother's Day email.
In fact, if you're looking for quick templates you can copy and customize — we've got you covered.
Drip has loads of templates for your popups, emails, and automation workflows that you can set up in a matter of minutes — right on time for Mother's Day. And you can try it absolutely free for 14 days!