Let's be honest—when you think of massive shopping events, Father's Day doesn't immediately spring to mind.
Perhaps it's because dads are universally terrible at receiving gifts.
But while it might not be quite as huge as, say, Mother's Day, Father's Day—celebrated on the third Sunday of June in the US—is still a decidedly big deal.
According to the National Retail Federation (NRF), consumer spending on Father's Day 2021 hit $20.1 billion, up from $17 billion the previous year.
Three-quarters of Americans say they plan to celebrate this ecommerce holiday, with the average consumer splashing out $174.10 on gifts last year.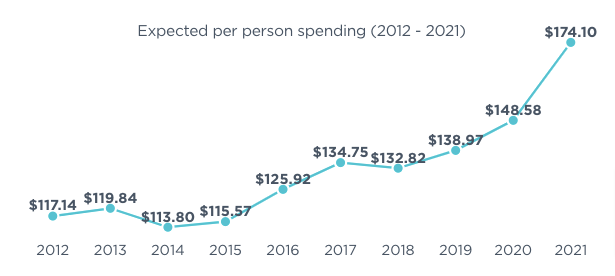 That's a whole lot of pairs of socks and bottles of beer.
But it's not just the most "obvious" product categories that enjoy a spike in spending in the run-up to Father's Day.
NRF data shows the top Father's Day gifting categories are:
Greeting cards (59 percent plan to purchase)
Clothing (49 percent)
Special outings (46 percent)
Gift cards (45 percent)
Personal care products (28 percent)
Other popular products include books, CDs, electronics, tools, and sporting goods.
So Father's Day is relevant to brands and retailers across a wide range of categories and niches.
And with plenty of money being spent, you can't afford to miss out.
With that in mind, let's take a look at nine top Father's Day email marketing examples to inspire your next campaign.
Along the way, we'll explore:
The technique Patagonia uses to build an emotional connection with its audience
How brands like Mavi and Greenheart Juice Shop engage last-minute buyers
What Bed Bath & Beyond does to maximize Father's Day sales
Sounds good? Then let's dive in…
9 Father's Day Email Examples You Need to See
1. Mavi: Reassure Shoppers About Their Gift Buying
Dads often aren't the easiest people to buy for.
And once you've got birthdays and Christmases out the way, it can be hard to come up with a whole other gift idea.
That's where gift cards come in.
Sure, they're not the most inspiring gift idea. But they're undeniably popular, with the US gift card market expected to be worth an eye-watering $238 billion by 2025.
And while the Mercator Advisory Group estimates that up to three percent of gift cards are never spent, that still suggests that the overwhelming majority are redeemed.
So maybe they're not such a terrible Father's Day present?
If you're going to promote gift cards as part of your Father's Day marketing, make sure you reassure shoppers that they're a totally gifting legit option.
Mavi gets it right in this Father's Day email example:
Firstly, as it's an electronic gift card, it's perfect for last-minute buyers. That's a big win for anyone seeking a convenient purchase.
And secondly, the copy stresses that a gift card is still a way to send your love. In other words, it's not a thoughtless or low-effort gift.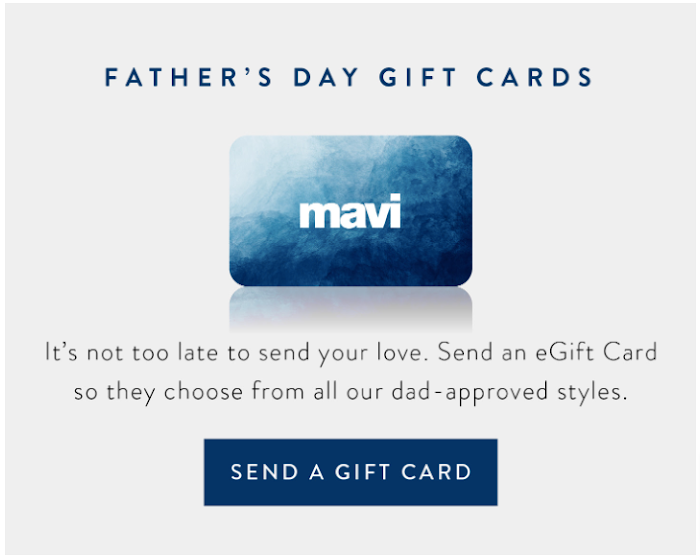 2. Legacybox: Run a Flash Sale
With billions of dollars being spent, expect there to be plenty of noise in the lead-up to Father's Day.
If you're going to attract your share of all that spending, you need to stand out from the crowd.
One of the best ways to do this is to plan a flash sale to coincide with the event.
Flash sales certainly seem to help emails cut through amid a crowded inbox, with research from Experian showing that:
2-hour flash sales deliver email open rates that are 14 percent above average
3-hour flash sales achieve 59 percent higher-than-average email open rates
Evidently, Legacybox understands the power of the flash sale: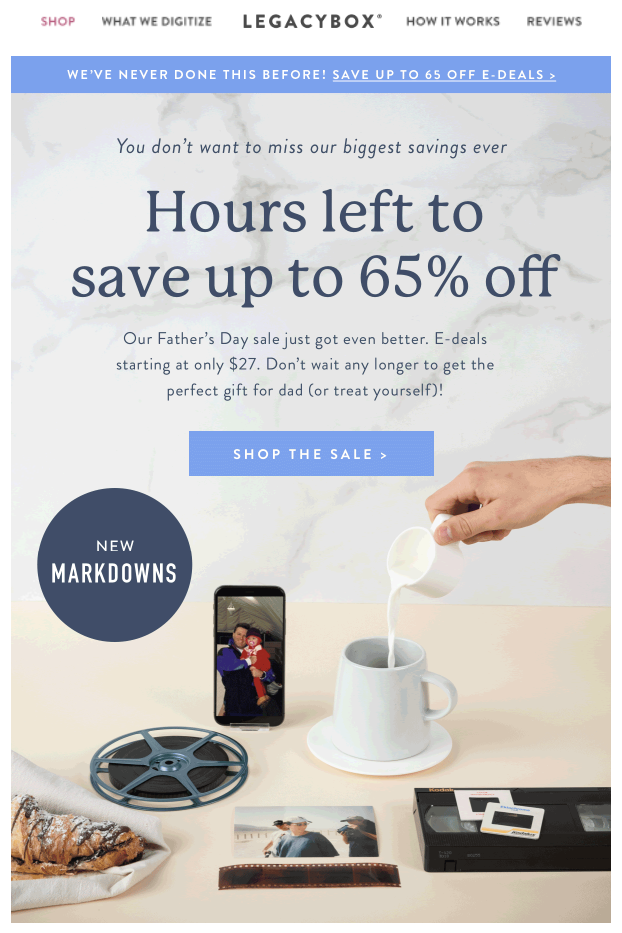 It's not hard to see what makes this email so appealing.
If your customers aren't sure what to buy for pops in 2022, a big discount—in this case, up to 65 percent—could be what it takes to win the sale.
3. Greenheart Juice Shop: Recommend Last-Minute Gifts
Take a look at Google Trends data for the term "Father's Day gifts":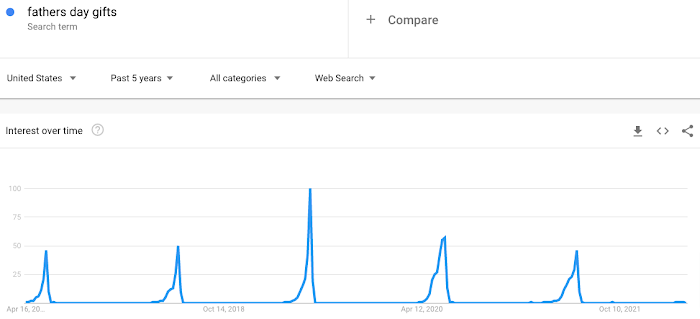 What does this tell us?
For the past five years (and probably before then, too), the biggest spike in search traffic comes just before the third weekend in June.
In other words: there's a lot of last-minute buying going on ahead of Father's Day.
Brands can tap into this trend to drive sales, but they can also get it wrong and fall flat on their face.
Getting it right means going out of your way to stop customers from feeling guilty about leaving it late to buy their Father's Day present.
Don't give them problems; offer a solution.
Whereas Mavi recommends gift cards as the ideal last-minute gift, Greenheart Juice Club has a different suggestion: a three-day juice cleanse: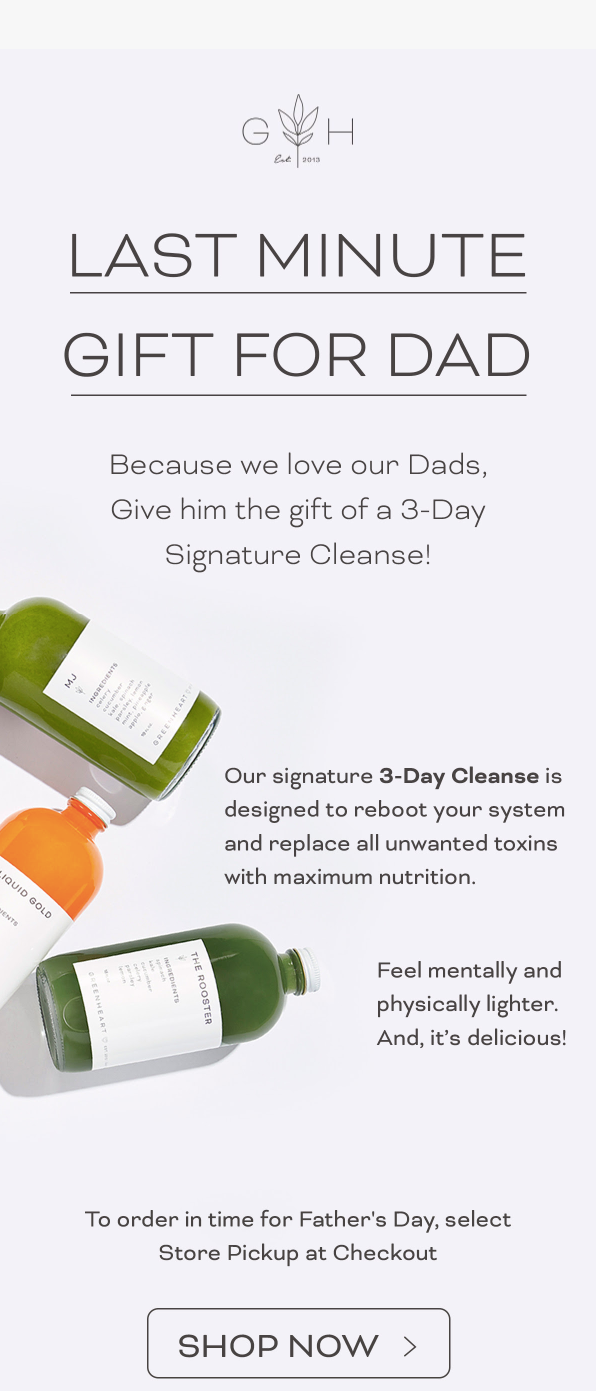 I particularly like how the copy speaks to the benefits of the gift, rather than concentrating 100 percent on the fact this is a last-minute present.
It's like saying: this is a great gift, and as an added bonus, it'll also arrive on time for Father's Day.
4. Bed Bath & Beyond: Run a Father's Day Drip Campaign
The average person currently receives more than 330 emails a day, so you can't expect to cut through the noise with a solitary Father's Day email.
Drip marketing—a strategy based on targeting customers with a "drip" of regular, automated emails—is the answer.
While you definitely want to stop short of spamming your email list, the more messages you send, the more likely it is that people will see your Father's Day messages.
Despite this, figures from Databox and Seventh Sense show that just 13 percent of marketers send email marketing campaigns multiple times per week.
With a fleeting event like Father's Day, where interest peaks and vanishes within a few days, one email just isn't going to cut it.
Bed Bath & Beyond clearly understands the value of a Father's Day drip campaign.
In this example, it sends one email reminding customers that Father's Day is approaching fast (while offering some relevant gift ideas):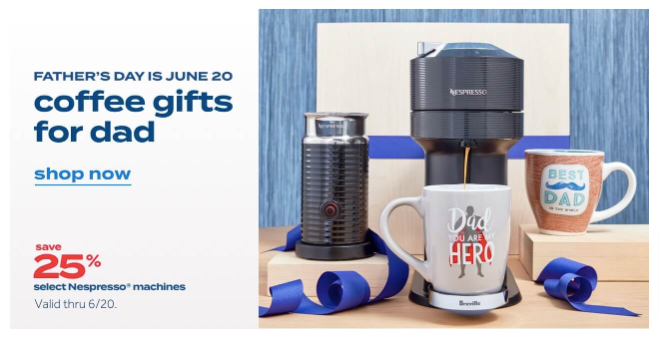 Then it sends a follow-up email promoting free same-day delivery on Father's Day gifts:

There are lots of other "drips" you could send ahead of Father's Day.
For instance, why not try:
Promoting discounts on certain gift categories
Warning customers that now is the last chance to guarantee delivery for Father's Day
Sending multiple emails, each focusing on a different product type
If you're unsure which campaign would resonate the most with your audience, try using a workflow that split-tests different versions of sale announcements.
Want to make a workflow like this?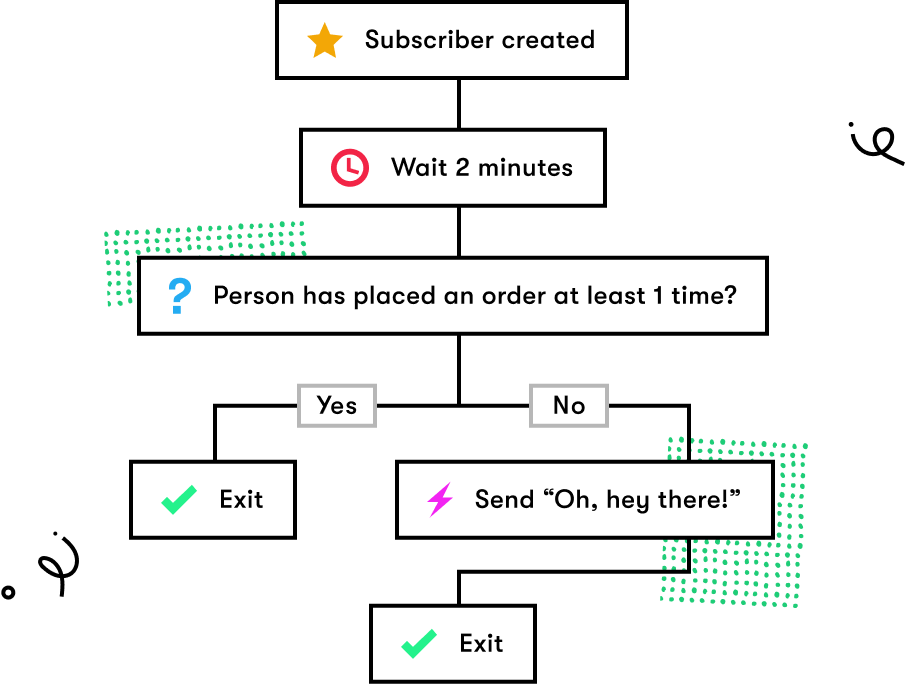 Hit the ground running with our pre-built workflows.
5. Patagonia: Tell a Story
Storytelling is one of the hottest current trends in marketing.
It can help you:
Build trust with your audience
Create positive associations with your brand
Make your messaging more memorable
But what sorts of stories do your customers want to hear?
Perhaps surprisingly, they're not keen on celebrity stories. Instead, two-thirds of consumers say they want to see and hear stories about regular people, according to Headstream's Brand Storytelling Report.
And what better opportunity to share stories about regular people than Father's Day?
After all, most people have a story about a beloved trip with their old man, a piece of wisdom they imparted, or an anecdote they love to tell.
Patagonia tapped into this positive sentiment around storytelling ahead of Father's Day 2021 by recounting a few heartfelt tales about the relationship between fathers and their kids:

Interestingly, this campaign isn't about selling anything at all—there's not a buy now CTA to be found within the email.
Even the campaign landing pages don't have any product links.
The sole purpose of this Father's Day email example is to make people feel an emotional connection to the brand.
Build a strong enough connection, and you'll generate a bunch more sales than you'd ever see from a single email.
6. EyeBuyDirect: Launch a Multi-Buy Promotion
What says "I love you, dad" better than buying them a Father's Day gift?
Buying them two Father's Day gifts, of course.
By running a multi-buy promotion, as EyeBuyDirect does in this example, your customers get to look extra generous: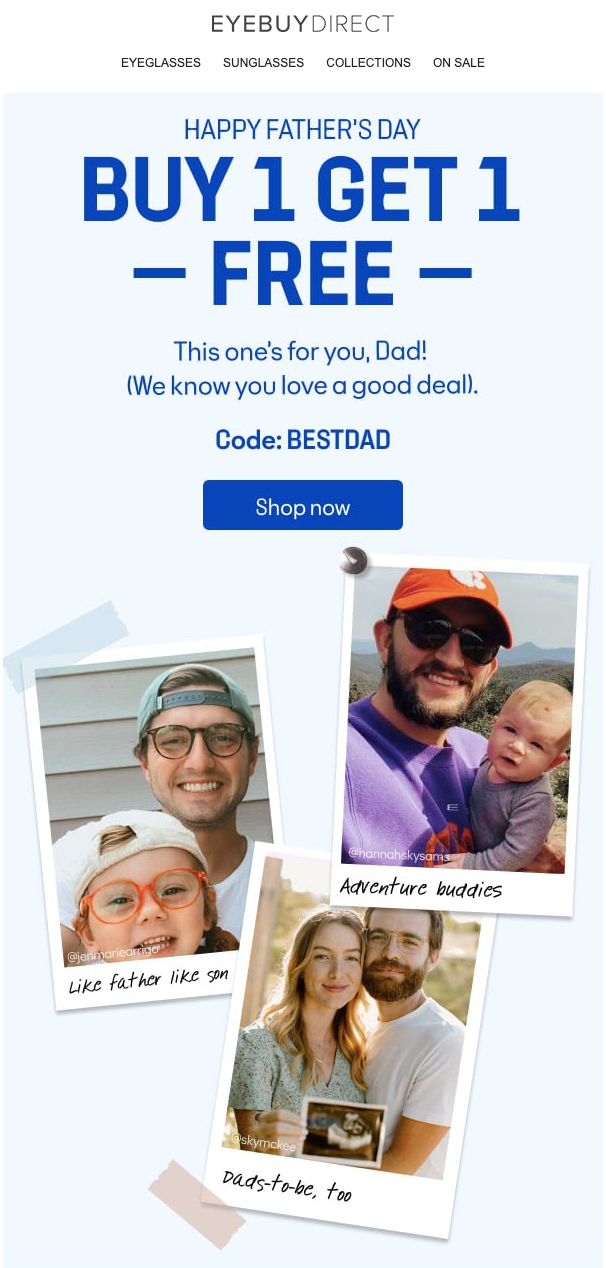 While this might not be the case with EyeBuyDirect's promotion, multi-buy deals can also be a great way to shift end-of-life stock.
Got a ton of older products eating up valuable space in your warehouse? Clear it out with a well-time multi-buy discount.
As an aside, another thing I like about this Father's Day email example is the use of the themed discount code: "BESTDAD."
It makes this promotion feel less like a cut-price deal and more like a way to celebrate your dad.
7. Ratio: Showcase Your Best Offers
You don't necessarily need to run a full sitewide sale or a flash discount to drive sales on Father's Day.
After all, it might not be a huge deal for your company, in which case it's probably not worth all the time and effort of planning a dedicated Father's Day event.
But at the same time, you still want to do something to mark the occasion.
So what's the answer?
Coffee brand Ratio gives us one potential solution: send a simple email highlighting the best offers you're running at the time: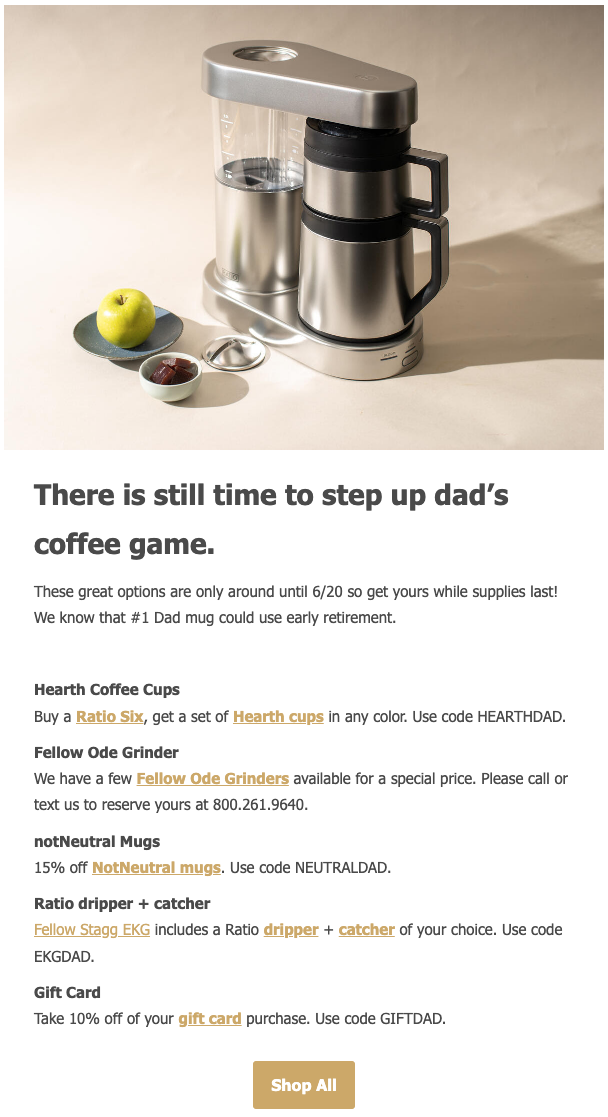 It's fine if not all of those offers have been tailor-made for Father's Day.
Your customers will still appreciate the recommendations and the opportunity to grab a great deal on their gift purchase.
8. Team Man Crates: Send a Missed-the-Date Email
We've already discussed how people tend to leave Father's Day shopping to the last minute.
Inevitably, that means some are going to miss the date entirely.
That can actually be a good thing for brands because it gives you another opportunity to drive Father's Day sales.
Take a look at how Team Man Crates does it here: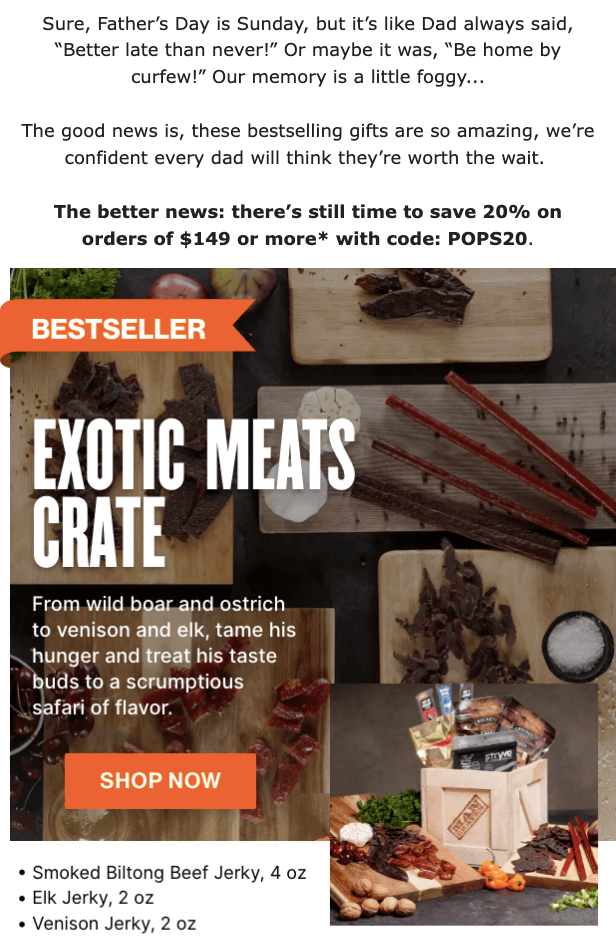 First off, it reassures customers that it's okay if their gift doesn't arrive in time for Father's Day—especially if the present they choose is amazing.
Then it references a 20 percent discount on orders over $149 and goes on to list a few of its best Father's Day gift sets.
There's some subtle psychology going on here, too.
Chances are, if you've missed Father's Day, you're feeling a little guilty. So there's a good chance you'll spend more than you otherwise would on a present to make up for your forgetfulness.
9. Bean Box: Promote Free (& Fast) Shipping
There's lots of evidence to demonstrate the value of offering free shipping.
As far as consumers are concerned, it's gone from being an attractive perk to a must-have.
Indeed, research from the NRF revealed that to a greater or lesser extent, customers in all demographics now expect free shipping, ranging from 61 percent among Millennials to 88 percent of Baby Boomers.
What's more, Jungle Scout discovered that 80 percent of consumers expect free shipping when ordering a certain dollar amount of items online, while 66 percent expect free shipping for every online order they place.
Humans: pretty demanding, aren't we?
There's a clear lesson here. If you offer free delivery, you should definitely shout out about your shipping policy.
Because if you don't, it might end up costing you the sale.
Bean Box clearly understands this. A couple of days before Father's Day 2021, it targeted its mailing list with a message promoting free expedited delivery on all $30+ orders: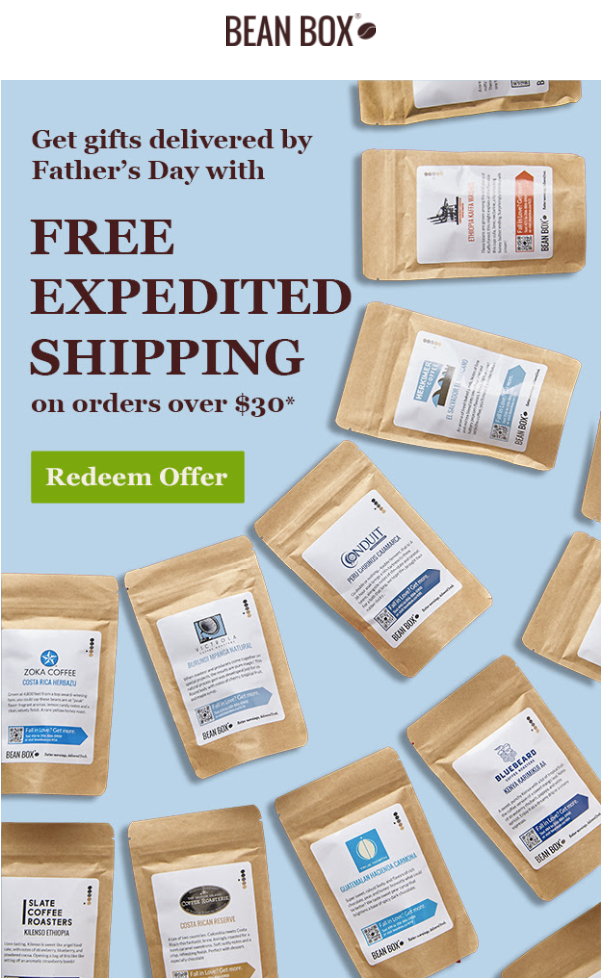 That way, customers can be sure their purchase will arrive in time for the big day, while Bean Box gets to drive up its average order value.
Everyone wins.
Conclusion
From driving purchases of specific products to running a flash sale to simply telling a story, there are numerous ways to incorporate Father's Day in your email marketing strategy.
The right approach for your brand will depend on the goals of your audience. Are they:
Panicked shoppers looking for a last-minute deal?
Long-time subscribers, who want to read engaging content?
Undecided customers looking for gift inspiration?
Tailor your campaign to match your audience's needs, and you'll see more clicks and opens (and, hopefully, more sales).